10 Best MIG Welders of 2023 – Top Picks, Reviews & Guide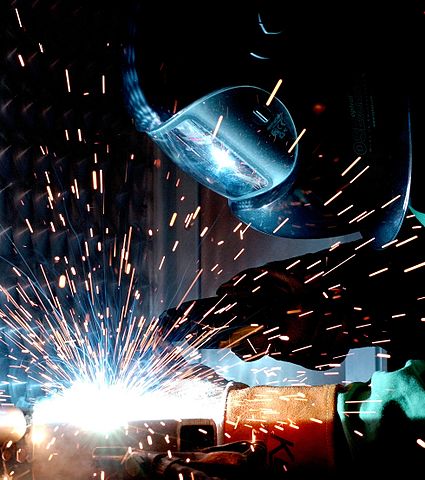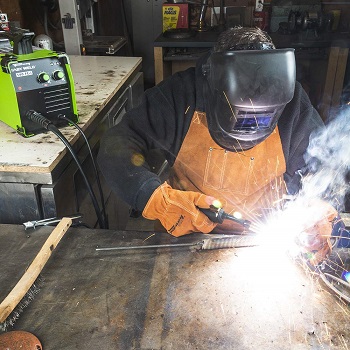 Welding is a complicated and highly skilled art. There are many variables to consider and many different types of welding to try out. But for most beginners, MIG welding is the easiest and most versatile choice to get started with. For many, MIG welding will fulfill all of their needs. MIG machines are also more affordable than some other types of welders, so it's easier for a hobbyist to add it to their tool collection.
We use MIG welding for many different projects, and for our latest, we set out to determine what MIG welders are the absolute best. We've written up the following ten mig welder reviews to share our findings with you. To make it even easier on you, we've narrowed down the list to our top three recommendations, which we feel confident about suggesting.
---
Our Favorite Models Compared in 2023
Rating
Image
Product
Details

Best Overall

Hobart Handler 500559

140-Amp max
Welds up to ¼" steel
5-year warranty
CHECK PRICE

Best Value

Forney Easy Weld 261

Very affordably priced
Ultra-lightweight at just 19 pounds
140-Amp max power
CHECK PRICE

Premium Choice

Hobart Handler 210 MVP

Tool-free quick-change roll system
Excellent penetration and smooth arc
3-year warranty
CHECK PRICE

SUNGOLDPOWER MIG 140

Dual voltage 110V/220V
Gas or flux-core options
60% duty cycle
CHECK PRICE

Lincoln Electric K2278-1 Handy Core

Affordably priced
Produces clean and quick welds
Runs on standard 115V electricity
CHECK PRICE
The 10 Best MIG Welders
1.

Hobart Handler MIG Welder – Best Overall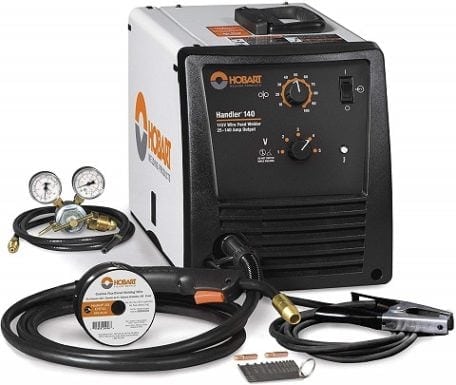 Hobart is one of the most well-known and respected names in welding equipment, and their 500559 Handler MIG welder lives up to their reputation. With 140 amps of max power, this is the most powerful unit that you can plug into a standard 115V outlet. All that power means that it can easily weld steel up to ¼-inch thick. For welding metals of different thicknesses, you get a 5-position voltage selector knob and wire feed speeds that range from 40-700 inches per minute. When using it, the wire feed mechanism is smooth and consistent, allowing for clean welds with minimal mess.
The first thing we noticed when this welder arrived is the excellent build quality. It's a solid device that's built robust and sturdy for a life in the workshop or on a job site. The next thing we noticed was the hefty weight. At 65 pounds, it's a stout beast. But when it comes to operation, it offers a smooth arc and excellent penetration, making it easy to use with great results. To top it off, a five-year warranty protects this machine, so it will be part of your collection for years. Overall, we think this is the best mig welder on the market today.
Pros
140-Amp max
Welds up to ¼" steel
Plugs into a standard 115V outlet
5-year warranty
Top-notch build-quality
---
2.

Forney Easy Weld MIG Welder – Best Value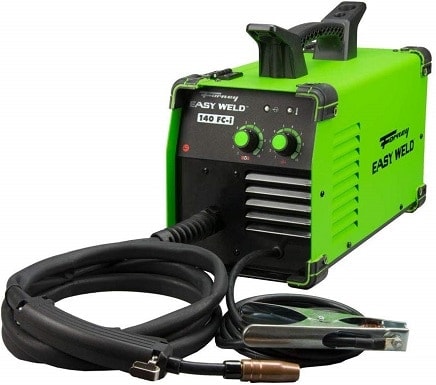 The Easy Weld 261 from Forney is a very compact yet capable machine. At just 19 pounds, it's one of the lightest and most portable MIG welders we've seen. It's also one of the more affordable models, but that doesn't mean it's not an excellent performer. Plugged into any standard 120V outlet, it offers a smooth feed and makes clean welds on steel up to ¼-inch, thanks to its 140-amp capabilities. The infinite voltage and wire feed speed knobs give you excellent control over your welds, and it's a very simple machine to use overall.
Our only complaint with the Forney Easy Weld 261 is that it only offers gasless/flux-core welding. This means you can't hook up gas for a true MIG weld, but instead, you get improved convenience and portability with fewer variables to consider. That makes this a great option for newer welders since you can focus on your welding skills instead of playing with gas mixtures. Altogether, the low price and solid performance of the Easy Weld 261 make it the best MIG welder for the money in our eyes.
Pros
Ultra-lightweight at just 19 pounds
Plugs into a standard outlet
Very affordably priced
140-Amp max power
Welds up to ¼" steel
Cons
Flux-core wire only, no gas
---
3.

Hobart Handler MIG Welder – Premium Choice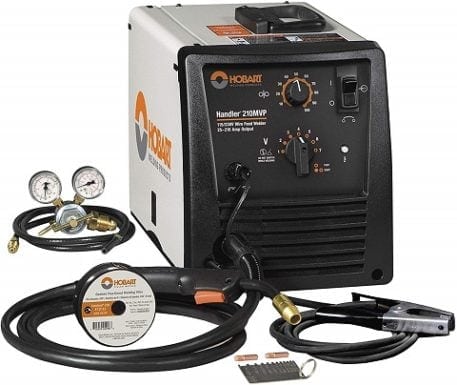 Hobart has managed to claim two of our three recommendations for MIG welders, which should tell you something about the quality of their machines. The Handler 210 MVP MIG welder is a more expensive option that also offers improved capabilities. This machine can easily weld ⅜-inch steel in a single pass and still produce a clean and strong bead that far surpasses what we were able to do with competing welders. While it definitely runs stronger on a 230V circuit, you can still plug this into a standard 115V outlet with the multi-voltage plug that it comes with. Making things easier and saving you time, the quick-change roll system lets you swap out wire without any tools.
At 75 pounds, this machine is a bit more difficult to move around your workspace. But when it comes to performance, it's one of the best MIG welders we've tried. The smooth arc and excellent penetration resulted in cleaner beads and less slag, even on thicker metals. It was easy to set and provided enough versatility for welding various sized metals without becoming overly complicated. You also get a three-year warranty so you can feel assured that your investment is protected.
Pros
Welds ⅜" steel in a single pass
Multi-Voltage plug for 115V or 230V electric
Tool-free quick-change roll system
3-year warranty
Excellent penetration and smooth arc
Cons
On the expensive side
Heavy at 75 pounds
---
4.

SUNGOLDPOWER MIG Welder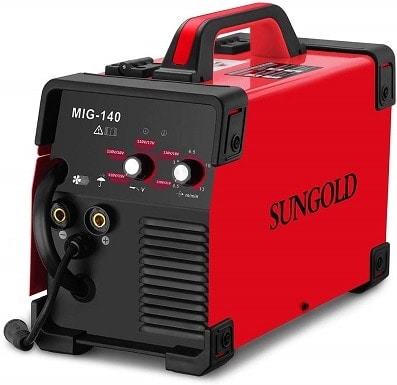 This 140-amp MIG welder from SUNGOLDPOWER was a bit of a surprise in our testing. We didn't expect too much from it, but it's capable of solid performance that nearly earned it a top-three position on our list. This device is a dual-voltage welder, so you can plug it into a 110V outlet or get even better performance on a 220V circuit. You have the option to weld with or without gas, depending on your preferences. We like the versatility that offers since we never know what kind of project may pop up next. But don't expect the manual to help you out, it's nearly useless. At just 23 pounds, this welder is very portable and can easily be moved around your workshop or job site.
While we appreciate the lightweight and versatility, the most impressive thing about this welder is its 60% duty cycle. Compared to the 20% duty cycle offered by other welders at this price range, you can run the SUNGOLDPOWER welder for three times longer without worrying about overheating. That said, you're limited to welding metals up to ⅛-inch. If it were capable of joining thicker metals then it would have been a top-three pick.
Pros
Dual voltage 110V/220V
Gas or flux-core options
60% duty cycle
Lightweight and portable, just 23 pounds
Cons
Has trouble welding beyond ⅛"
The instruction manual is useless
---
5.

Lincoln Electric Handy Core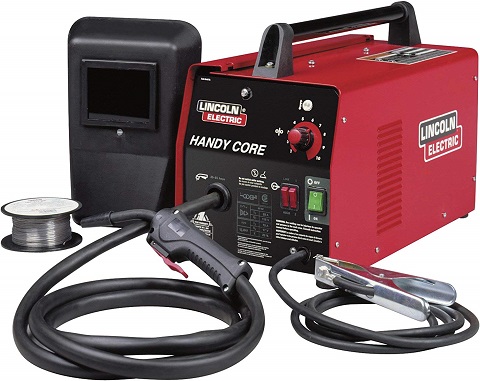 If you've been welding for any length of time, you're most likely familiar with Lincoln Electric. They're one of the biggest names in welding equipment, and we had high hopes for the K2278-1 Handy Core MIG welder. It has some great features that are worth mentioning, but overall, we were a bit disappointed in it. You can run this on a standard 115V outlet, which greatly enhances its portability. To that end, it's also quite compact. Plus, it's affordably priced, so even beginners can get started with this welder.
With a maximum output of just 88 amps, this welder is only capable of joining mild steel up to 1/8-inch. This isn't too impressive, and it's the major flaw holding this welder back. That said, it does deliver clean and quick welds reliably, but we often weld thicker metals than just ⅛-inch. One feature that we really liked is the cold contactor. This feature means the welding wire isn't hot unless the trigger is pulled, so you don't have to worry about accidentally touching it to something. But this welder is only capable of gasless welding, another drawback that kept it from our top three.
Pros
Runs on standard 115V electricity
Affordably priced
Produces clean and quick welds
Cold contactor means the wire is only hot when the trigger is pulled
Cons
Only welds up to ⅛" mild steel
Max output of 88 amps
Gasless only
---
6.

VIVOHOME Portable Flux Core MIG Welder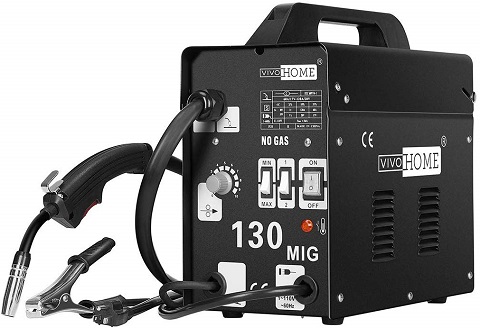 Simple and affordable, the VIVOHOME MIG welder will be appealing to many hobbyists for the low price. It also plugs into a standard 110V outlet making it easier to use. If you don't know about gas and you want an easy solution to create some welds, then this welder fits the bill since it's gasless only, but we prefer the versatility of being able to use gas if desired. Of course, for the price, it's hard to complain. But one thing we noticed that we didn't like is that the wire is always hot, even if the trigger isn't being pressed. You'll need to be careful not to accidentally touch the wire to anything metal.
This welder comes with a small accessory kit that includes a mask, but the mask is a cheap toy and we don't recommend using it for welding. We like the small size that makes this welder more portable, but it won't run on an extension cord, so you'll need an outlet nearby. In the end, it lives up to the low price, but for high performance and reliability, you'd be better off looking elsewhere.
Pros
Dirt cheap
Uses standard 110V electric
Compact and portable
Cons
Flux-core only, no gas option
The wire is always hot
The included mask is a cheap toy
---
7.

JEGS Performance Products MIG Gasless Welder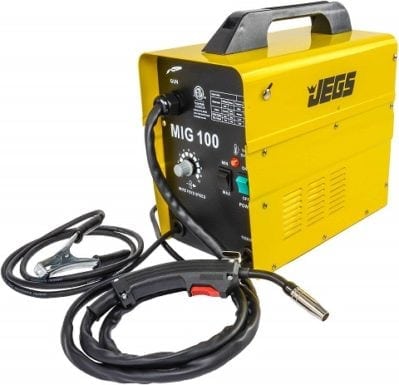 Priced very low with an included accessory kit that contains a welding mask and wire brush, this welder from JEGS Performance product is an easy to use machine with some notable drawbacks. First, it doesn't offer any gas hookups, so it's gasless only with this welder. If you can accept that, then you'll get some convenience from this device since it's compact and lightweight enough to be completely portable. It even plugs into a standard 110V outlet, so you should have no problem finding power for it wherever you take it. However, the 10% duty cycle means that you can only use it for very short periods before it needs a break.
While it's small enough to move around, the lead is extremely short, so you'll need to keep it very close to what you're working on. And what you're working on better be thin since this welder only penetrates down to ⅛-inch. For the low price, we didn't expect much more, but that's not enough to earn it a higher position on our list. Also, don't expect to use the included mask since it's just a cheap toy that doesn't even strap to your head.
Pros
Very low price
Plugs into a standard 110V outlet
Compact and portable
Cons
10% Duty cycle
Very short lead
Max penetration of ⅛"
---
8.

HITBOX MIG 3 in 1 MIG Welding Machine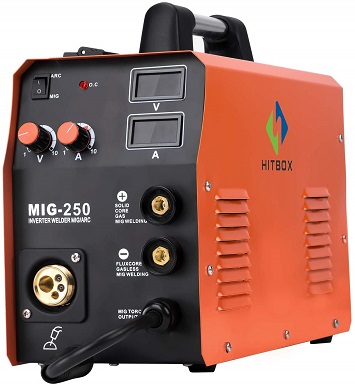 With three different welding options available, the HITBOX MIG 250 is a versatile machine that fell short in some crucial areas. It offers MIG, AR, and LIFT TIG welding, but you need to purchase the TIG gun separately to get TIG capabilities. Some flux-core wire is included to get you started with gasless welding right away, but it didn't fit in the machine! You can hook up gas to this device for true MIG welding, a feature that we were happy to see. It's also very lightweight at just 19 pounds, so you'll have no problems moving this welder around with you. Unfortunately, you'll be confined to spaces with a 220V outlet in close proximity since that's all it runs on.
The included ground cable is just four feet long, and its short length became a bit of a hindrance pretty quickly. But we liked all the different welding options that the HITBOX provided. When MIG welding, we got satisfactory results on metal up to ⅛-inch thick, but the penetration wasn't enough for metals that were much thicker.
Pros
Offers 3 different welding options
Gas and flux-core
Lightweight and portable – 19 pounds
Cons
Runs on 220V electric only
Short ground cable is only 4'
Included flux-core wire doesn't fit
---
9.

YESWELDER MIG 3 in 1 Welding Machine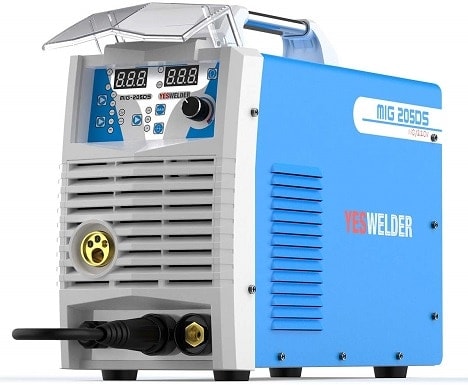 Another three in one welding machine, this device from YESWELDER offers ARC, TIG, and MIG welding. For MIG welding, you can choose to use gas or go gasless. You also get options for 110V or 220V power with the included adapter. On paper, this welder seems like a great choice, but when we used it, we got a different story.
The wire feed speed on this welder was inconsistent, making it difficult to get clean and steady beads. Especially for a new welder, this is going to result in some definite frustrations. The penetration also wasn't great, and we only had luck welding metals up to ⅛-inch thick. This welder is considerably more expensive than some of the other options we tested, so this poor performance was a real disappointment. We'd suggest saving your money and getting a better welder like the Forney Easy Weld 261 that earned our best value pick in the second position of this list.
Pros
3-in-1 MIG/TIG/ARC welder
Gas or flux-core MIG welding
110V/220V capable with included adapter
Cons
More expensive than other options
Inconsistent wire feed speed
Didn't have great penetration
---
10.

Super Deal PRO MIG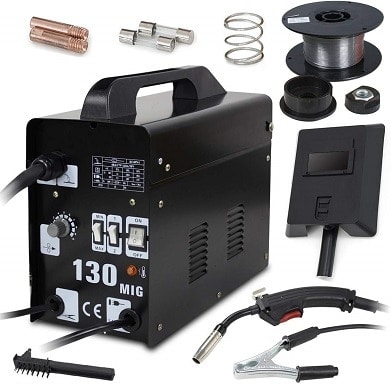 Out of all the welders we tried out for this list, the Super Deal PRO Commercial MIG 130 was the cheapest. Because of the low price, we didn't expect too much from it, and that's exactly what we got. We did like the metal tip on the gun since some of the other low-priced models came with plastic tips instead. But that was our best compliment for this machine. An accessory kit with a mask is included, but like the other cheap masks that came with competing welders, this mask isn't going to be much good for welding with.
With a poor duty cycle of 10%, we expected this machine to shutoff and overheat pretty often, and it did. This is frustrating and can become a waste of your valuable time. The gasless welding is simple and easy to set, but you can't use gas with this machine if you wanted, so it's limited in versatility. Though it's very cheap, we don't think it's a great choice, even for the budget-minded consumer.
Pros
One of the cheapest models available
Came with metal tip
Cons
Flux-core only, no gas option
10% duty cycle at 105 amps
The included mask is a cheap toy
---
Buyer's Guide: Choosing the Best MIG Welder
With so many options available, picking a single MIG welder to rely on can seem a bit daunting. To help you narrow your focus on the specific traits we think you should be looking for, we've written up this short buyer's guide. There are certain differences between machines that are worth looking out for, and to make sure they're fresh in your mind while you're comparing welders, we're going to discuss them here.
Also see: The top helmets for welding
Portability
Some people perform most of their welding in a workshop where portability isn't the biggest issue. If you're primarily performing automotive welding for instance, then you may not need a lightweight and compact welder that can easily be moved around. However, you may still consider size for the amount of table space or floor space it consumes. But if you're going to be welding various projects, you may need the ability to take your welder out of the workshop and move it around to where the metals you need to join are located. In such scenarios, a lightweight and portable welder is a blessing. But small size and lightweight aren't the only factors to consider when it comes to portability. Don't forget to think about the lead length and ground length as well. Typical leads are about 8 feet in length. But some machines have shorter ones that are just four feet, making it much harder to work since you're stuck in close proximity to the machine.
Power
Do you have 230V outlets all-around your workshop? If so, you can pick almost any welder you like. But, if you decide to take your welder out of your workshop, will you still have 230V hookups? While they do provide more power, they're not as prevalent. For that reason, many smaller welders are meant to use 110V outlets, which should be available everywhere. Keep in mind, most welders won't work on an extension cord, so you'll need to be able to reach whatever outlet you're using with the supplied power cable.
On the other hand, you will get better welding capabilities from a 230V outlet. So, what's the best solution? Well, many welders have multi-voltage plugs or include an adapter that allows you to plug a 230V machine into a 115V outlet. For better versatility, we suggest a dual-voltage machine that can work with almost any plug you find.
Duty Cycle
Duty cycle is a factor that not everyone considers, but it's very important to the performance of your welder. It's a measure of how long your machine can run without overheating or shutting off. A duty cycle of 20% means that it can run for just two minutes out of every ten minutes. That may not seem like a lot, but 20% is the average for most consumer-level welders. If you need a longer duty cycle for professional welding, expect to shell out a bit more money for a higher-end machine.
Price
If money were no issue, I'm sure we'd all own the biggest and most capable welders available. Unfortunately, most of us are going to be making some sacrifices to keep the welder we purchase inside of our budget. But lower-priced welders often lack certain performance features found on higher-end machines. That doesn't mean you can't get a quality MIG welder for a decent price though. Focus on the traits you find to be the most important for you and look for the welder that meets those needs without breaking the bank. You can always find a more expensive option, but just because it costs more doesn't necessarily mean it performs better.
Conclusion
MIG welders are the go-to machines for most hobbyists and professionals alike because of their ease of use and the ability to weld various metals without needing a perfectly clean surface. But there are so many of them available that it can be hard to decide on one to purchase, even after reading reviews. For us, the Hobart 500559 Handler 140 MIG welder was the best choice. It's the most powerful welder you can plug into a standard 115V outlet, welds up to ¼-inch steel with ease, has a top-notch robust build quality, and is even protected by an impressive five-year warranty.
For the best value, it's hard to beat the low-price and solid performance of the Forney Easy Weld 261. It's just 19 pounds, welds steel up to ¼-inch with great penetration and a smooth arc, and plugs into any standard electrical outlet. But for a premium product with professional capabilities, we recommend the Hobart Handler 210 MVP MIG welder. It can easily join ⅜-inch steel in a single pass, plugs into 115V or 230V outlets with the multi-voltage plug, has a tool-free quick-change roll system, and is backed up by a three-year warranty.
More buying guides like this: