10 Best TIG Welders of 2023 – Top Picks, Reviews & Comparisons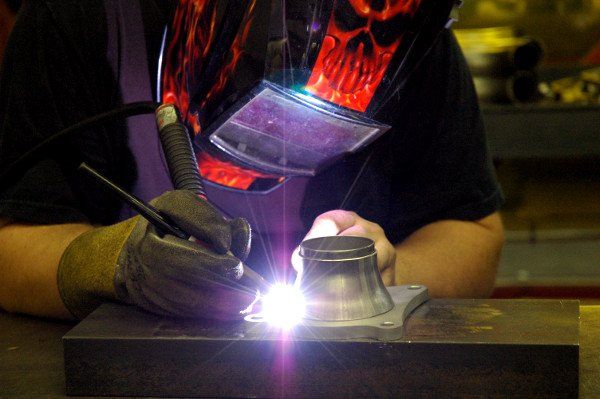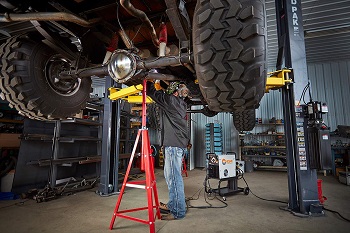 TIG welding is one of the most diverse types of welding. It gives you complete control over every aspect of your weld from the amperage to filler speed and more. You can even perform TIG welds without using a filler metal, making it perfect for joining the thinnest metals that can't be welded with any other process. If you've been looking into purchasing a TIG welder, then you may have noticed just how many different models are available.
Recently, it was time to upgrade our TIG setup, and we decided to search for the absolute best replacement. The following ten TIG welders reviews will compare some of the best and most popular TIG machines on the market. Only the top three have earned our recommendations, and they're the ones we suggest you stick with for the best results.
---
Our Favorite Models Compared in 2023
Rating
Image
Product
Details

Best Overall

PRIMEWELD TIG/Stick welder

Dual voltage machine
Also does stick welding
HF TIG ignition
CHECK PRICE

Best Value

SUNGOLDPOWER ARC MMA

Very affordably priced
Lift TIG ignition
60% duty cycle
CHECK PRICE

Premium Choice

Everlast PowerTIG 200DV

Dual voltage machine
TIG welds in AC and DC
HF and Lift TIG ignition
CHECK PRICE

AlphaTIG 200X

Dual voltage power
100% duty cycle at 150A
3 year warranty
CHECK PRICE

Weldpro 200-amp 3 in 1 inverter

Does MIG
TIG
and Stick
Lift TIG ignition
Lift TIG ignition Dual voltage
CHECK PRICE
The 10 Best TIG Welders – Reviews 2023:
1.

PRIMEWELD TIG/Stick Welder with Pulse – Best Overall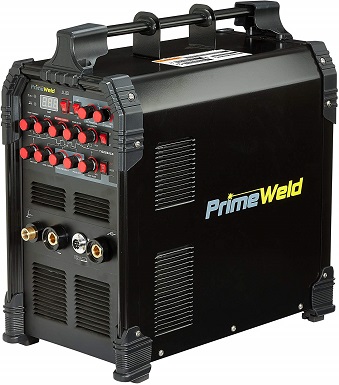 Packed with all the important features you'd want to see in a TIG welder, the PRIMEWELD TIG/Stick welder is an impressive machine that would be a great addition to any workshop or tool collection. It's dual voltage, so you'll be able to use it with nearly any outlet to find power wherever you work. It's also capable of performing stick welding, and it did great at that as well. But for TIG welding, a torch and foot pedal are both included. With HF TIG start, you'll get an easy to start arc every time. Once you start the torch up, you'll know why this machine was our favorite.
With a duty cycle from 40% at max amperage up to 100% at lower amperages, you'll probably never experience this machine overheating or shutting off. We didn't, and we put it through its paces. Welds with this device were impressive. Everything functions very smoothly. We got excellent penetration and the arc started right up every time with just a pull of the trigger. You'll be paying a bit for that quality, but considering what you get, we think it's priced pretty fairly.
Pros
Dual voltage machine
Also does stick welding
Includes foot pedal and TIG torch
HF TIG ignition
Up to 100% duty cycle
Cons
More expensive than other welders
---
2.

SUNGOLDPOWER TIG Welding Machine – Best Value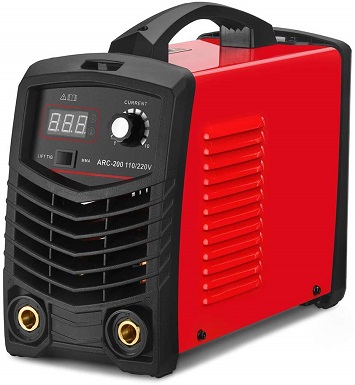 TIG welders can be pretty expensive machines, but SUNGOLDPOWER has made an affordable TIG welder in the ARC200. It's one of the lowest-priced TIG machines we've seen, but that doesn't mean that it's a slouch when it comes to performance. In fact, we were quite impressed with the way this little unit welds. It's got dual voltage functionality so you can plug it into whatever electrical circuit is available, and the necessary adapter is even included. What's even more impressive is the 60% duty cycle that means this machine can weld for six of every 10 minutes—much better than many TIG welders that cost several times as much.
For TIG, this welder uses a lift ignition, so you'll press the tip to the metal and when you pull it back, the arc will start. It worked excellently and we had no trouble getting our arc to start each time. However, no TIG torch is included with this unit, but for the price, you can afford to purchase several and still save hundreds over what you'd pay for another machine. For us, the impressive functionality and low cost of this device make it the best TIG welder for the money.
Pros
Very affordably priced
Dual voltage power with included adapter
Lift TIG ignition
60% duty cycle
Cons
Doesn't include a TIG torch
---
3.

Everlast PowerTIG – Premium Choice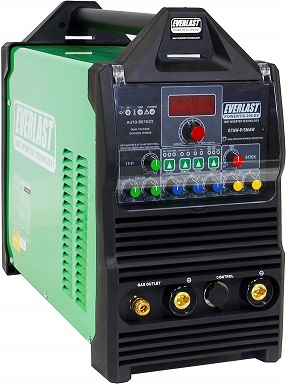 The Everlast PowerTIG 200DV is an impressive machine that's ready for commercial and industrial use. It's one of the more expensive welders we tested, but it's also one of the most capable TIG machines we've seen. You get standard DC TIG welding, but you also get AC capability, making it possible to weld aluminum with the PowerTIG. You also get to choose how you want to start your TIG arc since it's capable of both HF and Lift ignition.
Everything you need to start TIG welding comes with this machine, including the TIG torch and foot pedal. It's even dual voltage so you can plug it into 110V or 220V electric, depending on what's available to you. But one of the most impressive features is the duty cycle that is 60% at max amperage and 100% duty cycle just below max amperage. This means you can keep this machine running all day and won't experience any shutoffs or loss of power. Overall, we think it warrants the high price tag, which is why the Everlast PowerTIG 200DV has earned our premium choice recommendation.
Pros
Dual voltage machine
TIG welds in AC and DC
Includes foot pedal and TIG torch
HF and Lift TIG ignition
60% – 100% duty cycle
Cons
More expensive than other welders
---
4.

AHP Alpha TIG/STICK Welder PULSE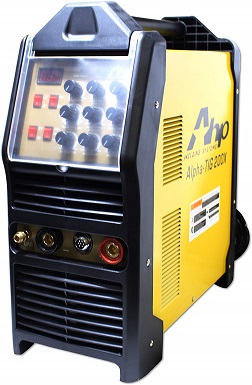 AHP has produced a very capable machine in the AlphaTIG 200X. More than just your average TIG welder, this has PULSE capabilities to allow you even more control over your weld and make it possible to join the thinnest materials without punching through. It's even able to stick weld, so you're getting more than just a TIG welder with this device. Since it is primarily a TIG welder, the foot pedal you need for controlling amperage is included.
We noticed just two drawbacks with this welder that kept it from our top three. It's much larger than some of the other TIG welders we tested, so it takes up a lot more space in your workshop. It's also very heavy, and together, those traits make it much less portable. That said, it's got some other characteristics that keep it ahead of most of the pack. It's dual-voltage capable, for instance. Moreover, it's protected by a three-year warranty. But the most impressive feature is the duty cycle. Running at the max amperage of 200 amps, the duty cycle is 60%. But at 150 amps, you get a 100% duty cycle, making this machine great for commercial applications.
Pros
Dual voltage power
3-year warranty
Includes foot pedal for TIG welding
100% duty cycle at 150A
Also capable of Stick welding
Cons
Much larger than competitors
Very heavy and not as portable
---
5.

Weldpro 3 in 1 MIG/TIG/ARC welder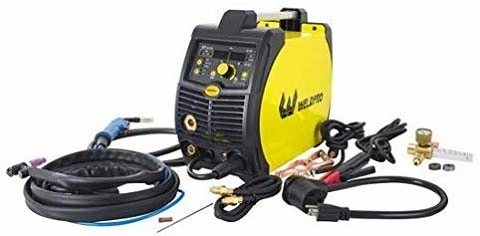 If TIG welding isn't enough for you, the Weldpro 200-amp inverter multi-process welder offers three types of welding; MIG, TIG, and ARC Stick. That's quite a lot of functionality from a single unit! It's a bit more expensive than many of the other welders we tested for this list, but you do get a lot of with this welder. Aside from performing the three most common types of welding, it's also a dual voltage machine, so you can use it with 110V or 220V outlets. Dual digital displays make it easy to get your settings right and the machine is well-built overall.
For TIG welding, you get lift ignition, which is preferable to the low-end scratch start models. But you won't get a foot pedal included with this welder, you'll have to purchase one separately. That's a bit of a letdown, but the way this device welds is not. The arc started up instantly every time and we got great penetration with our welds, though the supplied torch wasn't our favorite of the bunch.
Pros
Does MIG, TIG, and Stick
Lift TIG ignition
Dual voltage
Cons
One of the more expensive options
Doesn't include a foot pedal
Included torch isn't the best
---
6.

Lotos 3 in 1 TIG Welding Machine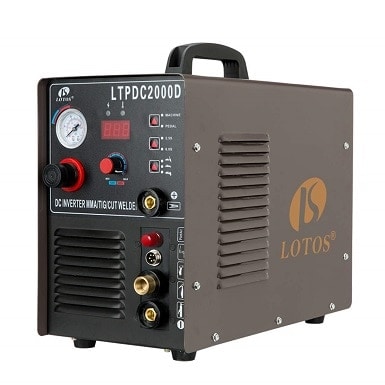 This combo welder from Lotos offers both TIG and Stick welding, plus a plasma cutter that can cut through 0.75-inch thick metal. It can really do it all. Dual voltage capabilities make it even more versatile since you can plug it into either a standard 110V outlet or a 220V. Unfortunately, you'll need a pigtail to run it on a 110V circuit, and the connector is not included.
As a TIG welder, it offers some great features such as the HF start that makes it easy to get your arc started. But no foot pedal is included with this machine, another drawback that's holding it back from receiving our recommendation. Once we hooked our own pedal up to it, the TIG welding from this device was sufficient, though we weren't impressed with the lackluster TIG torch that was included.
The best feature of this machine is the plasma cutter. If you need a machine with both plasma cutting and TIG welding capabilities, then this one may be worth considering. As a TIG welder, we'd suggest picking something the PRIMEWELD in our first position instead.
Pros
Offers TIG and Stick welding
Pilot arc plasma cutting capabilities
HF ignition
Dual voltage design
Cons
A foot pedal is not included
Needs a better TIG torch
Needs a pigtail to run on 110V
---
7.

VIVOHOME 3 In 1 TIG Welder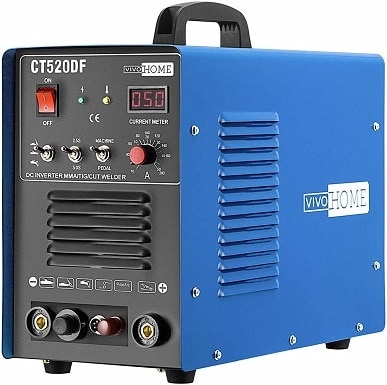 This three in one multi-functional welder from VIVOHOME offers a plasma cutter, Stick/MMA welder, and a TIG welder together in a single machine. The plasma cutter offers a no-touch pilot arc, and it can cut through metals up to 0.75 inches thick. We dabbled with the stick welder portion of it as well, and it performed quite well. As a TIG welder, it was sufficient, if not entirely impressive. You get HF start for an easy arc each time. You also get a great duty cycle of 60% at 200 amps and 100% at 105 amps. Not the best we've seen, but certainly not the worst either.
Once we got the arc started, the TIG welds we made with the VIVOHOME welder were good. Penetration was acceptable, and overall, it was a decent experience. But none of our testers enjoyed the included TIG torch, which is cheap and doesn't feel great. You also don't get any foot pedal with this machine. Considering the foot pedal was included with other welders that were much cheaper, we don't think this one is the best deal.
Pros
TIG Stick and MMA welding
Pilot arc plasma cutter
60% Duty cycle
Cons
More expensive than similar competitors
No foot pedal included
TIG torch is cheap and doesn't feel great
---
8.

Mophorn Combo TIG Welding Machine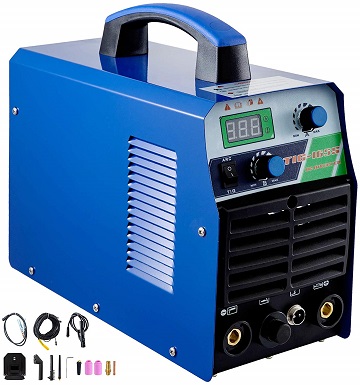 Combo welders are becoming much more common these days, and this Mophorn TIG welder also doubles as a stick welder. We appreciate increased functionality from our tools, so you won't hear us complaining about versatility. Speaking of which, this device is dual-voltage capable so you can plug it into almost any outlet you can find.
With the Mophorn combo welder, you get a duty cycle of 60%, pretty decent when you take into account the very affordable price you can purchase it for. But there are some notable flaws, such as the lack of a foot pedal. Again, this is a very low-priced device, so we can give it a pass on the foot pedal. But when it comes to TIG welding, this machine is a lift start device, not a problem in and of itself. The issue is that the arc wouldn't start easily every time. Sometimes the tip would stick more than it should. Other times, the arc wouldn't start when we lifted the tip. This became a bit of an annoyance, and it held this machine back in the long run.
Pros
TIG and Stick welding
Dual voltage
60% duty cycle
Cons
No foot pedal
Tip stuck to the metals
Lift start TIG ignition didn't work so well
---
9.

Hobart EZ-TIG TIG Welder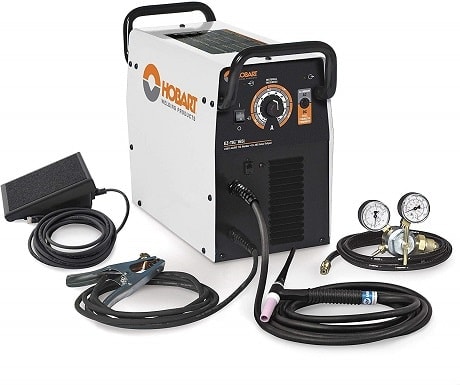 We're usually pretty impressed with Hobart products, and we expected to like their EZ-TIG welder. The first thing you'll notice is that it's very expensive. In fact, it's the most expensive TIG welder we tested for this list. We thought this would equate to some superior performance, but we were disappointed on that front. The performance was just average, and while our welds came out nice, we didn't get the impressively smooth feeling that we felt with some of the other high-end machines we tried out. Worse, ours ended up dying after a few weeks. This was surprising and very disappointing.
When it comes to welding, there were some plus sides to mention. It's AC and DC capable, so you can weld most types of metal with the EZ-TIG. HF ignition makes it easy to get your arc started every time. The foot pedal for controlling amperage is included. We also liked the fan-on-demand feature that only runs the fan when necessary, which should prolong the life of this welder, but it didn't for ours. You can weld up to 3/16 inches with this welder. In the end, we don't think it does enough to justify the exorbitant price tag.
Pros
Foot pedal included
AC and DC TIG welding
HF ignition
Welds up to 3/16"
Fan-on-demand
Cons
Overpriced
Mediocre performance
Poor lifespan
20% duty cycle
---
10.

HITBOX Portable TIG Welding Machine
The HITBOX is small and simple. It's also affordable, so we were hoping it would be a good entry-level TIG welder. With Stick welding capabilities also built-in, it looked like a good candidate at first. We noticed our first flaw almost immediately though when we realized it only works on 220V electric. That's ok, we found a plug and got ready to start welding! Unfortunately, our first unit didn't work out of the box and had to be returned. Looks like quality control is leaving something to be desired.
Our replacement worked, but it wasn't the smooth experience we were hoping for. Ours was leaking argon the entire time, and we couldn't seem to alleviate the issue. Worse, even our second unit stopped working after just a few weeks. We turned it on and heard a loud pop and smoke started coming out. Though it's affordable, we don't think it's reliable enough to purchase, so we'd recommend staying away from the HITBOX TIG welder.
Pros
Also Stick welds
Very small and compact
Cons
Poor quality control
220V only
Unreliable device
Leaks argon
---
Buyer's Guide: How to Choose the Best TIG Welder
When purchasing a new TIG welding machine, there are a lot of factors to consider. It can start to be overwhelming if you're new to welding and you're seeing so many variables from machine to machine. In this short buyer's guide, we're going to attempt to declutter some of that messy information and help you cut to the heart of what traits you need from a TIG welder. If you keep these in mind and prioritize the right features and functions, you'll be sure to pick the right machine to fill your needs and beads.
DC and AC TIG Welding
AC/DC is a rock band, but they don't have anything to do with welding. When we talk about AC and DC with regards to TIG welding, you're discussing the way that the current is used to perform the weld. There is a lot of technical information that could be discussed on this topic, but it's not necessary to understand what you need. The short of it is that DC is appropriate for welding steel and iron, but AC is what you need to weld aluminum. You can't weld aluminum with DC, so if you want to weld aluminum at all, you'll need a TIG welder with AC capabilities. Not all of them offer it, but some of the better models do. Be aware, it's a feature that you'll probably be spending a bit more to get.
Duty Cycle
Duty cycle is an important specification to consider on any welder that you purchase, but many people don't even know what a duty cycle is. The short explanation is that it's the amount of time that the machine can run continuously without overheating or shutting off. Duty cycle is expressed in a percentage, such as 20% or 60%. So, a 20% duty cycle means that the welder can run for two straight minutes out of every 10 minutes without shutting down. If you're just welding in your garage and taking lots of time between welds to clean up and prep, then you may not be too concerned with a high duty cycle. For commercial applications, a high duty cycle is necessary so you can keep welding all day without worrying about your machine shutting off.
Unfortunately, duty cycle gets a bit more complicated when you bring amperage into the equation. If a duty cycle is rated at 40% at 200 amps, that means it can run for four whole minutes out of every ten when the machine is running at 200 amps, which is likely full load. On the same machine, it may have a duty cycle of 100% at 150 amps. This means that if you're welding at 150 amps, you can keep it running continuously with no issues. For hobbyists, 20%-40% duty cycle may be sufficient. For professionals, 60%-100% duty cycle will be a safer bet.
Multi-Function Machines
You're buying a TIG welder, but why not get even more out of it? These days, welders aren't limited to a single type of welding. Many offer up to three different types of welding in the same machine. It's not uncommon to see MIG, TIG, and Stick welding all bundled into the same device. Some of them even have a plasma cutter built-in. This can save you tons of workshop or work truck space by combining several separate machines into one package. Moreover, it can boost the functionality of a single machine by allowing you far more versatility in what you can do with it. If you like the idea of being able to expand your horizons beyond just TIG welding, then you may consider purchasing a multi-function machine instead of a dedicated TIG welder.
What's Included?
TIG welding is a pretty complicated process that involves one or both of your hands as well as a foot to control the amperage pedal. While you can weld without the foot pedal, you won't get the same level of control. Unfortunately, the foot pedal is commonly neglected and not included with many of the TIG welders we've seen. If you already have a welder control pedal laying around, then this may not be an issue. But if you're hoping that your TIG welder includes everything you need to get started, you may want to make sure that you're choosing a machine that includes the foot pedal.
Conclusion
There are many different TIG welding machines on the market, but there are some drastic differences between them. We wanted to figure out which ones were the best options, so we tested as many as we could get our hands on. After reading our reviews, you should know which welders we recommend. But to make sure it's fresh in your mind, we're going to summarize our suggestions once again. The PRIMEWELD TIG/Stick welder was our favorite overall. It includes the TIG torch and foot pedal, has HF ignition, is AC and DC welding capable, and provides a duty cycle from 40%-100%.
For the best value, it's hard to beat the affordability and performance of the SUNGOLDPOWER ARC200. It's a dual voltage machine and the adapter is included, it has lift TIG ignition to get your arc started easily, and has a 60% duty cycle so you don't have to worry about it shutting down. And finally, the Everlast PowerTIG 200DV was our premium choice. You can choose between HF and Lift TIG ignition, and AC or DC welding. The foot pedal is included and the duty cycle ranges from 60%-100% for a very impressive and capable welding machine.
More buying guides like this: