8 Best Plasma Cutters in 2023 – Top Picks & Reviews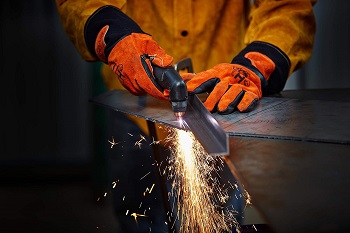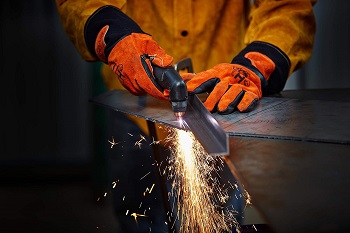 There are many different ways that you can cut metal, but none of them can provide clean cuts in such an efficient manner as a plasma cutter. But these tools can vary widely in their abilities and price, so which one is the best option?
From a couple hundred bucks to well over a thousand, you're looking at a pretty serious investment, so it's important to make the right decision. To that end, we've cut many different metals with quite a few of these devices.
After compiling as much information as we could from our testing, we've written up the following reviews to share what we learned about the best plasma cutters with you. Hopefully, after reading this article, you'll know exactly which one will fit your needs.
---
Our Favorite Models in 2023 Compared
Rating
Image
Product
Details

Best Overall

Lotos LTP5000D

Rough cut up to ¾"
Non-touch pilot arc
1-year warranty
CHECK PRICE

Best Value

Amico CUT-50

Adapters included for 110V electric
Affordably priced
Max severance of 1"
CHECK PRICE

Premium Choice

Hypertherm Powermax30 XP

Adapters included for any outlets
Rough cut up to ⅝"
3-year warranty
CHECK PRICE

Forney Easy Weld 251

Runs on 120V standard electricity
Drag touch pilot arc
Works on a generator
CHECK PRICE

Miller Electric 907529

Pilot arc
Lightweight and portable
Automatic air regulation
CHECK PRICE
The 8 Best Plasma Cutters
1.

Lotos LTP5000D Plasma Cutter – Top Pick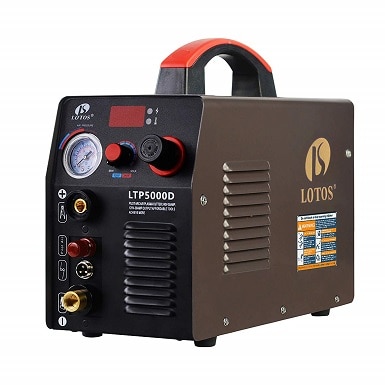 With an impressive maximum severance cut of 0.75 inches, our pick for the best plasma cutter overall, the Lotos LTP5000D, is a very capable plasma cutter that won't cost you an arm and a leg, unless you have terrible aim with the torch! It features dual voltage capability that allows it to run off of 110V or 220V electricity, but you'll need a special pigtail adapter to use a 110V socket. The adapter isn't included, so you'll have to buy that separately if you want this functionality. Once it's plugged into an electrical outlet, all you need to do is hook up your air compressor and you're ready to cut copper, steel, and aluminum.
The non-touch pilot arc allows you to cut through rusted old metal surfaces without the need to grind it down or scratch start. In steel up to ½-inch thick, we were getting very clean cuts as long as we kept the pace slow. At ¼-inch, we could slide right through the metal with very little resistance and the cuts were very clean with almost no slag and no additional cleanup necessary. This cutter is even backed by a one-year warranty so you know that your investment is well-protected.
Pros
Can plug into a standard 110V outlet w/ adapter
Rough cut up to ¾"
Non-touch pilot arc
1-year warranty
Cons
Requires separate pigtail adapter for 110V outlets
---
2.

Amico CUT-50 Plasma Cutter – Budget Buy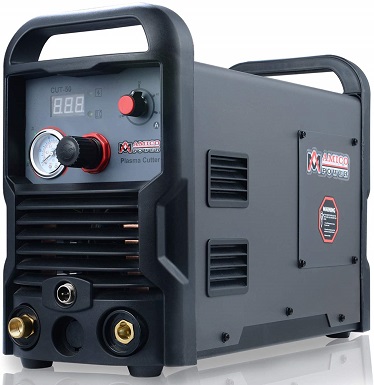 Plasma cutters can get extremely expensive when you start looking at high-end name brand models. But for home and hobby uses, the investment can get too steep. That's when the Amico CUT-50 really shines with the very affordable pricing that makes it attainable for any DIY home hobbyist. But with an impressive rough cut of up to 1 inch, it's capable enough to be used in a professional capacity as well. We'd even feel confident trusting it for light industrial use. It can be used with electricity from 110V-240V and the auto-voltage automatically adjusts to whatever circuit it's on. You'll need an adapter for 110V outlets, but luckily, the adapter is included.
Our only complaint with the CUT-50 is that it needs better quality control from the factory. Our first one was DOA, but they quickly replaced it and we had no issues with our second unit. Considering the impressive capabilities of this device at a fraction of the price you'd spend on a similar machine from most other manufacturers, we think it's the best plasma cutter for the money.
Pros
Works with 110V or 240V outlets
Adapters included for 110V electric
Affordably priced
Max severance of 1"
Cons
Needs better quality control
---
3.

Hypertherm Powermax30 XP Plasma-Cutter – High-End Pick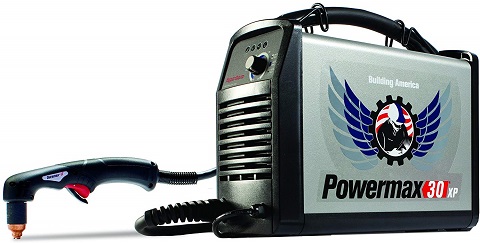 When it comes to professional-quality plasma cutters that are built to withstand the rigors of commercial industrial use, Hypertherm is the industry standard. The Powermax30 XP is one of their more affordable units, but it's still very expensive compared to some of the other options available. That said, sometimes you get what you pay for, and the quality of this machine is hard to match at any price. Its auto-voltage feature automatically adapts to whatever voltage electrical socket you plug it into, from 110V-240V, and all adapters are included.
The three-year warranty included with the Powermax30 XP is notable, but the most impressive thing about this machine is the way it cuts. Even on ½-inch steel, we were able to produce clean cuts with almost no slag at a very quick rate. You can rough cut up to ⅝ of an inch, and it's not nearly as rough as the cuts made by other plasma cutters we tested. For improved versatility, you get FineCut consumables for making detailed cuts in thin metal, as well as consumables for high-power cuts in thick metal.
Pros
Auto-voltage adapts for 110V-240V electric
Adapters included for any outlets
3-year warranty
Rough cut up to ⅝"
The industry standard for professionals
Cons
Very expensive investment
---
4.

Forney Easy Weld 251 Plasma Cutter
The Forney Easy Weld 251 is an easy to use plasma cutter thanks to its drag touch pilot arc capability. This means that you can touch the tip right to your metal, but you don't need a clean surface to complete the circuit. Expanded metal and dirty, rusty, old metal alike will cut quickly and easily with this plasma cutter. Unfortunately, you can only cut steel up to 0.25 inches and aluminum up to 3/16 of an inch. You may need more power for daily industrial use, but for the hobbyist, this will likely be sufficient.
If you don't have a 240V circuit nearby, there's no need to worry because the 20 P plasma cutter runs off a standard 120V outlet. Even better, it's generator friendly, so if there's no outlet in sight, you're still not out of luck. Compared to some of the most expensive models we tested, this one is a steal, so if you can deal with its limited cutting depth, you can save yourself quite a bit of cash. If it were able to cut thicker metal, the Forney plasma cutter would likely have earned a top-three recommendation from us.
Pros
Runs on 120V standard electricity
Drag touch pilot arc
Works on a generator with no problems
---
5.

Miller Electric 907529  Plasma Cutter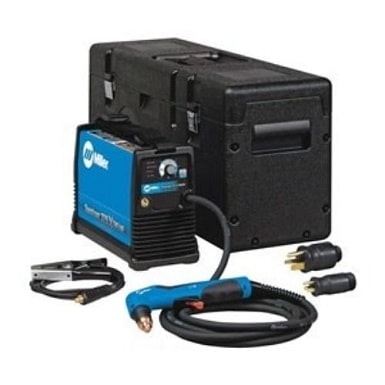 Miller Electric is a well-known and respected name in welding, but their plasma cutter didn't live up to the bar set by their welding equipment. For the extremely expensive price, we were hoping for better performance. It's a pilot arc machine, so you don't need good contact with your metal to complete the circuit. This means you'll have no problem cutting through painted, rusted, or corroded metals with this device, even up to its max rough cut of ⅝ of an inch. It's very light and portable, weighing under 20 pounds with the torch and all. It includes a protective case for transportation, and even a shoulder strap to make it easy to move around the job site.
Thanks to the multi-voltage plug, you can use this cutter with any outlet from 110V to 240V. However, it overloads and shuts off so often that we got annoyed while using it. This is especially so on 110V outlets. It's also very slow when cutting steel, which is once again even worse on a 110V circuit. The automatic air regulation makes it easier to get the right settings though since it adjusts automatically to the pressure provided by your compressor.
Pros
Pilot arc
Multi-voltage plug for 110V and 220V outlets
Lightweight and portable
Max severance of ⅝"
Automatic air regulation
Cons
Very expensive
Often overloads
Slow cutting on steel
---
6.

PRIMEWELD CUT60 Pilot Plasma-Cutter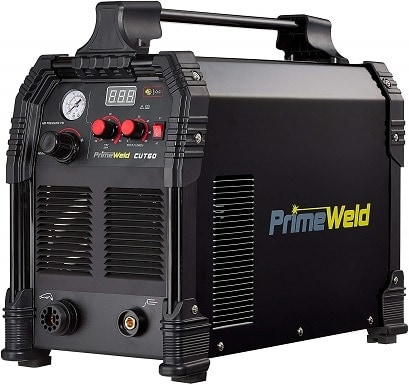 Whether you're cutting new metal, expanded metal, or old rusted and painted metal, the continuous pilot arc of the PRIMEWELD CUT60 will allow you to cut through it with ease. In our experience, it made short work of ⅛-inch steel, creating a clean cut quickly. But it started to slow significantly once we started cutting through thicker ¼-inch metal plates. Of course, at less than half the cost of some of the more expensive models we tested, this is still pretty decent performance. But it's not good enough to make it into our top three. It is protected by a three-year warranty, though, which is better than most competing plasma cutters, especially at this price.
We were thankful for the extra-long 20-foot torch cable, but the power cable was very short and made our lives more difficult. It does work with 110V and 220V electric with the included adapter. But we had two other complaints with this device. First, the instruction manual is barely readable and you won't find any help in it. Second, the right consumables are difficult to find for this machine, and the first set we ordered did not fit.
Pros
3-year warranty
Pilot arc
Extra-long 20' torch cable
Cons
Short power cable
Terrible instruction manual
Difficult to find the right consumables
---
7.

Hobart Airforce 27i Plasma Cutter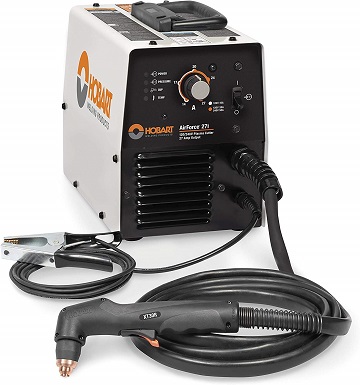 Hobart makes some great equipment, but the Airforce 27i plasma cutter did not impress us. It's one of the most expensive units we've seen, so we expected some top-tier performance. Unfortunately, it disappointed us with a mediocre performance at best, which is why we think it's very overpriced. It features a multi-voltage plug that makes it possible to run on any electric circuit from 120V-240V. However, the performance was so poor on a 120V circuit that we would recommend skipping this altogether. It would barely cut ¼-inch steel when running on 120V.
Plugged into 240V electricity, we were able to rough cut metal up to ⅝ of an inch. But at this thickness, we got lots of slag and the cut needed plenty of cleanup to be usable. At 32 pounds, it's also much heavier than other similar models, which can become a nuisance when trying to move it around for large projects. In the end, we'd suggest saving your money by investing a better model like the Hypertherm Powermax30 XP that earned our premium product recommendation.
Pros
Rough cut up to ⅝" on 240V
Multi-voltage plug for 120V or 240V hookups
Cons
Overpriced
Doesn't work very well on 120V electric
Heavier than other similar models
---
8.

ZENY CUT-50 Inverter Plasma-Cutter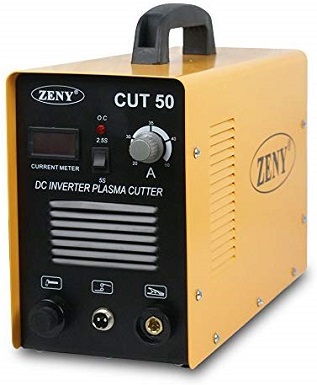 If you're looking for a cheap plasma cutter, then you may be willing to sacrifice some performance to purchase a lower-priced product. The ZENY CUT-50 plasma cutter is definitely one of the cheaper models available, but its performance and longevity are too poor for us to recommend it. Especially since other models in the price range will perform much better and last considerably longer as well. This device has dual voltage capabilities, so it can run on 110V or 220V electricity. But that's about the end of the good features on this plasma cutter.
If you want to cut any metal thicker than ⅜ of an inch, you'll need to look elsewhere. Even at that thickness, the cuts this tool made were very rough and slow. Worse, it constantly overloads and shuts off, so you'll be stopping every few inches. Our biggest complaint though is the very poor lifespan. Ours died after just a few uses, leaving us with a very expensive paperweight. After doing some research, we determined that this is a pretty common problem with the ZENY CUT-50.
Pros
Dual voltage 110V or 220V capabilities
Very cheap
Cons
Very poor lifespan
Constantly overloads
Only cuts up to 3/8"
---
Buyer's Guide: How to Find the Best Plasma Cutter
As you can see, there are many different plasma cutters on the market. They all perform the same basic function, with varying degrees of performance. Some of the most expensive devices cost six or seven times as much as the lower-end models. What traits and differences warrant a wide range of prices? In this short buyer's guide, we're going to discuss precisely that. After reading, you'll know exactly which traits to prioritize to help you determine which plasma cutter is the best fit for you.
Maximum Clean Cut and Rough Cut
Each plasma cutter is rated to cut metals up to a certain thickness. But that's not the whole story. There are two different ratings for each device that measure rough cut, also called max cut or max severance, and a separate measurement for a clean cut.
Clean cut is how thick of metal can be cut while creating a nice edge that doesn't produce much slag and doesn't require extra cleanup. These are finished cuts that can be made by cutting at a decent pace without bogging the cutter down.
Rough cut or max severance is the thickest metal that the plasma cutter can cut through. You'll have to move much slower with the torch since this is at the very limit of the machine's capabilities. But don't expect this to be a beautiful finished edge. You're going to create a lot of slag and the final cut will be very rough as the name implies. It will likely require a good bit of cleanup if you want to use it as a finished edge.
Some of the plasma cutters we tested could only deliver clean cuts up to 0.25 inches, while others were capable of clean cuts up to a half-inch. Some of the most capable devices were able to create rough cuts up to one inch in thickness.
Dual Voltage
Plasma cutters draw a lot of energy, so most of them are designed to run on a 240V circuit. Of course, most people don't have extra 240V outlets around the house or workshop, which is why multi-voltage plugs and adapters are included with dual voltage plasma cutters. This will allow you to plug the machine into a standard 110V socket. Keep in mind, you may not get the same level of performance from a 110V outlet as a 240V one, even with a dual voltage cutter. Also remember, some devices have this ability but did not include the adapter, so you'd have to buy it separately if you want to plug into a standard electrical outlet.
Pilot Arc
A regular plasma cutter completes its circuit when the metal tip of the torch makes contact with the metal you're cutting, which allows the torch to fire and cut the metal. Pilot arc plasma cutters have their own earth wire that allows the system to complete its circuit without having to contact the metal you're cutting. The advantage of this is that you don't need a clean piece of metal to make the connection. With a standard plasma cutter, the metal you're cutting needs to be bare and clean enough to create a good circuit. With a pilot arc enabled plasma cutter, you can cut through painted, rusty, corroded, and dirty metal with no issues because the cutter is completing its own circuit.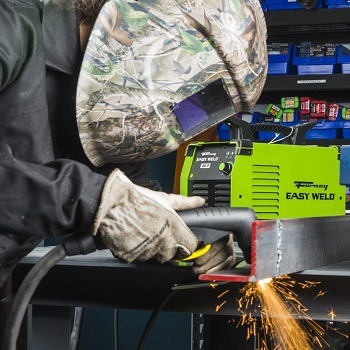 Plasma cutting is a high-temperature, high-energy procedure. As such, a plasma cutter is asked to do some serious work. It's not uncommon for the lower-priced devices to die within a few short years. For this reason, it's important to look for a device with a solid warranty from the manufacturer. Not only does this protect your investment, but it also shows that the company has faith in its product and they're willing to back it up.
Price
There is a massive difference in price between the cheapest models we tested and the most expensive. This is where you'll have to decide how often you'll be using your plasma cutter, and how hard of tasks you'll be asking it to perform. If you're just going to be using it to perform some light cuts a few times a month, you may not need to spend a small fortune getting a device with the deepest cutting abilities and all the bells and whistles. On the other hand, if you plan to use your plasma cutter for daily industrial use at the professional level, it will be worthwhile to invest in a solid performer with a proven history of reliability. While you don't need to break the bank just to get a good plasma cutter, the best ones definitely tip the scales of the price range and you should expect to spend a good bit to get a professional-quality machine.
---
Final Verdict
Whether you're just using it for hobby work and personal projects or it's going to see daily professional use, you need a plasma cutter that's capable of creating clean cuts quickly in various metals. After testing quite a few of these devices, we've narrowed down the field to eight of our favorites. Our reviews compared their strengths and weaknesses, and after all is said and done, three of them have earned our recommendations. The Lotos LTP5000D was our pick for the best plasma cutter overall, with dual voltage capability, non-touch pilot arc cutting, and the ability to deliver a rough cut in metals up to ¾-inch thick.
Combining solid performance and affordability, the Amico CUT-50 was our pick for best plasma cutter for the money. It has an impressive max severance of one-inch, and it can run on any electric circuit from 110V to 240V. It even includes the necessary adapters. But if you want professional quality you can count on and don't mind the premium price tag, it's hard to beat the Hypertherm Powermax30 XP. It's the industry standard for professionals and it's protected by a three-year warranty. It makes quick, clean cuts and can plug into any outlet with the included adapters.
More buying guides like this: