10 Best Shop Air Compressors of 2023 – Reviews & Top Picks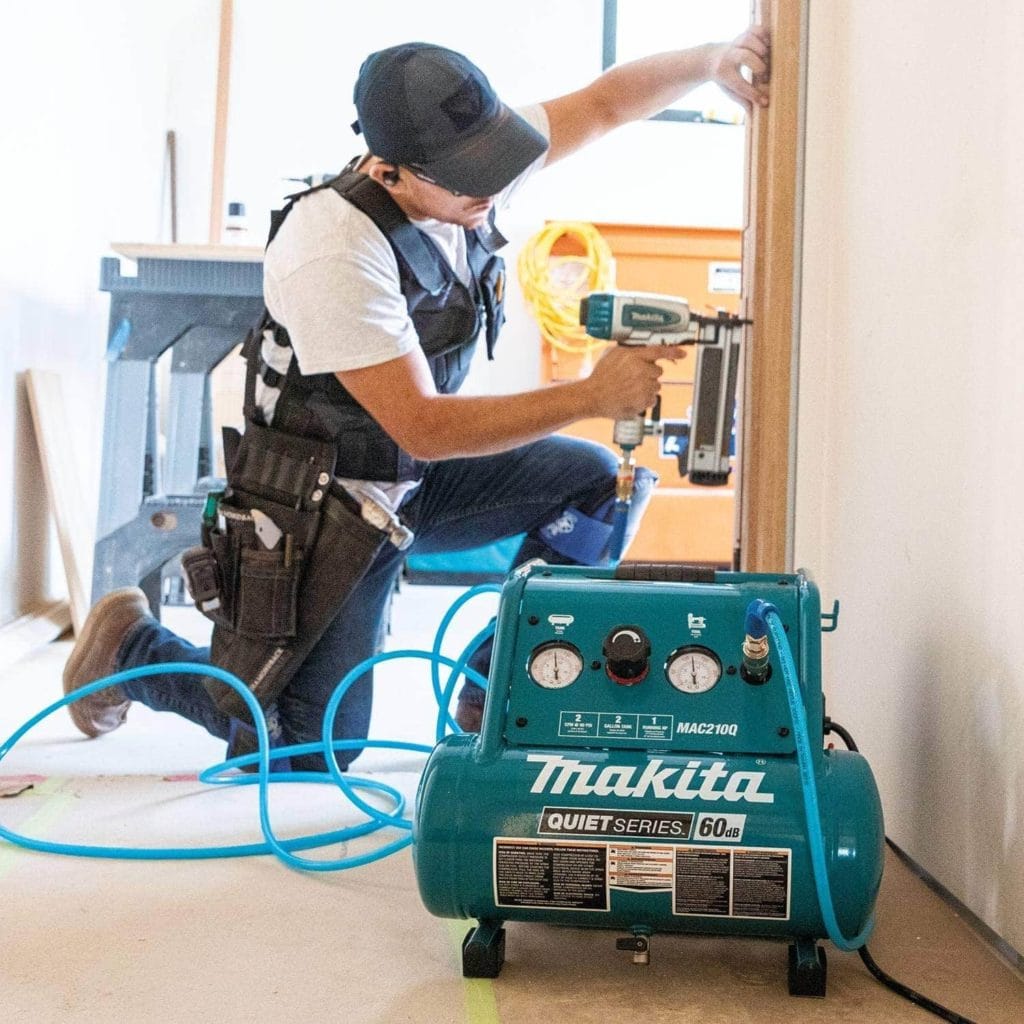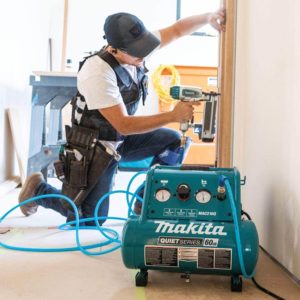 Several air compressors are on the market, ranging from affordable for a homeowner to outrageously expensive models for a shop. Of course, not all of these machines are equally useful for every task. An air compressor in a shop will take much more abuse than a compressor in the average homeowner's garage and needs to be built to much more stringent standards. Not to mention the massive airflow needs of most shops, which are far beyond the capabilities of many consumer air compressors.
We've taken it upon ourselves to gather and test many of the best shop air compressors on the market, hopefully saving you the hassle of doing the same. Along the way, we've written reviews comparing 10 of our favorites so that you can benefit from all the work.
---
A Quick Comparison of Our Favorites in 2023
Rating
Image
Product
Details

Best Overall

California Air Tools 10020C Air Compressor

Operates at just 70 decibels
Powerful 2HP motor
Draws a mere 7 amps
CHECK PRICE

Best Value

WEN 2202 Vertical Air Compressor

5 CFM at 40 PSI
Covered by a two-year warranty
86 pounds is still movable
CHECK PRICE

Premium Choice

Quincy QT-54 Reciprocating Air Compressor

175 PSI max pressure
Built-in thermal overload
Powerful 5HP motor
CHECK PRICE

Industrial Air ILA1883054 Air Compressor

30-gallon vertical air tank
Dual-voltage motor
2-year warranty
CHECK PRICE

Ingersoll Rand Store Two-Stage Air Compressor

5HP motor
100% duty cycle
Massive 60-gallon tank
CHECK PRICE
The 10 Best Shop Air Compressors
1.

California Air Tools 10020C Air Compressor – Best Overall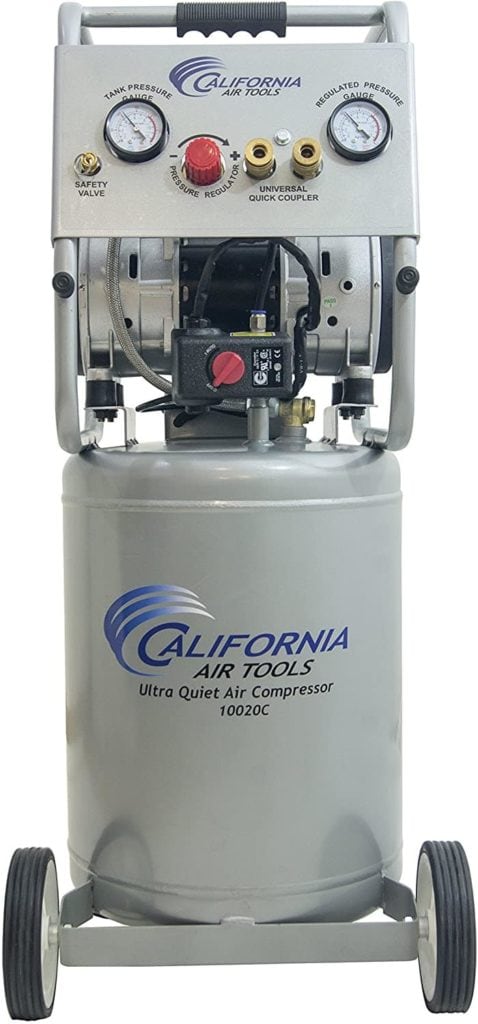 Our pick for the best compressor overall, the California Air Tools 10020C, offers the best blend of performance and price. You won't have to skimp on any essential features with this compressor, but you won't have to go broke, either. Best of all, it's a very quiet machine, operating at just 70 decibels. You'll still be able to hear workers and customers over the drone of the motor.
A stout 2-horsepower motor powers this compressor. Surprisingly, the motor draws a mere 7 amps, showing that it's incredibly efficient and won't have the same effect on your electric bill as other compressors that draw more. The 2-horsepower motor produces 6.4 cubic feet per minute (CFM) of airflow at 40 PSI.
With a large 10-gallon tank and plenty of airflow, this machine can easily power the large pneumatic tools regularly used in a shop. Unfortunately, it's a bit low on the pressure side, maxing out at 125 PSI. That will still operate most tools and isn't likely to be much of a hindrance, but it's where this machine is lacking.
Pros
Operates at just 70 decibels
Powerful 2HP motor
Draws a mere 7 amps
4 CFM airflow at 40 PSI
10-gallon air tank
---
2.

WEN 2202 Vertical Air Compressor – Best Value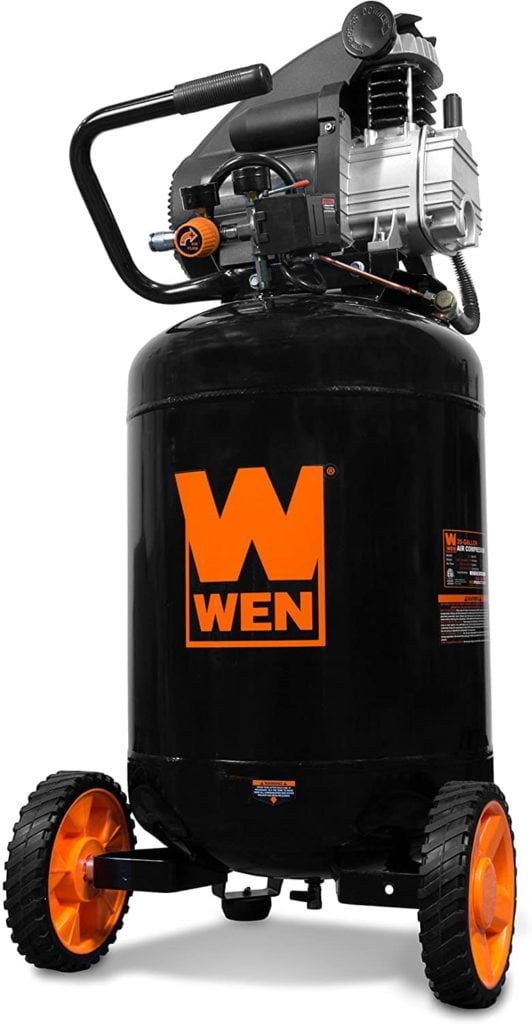 While most compressors that can handle the abuse a shop will put on them are prohibitively expensive, the WEN 2202 vertical air compressor offers a much more affordable solution that's still loaded with the kind of functionality a shop needs. It has an impressive airflow of 5 CFM, allowing for the use of large pneumatic tools.
Thankfully, this machine is mated to a large tank with 20 gallons of air to provide plenty of pressure when needed. Unfortunately, the tank is pretty slow to fill compared to other compressors we've tested. It's also a bit louder, but those are the tradeoffs for getting it at such an affordable price.
At 86 pounds, this machine is still movable, thanks to the wheels and handle on the back. It's also protected by a 2-year warranty that WEN has proven they'll make good on. With 2 years of protection at an affordable price, it's easy to see why we think the WEN is one of the best shop air compressors for the money.
Pros
5 CFM at 40 PSI
Covered by a two-year warranty
86 pounds is still movable
Louder than other models
Much cheaper than other options
Cons
135 PSI max pressure
The tank is slow to fill
---
3.

Quincy QT-54 Reciprocating Air Compressor – Premium Choice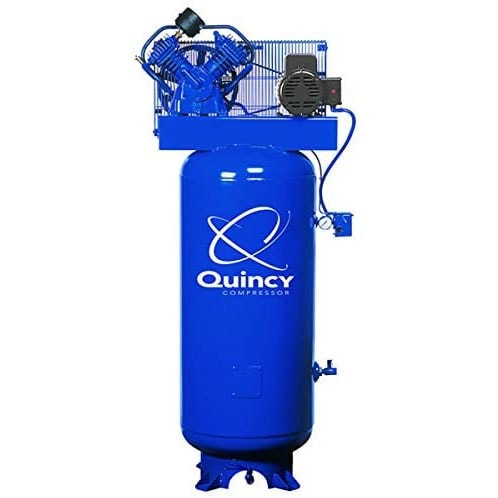 For demanding professionals needing top-of-the-line performance with no sacrifices, the Quincy QT-54 is a premium compressor with truly impressive features. This machine is powered by a powerful motor that produces 5 horsepower. That's enough to produce a staggering 15.4 CFM of airflow at 90 PSI, which will power any pneumatic tool you can throw at it.
The operating pressure of this compressor is 145-175 PSI. With a huge 60-gallon air tank, this beast can take a little while to fill, but you'll have a hard time emptying it. While the industrial-duty motor is running, excellent features like the built-in thermal overload protect it, ensuring the Quincy QT-54 is around for years of daily abuse. And with a 100% duty cycle, this beast can run all day without a break.
On the flip side, it is one behemoth of a machine and weighs 475 pounds. Unless the Hulk works in your shop, you'll probably not move this compressor once installed. Also, be aware that this machine runs on 240 volts only.
Pros
175 PSI max pressure
Built-in thermal overload
Powerful 5HP motor
4 CFM airflow at 90 PSI
Massive 60-gallon air tank
100% duty cycle
Cons
Weighs 475 pounds
Operates on 230V electric only
---
4.

Industrial Air ILA1883054 Air Compressor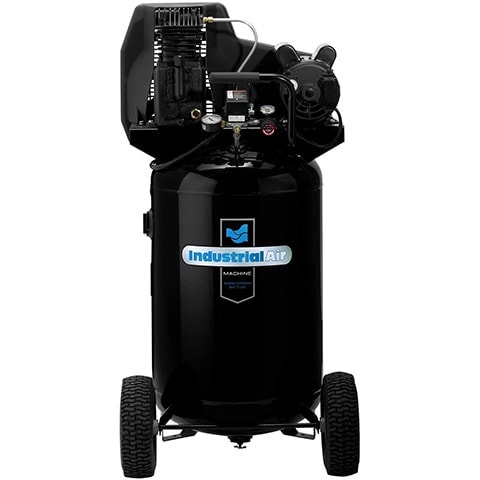 Industrial Air is a company known for making high-quality compressors, and their ILA1883054 model is an excellent choice, though it didn't do enough to earn its way into our top three. Still, it has impressive features, like the 30-gallon air tank and 2-year warranty. Large pneumatic wheels help you roll it to where you want it, though we had some issues with one wheel refusing to hold air.
This compressor maxes out at 155 PSI of pressure. At 90 PSI, it manages to produce 5.7 CFM of airflow, which should power just about any large pneumatic shop tool. Unfortunately, even though it produces quite a bit of air, the recovery time on this compressor is slower than several others we used during our testing.
The dual-voltage motor comes wired for 120 volts but can be easily converted to 240 volts for commercial use. Industrial Air ships this compressor with synthetic oil that reduces friction and improves longevity.
Pros
30-gallon vertical air tank
Dual-voltage motor
2-year warranty
155 PSI max pressure
Shipped with synthetic oil
7 CFM at 90 PSI
Cons
The pneumatic wheels are a weak point
Slow recovery time
---
5.

Ingersoll Rand Store Two-Stage Air Compressor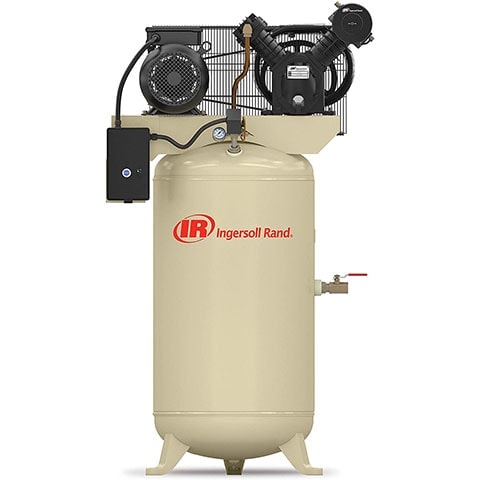 At 430 pounds, this two-stage compressor from Ingersoll Rand is anything but portable. Once it's in place, it's staying there. But in a shop, that's not a big deal since compressors won't be moving much anyway. What's more important is reliability, which is where this beast shines.
Thanks to a 100% duty cycle, the Ingersoll Rand can run non-stop without breaks. The pump is designed for 15,000 hours of use without any issues. Fully synthetic lubricant comes in the compressor, which ensures 2,000 hours of use between services. The motor produces 5-horsepower, helping to reach a maximum working pressure of 175 PSI.
To ensure reliability, this compressor uses a cast iron frame and cylinders, ensuring the motor is practically bulletproof. With such mammoth specs, you'd expect this machine to be covered under an industry-leading warranty, but it's not. You can purchase a warranty separately, but the warranty only lasts 1 year. Also, remember that this machine runs on 240-volt electricity only, so you'll need a dedicated circuit to run it.
Pros
The pump is designed for 15,000 hours of use
5HP motor
100% duty cycle
Massive 60-gallon tank
Cast iron frame and cylinders for longevity
Cons
230-volt electric only
Warranty must be purchased separately
---
6.

DEWALT DXCMLA1983054 Air Compressor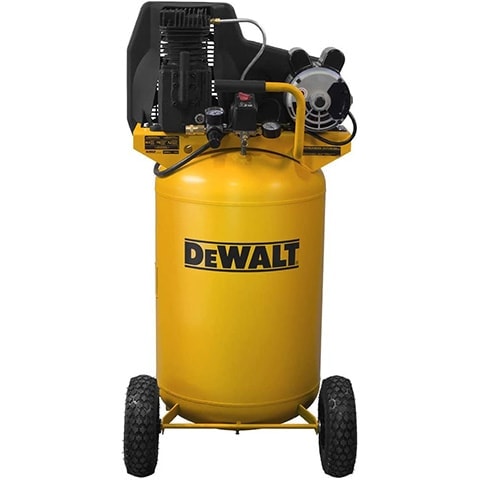 Compared to other compressors of a similar size and stature, this DEWALT compressor is quite light and mobile at just 190 pounds. Large pneumatic wheels make moving even easier, especially with the handle on the backside.
Despite the lighter weight, it is a capable compressor, creating 7 CFM of airflow at 90 PSI. At its maximum, the Dewalt compressor can push 155 PSI of pressure. The tank holds a sizable 30 gallons, ensuring you rarely have to wait for more air. This is hampered somewhat by the slow recovery rate holding the compressor back.
However, we like the dual-voltage motor on this machine. It allows you to wire it for 120-volt or 240-volt electricity, depending on your needs and what's available. But we don't like the release valve. You must tilt the compressor to reach it. A more accessible release valve would have been nice, but the slow refill is the real drawback. If DEWALT fixes these issues, this compressor will likely end up in our top three in the future.
Pros
7 CFM at 90 PSI airflow
155 PSI maximum pressure
Dual-voltage motor
30-gallon tank easily powers large tools
Cons
Can't reach the valve without tilting the machine
Doesn't fill as quickly as other compressors
---
7.

BOSTITCH BTFP02012 Pancake Air Compressor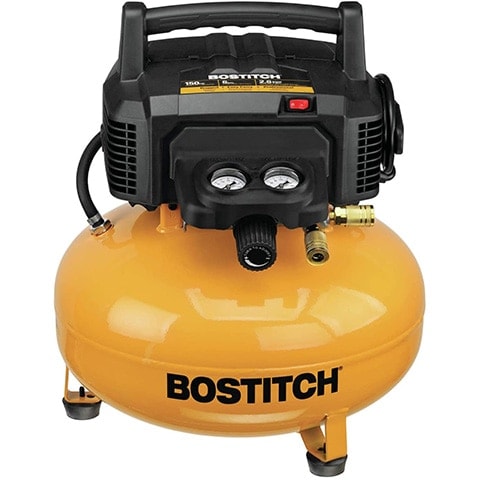 The BOSTITCH BTFP02012 is a very compact but capable air compressor. With a small 6-gallon tank, it doesn't provide enough air to power the big pneumatic tools that often populate a shop, but if you need a  portable compressor, this one might fit the bill.
Despite the small tank size, it's still a useful tool that manages a maximum air pressure of 150 PSI. It has a high-efficiency motor that allows it to start quickly in any condition, even cold weather. More importantly, it enables you to use this compressor on an extension cord of up to 50 feet long as long as it's 14-gauge or larger.
The Bostitch compressor manages a decent peak pressure but lacks in the airflow department, only producing 2.6 SCFM at 90 PSI. Still, it's a very loud little tool with an operating volume of nearly 80 decibels. It's a great portable compressor, but it's not powerful enough to fill most shops' needs.
Pros
Dirt-cheap pricing
150 PSI max pressure
High-efficiency motor
Cons
Only 2.6 SCFM airflow at 90 PSI
Operates at nearly 80 decibels
---
8.

CRAFTSMAN CMEC6150K Air Compressor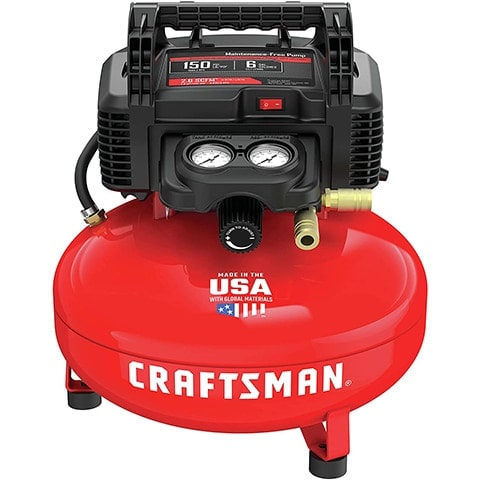 Compared to similar compressors, the CRAFTSMAN CMEC6150K feels overpriced. It has a small 6-gallon air tank that won't power a large tool long. Thankfully, it is portable, weighing in at just 32.5 pounds. Despite the small size, it manages decent performance with a maximum air pressure of 150 PSI.
One nice thing about this compressor is the oil-free pump. It doesn't require regular maintenance, so maintaining the Craftsman is simple. You'll also get several accessories included with your purchase, such as an air hose and several attachments.
Usually, CRAFTSMAN offers great warranties on their products. This machine is only protected for a year, though. Since it's much pricier than other similar pancake compressors and doesn't offer a significant warranty, we can't recommend this one.
Pros
Includes several useful accessories
Oil-free pump
Super portable at just 32.5 pounds
150 PSI max
Cons
6-gallon tank won't power large tools for long
More expensive than other similar products
Only warrantied for one year
---
9.

Campbell Hausfeld DC080500 Air Compressor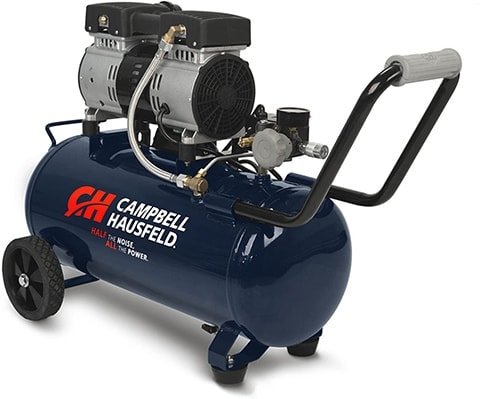 The small 8-gallon tank this Campbell Hausfeld air compressor is equipped with takes up quite a lot of space because of the design. Still, it offers a low-maintenance solution with a dual-piston, oil-free pump. Oil-free compressors are usually very loud when operating, but this machine purrs at 68 decibels.
We were hoping for a stellar performance from a brand known for making quality air compressors, but this machine's performance is mediocre. It has a maximum air pressure of just 125 PSI, which is much less than some of our top performers. Even weaker is the low airflow of just 2.4 CFM at 90 PSI. Combine that with this small air tank, and you'll spend more time waiting for the tank to fill than working.
Pros
Low operating volume of just 68 decibels
The dual-piston pump is oil-free
Cons
Max PSI of 125
4 CFM at 90 PSI max airflow
Small 8-gallon air tank
---
10.

Makita MAC210Q Electric Air Compressor
We rarely find a Makita product we're not fond of. To be fair, it's not that this is a bad compressor; it's not. But for shop use, it's not a great candidate. It's still got some excellent features, though. For example, when running, this machine produces just 60 decibels of noise, making it one of the quietest compressors we've tested. It's also designed for longevity with a motor that runs at ultra-low RPM to reduce wear and tear.
This is a compact and portable machine, which is great in some instances but not so great for a shop compressor since it has a very small two-gallon air tank. Moreover, the airflow is very limited. Two CFM of airflow at 90 PSI isn't going to power the large pneumatic tools that populate most shops. We'd recommend skipping this machine in favor of something more powerful with a larger tank, such as the WEN 2202 in the second position of this list.
Pros
Super quiet operation of 60 decibels
Low RPM function for improved longevity
Cons
2-gallon air tank is inadequate
Overpriced for its abilities
Only 2 CFM airflow at 90 PSI
---
Buyer's Guide – Choosing the Best Shop Air Compressor
If you're still unsure which brand to choose, this buyer's guide is for you. In it, we'll cover the most important factors influencing your decision to help you pick the perfect compressor for your shop.
Choosing the Right Shop Compressor
There are a lot of differences between compressors, but not all of them are going to matter to your shop. We'll look at these important features so you can figure out which ones matter most to you.
Tank Size
A large air tank can store more air, which means more time between the compressor's cycles. Moreover, a bigger air tank supports more powerful tools at once. If you get a compressor with a tank that's too small for your needs, it's going to be cycling constantly, desperately trying to keep up with your use of air.
Generally, the more air you need, the larger the air tank you should get. If multiple people pull from the same compressor, you'll want a sizable tank that can support such a hefty output. Likewise, the larger the tools you use, the more of an air reserve you'll need.
Compressors come with tanks as small as 1 gallon, though they won't do much good in a shop. You'll need 10 gallons at a minimum, but a larger air tank certainly isn't going to hurt.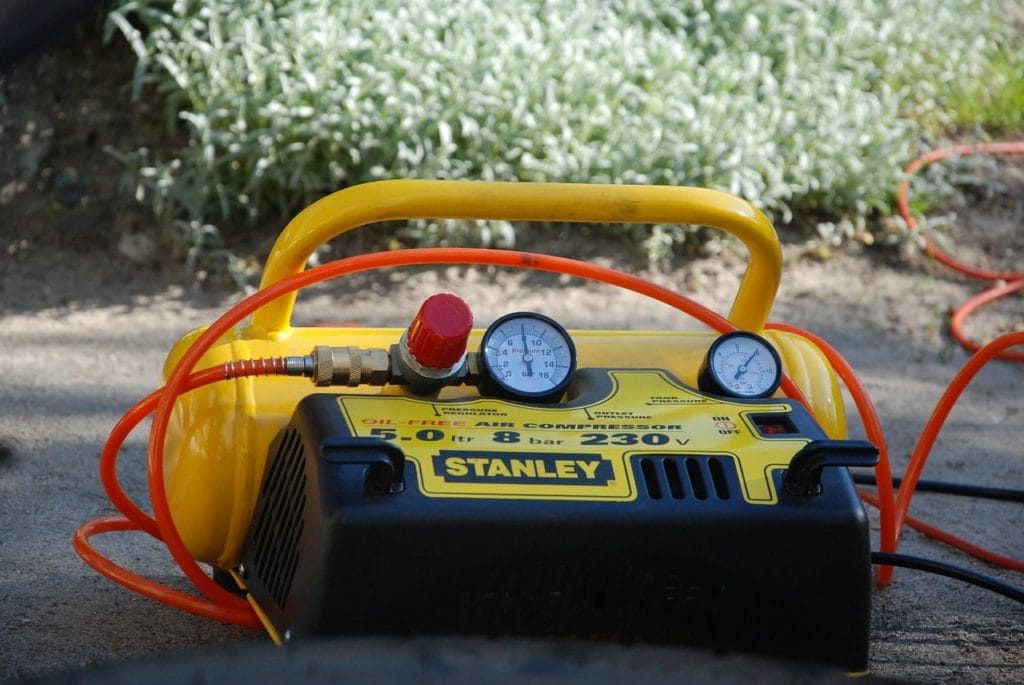 Maintenance
Small compressors are often built with oil-free pumps that don't require maintenance. This is great if your compressor isn't running all day long. But compressors with high-duty cycles intended to run all day almost always require regular maintenance. However, several compressors are built to run for thousands of hours between services.
If your shop isn't using a compressor to power massive tools all day, every day, you might be okay with a low-maintenance oil-free compressor. But if you're going to be pushing your compressor to the limit, you'll need to factor maintenance into the equation.
Airflow
Airflow is generally measured in cubic feet per minute or CFM for compressors. The airflow of your compressor represents the amount of continuous air it can move at a specific air pressure. Different tools have different airflow needs, but if your compressor doesn't create enough airflow, it won't be able to run powerful tools.
Let's take an air chisel as an example. They require about 4–8 CFM of airflow to operate properly. If your compressor only puts out 5 CFM, but your air chisel needs 8, you won't be able to run your air chisel on that compressor effectively.
So, your best bet is to figure out the airflow needs of your most commonly used tools and get a compressor that can support them.
Air Pressure
Air pressure is essentially a measurement of force. Your compressor's max pressure is the most force it can create. Most shop tools require 100-175 PSI to function, but each tool varies. If you power a tool with too much pressure, you can damage it and destroy the components.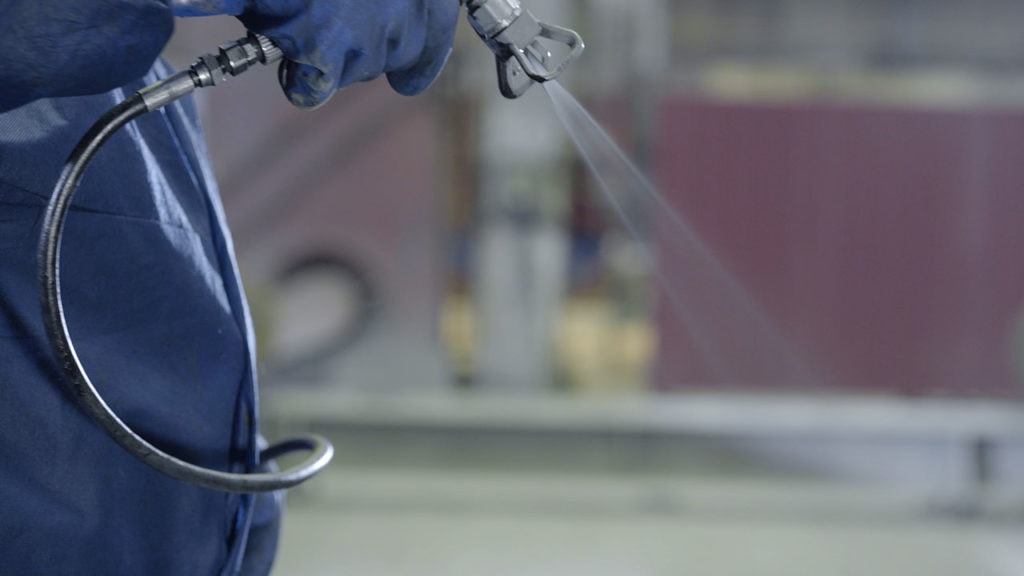 Warranty
Your compressor is one of the most important tools in your shop since it's powering so many other tools. If the compressor dies, work stops. As such, it's important to get a compressor up and running again in an efficient manner. Beyond that, these are very expensive tools that you don't want to replace often. A good warranty can help with both of these situations.
A warranty will mean that your compressor is either repaired or replaced, usually free of charge. We recommend prioritizing the warranty as this might be a direct indication of how long you can expect your compressor to last.
Noise
Shops are always noisy. There's no way to escape it, but running loud compressors certainly doesn't help. If you want to hear other workers or customers, it might be beneficial to get a compressor that runs quietly.
Granted, no compressor truly runs quietly, but there's a big difference between 60 and 80 decibels. A compressor that operates at 60 decibels is easy to talk over, but one that exceeds 80 decibels may be too loud.

Conclusion
The truth is, any compressor can be a shop compressor if you put it in your shop. That doesn't mean it's going to perform up to the level that you need. Of course, every shop has different needs, which is why our reviews have covered a wide range of different compressors. But after everything, we've narrowed the field down to three that we're confident recommending.
Our favorite shop air compressor overall is the California Air Tools 10020C. This compressor has a powerful two-horsepower motor, though it only draws seven amps. It manages 6.4 CFM of airflow at 40 PSI with an operating volume of just 70 decibels.
For shops on a budget, we suggest the WEN 2202 vertical air compressor. This machine has a 20-gallon air tank, though it's still portable at just 86 pounds. It manages five CFM of airflow at 40 PSI and is covered by a two-year warranty. Best of all, it's one of the most affordable compressors on this list.
Finally, when you need a no-compromises beast of a compressor for the hardest work, we recommend the Quincy QT-54 with a 100% duty cycle and an incredible 15.4 CFM of airflow.