5 Best Pool Chlorine Tablets 2023 – Top Picks & Reviews
All chlorine is not made equally. There are always additives, stabilizers, and preservatives of one kind or another. Even though chlorine is the active ingredient, it's not the only one. All tablets don't dissolve the same way or react to soft or hard water the same way. In short, there's more to it than just throwing a chlorine tab in the skimmer.
That being the case, how is the ordinary person supposed to know which tab is best for their pool? Glad ya asked!
We've gone out ahead of you to blaze the trail and answer those questions and more. We've looked at the various tabs by all the manufacturers – and there's a lot of them! – to analyze them, check their performance, and create these reviews so your job will be easier. Basically, we do the hard part so you don't have to.
It is important to remember, however, that the differences among the various tabs are more a matter of degree than of kind. Bear that in mind as you read, then get the tabs that are best for your pool, and sit back to enjoy it.

Our 5 Favorites Compared (updated in 2023)
Rating
Image
Product
Details

Best Overall

In The Swim 3″ Pool Chlorine Tablet

Child-proof lid
Long-lasting tabs
Individually wrapped
CHECK PRICE

CLOROX 3-Inch Chlorinating Tablets

Long-lasting tabs
Individually wrapped
Excellent absorption rate
CHECK PRICE

Best Value

CLOROX Small Pool Chlorine Tablets

Work great
Long-lasting tabs
Excellent absorption rate
CHECK PRICE

Nava 3-inch Pool Chlorine Tabs

Work for a while
Individually wrapped
CHECK PRICE

Swim Best 3-inch Trichlor Pool-Tablets

Individually wrapped
Slowest to dissolve
CHECK PRICE
The 5 Best Pool Chlorine Tablets
1.

In The Swim 3″ Pool Chlorine Tablets – Best Overall
These chlorine tabs arrive in an easy-to-open bucket that still has a child-proof lid on it. Since these are very powerful chemicals we're talking about, that's an important safety feature. The lid alone earns it some points right off the bat.
The tabs are individually wrapped inside the bucket. This helps them stay fresh and protected from moisture. Each one you open will be factory fresh, ensuring the best quality and results from every chlorine tab you use in your pool.
These tabs have an excellent absorption rate, neither too slow nor too fast. If chlorine tabs dissolve in the water and are absorbed too slowly, you won't get enough in the water to sanitize it. If they dissolve too quickly, you'll get too much chlorine and waste money at the same time. But these long-lasting tabs have managed to hit the mark pretty much on the nose.
Because they're kept dry in the individual plastic wrappers, it would be a good idea to wear some latex gloves to keep chlorine powder off your hands when you open them. Other than that, these tabs are just about perfect.
Pros
Work great
Child-proof lid
Long-lasting tabs
Individually wrapped
Excellent absorption rate
Cons
Dry chlorine dust requires gloves
---
2.

CLOROX 3-Inch Chlorinating Tablets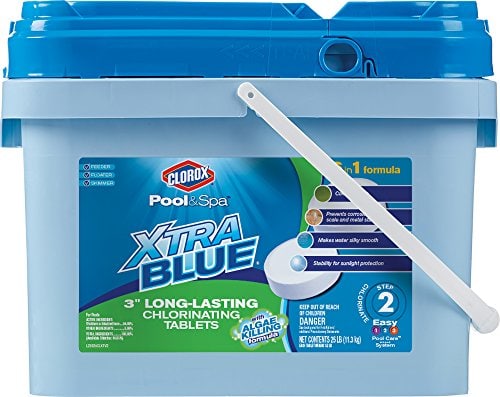 Clorox is a well-known brand for its line of household cleaning supplies, and it extends that quality to these chlorine tabs for swimming pools.
These are very good tabs for in-ground pools as well as above-ground ones. Like the top pick above, they come individually wrapped, preserving them in a factory fresh condition until you open them for use. Like all chlorine tabs, they kill bacteria and prevent the growth of algae. But, as with any other tab, daily monitoring of your water is still a good idea.
As with all chlorine tabs, there will be dangerous chlorine dust in the packages. You should use gloves, and in the case of dust billowing out into the air, a mask over your nose and mouth. This isn't particular to this brand, though; it applies to any chlorine tabs.
What keeps these Clorox tabs from being the top pick is that they seem to be a bit more crumbly than they should be. This generates more dust when you open the packages and causes them to dissolve somewhat faster than necessary.
Pros
Work great
Long-lasting tabs
Individually wrapped
Excellent absorption rate
Cons
Too crumbly
Dry chlorine dust requires gloves
---
3.

CLOROX Small Pool Chlorine Tablets – Best Value

These one-inch chlorine tabs from Clorox are intended to be used in swimming pools that hold 5,000 gallons of water or less. You'll need to have, or purchase, a floater to put them in since they're not designed to be used in your pool's skimmer.
Like all chlorine tabs, they prevent the growth of algae in the water and kill nasty bacteria to keep your water clean and fresh.
They're not individually wrapped. Just open the container, take one out, pop it in your floater, and toss the floater in the pool. Bingo, you're done! They're perfect for use in an inflatable pool for the kids.
They shouldn't be used in a large pool, except as an adjunct to the larger three-inch tabs in the skimmer. Because they're not individually wrapped, make sure the container's lid is securely fastened each time to prevent humidity from affecting them. Like the other Clorox tabs above, they're somewhat crumbly. You really need gloves and a mask when working with them.
For the price, and for the use they're designed for, these are the best pool chlorine tablets available.
Pros
Work great
Long-lasting tabs
Excellent absorption rate
Cons
Too crumbly
Use in small pools only
Dry chlorine dust requires gloves
---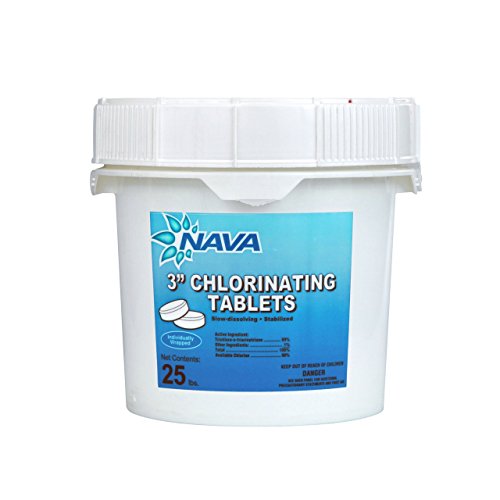 Although these tabs from Nava are individually wrapped, the wrapping on each tab is very weak and flimsy, resulting in tabs spilling out of their wrappers. If any of them break, and there are always a few that do, they spread their powder all over the contents of the bucket. You absolutely will need gloves and a mask to combat the chlorine dust that flies up when you open the lid.
These tabs have some additional problems as well. The packaging claims they're stabilized, but that's not quite the case. They're either not stabilized at all or only partly stabilized, because they dissolve far too quickly in the water. This throws off your chlorine levels and wastes money because you're using more tabs than you should.
That would be all right if they did their job of killing bacteria and preventing algae, but they don't, at least not very well. After about two weeks algae started growing, requiring shock to be added to the water. If a storm came along and dumped a bunch of debris in the water it would be understandable, but absent that kind of circumstance, having to add shock after two weeks indicates some pretty weak tabs.
Pros
Work for a while
Individually wrapped
Cons
Too crumbly
Dissolve too fast
Chlorine dust everywhere
Doesn't prevent algae for long
---
5.

Swim Best 3-inch Trichlor Pool-Tablets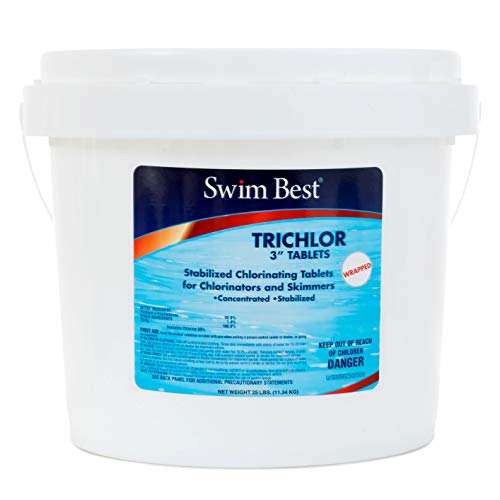 These individually wrapped chlorine tabs are advertised as being the slowest to dissolve on the market. They're also advertised as being the longest-lasting. The first statement is true, but the second one isn't, at least not the way you think.
These tabs seemingly take forever to dissolve. This results in chlorine levels that are way too low, since very little chlorine is entering the water. The chlorine lasts a long time only because so little of it dissolves into your swimming pool, which pretty much defeats the purpose of having tabs in the first place.
The result of this is that the tabs just aren't strong enough to kill bacteria and keep algae from growing unless you double up on how many you use at a time. Then for some reason, they make your eyes burn when you're in the water. Burning red eyes that make you look like the Creature from the Black Lagoon aren't going to win points in anyone's book.
A lot of the individual wrappers were already broken when the tub was opened, and the water was cloudy when using these tabs. This is a pretty sad product.
Cons
Doesn't work
Burning eyes
Dissolves too slowly
Wrappers broken open
Use too many at a time

Buyer's Guide – Choosing the Best Pool Chlorine Tablets
Chlorine tabs are dry chlorine pressed into concentrated round tablets. They're fairly heavy and dense. When they're dropped, they can easily break or shatter just like a piece of china. The larger the bucket of tabs you buy, the more of them will be broken during shipment when the bucket is picked up and set down hard. This is why so many people complain about broken tabs and excessive chlorine dust.
To avoid this problem, get smaller buckets or buy at the local swimming pool store, which will reduce the number of times they're shipped from one location to another. This consequently means fewer opportunities for tabs to break.
Larger buckets of chlorine tabs cost less than the smaller ones, of course, whether you buy them online or in the store. It's a bit of a trade-off no matter which way you go.
What makes a good chlorine tab?
This is actually a pretty good question. There's no one quality that makes a better tab, but there are some interconnected ones that do. They have to do with absorption rates (how fast it dissolves), how well it kills bacteria and prevents algae, and how breakable the tabs are.
Shock is powdered chlorine and dissolves almost instantly, shocking the water with a sudden infusion of chlorine – hence the name. But chlorine doesn't last in the water. You have to keep adding it on a regular basis, which necessitates the use of chlorine tabs.
A broken tab, or one that dissolves too fast, is basically just chunky shock. You'll wind up using a lot more broken tabs than unbroken ones to achieve the same result. Tabs aren't free, so you'll be wasting money that way too.
You need tabs that dissolve in a regular, predictable manner to create a steady addition of chlorine to the pool to maintain the levels. But too many additives will bond with the chlorine and prevent it from killing bacteria and preventing algae the way it is supposed to. Once again, this defeats the purpose of having the tabs in the pool.
A good chlorine tab won't break easily during transport or use, will dissolve in a steady, consistent manner, and doesn't have too many additives to keep it from doing its job.

Conclusion
Blazing the trail ahead of you is what we do to make your life easier. Let these reviews be a reminder that even the simplest product can have vast differences from one manufacturer to another, so don't be fooled into thinking they're all the same – they're not.
In The Swim 3-Inch Tablets (25 lbs.) was definitely the top pick on the list. These individually wrapped tabs did their job, did it well, and didn't leave anything lacking. The child-proof lid on the bucket was simply the icing on the cake.
The best for the money is CLOROX Pool&Spa 60001CLX 1-inch tabs. While they're not up to the level of the winner, for killing bacteria and preventing algae in small pools under 5,000 gallons, these are well worth the cost. They're the right size for the job.
Hopefully, we've given you some good, useful information that will help you pick which chlorine tabs to use in your swimming pools, wading pools, and spas. Take these reviews with you and you'll be well armed to resist the lure of any manufacturer's over-the-top claims.
Related posts: