8 Best Pool Test Strips of 2023 – Top Picks & Reviews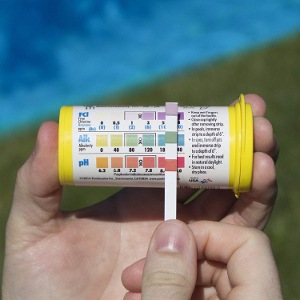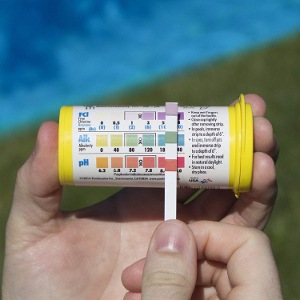 Sometimes you just want a "quick and dirty" test of your swimming pool's water to see if it's clean or not. You don't want something fancy or complicated. You don't even necessarily need something that's accurate to 10 decimal places. You just want a general idea of what condition your pool is in.
Good old-fashioned testing strips are the answer. They're easy to use and can provide you with a ballpark figure without a lot of fuss.
But which strips are which? If you're tired of wading through the swamp to figure out which strips are the best for your needs, relax. We've already done all that for you.
These reviews are the culmination of our meticulous efforts. We've done the research, compared the results, and produced this handy article for your benefit. After each review is a simple "pros and cons" list summarizing our results. It takes all the guesswork out of your decision-making process and gives you the information you need without all the work to get it.

Comparison of Our Winners (updated in 2023)
Rating
Image
Product
Details

Best Overall

AquaChek 7-Way Pool Test Strips

Quick and easy
Decent accuracy
Saves your digital meter
CHECK PRICE

JNW Direct 6-in-1 Spa & Pool Test Strips

Quick and easy
Saves your digital meter
Measures six things at once
CHECK PRICE

Best Value

Poolmaster 4-Way Pool Test Strips

Quick and easy
Saves your digital meter
CHECK PRICE

LaMotte 3028 6-Way Test Strips

Affordable
6-way testing
CHECK PRICE

GLB 4-Way Swimming Pool Test Strips

Accurate readings
Test for bromine, chlorine, alkalinity & pH
CHECK PRICE
The 8 Best Pool Test Strips
1.

AquaChek 7-Way Pool Test Strips – Best Overall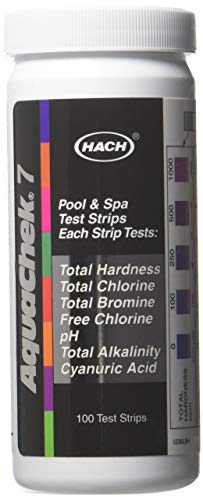 These strips measure seven chemical levels: free chlorine, total chlorine, total hardness, total alkalinity, pH, and cyanuric acid. Not bad for one test strip. Dip the strip in some pool water, wait 15 seconds, then compare it to the chart on the side of the bottle.
Be careful though. Holding the strip in the water for more than the recommended 15 seconds will throw the reading off. When they say 15 seconds, they're serious. Use a stopwatch if you have to.
Because you're comparing colors for given ranges, these strips will never be 100% accurate. For that, you need a digital meter with a digital readout. However, for daily readings, these strips are quite good and will save a lot of wear and tear on the digital meter. You'll only have to pull out your expensive digital meter for precision readings and adjustments. This really extends its usable life.
These strips only take a few seconds to use, whereas the digital meters take much longer. For quick, ballpark results, these strips are hard to beat.
Pay close attention to the expiration date on the bottle. Old strips aren't accurate.
Pros
Quick and easy
Decent accuracy
Saves your digital meter
Measures seven things at once
Cons
Expired strips are inaccurate
---
2.

JNW Direct 6-in-1 Spa & Pool Test Strips
These strips test for six things: total hardness, total chlorine, bromine, free chlorine, pH, and total alkalinity. This isn't quite as many as the top pick above, but it's still a decent range of results. As usual, you dip the strip in the pool water, time it with a stopwatch (or your phone), then compare it to the handy chart on the bottle to get your results.
As always, the results depend on color comparisons done by eye. The numbers associated with each color on the chart are a range of numbers rather than a specific one. Therefore, the accuracy will never be as precise as a digital meter with a digital display. Nonetheless, within its inherent limitations, it delivers a reasonable result, and it will save wear and tear on your digital meter if you have one. You can reserve it for the special cases where more precise results are required, using these strips for the normal daily testing.
However, some test results with two strips don't agree, so the reliability isn't as good as the top pick. Expired test strips will also be wildly inaccurate as the reagent chemicals on them don't age very well.
Pros
Quick and easy
Saves your digital meter
Measures six things at once
Cons
Accuracy is a bit off
Expired strips aren't accurate
---
3.

Poolmaster 4-Way Pool Test Strips – Best Value
These strips only check four things: free chlorine, bromine, alkalinity, and pH levels. For a quick water test to check the basics, these do the job. They're not meant to be fancy.
Dip them in the water and check them with the pool test kit chart on the bottle. You should always follow the instructions precisely, so use a stopwatch or the stopwatch function on your phone to time them. You'll get much better, more consistent results that way.
However, there are a couple of drawbacks. The reagent chemicals on the test strips don't respond well to the passing of time. Be careful to check those expiration dates on the bottle before you open it. If it's expired or close to the expiration date, send them back immediately.
There are also some quality control issues with these strips. They don't all come out of the factory the same way. Now and then a bad batch, or several bad batches, will be shipped. Unfortunately, the only thing you can do in that case is to eat the cost. A local store might exchange them, but an online source almost certainly won't.
But for the price, these strips are a pretty good deal.
Pros
Quick and easy
Saves your digital meter
Cons
Quality control issues
Only measures four things
Accuracy is sometimes off
Expired strips aren't accurate
---
4.

LaMotte 3028 6-Way Test Strips
With 50 strips included in each bottle, these pool testing strips from LaMotte are a cost-effective way to keep on top of your pool duties. The 6-way testing ensures that you won't miss anything and your pool should stay in tip-top condition. You can test free chlorine/bromine, total chlorine, pH, alkalinity, water hardness, and cyanuric acid.
For your convenience, an easy to read color chart is printed onto the bottle for comparing your strips and getting a proper reading. We did have a few strips where the color pads fell off and were left floating around the pool. For this reason, the LaMotte test strips have been capped off in the fourth position of this list.
---
5.

GLB 4-Way Swimming Pool Test Strips
Although the GLB Pool & Spa Products test strips are modestly priced, they only perform a 4-way test. These strips will test for bromine, chlorine, alkalinity, and pH. For the same price, many brands offer more complete testing such as 6-way, or even more. That said, not everyone feels the need to check for so many chemicals and may be perfectly content with the 4-way capabilities of the GLB strips.
In our testing, these strips worked just fine. Although, compared to other brands, the chlorine colors weren't quite as clear or vivid. This made it a bit harder to gauge the proper reading, but overall, they did what they were supposed to. For our money though, we would rather have the freedom afforded by a more complete testing strip.
Cons
Only a 4-way test
Chlorine colors more difficult to see
---
6.

hth Pool Test Kit 6-Way Test Strips
At first glance, the HTH multi-purpose test strips seem to be priced lower than their competitors. Upon further investigation, you'll realize that only 30 strips come in a pack. These strips perform a 6-way test that includes chlorine, bromine, pH, total alkalinity, total hardness, and cyanuric acid.
In our experience, the chlorine testing was inaccurate. Several strips gave a reading of 0 when there was definitely chlorine present. This could result in over-chemicalizing your pool which could cause quite a headache. The poor reliability of these strips combined with the smaller package size of just 30 strips means we can't recommend these strips as one of our favorites.
Cons
Small package size
Inaccurate testing
---
7.

Clear Pool Expert 6-Way Test Strips
These test strips from Clear Pool Expert are one of the most affordably priced options available. The 6-way test covers total hardness, chlorine, pH, alkalinity, and stabilizer. An associated smartphone app has the color guide for understanding your tests. We prefer to have a printout on the bottle to avoid the hassle of using your valuable smartphone next to the pool.
Our biggest problem with these strips was the colors. While most of the other brands had colors that matched their charts pretty well, the Clear Pool testing strips did not. We had a very difficult time trying to determine where our colors lined up since all of the hues seemed to be off. This was quite confusing and left us a bit frustrated. Overall, we'd suggest skipping the smartphone app and picking a brand of strips with a great built-in color chart.
Cons
Have to use app for colors
Colors don't match right
---
8.

TOP LINE Pool Testing Strips
The TOP LINE pool testing strips seem like quite a deal when you first notice them. Although they're priced similarly to most competing brands, you receive twice as many strips for the price. Moreover, these strips perform a 7-way test which includes pH, free chlorine, total chlorine, total alkalinity, cyanuric acid, total hardness, and even salt. They only need to be dipped in the pool for 2 seconds, but the color change takes 60 seconds.
For the price, we were a bit apprehensive. Turns out, we had good reason. We were pretty surprised to see the colors running together when we pulled the first strip from the pool. Obviously, this makes it pretty hard to get a reading. We tried again, this time removing it from the water quickly to lay it flat. We still experienced running, but this time we could make out the individual colors a bit better. Regrettably, they didn't match close enough to the color chart to make for easy identification. We had a difficult time figuring out where our levels really were. Although at face value they seem like a great choice, you're better off spending a bit more on another brand.
Cons
Colors run and bleed together
Colors are not accurate to the chart
Can't get an accurate reading

Buying Guide – How to Purchase the Best Pool Test Strips
For a long time, paper test strips were the only way to measure the chemical levels in your swimming pool. Now that digital meters are widely available, these strips should be seen as an adjunct to your digital meter, not a competitor. Electronic equipment can break down and be expensive to replace.
These strips can save wear and tear on the digital meter by doing the daily testing with them. Strips and digital meters can work together.

Conclusion
Testing strips, old-fashioned though they might be, can actually be quite useful. They can extend the life of your digital meter without compromising the accuracy you want when it's needed. They're reasonably priced, and if used as intended, can provide very decent results.
The choice for the top pick is the AquaChek 551236 7-Way (100 strips). They measure seven different chemical levels in your swimming pool with accuracy and reliability well within acceptable limits for daily use. You'll be well pleased with these testing strips.
The best for the money choice is the Poolmaster 22211 Smart Test 4-Way (50 Strips). They only measure four chemical levels in your pool but are the original "quick and dirty" test results you're looking for. If you need just the basics in an inexpensive package, these are the testing strips for you.
Hopefully, we've answered all your questions about testing strips and provided you with the critical information you need to make an informed decision about which ones to get.
Related posts: