8 Best Digital Pool Water Testers of 2023 – Reviews & Buying Guide
Swimming pool water is sanitized by adding different chemicals to kill algae and harmful bacteria. You can't maintain a swimming pool without testing the water for the levels of those chemicals regularly. The more regular and frequent, the better. Daily testing is the recommended minimum, and digital kits allow you to test faster.
Figuring out which digital kit to buy can be a problem . Most people aren't chemists or chemistry majors, so comparing different kits and deciding which one is best can be challenging, to say the least.
We've gone out and done that for you. We've looked over the products and kits that are available and analyzed their features and benefits and their advantages and disadvantages to produce these reviews that will give you the information you need to make this critical decision.
Read through the reviews below and the quick reference "pros and cons" sections under each one. This should simplify the process of choosing a testing kit that is suited for you and your specific needs.

A Quick Comparison of Our Favorites in 2023
Rating
Image
Product
Details

Best Overall

LaMotte ColorQ Pro 7 Digital Pool Water Test Kit

Easy to use
Digital readout
Convenient carrying case
CHECK PRICE

Bluewave Electronic Pool Water Tester

Easy to use
Large readouts
Water-resistant
CHECK PRICE

Best Value

HM Digital Pool Water Tester

Very accurate
Saves measurements
Long battery life
CHECK PRICE

pHin Digital Pool-Water Tester & Monitor

Remote monitoring
Bromine
salt
and chlorine-ready
Frequent readings
CHECK PRICE

MiToo Pool Water Test (electronic)

Large measuring range
Inexpensive
Automatic temperature compensation
CHECK PRICE
The 8 Best Digital Pool Water Testers
1.

LaMotte ColorQ Pro 7 Digital Pool Water Test Kit – Best Overall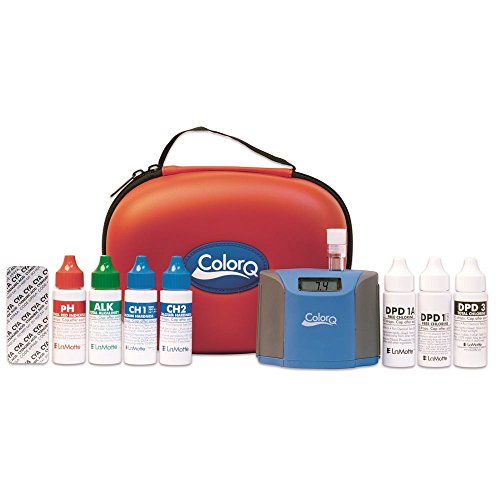 Instead of having to match the color on a strip to a chart, this test kit gives you a digital readout.
Many kits involve strips that change color depending on the chemical levels in the water. Then you have to match the color, shade for shade, to a separate color chart to determine the levels. The difference between 0.6 and 1.0 on the chlorine is almost impossible to discern on that chart, as is the difference between pH 7.2 and 7.6. It's practically impossible for a person with 20/20 vision.
This kit is simplicity itself to use. You fill the vials with water from your swimming pool, then add five drops of whichever reagent you're working with. Insert the vial into the tester and hit the button. The results are presented to you on an easy-to-read digital readout. The results are nearly as accurate as what you would get at the pool store.
The reagents have a short shelf life, but the ability to consistently get accurate results will save you a lot of pool chemicals and, consequently, a ton of money. The LaMotte tester even comes with a convenient carrying case. This is the testing kit you've been looking for and is our pick as the best overall digital pool water tester.
Pros
Easy to use
Digital readout
Convenient carrying case
Saves money on chemicals
Cons
Short shelf life for reagents
---
2.

Bluewave Electronic Pool Water Tester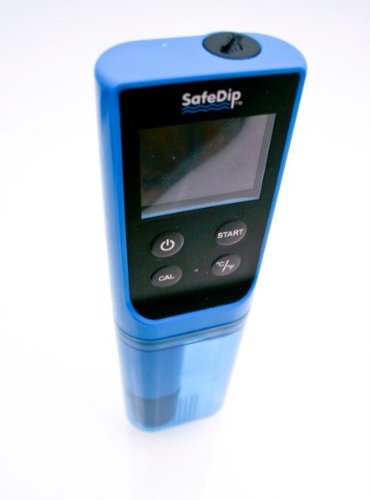 This is another digital readout water tester, but it's not up to the standards of the top pick. It doesn't provide an actual chlorine level reading. Instead, it merely tells you "low," "good," or "high." The temperature and pH readings are accurately displayed, but "low," "good," and "high" results for chlorine levels aren't exactly precise results.
The pH readings aren't 100% accurate. After the initial calibration, it always seems to read 0.4 lower than it is. The kit is rugged enough, and the water-resistant casing is made of rigid plastic, with large LCD readouts and large, well-labeled buttons. The manufacturer claims it has commercial-grade technology in the sensor. Maybe so, but the lack of detail in the readouts renders it more or less irrelevant.
It's certainly easy enough to use. It's so easy that a child could use it. If you're satisfied with bland readouts that don't specify the results, you'll be happy with this tester. Otherwise, you might want to rethink it and spend a little more money for the top pick.
Pros
Easy to use
Large readouts
Water-resistant
Cons
pH is off by 0.4
Lack of detailed results
---
3.

HM Digital Pool Water Tester – Best Value

The HM Digital TDS-EZ Water Quality TDS Tester is another excellent digital pool water tester. It's accurate to within 3%, which makes it accurate enough for just about any use. It also saves measurements with the hold button, so you can have enough time to read them and record them if you need to. This model runs on two button-cell batteries and can provide up to 1,000 hours of life on one charge. That makes it inexpensive to run and means you won't have to worry about changing the batteries frequently.
The thing we like most about the HM Digital tester is that it is available at a great price. Since you can get it for a fraction of what you'd pay for the top ones, it's the best overall value for the money on our list. The one thing that could be better is its temperature sensitivity. You get different readings in the morning when it's cooler than in the afternoon when it's hotter. Still, if you're looking for a water tester that works well and won't break the bank, this device will make most people happy.
Pros
Very accurate
Saves measurements
Long battery life
Great price
---
4.

pHin Digital Pool-Water Tester & Monitor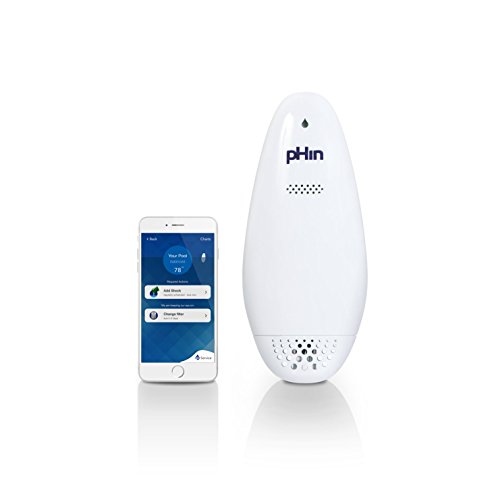 The pHin Wi-Fi-Enabled Smart Water Care Monitor is an expensive but high-quality digital pool water tester that most users love. The best thing about it is that it connects to your Wi-Fi and gives you information on your smartphone through pHin's app. That means you can monitor your pool's status from anywhere, whether you're connected to your Wi-Fi or not. The pHin works with chlorine, bromine, and salt pools, so you don't have to do anything special to make it work, no matter what kind of pool you have.
It also measures your pool quality 144 times a day, so you get very accurate information about your pool's status. Those frequent measurements give you a detailed view of how your pool is doing, so you can preempt some problems before they start or learn how to manage your pool effectively in different seasons.
The one thing we don't like is that this tester comes with an internal, unchangeable battery, and once it dies, you have to exchange it. If you subscribe to the expensive yearly plan, you get a free new tester. If not, you'll have to buy a new one yourself, which isn't a great deal.
Pros
Remote monitoring
Bromine, salt, and chlorine-ready
Frequent readings
Detailed information
---
5.

MiToo Pool Water Test (electronic)

The MiToo Vantakool Digital PH Meter has some things going for it, though it may be too frustrating for many users. Its big upside is that it can measure from 0 to 14 pH without any issues, so you'll get an accurate image of your pool's state, no matter how badly it's been neglected. It's also inexpensive and costs roughly as much as the "best value" entry on our list. Unlike that one, it comes with automatic temperature compensation, which is a really valuable thing to get at this price point.
Unfortunately, this meter has inconsistency problems. Some units report three different readings on three consecutive measurements, which makes it hard to know what your pool really needs. This problem seems to be confined to just some of the shipped units, which suggests that this company has meaningful quality control problems. If this tester were more consistently reliable, we'd be able to rank it higher on our list. Most people would be happier with a different meter, even if it means spending a little more.
Pros
Large measuring range
Inexpensive
Automatic temperature compensation
Cons
Can be inconsistent
Poor quality control
---
6.

Solaxx SafeDip Digital Test Meter for Pool-Water

If you own a salt pool and want a digital pool water tester that will be up to the task, the Solaxx MET01A SafeDip Digital Test Meter is worth checking out. It also works with chlorine pools, so it's worth considering if you have one. This meter is relatively easy to calibrate, and you can use tap or distilled water in addition to more expensive specialized testing solutions. It also has good overall accuracy, which is essential to get your pool into optimal shape.
However, this model requires frequent recalibration to stay reliable. That means you'll need to recalibrate at least once a month, and possibly more if you're using it often. Otherwise, it tends to drift out of alignment. Given the tool's price, we'd like it to be able to go longer without having to go through a calibration cycle. Ultimately, you want equipment that makes your life easier, and while this meter is accurate, it's roughly as much of a pain as testing your pool with paper strips. Most people will be able to save some money by getting a digital pool water tester that they like using more.
Pros
Works with salt and chlorine
Easy calibration
Good accuracy
Cons
Expensive
Frequent recalibration
---
7.

HM Pocket-Size TDS Pool Water Test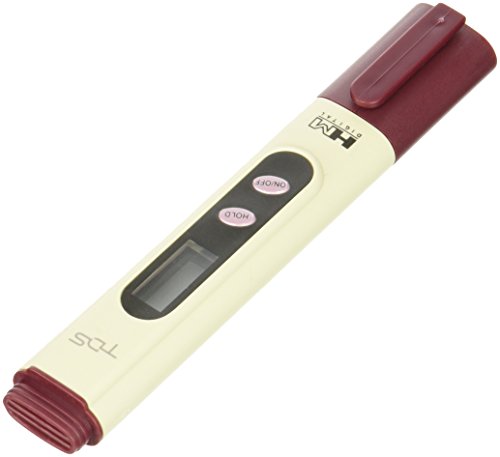 The HM Digital TDS-4 Pocket Size TDS Tester Meter is on the inexpensive side, but if you're looking for a digital pool water tester with incredible accuracy, it has what you need. While most testers settle for being accurate within a few percent, this one is good to within plus or minus two percent of the real reading. It also has automatic temperature compensation, which makes it great for places that have big temperature swings throughout the day.
Unfortunately, this model has a bad LCD screen. It's not very bright, and if the sun is out that day, it may be hard to read the screen. It's also not waterproof, so if you drop it in the pool, it's likely a goner. Worse, some units have inconsistency problems. All those issues combine to create a pretty big headache for most users. If you're looking for a digital pool water tester that will get the job done every time without any hassle, you'll probably need to invest in a different one. The bad news for this tool is that you can spend more or less on another tester and get a more valuable experience, which really hurts its rank.
Pros
Good accuracy
Automatic temperature compensation
Cons
Bad LCD screen
Not waterproof
Some inconsistency
---
8.

Aqua Chek Trutest Tester/Reader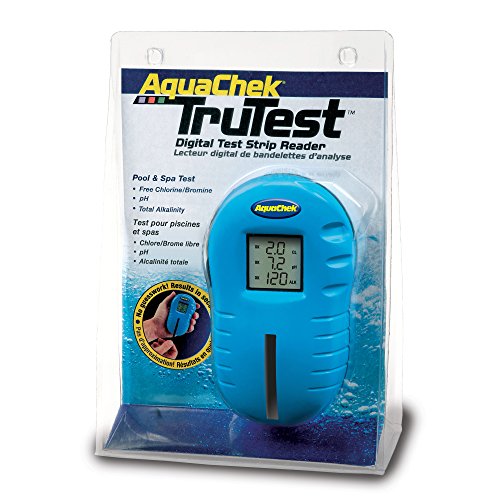 The Aqua Chek Trutest Digital Reader combines all the upsides of a digital pool water tester with all the downsides of a paper-based testing system. The upside is that it works with chlorine and bromine pools and has the equipment necessary to work with your hot tub and pool if you use different agents in each. It also has a large, easy-to-read LCD screen, which is vital to avoid irritation.
However, you have to use test strips with this unit. You insert them into the device to get the measurement, which means you have to pay for test strips even though you have a physical device. It also has poor instructions, which can make it hard to use, and the trial-and-error method many users employ can lead to inaccuracy. Since it's not measuring the pool directly, this meter will be less accurate than many other options on our list, which no one wants to deal with. Overall, it's not a good deal, nor a tool that will leave most users very happy.
Pros
Works with chlorine and bromine
Large LCD screen
Cons
Poor accuracy
Poor instructions
Requires test strips

Buyer's Guide – Choosing the Best Digital Pool Water Tester
Keep an eye on the shipping charges if you're buying online. Most websites will only offer free shipping if your purchase meets some arbitrary price limit, and one or more of these kits might not. If so, it might be worthwhile to see if your local swimming pool store has them in stock for the same price or less. Even with local sales taxes, it can still cost less to buy at the store sometimes. A quick phone call could save you a few bucks.
You should always comparison shop anyway. The advantage of online shopping has always been to save money, but brick-and-mortar stores have learned to fight back with some cost-saving measures of their own. That competition can work to your advantage if you do some price shopping before buying.
What Makes A Good Digital Testing Kit?
As we discussed earlier, older test kits had test strips that had to be visually compared to a color chart to determine the various chemical levels. But visual comparisons, by nature, are subjective and, therefore, not very accurate. A digital readout solves those problems.
Accuracy is the next quality to look for, both in measurement and presentation. An accurate meter that only gives vague results or generalities is no better than the old test strips. The best digital testing kits will display the test results in specific numbers with decimal points.
Detailed results allow you to make detailed adjustments to your chemicals. Pool chemicals can be expensive, and smaller, detailed adjustments will save you a lot of money in the long run. But this is only if you have a test kit that gives you the accurate, detailed information you need to make those adjustments.
Finally, a good test kit should be rugged and water-resistant. It should be able to withstand being dropped. If you test your pool water often enough, sooner or later, you'll drop the tester either on the deck or in the water. The manufacturers know these kits are being used around water and should design their products with that in mind. A tester that breaks or shorts out the first time it's dropped isn't worth the money you paid.
Available Options
The most common consumable item(s) associated with test kits are the chemicals or reagents they use to test the water. All-electronic kits don't require reagents, but most kits, especially the accurate ones, still do. Go ahead and stock up on reagents while you're getting your kit. You'll need more eventually, anyway, and you'll save on shipping by bundling it with your testing kit.
Even if you're buying the kit at the local swimming pool store, you'll at least save yourself a trip down there if you get extra reagents up front. Some stores also offer discounts for quantity purchases. They're trying to compete with online companies, and this is one of the ways they do it.
Another thing you might consider getting is rechargeable batteries. Digital test kits are battery-powered, but they don't always come with rechargeable ones. If they don't, batteries will quickly become a consumable item unless you get rechargeable batteries on the side. We recommend them as a money-saving option for your kit.
Our other pool-water related buyer's guides:


Conclusion
Hopefully, these reviews have been helpful to all the pool owners who want to maintain their pools without having to get a degree in chemistry to do it. Testing kits can be confusing unless you have some help, and that's the point of doing these reviews.
The top pick is the LaMotte 2056 ColorQ Pro 7 Test Kit. This kit is the latest and greatest thing to come down the pike. Using it is easier than following the directions for baking a cake, and the digital readout gives you the accuracy you need without having to monkey around with color strips.
The best tester for the money is the Rozway Pocket RW-DPHM-2017. It's a single-test, single-purpose digital device that does one thing only and does it well. This inexpensive and efficient tester delivers a lot of bang for the buck. Now you're prepared to go out and choose which kit is right for you. Keep these reviews close at hand for reference, and you won't have to worry about making the wrong decision .