7 Best Powermate Portable Generators of 2023 – Reviews & Top Picks
Powermate is a great brand that many people enjoy and rely on for its durable construction. When it comes to portable generators, there can be a lot of different options to choose from, however, and narrowing down the options to the best one for you is overwhelming.
If you do not have a portable generator, you can probably think of a few times that you wished you did. Whether it was during a power outage, while camping, or just a day trip, having the ability to power your electronics and basic electric needs is essential.
As we mentioned, however, making that final choice can be tough. There are many things to consider from wattage power, run time, outlets, remote start, inverter technology, and more. Thankfully, we have taken the bull by the horns and done the hard work for you. We have profiled each model of Powermate portable generator. Our buyer's guide will also give you the skinny on the GFCI protection, CARB compliance, and some tips for shopping. Stayed tuned below for more info!

A Quick Comparison Of Our Favorites in 2023
Rating
Image
Product
Details

Best Overall

Powermate 6958 DF7500E

Electric start
Long runtime
Control switch
CHECK PRICE

Best Value

Powermate 10000001790

Good run time
CARB compliant
Inverter technology
CHECK PRICE

Powermate 6957 DF3500E

Dual fuel
Heavy-duty use
Various outlet options
CHECK PRICE

Powermate PC0143500

Safety features
Digital multimeter
Auto-volt regulator
CHECK PRICE

Powermate 10000001785

Various Outlets
Low-oil shut down
Digital multimeter
CHECK PRICE
The 7 Best Powermate Portable Generators
1.

Powermate Dual Fuel Portable Generator – Best Overall
Featured in our number one spot for the best Powermate portable generator is the Powermate DF7500E with both gasoline and liquid propane fuel capabilities. You will be able to control the switch between both fuels with an easy to use fuel selector dial, as well.
This little powerhouse sports a 420cc OHV engine, 9,375-watt starting power, and 7,500-watt run level for gasoline. For propane, you still have a starting power of 8,500 watts and a run level of 6,750 watts. This means it's possible to use lights, charging electronics, and power tools with this unit.
This model also has a multimeter, fuel gauge, low-oil shut down, and electric start. You will also have the option of a recoil start, folding handle, and heavy-duty wheels. The outlet selection is varied, and they have all bases covered. Choose from two 120V 20A GFCI standard outlets, a 120V 30A twist -lock port, and a 120/240V 30A twist-lock.
This model is 200 pounds, has a 7-gallon gas tank and the option of a 20- or 30-pound propane tank which is sold separately. This will give you 10 hours of runtime at 50 percent power when operated with gasoline. Propane will give you 8 hours per 30-pound tank and 5 hours per 20-pound tank respectively.  Overall, this is the best portable generator from Powermate.
Pros
Dual Fuel
Control switch
Safety features
Varied outlets
Long runtime
Heavy-duty use
Cons
Propane tank sold separately
---
2.

Powermate Portable Inverter Generator – Best Value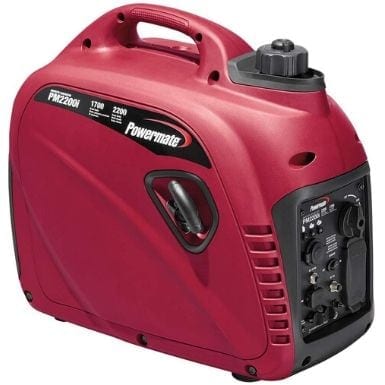 If you are hoping to save some money while still enjoying a few comforts of home while camping or tailgating, this is the model for you. This handy option has inverter technology with less than 3 percent harmonic distortion so you can safely charge your phone, computer, and other electronics.
This option also has a variety of covered outlets to choose from including two 120V standard outlets, one 12V 8A DC plug, and a USB port for convenience. The OHV motor has a 2,200-watt starting power and a 1,700-watt run level for charging electronics and other basic items. You can also utilize the off/run/choke knob for easy use. Plus, you have a low-oil shutdown and an economy mode for gas fuel efficiency.
Unfortunately, this model does not have an electric start, only a recoil. Also, a 1.2-gallon tank gives it 7 hours of run time at 50 percent power. This a great model for travel at 45lbs and is CARB compliant for use in all 50 states. Overall, this is the best Powermate portable generator for the money.
Pros
Inverter technology
Varied outlets
2,200W starting power
Good run time
Safety features
CARB compliant
---
3.

Powermate 6957 Dual Fuel Portable Generator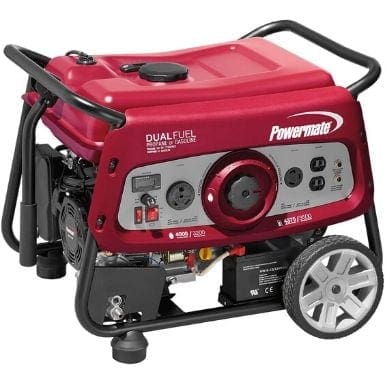 Moving on to the number four spot is the DF3500E model. This option gives you the ability to run it off of gasoline or propane. You can get 10 hours of run time on the 4.5-gallon gas tank. You can also purchase a propane tank separately that will give you 10.5 hours of run time for a 30-pound tank and 7.2 hours with a 20-pound tank. This is based on 50 percent power use, as well.
This Powermate portable generator has a 3,500-watt run level and 4,375-watt starting power when used with gasoline. When used with propane, you have a 3,200-watt run and 4,000-watt start. The power comes from the 206cc OHV engine that has a low-oil shutdown, fuel gauge, and easy fuel selector.
One feature of this model is that it does not have covered outlets. The 120V 20A standard plug, 120V 30A RV ready option, and the 120V 30A twist lock port are great for lights, charging, and some power tools, however. You can use this for pool pumps and other yard tools as it has a multimeter gauge and an electric start. At 118 pounds, you can easily tote this puppy from place to place with the wheels and handle, though it is a louder unit.
Pros
Dual fuel
Heavy-duty use
Safety features
Various outlet options
Cons
No covered outlets
Louder
Not fuel-efficient
---
4.

Powermate Portable Generator (PC0143500)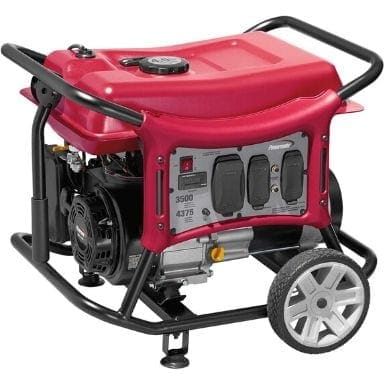 This next option is a 107-pound gasoline operated generator with an OHV engine. You can start equipment that needs up to 4,375-watts of starting power and run appliances at 3,500-watt levels. This is a great option for emergency use, tailgating, and camping.
The PC0143500 features a digital multimeter, low-oil sensor, and a fuel gauge. You have a 4.5-gallon tank that runs for 12 hours at 25 percent power. You can also take advantage of the covered outlets that keep dirt and other debris from getting inside. It has two standard outlets, one 120V 30A twist-lock plug, and a 120V 30A RV ready port.
Unfortunately, this option is not CARB compliant, though it does have an auto-volt regulator. You will also have to make do with the recoil start because it lacks an electric option. All in all, this lightweight generator is great for traveling with wheels and a handle, but it is not quite heavy-duty enough for RV power.
Pros
Auto-volt regulator
Safety features
Digital multimeter
Various outlets
Cons
Shorter runtime
No electric start
Not strong enough for RVs
Not CARB compliant
---
5.

Powermate Portable Generator (10000001785)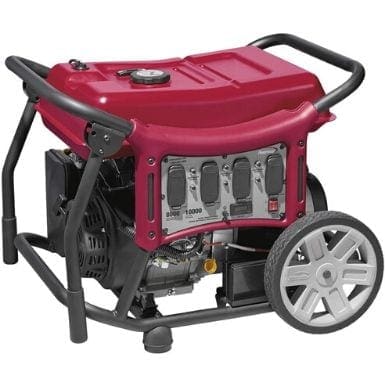 Next up is a portable generator that has an OHV engine with six available outlets ranging from four 120V 20A standard plugs, one 120/240 30A twist lock, and one 120V 30A port. This model is not CARB compliant although it does feature a digital multimeter, electric start, and low-oil shut down.
With this option, you have a 7-gallon fuel tank which allows for about 8 hours of run time at 50 percent power. You can also use the 10,000-watt starting power and 8,000-watt run to power heavier tools, and large household appliances. On the downside, this unit is very heavy at 231 pounds and is extremely loud to run. Another issue is that this engine does have the capacity to overheat when being used at full power.
Also important to note with this Powermate generator is that it is a fairly new model, so durability and longevity have not yet been tested.
Pros
Heavy-duty
Various Outlets
Safety Features
Cons
Not CARB-compliant
Loud
Shorter runtime
Has not been tested for durability
Overheats
---
6.

Powermate 0146500 Electric Start Portable Generator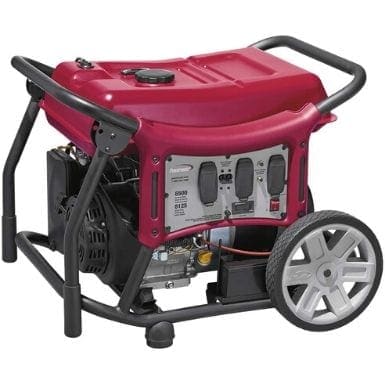 The final option on our list of Powermate portable generators is the PC 0146500. This model has an 8,125-watt starting power and a 6,500-watt run level. While this OHV engine has the wattage to handle larger items, it tends to stall when used over 50 percent power.
This model has a 7-gallon fuel tank and 6 hours of run time on 25 percent power. On a brighter note, you can use the electric start, low-oil shut down, and digital multimeter at your disposal. You can also take advantage of the four GFCI 120V 20A outlets along with the 120/240V 30A twist lock plug.
Our last pick is also not CARB compliant, it's heavy for the size at 200 pounds, and it is also a new model. Being new, the durability and longevity of its lifespan is unknown at this point. Last, but not least, this option is not fuel-efficient making this the least popular unit from Powermate.
Pros
Electric start
Safety features
Various outlets
Cons
Stalls
Shorter run time
Loud
Not CARB-compliant
Not fuel-efficient
Not durability-tested

Buyer's Guide – Choosing the Best Powermate Portable Generator
Important things to keep in mind before purchasing:
One important feature that a lot of generators have is CARB compliance. This is more important for California residents. CARB or California Air Resources Board is responsible for the air quality in the state. They hold any machinery to a certain standard so as not to further pollute the air.
If a model is not CARB-compliant, you will not be able to use or buy the generator in that state. Even if you do not live in that area, the CARB rating will still give you an idea of whether the option is eco-friendly, or whether it is putting harmful ozone out into the atmosphere.
Another feature you want to be on the lookout for is GFCI outlets. Normally, this type of outlet is found in the home, and it has a restart button below or next to the actual prong holes. The GFCI will trip the outlet instead of the circuit breaker when there is something too heavy pulling energy from the outlet.
If you have ever had too many items running at once, you probably have had to hit the reset button on the outlet. This protects your items from overvoltage. It also helps protect the circuit breaker from having too much power drawn at one time.
Tips When Buying
When you are shopping for a Powermate portable generator, keep in mind what you want the generator to be responsible for running. Will it be used at remote job sites to run power tools? Is it for emergency home use or camping? Answering these will ultimately answer many more questions.
Features such as wattage, run time, gas tank size, and outlets can be determined by the answers to the two questions above. Once you have those down pat, you can look at extra features that may come in handy.
Things like remote starting capabilities, wheels and a handle, outlet covers, additional accessories, and dual fuel options are all available depending on your needs. First and foremost though, if you are going to be using this model to power your home through a storm, make sure it can power your necessities as well as your small electronics.

Conclusion
We hope you have enjoyed these reviews, and they have given you the right information to make an informed choice about which Powermate generator is right for you. If you are looking for a quiet model, take a look at this article where we break down the best portable and quiet generators available.
All in all, the best Powermate portable generator is the Powermate 6958 DF7500E Dual Fuel Portable Generator. This will help you run all of your electrical items with fuel-efficiency. If you need to be more conservative with your money, the Powermate 10000001790 Portable Inverter Generator will be the best fit for you.