10 Best Generac Portable Generators of 2023 – Reviews & Top Picks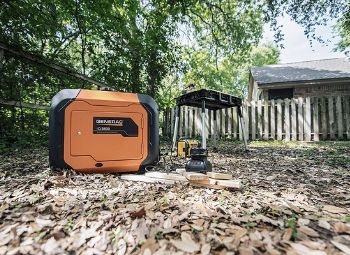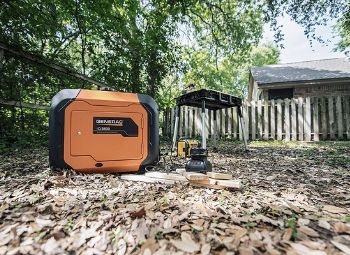 Generators come in many sizes, shapes, and power levels. Some are loud and obnoxious while others are quiet enough to take camping without disturbing nature. Whether you're looking for a generator as the main backup for your home in an emergency situation or to power a job site full of tools, Generac generators provide a high level of reliability trusted by many.
Inverter generators are small and quiet but they don't pack much power into their smaller frames. Other generators that weigh up to 400 pounds are mounted on wheels for transportation and can power a large home or job site all day. We've tested 10 of the best Generac models of all types and have written these in-depth reviews comparing them to help make your decision easier.
---
A Quick Comparison of Our Favorites in 2023
Rating
Image
Product
Details

Best Overall

Generac 7117

Affordable
Very quiet
Eco-switch
CHECK PRICE

Best Value

Generac 5734

Can power a whole house
Easy to start
No voltage drops
CHECK PRICE

Premium Choice

Generac 5735

Can run a 5-ton air conditioner
Reliable
Electric start
CHECK PRICE

Generac 5802

One-touch electric start
Covered outlets
CHECK PRICE

Generac 6954

More affordable
Lighter weight
5 gallons lasts 12 hours
CHECK PRICE
The 10 Best Generac Portable Generators
1.

Generac 7117 Portable Inverter Generator – Best Overall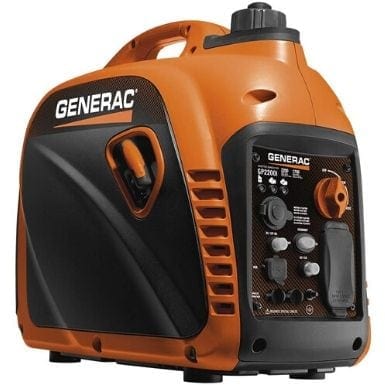 If you're looking for a quiet, portable, gas-efficient Generac generator, look no further than the GP2200i. Weighing in under 50 pounds with a very small form factor, this generator is the definition of portable. The 2,200 watts of power it provides is a bit on the low side. That said, it offers a parallel feature that allows you to double your power by hooking two inverters together. Since this unit is very affordable, you could have a parallel setup for less than the cost of many other Generac models.
The eco-mode allows for extra-efficient low-power operation at a very quiet noise level. Of course, this generator is never loud. It was one of the quietest models we tested, making it a great choice for camping. It was also very conservative with fuel, running for more than 10 hours at 25 percent load on just a single gallon of gas. Our only real complaint was that the plastic casing is not built to withstand any abuse. As long as you treat this machine well, it should provide you great service for a long time. We feel confident recommending the Generac GP2200i portable inverter generator as our top pick.
Pros
Very small and portable
Affordable
Very quiet
Eco-switch for efficient operation
Can run two in parallel
Cons
Not built for abuse
Not very powerful
---
2.

Generac 5734 Gas Powered Portable Generator – Best Value
Whether you need a generator to power an entire job site's worth of tools or you just need a reliable backup generator with enough juice to power your house in case of an outage, the Generac 5734 GP15000E is a stout unit that packs 15,000 watts of power. It can easily power an entire house or job site and you'll be unlikely to experience any voltage drops. Even better, the electric start built into this machine makes it very easy to get started, unlike older machines that made you yank and yank on a pullcord until your arm was exhausted.
We noticed one strange drawback that was later confirmed by Generac. This generator has plenty of power, and it wants to use it. If you ask it to run below 25 percent capacity, you will experience flickers and voltage spikes as the engine RPMs fluctuate. Also, this is a very loud and heavy unit that's not easy to move around, despite the large wheels. Our complaints with the GP15000E are relatively minor, and when you consider all of the power packed into this generator, we believe it's one of the best Generac portable generators for the money.
Pros
15,000 watts of power
Can power a whole house
Easy to start
No voltage drops
Cons
Doesn't run well below 25% capacity
Very loud and heavy
---
3.

Generac 5735 Gas Powered Portable Generator – Premium Choice
Are you looking for the most powerful model with all the features and you don't mind spending the money to get it? the Generac 5735 GP17500E gas powered portable generator is a premium choice that can power almost anything, even a 5-ton air conditioner. All of that power turns on easily thanks to the electric start and battery. This robust unit is also very reliable, perfect for those who need a dependable unit as a backup for their home in case of an emergency.
With so much power come a few downsides. First off, this is a very large and extremely heavy unit, tipping the scales at almost 400 pounds. The worst drawback though is the awful gas-efficiency. At a load of 50 percent, you can expect this machine to run for 10 hours on 16 gallons of fuel. While it does make gobs of power, it's far from efficient which is going to cost you in the long run. However, we feel it's one of the best options available overall and is worth the extra cost if you can afford it.
Pros
Can run a 5-ton air conditioner
Reliable
Electric start
Cons
Very expensive
Nearly 400 pounds
Terrible gas efficiency
---
4.

Generac 5802 Gas Powered Portable Generator
Packed with convenient features, the Generac 5802 gas powered portable generator provides 10,000 running watts of power. Though it's just as big, loud, and heavy, this isn't nearly as much power as other models in the same price range, which is why the 5802 doesn't manage to break the top three. One-touch electric start makes it easy to get it running. The outlets are all covered for protection from the elements.
Shortly into testing, the voltage regulator on our burnt out. Luckily, this unit is covered by a two-year warranty for residential use, so we were able to get it repaired quickly. After a few more weeks of occasional use, we discovered another problem. Some of the connections on the control panel came out from the vibration of the unit. This oversight should have been caught by Generac, but apparently, it's a pretty common occurrence.
Pros
One-touch electric start
Covered outlets for environmental protection
Cons
Expensive
Voltage regulator burns out
Vibration sensitive connections fall out
---
5.

Generac 6954 Gas Powered Portable Generator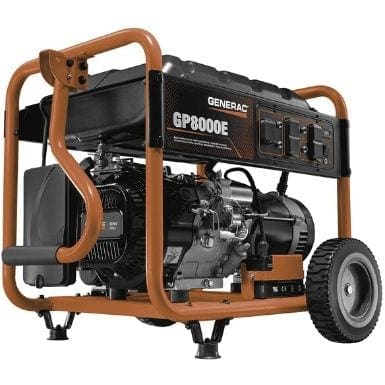 At about half the price of the highest-end Generac generators, the GP8000E will be attractive to many for the price alone. The 8,000 watts of power it provides isn't spectacular, but it's sufficient for running a smaller sized job site or as backup power for a home. At just under 200 pounds, this model is on the lighter side and is considerably more portable than many of the other ones that we tested. Another highlight was the improved gas-efficiency over some of the more powerful generators. This one will run at a 50 percent load for 12 hours on 7.5 gallons of fuel. Certainly not as good as the inverter generators, but pretty decent for the power this motor creates.
Even though this model is a bit lighter than some of the others, it's no smaller. It's also a bit louder, even though it doesn't manage to produce as much power. In the winter, we noticed some temperamental behavior in the cold weather. Starting was more difficult and the unit wanted to die several times until it got warmed up. This is a great generator, though it doesn't provide quite enough value to make it into our top picks.
Pros
More affordable
Lighter weight
5 gallons lasts 12 hours
Cons
Temperamental in cold weather
Large and loud
---
6.

Generac 5939 Gas Powered Portable Generator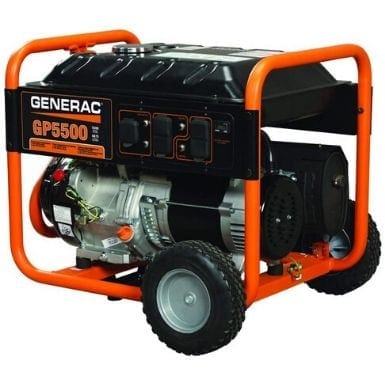 If you're looking for sufficient power but don't want to break the bank to get it, then the Generac 5939 GP5500 is one of the portable generators you should be considering. Priced at the low end of the spectrum, this is still a very capable machine. While not the most fuel-efficient one available, it is still more conservative than many other models, getting 10 hours of run time from 7 gallons of fuel. Weighing just 180 pounds and equipped with two wheels for easy transport, this is one of the more portable full-sized Generac generators on the market.
We did enjoy the power for the price, but it's not enough for a large job site or home. It may be fine for a smaller work crew or backup for a small home though. The carburetor also gave us some trouble when the plastic choke lever broke. This is a pretty common issue on this model so be aware. The GP5500 also seemed to have a shorter lifespan overall than the other models in the lineup.
Cons
Low power, 5,500 watts
Short lifespan
Plastic choke lever on carb a common breaking point
---
7.

Generac 6866 Gas Powered Inverter Generator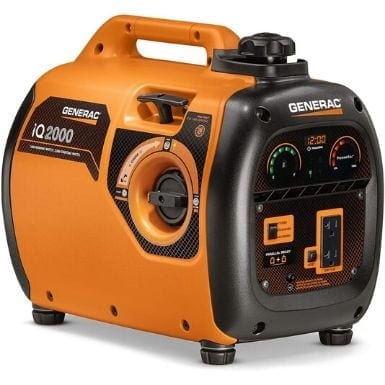 If small size, portability, and quiet operation are of prime concern to you, then the Generac 6866 iQ2000 inverter generator is an option you may consider. To start, it's very fuel-efficient, running for almost six hours on just one gallon of fuel. It's also one of the quietest generators we tested, impressing us with its near-silent operation. It's not very powerful though, producing just 1,600 watts. To remedy this, you can run two of these units in parallel and create twice the power.
This generator would have probably ranked much higher if it was more reliable. It failed on us one of the first times we used it. It's covered by a three-year warranty so repairs are no problem. That said, we want a generator that we can count on not to let us down at a critical moment. To that end, we have to suggest you opt for a more trustworthy model such as the GP2200i in our first position.
Pros
Small
Quiet
Very gas-efficient
Cons
Low power, 1,600 running watts
Unreliable
Runs rough
---
8.

Generac 7127 Portable Inverter Generator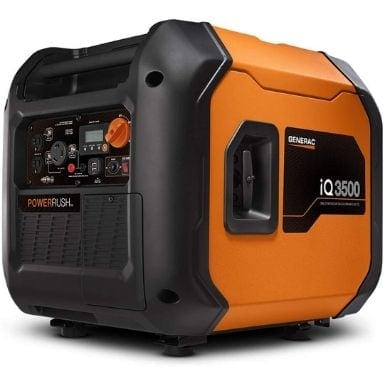 Quiet, small, and light, we expected good things from the Generac 7127 iQ3500 portable inverter generator. It didn't manage to live up to our hopes, but it does have some positive qualities. For starters, it's very quiet and rather compact as well. At only 100 pounds it's also pretty light, though it's still difficult to move because the size and weight make it very awkward. This model could definitely benefit from the addition of some wheels. There is an LCD readout, but it's small and very difficult to see.
While it's got a small footprint, it doesn't make a whole lot of power. The 3,500 watts is sufficient, though it's a very expensive unit considering the power it provides. It also vibrates a lot more than we expected, slowly migrating over the course of a few hours. There's no fuel gauge to determine your fuel level which is pretty inconvenient. In the end, this model didn't quite pan out how we hoped, and we recommend looking at some of the other models that placed higher on our list.
Pros
Quiet
Built-in USB ports
LCD readout
Cons
100 pounds and no wheels
Display is small and hard to read
Heavy vibration
No fuel gauge
Expensive for the power level
---
9.

Generac 7676 Portable Generator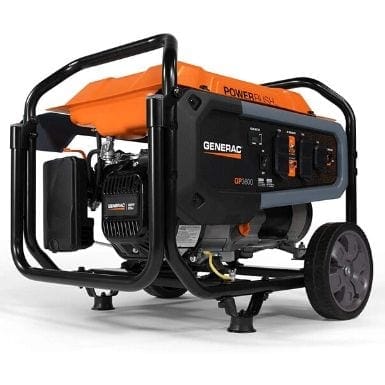 Coming in right under 200 pounds, the Generac 7676 GP8000E portable generator is just about middle of the pack in terms of weight. It's still very large though and takes up quite a bit of space. 8,000 watts isn't the most powerful output from available from a Generac, but you wouldn't know that from the noise. The GP8000E is one of the loudest models we tested, and we suggest earplugs for when it's running.
We were thankful that this model was very easy to get up and running with the built-in electric start. However, you need to be vigilant about checking the battery. If it's less than 100-percent charged, the machine will not start. This could leave you high and dry at a critical moment and is one of the reasons that this device doesn't earn our highest recommendations.
Cons
Prone to leaks
Takes up a lot of space
Very loud
Won't start if battery isn't 100%
---
10.

Generac 7677 Portable Generator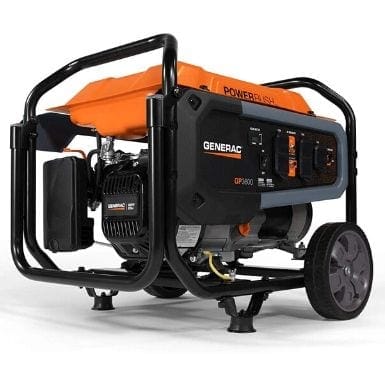 With a more compact size than some of the higher-end Generac generators, the GP3600 is a more portable, less obtrusive option. At just over 100 pounds, it's light enough to carry, but thankfully has wheels for easier transportation. Pricewise, this is one of the most affordable units in the Generac lineup, making it attractive to many. Though it's compact for a gas generator, it's pretty large for the low power output it's capable of. Worse yet, it's extremely loud, making nearly as much noise as the most powerful and largest models that we tested.
While it's a very adequate generator with no glaring shortfalls, it's just not a great value considering the power and size. We feel that other generators at a similar price point offer far more features and better function.
Cons
Only 3,600 running watts
Doesn't provide enough power
Loud for the power
---
Buyer's Guide – Choosing the Best Generac Portable Generators
At this point, you should have a pretty good idea of which Generac model is going to fit your needs best. To help make the point a little more clear, we're going to briefly cover which features you ought to keep in mind when deciding which model to choose.
Intended Use
At the end of the day, what you plan to use your generator for is going to be the biggest determiner of which model you should choose. If you want a generator to quietly power your electronics while you're out camping, then you're looking for a small and quiet inverter generator. Do you need enough juice to run an entire job site of power tools? You're going to need a much beefier generator. Once you know how you want to use your generator it will be easier to pick one that suits your situation.
Noise
Naturally, more powerful generators tend to make more noise. That's not the end of the story though. Full-size rolling generators are much louder than the small and efficient inverter type. Although both types run on gas, they make very different amounts of noise. If noise is of utmost concern, you'll want to stick to the inverter style generators.
Portability
All of the generators we've reviewed here are technically portable. That said, some are much easier to move about than others. Do you need to get your generator into a truck bed for transport from job to job? If so, a 400-pound behemoth may not be as portable as it looks, despite the pull handle and wheels. Inverter generators have a much smaller form factor and are therefore much more portable. Of course, they also can't provide the same level of power. If you need the high-power of a rolling generator, make sure to pay attention to the overall weight of the unit.
Power
You are buying a generator for one purpose, to generate electricity. While every generator performs this function, they do so to varying degrees. For powering a home or job site, you can forget about the inverter style generators. If you just want to charge your electronics from your tent, then an inverter generator might be sufficient. Depending on how many electronics you plan to run at once, you may have substantial power needs. In such cases, a generator with 10,000 amps or more will be necessary.
---
Conclusion
If you felt lost reading the product description of generator after generator, hopefully, these reviews have helped you to narrow down your search. We think that the Generac GP220i inverter generator is the best choice overall. With near-silent operation at an affordable price with the ability to double your power by running two in parallel, it's got a value that's pretty difficult to top.
The GP15000E was our pick for best value. Packing 15,000 watts of power into a portable package means you can power all the tools on your job site or all the appliances in your home. Finally, the 17500E is our top premium choice. With enough power to run a 5-ton air conditioner, it's unlikely you'll ever max out this machine. Excellent dependability and a quick-start design round out its feature set to make it our favorite premium Generac generator.
Related Reads: