Can You Cut PVC With a Miter Saw? Reasons, Facts, & FAQ
Polyvinyl chloride (PVC) pipe is one of the most affordable materials for all manners of do-it-yourself (DIY) projects. When you need custom lengths of PVC pipe, there are lots of options.
Hacksaws are the most common manual method, but miter saws are perhaps one of the most efficient ways to cut PVC. It's easy to cut through the pipe quickly, and it can handle PVC of all diameters.

Why Use a Miter Saw to Cut PVC?
Using a hacksaw, you'd have a tough time cutting PVC cleanly and in large quantities, but miter saws make the job much more manageable. You'd also get tired very quickly from the effort! Using a miter saw, you simply place your PVC piece in, lower the saw, and your cut is made. There's a bit more to it, but it's overall much easier than using other types of saws.
With a compound miter saw, you can even make angled cuts to the left and right on your PVC pipe. This can make more complex jobs easier, although securing PVC can be a challenge. Generally, a clamp would be the best way to secure PVC for cutting on a miter saw because it keeps the pipe from turning or twisting as you make your cut.
When you cut PVC with a miter saw, the resulting length will be just a bit shorter because of your cut's kerf. Be sure to factor this into your measurements before preparing to cut PVC, or your length may come out too short for your project.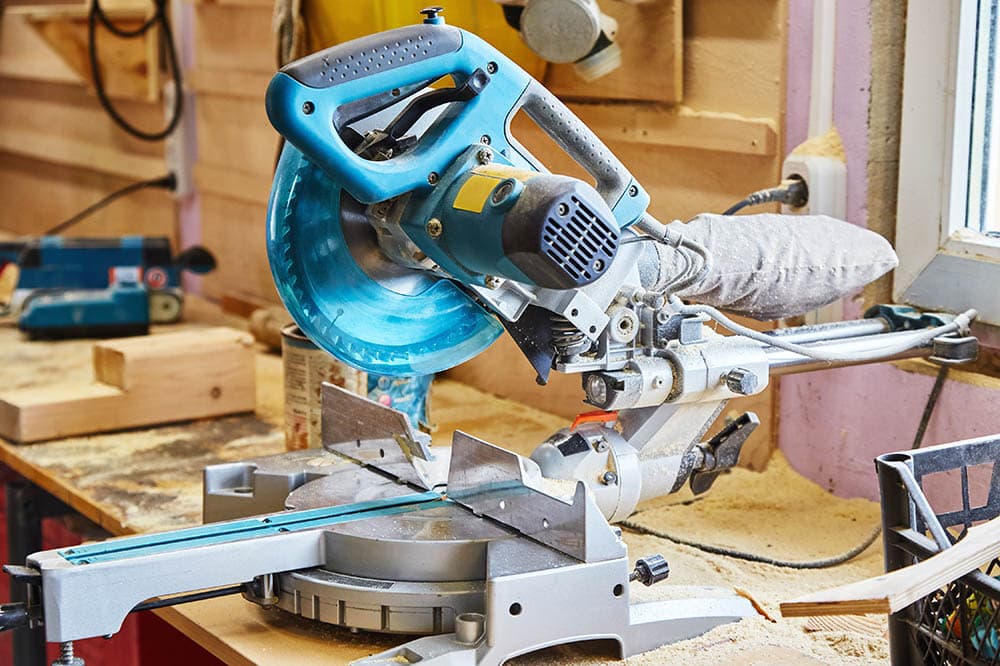 What Type of Blade Is the Best for Cutting PVC?
Ideally, the best type of blade for cutting PVC is a blade made for cutting plastic. Considering that they're relatively rare, however, you can use a wood blade to cut PVC in a pinch. Metal blades will usually work just fine, too. What you should look out for is how many teeth the blade has because more teeth will mean a cleaner cut, which is vital for PVC cuts.While more teeth will make your cuts cleaner, any type of high-quality wood blade should do the job, assuming you can't run out for more blades. Fewer teeth on a blade will make your cuts more ragged, though, so getting a better blade is a must if clean cuts are important.

Our Recommendations for Cutting PVC With a Miter Saw
The type of blade you use is more important than the type of miter saw because any miter saw will be capable of cutting PVC pipe. Rather, you should check into better types of blades that will cut more cleanly and with less friction. For your convenience, we've tracked down the best overall blade for cutting PVC pipe and the blade with the best value. Let's check them out below.
Ivy Classic Swift Cut 10" Aluminum & Plastic Blade – Best Overall
This double-threat blade is made for cutting both light-gauge aluminum metal and plastic, which includes acrylic sheets and PVC. It's made of carbon alloy, so it doesn't wear out as quickly, and it has 200 teeth for buttery smooth cuts.
User reviews indicate it doesn't fare as well on long cuts, but that it's perfect for short cuts like cutting lengths of PVC pipe. While expensive, you'd be hard-pressed to find a better blade for the job.
Pros
200 teeth
Cuts aluminum metal and plastic
Durable carbon alloy
Doesn't wear out quickly
---
Irwin 10" Miter Saw Blade – Best Value
Irwin is a reputable and affordable brand that sells high-quality saw blades, and this one is no exception. Technically, it's designed for cutting plywood, but it cuts PVC and other plastics just as well. Some users note that you can even cut bamboo with it, which is quite impressive.
The blade is made of high-gauge, heavy-duty steel alloy for extended work sessions, and it has 180 teeth for precision cuts. At least 200 teeth would be better, but it's a value blade, after all. For the price, we doubt you could find a more quality blade.
Pros
Affordable
Reputable brand
Heavy-duty steel alloy
Cons
Less than 200 teeth
Designed to cut through plywood

Conclusion
Miter saws are one of the cleanest ways to cut PVC pipe, and nearly any saw will do the job as long as you have the right blade for the occasion. We listed our recommendations and what makes them suitable, but nearly any wood blade with a high teeth count will do the job.
---
Featured Image Credit: ungvar, Shutterstock