10 Best Pressure Washers for Cars & Detailing in 2023 – Reviews & Top Picks
Taking your vehicle to the carwash every day or even just a few times a week is an expense that can add up quickly. Alternatively, washing your car by hand is a big time-investment to repeat that often. Pressure washers give you the best of both worlds, saving you time and money by washing your vehicle quickly and efficiently without having to pay out of pocket each time.
There are many pressure washers on the market, but which ones are best suited for washing vehicles? Each model comes with different features, functions, and benefits, and not all of them are equally comparable for car detailing. To make the decision easy for you, we've washed our cars and trucks with every pressure washer we could find to see which ones made the job quick, easy, and painless. The following reviews will fill you in on our findings and help you streamline the process so you can pick a pressure washer and get back to your daily life.
---
A Quick Comparison of Our Favorites in 2023
Rating
Image
Product
Details

Best Overall

Powerhouse International M22

Very quiet
5 spray tips
3000 PSI / 2.2 GPM
CHECK PRICE

Best Value

Sun Joe SPX3000

76 GPM
2 onboard detergent tanks
Shuts off motor when trigger released
CHECK PRICE

Premium Choice

WEN PW3100

2.5 GPM
Onboard soap tank
Large 12" wheels roll easily
CHECK PRICE

AR ANNOVI REVERBERI AR390SS

1 detergent tank
2000 PSI / 1.4 GPM
4 quick-change nozzles
CHECK PRICE

Stanley SHP2150

Small
Compact
2150 PSI
CHECK PRICE
The 10 Best Pressure Washers for Cars
1.

Powerhouse International Electric Pressure Washer — Best Overall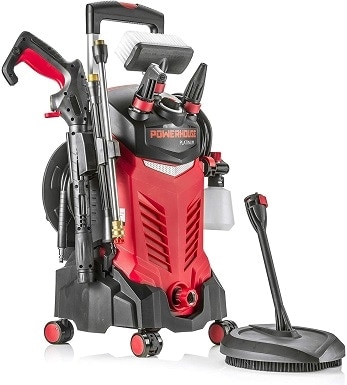 We love the quiet operation of an electric pressure washer, though they rarely seem to keep up with the obnoxiously loud gas versions for raw power. Say hello to the Powerhouse International PHI-Platinum electric pressure washer, our pick for best pressure washer for cars overall. Though it features quiet electric operation, this machine puts out some serious output to the tune of 3,000 PSI and 2.2 gallons per minute (GPM). To make it even more silent, this device shuts off when you release the trigger, so it only runs when needed.
The hose was plenty long and one of the most flexible hoses of any device we tested, which made this tool nice to work with. Even better, the hose is on a wind-up holder that makes cleanup and storage a breeze. The five included spray tips give you lots of options, and they all fit nicely back onto the machine so you won't lose them. Despite being so powerful, it has a lot of variability in the pressure, which is why we think it's the best electric pressure washer for cars as well. All told, we don't think you'll find a model with better features overall.
Pros
3,000 PSI/2.2 GPM
Very quiet
Motor shuts off when you release the trigger
5 spray tips
Cons
Attached to a power cord
Very small wheels
---
2.

Sun Joe SPX3000 Electric Pressure Washer — Best Value
Compact, lightweight, and affordable are three words we seldom hear being used together to describe a single tool. The Sun Joe SPX3000 electric pressure washer is all of these things, which is why it's our pick for the best pressure washer for car detailing for the money. It's not the most powerful one out there, but for detailing a vehicle it doesn't need to be. The 1.76 GPM flow is adequate, and the 1,450 working PSI is adequate, but not impressive. We did appreciate the two onboard detergent tanks, something that can help speed up the process of deep cleaning your car.
We loved the near-silent operation of the Sun Joe pressure washer. Of course, you'll always be tied to a power cord and an outlet since it's electric, but you won't need gas and it's not going to annoy your neighbors. This device also features a TSS or total stop system. This shuts the motor off when the trigger is released, so the machine only makes noise when you're washing. Besides being one of the most portable models we tested, this one was also exceedingly reliable, which is why we think it's the best value overall.
Pros
Affordable
76 GPM
2 onboard detergent tanks
Shuts off motor when trigger released
Cons
Attached to a power cord
1,450 working PSI isn't the best
---
3.

WEN PW3100 Gas Pressure Washer — Best for Car Detailing
Electric pressure washers may be quiet, but it's hard to beat the durability, dependability, and raw power of a gas pressure washer. The WEN PW3100 was our favorite gas pressure washer we tested, and our choice for premium pick overall. As expected, this machine is pretty loud. Once you turn it on, that motor will keep turning until the job is done, so don't expect to have an intimate conversation standing next to it. The 2.5-GPM flow is one of the best we tested, and it pumps out an intense 3,100 PSI. This is enough power to take your skin off.
This machine is meant for heavy-duty use and it shows. The 12-inch wheels roll across any type of terrain and make it very portable despite the larger size. Five quick-connect nozzles let you swap your stream in seconds. The on-board soap tank adds great functionality for car detailing. The price is a bit higher than many competing models, but we think in this case you get what you pay for. Altogether, we think this is one of the highest performers we tested.
Pros
2.5 GPM
3,100-PSI
Large 12" wheels roll easily
Onboard soap tank
5 quick-connect nozzles
Cons
Very loud since gas-powered
On the expensive side
---
4.

AR ANNOVI REVERBERI Electric Pressure Washer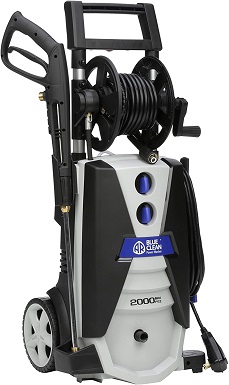 Though it's one of the more affordably priced options, the Annovi Reverberi pressure washers are known for being high quality, so we had high expectations for the AR390SS electric pressure washer. It was a very solid performer, but it fell just shy of breaking our top three for several key reasons. We did really like the 2,000-PSI output of this sprayer, but the flow of just 1.4 GPM was less thrilling and not as good as the Sun Joe. The four quick-change nozzles allowed for quick nozzle swaps, but two of our other top-three candidates included five. We liked the sizable detergent tank, and the rolling hose organizer on top.
The hose itself was one of our biggest issues. It was extremely stiff and hard to work with. Even worse, the sprayer seems to be top heavy, so when you try to mess with the hose to straighten it out, the sprayer often tips over and falls. In our experience, the pump on this pressure washer tends to die with about a year of regular use. From our research, we determined this problem wasn't just experienced by us.
Pros
Affordably priced
1 detergent tank
4 quick-change nozzles
2,000-PSI/1.4 GPM
Cons
Pumps tend to fail under 1-year
Top-heavy, falls easily
Hose is very stiff and difficult
---
5.

Stanley SHP2150 Powerful Pressure Washer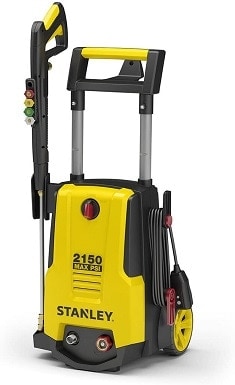 Stanley is one name in tools that most people are familiar with. We had high hopes for their SHP2150 pressure washer, but it's a very average unit that didn't do much to capture our attention. The 2,150-PSI rating is pretty good and it had no problems spraying the layers of crud off of anything we put underneath the blast. This was especially nice considering the surprisingly small stature of the Stanley pressure washer. We were a bit surprised by the short hose and would have liked to see a much longer hose to get more reach.
The Stanley sprayer didn't have a detergent tank, but it did have a foam cannon. This hooks onto the end of the wand and allows you to foam your vehicle down with soap. It does foam the car very well, though it's very awkward because of all the weight it adds to the end of the wand. Overall, we think this is a pretty decent system for washing your vehicles. The biggest problem for this sprayer is longevity. Ours stopped working after just a few weeks, and this seems to be a somewhat common issue.
Pros
2,150 PSI
Small and compact
Cons
Shorter hose than others
Longevity issues
---
6.

PRYMAX Car Electric Power Washer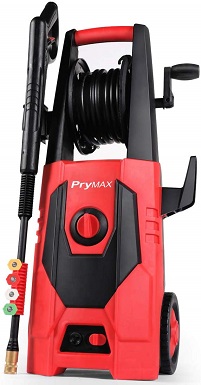 Though it's not one of the lowest-priced models we tested, the PRYMAX car electric power washer is on the more affordable end of the price spectrum. Despite this, it boasts impressive numbers of 3,000 PSI and 1.8-GPM flow rate. While these numbers looked great on paper, in the real world, we didn't feel that this machine lived up to those ratings. Four quick-connect nozzles allow you to get diverse spray patterns for many applications. For vehicles, the foam blaster covers the car in thick suds and bubbles to make it easy to scrub down. We love the foam blaster, but this one has a very small reservoir that we had to refill too often.
One essential piece of any pressure washer setup is the hose. This one is just not long enough. Most of the models we tested included a 30-foot pressure washer hose, but this one is just 20 feet long. For us, this is a major drawback that holds this device back.
Pros
3,000 PSI/1.8 GPM
4 quick-connects and foam blaster
Cons
Doesn't live up to PSI rating
Only 20' of hose
Foam blaster doesn't hold enough
---
7.

AR Blue Clean AR383 Electric Pressure Washer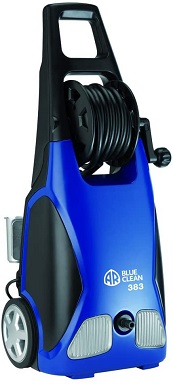 The AR383 electric pressure washer from AR Blue Clean is one of the most economically priced models that we put to the test. Even though it is so affordable, it's no slouch on performance, pushing out a respectable 1,900-PSI and 1.5-GPM. While these traits earned it a spot on this list, the remaining flaws prevent it from climbing to a higher position. To start, the hose is far too short at just 20 feet in length. We prefer to see a 30-foot hose like what's included with most of the other models we tested. Of course, at this price, it's hard to complain too much.
One thing we didn't like was that the wand attaches to the back of the unit. This was strange to us and slightly inconvenient. What's even worse was that the attachments wouldn't stay on the end of the wand! They were repeatedly dis-attaching themselves and needing to be replaced. Overall, the poor build quality of the AR383 reflects its low price and we think better value is to be found elsewhere.
Pros
Very affordable
1,900 PSI/1.5 GPM
Cons
Short hose
Wand attaches to back
Attachments don't stay attached
---
8.

Briggs & Stratton 20545 Pressure Washer
When we use a gas-powered pressure washer, we expect to see some serious power behind the spray. While the Briggs & Stratton 20545 pressure washer has respectable output, it's certainly not impressive for a gas-powered machine. 2,200 PSI and 1.9 GPM are adequate but not outstanding, especially considering how much noise you'll have to deal with from this obnoxiously loud gas engine. Moreover, it's a very heavy unit and not easily portable if you need to get it into a vehicle. That said, the large wheels make it easy to roll over any terrain, so as long as you don't have to get it into a vehicle you should have no problems moving it around.
Our biggest complaint with the Briggs & Stratton was the lack of a detergent reservoir or foam blaster for soaping up a vehicle. For car detailing, these are very important and timesaving devices that we would like to see included with all pressure washers. You can soap your car by hand, but it seems to defeat the point of having the pressure washer at all.
Pros
Large wheels roll easily
2,200 PSI/1.9 GPM
Cons
Very loud and obnoxious
Heavy and not easily portable
No detergent or foam blaster
---
9.

Homdox Pressure Washer
Another budget offering, the Homdox electric pressure washer claims a very impressive 2,600 PSI top pressure. In our testing, this is a wildly exaggerated number. It's got some decent power, but we doubt if it crests the 2,000-PSI mark in actuality. That said, it still performs adequately given the price. However, it feels very cheap overall, being constructed entirely of low-quality plastic.
Our biggest gripes with this device were twofold. First, the short hose doesn't give enough room to move around, so you'll be moving the sprayer itself very often. Next, the lack of a detergent reservoir or foam cannon limits this pressure washer's ability to help with the car cleaning process. If it included these items, it may have made it further up this list since it performs sufficiently well.
Cons
Short hose
Cheap feel overall
Doesn't live up to power rating
No detergent reservoir or foam cannon
---
10.

DEKOPRO Electric Pressure Washer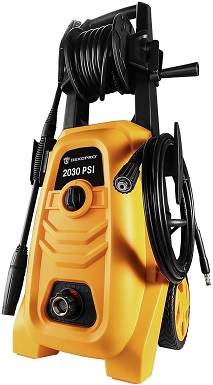 The DEKOPRO electric pressure washer was by far the cheapest model we tested. We knew this going in, so we didn't expect too much from it. Truthfully, the price is the best thing about this sprayer. It's very loud for an electric sprayer. Not as loud as gas, but much louder than it should be. It claims a pressure output of 1,800 PSI, but we don't believe it lived up to this rating in our testing. This is the only model that had a difficult time removing some of the hardest crud from under the wheel wells, so we have to question its true power output.
For the price, we expected nothing extra and not surprisingly, it doesn't come with anything extra. You do get a detergent bottle for a foam blaster, so you'll be able to soap your car up with this sprayer. No other nozzles or attachments are included. The hose is also very short and stiff making it difficult to work with. Overall, we don't think it's the best value, despite being the lowest priced.
Cons
Loud for electric sprayer
Doesn't live up to power rating
No extra nozzles or attachments
---
Buyer's Guide: Selecting the Best Pressure Washer for Cars
You've read about the top ten pressure washers for car detailing and you've seen how they compare. Now, it's time to dive a bit deeper into the workings of a pressure washer and which traits we were comparing them on. You'll want to keep these same traits in mind when you make your final decision of which one to purchase.
PSI/GPM
PSI stands for pounds per square inch and GPM is gallons per minute. PSI measures pressure and GPM measures the flow rate. For pressure washing, you're looking for a higher PSI to have a stronger cleaning effect. Even though higher PSI is a stronger stream, that's not the whole picture for car detailing. You'll want to be able to turn the pressure down to avoid destroying your vehicle's finish. Some sprayers operate at lower pressures anyway and won't likely hurt your paint.
Foam Cannon/Detergent Reservoirs
For cleaning your vehicle, a foam cannon or detergent reservoir will be an invaluable addition to your pressure washer. These will allow you to soap your car down with tons of suds for the maximum cleaning effect. If your pressure washer doesn't have these features, you'll be applying soap by hand with a sponge. We suggest finding a model that has either a foam cannon or a detergent reservoir so if you want the most efficient method of detailing your vehicle.
Gas vs. Electric
Gas versus electric is going to come down to preference since each of these has its own ups and downs. Gas-powered sprayers are generally much louder than electric, though they're also generally stronger. These days, electric pressure washers are starting to keep up, sometimes putting out over 3,000 PSI, but at a much quieter volume. With electric, you'll always be tied to a power cord. However, with a pressure washer, you're always tied to a hose anyway, so this may not be a big deal. Gas-powered sprayers generally have larger wheels for better rolling on rough terrain. They're also much bigger and more robust, built to withstand the rigors of job sites. Electric sprayers may not have the same rollability or toughness, but they're much more compact, lightweight, and portable. Electric pressure washers also never run out of gas, but they'll always need an outlet nearby. In the end, you'll have to figure out which of these feature sets you prefer.
---
Final Verdict
We've covered a lot of information between our reviews and buyer's guide. You should have a good idea of which pressure washer is your best choice for car detailing. Beyond this, you should also know exactly which traits to look for and prioritize. Before we send you off to make a final decision, we're going to do a short recap of our recommendations so they're fresh in your mind. The PHI-Platinum electric pressure washer from Powerhouse International was our top pick for best pressure washer for cars overall. Its 3,000 PSI and 2.2 GPM capabilities rival any gas-powered pressure sprayer, though it operates very quietly thanks to being fully electric. With 5 spray tips and a foam blaster, this is a very versatile washer that will give you complete control of your detailing.
For a more economically priced sprayer, the Sun Joe SPX3000 is our choice for best pressure washer for cars for teh money. Though it's priced affordably, it still has excellent performance with a 1.76 GPM flow rate and two onboard detergent tanks that make soaping up your vehicle a cinch. Finally, the WEN PW3100 is the ultimate in gas-powered pressure washing performance producing 2.5 GPM and 3,100 PSI with an onboard soap tank.
You might also be interested in: Renting vs Buying a Pressure Washer: What's Right for You?