10 Best Foam Cannons in 2023: Reviews & Top Picks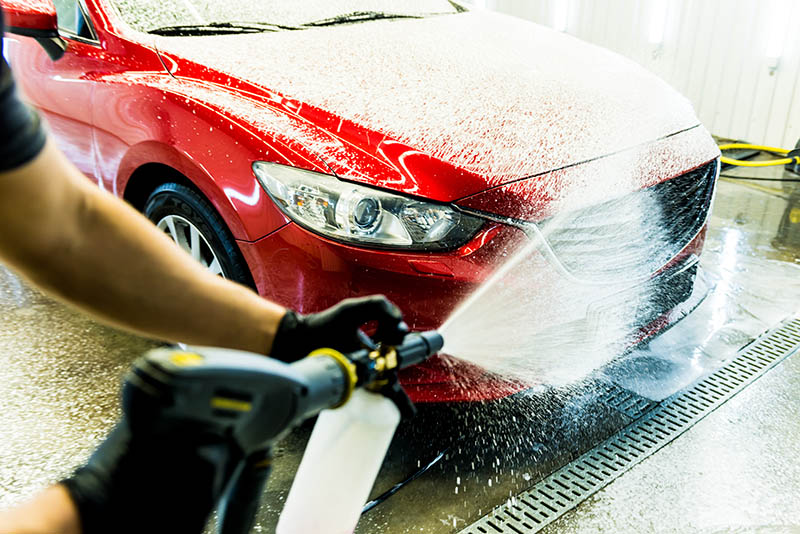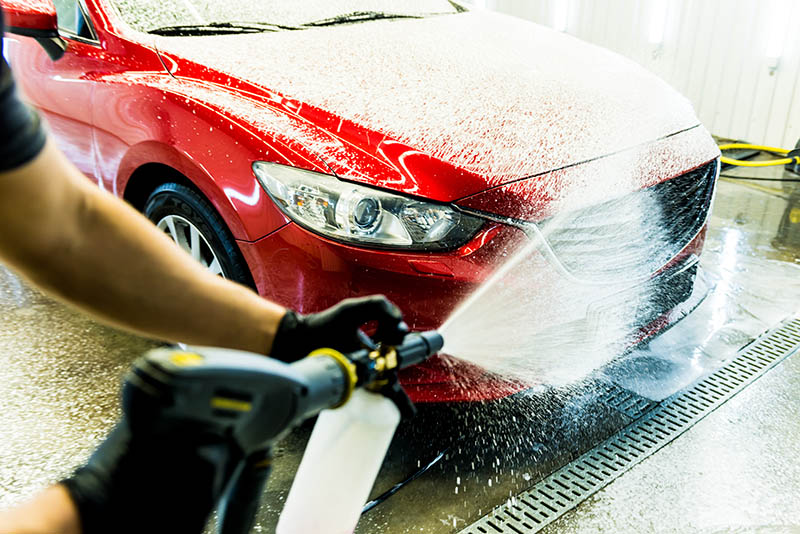 Foam cannons are handy auto detailing tools that can make washing your car easier. They help create thick foam that quickly soaks dirt and grime, softens it, and breaks it down. This makes it faster to give your ride a sparkle.
Are you ready to upgrade from using a garden hose and sponge to clean your car or motorcycle?
If yes, this post is for you. With many brands offering foam cannons, finding the ideal product can be challenging. We researched for you and handpicked the 10 best foam cannons this year. While these products differ in price and features, they stand out for their build, PSI, and overall performance.

A Quick Look at Our Favorites in 2023
Rating
Image
Product
Details

Best Overall

DUSICHIN Foam Cannon

Sturdy construction
Has brass connectors for durability
adjustable spray nozzle
CHECK PRICE

Best Value

Scuddles Foam Cannon

Interchangeable spray nozzles
Full accessory kit with foam sponge included
Good value for money
CHECK PRICE

Premium Choice

Chemical Guys Professional Foam Lance

Sturdy construction
Leak-free operations
Works well with low-spec pressure washers
CHECK PRICE

MTM Hydro Professional Foam Cannon

Adjustable blade fans
Impressive overall performance
Fun to use
CHECK PRICE

Foseal Snow Foam Cannon

Designed for multi-purpose use
Sturdy construction
Thick plastic bottle & heavy-duty brass knob
CHECK PRICE
The 10 Best Foam Cannons
1.

DUSICHIN SFL-001 Foam Cannon Snow Foam Lance — Best Overall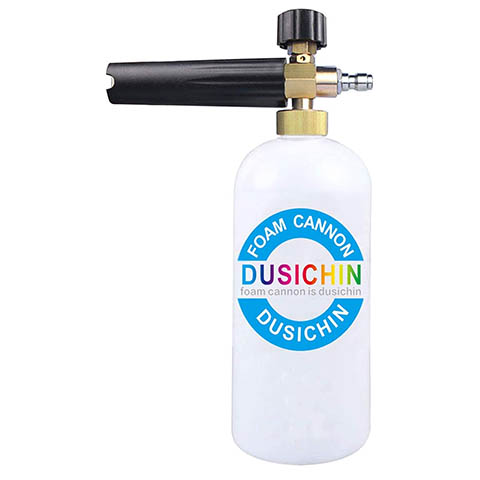 | | |
| --- | --- |
| Capacity: | 33 ounces |
| PSI: | 1,000 and above |
| GPM: | 1.2 |
The Dusichin SFL-110 Foam Cannon Snow Foam Lance is our best overall for its ease of use. It is ideal for first-timers and professionals in auto detailing. The product comes with ready-to-use foam soap for added convenience and an adjustable spray nozzle for more precise foam mixing.
Adjust the nozzle to get your desired water-to-soap ratio. Preferably, apply less foam on the mildly dusty area and thick foam on grimy spots.
This foam cannon is built to last. It features industrial-grade brass connectors for secure and leak-free connections. With the capacity to hold 33 ounces, you can make a foam party and clean two midsize cars, a big truck, or an RV without needing a refill.
Pros
Sturdy construction
Has brass connectors for durability
adjustable spray nozzle making it easy to use
Cons
Plastic nozzle adjuster
Unclear instructions
---
2.

Scuddles Foam Cannon for Pressure Washer — Best Value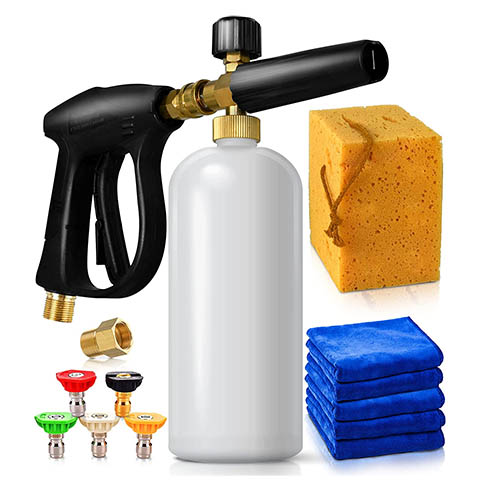 | | |
| --- | --- |
| Capacity: | 1 liter |
| PSI: | 1,000 to 3,000 |
| GPM: | 2.0 |
If you want to enjoy the best value for your money, it's hard to go wrong with the Scuddles Foam Cannon for Pressure Washer. The foam blaster ticks all the right boxes for its build quality, size, convenient features, and price. For a reasonably priced foam lance, it's impressive that this product comes with high-quality connections, including brass fittings!
Moreover, this is a versatile foam blaster with five unique spray nozzles for different applications. You can adjust the spray settings according to the task at hand.
The Scuddles Foam Cannon offers the best bang for the buck because it comes with a complete accessory kit. Apart from the different nozzles, other extras you'll get with the package include microfiber washcloths and a foam sponge.
Pros
Versatile tool with a range of interchangeable spray nozzles
Full accessory kit with foam sponge included
Good value for money
Cons
Not compatible with all pressure washers
Prone to leaks after heavy use
---
3.

Chemical Guys EQP_310 TORQ Professional Foam Lance — Premium Choice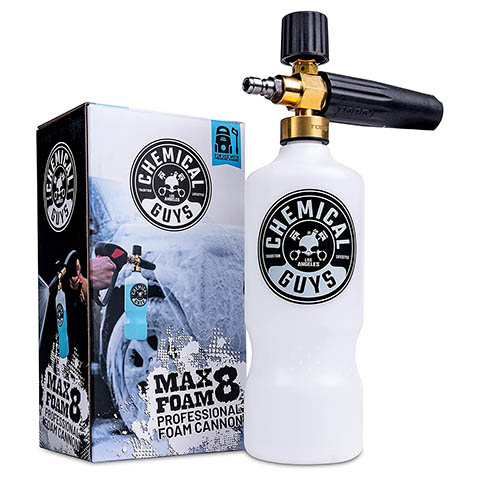 | | |
| --- | --- |
| Capacity: | 32 ounces |
| PSI: | 800 to 3,000 |
| GPM: | 1.2 to 2.4 |
Chemical Guys is a trusted brand best known for manufacturing quality car-care products. The company has been in business for over four decades and offers a range of foam lances to suit the needs of different users. The Chemical Guys EQP_310 TORQ Professional Foam Lance is worth a look if you need a premium quality car detailing tool.
Among the features that give this tool an edge over the competition is its advanced internal design. This foam cannon can produce thick and strong suds even when paired with a pressure washer that provides as little as 800 PSI.
Another impressive feature is the innovative air-injection system that enhances foam generation for a scratch-free car washing experience. The system combines soap, water, and air to produce up to 30% more foam than similar foam blasters in the price range. You can also tell that this is a professional-grade auto detailing tool because it features numerous brass and stainless steel components.
Pros
Sturdy construction for maximum longevity
Chemical-resistant seals for leak-free operations
Works well with low-spec pressure washers
Cons
Expensive
Limited settings on the adjustable foam dial
---
4.

MTM Hydro Original Professional Foam Cannon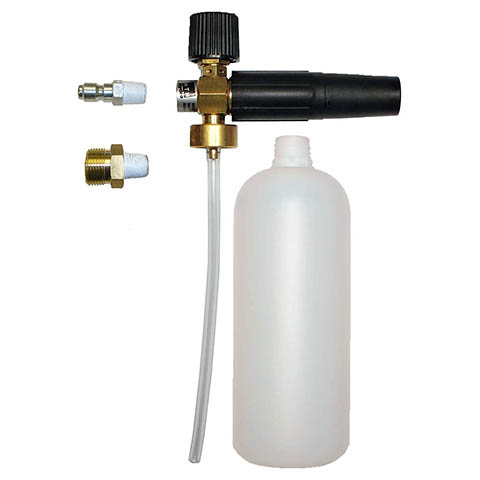 | | |
| --- | --- |
| Capacity: | 32 ounces |
| PSI: | 1,000 to 5,000 |
| GPM: | 1.8 to 5.3 |
MTM is yet another trusted brand in the car-care products industry. The MTM Hydro Original Professional Foam Cannon is one of the brand's top-selling foam lances with several enticing features. First, the foam blaster has an impressive heat threshold of up to 140-degree.
It can spray foam up to 20 feet horizontally or vertically and features adjustable fan blades that allow you to spray wide or narrow jets, depending on your application. Finding a foam blaster with such performance at the price range is challenging.
This auto detailing tool works best with pressure washers with a flow rate of 1.8 to 5.3 GPM. Your washer must also deliver anywhere between 1,000 and 5,000 PSI.
This tool features quality fittings ideal for enhanced durability. While it boasts impressive Italian-made brass components, it may leak over time. All the same, it holds up decently to heavy-duty use.
Pros
Adjustable blade fans for accurate foam production
Impressive overall performance
Fun to use
Cons
The instructions could be better
Plastic threads on top of the bottle can snap over time
---
5.

Foseal Adjustable Snow Foam Cannon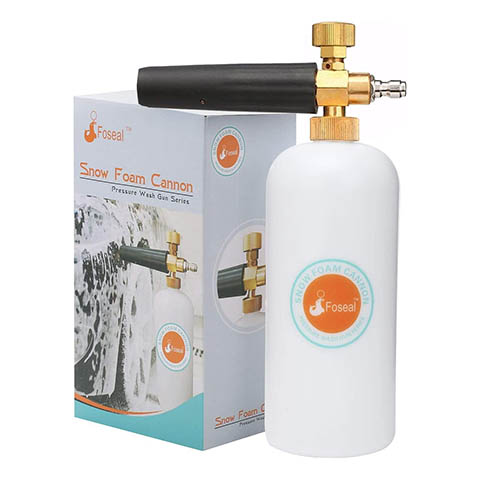 | | |
| --- | --- |
| Capacity: | 1 liter |
| PSI: | 1,000 and above |
| GPM: | 2.0 |
Foseal may not command the same respect as popular auto detailing product manufacturers like Chemical Guys. However, this will likely change soon, thanks to the sheer quality of their products. For instance, the Foseal Adjustable Snow Foam Cannon has a well-thought design that assures you of great value for your money.
While this foam blaster is budget-friendly, it has a heavy-duty brass knob for enhanced durability. The knob gives the canister an airtight seal for smooth and leak-free operations. You can adjust the knob to achieve various sprayer settings ideal for different applications, including cleaning your siding or outdoor furniture.
It's also worth mentioning that this product comes in an attractive package. It's wrapped to resemble a valuable gift for car enthusiasts. While this does not imply the performance of the foam blaster, it shows the thought Foseal put into developing the product.
Pros
Designed for multi-purpose use
Sturdy construction for maximum durability
It comes with a thick plastic bottle and heavy-duty brass knob
Cons
Tricky to learn to control foam generation
Not compatible with all pressure washers
---
6.

TriNova Foam Cannon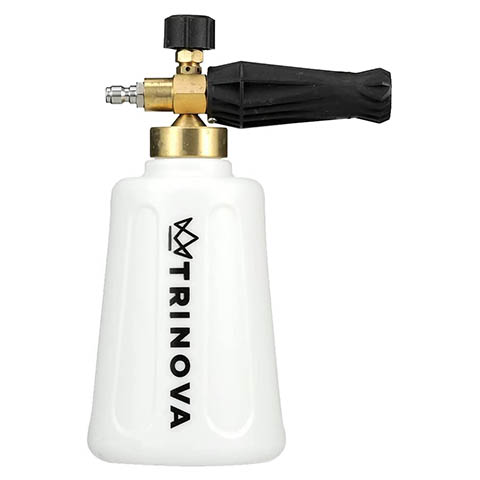 | | |
| --- | --- |
| Capacity: | 1 liter |
| PSI: | 1,000 to 3,200 |
| GPM: | 1.4 |
Are you looking for a well-engineered, easy-to-use foam blaster? If you are, there are good reasons to consider the TriNov Foam Cannon. While its price is somewhat on the higher side, it comes with all the bells and whistles of a premium product designed to give you an optimal bang for your buck.
First, this foam lance features quick connection fittings to ensure that connecting and detaching the canister from your pressure washer is smooth. Also, it features a heavy-duty knob that allows you to adjust the water-to-soap ratio and achieve the desired foam thickness.
You can use the foam cannon with a gas or electric pressure washer that delivers between 1000 and 3200 PSI. Thanks to the overall build quality, you don't have to worry about subjecting the components to damaging pressure. As for the water flow rate, this tool only requires 1.4 GPM to produce thick foam with solid suds.
Pros
Durable construction
Wide neck holds up well when using a high PSI
Easy to control the foam thickness
Cons
The tech support can do better
Fitting doesn't adapt to some pressure washer fitting
---
7.

MATCEE Foam Cannon /Snow Foam Lance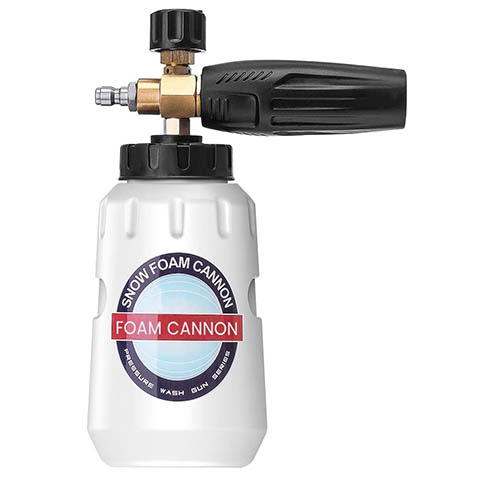 | | |
| --- | --- |
| Capacity: | 33 ounces |
| PSI: | 1,000 and above |
| GPM: | 2.0 |
MATCC is a dominating brand name in the auto detailing industry. The company manufactures some of the most robust foam cannons on the market. While a good number of their foam blusters feature plastic connectors, the MATCEE Foam Cannon's core is made of thick solid brass!
This tool is designed for heavy-duty applications, making it perfect for professional use. However, it is user-friendly, and you can use it at home. Just turn the knob on the adjustable spray nozzle to determine the foam thickness you wish to achieve. The knob also ensures enhanced accuracy when mixing water and soap, making it easy for you to generate the perfect foam.
To get the best outcome when using this foam lance, ensure your pressure washer delivers a minimum of 1,000 PSI and at least 2 GPM. The only downside is that most fittings need fine-tuning before use because they are only hand-tight when delivered.
Pros
Solid brass body and heavy-duty build
1/4″ quick connection fittings
User-friendly yet ideal for professional use
Cons
Most fittings need fine-tuning before use
Prone to tipping over
---
8.

McKillans Snow Foam Cannon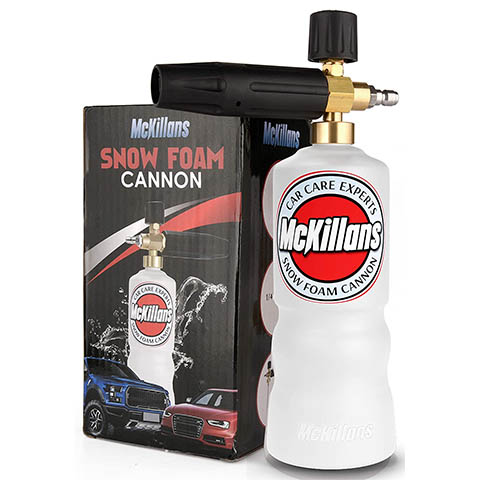 | | |
| --- | --- |
| Capacity: | 1 liter |
| PSI: | 1,000 to 3,000 |
| GPM: | 1.2 to 2.5 |
McKillans Snow Foam Cannon stands out for having one of the best ergonomic designs. It's easy to hold when attaching or detaching it from your pressure washer. Moreover, it has a professional-grade gun with top-quality quarter-inch fitting. These connectors are made of stainless steel and brass and hold up well to heavy-duty and long-term use.
Adjusting the soap-water ratio is a breeze thanks to the user-friendly adjustable valves. You can also adjust the spray pattern to suit your application. While this foam lance is designed to pair with gas washers, it comes with an adapter that allows smooth connections with electric power washers.
Pros
Great ergonomics
Affordable
Great customer service
Cons
Not ideal for heavy-duty use
Wears down faster around the neck
---
9.

Tool Daily Foam Cannon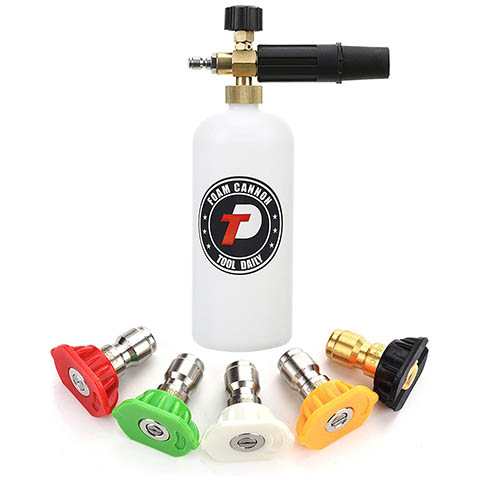 | | |
| --- | --- |
| Capacity: | 1 liter |
| PSI: | 1,000 to 3,000 |
| GPM: | 1.2 to 2.5 |
A foam blaster with a wide range of nozzles offers enhanced versatility. The Tool Daily Foam Cannon comes with five nozzle tips with angles 0, 15, 25, 40, and 65 degrees. This allows you to use your cannon for different applications, including cleaning your roof, driveway, SUV, windows, outdoor furniture, and more.
Another helpful feature is the adjustable nozzle for more precise mixing and foam generation. Turn the knob to the right to increase the foam thickness, especially when cleaning a heavily soiled truck. You can experiment with the nozzles to find the best sprinkle pattern for different applications.
Pros
Five different nozzle tips included
Nice spray patterns
Good value for the money
Cons
Not compatible with some pressure washers
Tricky to set up
---
10.

Fasmov Cannon Foam Blaster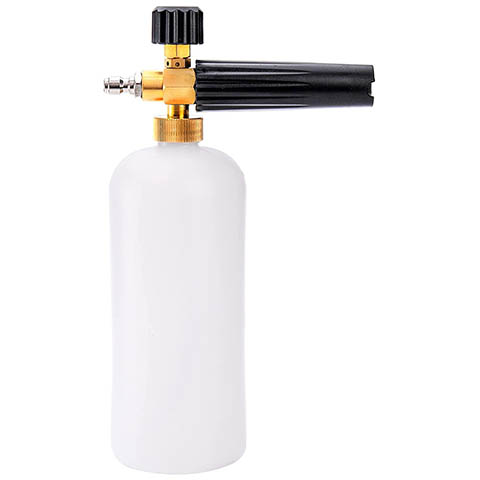 | | |
| --- | --- |
| Capacity: | 33 ounces |
| PSI: | 1,000 and above |
| GPM: | 2.0 |
When choosing a foam cannon, aesthetics are not as important as an auto detailing tool's design, build, and performance. The Fasmov Cannon Foam Blaster may not be the most eye-catching foam cannon you will find in the market, but it gets the job done.
This high-performance foam cannon features top-quality brass connectors for leak-free operations. Also, it has an adjustable nozzle that ensures you create the desired foam thickness.
The Fasmov Cannon is designed to make it dead simple to achieve thick, consistent suds, ideal for cleaning heavily soiled cars, boats, and RVs. The trick is to ensure you use a pressure washer that delivers at least 2 GPM and 1,000 PSI.
Pros
Heavy-duty brass connectors
User-friendly with a simple design
Affordable
Cons
Not the best aesthetics
Tricky to learn to generate the desired foam thickness

Buyer's Guide: How to Choose the Best Foam Cannons
Essential Things to Consider When Choosing a Foam Cannon
Generally, all foam cannons are detailing tools that feature a canister with a nozzle that plugs into a pressure washer. Once you fill the canister with car soap, spraying it creates a thick foam that speeds up the softening and breaking down of dirt and grime. This minimizes the risk of scratching your car's paintwork when struggling to remove stubborn contaminants.
So, what makes one foam cannon better than other similar products?
Generally, the ideal foam cannon will have a quality bottle and features like sturdy brass nozzle fittings for enhanced durability and a reduced risk of leaks.
Here are three crucial aspects to consider when purchasing a foam cannon.
Pressure Washer Requirements
The nozzle of a foam cannon will dictate how much force the tool can take and still work efficiently. While some foam blasters can only withstand 600 PSI (pounds per square inch), others can hold well to anything between 1,000 and 3,000 psi.
Before you buy a foam cannon, consider the PSI and GPM (gallons per minute) specifications of your pressure washer. You want to choose a tool whose PSI specifications align with the pressure output of your power washer.
Generally, foam cannons with greater pressure capabilities perform more efficiently. If your pressure washer has a low GPM (gallons per minute), the foam cannon will still work, although this may impact the thickness of the foam achieved.
Moreover, check the connector size of a foam cannon and ensure it can perfectly fit with your pressure washer. An ill fit will increase the risk of leaks and disappointment.
Adjustable Features
Foam cannons are multifunctional tools you can use for more than just washing your car. You can also use your canon when cleaning your roof, siding, motorcycle, and outdoor furniture. If you want enhanced versatility, choose an appliance that allows easy spray adjustments and greater control over the amount of foam ejected through the nozzle.
You can dial a lower dilution ratio when cleaning your car, especially around the front grilles and wheel wells. This assures you of thick foam and strong suds that can quickly break down dirt and grime.
You can then adjust to a higher dilution ratio when cleaning your siding to avoid the extra work and potential dangers posed by having too much foam on your roofing system.
Warranties
Foam cannons have a simple design that often includes a plastic canister, brass core nozzle, and quarter-inch fittings for smooth connections with your pressure washer. Some products cost a few bucks more and come with extras such as car wash soap and various interchangeable nozzles.
Irrespective of your package and its cost, a reasonable warranty can help protect your investment. Some brands offer extended warranties of up to a one-year on specified parts, while others stand by their products for as little as 60 days.
Also, it pays to work with brands that offer excellent customer service. An enticing warranty period will not mean much if a brand lacks a helpful and responsive customer care team.
How to Use a Foam Cannon and Achieve the Best Outcome
Before we go into details on how to use foam cannon, it's crucial to note that this tool is not your regular detergent tank. A decent number of pressure washers come with detergent tanks for spraying soap on your car.
Unfortunately, a detergent tank is not a foam maker. It can only apply a runny soap/water mixture on your car. If you want to spray a thick foam mixture that will cling to the paintwork and break down dirt and grime faster, you'll need to use a foam cannon.
Furthermore, foam cannons are different from foam guns. Both tools may be available at a similar price range but function differently. While a foam gun can connect to a garden hose, foam cannons need to be connected to a pressure washer.
If you want to invest in a foam cannon, you need to understand how to use it appropriately.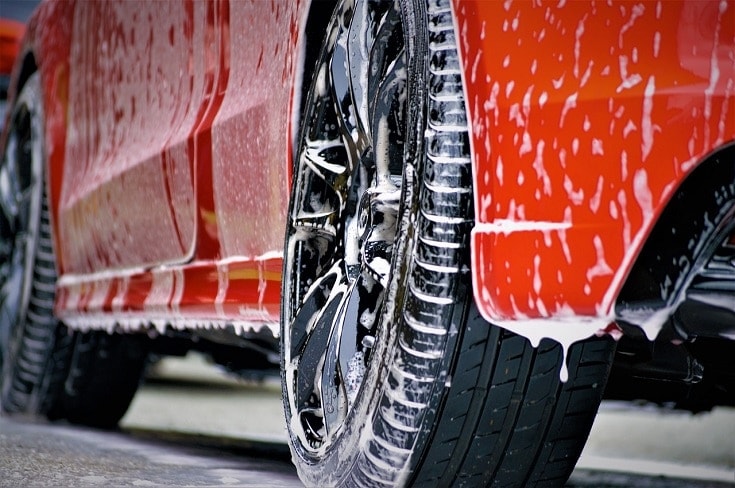 Pre-Wash
The need to pre-wash your car before applying foam using a foam cannon will depend on whether it is lightly or heavily soiled. If it merely has a fine layer of dust, it's perfectly okay to skip the pre-washing phase.
Apply the Foam Onto the Car
Stand at least two feet from your vehicle and find the best angle to direct the spray to reach every nook and crevice. You can adjust the nozzle whenever necessary to regulate the amount of water that mixes with the soap solution in your cannon.
Aim to flush a thick layer of foam that will cling to your car's exteriors. Even if you use the best foaming soap, you'll likely get weaker suds if you allow too much water into the canister.
When using a foam cannon, you can get away with using any liquid soap, including dish soap. It depends on your luck, patience, and the frustration you are willing to absorb before achieving the desired outcome.
For the best outcome, consider using foaming car washes designed for foam cannons. Products with a PH level of 6 or 7 are tough enough to break down dirt and grime and gentle to avoid damage to your car's paintwork.
Let the Foam Set In
Once you are sure all crucial areas are covered in thick foam, step aside and allow the foam to set in and do its job. Give the foam 10 to 15 minutes to soften and break down the dirt and grime.
Rinse Your Car
Disconnect the foam cannon from the pressure washer or adjust the nozzle to block foam from mixing with the freshwater stream. Work from top to bottom to give your ride a proper rinse and avoid double work caused by blasting dirt upwards.
Let the Car Dry
You can take a few steps back and admire the shine on your ride. If the outcome of your work is satisfactory, let your car dry before applying wax.
As you wait, empty any remaining soap from your foam blaster and fill the canister with fresh water. Shoot the freshwater repeatedly until it is no longer soapy. Failing to clean your foam cannon can cause clogs on the control valve because car wash soaps often contain calcium deposits.

Conclusion
Keeping your car clean and maintaining its paintwork in a pristine state doesn't have to be a painful chore. We have listed 10 foam cannons designed to reduce your reliance on muscle and elbow grease to give your ride professional-grade auto detailing.
Once you decide to advance to the next level of car care, you can opt for the DUSICHIN SFL-001 Foam Cannon. It is our best overall for its durability and performance. If you are on a budget but still desire a foam blaster with impressive capability, it's hard to go wrong with the Scuddles Foam Cannon.
---
Featured Image Credit: Roman Zaiets, Shutterstock