10 Best Pressure Washer Detergents & Soaps – Reviews & Top Picks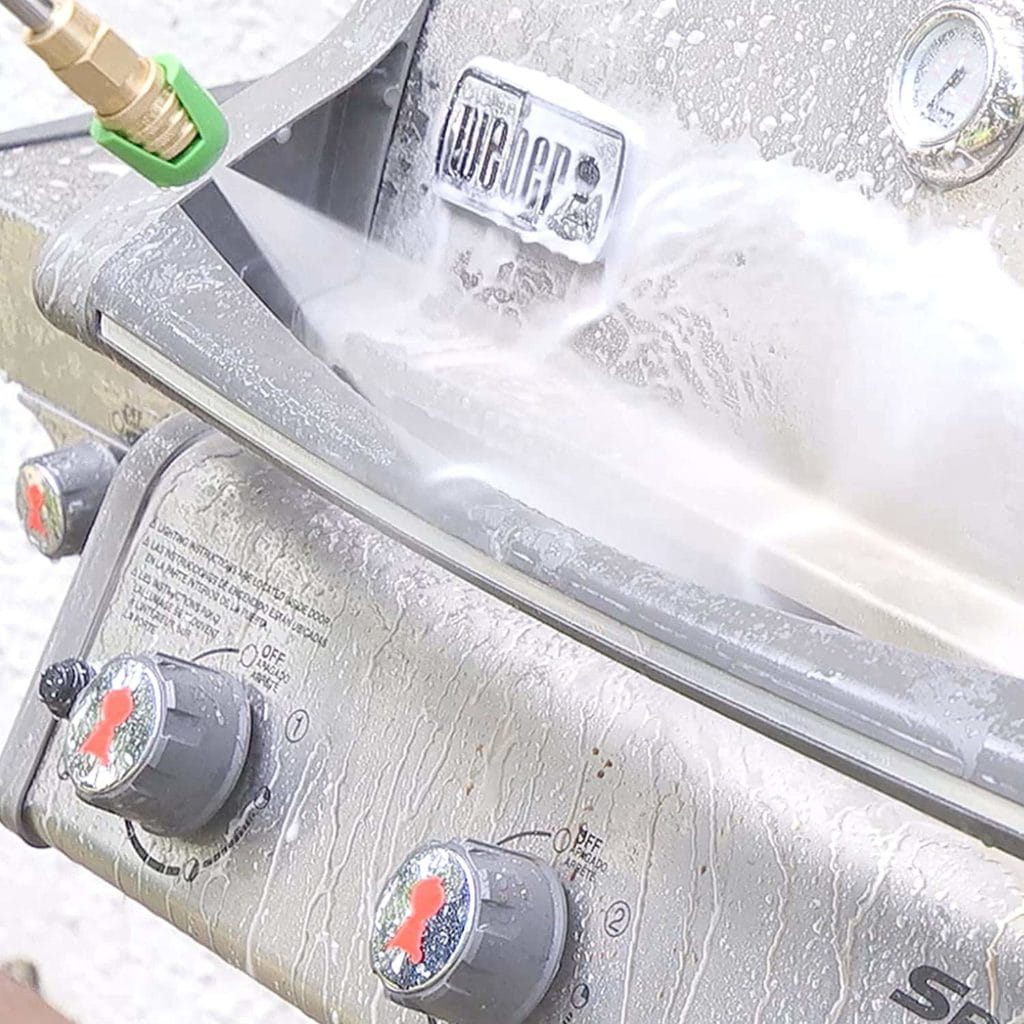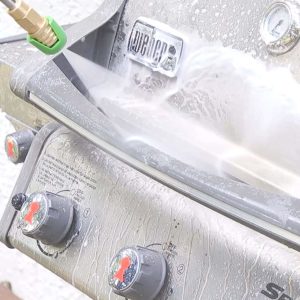 Looking at your house, you see that the siding outside has moss creeping up from the ground and dirt and general grime taking over from rains, pollen, seasonal changes, and who knows what else.
You bought a pressure washer and have used it a couple of times, but the gunk comes back quickly and some things you wash get cleaned better than others. You don't want to pay a professional – after all, what's the point of having your own equipment if you just end up outsourcing?
Well, fortunately for you, we have done some digging for you to find better detergent. The problem isn't your pressure washer, but the soap you're using, and we hope that after going through our list, you will have an idea of how to make the improvements you need to ensure that your property looks its best at all times and that the job you do lasts longer than just a week or two.
---
A Quick Comparison of Our Favorites in 2023
Rating
Image
Product
Details

Best Overall

Karcher Multi-Purpose Cleaning Pressure Power Washer

Highly-concentrated
2 sizes: gallon or quart
Biodegradable
CHECK PRICE

Best Value

Krud Kutter DF01 Blue Pressure Washer Concentrate

Affordable
Non-toxic, non-flammable, non-abrasive
Contains "Sporex"
CHECK PRICE

Premium Choice

Sun Joe SPX-APC1G All-Purpose Heavy Duty Pressure Washer

Heavy-duty and concentrated
Safe for all surfaces
Biodegradable
CHECK PRICE

Karcher Car Wash & Wax Soap for Pressure Washers

High concentration
Spot-free rinse with a flawless finish
CHECK PRICE

Simple Green All-Purpose Cleaner

Effective cleaning without heavy scrubbing
Clean rinse – no smudges or spots
CHECK PRICE
The 10 Best Pressure Washer Detergents
1.

Karcher Multi-Purpose Cleaning Pressure Power Washer – Best Overall
While there are many pressure washer detergents that can get the job done, this top-rated pressure washer detergent from Karcher ranks number one on our list for several reasons. Its versatility means that you get one detergent to pressure wash whatever you need to – your deck, the sidewalk in front of your house, your walkway, the driveway, your roof, the siding on your house… you name it!
It's great for stone, brick, concrete, siding, and any other material you need to pressure wash. On top of that, it's a solid choice when it comes to budget; this product won't break the bank in the name of ensuring your property looks its best. Overall, we think this is the best pressure washer detergents we've reviewed this year.
Pros
Highly-concentrated detergent makes 20 gallons of wash from 1 gallon of detergent
Comes in 2  sizes: gallon or quart
Biodegradable – safe for your lawn and garden
Cons
Works best with more powerful pressure washers
---
2.

Krud Kutter DF01 Blue Pressure Washer Concentrate – Best Value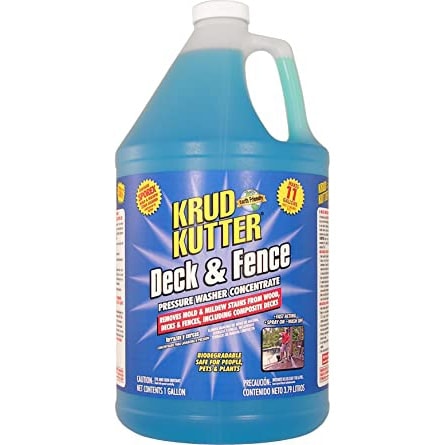 You may have spent good money investing in a quality pressure washer, and you need to get the job done now. You don't want to wait another month or two to recover from the purchase of your washer just to get detergent so you can actually get to work.
That's where the Krud Kutter DF01 Blue Pressure Washer Concentrate comes into play. This high-rated detergent is the best for the budget because it is the most affordable detergent we have found on the market. It comes concentrated with different surfaces in mind, so you can choose which detergent is the right one for you without much variation in price for the quantity. It's definitely among the best pressure washer detergents & soaps for the money.
Pros
Affordable for any budget
Non-toxic, non-flammable, and non-abrasive
Contains the unique additive "Sporex," which removes tough stains caused by organic growth to restore the original finish to your surface
Cons
Less versatile as a multi-purpose cleaner – specialized for wooden surfaces
---
3.

Sun Joe SPX-APC1G All-Purpose Heavy Duty Pressure Washer – Premium Choice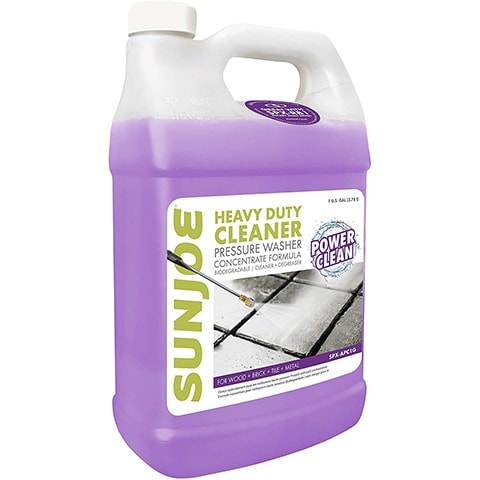 Sun Joe SPX-APC1G All-Purpose Heavy Duty Pressure Washer detergent is excellent for all surfaces, and it is designed for some heavy-duty work. All that gunk in your driveway, on your walkway, and climbing up the walls of your house? None of it stands a chance in the face of Sun Joe's all-purpose detergent for pressure washers.
Tighter budgets beware – this detergent is a bit more of an investment than our top two products, which is what puts it at number three. There is no denying that it is highly effective and great for tough jobs! Just know that it is a bigger investment than some others, but still one of our favorites.
Pros
Heavy-duty concentrated detergent
Good for all surfaces and safe for metal
Biodegradable and versatile for use with a pressure washer or a mop/brush
Cons
A bit on the pricier side for home detergents
---
4.

Karcher Car Wash & Wax Soap for Pressure Washers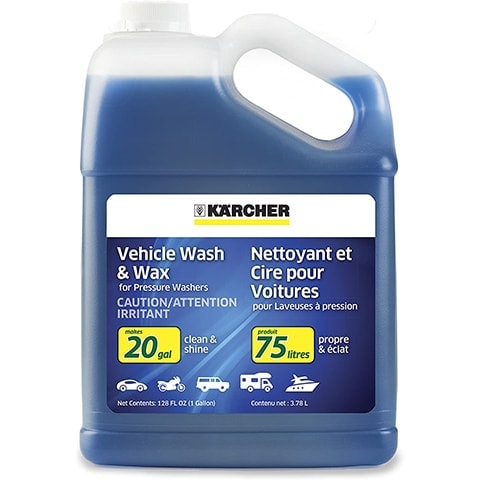 Karcher is a reliable brand that stays highly rated among its different products. There is no exception for its car wash and wax soap made for pressure washers. Like Karcher's other soaps, the Karcher Car Wash & Wax Soap for Pressure Washers is biodegradable and rinses away easily.
This soap will make it easy for you to wash your car in no time and give it that beautiful waxed-finish look. This one is at number four because it's specifically for cleaning your car, and we wouldn't recommend it for other surfaces such as wood, stone, brick, or siding. Even so, we love how it treats our vehicles, so we put it in the top five!
Pros
High concentration makes 20 gallons of usable soap from 1 gallon of concentrate
Foaming soap goes a long way, one mix should get the job done when you need it
Spot-free rinse with a flawless finish
Cons
Not ideal for house siding
---
5.

Simple Green All-Purpose Cleaner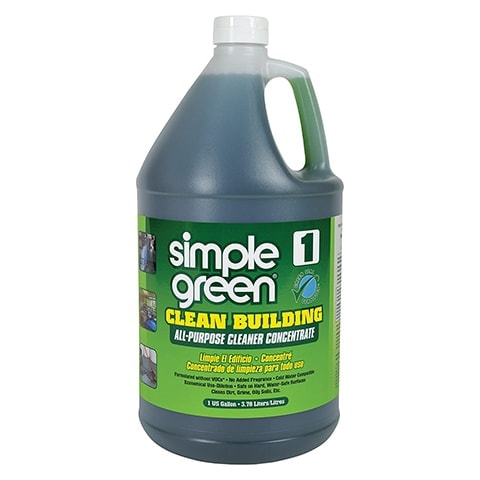 Simple Green is a well-known name in household cleaners. In more recent times, however, it has fallen out of favor with many households due to the harsh chemicals used and the strong, stinging stench it gives off, leaving your nostrils feeling singed.
This Simple Green All-Purpose Cleaner makes it to number five on our list because Simple Green has stepped up its game with a non-toxic, biodegradable formula that is fragrance-free! This means you don't have to worry about the effects on your lawn or plumbing when you dump it out after use, and your nose can keep breathing without feeling like it has been attacked by acid.
However, it's not a perfect home run. This product isn't great on non-porous surfaces, which is what landed it in the middle of the pack.
Pros
Effective cleaning of dirt, grime, and oils without heavy scrubbing
Clean rinse – no smudges or spots
Meets the Green Seal GS-37 Standard
Cons
Best for non-porous surfaces
---
6.

Oil Eater Original 1 Gallon Cleaner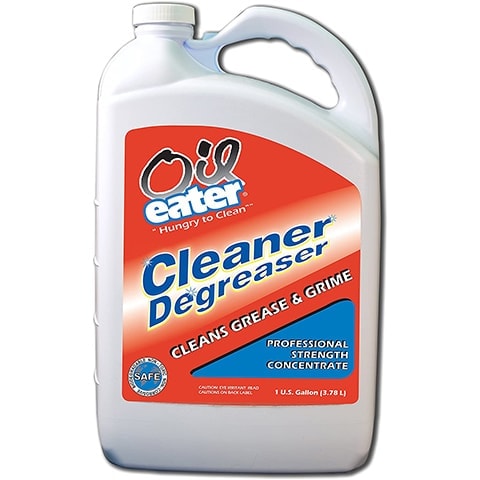 The Oil Eater Original 1 Gallon Cleaner and degreaser is one of the best-rated detergents on the market. It is highly concentrated to provide a superior clean on all kinds of surfaces, and we really do mean all kinds.
This product is great for household and outdoor/industrial use. It can be great for cleaning the grill, your carpets, driveways made of asphalt or concrete, boats, and more.
While it's great for use in a pressure washer, it is also used in restaurants for floor scrubbing and for use in cleaning engines and machinery, as well as tools.
If it's so great, why is it number six? Well, we have found that such amazing versatility usually means a little extra scrubbing and attention, and it is irritating to the eyes, skin, and nose.
Pros
Biodegradable – safe around the lawn, garden, and in the septic system
Non-toxic, non-corrosive, non-hazardous concentration
Great for any surface in household and industrial use
Cons
Eye and skin irritant – must wear protective equipment during use
Water-soluble solution requires extra steps for cleaning anything with electrical components
---
7.

Oxy Solve Total Outdoor Pressure Washer Cleaner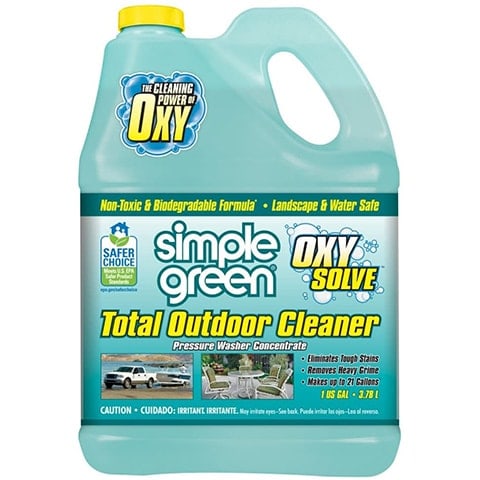 Another product from Simple Green, the Oxy Solve Total Outdoor Pressure Washer Cleaner is a detergent that boasts greatness for use on multiple different surface types. Using the power of peroxide, this product is safe to use on wood, vinyl, fabric, wicker, and many other surfaces to lift dirt and grime and get rid of stains from green organic material such as algae or moss.
It is a highly rated bestseller, so why does it rank so low in our list? Well, while it is versatile and absolutely reliable, we found that it does have some drawbacks, mainly that it's less effective on porous surfaces and often requires a little more elbow grease to get the job done.
Pros
Safe if accidentally ingested
20:1 gallon ratio mix is made to last long enough to get any job done
Excellent for use on outdoor furniture, grills, and decks
Cons
Less effective for use on driveways, walkways, and other stone/brick/porous surfaces
Not ideal for washing a vehicle
Requires some extra scrubbing for oily messes
---
8.

Briggs & Stratton 6826 Multi-Purpose Cleaner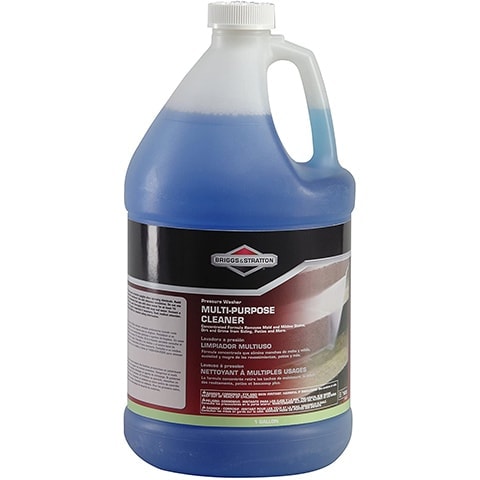 This multi-purpose cleaner is good for various outdoor surfaces such as your house siding, deck, fence, driveway, and walkway. We recommend it as a good concentrated detergent for outdoor pressure washing, but it doesn't rank so high on our list for a few reasons.
While the Briggs & Stratton 6826 multi-purpose cleaner still made it on our top 10 list, it is limited to a 16:1 ratio. So, while you would get 20 gallons of cleaner out of 1 gallon of another product on our list, you would get 16 gallons from 1 gallon of this cleaner, meaning you will go through it faster and it will cost you more money overall.
Pros
Versatile, multi-purpose cleaner good for outdoor pressure washing
Compatible with soap systems that do not require mixing for use
Great for removing dirt, mold, and mildew from outdoor surfaces
Cons
Corrosive, and does not list ingredients used for concentrate
Goes fast – may need to refill your pressure washer to finish a job
May need to make multiple passes to get a complete clean
No foaming
---
9.

Simple Green 13421 Pro HD Heavy-Duty Cleaner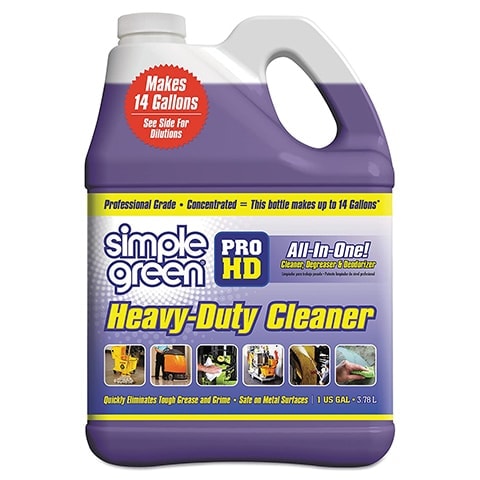 We never have anything bad to say about Simple Green. Their products are reliable and strong and will get the job done when you need to clean just about anything. Moreover, so many of their products now boast being biodegradable, eco-friendly, and free of fragrance!
Simple Green's 13421 Pro HD Heavy-Duty Cleaner has one of the best ratings we have seen for a product. So, it does a great job – but it doesn't go as far as other products. We couldn't help but notice it was used really quickly, requiring us to make multiple purchases to get a bigger job done. That, and the fact that it was overall less effective on a number of our outdoor projects, ranked it further down on our list.
Pros
Unscented, so no sensory overwhelm
Multi-purpose cleaner and degreaser good for greasy, oily stains
Good for multiple surfaces, including metal, plastic, painted surfaces, wood, and more
Cons
Best for smaller cleaning projects
14:1 mix ratio for concentrate, does not go as far as other products
Ideal for indoor household cleaning on smooth surfaces
Less effective on porous surfaces and outdoor jobs
---
10.

AR Annovi Reverberi ARCTW04 Pressure Washer Detergent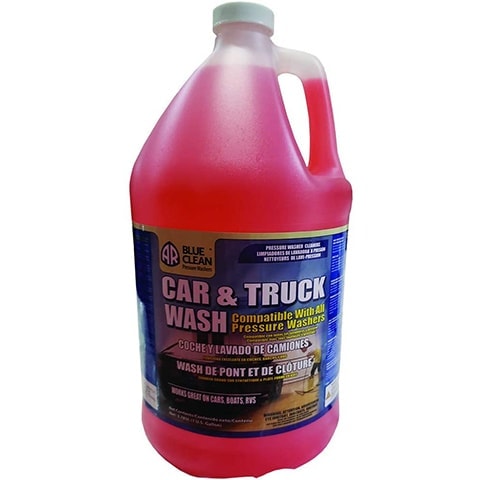 The AR Annovi Reverberi ARCTW04 is a top-rated detergent for pressure washing and boasts an amazing 30:1 ratio – 30 gallons of soap mixable with just 1 gallon of concentrate! It's also non-toxic and non-corrosive.
So, why does it rank at number 10, at the bottom of our list?
This detergent is on the pricier side and it is specialized for automobiles. If your goal is bigger and has to do with washing the siding of your house, your fence, your deck, the driveway or walkway, the patio furniture, or another pressure-wash job, you will need another product in addition to this one.
Pros
30:1 concentrated ratio means this cleaner will last a long time, making for fewer repeat purchases
Superior clean for cars and trucks
Provides a smooth, spot-free finish for vehicles
Cons
Less effective for washing house siding or other metals
Not effective on porous surfaces such as concrete, stone, brick, or wood
Scented – beware if you have any allergies
May not be as effective on fabric seats, as it is best on smooth surfaces
Hot vs cold water pressure washing – What's better?
---
Buyer's Guide – Finding the Best Pressure Washer Detergents & Soaps
Perhaps you have a business in pressure washing, or maybe you've decided it's time to move to a new home. Whether you sell your property or rent it out, giving it a good pressure wash will help you find a good buyer or tenant, and making sure you have the right detergent will go a long way for your business. Check out our buyer's guide, which will help you narrow in on choosing the best detergents and soaps on the market today.
What to Consider When Using Detergent & Soaps
Detergent is one factor when it comes to power washing. Many people may say the job can be done with just water, and that is true – but detergent makes the job faster and easier, and can remove any need for extra scrubbing or multiple passes with the sprayer.
Specific Task
Most importantly, consider the job you want to do. Are you a professional cleaner who goes to multiple homes each day to do pressure washing? Or, are you a homeowner or tenant who simply wants to take good care of his or her property?
What do you want to clean most often? Is it important to you that you wash off the siding of your house and your garage door, your driveway and walkway, sidewalk, deck, or fence on a routine basis, or can those things be done annually? Are you looking for a more efficient way to wash your car, so that you don't spend $10 or more on a car wash every month or so?
Considering these factors will help you choose the best detergent options for you and also help you to know what kind of pressure washer you need and which nozzles you will use the most.
Soap vs Detergent
We prefer detergent over soap because detergent is a stronger, concentrated solution that is often made for efficiency and a smooth rinse. Soap tends to leave residue, spotting, streaking, smudging, and will usually require extra work to get the job done.
Water Type
Aside from detergent, you should also consider your water. Harder water will wash things faster without leaving much, if anything, behind. Meanwhile, softer water may require harder work to get the job done.
Helpful Terminology
Knowing details of your washer will help you to know whether to use soap or detergent for the job you want to get done.
"Chemical Injection" or "Detergent Injection" will tell you whether the pressure washer has a tank for chemical cleaners or detergents.
Design features such as unloaders and thermal relief will aid the lifespan of your pressure washer by reducing the heat buildup and pressure inside the machine.
Note that most additives for pressure washers are detergents. This is because detergent is a more powerful cleaning agent than soap, doesn't leave behind residue, and better penetrates porous surfaces such as brick and stone.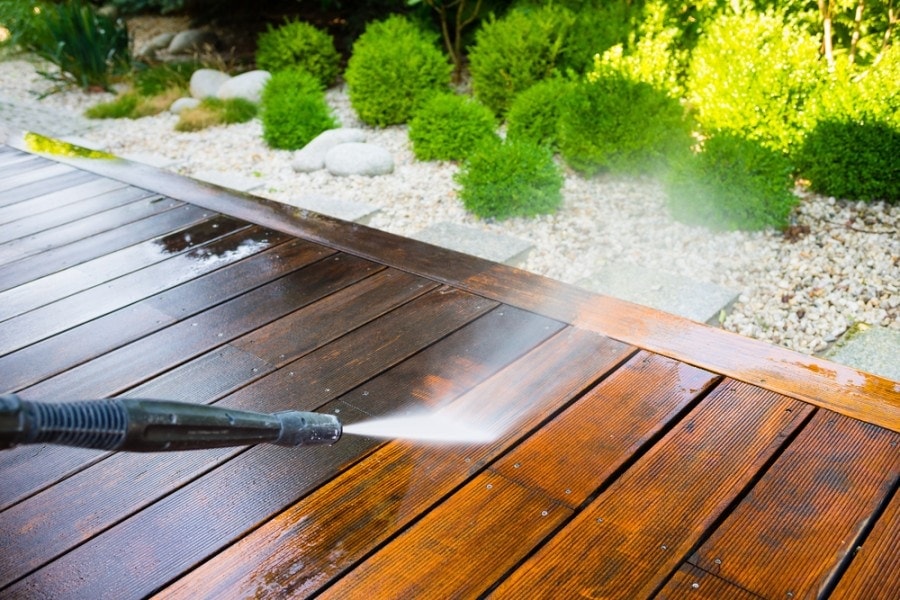 Determining a Good Product
Water, scrubbing, and scouring – none of it has worked to get the job done. You're looking at soaps and detergents to go with your pressure washer because you're tired of spending hours trying to keep your home clean.
When looking for a soap or detergent to add to your pressure washer to get the job done, consider such things as the chemicals involved in making the additive, how well it penetrates the dirt and grime to help wash it off, and whether it will leave anything behind when you're done spraying.
Pressure and Cleaning Purposes
Before deciding on a soap or detergent, it is important to note the pressure ratings on your pressure washer. This will help you to know if you can use a multi-purpose detergent on something like your car, or if the pressure would be so high that any detergent would strip the vehicle's paint.
Dust
Are you in a dry climate where dust is the biggest culprit? Perhaps a light-duty pressure washer rated around 1300-1900 PSI and 2 GPM will be more than enough to get your job done. Light-weight pressure washers are most ideal for patio furniture, grills, vehicles, small decks and patios, but don't underestimate their usefulness for house siding, driveways, and more, in the right environment.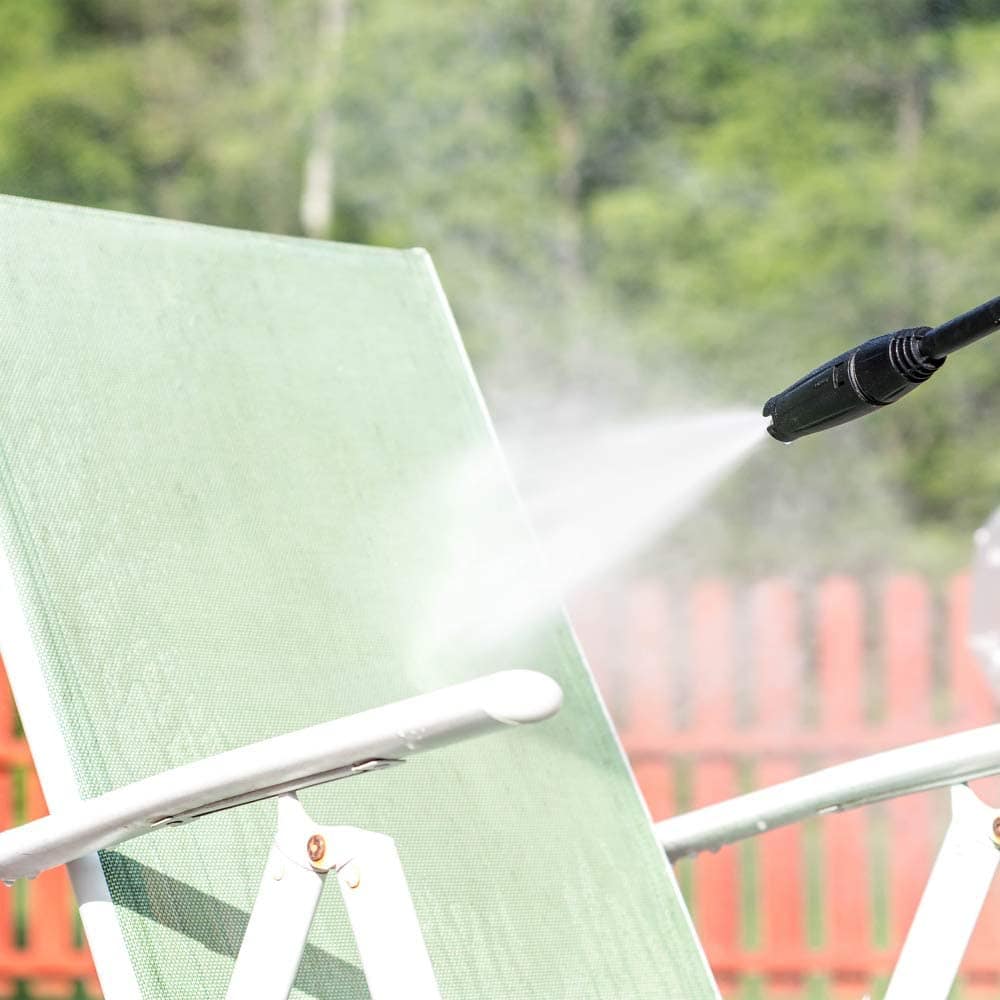 Pollen
Perhaps you live in an area where pollen is an issue but the seasons are pretty mild. Good for business and home use, a medium-duty pressure washer will rate around 2000-2800 PSI and 3 GPM, making it great for cleaning in all seasons to clear dust, dirt, grime, and stains from mold, mildew, algae, and moss. Use these pressure washers if you want to do regular cleaning of your property in a multi-season environment.
Annual Cleaning
Maybe you just want to clean your house once a year, or less. Perhaps your business takes you to homes that haven't been cleaned in a decade or more, covered in caked-on mess from all sorts of different sources. For jobs like these, you would want a heavy-duty or extra-heavy-duty pressure washer, rated at 2800 PSI or more and 3-4 GPM.
The downside to the heavier-duty pressure washers, if you're not trying to do a remodel, is that you are likely to strip paint off your surfaces. If you want to repaint your house, fence, and patio for any reason, this might be appealing to you – but if you just want a really good cleaning job, it might be too much.

Water Temperature
There are pressure washers for cold water and hot water. People tend to be more familiar with cold-water washers, as these are most common for household, DIY use.
Cold Water
Cold-water pressure washers are most common for home DIY use. They're less expensive than hot-water washers and tend to be easier to use.
If you're like most people, using a cold-water pressure washer, then you will want to refer to pressure settings. Cold water will require more soap or detergent to get your job done, so note the harshness of the chemicals you're using and the type of job you're doing before you get going.
Hot Water
If you live on a farm or do pressure washing on an industrial level, a hot-water pressure washer would be more your speed. While these are more expensive and complicated to use, they work faster than cold water and require less detergent and chemicals to get the job done.
The temperature of your water is important when considering soaps and detergents to add to your pressure washer. Cold water will not mix as well with soap or detergent, whereas hot water will more easily pick it up and carry the chemicals along to get the job done.
Nozzles for Pressure Washers
Different types of nozzles will behave differently with soaps and detergents, as the nozzle is rated for different pressures and different kinds of washing. While you might want a strong detergent for a low-pressure nozzle, you may not want detergent at all for the highest-pressure option.
Nozzles come in different degree settings and different colors according to those settings.
0°  nozzle, usually red

This is the nozzle with the most power and the highest concentration

15°  nozzle, usually yellow

While less concentrated than 0°, heavy-duty cleaning is what this nozzle is built for

25°  nozzle, usually green

This nozzle is best for general cleaning and you may want it for your patio/deck, siding, and fence

40°  nozzle, usually white

This nozzle is great for vehicles; its lower pressure setting makes it ideal for use on easily damaged surfaces, including patio furniture and boats

65°  nozzle, usually black

This nozzle is ideal for applying soap and cleaning agents, as it is low-pressure
Make sure you use the best nozzle for the job you want done while considering your soap or detergent.
A red nozzle will cause damage and strip paint without any soap or detergent added. Meanwhile, a black nozzle will struggle with tough jobs regardless of your detergent, but may be just what you want to clean your car.

Conclusion
The Karcher Multi-Purpose Cleaning Pressure Power Washer is the best pressure washer detergent in our tests. Our reviews have determined it is the best overall detergent that will clean any surface you need. It is good for use in any pressure washer, as long as you follow the manufacturer's recommendations and pay attention to the specs of your equipment.
The Krud Kutter DF01 Blue Pressure Washer Concentrate is what we have found to be the best pressure washer detergent for the budget. You know what you want to get cleaned, whether it's your car or your house surfaces. Whichever specialization you choose, our reviews show that the Krud Kutter will get the job done without putting a dent in your wallet.
Soaps are gentler than detergents, but as a result tend to leave residue behind and require extra rinsing. They work well for vehicle cleaning, but a detergent will be best for washing house siding, walkways, and porous surfaces like stone and brick. Best of luck with your cleaning!
See also: 10 Tips on How to Pressure Wash a House