10 Best Surface Pressure Washers of 2023 – Reviews & Top Picks
Pressure washers are great for scouring hard-to-remove stains that require a concentrated jet of water to knock loose. If you need to scrub an entire floor, spreading that power over a wider area could do a job in minutes that might otherwise take an hour.
Surface attachments diffuse water into a wider cleaning swath. While they might not have the muscle to remove spray paint, they are an ideal add-on to your power washer if you need just an occasional cleaning of a workshop or garage floor.
Because they're an attachment to your power washer, finding the right one can be a bit tricky. There are a lot of different models available and some have very specific strengths. We wrote these reviews to help you sort through them. We also included a short buyer's guide with some basic tips in case you prefer advice to specific recommendations.
---
Comparison of Our Favorite Products of 2023
Rating
Image
Product
Details

Best Overall

Karcher 8.641-035.0

Good value
Great for vertical cleaning
Lightweight
CHECK PRICE

Best Value

Greenworks 30012

Great value
Easy to use
Performs well on basic jobs
CHECK PRICE

WOJET PA7603

Lots of power
Gets the worst stains out
Excellent for disinfecting
CHECK PRICE

SIMPSON 80166

Does a great job cleaning
Much faster than a wand
Minimal streaking
CHECK PRICE

Be 85.403.007 Xstream

Wide cleaning surface
Powerful
Easier on the user
CHECK PRICE
The 10 Best Surface Power Washers
1.

Karcher Pressure Washer Surface – Best Overall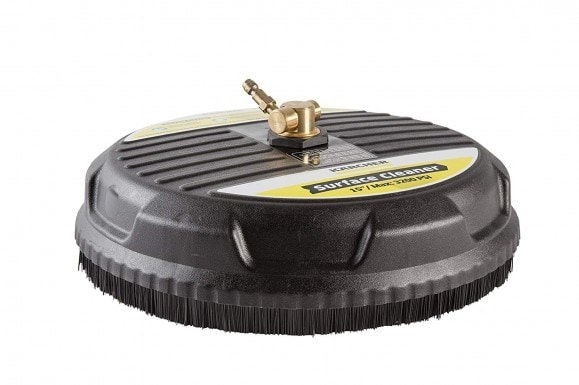 We gave the Karcher 15-inch pressure washer surface cleaner attachment our Top Pick for its hassle-free cleaning and versatility. When it comes to power, surface cleaner attachments are only as good as the washer's motor. What they can offer is how to best make use of it.
The Karcher has two jets rather than one, and they are kept at a uniform distance above the surface you're cleaning to prevent streaks. Plus, the Karcher is light enough to use on walls and doors in addition to floors. That makes it ideal for garage doors. At the price, it also offers a very good value.
If you own an entry-level pressure washer, one that's about 1700 psi, this probably isn't the surface cleaner attachment for you. It works best with higher-pressure cleaners. All in all, we think this is the best pressure washer surface cleaner available this year.
Pros
Good value
Great for vertical cleaning
Lightweight
Streak-free cleaning
Cons
Works best with higher pressure
---
2.

Greenworks Pressure Washer 30012 – Best Value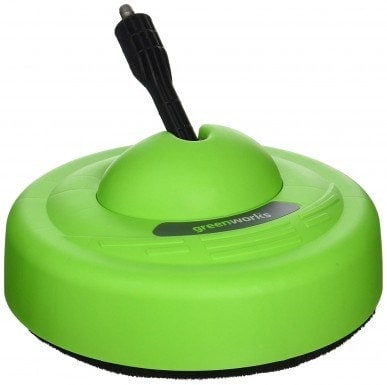 If you're looking for a good basic clean for not a lot of money, the Greenworks surface cleaner universal pressure washer attachment got our nod for Best for the Money. It's a great choice if you need to clean your garage floor or driveway occasionally.
It's also easy to use and you can't beat the price. What you get for that is a cleaning that won't wow you. If you've got deep stains that have seeped into the surface, you won't be able to scour them completely away. A significant reason for that is that these max out at 2000 psi. Don't use it with anything more powerful.
Pros
Great value
Easy to use
Performs well on basic jobs
Cons
Pressure limits
Doesn't do deep cleans
---
3.

WOJET Pressure Washer Cleaner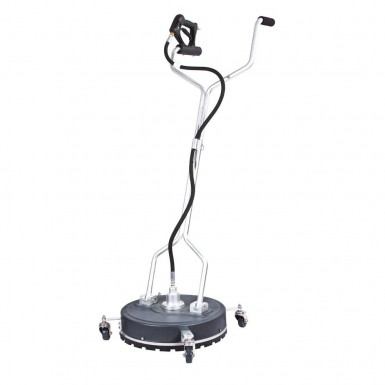 If you're looking for something dedicated to getting the worst, most dug-in stains, our choice is WOJET's 18-22 inch pressure washer surface cleaner. It's a beast that can handle a lot of pressure and water and clean absolutely everything in its wide cleaning path.
One thing we like is that it's not only good for cleaning, but it's great for disinfecting. You wouldn't want to use this kind of power on your concrete garage floor, but if you've got a floor where sanitary conditions are important, this is our favorite.
There are two things you'll need before buying this. One is a lot of money. The other is a washer capable of a lot of pressure. If you don't have either, then you'll want to keep moving along to a lesser option.
Pros
Lots of power
Gets the worst stains out
Excellent for disinfecting
Cons
Very expensive
Needs a lot of pressure
---
4.

SIMPSON Surface Cleaner 3600 PSI
Designed to work with powerful pressure washers, the Simpson Cleaning 15" Surface Cleaner Is a top-performing surface cleaner. We could have ranked this our Top Pick, but couldn't get past a couple of obstacles.
It hits all three notes you want in a surface cleaner. It is a superior cleaner that will leave minimal streaks as long as you keep it moving. It's also a lot faster than if you just used the wand to clean your surfaces.
There were two things we didn't like about it. The first was the price. It's just more expensive than most of the pressure washers in its class. The second is its plastic body. The Simpson is designed to work with pressures of around 3600 psi. You want something solidly constructed to take the punishment.
Pros
Does a great job cleaning
Much faster than a wand
Minimal streaking
Cons
Flimsy construction
Expensive
---
5.

Be 20″ Whirl-A-Way Surface Cleaner
When it comes to basic cleaning, BE Pressure's 85.403.007 is like bringing a howitzer to a knife fight. It's a big, powerful upright surface cleaner designed to couple with the most powerful pressure washers to clean the hardest, most difficult stains.
While it's not powerful in its own right, it's designed for pressure washers in the 4000 psi range. Smaller, wimpier pressure washers won't move the arms and won't get the job done. But, connect a powerful cleaner to it and there is no stain this can't scour away. Its upright construction also guarantees that it won't put a hurt on the user.
One drawback is that it's really expensive – a lot more expensive than most people will need to spend. If you're cleaning your garage floor once a month to remove dirt and maybe the odd oil change stain, you can get adequate performance for a whole lot less money. It's also hard to maneuver. It's fine if you're pushing it in straight lines, but it's a chore to change direction.
Pros
Wide cleaning surface
Powerful
Easier on the user
Cons
Super expensive
Hard to maneuver
---
6.

PowerFit 15-inch Surface Cleaner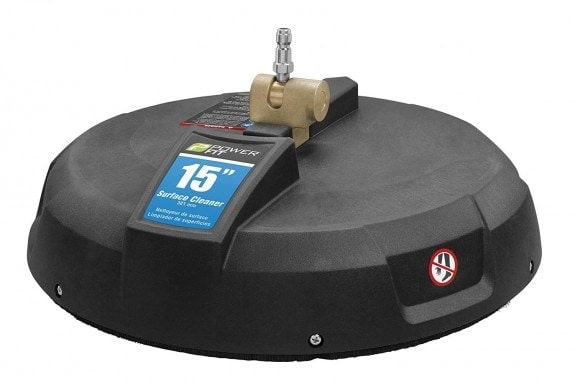 On paper, the PowerFit PF31023B ought to be a contender. It's got a cleaning deck that is just large enough to clean surfaces quickly while retaining enough nimbleness that you can move it around pipes and doorframes.
It is fast. Get this thing moving and you can clean a garage floor in the same amount of time it takes to bat an eyelash. Its design is also perfect for streak-free cleaning. It's fast and consistent. Like we said, it looks great on paper.
However, the PF31023B is not nearly as maneuverable as it could be for its size. At 15 inches, it ought to be easier to change course, especially considering how much money it costs relative to other surface cleaners in its class. It's also not very well constructed. After a few uses, we worry that it might just stop working for no apparent reason.
Pros
Streak-free cleaning
Fast
Cons
Expensive
Hard to maneuver
Longevity issues
---
7.

Briggs & Stratton Rotating Surface Cleaner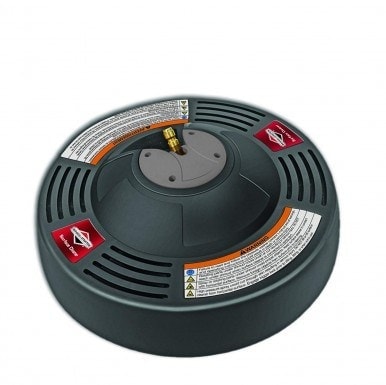 We think the Briggs & Stratton has the potential to be one of the great surface cleaning attachments. What it does well are the little extras that separate the exceptional from the average. The problem is that it fails when it comes to doing the basic job.
Unlike some pressure washers that do well at one end of the power spectrum, this one is good across the board. It's also a snap to connect, and its two-arm design cleans without leaving streaks.
The B&G has one significant drawback: it doesn't have a very long operational life and requires a lot of maintenance while it is working. Keep it properly lubricated and you can keep it going for a while; but if the tubes get clogged by debris, it will stop working. Probably abruptly and inconveniently, too.
Pros
Versatile
Streak-free cleaning
Easy to connect
Cons
High maintenance
Longevity issues
---
8.

Yamaha Surface Cleaner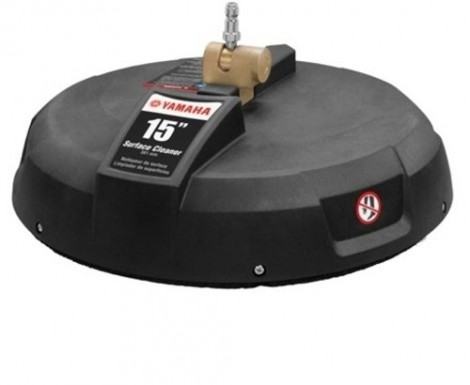 If you're looking for an example of why you can't judge a product based purely on performance, we give you the Yamaha ACC-31056-00-18. When it comes to removing caked-on dirt and grease from a driveway or a garage floor, it has few peers. Hook it up and start cleaning.
Make sure that your power washer is capable of high pressure. It needs more oomph to get those arms moving around so it can clean.
While that by itself isn't a significant drawback, the price is. You can get much better basic cleaning for much less money. It's also got reliability issues, and reminds us that performance is great and all but if the surface cleaner isn't designed to keep working, what you're buying is an oversized paperweight.
Cons
Expensive
Reliability issues
Upper edge of power
---
9.

Generac 6132 High Pressure Cleaner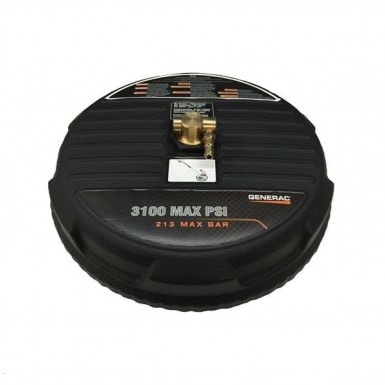 You don't need to spend a lot of money to clean your garage, and the Generac 6132 is proof of that. One of the most affordable surface washers in its class, it can sweep aside the basics in your garage or boat deck at a price you'll like.
It's also got a durable construction. Its hard-plastic shell and brass connections won't fall apart. It's got a niche in which it'll provide long, high-quality services.
That niche is somewhere in the lower end of operating pressure. At higher pressure, the Generac will lift off the ground like a rocket going for orbit. You'll need to fight to keep it on task. The fitting can also be weird enough that it can damage the spray nozzle of your pressure washer. It's not a good look for something that's supposed to be an accessory.
Cons
Can damage spray nozzle
Too light
Best for low-pressure washers
---
10.

Powerhorse Pressure Washer Cleaner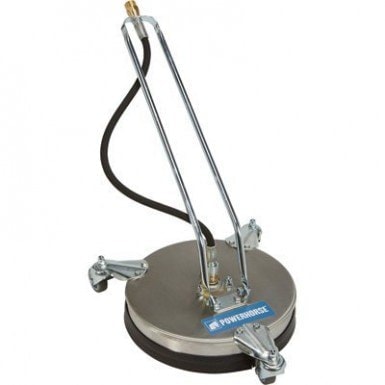 Compared to normal surface washers, the Powerhorse is a bulldog. It is much more powerful, is easier to control, and in general a much better way to keep things spic-and-span.
Within its class of heavy-duty surface washers, however, it is quite the dud. It's too light to maintain easy control when operating the bigger pressure washers, which it's designed for. Because it's got no handle to speak of, it's also a lot more difficult to control. At 12 inches, it's also got one of the smallest cleaning ranges of any surface washer we looked at. Considering the price, that makes it a bad value.
Pros
Superior to free-floating washers
Cons
Small cleaning surface
Bad value
Too light
No handle
---
Buyer's Guide – Choosing the Best Surface Cleaner Pressure Washer Attachment
Most of your success in buying a surface pressure washer starts with understanding that you're not buying the washer itself, but an accessory. If your washer sprays a jet at 1700 psi, the best pressure your cleaner will produce is 1700 psi. It might reduce pressure a bit. If you've got an underpowered pressure washer, don't expect miracles.
The right fit
Your purchase starts with your pressure washer. You want to look for a surface cleaner that complements your make and model. Find one designed for the pressure range of your washer and one that will connect easily to it. Most surface cleaners have pretty standard fittings, but some are designed to attach more easily than others.
Streak-free cleaning
When using a surface cleaner, leaving streaks is a real possibility. That's because most of them have rotating heads below the decks that spray water in patterns. You can avoid streaks by keeping your surface cleaner constantly moving.
When buying one, you can look for features to reduce streaks like spraying arms that rotate in a consistent pattern. You'll still need to move it constantly to avoid streaks, but it'll spread the water out evenly across the entire cleaning swath.
Flimsy washers need not apply
Even at the low end of their spectrum, pressure washers create a lot of power. We're talking about enough power to scour caked-on mud from the wheel wells of trucks, algae from the sides of boats, and grease stains from driveways.
Anything you attach to the end of a power washer needs to be built to take punishment. You don't need something constructed to the standards of a nuclear submarine, a surface washer made on the cheap will guarantee you one thing: a trip to the store to buy a replacement.
Price
There are two basic kinds of surface cleaners. There is the basic model, which is largely a base with arms and a plastic cover. Most are pretty affordable. You can get pretty good quality for a reasonable price if you're just looking for something to clean floors. If that's the case, it's an opportunity to save a few bucks and still get great performance.
There are heavy-duty surface cleaners designed for higher pressure. These are designed for the hardest work. Most have handles to help reduce user fatigue, and some are compatible to also disinfect. If you need a heavy-duty surface cleaner, expect to pay a lot more money than for a basic cleaner.
Conclusion
We liked Karcher's 15-inch pressure washer surface cleaner for our Top Pick. It combines two jets for more consistent, hassle-free cleaning and its weight makes it as good for vertical and horizontal surfaces. It works better with more powerful washers. If you're looking to squeeze out the maximum amount of per-dollar performance, we picked the Greenworks Surface Cleaner Universal Pressure Washer Attachment 30012. It's easy to use, but it does have a ceiling on the amount of pressure it can handle. If you're looking for something that can power out the worst stains, we gave the WOJET pressure washer surface cleaner 18-22" our pick as Best Dedicated Option. It is powerful and great for disinfecting, but you will need to shell out a handsome amount of money.
In searching for a surface cleaner for your power washer, we hope you found our reviews helpful and dug out a few extra tips from our buyers' guide. Power washers are a big investment, and a surface cleaner can help you get the most out of them. We wish you the best of luck in getting the right one.
---
Featured Image By: ColemanAsh, Creative Commons Zero