10 Best Pressure Washers of 2023 – Reviews & Comparisons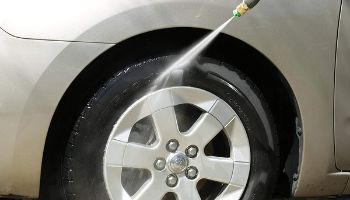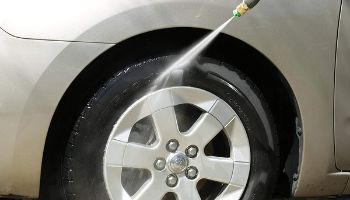 There is no better way to clean any of your outdoor items than with a pressure washer. Time is one of our most valuable assets, and when it comes to cleaning, nothing can save you time like a personal pressure washer.
Anyone who's used a quality version will affirm this, but you don't want to jump in straight away and buy any new machine on the market just because it looks good. There are many different varieties available, and each has unique benefits, and there are also small problems to consider in every variety.
It may seem overwhelming knowing the many differences to consider, but don't stress, we've done the homework so you don't have to spend hours researching. We have reviews on the top ten household pressure washers, which are all incredibly affordable for the time and money they can save you.

A Quick Comparison of our Favorites in 2023
Rating
Image
Product
Details

Top Pick

Sun Joe SPX3000

Numerous nozzles
Long life expectancy
Good pressure range
CHECK PRICE

Budget Buy

Greenworks 1600

Lightweight
Handy foam cannon
Built-in circuit protector on extension
CHECK PRICE

Top Gas-Powered Pick

SIMPSON CM60912

Solid steel frame
Comes fully assembled
No need for extension leads
CHECK PRICE

Karcher K1700

Easy to transport
Built-in detergent tank
Fits standard washing accessories
CHECK PRICE

GreenWorks GPW2001

Handy hose reel
Excellent to transport
Numerous nozzle accessories
CHECK PRICE
The 10 Best Pressure Washers:
1.

Sun Joe 2030 Electric Pressure Washer – Best Overall
Our pick for the best pressure washer overall is the Sun Joe SPX3000 Electric Pressure Washer. It's a handy machine at an affordable price that comes with plenty of nozzle attachments to suit a range of different cleaning requirements.
If you're looking for an industrial machine, the SPX3000 isn't for you. But for home or light commercial use, it does an exceptional job and has some handy features that make it stand out; features including its built-in dual detergent tanks. This means that you can set it up with different detergents and blast away for hours without needing to stop and replace the soap.
The SPX3000 also has a good warranty that generally doesn't require parts to be replaced. It has lasted many years for thousands of happy customers. However, it comes with a low-quality hose fitting, which often doesn't last very long. Sun Joe will send you a high-quality brass fitting to replace it on request. This won't cost any additional price, but it's a nuisance that it doesn't include the bass fitting in the first place.
Overall, we highly recommend this machine as the best pressure washer available.
Pros
Good pressure range
Long warranty
Numerous nozzles
Long life expectancy
Built-in detergent tanks
Cons
May require ordering a separate free part
---
2.

Greenworks 1600 Pressure Washer – Budget Buy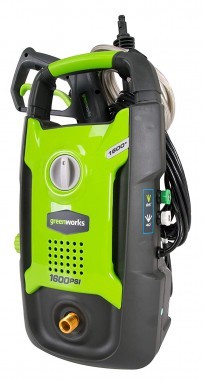 The Greenworks 1600 PSI 13 Amp 1.2 GPM Pressure Washer is a smaller, more lightweight machine for cleaning around your house. Yet, while smaller and offers less pressure, you can carry it around easily due to its convenient size and weight.
It comes with a handy foam cannon included in the kit, which is an excellent way to blast foam over your car before washing it. There are also numerous nozzle attachments included to provide more diversity for the different kinds of cleaning that you need it for.
It doesn't come with any wheels for easily pulling it around your house, but it's lightweight and affordable, which is fair compensation. There is also an issue with one of the nozzles not working as it should. This isn't a regular problem, but it's common enough for some people to get affected. However, Greenworks always replaces the part immediately, which alleviates the issue.
The 1600 PSI GPM is one of the safest pressure washers on the market with a built-in circuit protector wired permanently into the machine's extension lead. This is one of the best pressure washers to consider if you want something small and affordable that still packs a decent cleaning punch.
Pros
Lightweight
Built-in circuit protector on extension
Numerous nozzles
Long life expectancy
Handy foam cannon
Cons
No wheels
May require ordering a separate free part
---
3.

SIMPSON Gas Pressure Washer – Best Gas-Powered Pick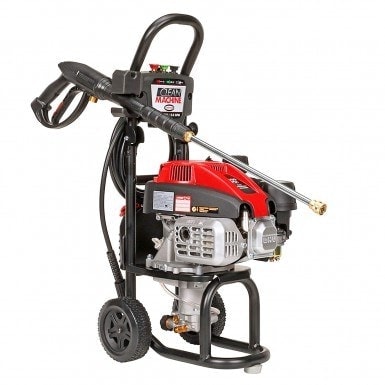 Electric pressure washers are much more common for homeowners than the commercial engine-driven types. However, not all homeowners like the electric models. If this is true for you, then we recommend the SIMPSON CM60912 Gas Pressure Washer.
It's slightly more expensive than most electric versions in its range, but it's built exceptionally well and makes a handy alternative for more serious homeowner cleaners. It has a sturdy steel frame on wheels without excessive guarding, making accessibility very easy, unlike most electric pressure washers.
Once purchased, the CM60912 arrives fully assembled with numerous water nozzles and higher pressure than many household water blasters. However, it's not too high pressure, so you can wash your car and house without losing paint.
It's a shame the gas tank is a little small. This makes the time of continuous use relatively short before needing to be filled up, and it's more expensive to run than a standard electric version. But we still recommend it as an excellent choice to consider. It's the best gas pressure washer available for household users with its affordable price and excellent performance.
Pros
Solid steel frame
No need for extension leads
Numerous nozzles
Good pressure range
Comes fully assembled
Cons
Small gas tank
Expensive to run for household pressure washer
---
4.

Karcher K1700 Electric Pressure Washer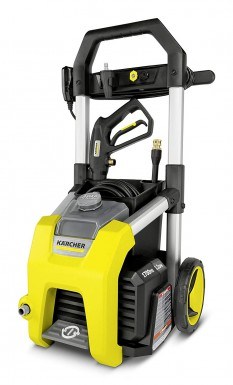 The Karcher K1700 Electric Power Pressure Washer is a handy wheelable machine with good storage and usability. There is a reasonable sized, built-in detergent tank, which makes your cleaning much quicker, especially by removing manual means of applying soap.
The wheels are much lighter duty than we think it should have. They do the job but don't compare to other pressure washers this size and likely won't last over excessive or rough usage. The hose doesn't come on a reel like the K2000 version, but it comes in a large storage pocket, which is an easy place to store the hose in.
There aren't many nozzle attachments included in the kit, which we don't like. However, it's useful that any standard attachment fits onto it. If you're replacing an existing broken pressure washer, the nozzle attachments most likely will fit into this machine.
In summary, the K1700 is a great pressure washer if you want good storage, and a convenient machine that's easy to set up and go without any tools. However, be mindful the warranty isn't as good as they advertise it to be. The pump is the only part covered by a three-year warranty, even though Karcher's advertisement shows it being entirely under a three-year warranty.
Pros
Built-in detergent tank
Easy to transport
Handy storage
Fits standard washing accessories
Cons
Light-duty wheels
Doesn't include many attachments
Misleading warranty
---
5.

GreenWorks GPW2001 Pressure Washer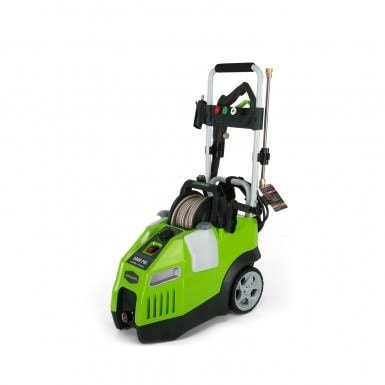 Next, we have the GreenWorks GPW2001 2000 Psi Horz Pressure Washer. It's a different, higher-grade model to the Greenworks 1600 PSI 13 Amp 1.2 GPM Pressure Washer. We like this machine, but for the increase in price, we don't think it's as worthwhile to buy unless you need a pressure washer on wheels.
The GPW2001 comes with a handy hose reel, which makes set-up and pack-down a breeze. It also comes with a decent set of wheels that are easy to transport on and make the whole machine look great. There are numerous different nozzles, including an extra free turbo nozzle, which does an excellent job of eating through tough dirty.
The hose isn't the highest quality and is known for splitting or getting damaged prematurely. This isn't always the case, but it's important to note that you may need to replace it at some point. The two detergent tanks give ample space for soap, and the included low-pressure foam sprayer does a good job of soap distribution.
Another important consideration if you end up purchasing this model is that it doesn't do well in freezing temperatures. Therefore, you need to make sure it's stored somewhere that won't get to a freezing level. Otherwise, make sure there is no water left inside the machine or add some antifreeze to it.
If you don't follow these steps, you can damage the pressure washer beyond repair like numerous other customers have. Otherwise, if you look after it properly, it will serve you well and handles a fair amount of use other than this weak point.
Pros
Built-in detergent tanks
Excellent to transport
Handy hose reel
Numerous nozzle accessories
---
6.

Briggs & Stratton 20680 Pressure Washer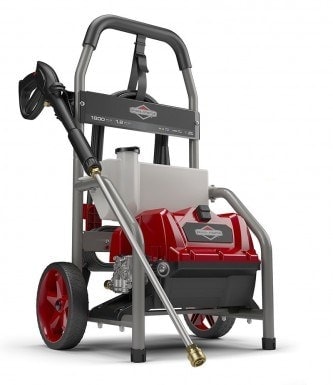 The Briggs & Stratton 20680 Electric Pressure Washer is a well-designed pressure washer with a pleasant, open, and usable layout. It's a machine that many rely on due to its branding. Briggs & Stratton are a company that produces high-quality engine run machines, and in spite of this washer being electrically powered, it hasn't let down Briggs & Stratton's loyal fan base.
It's an easy and comfortable machine to transport around, and once you park it up to do your washing, it sits well stabilized without moving around like some pressure washers. The 20680 comes with numerous handy nozzle accessories, including its distinguished turbo nozzle. This nozzle works effectively to clean larger areas in a short space of time.
The detergent tank is much larger than most, so it's run time is much longer than normal, especially with it being an electric machine. Also, the structure is made from a well-built steel frame with a durable, waterproof coating to ensure it doesn't rust out.
This is not a machine for industrial cleaning, the hose is, unfortunately, a little small, but it does a superb job for any household washing, including pavers, decks, cars, homes, and much more.
Pros
Large detergent tank
Easy to transport
Well-designed layout
Numerous nozzle accessories
Cons
Short hose
Not intended for industrial use
---
7.

Champion 3200 Gas Pressure Washer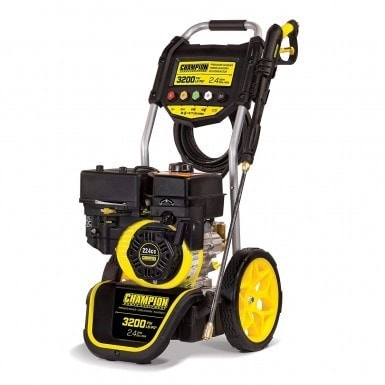 If you're looking for a machine with a bit more cleaning pressure, and one that doesn't require you to drag a lead around, the Champion 3200-PSI 2.4-GPM Dolly-Style Gas Pressure Washer is a good choice to consider. However, you won't want to fire it full pressure at your car or other delicate surfaces in case you damage them or remove the paint. Yet it cleans tough surfaces like concrete and pavers much quicker.
There are numerous spray nozzles that come with the pressure washer, including a foam sprayer that incorporates the duel-tank detergent system. The machine is great to wheel around comfortably. It doesn't roll over uneven surfaces smoothly like one with pneumatic tires, but it doesn't need inflating, and there is no need to worry about fixing punctures with it, which is a bonus.
Once you sit the Champion Dolly-Style Pressure Washer down, it becomes quite stable, so you can comfortably get on with your cleaning work without worrying about it moving about or falling over. However, an unfortunate aspect of buying a Champion product is that their customer service is sub-standard.
They offer a two-year limited warranty, and they aren't very determined to help out their customers with it. You may receive satisfactory service from them, but many others haven't, which is a huge let-down. Yet, if you don't mind paying a little more for a household pressure washer with higher pressure than most, this is a great choice to consider.
Pros
High pressure
Two detergent tanks
Easy to transport
Gas-powered
Numerous nozzle accessories
Cons
Poor customer support
Expensive for household pressure washer
---
8.

AR Blue Clean AR383  Electric Pressure Washer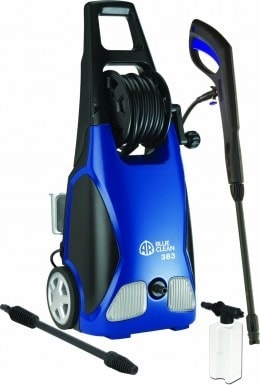 The AR Blue Clean AR383 1,900 PSI Electric Pressure Washer is a useful machine that thousands of people are happily using. It's not too expensive for a pressure washer, but it's certainly not the most affordable in the household market.
It's a lightweight machine that can easily be carried around, and it also includes a small set of wheels to give you wheeling options. This washer is an incredibly convenient option and requires almost no setting up, so you can get straight into cleaning.
There is also a hose reel mounted onto the top, which makes a handy solution for winding and unwinding the hose for organized storage. This also makes it quick and easy to set-up and pack-down. Unfortunately, the AR383 has a stiff hose that's quite uncomfortable to use when it's unwound and is known for getting tangled while you're using it.
The plastic hose connector that comes stock with the pressure washer is poor quality and is known for leaking or breaking easily. It's a simple fix to buy a better-quality replacement connector, but that's something AR Blue should resolve before sending this product to market.
There is also no detergent tank. It comes with a detergent bottle, which can be useful, but it's still not the same.
Pros
Handy hose reel
Lightweight
Includes adjustable nozzle
Cons
Hose is uncomfortably stiff
No inbuilt detergent tank
Plastic hose connector leaks water
---
9.

Karcher K3 Electric Pressure Washer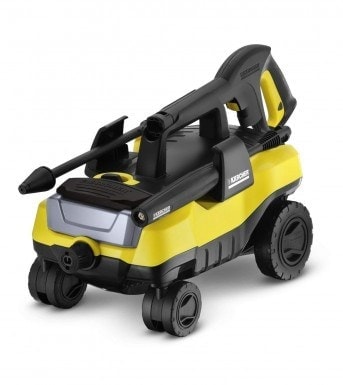 Most pressure washers come on two wheels or no wheels at all. The Karcher K3 Follow-Me Electric Pressure Washer is a unique option as it comes with four wheels. This makes it easy to follow you around as you clean.
Short leads are great because they're quick and easy to set up and pack down. However, they're a hassle due to how frequently the washer needs to be moved while you clean. The Karcher K3 Follow-Me solves both problems by providing a short lead with a machine that follows you as you move.
It's also a convenient machine with a built-in detergent tank and good storage to keep everything organized on the machines. There is a highly convenient, adjustable nozzle, which makes it easy to change your spray type as you go rather than stopping to change over a nozzle.
Yet, what we don't like is the quality of the pressure washer. There are worse quality machines available, but this is certainly not at the top of the line for durability. Karcher has formerly been known for producing an excellent quality pressure washer, but this has fallen below that mark. Instead, this is known to leak easily and sometimes even beyond repair.
The machine will need to be winterized for cold weather, either by water-purging or adding antifreeze to prevent cracking. Keep in mind that despite wintertime maintenance, there's no guarantee the machine won't be compromised by freezing temperatures. So, that's a lose-lose situation.
If you're excellent at looking after your tools and have a warm place to store this in the winter, then it may be a top choice for you. Otherwise, we recommend considering a different electric pressure washer like our top choice, the Sun Joe SPX3000 Electric Pressure Washer.
Pros
The four-wheel unit follows as you walk
Built-in detergent tanks
Includes adjustable nozzle
Cons
Built with low-quality materials
Leaks easily
May break if not winterized
---
10.

Simpson MSH3125 Gas Pressure Washer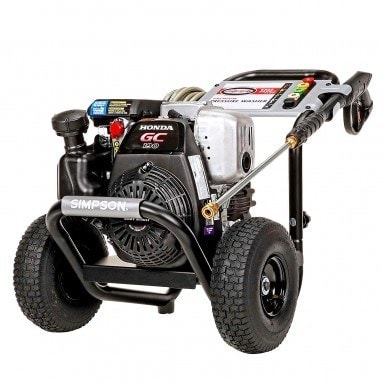 Our final review is of the Simpson MSH3125 MegaShot Gas Pressure Washer. This gas engine washer is a high-pressure machine suitable for home or light commercial use. It's a great option if you need something more powerful than your standard electric household pressure washer. However, it's not the most comfortable machine to use.
The Honda GC190 engine will generally start within the first three pulls, and isn't terribly complicated to maintain. However, it's one of the loudest household pressure washers available, and doesn't like to sit still. This machine is known to vibrate excessively, even to the point of moving itself around while you're trying to clean.
There is also no built-in detergent tank, which is another letdown; although, there are numerous different nozzles. The MSH3125 is a popular machine with thousands of people who have purchased due to its ease of use and high pressure.
If you don't mind paying slightly more for a household pressure washer, then we recommend considering this. While it's easy to use, it's not a comfortable machine to use with its noise and vibration. But still, it's good to consider. Otherwise, we recommend looking into the SIMPSON CM60912 Gas Pressure Washer or the Champion 3200-PSI 2.4-GPM Dolly-Style Gas Pressure Washer.
Pros
Easy to use
High pressure
Numerous nozzle accessories
Cons
Expensive for household pressure washer
No built-in detergent tank
Very loud
Vibrates excessively

Conclusion
These top ten pressure washers are the best available on the market at affordable prices. As you can see, none of them are perfect, but they all have impressive aspects that make difficult cleaning tasks much easier.
Various customer reviews on Amazon make it clear that people often regret not buying a new pressure washer sooner. We hope you can share this same experience.
Our top pick for the best pressure washer among all the available machines is the Sun Joe SPX3000 Electric Pressure Washer. It's a well-built machine with numerous nozzle attachments and a good pressure range for domestic use. It's trusted by many thousands of people and backed by a long warranty.
While the SPX3000 is an affordable option, the best pressure washer for the money is the Greenworks 1600 PSI 13 Amp 1.2 GPM Pressure Washer. It's doesn't offer as much in terms of accessories, but for a basic household pressure washer at an incredibly low price, this deal is our favorite.
Thank you for taking the time to read through these ten reviews. We enjoyed writing them for you and hope they help you to sort through the masses to find what's truly the best options available and why.