10 Best Electric Pressure Washers of 2023 – Reviews & Top Picks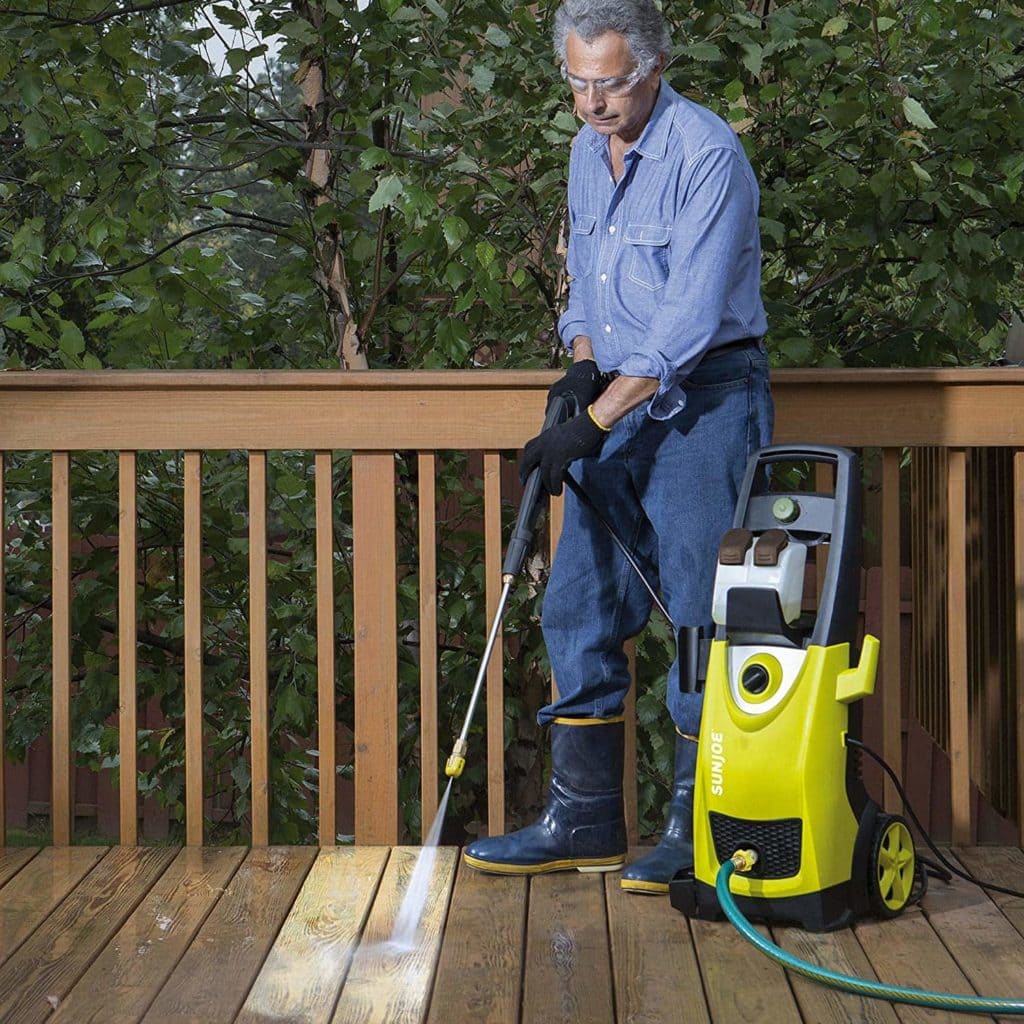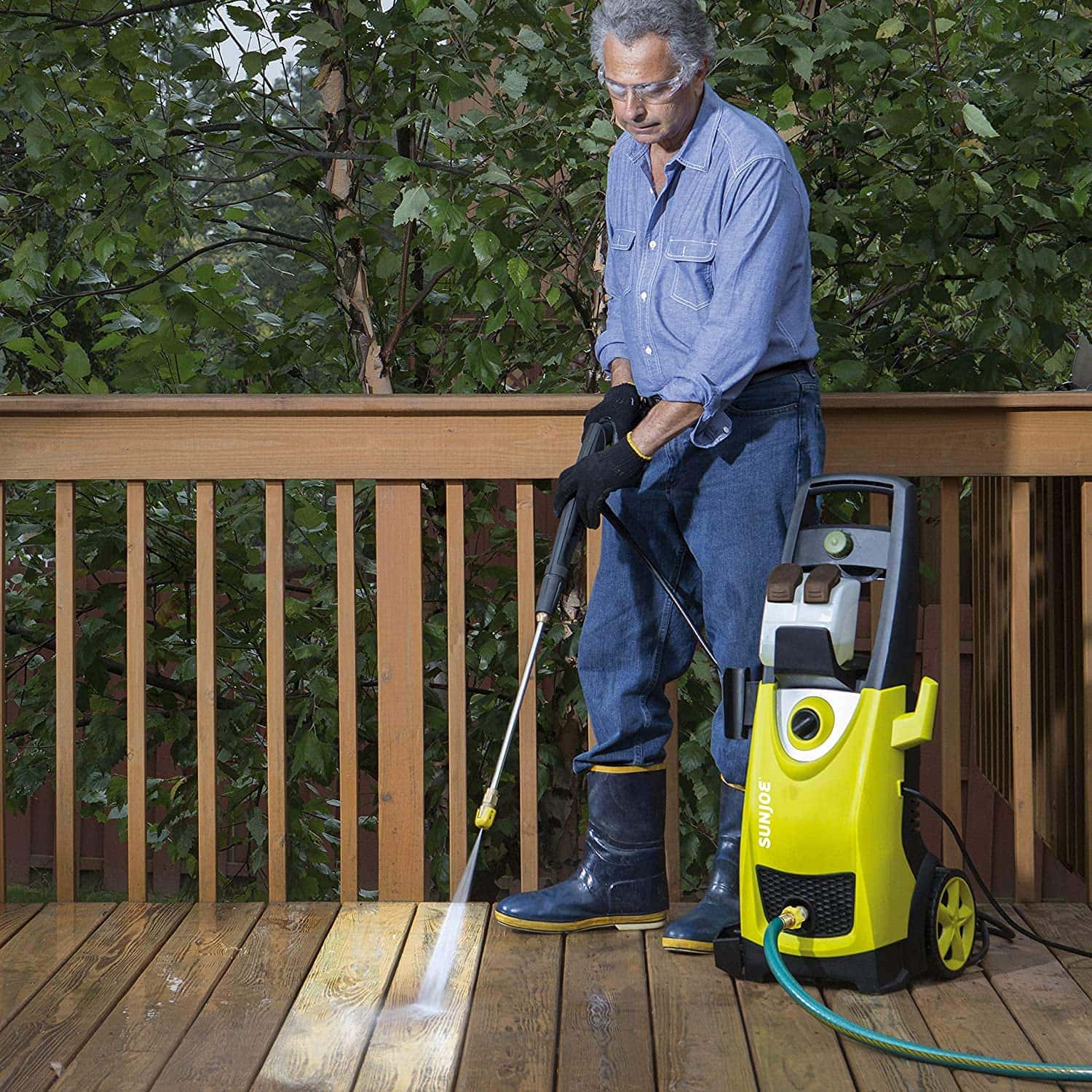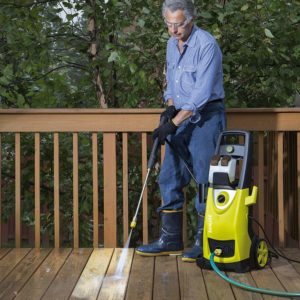 One day, your house looks beautiful, shining in the sun. The deck is clean, and the driveway pristine. But only a few short weeks later, they both look as if they've been under the attack of months of all-weather abuse.
Whether it's your driveway, deck, vehicle, home, or anything else that's showing the inevitable signs of accumulating filth, a pressure washer is the tool you need to take care of it. These machines make cleaning a breeze, spraying a high-pressure stream of water, and even detergent to strip the dirt away and leave you with a clean surface once again.
Pressure washers come in all shapes, sizes, and power levels, but which one is the best electric pressure washer? While it's going to differ for everyone, we're confident that we've narrowed down the choices to the best possibilities. In the following 10 reviews, you'll read about some of the to electric pressure washers on the market. We're even going to offer up our recommendations to ensure you make the most informed decision possible.
A Quick Comparison of Our Favorites in 2023
Rating
Image
Product
Details

Best Overall

Sun Joe SPX3000 Electric High-Pressure Washer

2030 PSI and 1.76 GPM
5-amp motor
Two built-in detergent tanks
CHECK PRICE

Best Value

GreenWorks GPW1602 Pressure Washer

1600 PSI and 1.2 GPM
35' power cord
Weighs less than 18 pounds
CHECK PRICE

Premium Choice

Champion 3200-PSI Gas Pressure Washer

Powerful 3200 PSI stream
4 GPM flow rate
Two onboard detergent tanks
CHECK PRICE

Westinghouse WPX3200 Gas Powered Pressure Washer

3200 PSI max pressure
5 GPM flow rate
Built-in soap tank
CHECK PRICE

AR ANNOVI AR383 Electric Pressure Washer

Weighs less than 30 pounds
35-foot power cord
Includes two spray wands
CHECK PRICE
The 10 Best Pressure Washers
1.

Sun Joe SPX3000 Electric High-Pressure Washer – Best Overall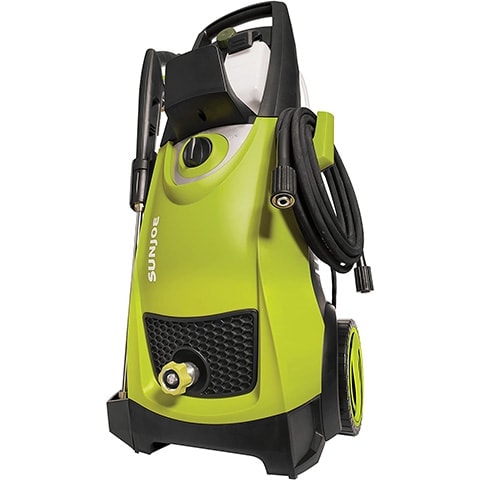 With a powerful 14.5-amp motor forcing out a high-pressure stream, the Sun Joe SPX3000 is our pick for the best electric pressure washer. It features an electric design with two built-in detergent tanks for when you need some extra cleaning power. Compared to other electric pressure washers, this one offers superior power with a max pressure of 2030 PSI. It also manages a flow rate of 1.76 gallons per minute, which is plenty for cleaning stubborn stains off the driveway.
To conserve electricity and water, as well as elongate the life of your machine, this pressure washer is equipped with TSS (the total stop system). This automatically shuts the machine off whenever you're not actively pulling the trigger.
At 39 pounds, this machine is quite a bit heavier than most similar pressure washers. You'll have a bit harder time lugging it around the house, though there are small wheels at the back so you can roll it over smooth ground. There's also a two-year warranty protecting this device, which ensures that it will still be useful when you pull it out in spring after a winter spent in the garage.
Pros
5-amp motor
2030 PSI and 1.76 GPM
Two built-in detergent tanks
The total stop system shuts off when the trigger is released
Two-year no questions asked warranty
---
2.

GreenWorks GPW1602 Electric Pressure Washer – Best Value
The GreenWorks GPW1602 offers incredible performance at a very affordable price, which is why we think it's one of the best electric pressure washers for the money. This compact device hardly takes up any space in your garage, standing 17 inches tall, 12 inches wide, and just 10 inches deep. At that small size, it's not surprising that it weighs just 18 pounds, making it easy to move around and transport for any project.
While this isn't the most powerful machine on this list, it's still got decent cleaning pressure with a max PSI of 1600. 1.2 gallons per minute is also not the most impressive flow rate, though it does get the job done and also won't risk damaging your car's paint job or the wood on your deck.
Many of these machines are limited by the reach of their cords, which is why the GreenWorks pressure washer utilizes a 35-foot power cord and 20-foot high-pressure hose for 55 feet of total reach. And unlike most machines, this pressure washer will work whether it's standing or laying down. However, it should be noted that one of the spray nozzles that came with our machine didn't work out of the box.
Pros
1600 PSI and 1.2 GPM
It works horizontally or vertically
35' power cord for improved reach
Weighs less than 18 pounds
Cheap pricing
Cons
One of the spray nozzles didn't work
---
3.

Champion 3200-PSI Gas Pressure Washer – Premium Choice
If you're looking for a pressure washer with professional capabilities, then we'd recommend taking a look at this gas-powered beast from Champion. With a max pressure of 3200 PSI and an impressive flow rate of 2.4 gallons per minute, this machine has some serious cleaning power. It's powered by a 224cc single-cylinder engine, ensuring that no cleaning job is too tough for this pressure washer.
When pressure just isn't enough to get the job done, you've also got two onboard detergent tanks. Five quick-connect nozzles give you great control over the spray from the wand, allowing you to use this device to clean a wide range of different surfaces.
Gas-powered machines require a lot more maintenance than electric washers and this tool is no different. Luckily, it's warrantied for two years, and lifetime technical support is also provided in case anything does happen to go wrong with your pressure washer.
The only real drawbacks to this machine are its size and weight. At just under 70 pounds, it's a pretty hefty machine to move. It's also much larger than other pressure washers we've tested, standing 27 inches long and 40 inches tall.
Pros
Powerful 3200 PSI stream
4 GPM flow rate
Two onboard detergent tanks
Two-year warranty and lifetime technical support
Includes five quick-connect nozzles
Cons
Bigger and heavier than other options
Much pricier than other choices
---
4.

Westinghouse WPX3200 Gas Powered Pressure Washer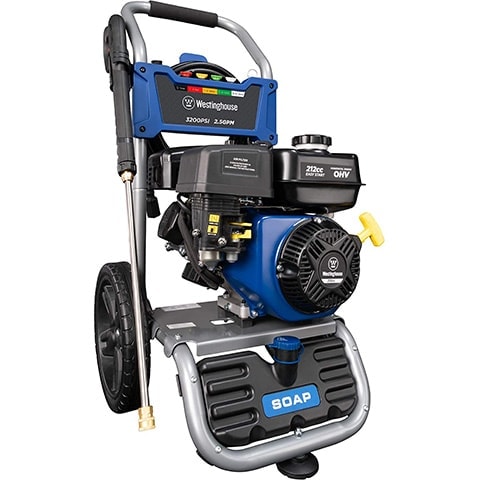 Powered by a stout 212cc four-stroke gas motor, the Westinghouse WPX3200 is a robust machine that can clean the filthiest surfaces imaginable with its maximum pressure of 3200 PSI. It's got a flow rate of 2.5 gallons per minute, ensuring that you can effectively flood just about any area with cleaning power. When you need a bit more cleaning ability backing you up, there's even a half-gallon onboard soap tank.
At 63 pounds, this is one of the heavier pressure washers we've tested. It's not easy to get in and out of a truck or up and down stairs. However, the large 12-inch never-flat wheels make it easy enough to move around on flat ground, despite the weight.
All gas engines are noisy and create some vibration. However, this one vibrates more than the others that we've tested. In fact, it vibrates so much that it started to roll away anytime it was parked on smooth ground. This is easily fixed by putting something under the wheels, but it's a testament to just how much this machine shakes.
Pros
3200 PSI max pressure
5 GPM flow rate
Built-in soap tank
12-inch never-flat wheels
Cons
Weighs 63 pounds
Vibrates so hard it rolls
---
5.

AR ANNOVI AR383 Electric Pressure Washer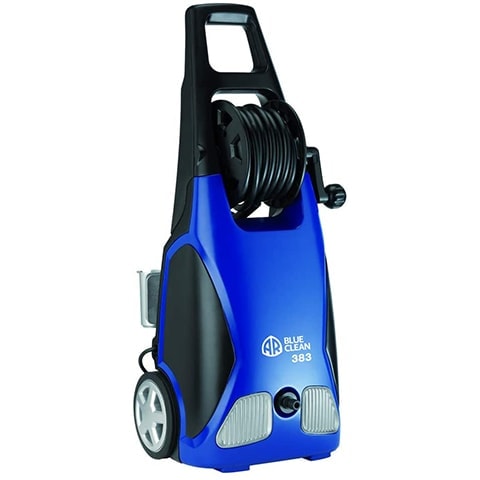 The AR383 electric pressure washer from AR ANNOVI is a middle of the pack product in every respect. It offers adequate, though not impressive, performance at a reasonable, but not cheap, price. There are better machines available for less, but this is still a solid-performing device. It weighs less than 30 pounds, so it's not as cumbersome as some similar pressure washers, even if others weigh considerably less.
This machine includes two spray wands, which offers a bit more versatility. You also get a 35-foot power cord that provides ample reach, so you do not constantly need to move to a new plug.
But there were several flaws with this machine that held it back. For instance, several of the fittings leaked. This didn't affect the machine's performance, but it's definitely a waste of water. We also weren't impressed with the lackluster one-year warranty. Many similar machines are warrantied for two or even three years, and we prefer that level of longevity.
Pros
Weighs less than 30 pounds
35-foot power cord provides plenty of reach
Includes two spray wands
Cons
Only warrantied for one year
Leaks at the fittings
---
6.

Simpson Cleaning MSH3125 Gas Pressure Washer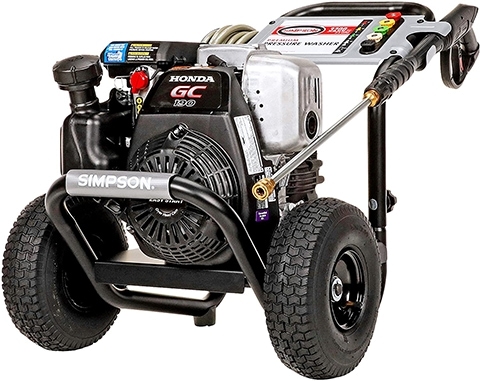 One of the biggest draws of the Simpson Cleaning MSH3125 is the Honda motor that's powering it. Honda motors are known for their longevity and reliability, so we'd expect this machine to last for years. Unfortunately, the warranties don't really reflect that, offering a one-year warranty on the pump and a two-year warranty on the motor.
Still, this machine manages some solid performance with a maximum pressure of 3200 PSI. It can also move a high volume of water –– up to 2.5 gallons per minute. To make the best of all that pressure, you get five quick-connect nozzles that allow you to dial in your spray pattern to suit different cleaning jobs.
At 65 pounds, this isn't a machine that you want to take in and out of your truck's bed. It's also got a pretty substantial footprint at 26 inches in length, 35 inches tall, and 18 inches wide. Once you consider the expensive price, this machine doesn't seem like one of the better options.
Pros
Powered by a Honda motor
3200 PSI and 2.5 GPM
Includes five quick-connect nozzles
Cons
Pretty hefty at 65 pounds
Far more expensive than other options
---
7.

Karcher K1700 Electric Power Pressure Washer

At just 20 pounds, the Karcher K1700 electric power pressure washer is one of the lighter, more portable units that we tested. It's even got wheels on the back to make it easier to move, though, at this light weight, it's already very portable.
While most of these machines use a switch to turn the device on and off, this pressure washer features a footswitch instead, a feature that we actually liked. It makes it easy to start and stop the machine while you're still holding the wand. Onboard, there's storage for the included hoses, wand, and nozzles, keeping everything nice and organized.
At first, we thought the three-year warranty of this machine was pretty good until we needed it. As it turns out, all the parts and accessories are only warrantied for a year. The pump is warrantied for three years, but if anything goes wrong, you'll be liable for the repairs. Unfortunately, we started having problems pretty early on with the machine overheating and shutting down. Once we realized that the warranty wasn't going to take care of our needs, we decided to call it a loss and move on.
Pros
On/off footswitch
Weighs just 20 pounds
Built-in storage for hoses, wand, and nozzles
Cons
The three-year warranty is a farce
Continuously overheats and shuts down
---
8.

Briggs & Stratton S1800 Electric Pressure Washer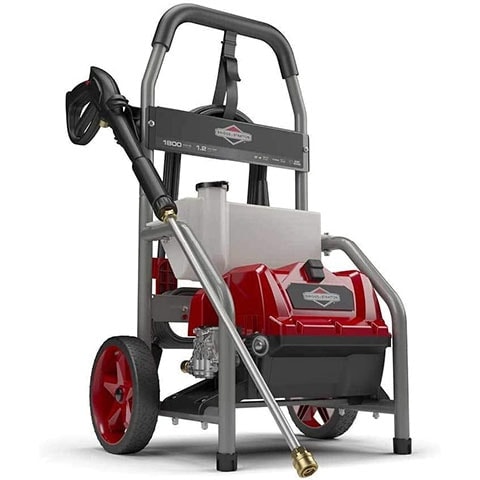 Briggs & Stratton is known for producing high-quality, reliable small gas engines. As such, we had high hopes for the S1800 pressure washer, but it didn't do much to impress us. To be fair, it's not a gas machine, so this isn't exactly in their wheelhouse.
This pressure washer weighs less than 30 pounds, which is one mark in its favor. Still, compared to other similarly-powered machines, that's not exactly light. But it does fold into a more compact form for easy storage, which is a trait we appreciate.
For a company known for producing reliable motors, a one-year warranty seems lackluster at best. Especially when there are cheaper machines with similar capabilities offering warranty periods that are twice or three times as long.
But we're more concerned with operation –– another area where this machine failed. When we got it all hooked up, several leaky fittings caused a lack of pressure in the machine, providing a weak spray that wasn't going to clean anything. If it had performed better, we might have forgiven the weak warranty and high price, but as it is, this isn't a model we'd recommend.
Pros
Folds compact for storage
Weighs less than 30 pounds
Cons
One-year warranty isn't impressive
Leaky fittings lose pressure
---
9.

SIMPSON Cleaning CM60912 Gas Pressure Washer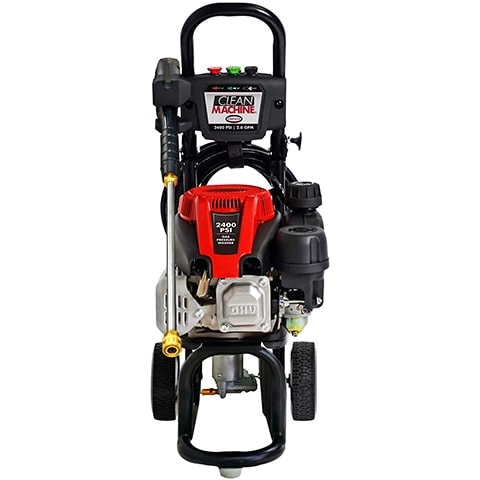 The SIMPSON Cleaning CM60912 offers barely more power than an electric pressure washer, with all of the drawbacks of a gas-powered machine. You'll have to deal with maintenance, obnoxious noise while operating, running out of gas, changing the oil, and more. But you'll get only marginally more cleaning power with this machine than with most of the electric pressure washers we've tested since this device only produces 2400 PSI max. It's got a flow rate of two gallons per minute, which again, is only barely better than our favorite electric pressure washers.
Despite the mediocre performance, this machine is still quite pricey. It's not as expensive as other gas-powered pressure washers, but quite a bit pricier than comparable electric machines. Worse, SIMPSON doesn't even offer good warranties on this machine. The accessories are only covered for 90 days. Meanwhile, the pump and frame only get a one-year warranty. The engine is covered for two years. Better, but not enough to redeem this machine.
Pros
2400 PSI for serious cleaning
0 GPM flow rate
Cons
Far pricier than other options
Not as powerful as other gas sprayers
Lackluster warranties
---
10.

Greenworks GPW2001 PRS Washer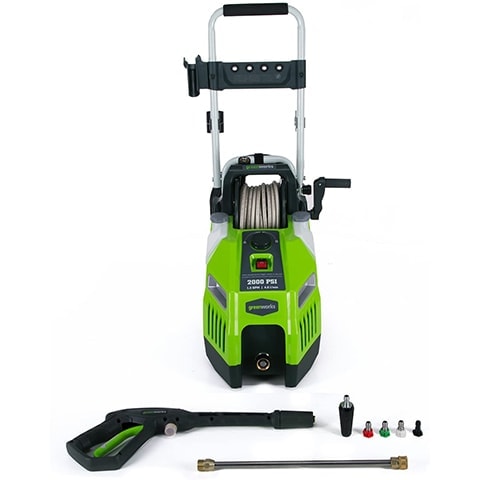 Ironically, a GreenWorks pressure washer also made it into our top three, but it offered drastically different performance from the GPW2001. To be fair, this machine does supply a pretty decent maximum pressure of 2000 PSI, though the max flow rate of 1.2 gallons per minute is less spectacular. Even so, we never quite felt like we got 2000 PSI performance from this machine, regardless of how much pressure it's supposedly putting out.
We did like the long power cord and high-pressure hose that allow for a total of 60 feet of reach from the outlet. Unfortunately, the hose is pretty weak and can't actually handle the pressure this machine puts out. Ours ended up splitting after just a few uses.
The GreenWorks sprayer in the second position of this list weighed a mere 18 pounds. But this one is a hefty 42 pounds, reducing its portability considerably. It does have wheels on the back, but if you want to transport this in a vehicle, it's going to be much more difficult. In the end, we think GreenWorks makes some great products, but this pressure washer isn't one of them.
Pros
2000 PSI max pressure
60 feet of total reach
Cons
Heavy for an electric sprayer at 42 pounds
Doesn't seem as powerful as advertised
Low flow rate of 1.2 GPM
Weak hose can't handle the pressure
---
Buyer's Guide – Choosing the Best Electric Pressure Washer
At this point, we hope that you're starting to get an idea of which pressure washer might fit your needs. But just in case, we've written a short buyer's guide that should help streamline the decision making process for you. If you're still on the fence, hopefully, this will help you make a determination.
Electric vs. Gas Pressure Washers
Though there are many differences between different models of pressure washers, the biggest decision you'll have to make is whether you want a gas-powered machine or an electric one. Each has its advantages and disadvantages that will make it better suited for some situations and less applicable to others.
Electric Pressure Washers
Electric pressure washers have become a lot more viable in recent years. Originally, these were underpowered and often problematic machines. But today, these are the most commonly used pressure washers for a variety of reasons.
Advantages of Electric Pressure Washers
Electric pressure washers are pretty quiet machines. Even when they're running, they just don't make that much noise. And when you let go of the trigger, most of these sprayers are equipped with a TSS system that actually shuts the machine off when it's not in use.
You'll also never have to worry about running out of gas with an electric power washer. As long as there's electricity nearby, you're in luck.
These machines also tend to be much smaller and lighter than gas machines, which means they're considerably more portable. This is an advantage even if you're just moving it around your house to reach all the different sides.
Electric washers also don't need much maintenance. You won't have to change the oil or winterize the machine.
Finally, these are pretty affordable tools. If you're shopping on a budget, you'll definitely be looking at electric machines instead of gas ones.
Disadvantages of Electric Pressure Washers
Of course, these machines aren't perfect. They have several notable drawbacks.
First, electric pressure washers are just not as powerful as gas machines. They only occasionally offer more than 2000 PSI pressure, and they're rarely capable of flow rates higher than two gallons per minute.
You must also consider that you'll always be tied to a power cord. If there's no electricity nearby, then you won't be able to run an electric pressure washer.
Pros
Quiet operation
Never run out of gas
Small and portable
Generally lightweight
No maintenance
More affordable than gas machines
Cons
Lacking in power
Tied to a power cord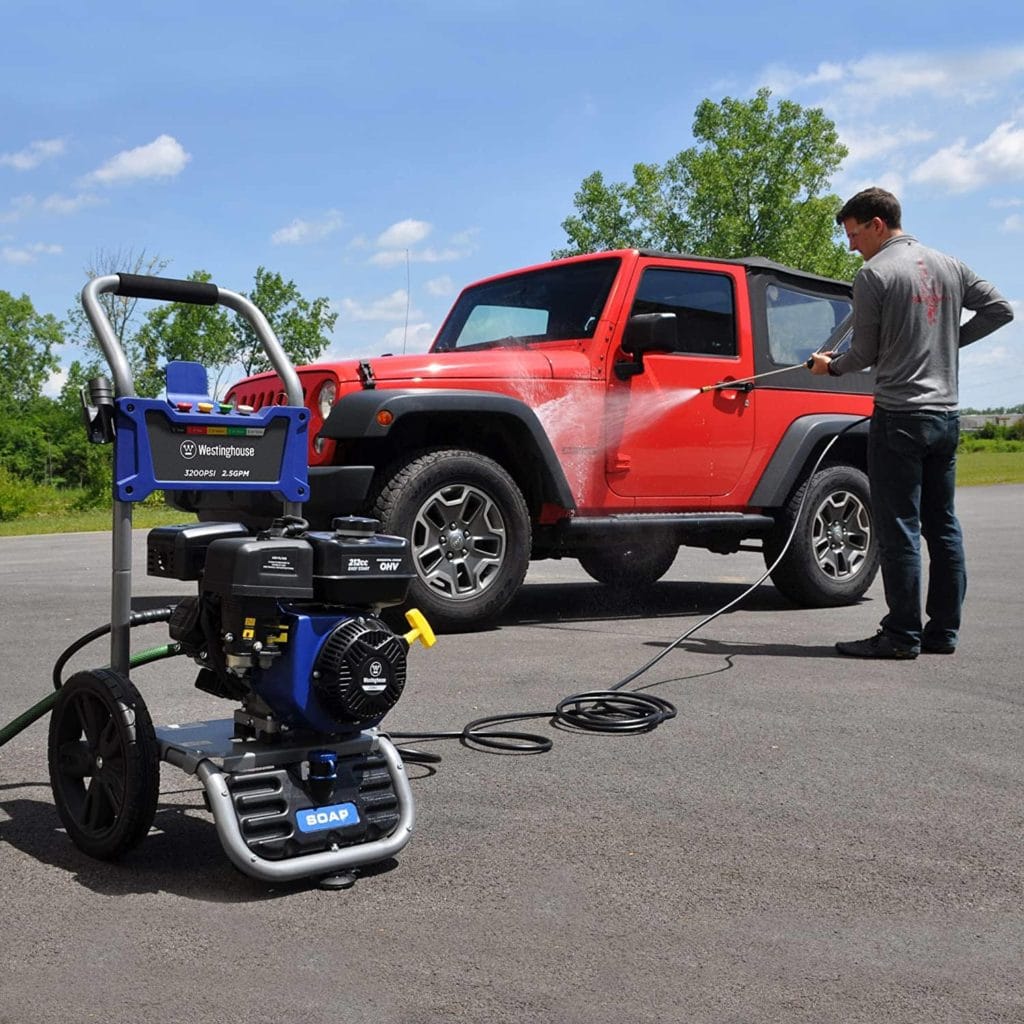 Gas-Powered Pressure Washers
Gas-powered pressure washers were the norm for a long time. In fact, for many years, they were the only option. Even as electric pressure washers entered the market, it was a long time before they could truly compete.
Benefits of Gas-Powered Pressure Washers
There's no question; if you want the most power from your pressure washer, you're going for gas. These machines have powerful gas engines that allow for high pressures, often above 3000 PSI. Likewise, they're capable of high flow rates over two gallons per minute.
Gas-powered machines are also completely cordless. You don't need an outlet anywhere nearby to run one. As long as you have gas, you have a running pressure washer.
Drawbacks of Gas-Powered Pressure Washers
But the drawbacks of gas pressure washers are many. To start, these are loud machines. Your whole block will hear when you're washing your deck with one of these bad boys. You're also releasing emissions into the air, which is something that will immediately turn away any environmentalists.
Gas-powered machines are also much pricier than their electric counterparts. Similarly, they're much larger and heavier to accommodate those gas engines. This makes them far less portable, even though most will have large wheels on the back to mitigate this issue.
One big problem is that these machines can run out of gas. If you do, you're stuck until you get more fuel.
Also, consider the maintenance a gas machine needs. You'll need to change oil, check spark plugs, air filters, and winterize the machine before cold weather.
Pros
Offers cordless freedom
Tons of power for increased pressure
High flow rates
Cons
Requires lots of maintenance
Loud and obnoxious
Can run out of gas
Big and cumbersome
They tend to be expensive
Who Should Choose a Gas or Electric Pressure Washer
Now, you've got a lot of information about pressure washers. But, what should you do with it? How do you know if an electric or gas pressure washer is right for you?
Well, if you're just using your pressure washer for work around the home, then you're probably better off with an electric model. The lack of maintenance and ease of use makes them a better choice for the average person.
But if you plan on using your pressure washer in a professional capacity, then a gas machine might make more sense. They'll provide you with a more powerful spray and the cordless freedom to use it anywhere.

Conclusion
There are many pressure washers on the market designed to take on cleaning tasks that range from mild to extreme. Too powerful, and you'll damage the surface you're trying to clean. Underpowered, and you're not getting that surface clean at all. Hopefully, our reviews have helped you pick the right machine, but in case you're still on the fence, we're going to go over our recommendations once more.
We think the best electric pressure washer for most situations is the Sun Joe SPX3000. With a powerful 14.5-amp motor, this machine manages 2030 PSI for ample cleaning power. The Total Stop System increases its lifespan and conserves water and electricity, and the whole unit is covered with a two-year no questions asked warranty.
For the best electric pressure washer for the money, we suggest the GreenWorks GPW1602. This pressure washer works when it's standing or lying down and manages 1600 PSI for basic cleaning tasks. It weighs less than 18 pounds and has a 35-foot power cord to provide plenty of reach.
The Champion gas pressure washer is our premium choice. This beast creates a powerful 3200 PSI stream with a 2.4 gallons per minute flow rate. It's protected by a two-year warranty and lifetime technical support.
See also: How to Start a Pressure Washing Business