12 DIY Garden Sculpture Plans You Can Build Today (with Pictures)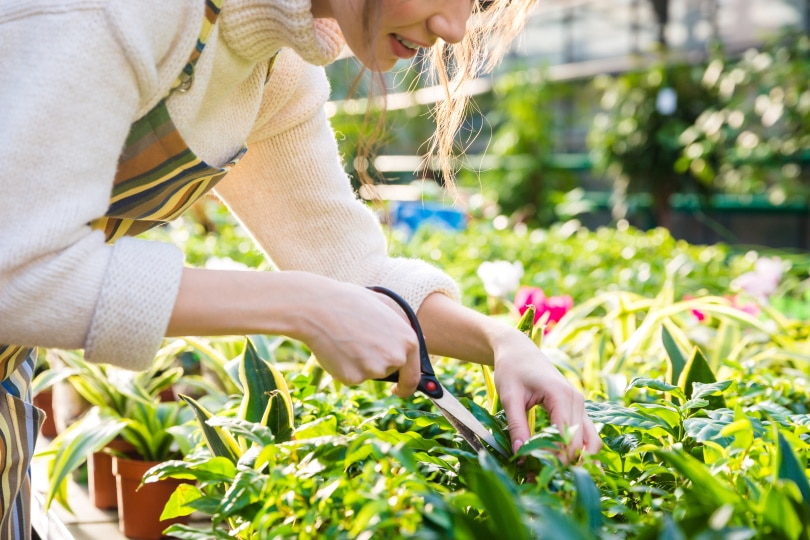 Colorful flowers and lush vegetation are the showcases of the garden, but almost any backyard could use more permanent artistic elements to tie the landscaping together. Garden sculptures are lasting displays, enduring pops of color and form to show off your personality in ways that floral arrangements never could.
You can buy your sculptures at a local home improvement or crafts store, but it's far more satisfying to build them yourself. Add essential hints of character to your backyard with these 12 inspiring DIY garden sculpture plans you can build today.

The 12 DIY Garden Sculpture Plans
1.

   Concrete Garden Fish
Tools and Materials:
CementAll
Plastic 1-pint bottle
Utility knife
1/4″ hardware wire
Wire cutters
Masking tape
Small container
Plastic forks, knives, and a straw
Plastic netting from oranges or vegetables
Spray bottle
3/8″ x 1 ft. rebar pieces
Acrylic paint
Water-based polyurethane or concrete sealer
Difficulty: Intermediate
Whether you're a marine lover or not, these garden fish made from plastic bottles are a quirky and joyous addition to anyone's lawn. The examples in the pictures look impressive, but they're surprisingly easy to replicate if you follow the clever tips and tricks in the tutorial. Make a school of fish, add some acrylic paints, and tinker with the tints to create a sea of colors for your yard.
---
2.

Planter/Birdbath Combo
Tools and Materials:
8" tall terra cotta pot for the base
(4) 6" tall pots
4"-5" tall pot
62" piece of rebar
Spray primer
Spray paint
Discarded globe from light
Adhesive
Difficulty: Easy
Add some fun to your garden with this teetering flower planter and birdbath working together in one piece. A hidden piece of rebar creates the illusion, and a smooth coat of paint and playful flower adornments make the tower a delightful attention-grabber. It's simple to make, and the results are impressive, a sculpture that brings color and life to your garden.
---
3.

Wooden Garden Obelisk
Tools and Materials:
(4) 2x2x8
(6) 2x1x8
Decorative post top
Wood screws
Stain or paint
Wood saw
Difficulty: Easy
A garden obelisk is a classic garden feature, and you can save hundreds on the cost by building your own. Use a collection of 2x1s to create a pyramid frame and add a decorative top and a coat of paint for a fashionable feature. Position it among creeping, vining plants to give them a skyscraping foundation to crawl up.
---
4.

Wheelbarrow Planter
Tools and Materials:
Miter saw
Drill
1×6 lumber
2×2 lumber
1×8 lumber
1×10 lumber
½" wooden rod
Difficulty: Intermediate
A wheelbarrow planter is a fantastic adult crafts project, a whimsical addition to the garden that's fun to build. It has some function if you use quality materials and precision during construction. But the primary purpose is aesthetics, a generous amount of growing space for a standalone raised flower bed or collection of potted plants.
---
5.

   Giant Garden Coneflower
Tools and Materials:
Metal pie plate and cake pan
Aluminum flashing
Metal spray paint
Acrylic paint
Glue
Glass gems
Wire
Wood stem
Hole puncher
Scissors
Brass fasteners
Screwdriver
Pliers
Wood screws
Difficulty: Easy
Coneflowers are a popular component of many flower beds, a pretty umbrella-shaped bloom attractive to not only gardeners but also bees and hummingbirds. While pollinators may not be drawn to the garden coneflower art in these plans, the oversized floral sculptures are as gorgeous as the real thing.
---
6.

Copper Trellis
Tools and Materials:
(7) 5′ long 1/2 diameter copper pipes
(24) copper tees; 1/2″ size
(4) end caps; 1/2″ size
(4) 45 degree connectors; 1/2″ size
(2) 90 degree connectors; 1/2″ size
Gorilla Glue
Pipe or tube cutter
Difficulty: Easy
The metallic glint of copper will catch the eye in this DIY trellis, a gorgeous complement to lush green plants weaving around the metal frame as they creep up the structure. It can be tricky getting used to the pipe cutter, though, and the glue takes a while to set. Your patience will pay off when you see the gorgeous yet subtle patina highlighting your garden growth.
---
7.

  Oversized Outdoor Pinwheels
Tools and Materials:
Colored plastic binder dividers
Hot glue gun and glue sticks
3" nails
Smoothie straws
Square dowels
A DIY sculpture project can fall apart when you don't consider the outdoor elements. With these weatherproof giant pinwheels, you won't have to worry about harsh rain or cold ruining them right away. The creative design incorporating heavy plastic binder dividers is sturdy if you give it a solid hold in the ground, giving you a brilliant display when the wind picks up.
---
8.

Concrete Garden Statue
Tools and Materials:
Concrete
Peat moss
Sand
Poly fibers
Silica fumes
Wire mesh
Hardware cloth
Plastic sheeting
Difficulty: Advanced
There is a lot of inherent freedom in these concrete statue plans, offering perspectives and general directions rather than step-by-step instructions for specific results. The results are uncertain, and it can take some trial and error to get them right. If you have the fortitude to keep it up, making garden sculptures like this can turn into an excellent hobby.
---
9.

Chicken Wire and Moss Toadstool
Tools and Materials:
Bamboo canes
Chicken wire
Moss
Succulents
Difficulty: Easy
Take a break from artificial art and try to make organic creations like a moss toadstool. The chicken wire acts as a frame for moss and succulents, resulting in a quaint table of rich colors and textures.
---
10.

Giant Face Sculpture
Tools and Materials:
Concrete
Styrofoam
Utility knife
Difficulty: Intermediate
The technical side of this huge concrete face sculpture isn't demanding, but you might need some artistic chops if you want to execute a lifelike visage! Fortunately, making it is much easier than you might expect once you get used to working with styrofoam. The form doesn't have to be perfect and finessing it into a believable face after you make the mold may be a surprisingly simple task even if it's your first foray into sculpting. When you get the first one out of the way, a later tutorial walks you through an easy way to make duplicates of your face sculpture to fill out your yard.
---
11.

DIY Birdbath
Tools and Materials:
Terra cotta pots
Tray
Gorilla glue
Paint
Difficulty: Easy
You don't need to spend a fortune to add a birdbath to your backyard. With a few repurposed pots and some paint, these birdbath plans can transform cheap materials into a perfect garden sculpture that could almost pass as store-bought.
---
12.

Colorful Garden Globes
Tools and Materials:
Lighting globes
Mason jar lids
Adhesive caulk
Flat-sided marbles, river rocks, or other media
Paint
Water sealant
Difficulty: Easy
The gleaming gloss of these garden globes can add kaleidoscopic arrays of metallic and glassy glints to your garden. There are tons of materials to use as decoration, from marbles and glass bits to beads and seashells. Make it a fun project for the kids or make a collection yourself to space out among your flowers and shrubs.
Final Thoughts
If you want to give your green thumb a rest, a garden sculpture is a pleasant project to fill out a free afternoon. There are few material demands and with some brilliant takes on repurposed household items, you can create fascinating forms with minimal effort. Use these 12 DIY garden sculpture plans as inspiration or follow them through to completion, and you'll yield some incredible artwork you'll want to show off!
---
Featured Image Credit: Dean Drobot, Shutterstock