10 Best Ratchet Screwdrivers of 2023 – Reviews & Buying Guide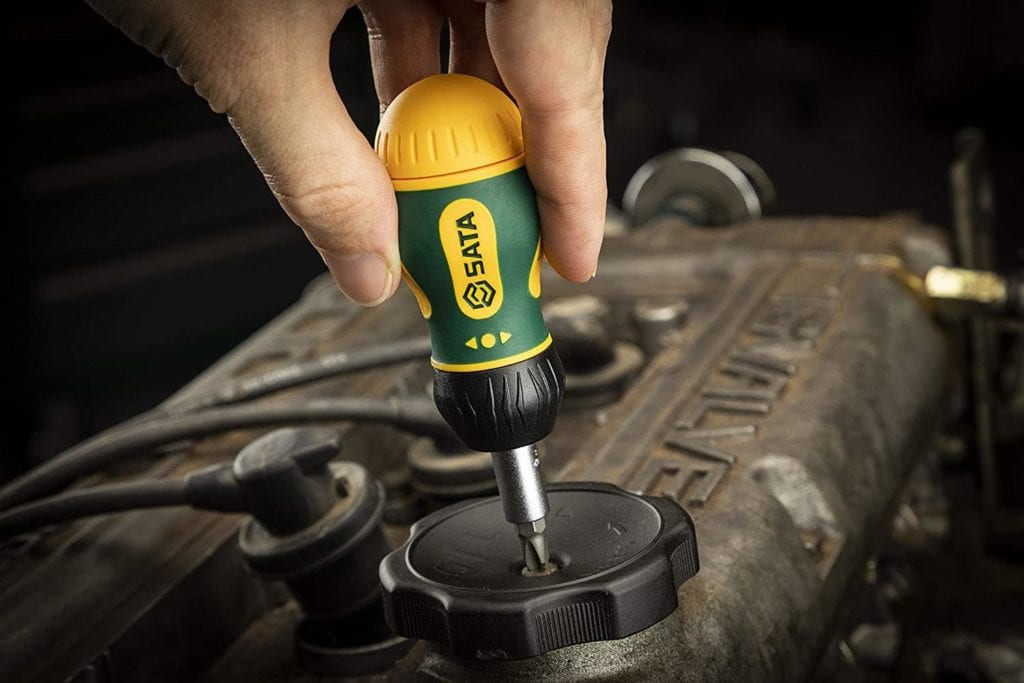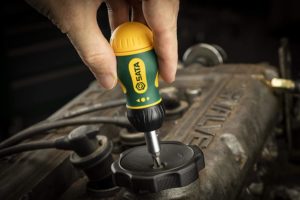 The screwdriver is one of the critical tools in every handyman's tool kit. It's been indispensable since its invention and has remained more or less the same the entire time. However, there have been recent improvements in this otherwise basic tool: ratcheting capability.
While simple tools are often the best, adding a ratcheting mechanism to a screwdriver increases driving speed because you don't have to relocate the driver on each turn. The decrease in excess movement makes for much faster installation and removal of screws.
The best ratcheting screwdrivers are agile and comfortable, with solid torque and a robust ratcheting mechanism. Here are 10 of our favorites.

A Quick Glance at Our Favorite Picks in 2023
Rating
Image
Product
Details

Best Overall

CRAFTSMAN CMHT68001 Ratcheting Screwdriver

Comes with 24 bits
Telescoping extension
Multiple grips for different applications
CHECK PRICE

Best Value

Stanley 66-358 Stanley Stubby Ratcheting Screwdriver

Comes with 6 basic bits
Compact for easy carry
Magnetic extension
CHECK PRICE

Williams WRS-1 Magnetic Ratcheting Screwdriver

Magnetic tip
Simple design
3-setting ratchet
CHECK PRICE

Klein Tools 32558 Multi-Bit Ratcheting Screwdriver

Heavy-duty ratcheting
3-setting ratchet mechanism
Comes with 10 bits
CHECK PRICE

IRWIN Tools 1948774 Ratcheting Screwdriver

Comes with 8 bits
In-handle storage
Comfort-grip handle
CHECK PRICE
The 10 Best Ratcheting Screwdrivers
1.

CRAFTSMAN Ratcheting Screwdriver – Best Overall
Craftsman has a long history of producing quality tools. This screwdriver is no exception. Its three-setting ratchet adjustment makes tightening or loosening a breeze. It also sports three grip zones specialized for speed, maximum torque, and delicate operations.
The telescoping bit extension is also useful. It allows you to increase control by shortening the extension or getting into tight spaces with a longer bar. The bar, by the way, is chrome-plated to prevent rust. This driver will serve you well in most instances. It comes with 24 bits, which gives it a wide range of applications. If you lose a bit somewhere tight, there's even a telescoping magnet to help retrieve it.
This straightforward tool comes with relatively few downsides. The first is that it doesn't come with nut driving or hex bits, which means there are fasteners you won't be able to tighten right out of the box. The second is that the bit extension doesn't come out of the screwdriver. The driver won't fit in the carry case once the bit extension is installed.
Pros
Comes with 24 bits
Telescoping extension
Multiple grips for different applications
3-setting ratchet adjustment
Cons
No nut driver bit or hex bit.
Extension doesn't come out of screwdriver.
---
2.

Stanley Stanley Stubby Ratcheting Screwdriver – Best Value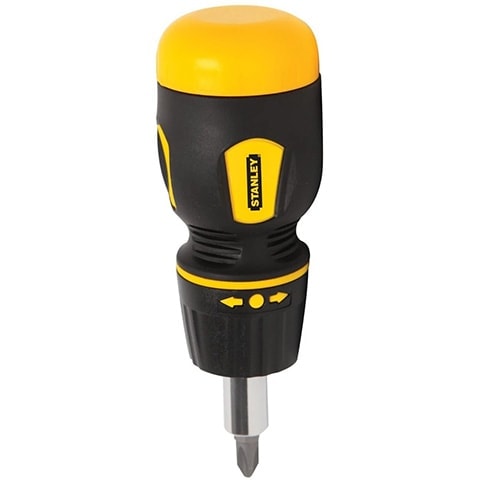 Stanley makes one of the best ratcheting screwdrivers for the money, and the Stubby Ratcheting Screwdriver is an effective driver for basic applications. It comes with six bits, split between Phillips and flathead. This makes it useful for the vast majority of applications. There are some screws for which you'll have to purchase bits to add to the collection.
The ratchet has three settings, activated by a ring on the handle. It can ratchet clockwise and counterclockwise and operate as a fixed screwdriver. While this driver is a great go-to for basic jobs, it has some downsides. The biggest one is that it's very short.
This results in two problems. The first is that the short bar decreases torque, so it's not the ideal tool for heavy-duty jobs. The second is that it's not long enough to reach tight spaces. You'll need to have room for your entire hand whenever you're using this driver.
Pros
Three-setting ratchet
Comes with 6 basic bits
Compact for easy carry
Magnetic extension
Cons
Low torque
Bad for tight spaces
---
3.

Williams WRS-1 Magnetic Ratcheting Screwdriver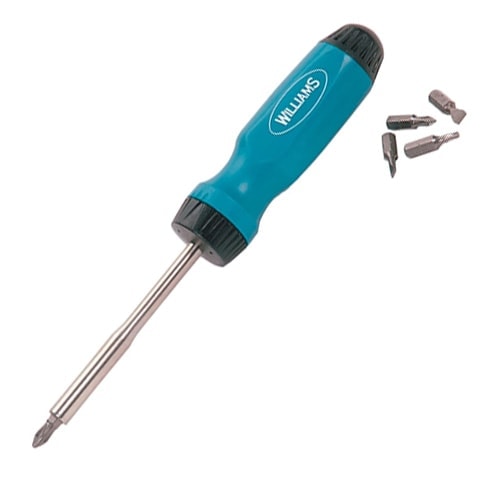 This 9-inch screwdriver is a simple, adaptable tool for multiple jobs. It comes with five bits, with additional bits available for purchase. The length of the bar allows it to get into hard-to-reach spaces. The magnetic tip decreases the likelihood of losing bits.
However, the bits are stored in the screwdriver's handle, which makes it more than just rattle while you work. The cap has a habit of popping off, which is inconvenient, especially if the loose bits fall out.
Pros
9" length
Magnetic tip
Simple design
3-setting ratchet
Cons
Only comes with 5 bits
Cap comes off of in-handle storage
Occasionally skips when ratcheting
---
4.

Klein Tools Multi-Bit Ratcheting Screwdriver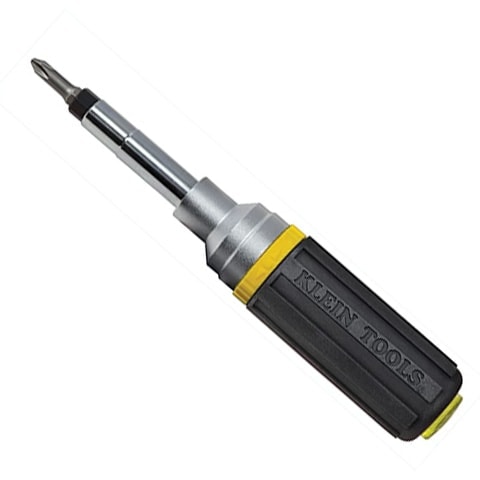 Klein has made an excellent heavy-duty ratcheting screwdriver. The ratcheting mechanism and the anchor in the handle are designed to prevent slippage and provide maximum torque. Overall, Klein's screwdriver would be a solid addition to anyone's tool kit.
The kit comes with 10 bits. This isn't the maximum number any kit comes with, but it covers one of the wider ranges of common bit types on this list. The initial kit comes with three nut drivers and one hex bit, unlike others that come with none in these varieties.
The tool is built for heavy-duty use. It has a high-torque ratcheting mechanism and what the manufacturer calls a "torque-proof anchor." Like other models, the Klein tool has a three-setting ratchet mechanism. So, it can be used clockwise, counterclockwise, or fixed like a regular screwdriver.
Regarding drawbacks, the bits are customized for the tool, so you won't be able to use your old bits in the new driver. The extension is also not magnetized.
Pros
Heavy-duty ratcheting
3-setting ratchet mechanism
Comes with 10 bits
---
5.

IRWIN Tools 1948774 Ratcheting Screwdriver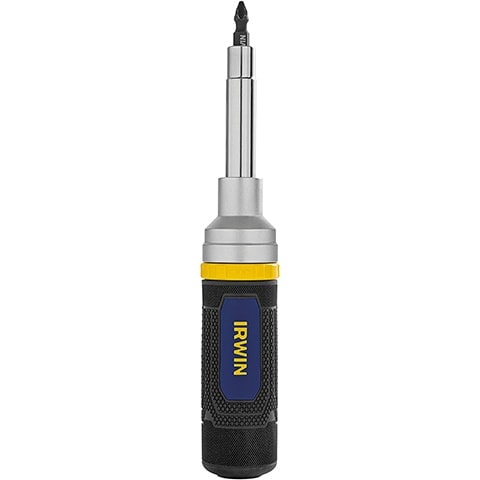 Irwin's 8-in-1 ratcheting screwdriver has a lot to offer. The eight bits it includes don't compare to larger sets, but they cover many of the most important bases, with Phillips, slotted, hex, square, torx, and nut drivers. It also sports a comfortable grip handle with in-handle storage for the bits.
The handle also has three grip zones, and you can apply varying degrees of pressure to the tool. Additionally, it's compatible with standard double-sided bits, which means you don't have to buy their product to upgrade or replace.
There are some flaws with this tool, however. The bit anchor is shallow and non-magnetic, so you'll find yourself losing bits. It also doesn't include a smaller slotted bit for more delicate jobs.
Pros
Comes with 8 bits
In-handle storage
Comfort-grip handle
Cons
Bits fall out
Missing small slotted bit
---
6.

Jakemy Home Rotatable Ratchet Screwdriver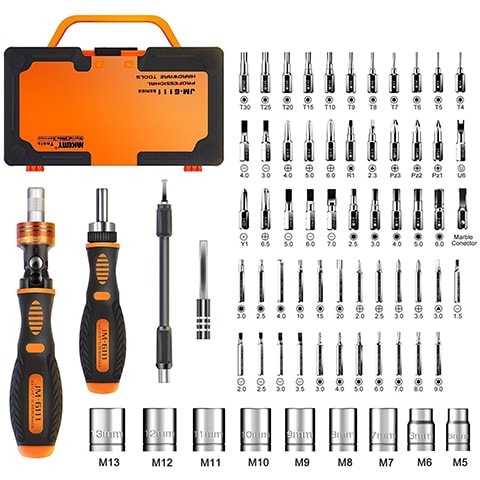 Jakemy makes one of the more extensive ratcheting screwdriver sets. It includes two bar lengths and 68 bits, so you should be covered in most applications. It also comes with two sizes of handles and a carrying case.
Altogether, it would be an exemplary set without so many drawbacks. The first one is a big one; the bits are incredibly soft, so they strip very easily. In addition, the ratchet mechanism doesn't offer as much durability as desired.
Finally, the carrying case closes with such force that it can easily break. The result is a set that looks extremely useful but in practice, shouldn't be used for anything heavy-duty as most of the components are very fragile.
Pros
68 bits
Carrying case
2 bar lengths
2 handles
Cons
Bits strip easily
Fragile ratchet mechanism
Fragile carrying case
---
7.

WORKPRO 12-in-1 Multi-Bit Ratcheting Screwdriver

This driver comes with several highlights. It has a total of 12 bits in a double-ended format and has in-handle storage. Additionally, it has a quick-lock mechanism for holding bits in place that will work with most ¼-inch bits, which is great if you have a collection of bits that aren't included in the set.
Unfortunately, some of the advantages are also disadvantages. First, it's difficult to get the bits out of the handle to use them. Using another bit to pry out the next one is frequently necessary. The bits are also very soft, which makes them easy to strip under heavy use. Finally, there's no bit extension, so if you're trying to get into a tight space, the screwdriver isn't especially useful.
Pros
12 bits
Quick-lock mechanism
Cons
Hard to retrieve bits
Bits strip easily
No bit extension
---
8.

Megapro Marketing Ratcheting Screwdriver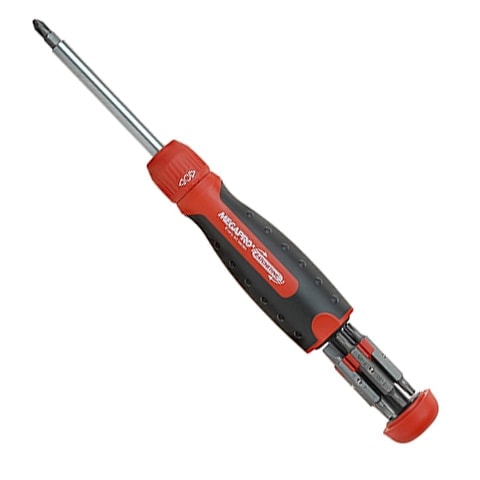 Another 12-in-1 model comes from Megapro. One of the more interesting features of this driver is the pull-out storage in the handle. Rather than dropping the bits into the handle, the handle pulls out, allowing you to snap them into their storage compartments. This solves some of the downfalls of other models.
Unfortunately, that's the most remarkable aspect of this driver. While the company claims 225 pounds of torque, the ratcheting mechanism seemed weak. Additionally, as we've seen with a few other models, the bits are soft, which makes them easy to strip. Finally, it's not magnetic, so bits habitually pop out of the extension.
Pros
12 bits
Pull-out handle storage
Cons
Weak ratchet
Bits strip easily
Not magnetic
---
9.

SATA 19-in-1 Multipurpose Ratcheting Screwdriver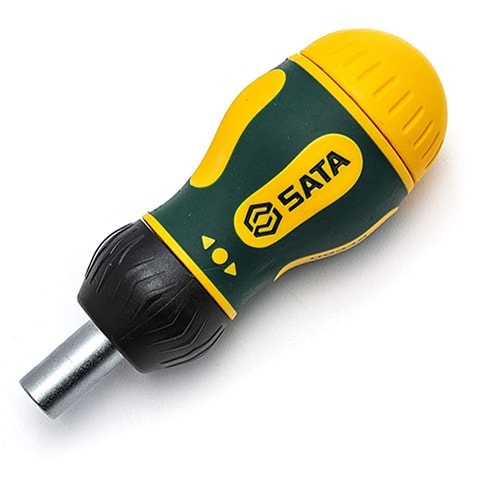 SATA's ratcheting screwdriver set doesn't make the top of our list. It comes with 16 bits that are stored in the handle. It also has a three-setting ratchet, so it can ratchet clockwise or counterclockwise or remain fixed as a regular screwdriver. There are several drawbacks, however. The first is that it's very small.
Not only does this make it difficult to get into tight spaces, it also makes it hard to turn the handle. This makes it more suitable for occasional hobby jobs than any heavier-duty application.
The ratchet adjustment knob is also very sensitive, so you can accidentally switch settings while turning the handle. Finally, it's not magnetic, and it won't work with all your ¼-inch bits.
Pros
16 bits
3-setting ratchet
In-handle storage
Cons
Sensitive ratchet knob
Small
Not magnetic
---
10.

Titan 11014 High Torque Ratcheting Screwdriver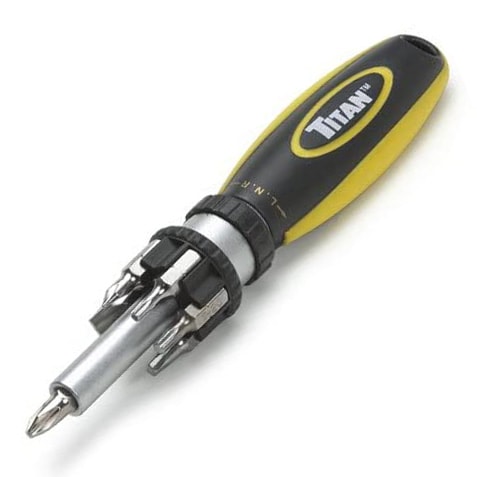 The Titan screwdriver is perhaps the most basic of the models we reviewed. It comes with seven bits and has a three-way ratchet setting. The drawbacks outweigh the functionality of the screwdriver.
First, the extra bits are stored on the outside of the shaft. This not only gets in the way when you're working but makes it easy to knock them off when the driver is in use.
It's also smaller than expected, which is particularly disappointing in the case of the bit extension. It's very short, so it's useless in tight spaces. It also decreases the power of the driver.
Pros
7 bits
3-way ratchet setting
Cons
Bits store on the outside
Short bar
Small overall size

Buyer's Guide – How to Choose the Best Ratcheting Screwdriver
Overall Size
The overall size is a consideration for comfort and the ability to exert force. Smaller handles are more difficult to put a lot of power on, while larger handles may not fit where you need them to. Ideally, you can select a brand with a standard and a precision handle.
Grip Quality
The quality of the grip influences the durability and comfort during use. A good driver will have a sturdy handle that can take a beating. It should also have a rubberized grip to prevent discomfort while using the screwdriver.
Ratchet Mechanism
Not all brands list the maximum torque of the ratcheting mechanism. However, it shows the level of punishment the mechanism will take. While you don't necessarily need an incredibly durable one for every application, a powerful driver will give you more versatility for heavier-duty projects.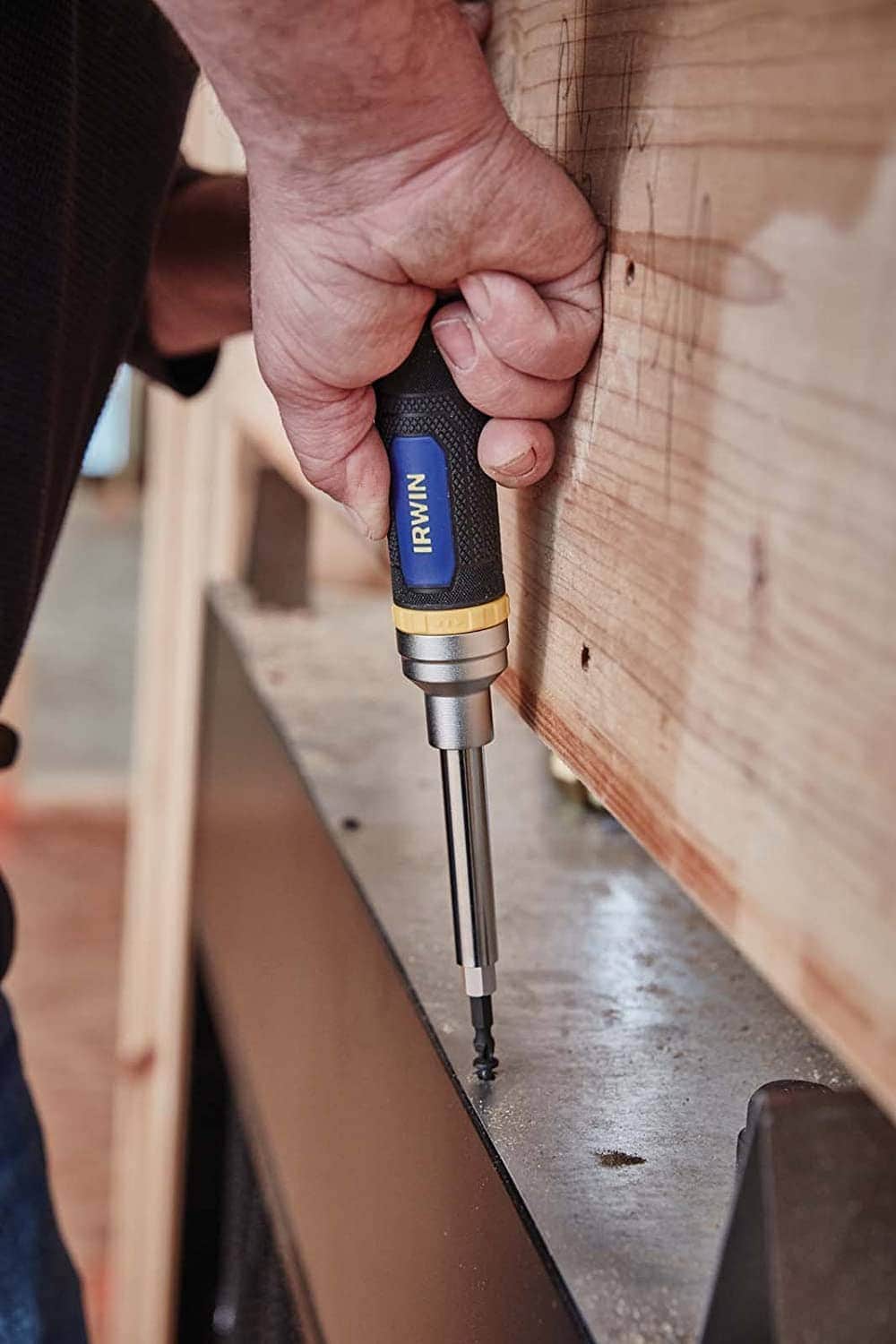 Bit Storage
The bit storage is a problem if a fistful of loose bits gets lost easily. So, the best screwdrivers come equipped with an easy way to store the bits. It could be a separate case or in-handle storage. Regardless of the form, an easy-to-use method for bit storage is essential.
Number and Type of Bits Included
To be as versatile as possible, a screwdriver should come with as many bits as possible. If a driver doesn't come with many bits, special attention should be paid to the types of bits available.
Related content:

Conclusion
We hope these reviews have been helpful as you look for the perfect ratcheting screwdriver. Our top pick is the Craftsman CMHT68001 Ratcheting Screwdriver. Its wide selection of bits and telescoping bit extension makes it an extremely versatile tool. If you're working on a budget, our best-value pick is the Stanley 66-358 Stubby Ratcheting Screwdriver. It comes with all the critical bits and a powerful ratcheting mechanism, making it a good selection for many applications.