5 Best Remote Start Portable Generators of 2023 – Reviews & Top Picks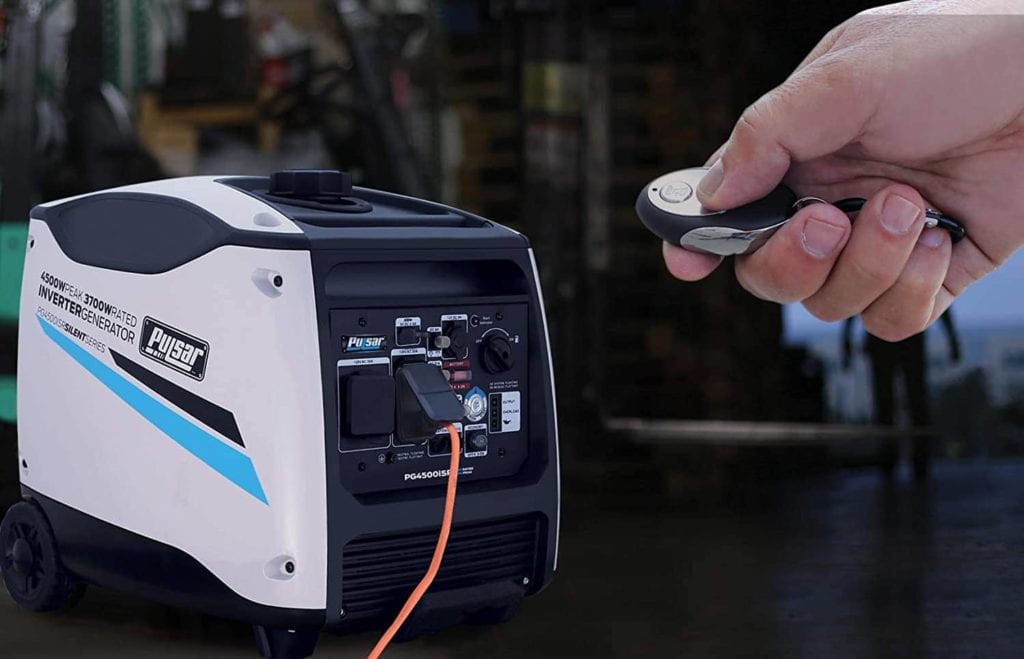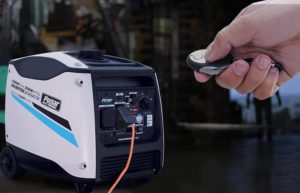 When the electricity goes out, it is always nice to have a backup generator nearby. However, it is even nicer to have a remote start portable generator. In these instances, you don't even need to run outside and start the generator — you can do it all remotely.
Many of these generators lean a bit too much on their remote start feature, though. They can be underpowered or overly expensive. In some cases, both are true. It is important to choose a high-quality remote start generator for this reason.
There is no generator that is perfect for everyone, though. It largely depends on what you plan on doing with it. Below, you can use our reviews to help you find the best remote start portable generator for your needs.
A Quick Comparison of Our Favorites (2023 Update)
Rating
Image
Product
Details

Best Overall

Pulsar Products PG4500iSR Inverter Generator

3700 running watts
63 dB
Versatile
CHECK PRICE

Best Value

Champion 100573 Open Frame Inverter Generator

Economy fuel
4000 starting watts
17 hours of run time
CHECK PRICE

Premium Choice

Westinghouse WGen7500 Portable Generator

11-hour run time
9500 peak watts
Many accessories included
CHECK PRICE

Firman P03608 Remote Start Gas Portable Generator

14 hours of run time
3650 running watts
CHECK PRICE

Firman P03603 Remote Start Gas Portable Generator

Inexpensive
CHECK PRICE
The 5 Best Remote Start Portable Generators
1.

Pulsar Products PG4500iSR Inverter Generator – Best Overall
The Pulsar Products PG4500iSR Inverter Generator is the best remote start generator on the market. It produces 4,500 peak watts and 3,700 running watts. It can run for 15 hours at half load, using only 3.2 gallons of fuel during that time. Of course, it also has a convenient remote start. You can start the unit from 80 feet away. It is decently quiet as well at 63 decibels (dB). When you're 80 feet away, you can hardly hear it. The compact design is obviously designed for portability. It has an extendable handle and never-flat wheels.
It does produce electrical power that is suitable for cellular devices, laptops, and similar sensitive electronics. It is perfect for camping and during a blackout. It is extremely versatile, which is largely why we rated it so high.
Moving and storing this generator is quite easy. If you need a generator to use only during certain periods, this is very useful.
Pros
3,700 running watts
63 dB
Versatile
Portable
15-hour run time
---
2.

Champion Open Frame Inverter Generator — Best Value
The Champion Open Frame Inverter Generator is designed to be quieter and lighter than a traditional generator. It produces only clean energy as well. To save fuel, you can use economy fuel as well.
It has a wireless remote key fob, allowing you to start and stop your inverter from up to 80 feet away. It is very quiet as well at only 64 dB. From a few yards away, you shouldn't be able to hear it. It is perfect for RVs, tailgating, and similar situations. It produces 4,000 starting watts and 3,500 running watts. It can also run up to 17 hours on gasoline.
If you purchase two, you can increase the power output even more. You can connect two of these machines and produce up to 2,800 watts. It also includes a 3-year limited warranty. You also get free lifetime technical support. This generator weighs just under 100 pounds.
There are some circumstances where this generator has defects. However, the customer service is quite high-quality.
Pros
Remote start
4,000 starting watts
17 hours of run time
Economy fuel
Cons
Generator defects are common
---
3.

Westinghouse WGen7500 Portable Remote Start Generator – Premium Choice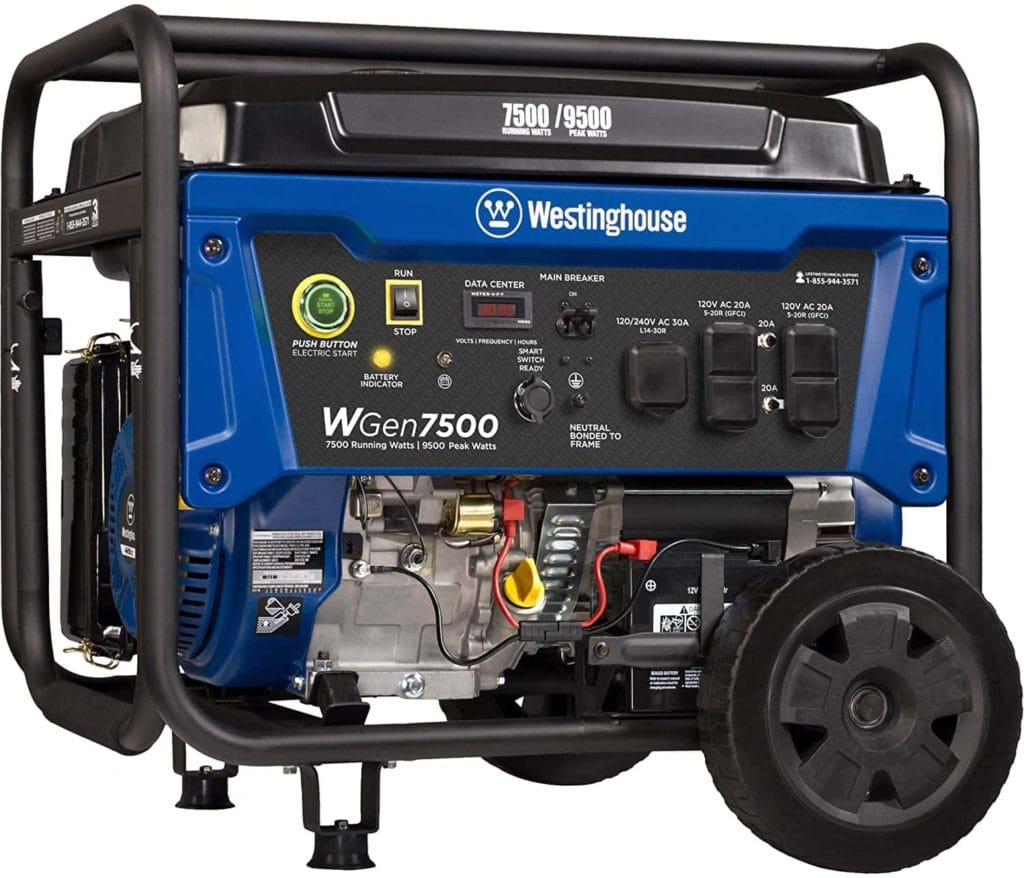 Out of all the portable generators we reviewed, the Westinghouse WGen7500 Portable Generator is one of the most expensive options on the market. However, you're getting what you pay for. It has 7,500 running watts and 9,500 peak watts. This is far more power than any of the other generators we reviewed in this article. It has 11 hours of runtime on a 6.6-gallon fuel tank. Of course, it does go through a bit more fuel than most other options on our list. If you don't need this much power, the increased fuel consumption is something to keep in mind.
It comes with a remote key fob and everything you need to maintain and use the portable generator. It has a very powerful engine and a long-lasting cast iron sleeve. It also features an automatic low oil shutdown, which prevents damage to the engine should it run out of oil. It has been functionally tested in a factory, successfully preventing defects and similar problems that plague other generators.
It has a 3-year limited warranty. This covers service, labor, and parts nationwide.
Pros
11-hour run time
9,500 peak watts
Many accessories included
3-year limited warranty
Cons
Expensive
Increased fuel consumption
---
4.

Firman P03608 Remote Start Gas Portable Generator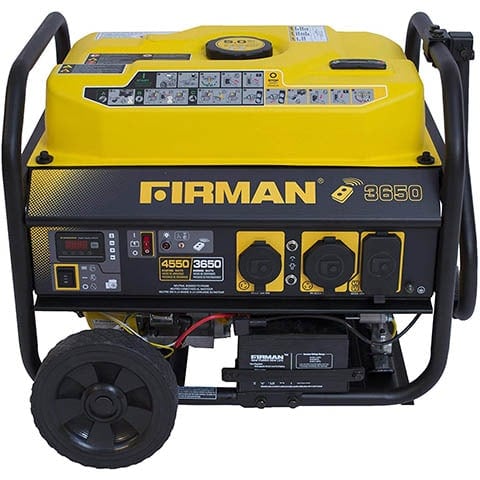 The Firman P03608 Remote Start Gas Portable Generator is not an awful generator, but there were several things we did not like about it. It can handle up to 3,650 running watts, which is about average as far as generators are concerned. It has a 208cc engine that has a low engine shutdown and a cast iron sleeve. These features are considered high-quality and can be very helpful for some users. It has a 5-gallon tank that can run the machine for 14 hours.
The fuel consumption of this machine is actually quite high. You will likely be paying for more fuel with this portable generator. It also features some never-flat wheels and high leverage folding handles.
The main problem with this generator is that it tends to arrive with damages. This is likely due to shipping, but it can cause the machine to be practically worthless upon arrival. The electric start isn't very durable and tends to break after only a few months. The customer service isn't high-quality either, so you will have little luck getting it fixed.
Pros
14 hours of run time
3650 running watts
Cons
Shipping damage common
Electric start breaks easily
---
5.

Firman P03603 Gas Portable Remote Start Generator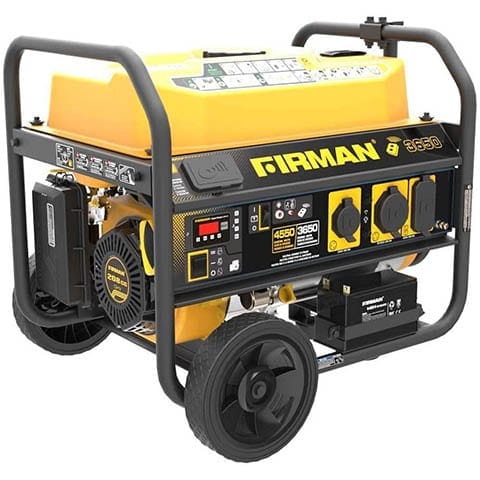 The Firman P03603 Remote Start Gas Portable Generator is inexpensive. However, that doesn't necessarily mean that it is a good choice for homeowners on a budget. There were quite a few things we didn't like about it. It is much smaller and more portable when you compare it to other options. But you're giving up a lot for this cheaper price and portability.
It has a 208cc engine that features a low oil shutoff and cast-iron sleeves. These are default features in most portable generators, however – nothing to be too excited about. It has a 5-gallon tank. When it is full, it can run the machine for 14 hours. It also has a control panel and quite a few covered outlets.
However, we also discovered that it really isn't that quiet. It is for a cheaper machine, but most are about as quiet as this one. It has an automatic choke. This isn't terrible, but it really doesn't work very well. This causes the remote start generator to fail multiple times before it actually starts. There are some problems with shipping, though. Many people received damaged units.
The remote starter really isn't worth much either. It is poorly made and tends to break rather easily.
Cons
Not terribly quiet
Shipping is poor
Low-quality choker and remote start
---
Buyer's Guide – Choosing the Best Remote Start Portable Generators
When you're camping or in the middle of a blackout, one of these generators could be essential. The last thing you want is to discover that your remote start generator doesn't actually work in the middle of an emergency or tailgating trip.
For this reason, it is essential that you choose a generator that works well and has the features you need. While all the generators we reviewed have a remote start, not all of the generators have the same other features. You need to keep this in mind when choosing the perfect portable generator for you!
Power
Some generators can produce a lot of power, while others can only produce a small amount. You need to consider what you're trying to power before purchasing a generator. If you purchase a generator that is not rated for whatever you need to power, you aren't going to be able to use it. The easiest way to do this is to figure out the watts needed for whatever you want to power. Then, find a generator that produces at least that much power.
Usually, more expensive generators can produce more power. They're typically larger, which drives the cost up. You need about 5,000 watts to power all the basics in a house. These generators are usually not powerful enough to run a whole house. Instead, they're more suitable for things like camping and tailgating – where you just have a few small appliances you need to keep running.
Safety
If used incorrectly, portable generators can be deadly. You should never use them in an enclosed area. They create carbon monoxide, which is extremely deadly but difficult to detect. You'd be surprised by the number of people who die each year because they were improperly using these units.
You should never use them in your house – not even in your garage or basement. Carbon monoxide can leak from these areas to other parts of your home, where you will breathe them in and potentially fall into distress.
Luckily, many portable generators now come with safety features that prevent accidents like these. Some have CO-detection technology. If they detect too much CO in the air, they will automatically turn off to prevent it from building up any more. These safety features can be essential in some situations. While you may have to pay a bit extra for generators with these safety features, they may be worth it.
Price
We do not know your own financial situation, so we can't tell you exactly how much you should pay for a generator. However, we can tell you that there are many fantastic generators at a variety of prices. No matter your budget, you can likely find something well-made.
However, you do need to be realistic when it comes to these machines. Typically, the most powerful models are going to be very expensive. It is nearly impossible to find a very powerful model that is also well-built at a budget price. If you need a powerful machine, you will be paying for it.
Cheaper machines aren't necessarily low-quality. But they usually do not create as much power as some other options and are missing some key features. If that is okay with you, then a budget option may be perfectly fine. Otherwise, you should plan on purchasing a machine with a bit more oomph.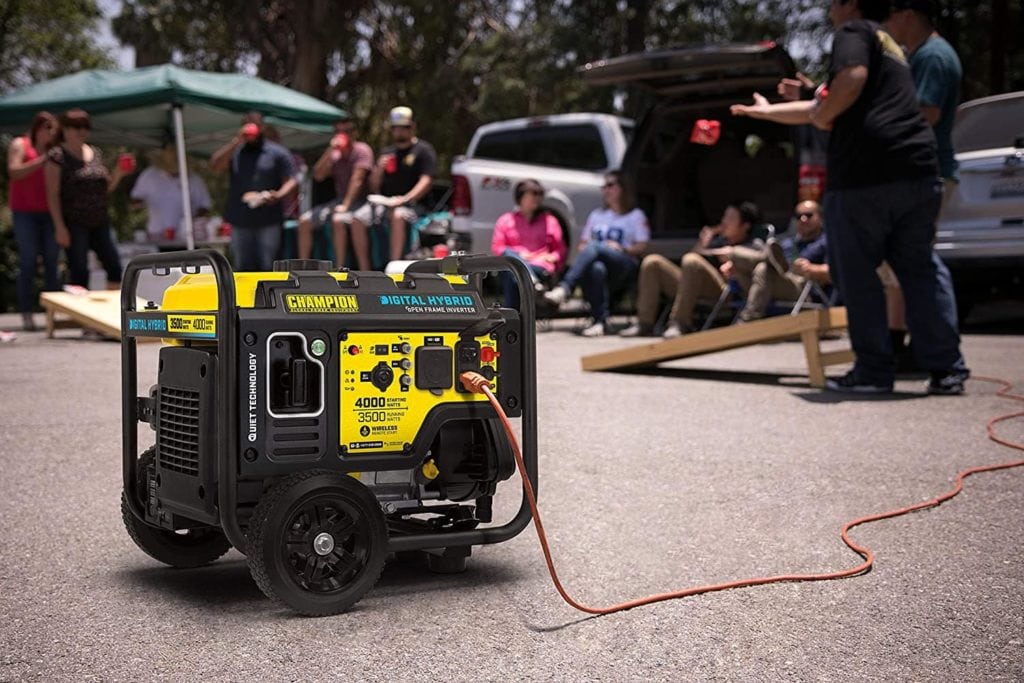 Durability
Portable generators are expensive. They can range from a few hundred dollars to thousands, depending on what you purchase. This is a significant investment. You do not want your generator to break months or even years after you purchase. Choosing a durable option is essential for protecting your investment.
Sadly, companies do not typically list the durability of their model on the product description. When companies do discuss durability, it is usually not very accurate or specific.
You can look at warranties, but these don't always tell you about durability. While you would assume a company would not warranty a machine for longer than they expect it to last, this isn't always true. Furthermore, most warranties are very short anyway, so they don't provide an accurate glance at how long the company thinks the machine will last.
Instead, you need to rely on reviews like ours. For each generator we reviewed, we were very careful to consider how each generator stood up to the test of time. This includes things like shipping damage and defects. If a machine commonly gets damaged when being shipped, it probably isn't going to do you much good.

Conclusion
Out of all the options we reviewed, we found the Pulsar Products PG4500iSR Inverter Generator to be the best remote start portable generator available. It produces enough power for most people without being incredibly expensive. It also has a fair share of features and isn't missing anything significantly important. For most people, it is likely going to be the best option. If you are looking for a good remote start portable generator but you don't want to break the bank, check out our best value option — the Champion 100573 Open Frame Inverter Generator.
We hope this review helped you figure out exactly which remote start generator is perfect for your situation. Whether you're camping or tailgating, these generators can help you power a few small things fairly easily.
Related Reads: