24 Free DIY Coat Rack Plans You Can Make Today (with Pictures)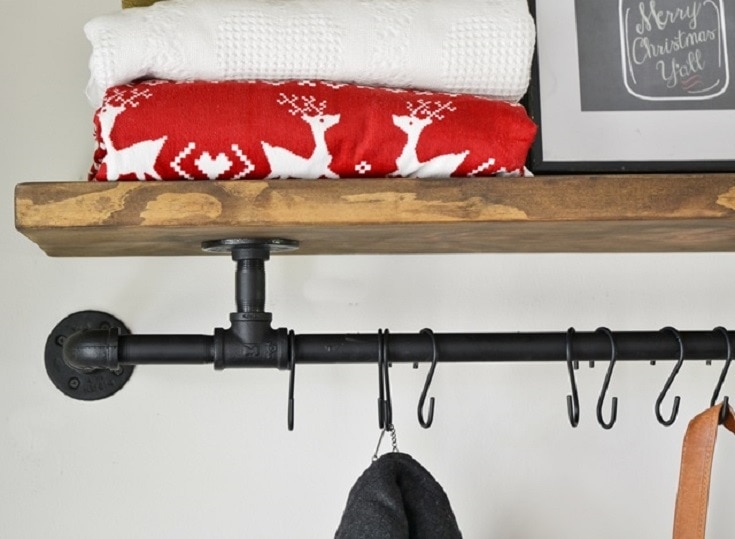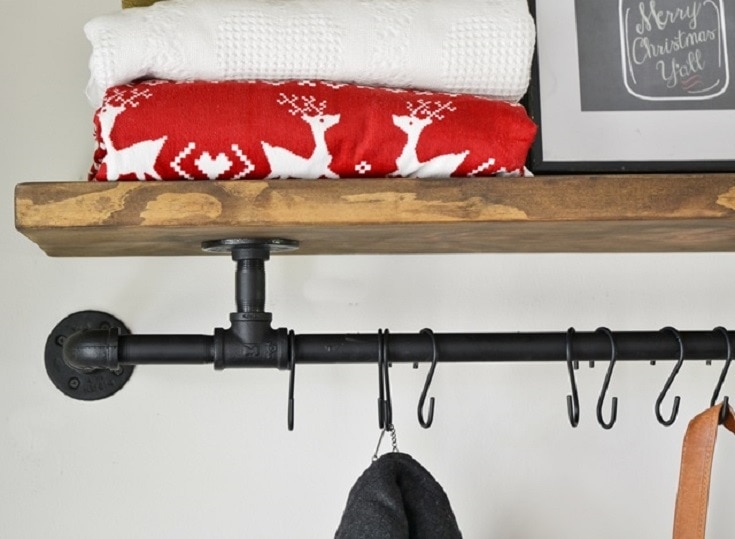 Learning how to build a coat rack is fun and rewarding. Many coat rack designs range from easy to challenging, so no matter your craft experience, there's a design for you! Once you are finished, you'll have a piece of craftsmanship you can admire and be proud of for years to come.
We've gathered a list of 24 designs. Some are quite simple and easy; others are more complex and require more tools. These designs come with detailed instructions, so you'll have everything you need to build your custom coat rack!

The 24 DIY Coat Rack Plans
1.

Farmhouse Style Coat Rack from Prodigal Pieces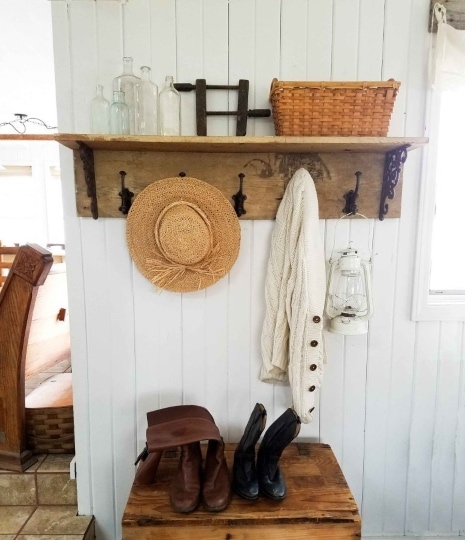 Difficulty: Easy
This design has a simple, rustic appeal. You'll need to have woodworking skills and standard hand tools. This coat rack also includes a built-in shelf! It's a stylish way to organize your entryway.
---
2.

Simple $10 Coat Rack from I Like to Make Stuff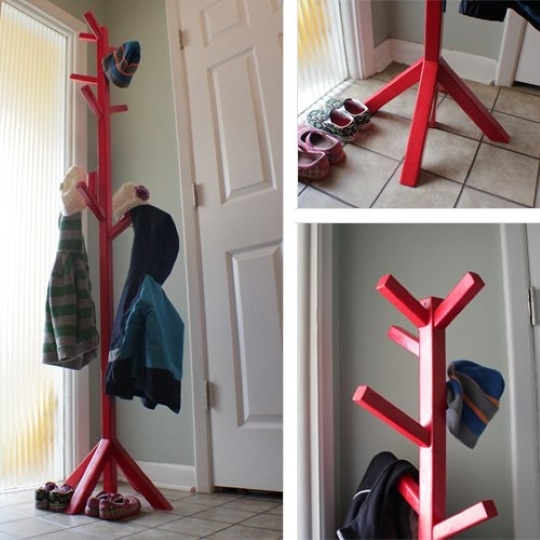 Difficulty: Easy
This coat rack is great for the budget!  It has a minimalistic style, and it also happens to be quite simple to make. It uses three 2×2 sections of wood and some screws. That's it!
---
3.

Rustic Oar Coat Rack from Susie Seasongoods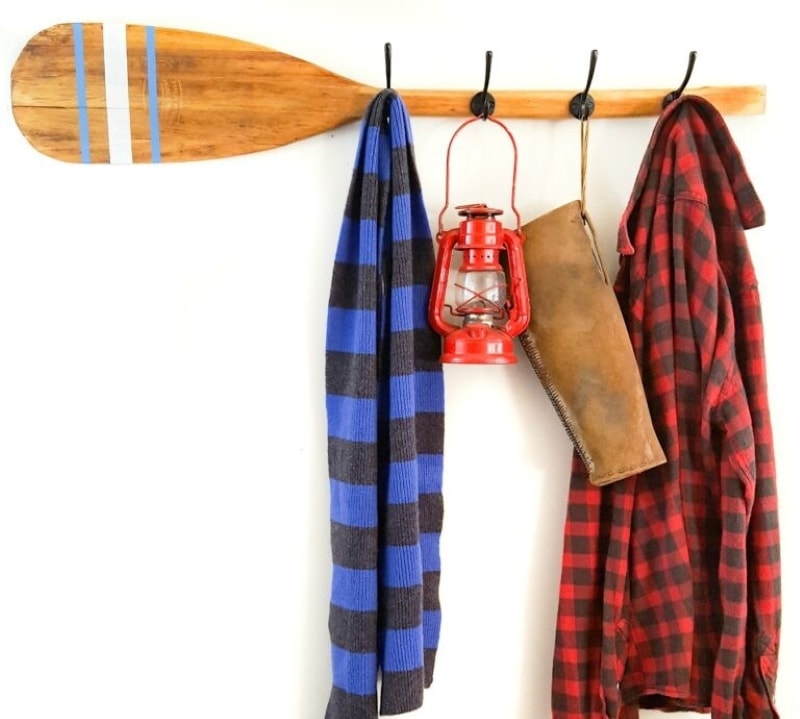 Difficulty: Easy
Get ready to add a nautical flair to your entryway! This design refurbishes an old oar into a unique and fun coat rack. It's also, so far, the easiest design to make on this list. All you need is an old oar, coat hooks, two D-rings, and spray paint.
---
4.

Entryway Coat Rack With Storage Bench from Family Handyman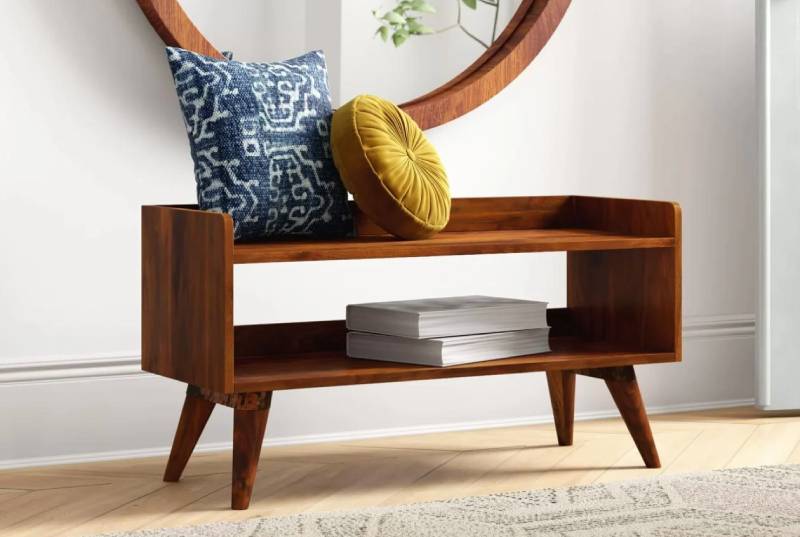 Difficulty: Advanced
This design is for the more ambitious craftsman. The storage bench and built-in cubbies help you organize everything cluttering your entryway. It's a more complex design but pays off with a classic look and high functionality. Be prepared for in-depth woodwork.
---
5.

DIY Chalkboard Coat Rack from DIY Projects with Pete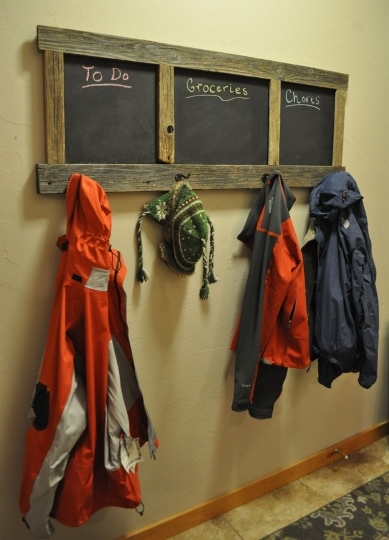 Difficulty: Medium
Organize your life with this chalkboard coat rack!  In addition to hanging your coats, you can leave messages for your family, and write grocery lists or reminders with the built-in chalkboards.
---
6.

Pallet Coat Rack from Re-Fabbed by Brooke Riley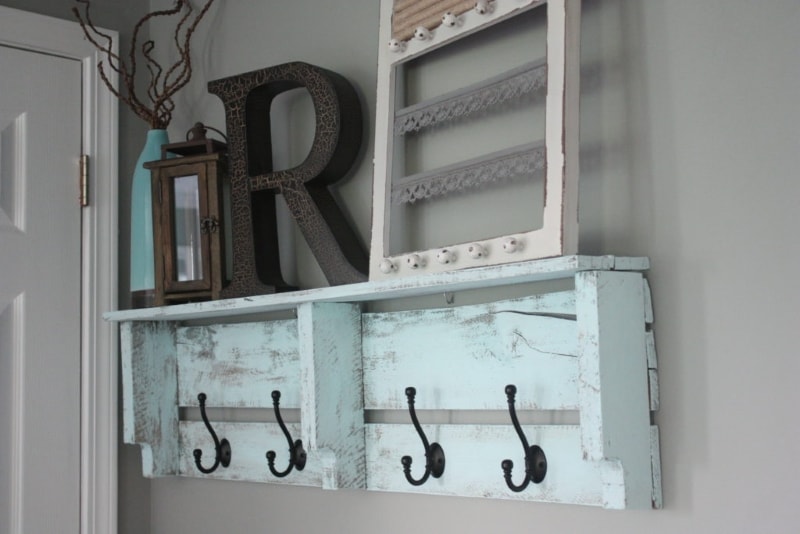 Difficulty: Easy
This coat rack design looks amazing and is a great way to recycle an old pallet into something useful. It has an excellent farmhouse vibe and takes very little time to assemble.
---
7.

Nautical Pallet Coat Rack from Artsy Chicks Rule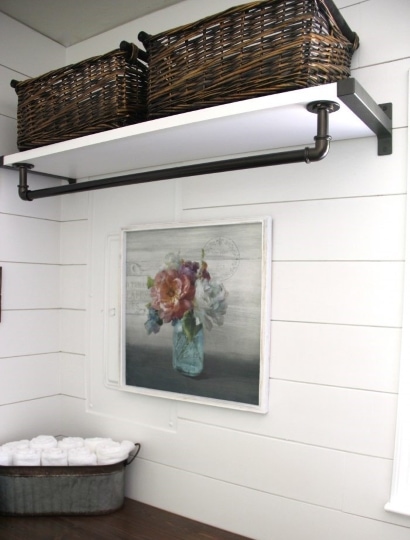 Difficulty: Easy
This is another pallet design, but it's much different than the previous plan. It's great for a lake house, beach house, or nautical enthusiasts.
---
8.

Rustic Tree Branch Coat Rack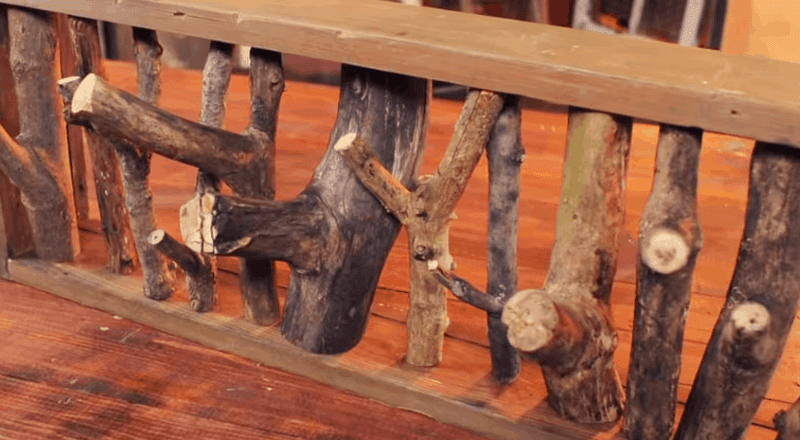 Difficulty: Easy
This super cool, unique design uses tree branches for an outdoor, woodsy theme. It is quick and affordable, as long as you have some tree branches lying around and some wood trim.
---
9.

DIY Lego Coat Rack from Erin Spain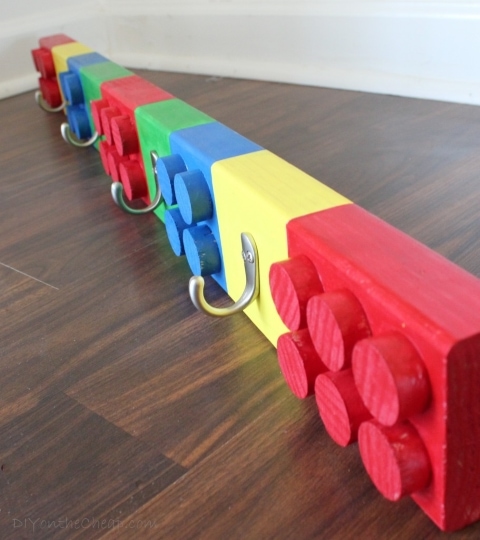 Difficulty: Medium
Here's a great design for the kid's bedroom! They are sure to love it. You'll need several colors of paint to make the coat rack bright and fun, just like Legos.
---
10.

DIY Modern Coat Rack from BorkWood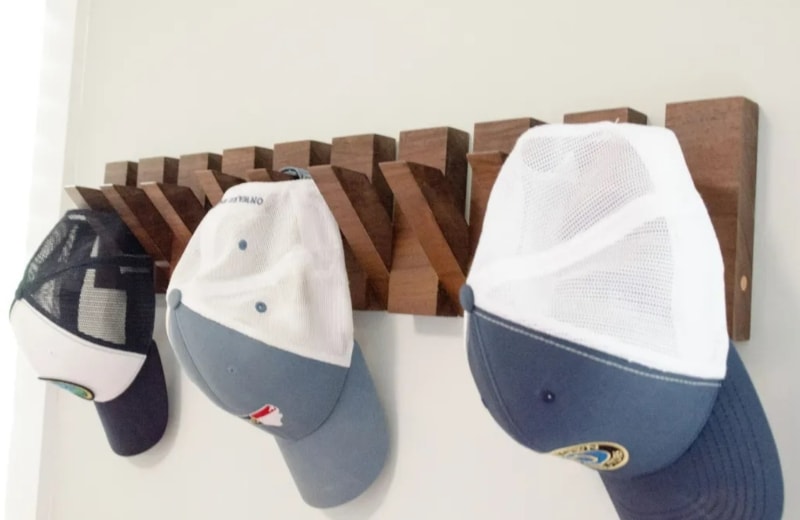 Difficulty: Medium
This is an elegant coat rack with a complex design. The coat hooks on it are retractable, so when not in use, they can lay flush against the wall for a sleek, minimalist look. Be prepared for some detailed woodwork.
---
11.

Industrial Coat Rack from Beneath My Heart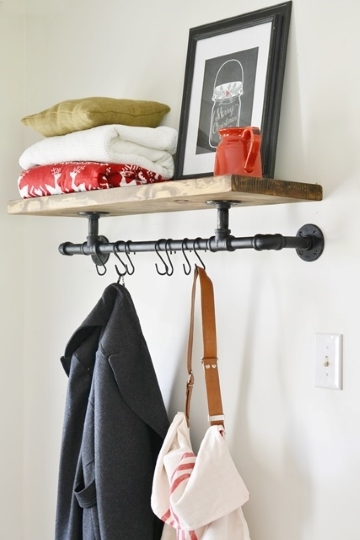 Difficulty: Easy
This design uses steel pipes for a sturdy, industrial design. It looks awesome and comes with a built-in shelf for more storage use.
---
12.

Pipe Industrial Coat Rack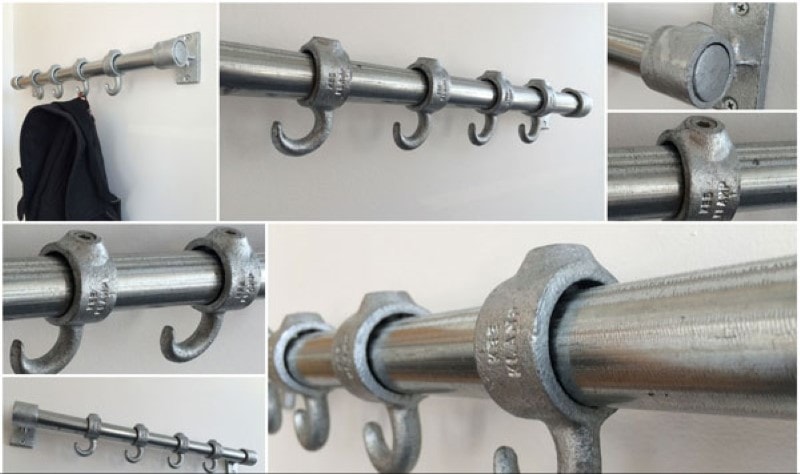 Difficulty: Easy
Here's another steel pipe design with a simpler look. It comes with sturdy, industrial hooks. The hooks slide into place easily on the pipe and screw down with an Allen Wrench, so there is no need for drilling into metal or welding.
---
13.

Standing Coat Rack from My Love 2 Create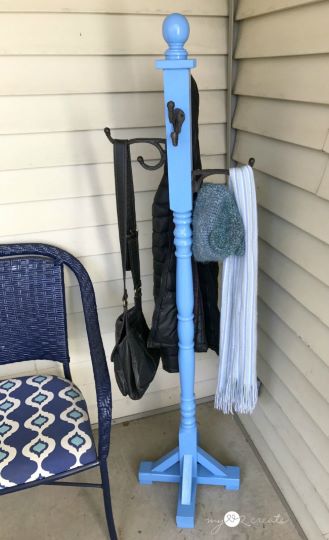 Difficulty: Easy
This standing design uses a Newell post for an easy base, and all you need to do is add legs. It's a similar style to the $10 coat rack but with a slightly more artistic design.
---
14.

Driftwood Rustic Coat Rack from Sustain My Craft Habit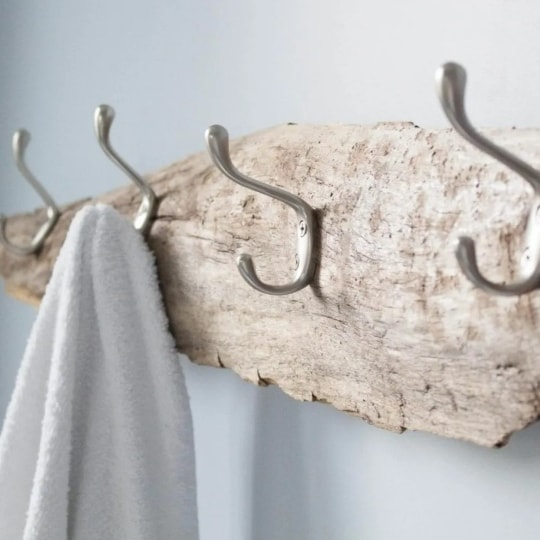 Difficulty: Easy
This is an excellent way to recycle a piece of driftwood into a functional piece of art you can admire every day. It has a great coastal vibe and is remarkably simple to make.
---
15.

Tree Branch Coat Rack from Rogue Engineer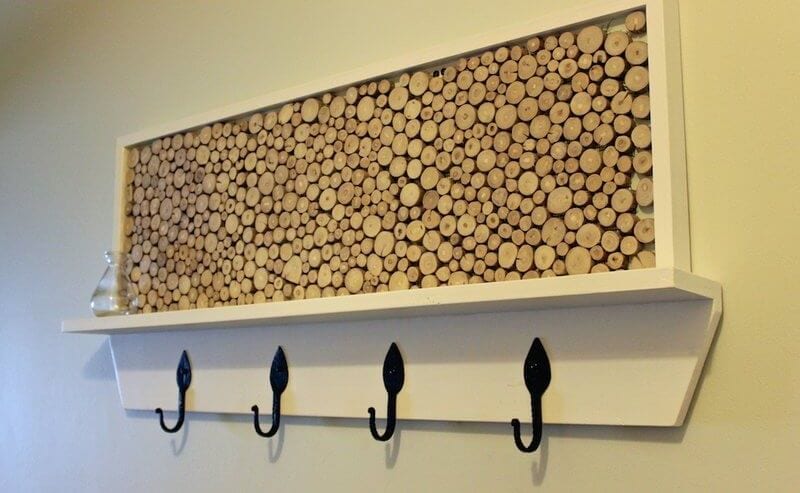 Difficulty: Advanced
This design is highly involved but yields a very unique piece of art. You'll need a bunch of tree branches, but wine corks are also a fun option!
---
16.

Concrete and Broomstick Coat Tree from Ana White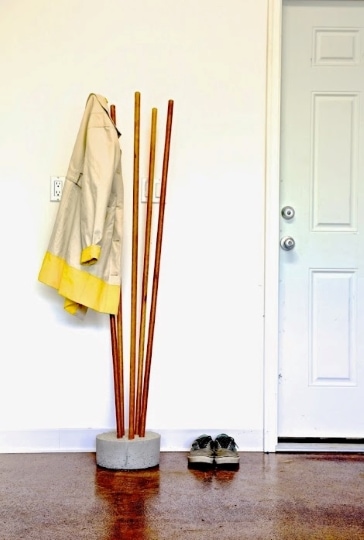 Difficulty: Easy
Here's a modern and sleek design for your entryway. It has the added benefit of using zero screws or other hardware and only requires a bucket, concrete, and broom handles.
---
17.

DIY Horseshoe Coat Rack from Pinspired to DIY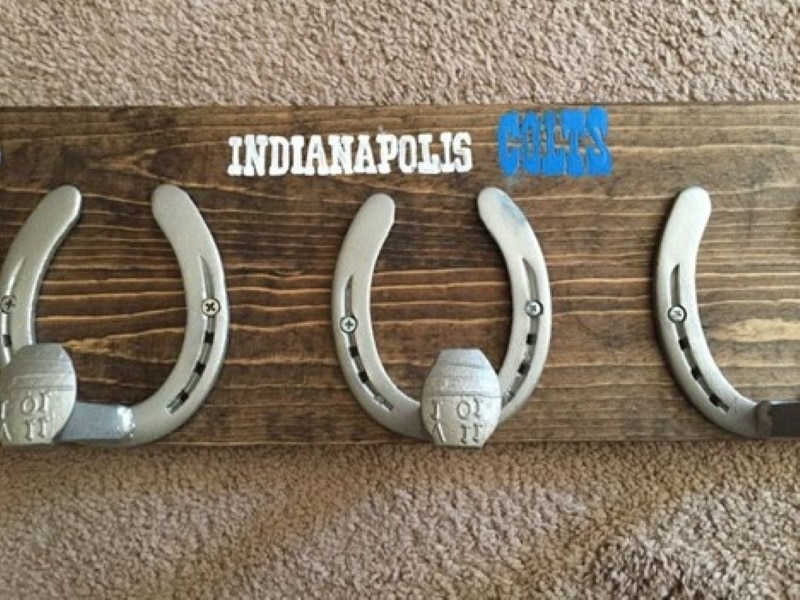 Difficulty: Advanced
For all the equestrian enthusiasts, here's the perfect coat rack to highlight your entryway! It would look great in a stable as well. The design involves connecting railroad spikes to the horseshoes, and you'll need welding experience to complete it.
---
18.

Railroad Spike Coat Rack DIY from Scavenger Chic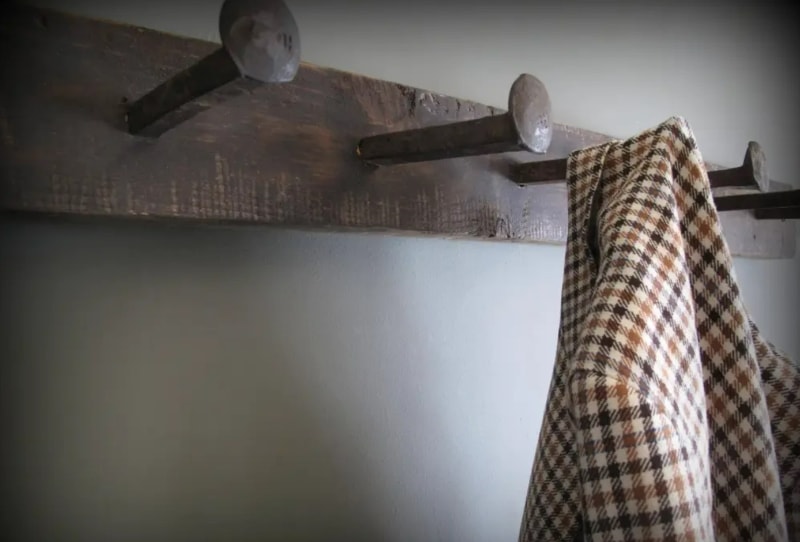 Difficulty: Easy
This rustic design is a terrific way to make art from old railroad spikes. You only need a 2×4 to put them in, and you'll have a functional coat rack. It looks great in a cabin or workshop!
---
19.

Minimalistic Entryway Coat Rack from Idle Hands Awake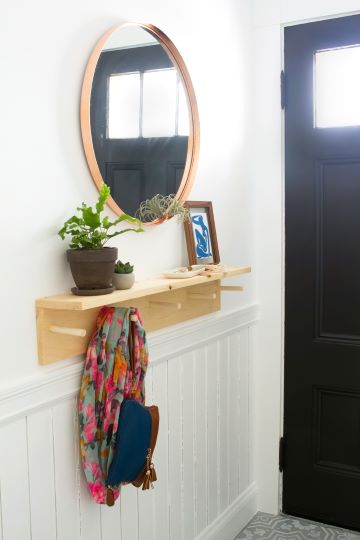 Difficulty: Medium
This coat rack has a clean and bright look. It uses just a couple of boards and wooden dowels. It's excellent for small entryways or if you're just going for a simple presentation.
---
20.

Old Shutter Coat Rack from the Charlotte Cottage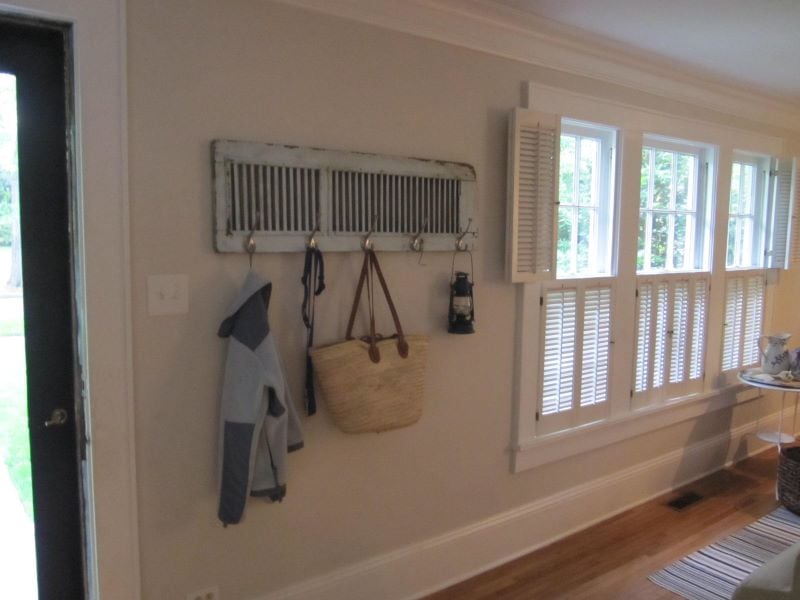 Difficulty: Easy
Here's one that uses a worn-out window shutter to make a fun a coat rack with a rustic vibe. If you have the shutter, the rest of the design involves installing coat hooks and D-hooks to hang it on the wall.
---
21.

One-Piece Coat Rack from Bob Vila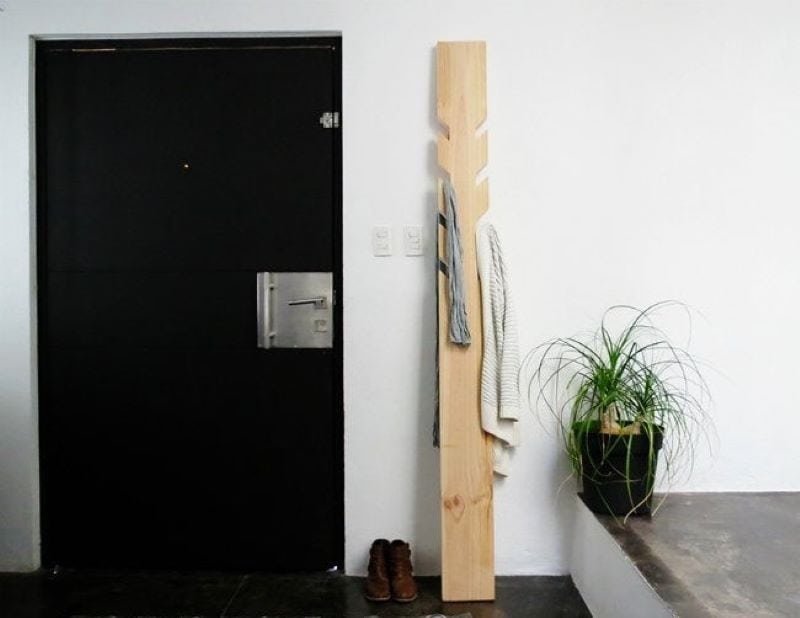 Difficulty: Easy
This coat rack is another minimalist design. Using only a single plank of wood, you can make a functional rack that looks modern and unique. All you need to do is cut notches into the wood.
---
22.

DIY Wooden Dowel Coat Rack from Style by Emily Henderson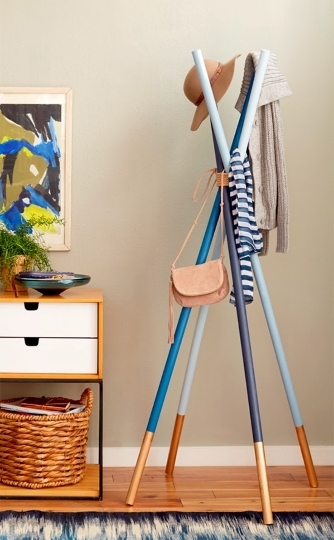 Difficulty: Easy
Wooden dowels are used in this design to make an interesting standing coat rack. It only needs a few materials, including the poles, rope, paint, and tape.
---
23.

Folding Wood Coat Rack from Instructables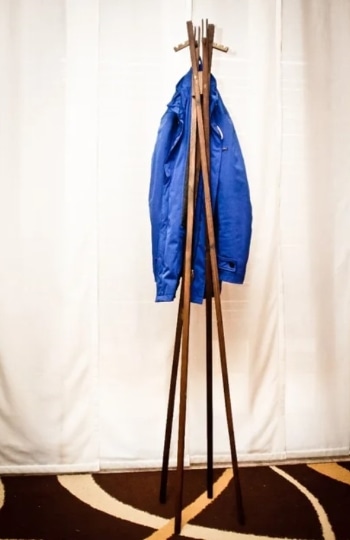 Difficulty: Medium
If you want to learn how to build a freestanding coat rack, this one has hooks at the top that fold down. Also, the whole stand can fold up small enough to fit in an umbrella stand! It's a very creative piece that's stylish as well as functional.
---
24.

DIY Wood and Faucet Handle Coat Rack from A Piece of Rainbow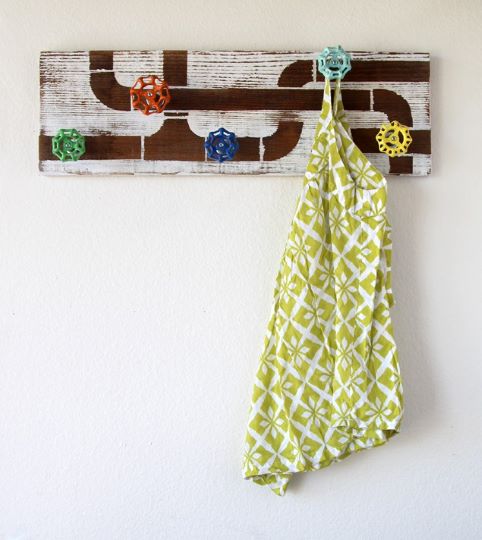 Difficulty:  Medium
Reusing old wood and faucet handles gives this coat rack a fun garden-like charm. Painting the faucet handles will brighten it up and give your entryway a colorful, cheerful look.
Conclusion
Whether you're an experienced carpenter or a casual DIYer, you can find a plan on our list that suits your skill level and design preferences. Compared to other DIY projects, constructing a coat rack is relatively simple. To prevent injuries, wear protective gear when cutting, drilling, sawing, or welding.
You might also be interested in: 
---
Featured Image Credit: Beneath My Heart