8 Best Shop Vacs for Woodworking 2023 – Top Picks & Reviews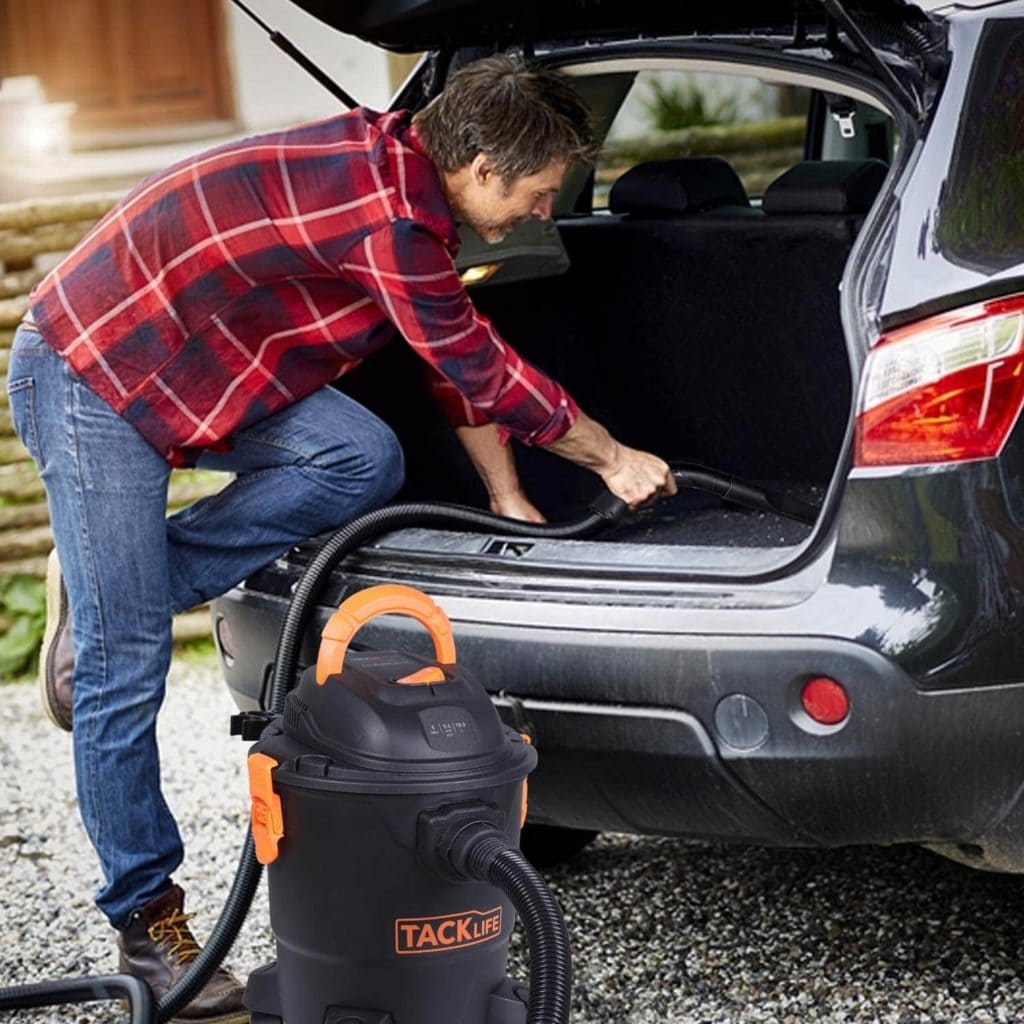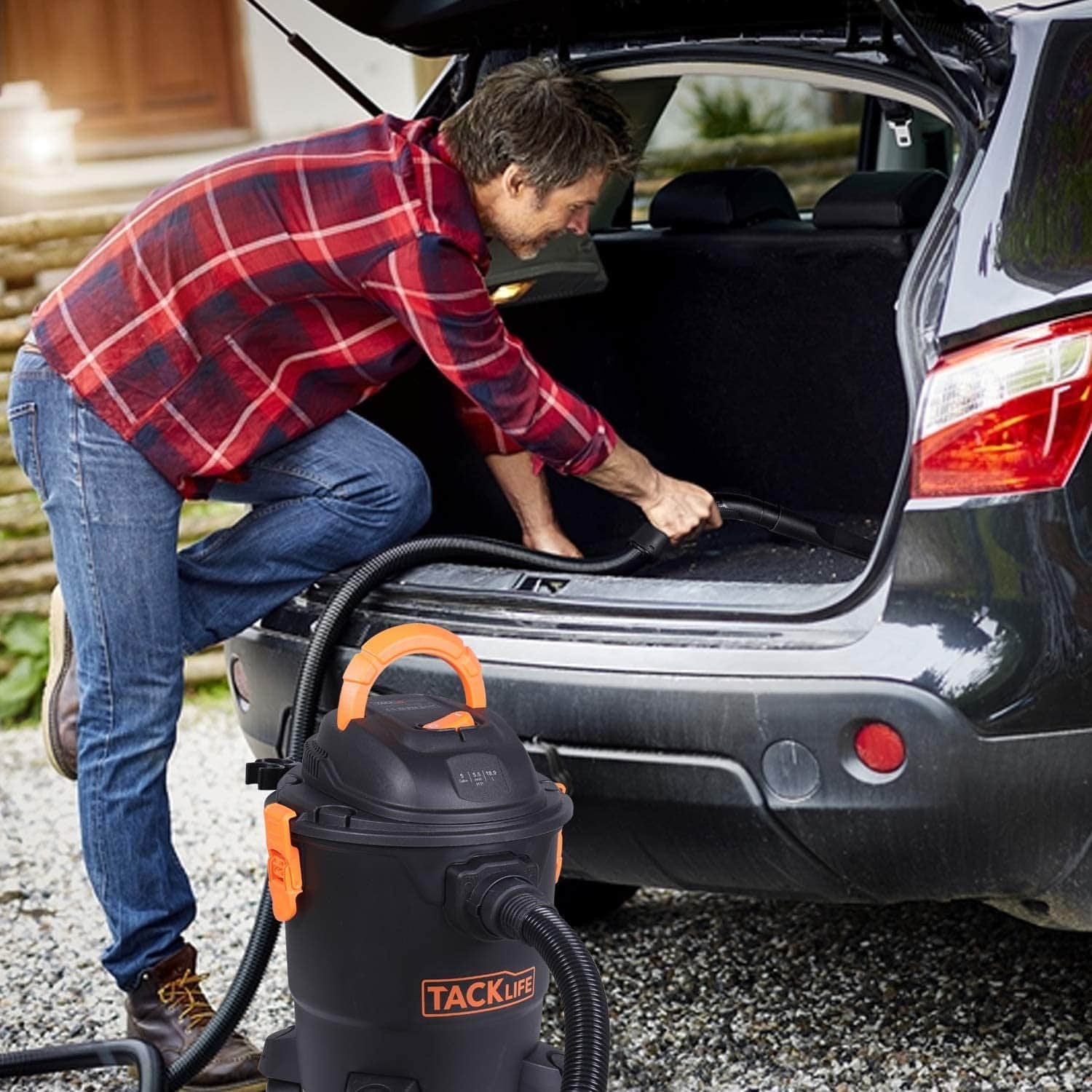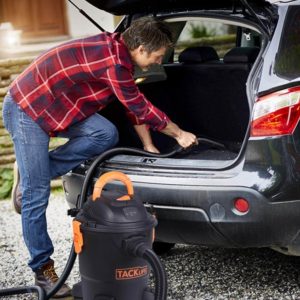 For a woodworking shop, just like with any shop, cleanup is a priority. It is not only worthwhile for an overall level of tidiness, but also safety. Sawdust is fine, so having the right tool to collect it is important and must be chosen with care. And nothing picks up wood shavings and splintered timber quite like a shop vac.
Shop vacs are renowned for not only their suction force but also their versatility. They can suck both wet and dry items with ease based on their brilliant design. They have an integrated filter system that draws in air either into the tank or can be attached to another hose like a makeshift bilge pump. It's a fantastic machine to have for any need.
We have put together eight reviews of the best shop vacs along with details and reasons why they are an excellent tool for the shop, for the home, or wherever you might require a lean, mean, cleaning machine.
---
A Quick Comparison of Our Favorites in 2023
Rating
Image
Product
Details

Best Overall

Vacmaster VBV1210 Wet/Dry Shop Vacuum

Powerful Motor
Large drain port
19-foot reach
CHECK PRICE

Best Value

TACKLIFE PVC01A Wet/Dry Vacuum

5 HP motor
4-layer filtration system
17-foot cleaning range
CHECK PRICE

DEWALT DXV10P Quiet Poly Wet Dry Vacuum

10-gallon tank
5 HP motor
Heavy-duty casters
CHECK PRICE

Armor All AA255 Wet/Dry Utility Shop Vacuum

Lightweight
Blower-feature
Accessory storage
CHECK PRICE

Shop-Vac 5989300 Stainless Steel Wet Dry Vacuum

5-gallon tank
Tons of accessories
CHECK PRICE
The 8 Best Shop Vacs for Woodworking
1.

Vacmaster Wet/Dry Shop Vacuum – Best Overall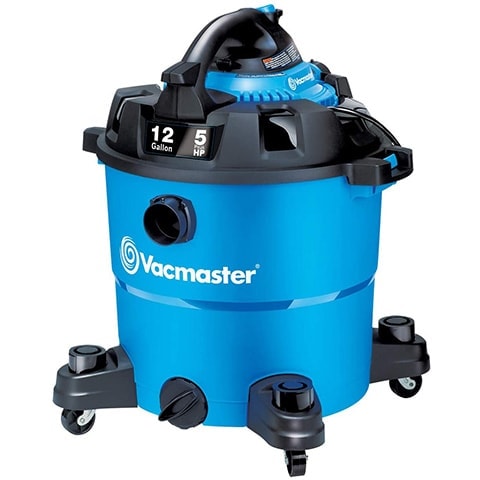 Nothing says "the best" like a vacuum with the word "master" in the title, and the Vacmaster VBV 1210 is the best for good reason. Not only is this fantastic model a hard-working shop vac, but it also has the ability to convert to a 210 MPH handheld blower—pretty handy when trying to pile all your dust into a smaller space.
It is a tremendous asset to a large shop with its 19-foot cleaning reach and its powerful five-horsepower (HP) motor will pick up just about anything. And so, you don't need to lift it to empty it when using the wet vacuum feature, it has an extra-large drain port on the base. With integrated accessory storage to round it out, this is one heck of a vacuum.
As with all things, sometimes you might get a product that fails after continued use. It is very rare with this shop vac, but it happens. The only big concern we had was the ineffectiveness of Vacmaster's customer service. They don't have very good warranty support and are hard to get on the phone. Overall, we think this is the best shop vac for woodworking we have reviewed this year.
Pros
Powerful Motor
Large drain port
19-foot reach
210 MPH  blower
---
2.

TACKLIFE PVC01A Wet/Dry Vacuum – Best Value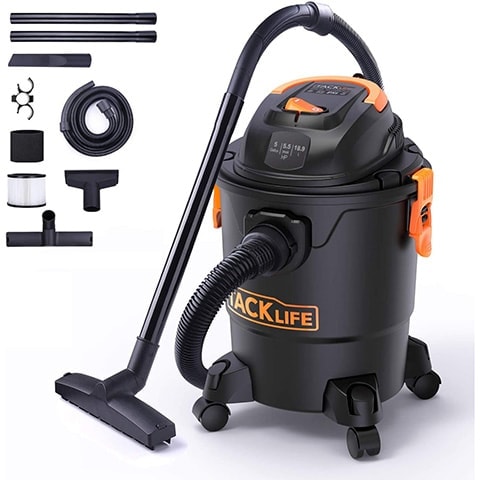 You will never find a more versatile shop vac for a better price than the TACKLIFE PVC01A. It has a massive 5.5 HP motor and 17-foot cleaning range. And it has a high-capacity collection tank that can handle up to five gallons. Plus, its four casters will make rolling around your shop a snap.
Its most unique feature is the four-layer filtration system with safety buoy technology that limits dust particles from escaping the vacuum while sucking. Some shop vacs have an exhaust port that allows microbes to escape, this filter system eliminates that. One of the best shop vacs for woodworking for the money.
While the four-layer filter system is a great feature, it diminishes suction power and causes premature machine burnout. The hose doesn't affix very well to the suction port, and the accessories rattle out of their storage housing with relative ease.
Pros
Large capacity
five-horsepower motor
four-layer filtration system
17-foot cleaning range
Cons
Poor suction
Design flaws
---
3.

DEWALT DXV10P Quiet Poly Wet Dry Vacuum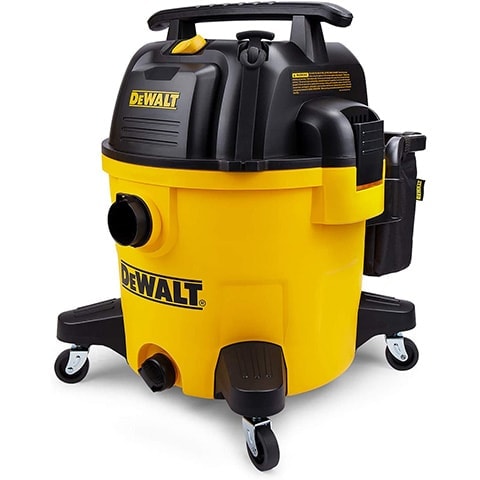 For a whisper-quiet cleanup from the company you know for excellent tools, we give you the DEWALT DXV10P. This beast has a 10-gallon tank with a dual-stage wet/dry vac operation, all powered by a 5.5 HP motor. And its heavy-duty rubberized casters ensure smooth movement.
The power cord is 10 feet, giving you a very large work range, and its built-in blower port is powerful enough to blow dust and debris away from your workspace. Because 10 gallons weighs about 80 pounds, there is a large built-in quick drain to get rid of those filthy liquid contents when needed.
The biggest complaint with most users is in the accessories. Overall, the unit is great as you might expect from a DeWalt product, but the hose attachment is entirely too short for even the average height user. And some of the other attachments didn't connect properly.
Pros
10-gallon tank
five-horsepower motor
Heavy-duty casters
Large drain plug
Cons
Inefficient accessories
Wand too short
---
4.

Armor All AA255 Wet/Dry Utility Shop Vacuum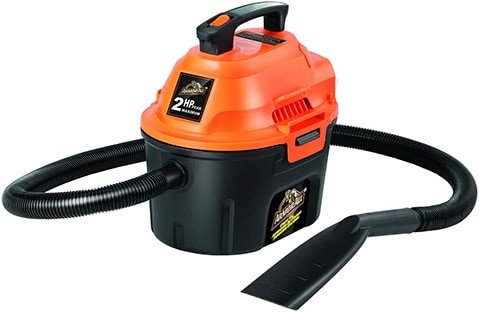 This little beauty is ready for some small-time action. The Armor All AA255 has a 2.5-gallon tank to match its two-horsepower motor. But don't let its diminutive size fool you. It comes with a long, 10-foot cord and plenty of hose to get your shop nice and clean.
It has a quick and easy conversion that allows you to switch to blower mode and plenty of onboard accessory storage. If you are looking for something compact, easy to carry, and perfect for smaller spaces, this is the shop vac for you.
Most of the issues with this unit were about—you guessed it—the small motor. Many users were under enthused with the poor suction power. It seemed to have trouble with the mundane cleanups. And due to a poor filtration design, it spread dust out the vent system, making a mess.
Pros
Lightweight
Blower-feature
Accessory storage
---
5.

Shop-Vac Stainless Steel Wet Dry Vacuum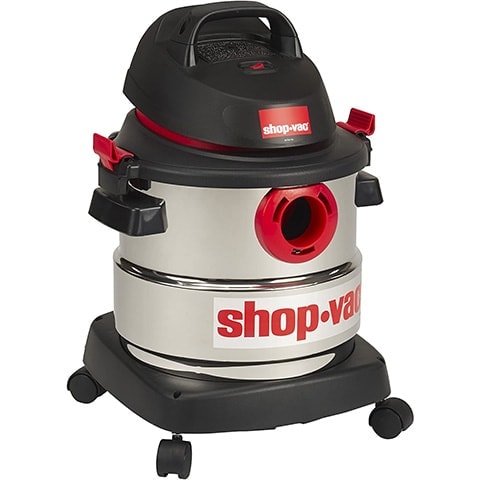 We couldn't have a review guide about shop vacs without actually putting a Shop-Vac on the list. The Shop-Vac 5989300 is a fun twist on the usual plastic models we all know and love. It has a five-gallon tank with carrying handles on the sides and a powerful 4.5 HP motor.
This tough and dependable gem comes with tons of accessories, all to make your cleaning job that much easier, including a seven-foot hose with three extension wands, a crevice tool, a gulper nozzle, a floor nozzle, and so much more. A lot of vacuum for the money.
While Shop-Vac tried to update the design, in baseball terms, this one is a swing and a miss. The stainless-steel body looks nice, but it is too easy to dent or warp. The lid doesn't seat properly, and the accessory rack is in the way of the cord wrap area.
Pros
five-gallon tank
Tons of accessories
---
6.

DEWALT DXV06P Poly Wet/Dry Vac
The little brother of the DXV10P, the DEWALT CXV06P boasts a six-gallon tank and a four-horsepower motor, capable of cleaning up pretty much any messy job. And the ultra-durable casters will make tooling around the shop for quick cleanups a breeze, and that includes vacuuming and blowing.
Its Built-in blower port is great when wanting to get most of the debris in a smaller space for quicker cleaning. Its 10-foot power cord will give you the proximity you need to take care of a sizable space. And it goes without saying, but we are going to say it anyway: when you get DeWalt, you are investing in excellence.
This one has three fatal flaws.  The first is that, for an American company, these are imported from China, so they lack the quality standards of most DeWalt products. Two, there is a plastic ring that holds on the tools and it is thin, brittle, and easily broken. And the third, customer support is difficult to reach when warranty work is needed.
Pros
Six-gallon tank
Ultra-durable casters
Cons
Design flaw
Poor warranty support
---
7.

Stanley SL18129 Wet Dry Vacuum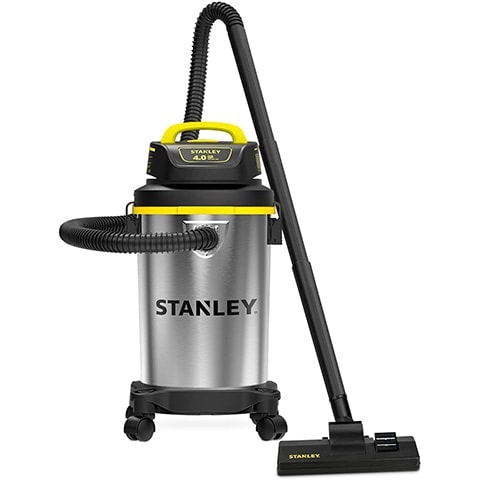 Stanley is a world leader in wet/dry vacuum technology and design, and the Stanley SL18129 is a testament to their ingenuity. They have been producing vacuum cleaners and accessories since 1843 and continue to bring out innovative designs that challenge the competition.
This model has a four-gallon capacity with a very user-friendly design. And its 4.0-HP motor is very powerful and intuitive of your cleaning needs. It is lightweight at eight pounds, all included and very versatile, completely comfortable for any cleaning anywhere. It has a 15-foot cleaning reach and has an extra-large drainage port.
This unit has an aluminum housing to give it less weight overall, but the aluminum is super thin, and when sucking items, it seems to struggle, the aluminum buckling somewhat. It is wildly underpowered despite the motor. What's more, a lot of consumers are getting items that are missing pieces, but customer support is nowhere to be found.
Cons
Poor design
Underpowered
Poor customer support
---
8.

CRAFTSMAN Wet/Dry Vac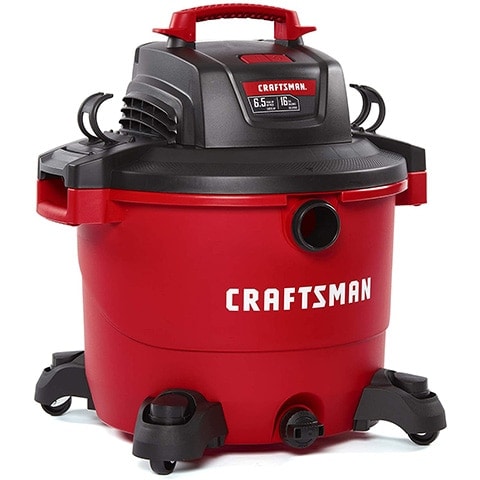 This is a huge vac. The CRAFTSMAN CMXEVBE17595 has a massive 16-gallon tank with a tremendous 6.5 HP motor. If you are looking for heavy-duty, look no further. It has a built-in blower that can put everything from dust to grass clippings out of your space with ease.
The oversized drain makes it easy to do large cleanup. The hose will never kink with Craftsman's Dual-Flex technology giving you 180° of mobility, and that movement is only made better by the heavy-duty casters at the base. If you love Craftsman, you will love this vacuum.
Considering the brand, the problem a lot of people have is with getting warranty support, or even customer service, to help when they receive a broken unit. And many people seem to be getting these vacs with tons of defects. Most won't bother returning because it is too much of a hassle.
Pros
Huge motor
Huge container
Cons
Poor customer care
Defective
Design flaws
---
Buyer's Guide – How to Choose the Best Shop Vac for Woodworking
When you work with your hands, you get blisters, and no one wants to push a broom around after a long day of work. That is where a handy, high-functioning shop vac comes into play. They are designed to make your life easier, and with countless applications, that is most often exactly what they do.
But choosing the right shop vac is not a matter of taste or even brand loyalty. It is all about what it can do for you. The motor size, the suction, the tank storage, all matter, especially in applications involving dust, like in a woodworking shop.
Choosing the Right Size
Shop vacs come in sizes from two-gallon to over 20-gallon. The two-gallon models are handheld, while anything above five gallons is on casters. The problem comes into play when you consider what you are cleaning. If you work in a hotel and are cleaning rooms, a smaller handheld model would be fine.
One the job site, and only if it is a single story, a large unit is better. The materials it needs to suck up or blow out are probably quite a bit heavier and therein you need a heavier motor. But with the added size, you also have added weight. Especially if sucking up water, which is about eight pounds per gallon.
Picking a Shop-Vac Based on Features
What do you look for in a shop vac? The primary features are:
Chamber size
Motor size
Cleaning area diameter
Accessories
The larger chamber and larger motor go hand in hand. They must in order for the unit to function properly. But with the larger chamber, the more you suck in, the heavier it will get. The casters on the base are reinforced on larger models to compensate, but don't forget that it will need to be emptied eventually.
Your cleaning diameter is based on how long the power cord is and the length of your longest hose with the longest wand or wands. If you have a smaller shop, your options are wide open, but for larger shops, investing in a quality extension cord will increase your cleaning diameter by a pretty sizable margin.
Accessories like wands, brushes, etc. come with most models, and many of them are similar with the odd special item put in to give them individuality from the manufacturer.
If you need a shop vac for cleaning a woodshop, all those splinters and the mounds of sawdust will fit nicely in a large capacity unit with extra suction to pick up the bigger bits.
Safety
When using a shop vac, even with the filter, dust can still swirl about the area. During use and when emptying, wearing goggles and a mask will prevent you from ingesting harmful particles. Some wood is pressure treated with white arsenic. You do not want that in your lungs.
Once you are done cleaning and have to dump the shop vac, it will be heavy, Me mindful of the weight so you can prevent back injuries. A 20-gallon shop vac, even half full, still weighs about 80 pounds. Most models have drains at the base of the unit, so this doesn't apply to wet vacuuming use, unless you must lift it to dump it out.
Do not work on a shop vac unless you know what you are doing, and always unplug it first. It seems like common sense, but that is why they make warning labels.

Conclusion
Our top pick, the master of the vac, was the Vacmaster VBV1210 Wet/Dry Shop Vacuum. It had all the bravado and plenty of power to back it up. With its huge cleaning reach and the ability to convert it to a 210-mph blower, this big fella came to get some cleaning done.
In the field of best value, we gave you the TACKLIFE PVX01A Wet/Dry Vacuum. TackLife makes great products across the board, and they do it in ways that keep it economical without skimping on style or quality. This model is fantastic, and you get the best of both worlds, a great vacuum, and no sticker shock.
We hope we helped you when you might have been stuck selecting your next vacuum for your woodworking area. It can be tricky picking out a vacuum for any application, but a shop vac has the luxury of no roller, and minimal fuss, which makes it a great choice for cleaning up those dusty spaces.