Milwaukee M18 Wet Dry Vac Review 2023 – Pros, Cons & Final Verdict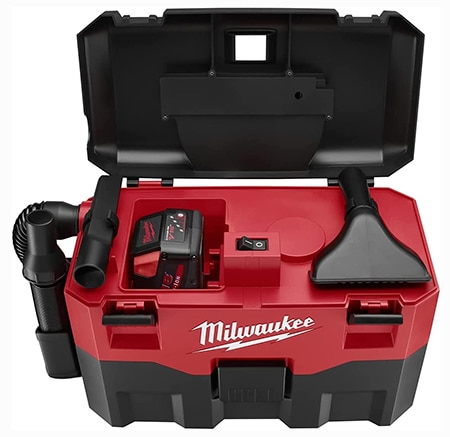 Our Final Verdict
We give Milwaukee M18 Wet Dry Vac a rating of 5 out of 5 stars.
Build Quality: 5/5
Features: 4/5
Price: 5/5

Milwaukee M18 Wet Dry Vacuum – a Quick Look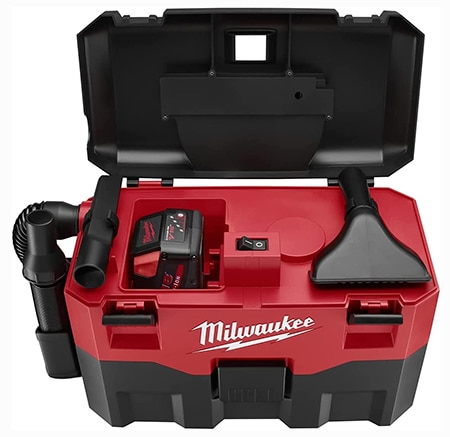 Specifications
Brand: Milwaukee
Model:  Cordless Lithium-Ion Wet/Dry
Color:  Red
Battery: Lithium-ion
Flow Rate: 45 Cubic feet per minute
Measurement System: Metric
Material: Plastic
Weight: 11.9 pounds
Power Source: Battery-powered
Warranty: 5 years
Milwaukee has been known to produce some of the best cordless vacuums, especially for homeowners looking for lightweight tools that they can use to keep their workspaces spotless. Even though their suction power is not quite as strong as corded vacuums, it compensates by ensuring the lithium batteries provide power that's not only consistent but also lasts longer.
The M18 Wet/Dry model is different from your ordinary cordless vacuum because it comes with a HEPA filter. HEPA is an acronym that stands for High-Efficiency Particulate Air, and it's a filter that has the ability to remove about 99.97% of particles in the air. In addition to that, it has a 2-gallon tank that's big enough to capture nearly all the dust and debris in your home.
To help you understand just how special this vacuum is, we thought we should go into detail and talk about some of its unique features.
Pros
Portable
Incredible build quality
Great value for money
Uses different types of batteries
Lightweight
HEPA filter
Cons
Suction is not as powerful as a full-sized vacuum
Milwaukee M18 Wet Dry Vac Details
Build Quality
Apart from the great color, you'll notice the M18 Wet/Dry Vacuum is sort of designed like an ice chest. Although we're not completely sure about this design, we think the goal was to ensure the product delivered optimal ergonomics, wasted little to no space, and didn't get in the way of any user trying to quickly access the battery compartment or any one of the other accessories.
We again took note of the fact that the exterior was incredibly streamlined, with only one exit, which catered to a single hose. If you've never used this type of tool before, you'll think that's not a big deal. But if you've ever lost extraneous accessories at a job site, or during transit, you'll know the value of this. It will ensure you don't have to worry about where you left this or that while hauling around the vacuum.
---
Portability
While designing any type of product, manufacturers understand the importance of portability. It's one of the main factors usually taken into account when consumers are shopping for competing products. Safe to say, portability is one of the M18 Wet/Dry Vacuum's main strengths.
Before opening the lid, you'll have to get through two black plastic latches that have been designed to secure it. And in there, you'll quickly spot two things: a mini floor nozzle and a narrow crevice accessory. Both of them will be firmly attached at the very top of the tool's motor housing, ready for use.
The on/off switch will be visible even without opening the lid, as it penetrates it from the inside. It's also raised and fairly large, to allow for a quick and easy power up and down. Regardless of the type of gloves that you'll be wearing to protect your hands, you'll still be able to turn it on or off at your convenience.
---
Battery Compartment
The compartment is hidden, but you'll be able to access it once you open the lid. Just so you know, it's big enough to only fit one M18 battery—it could be a compact M18 lithium battery or an XC, either is fine.
We also loved the fact that it came with a legacy sled that allowed users to explore the option of using outdated 18v NiCd batteries, making this product one of the very few products on the market that span different swaths of battery technology.
Functionality
The M18 Wet/dry vacuum has three different sections; there's the canister, the main body, and of course, the hinged lid. Distinguishing the body from the canister and the hinged lid is easy, as it's red (with a Milwaukee logo) while the other two are black. To detach the canister completely from the vacuum, you'll first have to undo the front and back latches. This means the canister can be emptied without needing to carry the vacuum to the trash.
Besides that, because it's lightweight and strong you won't feel like you're walking around with a concrete brick in your hands, or have to worry about inadvertently dropping and breaking it.  Speaking of strength, those latches are also strong enough to secure everything in place.
---
Power
Milwaukee decided to cover the vacuum's circumference using a sturdy rubber gasket. Its primary and only function is to ensure users don't waste any power while using the tool and are provided with the maximum possible suction. It does that by offering an airtight seal and that's also secure.
HEPA Filter
If you ever feel the need to detach the filter, all you have to do is turn it counterclockwise a couple of times using your hand. You'll never have to use any tool in the process, irrespective of how tightly fixed it is to the vacuum.
It's important to note that the filter used on this model is a 0.3 micron washable HEPA filter. "0.3 micron" means that it can remove any particle that's the size of a pollen grain from the air around you. Therefore, if you're asthmatic or someone who constantly grapples with different allergies, you'll definitely benefit from it. Should you need a new replacement, you can get one from online stores at an affordable price.
Side Note: once you're done vacuuming, you're always advised to clean, rinse, and then air-dry the filter to dislodge all the dirt.

Frequently Asked Questions
Is the M18 Wet/Dry Vacuum cordless?
Yes, the vacuum is a cordless vacuum that can be used in different tasks. We guarantee you that it will make your clean-up process easier and faster.
Is the Milwaukee M18 Vacuum more powerful than a full-sized vacuum?
Unfortunately, no. Its suction power is nowhere near what we've experienced while using other full-sized vacuums. However, that doesn't mean that it won't help you get to those hard-to-reach areas.
What is the M18 Wet/Dry Vacuum flow rate?
The Milwaukee cordless vacuum has a flow rate of 45 cubic feet per minute. This is not all that bad, considering there are 2.5-gallon models in the market that are corded and produce the same rate.
Is it efficient in how it operates? Absolutely. The company made sure it worked efficiently and gave adequate suction by designing it with a narrow 1¼-inch hose, and the 2-gallon tank is big enough to reduce the number of trips you'll have to make to the dumpster.
Does the Milwaukee Wet/Dry Vacuum offer value for money?
We would comfortably say that it does. It's been a while since we last came across a product that offered more for less. Even if it's just designed for light work, we felt we got a good deal.

Conclusion
This cordless vacuum cleaner is without a doubt one of the best models in the market. We believe every homeowner should have one, or at least try one. The portability and compatibility with different batteries made our work a lot easier! Moreover, it's an incredible lightweight solution to minimize dust while working with other tools.