10 Best Snow Blowers of 2023 – Reviews & Top Picks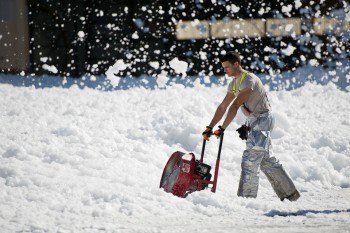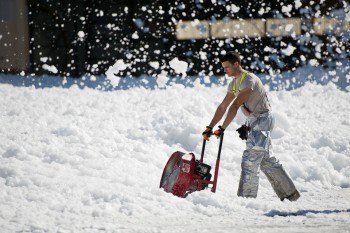 The further north you live, the more likely you are to spend a good chunk of the year dealing with winter weather. That means paying for heat, wearing lots of clothing, and living with snow. There are a lot of different kinds of snow, from big fluffy flakes that dance their way to the ground to hardened little pellets that practically move parallel to the ground on biting winds. When snow collects on your driveway and sidewalk, you need to remove it. If you need an intense cardio workout, you can get to work with a shovel. If you prefer to avoid back pain and sweating, you can buy yourself a snow blower.
Snow blowers aren't a one-size-fits-all piece of equipment. There are as many different snow blowers as there are flakes of snow. Well, maybe not that many. Still, we wrote these reviews to help you figure out which is the best snow blower for you. We also included some extra tips in a buyers' guide at the end.
---
Comparison of our Favorite Products in 2023
Rating
Image
Product
Details

Best Overall

Briggs & Stratton 1022ER

Great performance
Easy to start
Good value
CHECK PRICE

Best Value

Snow Joe SJ625E

Great value
Perfect for renters
CHECK PRICE

Premium Choice

Husqvarna's ST227P

Electric starter
Designed for piles of snow
Great for extreme weather
CHECK PRICE

Ariens 921046

Great for tall drifts
Two-stage operation
Great range
CHECK PRICE

Husqvarna ST224P

Power steering
Electric start
Heated handles
CHECK PRICE
The 10 Best Snow Blowers
1.

Briggs & Stratton Single Stage Snow Thrower – Best Overall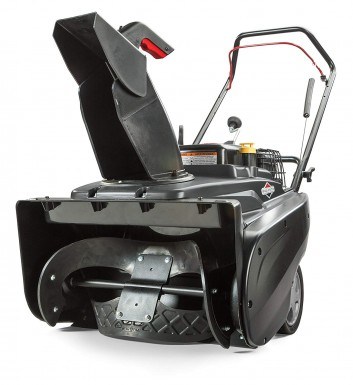 If you're looking for a great walk-behind snow blower, we'd recommend the Briggs & Stratton 1022ER. We gave it our best snow blower overall ranking for its ease of use, value, and because it can rip through snowdrifts.
When it comes to snow blowers, we can't stress hassle-free operation enough. They get operated in cold weather, and while it is still snowing—if you're the kind of person who keeps up on snow removal during storms. The 1022ER has among the easiest starts of any snow blower we looked at and it's also reliable. You'll also like the price and the for-dollar value it offers.
On the downside, we have reservations about the plastic auger blades. They aren't going to break on normal snow, but if your snow is wet and heavy, or you need to move refrozen snow, you might want something with steel blades.
Pros
Great performance
Easy to start
Good value
Snow blower vs snow thrower – What's the difference?
---
2.

Snow Joe Single Stage Snow Thrower – Best Value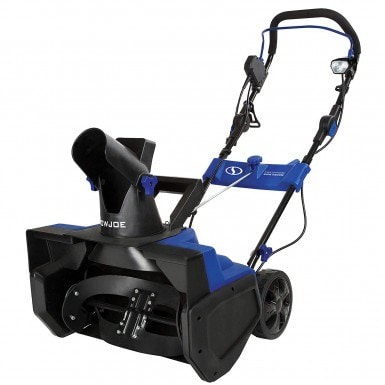 We recommend the Snow Joe SJ625E as one of the best snow blowers for moderate residential use.
It's electric, so you don't need to find a lot of storage space for it or oil and gasoline. Compared to some of the other snow blowers we looked at, it's also definitely the best snow blower for the money. If you have limited needs, it could be perfect.
The power cord could be problematic. When it comes to yard maintenance equipment like snow blowers and lawnmowers, electricity is always a special hazard. The SJ625E is also a little too small for giant snowdrifts.
Pros
Great value
Perfect for renters
Cons
Cord is a pain
Limited snowdrift size
---
3.

Husqvarna Two-Stage Snow Blower – Premium Choice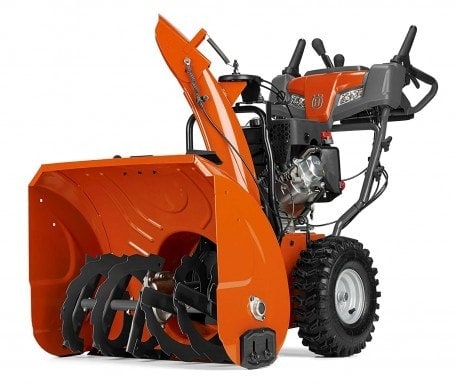 People who live in the North know that when Old Man Winter comes calling they need a real beast to handle the job. Husqvarna's ST227P is the best of the beasts, our Best High-end pick.
The ST227P has a powerful 254 cc gas engine with an electric starter so you aren't out in the cold fighting with a pull starter. The mouth has great clearance for tall drifts and its two-stage action will grind the heaviest, densest snow. The handles are heated because cold numb hands are the last things you want.
Sit down before you look at the price tag, however. If you want the best of the beasts, prepare to open your wallet and dig deep.
Pros
Powerful
Electric starter
Designed for piles of snow
Great for extreme weather
See our top picks of: Commercial snow blowers
---
4.

Ariens 921046 Two- Stage Snow Blower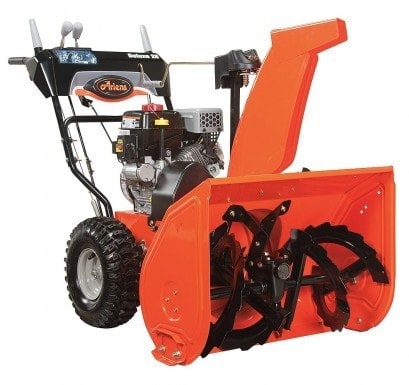 If you really need a snow blower, you need one that is going to start, keep running and move a lot of snow. For those people, the Ariens 921046 is a great option. We were tempted to give it our Best High-end Pick, but it's just a little too pricey.
When it comes to performance, the 921046 can chew through snow piled up to 28 inches, throwing it up to 50 feet. Firing up the machine is as simple as plugging it in and pushing a button.
We knocked it a little because of the price. If you live in the grim North, maybe you need to spend that kind of money, but we think you can find a better value.
Pros
Great for tall drifts
Two-stage operation
Great range
---
5.

Husqvarna ST224P Snow Blower
What sets apart great snow blowers from the merely adequate are the little extras they have to make the experience as easy as mowing your lawn. The Husqvarna ST224P excels in its extras, in addition to doing a great job moving snow.
Built with a push-button starter so you can get to work right away, the ST224P also has heated handles so your fingers don't get cold and power steering so you can push it through snow. These aren't extras designed to make the job of removing snow effortless and easy, but as necessary features for the harshest winter weather.
For what you pay, the drive shaft could be sturdier. You won't break it hitting a chunk of ice, but you might damage some of its components.
Pros
Power steering
Electric start
Heated handles
---
6.

Earthwise SN74018 Electric Snow Blower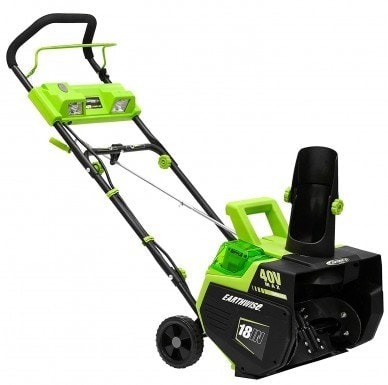 If you just need a snow blower to clean up a small area after that once-a-season blizzard, we'd suggest looking at a cordless electric snow blower like the Earthwise SN74018. You don't need to fuss with the maintenance of a gas engine, and the unit doesn't take up a lot of space.
Because it is electric, it is also quieter than a gas blower. Because it's battery-operated, you don't have the annoyance of a cord. Keep in mind that battery life is limited.
You also wouldn't want to buy this if you have frequent heavy snows, because its clearance space is limited to about a foot. The plastic auger blade also doesn't inspire a lot of confidence, especially if you have to clear packed snow and ice deposited by snowplows.
Cons
Limited by battery life
Plastic auger
---
7.

YARDMAX Two-Stage Snow Blower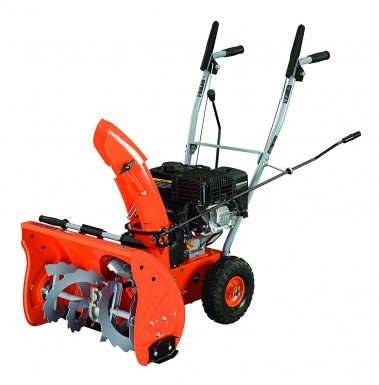 YARDMAX's YB5765 is a perfect example of a snow blower that has a great price but whose performance defines the phrase, "You get what you pay for."
There is a place for snow blowers like this. If you don't get a lot of snow and the snow you get is light and powdery, this is a good option. Its two-stage operation also makes it a good choice if you have an unpaved driveway.
If you get heavier snow that falls more frequently, the YB5765 is not designed for that. Plus, when the temperature falls, it will ice up. You also need to start it with the classic pull cord, which in cold weather is frustrating enough to make your grandmother curse like a sailor.
Pros
Okay performance
Suitable for unpaved driveways
Best used for light snow
Cons
Pull cord start
Ices up in cold weather
Shoddy design
---
8.

PowerSmart 2-Stage Gas Snow Blower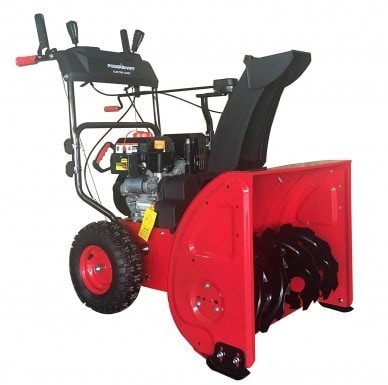 PowerSmart did half a job with the DB72024PA. They packed a lot of great features into the engine that on paper makes it attractive. Power steering allows you to move through the snow so that you can put the auger blade on exactly the snow you want removed. A multi-speed engine allows you to speed up when you've got space or slow it down when you need a little extra traction.
You need to get it properly assembled, however. It doesn't come with everything fastened tightly and the instructions aren't entirely clear on how to finish the job. Regardless, the gas tank has a nasty habit of leaking.
Pros
Power steering
Multiple speeds
Cons
Poor assembly
Can leak fuel
Poor value
---
9.

EGO Dual Port Snow Blower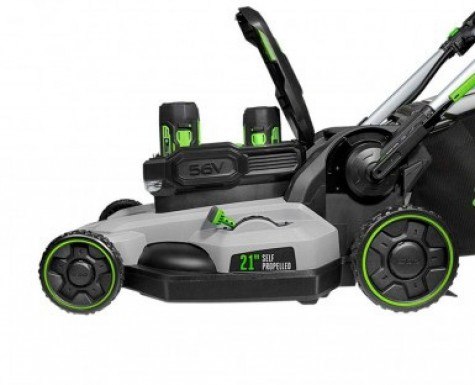 We don't think the EGO Power+ is a bad snow blower. Based on its strengths, it is the perfect snow blower for some users. It got our number nine ranking because it's pretty limited in what it has to offer.
Because it runs on batteries, it is much lighter and quieter than snow blowers with gas engines. It also doesn't create exhaust fumes. All of those are great if the equipment can do the job.
That's where the EGO comes up short. If you get wet, heavy snow, the Power+ will run through its battery pretty quickly. If you don't have several spares available, you might not be able to finish the job. EGO says it throws snow much further than what it really can, too. Plus the auger is made out of rubber. It's replaceable, which tells you that it's designed to eventually fail.
Cons
Short battery life
Has difficulty on wet, heavy snow
Doesn't throw as advertised
Rubber auger
---
10.

Troy-Bilt Single Stage Snow Thrower
In a crowded field of snow blowers, the Troy-Bilt Squall comes up short. We liked its design, but everything else was a combination of mediocre and just plain bad.
The Squall has a compact design for a snow blower in its class. For its size, it can handle a lot of snow, so there's not a lot of wasted space.
When it comes to throwing snow, it works. For what snow blowers cost, we would prefer to say it works great. As a one-stage snow blower, you won't want to use it on unpaved driveways. When it arrives, you also need to complete the assembly job and the instructions aren't entirely clear. Added up, that equals a pretty subpar value.
Cons
Assembly incomplete
Adequate performance
One stage
Bad value
---
Buyer's Guide – Choosing the Best Snow Blower
If money is no object, buying the best snow blower is relatively simple and straightforward. You go buy yourself the biggest, most powerful, most reliable snow blower available. Hopefully, you have a dedicated storage shed for storing the machine
Most of us have limited budgets and storage space. With that in mind, we put together this set of tips on how to shop for a snow blower.
It's a matter of snow
When you're buying a snow blower, you need to know what kind of snow you can expect. The further north you go, generally speaking, the longer the winter, so the odds your snow blower will get used are greater. The odds are also greater that you'll have to use it a multitude of times before spring. So, reliability is important.
The further north you go doesn't necessarily mean you'll get more snow, however. If you live to the east of one of the Great Lakes, you're apt to get lake-effect snow. Lots of snow can pile up very quickly. So, it's not just a matter of knowing how much snow you'll get, it's also knowing about what kind of snow will fall.
Gas or electric
The most powerful snow blowers have gas engines, measured in cubic centimeters. The more cc's, the more powerful an engine. They also come in two-stroke or four-stroke engines. The number of strokes is the number of times a piston works during an engine's rotation. The most important takeaway if you're buying a snow blower is that four-stroke engines use gasoline fuel, whereas two-stroke engines usually require a mix of gas and oil.
The other source of energy is electricity. The other mode of self-generated energy operates from a battery. Battery-powered snow blowers are limited by the amount of battery power you have.
There are also electric snow blowers you plug into wall current. If you don't have any outside outlets, you'll need to operate them with a door open.
In general, gas snow blowers can generate a lot more power. They are also noisier and tend to have the worst vibration issues. If you've got snow piling up to three feet deep, however, those are probably secondary considerations.
Electric snow blowers are much quieter and because you don't need gasoline easier to store, too. If you don't have a lot of snow to move and don't need to do it very frequently, they are a good option.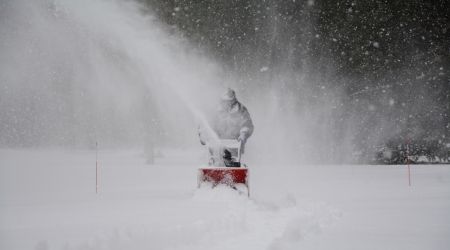 Stages of operation
There are two basic kinds of snow blowers, one stage, and two stage.
A one-stage snow blower has an auger that rotates and scoops up snow before feeding it into the discharge chute. It's a simple, classic design. The blades on the auger come into contact with the ground, which means that you can damage them by running over stones. A one-stage snow blower is perfect for someone who needs to occasionally clear a sidewalk and a small driveway.
Two-stage snow blowers draw the snow in with the front auger. There, the snow is fed into the second stage, an impeller, which sends it into the discharge chute. Because the action is more like gathering the snow, the auger doesn't come into contact with the surface. If you have an unpaved driveway, you'd want a two-stage snow blower. They are also designed to tackle harder jobs. If you often measure snowfall in feet rather than inches, you'll want a two-stage model.
Features
Snow blowers run the gamut from bare-boned and basic to loaded down with extras.
The top of our list is a plug-in starter. There are few things more aggravating than standing outside when it's cold and snowing, yanking at a cord for a recoil starter. These will allow you to plug your snow blower into wall current and start with the press of a button.
Some features control your work environment. Headlamps can help if you need to work at night. Heated handgrips can supplement gloves if it's bitterly cold where you live or if you have heart issues that leave your extremities vulnerable to extreme temperatures.
Price
We don't recommend that you skimp out when it comes to buying a snow blower. Spend to your needs. That said, you also don't need to throw thousands of dollars at a snow blower. Make sure that you figure out a basic power class you need and budget accordingly. Figure out what features you need and which ones you can live without.
---
Conclusion
The right snow blower isn't going to make winter any shorter, but it can make one of the bigger chores a lot more manageable. If you have chronic health problems, it can also make it much safer. Plus, with the snow and ice safely removed from your walking and driving spaces, getting around is a lot safer, too.
In our reviews, we liked the Briggs & Stratton 1022ER as the best snow blower overall. It combines power and features to make tackling what the blizzard left a snap. If you don't have a lot of snow to deal with and want the best snow blower for the money, the Snow Joe SJ625E does a good job, especially if you live where the snow is light and infrequent. If money is no object, you might like our Top High-End Pick, the Husqvarna ST227P.
Keep in mind that when shopping for a snow blower that the further north you live, the more you'll probably need to invest to make it worthwhile. If you try to skate by on the cheap, then you might as well have bought nothing. Shop smart to get the right one to meet your needs.
See Also: 
---
Featured Image Credit: skeeze, Pixabay