5 Best Budget Snow Blowers of 2023 – Reviews & Buying Guide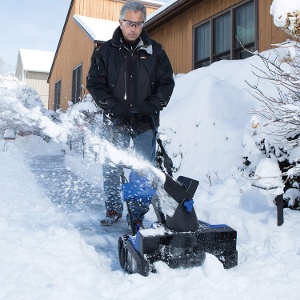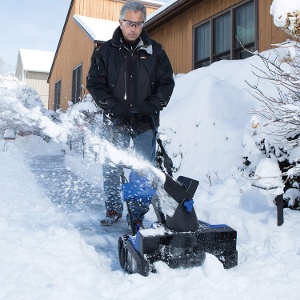 If you live in an area that experiences high-density snowfall, there is truly no getting around the need for a good, reliable snowblower. The problem is finding one. There are several options, and while they may seem similar, you're smart enough to realize that different snowblowers deliver significantly different results. Buying any product the right way takes time, and, unfortunately, that is a resource most of us are short on.
That is exactly why we have done your homework for you. Here we've identified a list of the best snowblowers on the market. We studied the manufacturers, tested the products, and combined everything we learned in this guide.

Our 2023 Favorites Compared:
Rating
Image
Product
Details

Best Overall

YARDMAX YB5765

Steel construction
Strong and durable
Multiple speeds
CHECK PRICE

Snow Joe Ultra SJ625E 21"

Maneuverability
Powerful motor
Price
CHECK PRICE

Best Value

WEN 5662

Reasonable price
Adjustable snow chute
Highly maneuverable
CHECK PRICE

Poulan Pro 961840001

Economical
Good size
CHECK PRICE

Snow Joe iON18SB

Good price
Decent build
CHECK PRICE
The 5 Best Budget Snow Blowers
1.

YARDMAX YB5765 Snow Blower – Best Overall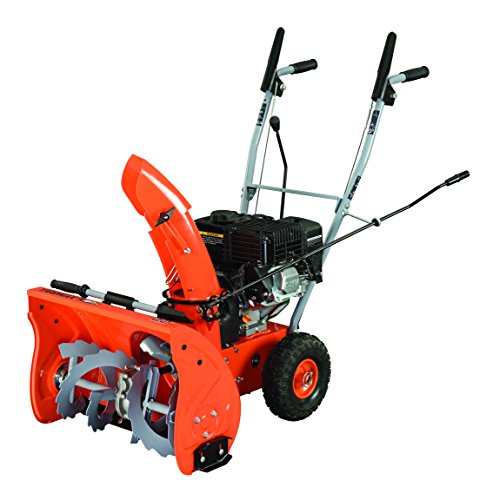 In first place, we have the Yardmax YB5765. This unit earned itself a place in our top slot by providing buyers with the perfect combination of value and performance. If you want a powerful snow blower that can smoothly change speeds, then the YARDMAX YB5765 will be something to consider. It boasts multiple speed settings that will empower you to take a more precise approach to the specific requirements of each unique snow situation.
The Yardmax also features an easy-to-start engine, which will save you a lot of time and frustration in cold weather. Serrated steel augers will help you work through ice and tight snow. Perhaps most importantly, this unit is also engineered for optimal snow-throwing with minimal snow blowback.
Of course, that's not to say that the Yardmax is perfect. Like any product, there are several flaws that you, as a potential buyer, may want to take note of. The biggest downside to this snowblower is that it requires more assembly than the others listed.
If you're experienced with tools and with high-maintenance assembly, it may not be such a big deal. But it certainly makes the Yardmax less user-friendly than some of the other models. Aside from this issue, it's still one of the best overall snow blowers.
Pros
Steel construction
Strong and durable
Easy to use
Multiple speeds
Cons
Assembly may take a while
More expensive than other snow blowers
---
2.

Snow Joe Ultra SJ625E 21-Inch Snowblower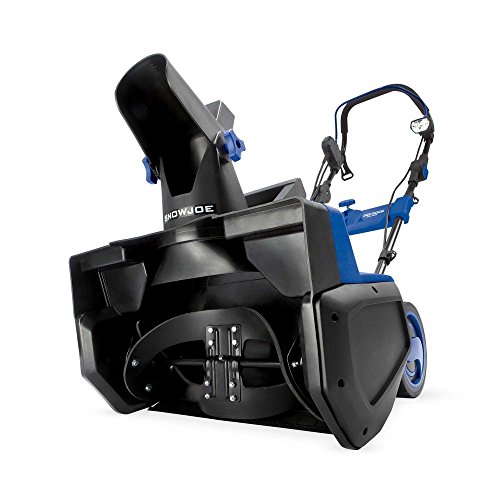 Coming in at number two, we have the Snow Joe Ultra. This machine has been optimized for maneuverability, with an easy-to-turn frame that will make it simple to give your property a comprehensive sweep. The Snow Joe is also efficient. The 15-amp motor can move an impressive 800 pounds of snow per minute, which should enable you to clear your driveway quickly.
The biggest issue we detected with the Snow Joe Ultra is that the machine seems to struggle with deep snow. For regular situations, it will hold up just fine. But if the snow builds up to over a foot, you may encounter some issues. However, it's a great alternative for people who aren't as enthralled with the Yardmax as we were.
Pros
Impressive maneuverability
Powerful motor
Affordable Price
Cons
Struggles with snow over a foot tall
More expensive than several models
---
3.

WEN 5662 Snow Blower – Best Value
In third place, and claiming our "best for the money" slot, we have the WEN 5662. Shoppers who are looking to get the best combination of value and performance that they can find will admire the Wen 5662. Of course, there's more to the WEN than an attractive price tag. It's also just a good snow blower. With a 13.5 amp motor, this unit is not quite as powerful as some of the other options we've seen today, but it's still more than enough to handle most moderate-sized jobs.
The adjustable snow chute provides 180 degrees of movement, improving the machine's overall utility. The biggest downside to the WEN is power. It's not as powerful as the top two blowers on our list. Unfortunately, if the region you live in is prone to heavy snowfall, this may not be a suitable choice.
Otherwise, it is a good snow blower that's available at a great price.
Pros
Reasonable price
Adjustable snow chute
Highly maneuverable
Cons
Less powerful
Weaker motor
---
4.

Poulan Pro 961840001 Budget Snow-Blower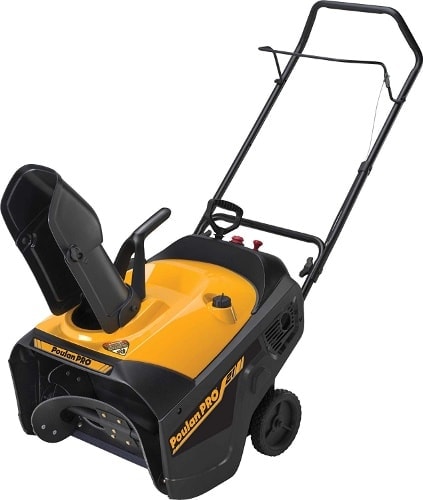 In fourth place, we have the Poulan Pro. Unfortunately, it is not quite as impressive as the last three. Reliability and consistency are critical when it comes to snow blowers (after all, they are sometimes used in emergencies), and unfortunately, both are departments in which the Poulan does not excel.
First, the good. This is one of the most affordable snow blowers. If price is the main factor driving your buying decision, you should consider the Poulan Pro. However, performance issues make the Poulan much less appealing. Its motor is just not up to snuff. A weaker motor means that it takes a lot longer to do simple tasks, and you will be out of luck if you have deep snow.
The unit is also prone to stalling or dying in particularly cold conditions, which means that it may not be able to help you out much in an emergency. While the price of the Poulan may make it seem appealing, most shoppers will probably be better off paying a little bit more to go with our "best for the money" pick.
Cons
Confusing instructions
Weak motor
Lacks maneuverability
Poor battery life
---
5.

Snow Joe iON18SB Snowthrower
Last, we have another Snow Joe product to look at. While the Snow Joe Ultra was impressive enough to claim our runner-up slot, it looks like there's still some work to be done on the Snow Joe iON18SB before it can start topping the charts.
First, the good. Like the last unit that we looked at, it is on the lower end of the price spectrum. Naturally, this makes it an appealing option for buyers on a budget. It would even be fair to say that it benefits from some of the qualities we liked about the other Snow Joe. For example, the build is pretty good, meaning it should stand up to typical wear and tear.
The problem is that the cons outweigh the pros of this unit. It's hard to assemble, challenging to use, and lacks the power that our better blowers have. The battery life is also a problem. You'll be able to use this blower for around 30-40 minutes max, which may be fine for typical situations, but probably won't be sufficient for severe weather.
Essentially, this blower is all right for very light use. But then again, light use isn't what most people buy snow blowers for.
Cons
Doesn't blow the snow far
Complicated
Short battery life
Weak motor
Difficult assembly

Buyer's Guide – Finding the Best Cheap Snow Blower
By now, you've looked at five (mostly) top-notch snow blowers. Hopefully, after going over our reviews, you have a pretty decent idea of what you're trying to get out of this purchase. But if you don't, that's okay.
Even getting a budget snow blower can be a big purchase, so you want to be as prepared as possible before making your final decision. If you still feel like you don't have all the information necessary to make your selection, read on for a buyer's guide that should help clear some things up.
The Learning Curve
Snow blowers come with a learning curve. It's not just about pushing the unit forward and watching the snow blow to the side or behind you.  Commercial-grade snow blowers may have the appeal of being able to handle the most snow the fastest, but they're also designed to be used by the experienced hands of a professional.
Just like you don't need a NASA computer to surf the web, you also don't need a commercial-grade snowblower to accommodate the needs of your modest driveway. If you're new to snow blowing, get something that's made for people who are new to snow blowing. Accounting for the learning curve before you make your purchase will save you a lot of frustration when the big snows come.
Needs of the Region
If the most snow you will ever get is going to be a light dusting, you're probably not going to need an expensive, high-powered snow blower. On the other hand, if you're expecting a decent volume of snow, you'll want to invest in a snow blower that has a little bit more juice behind it.
Perhaps even more important than the learning curve is your location. If you live in an area that doesn't get a lot of snow, you can save a bundle by getting a simple model. On the other hand, if you typically experience heavier snowfall, getting something that can handle it is a must. Knowing your regional snowfall rates is critical to understanding the type of performance you need your snowblower to deliver.
Price
There are a couple of factors that you need to think about when you're considering the price of any product. The first is the sticker price, which will have the biggest immediate impact on your wallet. However, you also want to account for the value of the product. Value is a little bit harder to determine because it requires research.
Does the product perform well? Does it require a lot of repairs? Does it enjoy a long life expectancy? A low price tag may initially seem appealing, but it's much less valuable if you have to replace the machine within a year of buying it. Remember, the trick to budget shopping is not to find the best price but the best value.
Warranty
There are a couple of reasons why you'll want to get a product that has a strong warranty. For one thing, longer warranties will keep you covered if your product needs unexpected repairs or maintenance. Not only does an extended warranty keep you covered in the event of unforeseen circumstances, but it also hints at how confident the manufacturer is in their product.
Companies that feel they have made a good tool are usually willing to provide a solid warranty to back it up. Why? Because they feel the tool is good enough that they won't have a lot of customers needing to redeem the warranty. On the other hand, when manufacturers haven't made a great product, they're usually a little less inclined to provide a strong warranty.
While the length of a product warranty should not be the main consideration you make as you set out to buy a snow blower, it is a good way to tell how confident a company feels about what they've manufactured.
Features
The primary function of a snow blower is, of course, to blow snow. However, some additional features can make the experience a little more comfortable—if you're willing to pay for them. Quick start buttons are a good way to ensure that you won't get frustrated trying to start your snow blower in the freezing cold.
Heated handles are another feature to look out for. Though certainly not necessary to the overall function of the machine, they'll keep you more comfortable during the harsh winter months. Then there are LED headlights—also not necessary, but very helpful. Keep in mind that you're probably going to be using this product in the early hours of the morning.
The LED headlights will make it much easier to do a thorough job even before the sun comes out.

Conclusion
While it's not our place to tell you how to spend your money, we have a couple of recommendations that might help you. If you're looking for the best snow blower (and don't mind paying for it), you should try the YARDMAX—our top choice on today's list. On the other hand, if saving money is your top priority, look no further than the WEN, our "best budget snowblower for the money" choice. We hope that this guide helps you find the best budget snow blower that will live up to your needs.
Learn more!