4 Best Spray Paints for Glass – Top Picks & Reviews 2023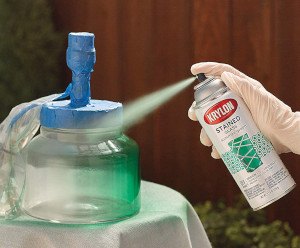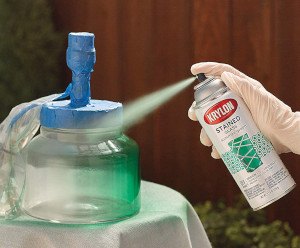 Spray paint has a reputation for not being a very effective way of painting glass. If it's not done with a lot of care, it looks sloppy. It's also easy to chip off. Most people prefer using hand paints. Done right, however, sprayed paint can have an almost elegant look. Add a final layer of epoxy, and you can add a few years to it, too.
If you want to use spray paint on a project involving glass, you'll want to get the right one. To help you, we took a look at some of the best options available and wrote reviews about them. We also included a buyers' guide to provide some tips on how to shop for it. Best of luck in finding the right stuff to make your project look stellar.
---
A Comparison of Our Favorite Products in 2023
Rating
Image
Product
Details

Top Pick

Krylon Stained Glass

Applies evenly
Thin coat
Frosts perfectly
CHECK PRICE

The Runner-Up

Krylon Sea Glass

Easy to use
Great results
Even application
CHECK PRICE

Design Master Premium Metallic (Rose Gold)

Perfect color
Quick drying
Adheres to any surface
CHECK PRICE

Rust-Oleum 11-Ounce Specialty (Sea Frosted Glass)

Dries fast
Semi-transparent coating
CHECK PRICE
The 4 Best Spray Paints for Glass
1.

Krylon Stained Glass Spray Paint – Top Pick
If you're looking for a spray paint that will make your glass project look like stained glass, Krylon sets the industry standard. Just about the only concern is that you not use it if the air temperature is above 85 degrees Fahrenheit. That can change the texture of the paint as it dries.
Beyond that, Krylon's Stained Glass Paint has it all. It applies evenly with a thin coat, almost more of a misting. This might prolong the process a little, but when it comes to spray painting glass, doing it right is going to take time. This allows a lot of control over just how much color you apply, and is also perfect if you're looking for more of a frosted appearance than a solid color. Overall, we think this is the spray paint for glass on the market this year.
Pros
Applies evenly
Thin coat
Frosts perfectly
---
2.

Krylon Sea Glass Spray Paint – The Runner-Up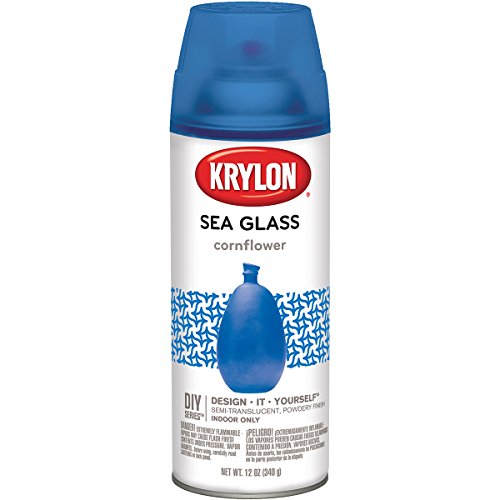 When it comes to quality, there's really just a butter knife's worth of difference between Krylon's Stained Glass Paint and its Sea Glass Spray Paint. In fact, if you're looking for sea glass rather than stained, we'd recommend this every single time.
It is consistently excellent. It's easy to get started with, goes on evenly, and makes for a great-looking piece when you're done. Like the stained glass type, it'll take a lot of coats to fill it all the way in, which sounds bad but allows you a lot of control over what the finished product looks like.
The thing we don't like is that it takes a bit to figure out how to work it. While the spray can is easy to use, figuring out how to get it right will take a little more time.
Pros
Easy to use
Great results
Even application
---
3.

Design Master Premium Metallic Spray Paint (Rose Gold)
Design Master's DM241 Premium Metallic Spray Paint, Rose Gold is the best gold spray paint for glass surfaces for a simple reason. It's the real deal. Lots of spray paints claim to be rose gold. This one actually is. If you have glass pieces you want painted rose gold, you can use this and be confident that they'll all come out the color you want.
A side benefit is that the paint adheres well to any surface. If you only need rose gold paint for a single jar and have most of a can left, you can use it on wood, metal, plastic, or any other surface you can imagine.
A drawback is that the finish is metallic, not translucent. It won't look like glass anymore.
You'll also certainly want to apply a sealant coat of epoxy when it dries, because this paint has a habit of flaking off easily. We'd suggest doing that with any glass piece you use spray paint on, but this one especially so.
Pros
Perfect color
Adheres to any surface
Cons
Not translucent
Definitely needs a sealant coat
---
4.

Rust-Oleum 11-Ounce Specialty Spray (Sea Frosted Glass)
Rust-Oleum's Sea Frosted Glass spray paint is a far cry from the Krylons at the top of our ranking. The best thing we can say about it is that it dries quickly. If you really don't want to spend all day devoted to a glass project, this one will let you apply coats, wait a few minutes, and then apply another one.
It also sprays a lot of paint, so you can get away with fewer coats. In doing that, you sacrifice some of the precision by which you can control the appearance of the final product.
You'll also want to shake the can regularly during use to keep the paint separated. Otherwise, it can glob together and come out unevenly.
Cons
Thick coats
Less control over appearance
Uneven results
Needs regular shaking
---
Buyer's Guide – How to Choose the Best Spray Paint for Glass
Going to the store and buying spray paint can seem very simple. The cans are usually just sitting there on shelves like packages of toilet paper. They're arranged for a reason, however, and buying the wrong kind will end in the frustration of going back to get the right product to finish the job.
We compiled a handful of tips, so if you've got a project that involves spray painting glass, you can get it right.
Designed for purpose
You can actually use any spray paint on glass. There are spray paints designed specifically for highlighting or complementing the qualities of glass, as opposed to just coloring a grill or a piece of wood. But if you just want solid color, you can use any basic spray paint.
A word of caution here. If you want your painted piece to last, apply a coat of epoxy when you're finished to help the paint set and to seal it on. Spray paint chips, cracks, and falls off glass easily, which is why it's usually suggested that whatever you paint not come into contact with food. A layer of epoxy over it will help hold it in place.
Thin coats
Spray painting glass is actually a process of adding several different coats over time. Each coat ought to be very fine, with time to dry fully between applications. When buying spray paint for glass, look for paint that comes out in almost a mist, rather than a spray pattern.
Drying time
The amount of time it takes a coat of spray paint to dry will translate directly to how long the entire project is going to take. A paint with a faster drying time will cut down on how long you have to wait between coats. Even if you're okay with waiting a long time between coats because you've got a bunch of things going on, wet paint will attract and capture dust particles. A fast-drying paint means a cleaner job.
Finish
Spray paint comes in a variety of finishes, from mattes to high gloss. Most spray paints for glass are translucent to accentuate the base material rather than cover it up. Still, when shopping for spray paint to do a project involving glass, make sure you know what kind of finish you want.
Price
You can't really have a buyers' guide without discussing how to save a few bucks. Truthfully, spray paint is already affordable, and the biggest driver in price is the color you're looking for.
In fact, the low price is one reason why people opt to spray paint on glass. A coat of hand paint will last longer, but it's also a lot less affordable. Shop for the color and finish you want first. If you can quickly find a deal, save yourself a little, but if you spend a lot of time price comparing, what you find in savings will pale compared to what you lost in productivity.
Here are some other spray-paints we've reviewed:

–> Which brass spray cans are our favorites this year?
–> Which spray can is best-suited for spraying on car wheels?
---
Conclusion
Krylon's quality sets a high bar for all spray paints. The top two of the four we wrote reviews about are Krylons, the Stained Glass Paint and the Sea Glass Spray Paint. If you're looking for a different color, we'd suggest that you see if Krylon has it first, because its paints are easiest to apply and set fastest. Design Master's DM241 Premium Metallic Spray Paint is the best rose gold spray paint for glass. Rust-Oleum's 11 Ounce Specialty Spray, Sea Frosted Glass goes on a bit too thick for our liking, raising the possibility that your glass will have drips and run marks. We ranked it last in our field of four.
We hope you find our reviews helpful and took shopping tips from our buyers' guide. Spray painting glass has a bad reputation, but if you exercise a little care and take your time, it can add a distinguished look to your glass pieces. Remember to shop for the color you really want, and apply a thin coat of epoxy finish to extend the life of your paint job.