5 Best Spray Paints for Rims of 2023 – Top Picks, Reviews & Guide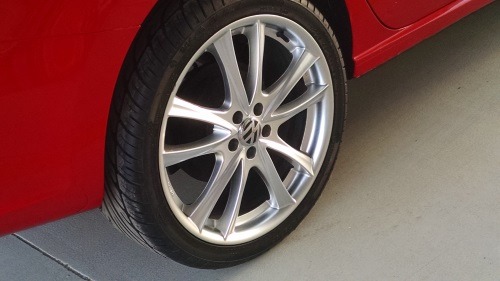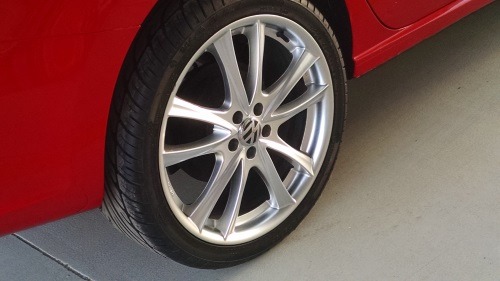 The spray paints for rims that found their way onto this list did so by virtue of several qualities that are most important to buyers: appearance, durability, and overall effectiveness. As we formulated our reviews of spray paint for rims, we tested each product personally.
To find the five best spray paints for rime before you, we had to sample hundreds of different paints, but the effort was well worth it. There are high-quality paints on this list for shoppers of every variety. Whether you want the best paint you can get, or just something affordable that will get the job done, there is an option here for you.
Our Favorites Compared (in 2023)
Rating
Image
Product
Details

Best Overall

Dupli-Color Universal Chrome Perfect Match

Moderate price
360-degree spray nozzle
Fast-drying
CHECK PRICE

Best Value

Dupli-Color HWP104

Affordable
Effective
Weather-resistant
CHECK PRICE

VHT SP187 Gloss Black

Protective finish
Glossy finish
Primer/paint/gloss combination
CHECK PRICE

PlastiKote 620 Semi-Gloss

Durable
Chip-resistant
Protects against weather
CHECK PRICE

Performix Plasti Dip

Very affordable
Comfortable to grip
Easy to remove from most surfaces
CHECK PRICE
Top 5 Best Spray Paints for Rims
1.

Dupli-Color Chrome Spray Paint for Rims – Best Overall

The Dupli-Color Universal Chrome Perfect Match, our pick for the best spray paint for rims, is a moderately priced automotive paint that's great for buyers who want quality and value. The high-quality finish dries quickly, so you can handle your rims shortly after laying the paint. The paint dries in just one hour, so you don't have to worry much about disrupting the job by handling it improperly.
The can itself is also well-designed, with a 360-degree spray nozzle that makes it as easy as possible to lay down a nice, even coat.
There is one problem: the tip of the paint can tends to clog up very easily. If you use the entire can in one sitting, it probably won't be a problem. Otherwise, you might be in for some frustration. That aside, it's a great can for automotive touchups.
Pros
Moderate price
360-degree spray nozzle
Fast-drying
---
2.

Dupli-Color Wheel Coating Spray Paint – Best Value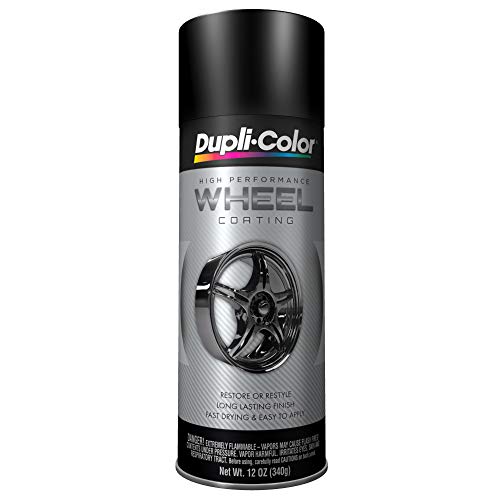 The Dupli-Color HWP104 paint is affordable and effective. It's designed to be highly reflective, to the point that it's able to restore the original appearance of your car wheels.
This paint is durable, weather-resistant, and designed to last for a long time. As an added bonus, it also dries very quickly and is safe to handle less than an hour after your initial paint job.
The only real downside is that it takes a lot of paint to get the results you're looking for. Several coats are required to produce the reflective look most people want. This factor undermines the value of the paint somewhat, but it's still the best spray paint for rims for the money.
Pros
Affordable
Fast-drying
Weather-resistant
---
3.

VHT Gloss Black Wheel Spray Paint Can

The VHT SP187 Gloss Black Wheel Paint features a protective coating that mitigates the risk of roadside debris. The coating helps protect against the little chips and blemishes your wheels can suffer as you drive your car.
It also serves the same function as ordinary paint, producing a nice glossy, reflective finish that will make your rims look like new. It's an all-in-one can that includes primer, paint, and gloss to ensure that the color really pops.
It's a good all-purpose paint that suffers from one small hiccup: a very slow drying time. Your rims will be dry to the touch after roughly half an hour, but it may take all night for them to be safe to handle.
In the grand scheme of things, this issue is fairly small, but it can prove inconvenient. It's also worth mentioning that this is one of the pricier paints on our list. If you're buying on a budget, you probably won't choose this option.
Pros
Protective finish
Glossy finish
Primer/paint/gloss combination
Cons
A little pricey
Slow drying time
---
4.

PlastiKote Semi-Gloss Black Rims Spray Paint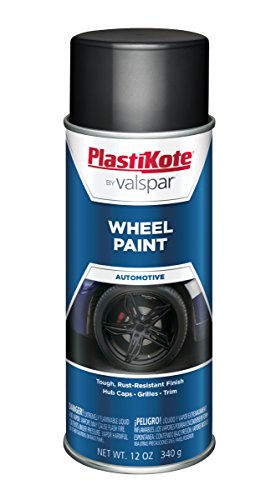 The PlastiKote 620 Semi-Gloss is a dark gray tinted paint that's resistant to both weather deterioration and rust. The formula is also very durable. It's designed to be chip-resistant and will help protect your rims from blemishes as you drive at high speeds.
In terms of performance, there isn't a lot to take issue with. It stands up pretty well to almost any option on our list. The only real issue is that it falls short in the same way that the last paint did.
For one thing, this is one of the most expensive paints on our list. You can get similar quality while spending less money.
It also takes a long time to dry. It's a good can of paint, but value concerns put it low on our list.
Pros
Durable
Protects against weather and chipping
Cons
Pricey
Takes a long time to dry
---
5.

Performix Plasti Dip Aerosol Wheel Spray-Paint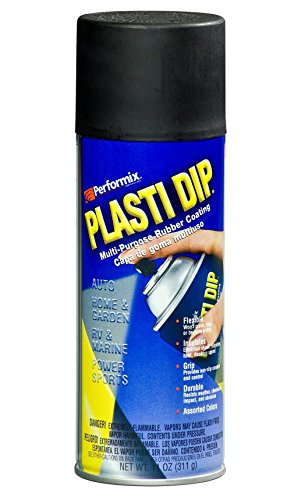 The Performix Plasti Dip Black Multi-Purpose Rubber Coating is a budget buy that will be a good fit for buyers who can't afford to spend very much on this purchase.
The product comes in an ergonomic can that's comfortable to grip and use. It's also resistant to heat, physical stress, and even electricity.
There are a few major concerns that undermine the overall performance of the paint. It doesn't have the same seamless look as some of the other options on our list. It has a distinctly paint-like look that will stand out on your car.
It also interacts very poorly with other paints. While it will do fine on a clean surface if you spray it over a previous paint job, both will deteriorate and crumble.
RELATED READS: A Rundown of the Top Spray-Guns for Working with Plasti Dip
Pros
Very affordable
Weather-resistant
Cons
Interacts poorly with other paints
Does not look great on cars
---
Buyer's Guide – Finding the Best Spray Paints for Rims
Below you will find some buying considerations that should help you finalize your decision.
Drying Time
One of the most important factors to keep in mind is how long the paint takes to dry. The faster the paint dries, the less likely it is you will mess up your hard work when you move the rims.
You can find paints that will dry in less than an hour.
Weather Resistance
Since this paint will be going on your car, you'll want to make sure it's able to stand up well to the elements. To maximize your paint job's longevity, check that the product you buy is resistant to poor weather conditions.
Protective Properties
Some paints can actually protect the structural integrity of your wheels. As you drive, little pieces of debris will chip away at your wheels, damaging them over time.
Paints with protective features will mitigate that risk, extending the life of your wheels while also improving their appearance.
How Does the Paint Look?
It seems almost too obvious a thing to list, but appearance is an important consideration. When it comes to automotive paint, you want to get an exact match for the rest of your car. If the new paint does not complement what is already there, it will stand out like a sore thumb. Ideally, automotive paint will be glossy just like the stuff that comes right out of the factory.
Similarly, if you're looking for a chrome-like finish, be sure the paint you settle on is reflective, just like the real thing.
Price
Budget is always a concern no matter what you are buying. When it comes to spray paint, though, most people can get something pretty decent. After all, even really high-end paint won't bankrupt you.
This doesn't mean you need to buy the most expensive can you can find—there's no guarantee that that's the best option on the market anyway.
What it does mean is that it could be to your benefit to get something on the higher end of the price spectrum. It will be well worth the investment to get something that makes your rims look great.
---
Conclusion
Hopefully, our spray paint for rims reviews have helped you finalize your decision already. However, if you aren't quite sure which of these five options is right for your needs, there are two recommendations we can make that might simplify the decision.
If you're looking for the best spray paint for rims overall that you can get, consider our top choice, the Dupli-Color EBUN02007 Universal Chrome Perfect Match Automotive Paint.
There is also a great option out there for budget buyers. Our best spray paint for rims for the money pick, the Dupli-Color HWP104 Black High-Performance Wheel Paint, provides a good value/quality combination.
Now that you know all about spray paint for rims, your choice should be easy!