4 Best Spray Paints for Metal Surfaces of 2023 – Reviews & Buyer's Guide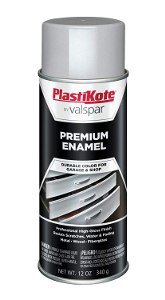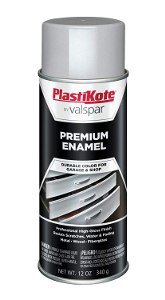 Spray paint is useful for quick, even coats, even on objects that have irregular surfaces that would make traditional paintbrushes hard to use. That makes it a prime candidate for coating metal surfaces in lovely colors. However, not all spray paints are meant for use with metal, and that means that you could end up with a spray paint that doesn't adhere well, leaving you with a spotty final finish, or chips and cracks shortly down the line.
We assembled this list of reviews of some of the best spray paints for metal so that you can find the variety that will work the best in your situation. We also included a buyer's guide, which means you can learn about spray paints and shop with confidence, even if you've never bought spray paint before.
---
A Comparison of our Favorites for 2023
Rating
Image
Product
Details

Best Overall

Rust-Oleum 7251830-6PK

Rust-resistant
Shiny finish
Interior/exterior
CHECK PRICE

PlastiKote T-23-6PK

Excellent color
Fast drying
Water
scratch
UV light-resistant
CHECK PRICE

Best Value

Krylon K05160202 Colormaster

Price
Industrial design
Paint and primer
CHECK PRICE

Masterchem Industries 41140 Hammered

Good for rusty materials
Can be applied over rust
CHECK PRICE
4 Best Spray Paints for Metal – Reviews:
1.

Rust-Oleum Metal Spray Paint – Best Overall

The Rust-Oleum 7251830-6PK is a great choice for people who want the best metallic colors you can get in a formulation that will adhere well to metal. This spray paint is oil-based and comes with inherent rust-resistant properties that makes it good for situations where you want to protect and beautify. It comes with a shiny finish, due to the inclusion of lustrous metallic flakes which can be hard to find in other metallic paints, which often end up dull and boring. It's also a paint designed for interior and exterior use, so you can feel good about applying it in almost every circumstance.
You'll also find that this spray paint is very durable, standing up to the elements and use. One small complaint is that this formulation is a very slow-drying spray paint. While other brands may be done in minutes, you could expect this spray paint to take 24 hours to dry, and it will probably be tacky to the touch for the duration. However, that's a small problem given the other upsides to this paint, which make it overall the best spray paint for metal.
Pros
Rust-resistant
Shiny finish
Interior/exterior
Durable
---
2.

PlastiKote Premium Enamel Spray Paint for Metal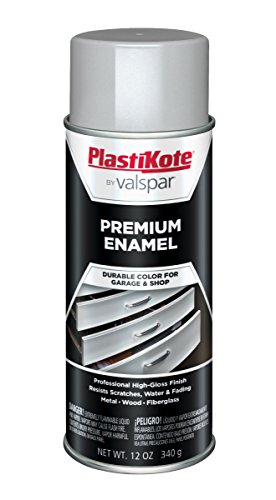 If you're looking to create a great aluminum look, even on materials that aren't aluminum, the PlastiKote T-23-6PK is for you. The color is a true aluminum color, though it doesn't pop well on its own, which is what keeps it out of first place. You could add a clear, protective glossy coat to fix this problem, but, that's going to take more time and drive up the project's final cost. However, this spray paint is truly fast-drying, usually in as little as 20 minutes. It's also designed with interior and exterior use in mind so that you can use it in either location with confidence.
It is also resistant to more common paint-killers than most spray paints. It's water-resistant, which makes it suitable for outdoor use in humid or rainy areas. It's also scratch-resistant, which means it's safe to use on something that you're going to handle a lot, and it's resistant to UV light damage, which means that it's going to hold its color better, inside or out, for longer, as UV light is one of the primary causes of fading paint. If the color were a bit shinier on its own, it would be higher on this list.
Pros
Fast drying
Excellent color
Interior/exterior
Water, scratch, UV light-resistant
---
3.

Krylon Colormaster Metal Spray-Paint – Best Value

If you're not looking to make your metal look like metal and want a utilitarian paint that will get the job done, then the Krylon K05160202 Colormaster may be the one for which you're looking. It was originally designed for industrial maintenance and touch-up, which means that it was built to last and to endure conditions beyond what you're likely to find in your come. Consequently, it's durable and moisture-resistant, and it also dries to the touch in ten minutes or less.
This formulation also includes a primer, so you don't have to pre-treat a surface to ensure good adhesion, which lowers the project's overall cost. This spray paint's single flaw is that you'll have to do multiple coats if you want to get the best results, which given the short drying time isn't that big of a deal. The price on this spray paint is also phenomenal, so you can't go wrong with this spray paint, and it provides some of the best value on this list. Overall, this is a great spray paint for people who want a good deal but are also looking for a very durable formulation.
Pros
Price
Industrial design
Very fast drying
Paint and primer
---
4.

Hammerite Rust Cap Spray Paint for Metal Surfaces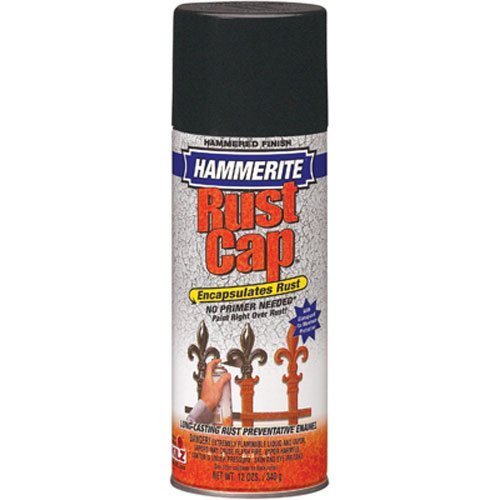 The Masterchem Industries 41140 Hammered spray paint has its uses, though they're probably not the ones that most people are looking for when they look for spray paint for metal. This spray paint is meant for rust treatment, so the best thing about it is that it can be applied over rust. However, that means you're not getting good value if you're painting on a surface that doesn't have any rust on it. The color also isn't that great, as it advertises itself as "black," but ends up drying as more of a charcoal or a gray.
It's also not compatible with aluminum or galvanized metal without the purchase of an additional primer, which means that you're going to be out extra money if you're planning to paint one of those surfaces. While there are good reasons to buy this spray paint, they're unlikely to be the ones for which you're looking. Consequently, this spray paint places last on our list, but that's more because of a mismatch in requirements, rather than a statement about this formulation's inherent worth. If you're working with rusty brake pads, this could be the paint for you.
Cons
Not compatible with aluminum
Color mismatch
Meant for rust treatment
---
Buyer's Guide – Choosing the Best Spray Paint for Metal Surfaces
We hope that our reviews have given you some ideas about what you're looking for when you shop for spray paint for metal. If you have further questions or want to learn more about some of the thinking that went into our reviews, make sure to read this buyer's guide, which is packed full of a lot of good information about spray paints.
Color
One of the most important things to consider when you're painting on metal is the color that you ultimately want. If you're painting on metal and want a metal surface color, like chrome, gold, silver, aluminum, or bronze, you're going to have to look hard to find what you want. Many companies do a good job of getting the color right, but the luster, or how shiny the dried paint often presents an issue.
More metallic spray paints tend towards dullness and flatness than not, so if you're looking for a shiny finish you have a limited number of options.
Ease of use
Some spray paints come with primer included, which makes the job easier when you're working with metal. If you don't get a version with primer included, you may want to purchase a primer separately and precoat the object so that you get the best final finish.
Some companies also make cans that are prone to clogging, so you'll want to avoid those at all cost, because a clogged can is completely useless, even if it has paint still inside. You may want to invest in a few spare nozzles if possible, as replacing those can make the can useable again.
Durability
Different spray paints come with different levels of durability. Some are only meant for indoor use, which likely means that they don't hold up well to water and fade easily in UV light. Other variants are labeled as "indoor/outdoor," but don't do as well outside as they would if kept indoors.
If you're looking for a true outdoor spray paint, you'll want to find something with rust-resistant properties, and this comes with moisture resistance and UV resistance. That way it will stand up to the three of the most common hazards outside and will last for a long time.
Which spray paint should you choose?
If you're not sure that there's a clear winner here, you're partially right. No single can of spray paint is going to be right for all people in all situations. Each variety has strengths and weaknesses in different areas. Your job as a savvy consumer is to figure out which variety has the strengths that you need but has weaknesses that won't matter in your specific situation.
Note that we didn't say anything about price. While price is a factor, you can get the best value, or bang for your buck, by figuring out what you need your spray paint to do in advance, and then getting the formulation that accomplishes those goals without adding extra features that raise the price.
Other types of spray paints we've reviewed:
–> Spray paints for plastic surfaces
–> Spray-paints suited for wood furniture
Conclusion
The Rust-Oleum 7251830-6PK has the best color and comes with rust-resistant properties that launch it to the top of our list. The PlastiKote T-23-6PK also has good color and is very durable, but it lacks a shiny finish, which keeps it out of first. The Krylon K05160202 Colormaster is an industrial-designed spray paint which comes with primer included and dries fast, while also coming at an inexpensive price, making it the best value on our list. The Masterchem Industries 41140 Hammered spray paint is good for situations where you're already dealing with rust but doesn't have the features most people will want.
Hopefully, our reviews and our buyer's guide have helped you see what you should be looking for when you shop for spray paint for metal. You should now be able to find the spray paint that will give you the most satisfying experience at a price you'll love, too.