10 Best Sump Pumps of 2023 – Top Picks & Reviews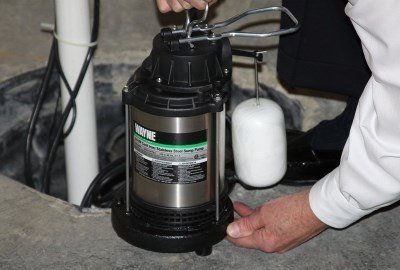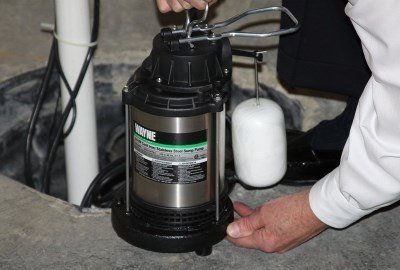 Which pumps are powerful enough to keep your basement dry? Is there a pump that will be quiet enough for you to sleep? With so many pumps on the market, it's hard to know which pumps will deliver and which will fail at critical moments, leaving you with an underground pool where your basement used to be. These reviews will simplify the process so that you can hopefully find the right sump pump for your needs.
---
A Quick Comparison of Our Favorites in 2023
Rating
Image
Product
Details

Best Overall

WAYNE CDU980E

Very powerful
Long lifespan
5 year warranty
CHECK PRICE

Best Value

Superior 91250

Low price
Multiple hookup options
Filters debris
CHECK PRICE

Best Battery Back-Up

Wayne WSS30VN

Battery backup works when the power dies
Great flow
even from the backup
Quiet operation
CHECK PRICE

Liberty Pumps 257

One-piece cast iron housing
Handles solids up to 1/2"
CHECK PRICE

WaterAce WA50CPED

5
000 GPH flow rate
Quiet operation
Accessible motor
CHECK PRICE
The 10 Best Sump Pumps
1.

WAYNE CDU980E Sump Pump – Best Overall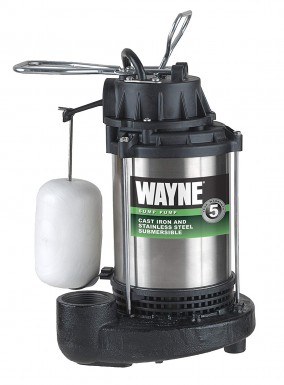 If you want to sleep soundly with no worries about water and noise, this Wayne unit is one of the best submersible sump pumps on the market.
No matter how much water you need to remove, this pump can handle it and keep your home dry, with a flow rate of 4,600 gallons per hour (GPH). Even when pumping water 10 feet vertically, this pump can still discharge 3,500 GPH, making it one of the best sump pumps for a basement.
This robust pump is tested to one million cycles, ensuring a long life expectancy. To help you sleep better at night knowing your pump won't fail, a five-year warranty is included.
Installation is a 15-minute process. Most homeowners can save money by completing the installation on their own without the need for a professional.
Expect to pay a premium for the Wayne CDU980E's power and longevity. It's the best sump pump on the market, and the price reflects this.
Pros
Very powerful
Long lifespan
Five-year warranty
Easy installation
---
2.

Superior 91250 Sump Pump – Best Value
When budget is a factor, the Superior Pump 91250 is the best sump pump for the money.
This submersible pump is equipped with a ¼-horsepower motor that can pump up to 1,800 gallons per hour. When pumping water 10 feet vertically, it is still capable of moving 1,200 gallons per hour. While this is great flow for the price, it's only about one-third of the amount of water that the sump pump in our top spot can move. And the one-year warranty can't compare to the five-year warranty provided by Wayne.
Still, this pump is built to last. Double O-ring seals and heavy-duty construction provide peace of mind, and the screen filters out large debris. The pump itself can handle up to 1/8" solids with ease, so you don't have to worry about little pebbles and leaves ruining your system. It also features multiple discharge and hookup options to make it simple to set up for any homeowner looking for the best budget sump pump.
Pros
Low price
Multiple hookup options
Filters debris and can handle solids up to 1/8"
Cons
Only a one-year warranty
Not as powerful as our top pick
---
3.

Wayne WSS30VN Sump Pump – Best Battery Back-Up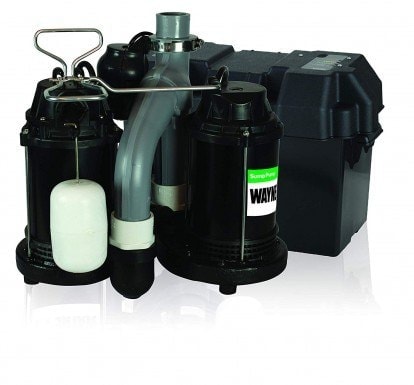 If power failure has ever left you with a useless sump pump and a flooded basement, then the Wayne WSS30VN combination sump pump system will bring you peace of mind.
This unit is actually two separate pumps together. One is the main sump pump that is wired into the home's electricity. The other is a battery-powered backup that activates when the power goes out and the main pump shuts off.
The battery-powered backup pump has a flow of up to 2,900 GPH. On a single charge, it can move 10,000 gallons of water. No matter how much rain is pouring down outside, this pump will keep your home dry, even with no electricity. Additionally, it is nearly silent and will never wake you up. In fact, you may not even know when it's in use.
While this pump provides incredible peace of mind with its battery-powered backup, it does come at a high price. This keeps it out of many consumer's homes and out of the number-two spot on this list. The question is, though, can you put a price on being prepared?
---
4.

Liberty 1/3 HP Submersible Sump Pump
This sump pump from Liberty Pumps has a unique and attractive one-piece cast iron housing. This keeps the motor safe from any sort of exterior damage, helping improve its life expectancy. A three-year warranty backs up the company's belief in their product.
The motor is thermally protected and permanently lubricated. It provides an adequate flow of 3,000 GPH. While this is a decent flow for a sump pump, it can't quite compete with our top contenders.
Where this pump excels is its ability to handle solids up to 1/2" in size. If you find the need to constantly clear your pump of debris to be annoying, then this feature may be an important factor in your decision.
The big drawback of this pump is the high price. Other pumps at the same price point offer higher flow rates and better warranties.
Pros
One-piece cast iron housing
Handles solids up to 1/2"
---
5.

WaterAce Pedestal Sump Pump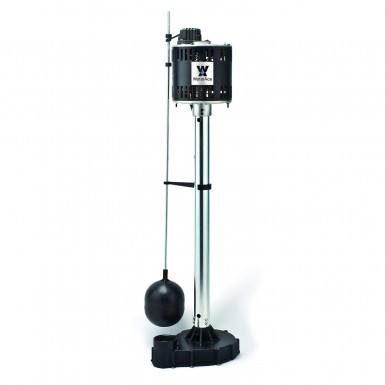 If you're going to use a pedestal sump pump in your home, our best recommendation is the WaterAce WA50CPED.
This pump avoids many of the problems that plague other pedestal sump pumps. For instance, it can pump solids up to a 3/8" size. This means you won't have to spend time cleaning and unclogging your pump.
The top-mounted adjustable float switch is easy to access. The overload protection built into the motor should prevent issues. If any should happen to arise, the motor is also easily accessible.
A high flow rate of 5,000 GPH keeps up with even the best submersible pumps. Despite the high water flow and easy accessibility of the motor, this pump is very quiet. If your current pedestal pump sounds like a jet engine, this unit is a great choice for an upgrade.
Pros
5,000 GPH flow rate
Quiet operation
Accessible motor
Cons
Takes up basement space
High price
---
6.

Zoeller M53 Submersible Sump Pump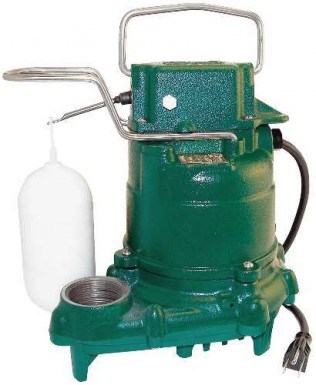 This 1/3-horsepower submersible pump from Zoeller can also be used as an effluent pump in a septic tank. It is able to pass up to 1/2" solids.
With a flow rate of 2,580 GPH, this pump is certainly not the most powerful on this list. The price, however, is up there with the other highest-priced sump pumps.
A cast-iron casing keeps the motor inside safe from damage. A three-year warranty backs up the reliability of this submersible pump. Unfortunately, the manufacturer will only give a warranty to products purchased directly from them, so if you purchase yours somewhere else, they may not honor the warranty.
The float switch is a common failure on these pumps. Sometimes, they fail in as little as one to two years of moderate usage. However, many of the units are stable and reliable for over seven years.
Pros
Can pass 1/2" solids
Cast-iron housing
Cons
Float switch failure is common
The manufacturer will not honor warranties of purchases from supply houses
---
7.

WAYNE WaterBUG Sump-Pump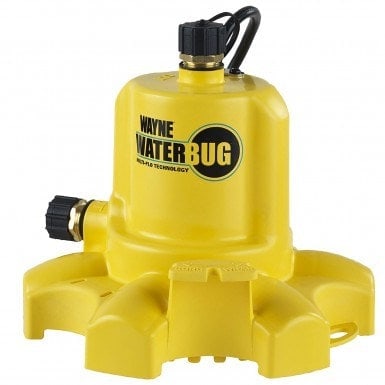 This versatile multi-flow pump from Wayne can be used for a variety of applications. You can choose between top discharge and side discharge with this pump, which may be beneficial in a non-standard sump pit arrangement.
The biggest drawback to this unit is that it does not have automatic operation. You can't leave it plugged in and expect it to sense water and pump it away. If you turn it on, it stays on until you turn it off. This makes it impractical as a main sump pump in most situations.
Because it can remove water down to 1/16", this pump is a great choice for smaller sump pits that only fill up on occasion. However, its poor flow rate only moves a maximum of 1,257 GPH. For this reason, this pump is not a great choice for full-size sump pits or anywhere where maximum water flow is a necessity.
Pros
Can clear water down to 1/16"
Top and side discharge available
Cons
Manual operation only
A maximum flow rate of 1,257 GPH
---
8.

DEKO Submersible Sump Pump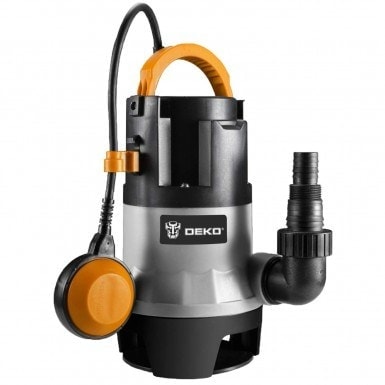 This pump from DEKO features a 1-HP motor capable of pumping 3,302 GPH. It manages to accomplish this at a modest price point. Unfortunately, this low price is reflected in the build quality. All plastic housing and components don't inspire confidence in this pump's longevity, nor does the lack of any available warranty information.
The top-heavy design causes the pump to often want to tip over. This unit is also known to occasionally deliver an electrical shock when trying to adjust the cutoff switch.
Pros
Low price
Adequate flow rate
Cons
All plastic build
Top-heavy design is unstable
May shock you when adjusting
---
9.

WaterAce WA50PSV Submersible Sump-Pump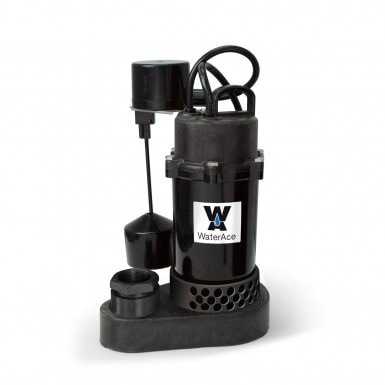 This submersible sump pump from WaterAce is priced near our highest rated sump pumps on this list, but it lacks the same features and longevity.
This pump can move 3/8" solids. The impeller is made of plastic, though, which doesn't inspire confidence when it comes to passing small stones, sticks, and other debris. While most of our top-rated pumps had cast-iron parts and housings that are built to last, this pump is made from cheaper aluminum instead. No warranty information is available for it, which doesn't build trust with consumers. For the price, you'd be better served with one of our top picks instead.
Cons
No warranty information
High price for the features
Aluminum construction instead of cast iron
---
10.

Basement Watchdog BW1050 Sump Pump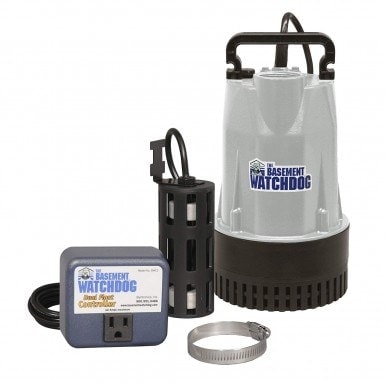 This pump is priced similarly to the top contenders on this list. On paper, this pump seems to be a decent pump, but in reality, it doesn't live up to expectations.
With 4,400 GPH flow, this pump won't match its top competitors, but it's not terrible by any means. The best feature of this pump is its narrow footprint, which allows it to fit in sump pits as small as 7" in diameter.
The downside with this pump is durability. It is common for this pump to fail in the first two years, sometimes even sooner. A three-year warranty means that replacement should be covered by the manufacturer, but when your home was flooded due to the first one failing, do you really want another of the same pump that just let you down?
Unfortunately, that's not the only problem. The Basement Watchdog pump is also easily blocked by debris, causing the pump to run dry. If this goes on too long, the motor will burn up and die prematurely. It's also a noisy pump compared to similarly priced competitors.
Cons
Over-priced for its longevity
Likely to die in the first two years
Easily blocked by debris
Loud compared to competitors
---
Buyer's Guide: Choosing the Best Sump Pumps
After reading our reviews of the best sump pumps currently available, you know which pumps we recommend. But do you understand the features of the different pumps? Here, we will go over the important things to know before making your final purchase.
If you live in a low-lying area that gets a lot of moisture accumulation, a sump pump is necessary to keep your basement and crawl spaces dry. Torrential rain in the fall and thawing conditions in the spring can leave your basement looking like a swimming pool without one!
As you have seen in the reviews above, there are many different brands of sump pumps available. Although trying to figure out which brand is best can be difficult, you still have to decide on other details, as well…
The Different Types Of Sump Pumps
There are two main types of sump pumps you can choose from; either pedestal or submersible. Although they both provide the same results (a nice dry basement), they have very different features, pros, and cons.
Outside of the two main types, there are also sub-categories of sump styles that you need to consider. In this section, we will outline the main differences between the two main types, and also give you some info on the sub-categories, too.
Pedestal Sump Pumps
The first type of sump pump is the pedestal variety. This pump sits above your basin or underground area where the water accumulates. In this case, the motor is housed in the above ground part while a pipe and propeller are installed into the basin to move water up and away from your basement.
One great feature of this type of sump pump is it's easy to install and repair when needed. Just like any machine, it will eventually need maintenance and having it within reach makes life easier. Not only that, but this option has a longer lifespan.
Unfortunately, the pedestal version of this machine is usually loud. It can also take up valuable space in your basement. This is especially true if your basin shaft is located in the center of the space. Furthermore, they are not the most attractive-looking items.
Submersible Sump Pumps
The second type of sump pump is submersible. In this case, the entire machine is instilled inside your basin and below the waterline. The motor is enclosed in a waterproof casing that will keep the mechanisms from becoming wet.
As you can imagine, this type of pump is not easy to fix when it needs repair or maintenance. They also don't have as long of a life span. While a pedestal sump pump can last upwards of 25-years, a submersible option will likely need to be replaced after 10 to 15-years.
That being said, underwater units are a lot quieter. They also free up space in your basement, and you don't have to look at an unsightly machine in the middle of your space.
Sump Pump Sub-Categories
Outside of the two main categories, there are some sub-categories that you should also be aware of. Take a look at these additional factors you should consider.
Primary: A primary sump pump is just as it sounds. It is the main unit you use to divert water from your home. It runs off your main electric line, therefore, any potential power outages will render your pump useless.
Battery Back-up: As you probably guessed, this type of unit is powered by a battery. As so, you will not have to worry about the power going out. This type of pump can be both pedestal and submersible, but they are typically pedestal. The biggest drawback to this model, unfortunately, is it's not as powerful as the primary. If you do not experience a lot of flooding, however, you will most likely do well with this type of unit.
Combination: A combination sump pump is a popular type. This option gives you the power of electric sump with the emergency back up of a battery-operated unit. Another great feature of this pump (typically) is there is nothing you need to do when the power goes out. A sensor in the machine alerts it to a power failure, and it will automatically switch to the battery. The only thing you have to remember is to make sure the battery is charged and ready to go when the weather is bad.
Sewage: A sewage sump pump is a bit different from the other options. The main difference is it can pass debris up to 2 inches, and it is used when wastewater collects at a lower point than the septic line. Some models can also turn waste into a slurry to move it more efficiently through the piping system. In general, this sump pump is used for septic overflow and is located in the septic tank or somewhere near it. That being said, if you have a higher amount of debris where the water accumulates in your home, this type of system can be useful.
Water-Powered: The final option is a water-powered sump pump. This is a newer type of system that uses the natural flow of water to power the unit. Keep in mind, you need to have town or city municipal water for this pump to work. Also, depending on how far the water needs to travel, these systems are not always strong enough.
Important Things to Know About Sump Pumps
Now that you know the different options you have for a sump pump, there are still a few more details to keep in mind. First, this system is designed to divert water away from your home. Naturally, water flows downhill, so if your home is in a low-lying area where water can collect, you will see flooding. That being said, the sump pump is used to propel water from the lowest accumulation point. For it to be effective, it needs to be powerful enough to move water vertically and horizontally.
Horsepower: Sump pumps can have a horsepower (hp) ranging from 1/3 hp to 1/2 hp depending on your need. To figure out the hp you need, there are a few measurements you should know. First, how far down is the lowest point your sump will be removing water? Second, how far away from the home does the water need to travel? Again, how much water accumulation you get can also play a role here. If you only get light water accumulation, a lower hp will work. It's important to note that opting for a powerful model is not always a safe way to go. In fact, a pump with too much power can cause your motor to burn out quickly. If you need help determining the right size, check out this sizing calculator here.
Flow Rate: The flow rate of your sump pump ties in with the horsepower. The flow rate measures how much time it takes for your sump to pump the water out. It is measured by either gallon per hour (gph) or gallons per minute (gpm). While the hp will determine how much flow rate your model has, the amount of gpm you need is determined by how much water accumulates. For example, if you live in an area where you have torrential downpours regularly, you will likely need a higher flow rate.
Shopping Tips
Although we have already covered the most important aspects of a sump pump, there are a few other features you should be aware of before making a final decision.
Water Flow: Many older sump pumps used propellers to move the water from one place to another. Newer models have wide flow options or wave-making capabilities that will save on your energy costs, plus it will extend the life of your pump motor.
Core: When picking out a model, look for one that has a cast iron core instead of a plastic one. They are more durable and long-lasting. It also helps to lower the water temperature which will also extend the life of your motor.
Switches: You want to look for a sump that has a mechanical switch, not a pressure-activated option. Pressure activated can fail to turn off when the storm has passed allowing your motor to burn out.
Intake: To prevent clogs, your sump should have a no-screen intake to prevent debris from building up and causing a blockage.
Warnings: Many sump pumps come with warnings. Whether it's a warning that the battery is low, there is a mechanical issue, or the water has reached a certain point, you want to be notified when you have a possible issue on your hands.
Conclusion
Now you have the information to make a sound decision when purchasing your new sump pump. We've determined the WAYNE CDU980E to be the best overall choice. The high flow rate, five-year warranty, and long life expectancy all add up to the best feature set and quality available.
The Superior Pump 91250 is our pick for when the budget is a factor. With a 1,800 GPH flow and ability to handle solids up to 1/8", this pump may not have the strongest feature set on this list, but the low price point and high reliability make this pump the best choice for the money.
It's time to make your decision and purchase with confidence. You now know how each of the top sump pumps stacks up against its competitors. Which one will you choose to keep your basement dry?