5 Best Table Saws for Small Shops 2023 – Reviews & Buyer's Guide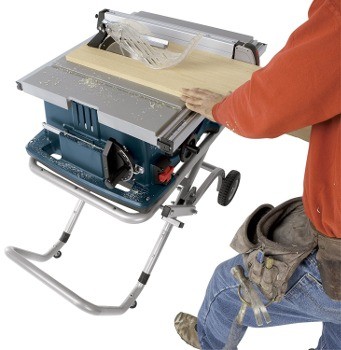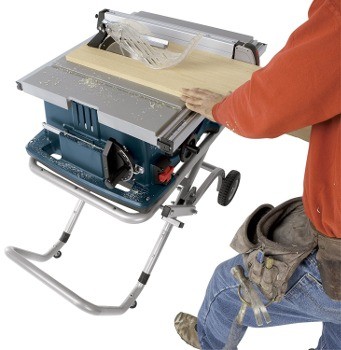 If you're thinking about adding a table saw to your small woodworking shop, you may be aware that the market is flooded with cheap, underpowered tools. Choosing a top performer is akin to finding a needle in a haystack. And just because your shop is a modest size doesn't mean you can't have a table saw that's got some muscle.
To find the best table saws for small shops we looked at some of the most popular table saws aimed at this group. We took each of the five table saws and reviewed them against a few key indicators. These were quality, precision, features, and safety. You can find out more about these indicators in our buying guide because these are the things people care most about.
We took each one and put them through a series of scenarios that small shops are likely to encounter. By doing that we figured out exactly where each table saw stands. Let's get started!
---
A Quick Comparison of Our Favorites in 2023
Rating
Image
Product
Details

Best Overall

DeWalt DWE7491RS Table Saw

Cuts hard lumber easily
Wide rip capacity
Simple to install
CHECK PRICE

The Runner-up

Hitachi C10RJ Tablesaw

Handles all wood, including lumber
Wider cutting with the table extension
Has dust collection system
CHECK PRICE

Best Value

DeWalt DW745 Small Shop Table Saw

Lightweight
Stable base
Accurate cuts
CHECK PRICE

Bosch 4100-09 Small-Shop Table Saw

Precision cuts
Good safety features
Decent power
CHECK PRICE

Rockwell RK7241S Workshop Table Saw

Cheap
CHECK PRICE
5 Best Table Saws for Small Shops
1.

DeWalt DWE7491RS Table Saw – Top Pick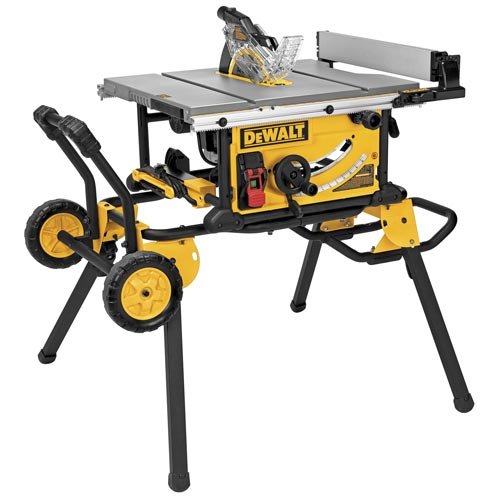 The DeWalt DWE7491RS is easily our top pick for the best table saw for small shops. It combines an extremely powerful motor with smooth cuts. This makes it able to tackle even the hardest of materials.
This saw comes with wide ripping capacity. It allows you to go wide with your cuts and, ultimately, provides you with more options. When it comes to cutting, this table saw has no equals.
It's also an extremely portable table saw. It's light and the rolling stand cuts down on the amount of time it takes to get up and running.
Some would say that the miter gauge isn't of a high quality, but it's still more than good enough to get the job done.
Pros
Cuts hard lumber easily
Wide rip capacity
Simple to install
Cons
Miter gauge is low quality
---
2.

Hitachi C10RJ Tablesaw – The Runner-Up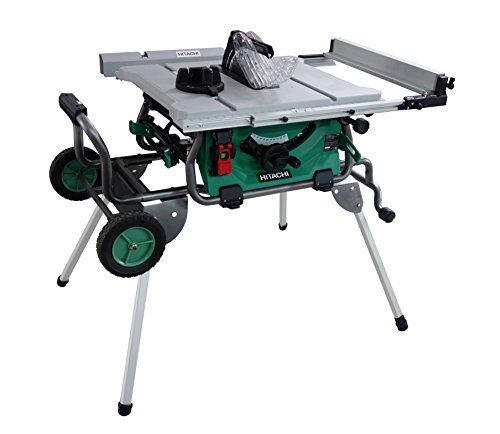 The Hitachi C10RJ and the DeWalt are extremely close. It has a big motor and a strong blade, so you won't find many materials it won't cut through with ease. Like our favorite table saw, it also cuts with precision. During our tests, it was able to handle lumber with ease.
It comes with a table extension to enable wider cutting. And it also has a dust port to gather up the debris from your project. This also has the advantage of preventing blade clogging, so there's no need to worry about stopping and starting.
The only reason we didn't put this at the number one spot on our list of the best table saws for small shops is that the fence isn't as precise as other premium models. It's not debilitating but it can be irritating at times. Other than that, it's a perfectly good table saw for your small shop.
Pros
Handles all wood, including lumber
Wider cutting with the table extension
Dust collection system stops blade clogging
---
3.

DeWalt DW745 Small Shop Table Saw – Best for the Money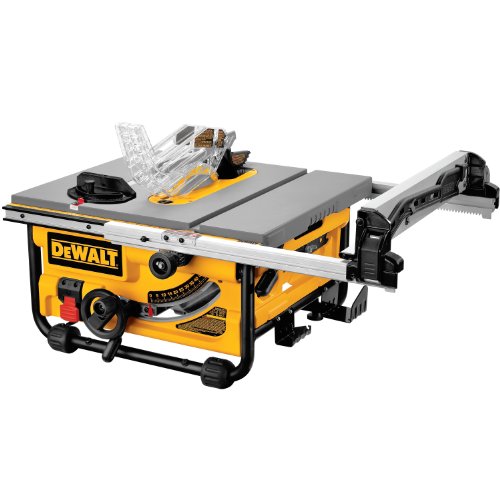 The DeWalt DW745 is our second entry from this brand on this list. One of the features that make it ideal for a small shop is that it's an extremely compact type of table saw. It weighs in at just 45 pounds. To make things even better, it isn't weak when it comes to cutting.
There are no wobbles and you have a stable base to work from. It cuts accurately and the ten inches of steel that make up the blade can take on most small and medium-sized projects. It even has the dust collection port of the Hitachi to stop the blade from clogging.
The only downside of the DW745 is that it isn't big enough or powerful enough to take on those bigger projects or to make those advanced cuts.
Pros
Lightweight and easy to carry around
Offers a stable base to work with
Accurate cuts
---
4.

Bosch 4100-09 Small-Shop Table Saw
The Bosch 4100-09 is a table saw aimed at cutting to a high degree of accuracy. After testing it out, we can only agree that it does a great job at cutting to a high precision. And this applies to all settings. The fast blade is the main reason behind the clean cuts.
And the cuts aren't just accurate they're smooth. You'd struggle to find a rough cut produced by this table saw.
Another standout feature of the Bosch is its safety features. With smart guard systems and anti-kickback palls, you'll be able to cut without any hesitation.
The main problem with the Bosch is that you can't cut for long periods because of the vibrations. Other customers have also complained about the vibrations. This can make cutting uncomfortable for the user.
Pros
Precision cuts
Good safety features
Decent power
Cons
High vibration
Not great for hard materials
May be discontinued by manufacturer
---
5.

Rockwell RK7241S Workshop Table Saw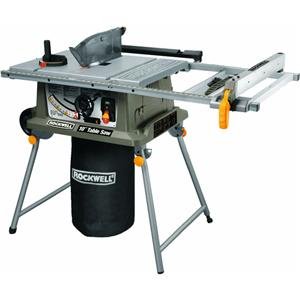 The Rockwell RK7241S was the biggest disappointment of our tests. We expected far more instead, but what we got was a cheaply made product that doesn't match up to some of its other models.
The main issue is the unstable fence. It's a widespread problem and, considering the fact it's the most popular attachment of any table saw, it's unacceptable. It compromises on safety, precision, and confidence.
Another problem we experienced is that the cuts you make can be imprecise from time-to-time. This is something that constantly frustrated us because none of the adjustments we made could make an impact on it.
The only upside is this is one of the cheapest models you'll find, so for the hobbyist, it may be a good option.
Cons
Unstable fence
Imprecise cuts
Poor overall quality
---
Buyer's Guide – Finding the Best Table Saws for Small Shops
Now that you have an idea of the various options on the market, it's time to discuss the different things you should be looking for in any good table saw. These are the same characteristics we compared our experiences with these table saws against.
By reading this buying guide you'll get an idea of methodology and the most important aspects of a table saw. Look at this buying guide and compare these characteristics against your needs. Everyone is different, and you will certainly have different priorities when it comes to what you want to get out of your table saw.
Is it Portable?
The chances are you'll have to move your table saw around your workspace. The average table saw should be between 45 and 52 pounds. If it's heavier than this you're going to have problems moving it around. A portable table saw should take only minutes to take down and install again.
Is it Precise?
Precision is always more important than power. A table saw that doesn't cut correctly will lead to ruined projects. The only way to find out if a table saw is precise enough for the work you need it for is to see others use it. Demo videos online are an excellent way to figure out how precise a table saw really is.
Does it Cut Smooth?
Rough cuts are another problem you're likely to face with a low-quality table saw. However, you can be on a budget and find table saws that don't come with that rough cut.
Make sure that rough cuts don't appear with all kinds of cuts, including the more advanced ones. Don't let a rough-cut ruin your work.
Is it Safe?
Automatic shutdowns, anti-kickback palls, and strong guards are just some of the safety features you should demand from a table saw. Don't compromise on safety because table saws can maim and kill when used incorrectly. Thankfully, most table saws will automatically have a minimum standard of safety built-in, as a result of Federal laws across the country.
Where is the Warranty?
A warranty is always important for protecting you when things go wrong. Make sure the company protects you in any case. Don't just look at the length of the warranty. Read the terms and conditions to see exactly what it covers before you decide to buy.
---
Conclusion
So, what is the best table saw for a small shop?
Our number one pick for the best table saw for a small shop is the DeWalt DWE7491RS. For its power and precision, you'll find nothing better on the market today. Not too far behind is the Hitachi C10RJ and the value for money DeWalt DW745. These are the table saws that you need in your small shop.
But don't just take our word for it. See for yourself by testing them out in your place of work. Do you have an idea about which table saw you want to use?
More table saw guides: