10 Best Table Saws of 2023 – Reviews, Top Picks & Guide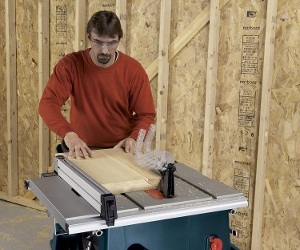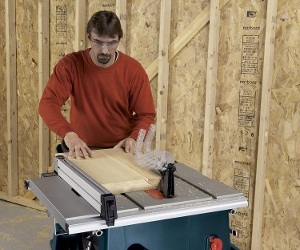 If you've shopped online, you know you don't always get the quality that you think you're going to get. When making a big purchase like a table saw, you don't want to make that mistake. If you need to get the most bang for your buck, then you've come to the right place. It's not always obvious which features are important and which are not, but we've done the hard work for you.
We've reviewed a few table saws so that you can make an educated decision and figure out which model is right for you. We've also created a buyer's guide so that you can gain an in-depth understanding of table saws. If you're feeling anxious about an upcoming purchase, reading this guide should remove any remaining doubts.
---
Comparison of the Winners in 2023:
Rating
Image
Product
Details

Best Overall

Shop Fox W1819 Table Saw

Robust 3-HP motor
Flat
polished iron table
Comprehensive safety features
CHECK PRICE

Best Under $1000

DeWalt DWE7491RS Table Saw

Portability
Power Good
dust port
CHECK PRICE

Premium Choice

Milwaukee 2736-21HD Table Saw

Cordless
Arms extend for 24½" rip with fence
6300 RPM
CHECK PRICE

Best Value

DEWALT DW745 Table Saw

Portability
Power
CHECK PRICE

SKILSAW SPT70WT-01 Table Saw

Loads of torque
25" rip length
CHECK PRICE
The 10 Best Table Saws:
1.

Shop Fox W1819 Table Saw – Best Overall
Possessing a nearly perfect combination of power, safety, and durability, the Shop Fox W1819 easily took our top pick. It's one of the easiest cabinet-style table saws that we've ever assembled, especially given the ample power from its 3-horsepower motor. If you want a table saw that will become the centerpiece of your woodshop for years to come, this is definitely a top contender!
Shop Fox's quality control system guarantees that you'll receive a tabletop that's truly flat, made from precision-ground and polished cast iron. Even the table wings we tested were remarkably flat and true – a difficult feat to accomplish in a table of this size with a 29½-inch rip capacity!
Safety features include a clear and durable polycarbonate shield, riving knife, and anti-kickback protection on each side of the spreader. A combination miter fence and flip stop make it ideal for longer cuts, as well as multiple cuts of the same width. In short, this is truly a table saw that can do it all!
All in all, we think that this is the best table saw of this year.
Pros
Robust 3-HP motor
Flat, polished iron table
Comprehensive safety features
Easy access dust collection port (4″ attachment site)
29½" rip capacity
Cons
Shipped in 3 separate boxes
Takes time to dial in settings perfectly
---
2.

DeWalt DWE7491RS Table Saw – Best Under $1000
Portable table saws like the DeWalt DWE7491RS offer a fine combination of portability and ease of use, at the cost of some of the power and stability of cabinet-style saws. When you don't have a dedicated woodworking space, they make an excellent choice for creating a workspace in your driveway or garage.
What's more, portable saws are available at a much lower price than any cabinet saw. At less than half the price of cabinet-style table saws we reviewed, the DeWalt delivers surprising power and cutting capacity. It's this combination of price and power that makes it our choice as the best table saw for the money.
A 15-amp motor produces a blade speed of 4800 RPM, and this combined with a 32½-inch rip capacity means it can work through boards of any size with ease. The telescoping fence rails can feel a little less sturdy than we'd like when fully extended, but this is to be expected in any portable table saw.
Pros
Portability
Power
Good dust port
---
3.

Milwaukee 2736-21HD Table Saw – Premium Choice
Equally at home on the jobsite or a home workbench, this table saw from Milwaukee Electric combines some of our favorite features of portable and cabinet-style saws into one lightweight and powerful package. In addition, it comes with an exceptionally long 5-year warranty, making it an excellent investment even at its higher price point.
The only reason battery-powered table saws like this one don't routinely make #1 in our reviews is that they rarely hold up for a whole day of hard construction work. While they're charged, they produce an outstanding 6300 RPM blade speed – but you'll have to keep an eye on the battery life with an integrated smartphone app that links to the saw.
Power, portability, and convenience are the Milwaukee Electric's strong points, while affordability and duration of battery life are its most obvious weaknesses. Talk to anyone who owns one, though, and they'll let you know how much going cordless has made their work faster and easier.
Pros
Cordless
Arms extend for 24½" rip with fence
6300 RPM
Cons
Exorbitant price
Not the most powerful
No stand
Needs battery, an extra expense
---
4.

DEWALT DW745 Table Saw – Best Value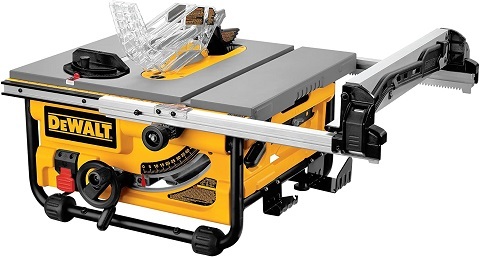 The DEWALT DW745 is a smaller version of the DEWALT DWE7491RS. It's still a good saw in its own right. It comes with a 15-amp motor, just like the larger unit, though it can only handle rips of up to 20 inches. You'll experience the same power and consequently, the same speed as the larger model, though you can't cut pieces as large. This model is also meant to be moved, and while it doesn't have wheels, it has a metal roll cage that will help it survive travel without taking any damage.
Changing out the guard can be a pain. However, this model features a tool-free guard replacement that makes it quick and easy.  In the long run, that's something that will save you a ton of time, especially if you change out the guard a lot.
Like many table saws, this one comes with a cheap miter guard, which is too bad. Overall, it would be hard to find a better table saw, that's also this portable, at the same price point.
Cons
Table size
Miter gauge quality
---
5.

SKILSAW SPT70WT-01 Table Saw
The worm drive gearing in the SKILSAW SPT70WT-01 creates maximum torque and power for cutting through any medium. You can feel the torque, as this saw doesn't ever bog down, even when pushing your material through quickly. The max RPM of 5300 isn't the best on the market though. The arms do extend to allow for a 25-inch rip with the fence, which is nice.
Unfortunately, nothing seemed to be completely aligned from the factory, so right off the bat, we got cuts that were far from straight. After quite a bit of adjusting and fiddling, we managed to get some pretty decent cuts, though not the cleanest or straightest of the saws we tested. We also weren't thrilled about how long the blade took to slow down once the saw was powered off. Sometimes you want to turn the saw off, adjust your piece, and make a new cut. When the blade just continues spinning, it starts to reduce your productivity.
Pros
Loads of torque
25" rip length
Cons
Everything was misaligned from factory
Blade spins too long after powered off
Not the straightest cutting
---
6.

TACKLIFE Table Saw
This table saw offering from TACKLIFE is a curious one: It's built to the specifications of a portable table saw but mounted to a stand that sits it at almost 4 feet high. While it may not be everybody's cup of tea, we think it's an excellent option for anyone who's garage doubles as their workshop.
The 15-amp motor produces 4800 RPM cutting power, making it a little bit less powerful than most portable table saws we've seen. Even so, it's powerful enough to handle most any woodworking project that a home hobbyist could dream up.
On-board storage is a nice touch: You can keep all your associated tools located right where you need them in the Tacklife. The blade guard and fence are standard-issue for this style of saw, and you're unlikely to have any problems with them. Overall, it's a great table saw for beginners – though the low power may leave you wanting to upgrade after a year or so.
Pros
Great features for the cost
On-board storage is convenient for home use
Excellent saw for hobbyists and beginners
Cons
Unconventional design isn't for everyone
Slightly underpowered
---
7.

SKIL 3410-02 10-Inch Table Saw
The Skil 3410-02 might just be the perfect table saw for beginner woodworkers. Coming at an excellent price, it sacrifices many of the bells and whistles of other portable table saws to focus on the essentials: Great power, spot-on accuracy, and a generous cutting capacity.
The 15-amp motor produces nearly 5000 RPMs, an impressive feat for this 67-pound saw. Combine that with a 3.5-inch cut height and super level cast aluminum table, and the Skil can handle any job a home woodworker might throw at it.
Funny enough, for being a portable table saw, the Skil lacks any wheels. While this isn't a problem if you're setting it up semi-permanently in your garage, it can be a bit of a pain if you need to store it out of sight when not in use.
Pros
Includes folding stand
Great features for the price
Cons
Vibrates and makes noise getting up to speed
Blade didn't want to get straight
Fence migrates
Cheap construction
---
9.

Hitachi C10RJ Table-Saw
At first glance, the Hitachi C10RJ seems to have a lot going for it. A 15-amp motor produces a decent 4500 RPM blade speed, and a generously sized workspace gives it a 35" rip capacity. An electric brake and ample safety features make it a good option for frequent use, too.
It even has a clever design that allows it to be folded and stored away with a minimum of fuss. The problem we have with it, though, is the completely exorbitant price. While each of the features listed might be appropriate at a lower price, it just doesn't live up to the rest of the table saws we reviewed.
Pros
Acceptable standards for all features
Cons
Very expensive
Not powerful enough for the price
Not durable enough for the price
---
10.

Rockwell X2 Portable Table-Saw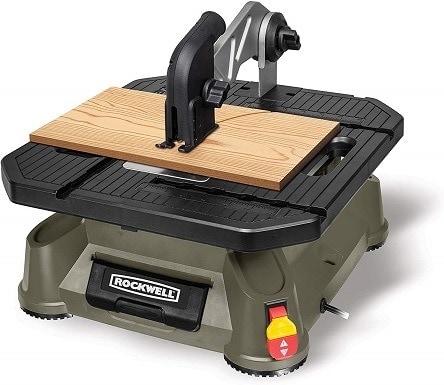 Take a second look at the name for the Rockwell X2, and you might notice an important difference: It advertises itself as a tabletop saw, not a table saw. It might be appropriate for arts and crafts, but you should look elsewhere to find a genuine table saw.
More accurately, this product could be called a table-mounted jigsaw. Its reciprocating blade is fine for smaller, finer work – but don't try and use this to size larger boards. It just won't work!
In short, the Rockwell X2 might be a perfectly fine portable saw – but it's just not a table saw. If you're looking for a handy way to set up a jigsaw for more convenient work, go ahead and buy the Rockwell. But if you need a table saw for the hard work required in construction and furniture building, find a different table saw.
Pros
Inexpensive and lightweight
Cons
Not a true table saw
Does not have a circular blade
Does not have blade guards and other safety features of table saws
Not appropriate for sizing boards
---
Buyer's Guide – Choosing the Best Table Saw
Picking the best table saw for your needs may very well be the most important choice that you can make for your woodshop or work site. Because it's the first stop for most boards before moving onto other tools, it's critical to ensure that your table saw is powerful, effective, and easy to use.
When you're choosing a table saw, the first thing you'll need to decide on is which of the three major styles suits you best. In the next section, we'll cover the pros and cons of cabinet, portable, and contractor style table saws.
Options for Table Saw Styles
Each of the following three styles of table saw is designed with a certain type of user in mind. Whether you're a first-time woodworker, dedicated hobbyist, or professional construction worker, there's a table saw out there for you. Before we get into the nitty-gritty of what makes a great table saw, we need to discuss the different types of table saws that you might consider purchasing.
Cabinet Saw
As the largest and most powerful of all table saw styles,
cabinet saws
are built to last. They're the absolute farthest thing from portable and require a dedicated space to house them. What you get in return, though, is incredible power and accuracy that other saws can only dream of.
It's telling that just about every professional woodshop has a cabinet-style table saw. They're indispensable in quickly working through boards of any size and shape and have the most robust safety features of any table saw.
Essentially, cabinet table saws are made for people with dedicated woodworking spaces who won't settle for anything less than the fastest and most accurate cuts available.
Portable
On the complete other end of the spectrum from cabinet saws are the lightweight, user-friendly
portable table saws
. Often mounted on fold-out racks with wheels, they're a take-anywhere option that's excellent for anyone without the dedicated space that a cabinet requires.
The tradeoff, of course, is that portable table saws will never be as powerful or accurate as cabinet table saws. They'll also never be as expensive as their larger counterparts, making them a popular option for beginning woodworkers.
Contractor
Straddling the line between portable and cabinet-style table saws,
contractor table saws
combine a rolling cart setup with more heavy-duty saw construction and greater power. They're heavier than portable saws, but don't take up nearly as much space as a cabinet does.
Because of their position right between the two extremes of table saws, contractor table saws are favored both for professional construction jobsites as well as home enthusiasts working with limited space. We recommend them for anyone with experience in woodworking who doesn't have the budget or space for a cabinet table saw.
How Much Table Space Do You Need?
You can find table saws in dimensions from a tiny, 10-inch workspace all the way up to massive 50-inch rip capacities. Choosing the right size of table saw for your needs comes down to what sort of work you're likely to be doing on it.
While a 50-inch rip capacity might be essential for processing full sheets of wood – common in building tabletops – most projects will do just fine with the 24-28 inches of rip capacity provided by portable and contractor's table saws. Unless you're planning on building large furniture or building houses, sticking with any table in the 25- to 35-inch rip capacity range is a safe bet.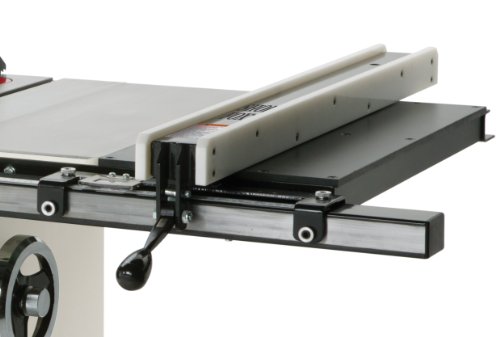 Power: How Much is Enough?
Power becomes an important consideration when deciding on the amount of work you're likely to be doing on your table saw. While lower-powered models will do fine with small work, cutting through large volumes of whole boards can put too much of a strain on their motors.
If in doubt, err on the side of buying a more powerful saw than a weaker one. It will allow you to continue developing your skills as a woodworker and advancing to larger and more complex projects.
As you move along the table saw spectrum from portable to contractor to cabinet style saws, your maximum cutting power, and capacity increase. It's no coincidence that price increases along these same lines – because when it comes to power in table saws, you really do get what you pay for.
Miter gauges
Miter gauges are one of those accessories that you may forget about in daily use, but then desperately need if you don't have one. They're used with table saws in order to cut angles that aren't 90 degrees. The best miter gauges include hard stops at 90 degrees and 45 degrees, which are the angles that you're most often going to be cutting at. The hard stops make it easy to set the miter gauge to those angles and cut with confidence.
Not all table saws come with a miter gauge. If you're planning on using one, you need to make sure that the table saw you're looking at comes with a table groove that can take a miter gauge. You also need to check the size of the table grooves if you're planning to purchase an aftermarket miter gauge.
If you need to, you can get a miter gauge for less than $35, though precision models may run well over $100.
Fence
Fences are one of those things that, more often than not, you're going to end up buying on the aftermarket if you want to have a good one. Even when set correctly, a crummy fence will screw up a cut.
One of the weird things about table saws is that manufacturers rarely include a good fence unless you're already paying top-dollar. It's one of those things that makes you suspect that they would stop including them altogether if they could, but table saws are pretty much useless without a fence, so they continue to include them.
Some models do include a good fence, and that's something that frequently gets noted in the reviews. Don't get taken in by the fact that just about every model claims to have a fence that is fancy in some way or another. That's just marketing slang.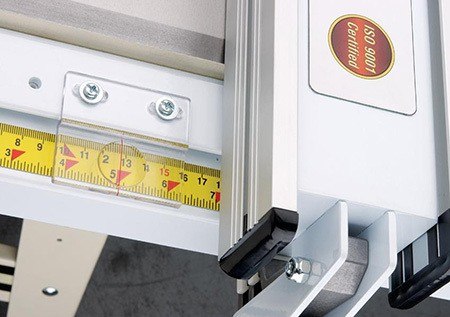 Dust collection
Most table saws come with some sort of internal dust collection system that gathers the dust and tries to keep it off of the moving parts, where it can build up over time and do damage. Typically that dust is expelled from the machine through a singular port. This is where things start to vary from model-to-model.
Some models come with a dust bag that you just clip onto the machine when you use it. The dust falls into the bag, and you later empty it where it needs to go. This is not a great system if you're going to be doing a ton of consecutive cuts, but it's good for when you're going to be outside, and don't want to spill shavings everywhere.
The All-Important Number: Your Budget
All these other considerations will have been for naught if you don't keep your most important number in mind: Your budget. While it's nice to imagine that you'll have the time, space, and money to set up a cabinet style saw, sometimes it's wise to make concessions for your wallet's sake.
When purchasing a table saw, you may also want to consider any accessories that will make your woodworking life easier and more pleasant. These include, but aren't limited to:
Miter gauges
Precision-adjustment fences
Dust collector systems
Push sticks
Storage racks
Conclusion:
After reviewing and thoroughly examining all the options available to us, we're confident in our recommendation of the Shop Fox W1819 Table Saw as the best overall table saw for any woodshop. If you're looking for a more portable option that's a great value for the money, consider the DeWalt DWE7491RS Table Saw. It's a great combination of power and portability for woodworking hobbyists that's also suitable for the jobsite.
We appreciate you taking the time to read our reviews, and hope that you've learned everything you need to be able to make a great decision on your table saw purchase. Thank you, and good luck with all your future woodworking projects!
We truly hope that this guide helps you find the best table saw for your needs!