5 Best Table Saws under $200 – Reviews & Buying Guide 2023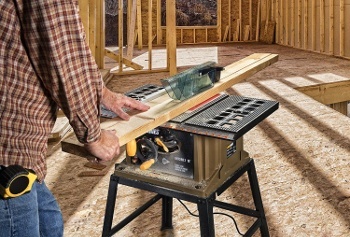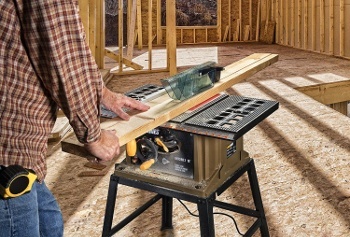 Having a quality table saw does wonders for your woodworking—especially when it comes to making clean rip cuts. However, a good table saw can get pretty expensive.
As a matter of fact, table saws can be one of the most expensive pieces of equipment in your shop. Some pro-quality table saws can even cost thousands of dollars! Let's just say a top-tier table saw just isn't in everybody's budget.
Fortunately, there are some cheaper options. You don't need to shell out thousands to get a good clean cut. For just a couple hundred bucks, you can pick up a decent saw that'll work just fine for home use.
And that's why we've put together this list of reviews for the best table saws under $200. These saws are much more affordable than their larger-scale cousins and will even save you a bit of space in your workshop.
As a quick disclaimer, there are a couple on this list that do break the $200 threshold—but do stay under $300. There are only a rare few table saws under $200 that we could stand behind. Luckily, our number one recommended choice is priced under $200.
---
Comparison of our Top 5 Picks:
Rating
Image
Product
Details

Best Overall

WORX WX572L Table Saw

Unlimited capacity for cross-cutting and ripping
Miter gauge up to 60 degrees
Lightweight and portable
CHECK PRICE

Genesis GTS10SB Table Saw

Circular saw blade
Comes with accessories and stand
Can fit dado blades to a point
CHECK PRICE

Best Value

Rockwell Bladerunner X2 Table Saw

Can perform many different cuts
Compatible with any 4" T-shank blade
Very portable
CHECK PRICE

ShopSeries RK7240.1 Table Saw

Good for a hobbyist
Durable
CHECK PRICE

Craftsman Evolv Tablesaw

Best performer in this price range
Strong and stable stand
Great safety features
CHECK PRICE
The 5 Best Table Saws Under $200:
1.

WORX WX572L Table Saw – Best Overall
When it comes to table saws, the WORX WX572L is a steal. This portable tabletop saw is perfect for making all kinds of cuts including rip cuts, cross cuts, and even left or right miters. Even though it's a smaller portable saw, its traditional guard and riving knife system permits for unlimited capacity for ripping and crosscutting. The miter gauge is adjustable up to 60 degrees either left or right, which should be more than ample for home-based projects.
You can also use it for site-based projects as well—within reason, of course. But it's great for trimming down tile, PVC, and even metal. It's essentially an inverted jigsaw neatly put together in a portable base. And it'll fit just about any T-style reciprocating saw blade without any tools needed for replacement.
Mind you, this saw is not meant for large serious projects. But it's great for a small shop or site work. Its maximum cut depth is 2 inches, so if you're planning on ripping or cutting through larger posts, you'll need to find a bigger saw. But for the money, the WORX WX572L is a decent little machine and – with no major issues – the best table saw under $200.
Pros
Unlimited capacity for cross-cutting and ripping
Miter gauge up to 60 degrees in left or right direction
Comes with 5 different T-shank blades for different materials
Lightweight and portable
---
2.

Genesis GTS10SB Table Saw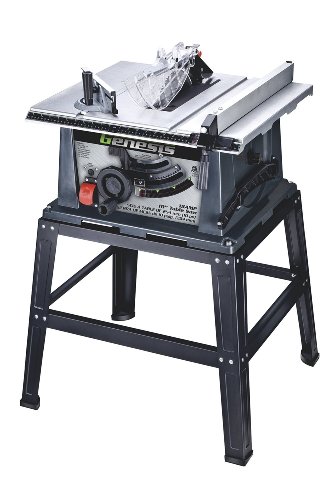 Our runner-up on this list is one of those saws that registers just above the $200 price threshold. The Genesis GTS10SB is more reminiscent of larger pro-grade table saws than the WORX above. Instead of using a T-shank jigsaw blade, they take circular saw blades for faster more powerful cuts. And they'll even accept dado blades for those looking to cut dadoes. However, that capability is limited to around ⅜-inch cuts.
This saw is not a tabletop saw, either. It comes complete with its own sturdy aluminum stand which is simple to put together. The Genesis is also designed to be easy to operate as well. You can adjust the blade height via the control wheel or adjust the miter bevel from 0 to 45 degrees. And the maximum cut depth is 3 inches for straight cuts or 2½ inches at a 45-degree bevel.
We also like the fact that this saw comes with an easy-to-install blade guard and anti-kickback pawls to prevent injury. But those aren't the only other accessories. It comes with a 40T carbide-tipped blade, miter gauge, rip fence, and push stick. And, not to mention, onboard storage for those accessories as well.
Pros
Circular saw blade
Comes with accessories and stand
3" max cut depth
45-degree bevel availability
Can fit dado blades to a point
Cons
Priced higher than $200
Not super portable
---
3.

Rockwell Bladerunner X2 Table Saw – Best Value
The Rockwell Bladerunner X2 is another tabletop saw similar to the WORX above. It's an all in one saw that can perform ripping, cross-cutting, miter, or scroll cutting operations. And is compatible with any 4-inch T-shank jigsaw blade.
We like the fact that it's extremely portable with the entire saw weighing less than 15 pounds. It's great for light on-the-go projects. And Rockwell makes it easy to swap out blades with a tool-less system. And at its price, the Rockwell BladeRunner X2 is the best table saw under $200 for the money.
That being said, you should not buy this saw if you have anything other than light work to perform. The maximum blade depth varies depending on what you're cutting:
Wood: 1½"
PVC: 1¼"
Aluminum: ⅜"
Steel: ⅛"
Ceramic: ⅜"
And that's for straight cuts. Those numbers will go down if cutting on a miter—effectively rendering the saw useless for cutting metals.
But if you're just looking for a saw to cut through trim, crown molding, or simple copper piping, this saw could be just what you need. We just can't recommend it for deep cuts or hardwood.
Pros
Can perform many different cuts
Cheap
Compatible with any 4" T-shank blade
Very portable
Cons
Very small depth of cuts
Only good for very light cutting work
Mitering saw renders some materials unable to be cut
---
4.

ShopSeries RK7240.1 Table Saw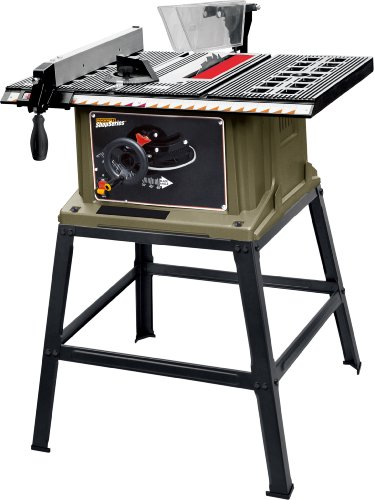 The worst table saw that we tried was the ShopSeries RK7240.1 Table Saw. It disappointed in practically every area. In fact, it's only redeeming quality is that it doesn't quickly deteriorate over time.
This is the table saw that a hobbyist would use because it simply doesn't have the cutting power or the precision to deal with professional projects.
We had to realign the fence every time we used it. It's not quick to use and the table saw does move when put under stress. That's why we could even categorize this table saw as downright dangerous if you're a novice.
Pros
Good for a hobbyist
Durable
Cons
Fence constantly needs to be realigned
Constructed from poor quality materials
Fails to cut to a professional standard
---
5.

Craftsman Evolv Tablesaw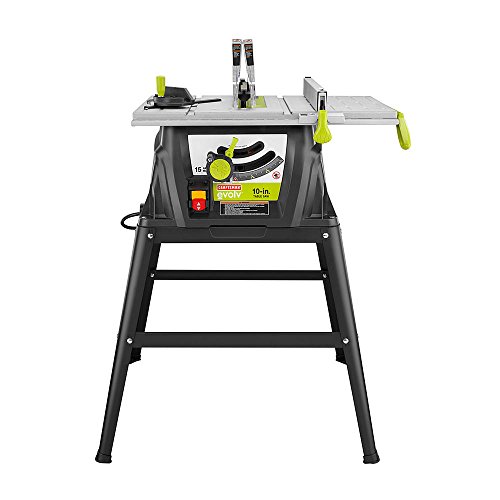 Our top pick is the Craftsman Evolv 28461 for a number of reasons. When it comes to those personal projects, no other table saw can beat it for performance in this price range. With strong cutting capacity and a lot of power, it can deal with most jobs you're likely to encounter.
It comes with a stand that performs tremendously well under stress. Furthermore, the safety features available with this saw are similar to those found on far more expensive models. For example, its automatic shutdown feature keeps you protected at all times, especially the strong safety key.
It's both strong and durable, so you'll be able to cut with confidence and you won't have to worry about any accidents. This is a table saw you can put your trust in.
Pros
The best performer in this price range
Strong and stable stand
Great safety features
Cons
May not be as good for large-scale projects
---
Buyer's Guide – Choosing the Best Cheap Table Saw
When it comes to choosing the best table saw under $200, there are some specific criteria you need to pay attention to. These aren't going to be like permanently installed multi-thousand dollar machines. There are some serious differences that you'll need to consider to make the right choice for you.
Portability
Professional grade table saws are huge. They can weigh hundreds of pounds and take up quite a bit of space inside a workshop. However, these budget saws are often extremely lightweight and portable—even the heavier styled such as the Genesis and ShopSeries above.
And that's not necessarily a bad thing. It's actually an advantage these bargain saws have over a full-sized table saw. You'll find that the Tabletop saws are much lighter than the "true table saws". For example, our number one pick (the WORX) weighs less than 15 pounds. This would be a perfect saw to bring along wherever it's needed.
Circular Saw Blades vs Jigsaw Blades (Table vs Tabletop)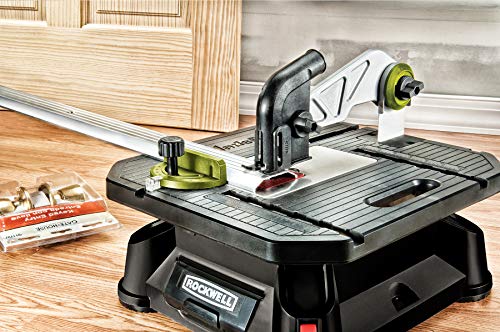 In a standard-sized table saw, you'll use many different sizes of circular saw blades—all dependent on your cuts and projects. But they'll be circular blades. With these cheaper table saws, you'll find two different options: circular saw blades or jigsaw blades.
You find the jigsaw blades on the "Tabletop Saws". These are the saws that are truly multi-purpose such as the WORX or Rockwell. These saws are effectively inverted jigsaws which provide for scrolling cuts as well. While offering an extra cut, they are severely limited with their max cut depth and power for cutting.
Cheaper table saws that use circular blades sacrifice the scrolling ability for more power and greater depths. These saws are much better when it comes to ripping hardwoods and other robust materials as well.
Depth of Cut
When selecting your new budget table saw, you need to consider the scope of the projects you'll be undertaking. And that's because unlike full-sized table saws, these smaller alternatives are much more limited in depth of cut. If you need to make 4-inch cuts, you cannot do so properly with a max cut depth of 1½ inches.
Precision
Your cuts should be exactly where you want them. Precision is the key to any good table saw because it doesn't matter if the saw is powerful if it can't make cuts correctly. Make sure you look at some demo videos to see your chosen saw in the field.
Even a novice should be able to make precision cuts with a quality table saw.
Smoothness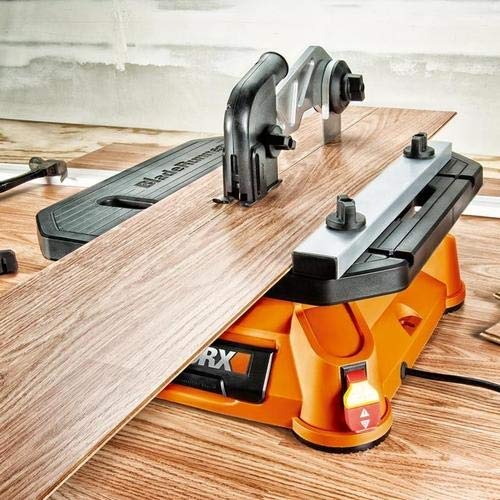 Another point to consider is how smooth the cut is. Even a precise cut can turn into a problem if that same cut happens to be rough. With many table saws in this price range, this is a serious problem. Always check to see if a table saw makes regular rough cuts or not.
Rough cuts can completely derail your project and cause you to have to start again.
Safety
Safety is everything. Don't pay a lower price and compromise on safety in the process. You should be in full control of your table saw at all times. And if something does go wrong there should be features in place to stop the situation before it gets out of control.
For example, there should be features that automatically shut off the table saw if something goes wrong. Thankfully, this often comes as standard.
Warranty
Finally, always make sure that there's a valid warranty attached to your table saw. Things can and do go wrong and you shouldn't have to pay for that.
Read the terms and conditions of the warranty carefully to make sure you know where you stand before you part with your money.
---
Conclusion
Finding a really good quality table saw under $200 is extremely tough. And as you've seen throughout this article, sometimes it's just best to save up a little bit more. There's much better options in higher price brackets without having to break the bank on a full-sized table saw.
But if you do need to stay within this price range, here's what we recommend:
Our favorite overall table saw under $200 is the WORX WX572L. It's a tabletop saw that can cleanly cut in every way for most light projects. And let's not forget just how portable it can be. It won't allow you to rip through thicker, tougher lumber, but it's really decent for a truly under $200 saw.
Our favorite saw just above the $200 threshold is the Genesis GTS10SB. It reminds us more of what we want out of a table saw. And that ability to equip a Dado blade is a definite plus.
But if you're truly seeking the best bang for your buck, check out the Rockwell BladeRunner X2 Portable Tabletop Saw. We don't recommend it for miter cuts, but it will handle straight cuts just fine as long as they aren't too deep.