10 Best Telescoping Ladders of 2023 – Top Picks & Reviews
For the professional, the homeowner, or the handyman, having a telescopic ladder is truly essential. So is finding the right one.
After all, no one wants to risk their well-being with a tool that might result in them suffering a pretty significant fall, right?
So how is one to know which telescopic ladder is right for their needs? By coming to us!
We love tools (paint sprayers, drills, ladders, you name it), and we're lucky enough to get to spend all our time researching them.
We've done lots of research here to make sure that you're left with a sampling of five of the best options on the market.
For your benefit, we've assembled our results in the guide below. All that's left for you to do is read our reviews of telescopic ladders and enjoy!
---
A Glance at our Favorite Models in 2023:
Rating
Image
Product
Details

Best Overall

Xtend & Climb

5-foot maximum length
50 lb max weight capacity
Durable carrying handle strap
CHECK PRICE

WolfWise

Highly adjustable
Aluminum alloy build
330 lb weight capacity
CHECK PRICE

Best Value

Lifewit

Easy to store
Best for the money
High weight capacity
CHECK PRICE

Ohuhu

Affordable
Wider steps
One button retraction
CHECK PRICE

Jason

Strong
Lightweight
Made to last
CHECK PRICE
The 10 Best Telescopic Ladders:
1.

Xtend&Climb Telescoping Ladder – Best Overall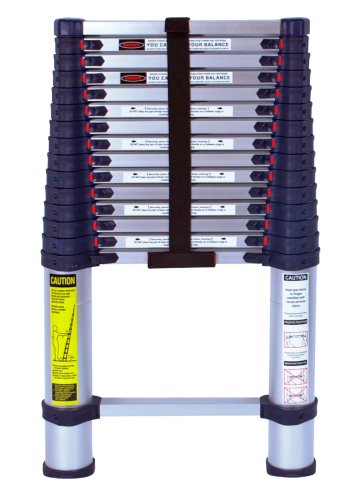 The Xtend and Climb 785P packs quite a bit to like in its compact and lightweight package. Our pick for the best telescopic ladder treats owners to an impressive 15.5 foot maximum length, which will make the tool good for handling a wide range of jobs.
The strong aluminum alloy that's used in this tool ensures that it's both lightweight and durable. The tool also converts easily for transportation: it's fully collapsible and features a carrying handle strap that will make it easy to move from one place to another.
Last but not least, the tool also features a solid, 250-pound weight capacity. Most adults will be able to safely ascend it, even with tools in tow.
The cons aren't significant. One thing that budget shoppers will want to keep in mind is that this is one of the most expensive ladders on our list, which may eliminate it as an option for some people.
Other than that, it's going to be a great purchase for buyers who are looking for the very best telescopic ladders that they can get their hands on.
Pros
5 Foot Maximum Length
250 LB Max Weight Capacity
Durable Aluminum Alloy
Durable Carrying Handle Strap
Cons
One of the pricier models on our list
---
2.

WolfWise 15.5ft Telescopic Ladder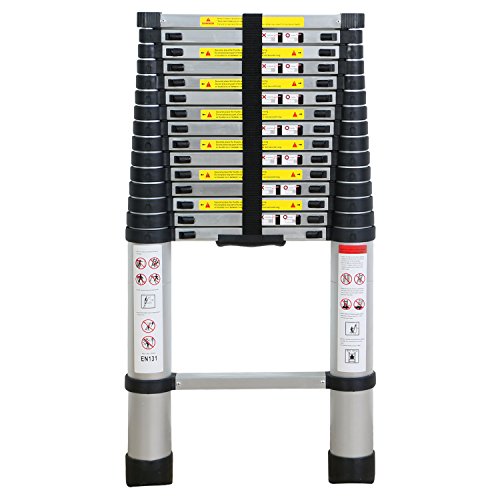 The WolfWise actually has quite a bit in common with our top pick, the Xtend and Climb. It features an impressive length of 15.5 feet, it's made of a durable and lightweight aluminum alloy, and it can be extended one foot at a time for maximum utility.
It's even capable of sustaining more weight than our top pick. With a maximum weight capacity of 330 pounds, the average person will not be taking any risks at all as they head up the ladder with whatever tool they require in hand.
Problems are also minimal. The only reason that this ladder didn't assume our top slot was that it's simply not quite as durable as the Xtend and Climb.
We found—and have heard from other users—that the step's ability to lock in place diminishes over time, which effectively renders the tool useless and unsafe until sound repairs have been made.
This aside, it's a good buying opportunity for people who aren't completely sold on our pick for the best telescoping ladder overall.
Pros
330 LB Weight Capacity
5 Feet of Length
Aluminum Alloy Build
Cons
Step locking ability diminishes over time
---
3.

Lifewit 12.5ft Telescoping Ladder – Best Value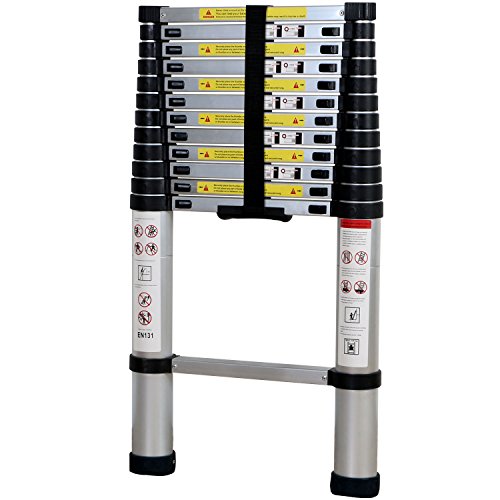 The Lifewit is going to be a great option for buyers who are keeping a close eye on their budget. This tool is a little bit shorter than the last two that we looked at, but with 12.5 feet of length, you should still be able to gain access to most home roofs.
There really is a lot more to like about this tool than its price. The weight capacity is 330 pounds, which should be sufficient for most users and, like the last two tools that we've seen, you still get the sturdy aluminum alloy materials.
The tool can also be made to be very compact. The ladder collapses to only 4 feet so that it will be very easy to store and transport.
Of course, like every tool, it's not perfect. One thing that we noticed about this ladder is that it's pretty uncomfortable to use. The rungs aren't padded or angled, which will be hard on the feet.
We also noticed that the design interface is confusing. It's a little bit challenging to distinguish between the collapse and extension controls, which can make it easy to injure your hands.
These things aside, it's a very budget-friendly option for buyers who don't want to compromise on quality.
Pros
Best for the Money
High Weight Capacity
Cons
Uncomfortable on the feet
Confusing design leaves unsuspecting users vulnerable to injury
---
4.

Ohuhu 12.5ft Extension Ladder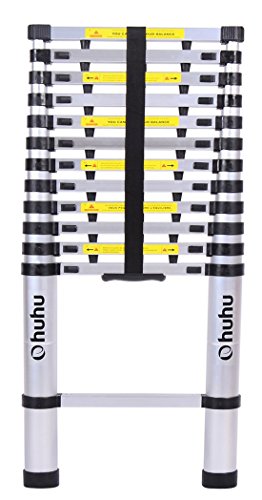 The Ohuhu takes our second to last slot. Like the last tool that we looked at, it's an affordable option for buyers on a budget but unfortunately, due to some cons, it's going to have a hard time competing with our "best for the money" pick.
Before we get into the negatives, let's reflect on some of the things that the Ohuhu gets right. This tool does feature the 330-pound weight capacity that we found so impressive with the last couple of tools that we looked at.
It also has the same durable aluminum build that's been featured in all of the other ladders we looked at today.
The problem? There are some kinks that need working out. The tool is heavy and somewhat challenging to transport, it's not as sturdy as we'd like to see when it's fully extended, and several of the top and bottom rungs aren't very stable, which is an obvious safety concern.
Ultimately, the Ohuhu does get some key things right. Because of its flaws, however, most buyers will probably be better off with other tools on this list.
Pros
Affordable
Impressive Weight Capacity
Aluminum Alloy Build
Cons
Heavy
Not stable when fully extended
Some of the rungs are flimsy
---
5.

Jason Telescoping-Ladder
Light and strong, this aluminum telescoping ladder has a respectable weight limit of 330 pounds. Weighing in at only 25 pounds, it's pretty light compared to other ladders of similar strength. It extends to a full length of 13.5-feet. Again, this is pretty decent considering the low weight of this ladder. While it's a very usable ladder overall, one thing we didn't like was the sway when the ladder was fully extended. Telescoping ladders are never as strong as other types of ladders, but this one just didn't feel quite as stable as some competitors that we tested. That said, it's at a very modest price point that many people may still find attractive.
Cons
Too much sway when fully extended
Didn't feel as stable as some competitors
---
6.

Xtend& ClimbPro 780P+ Telescopic Ladder
Rugged, dependable, and safe, the Xtend & Climb Pro Series 780P+ telescoping ladder is a premium choice. Compliant with all current 2019 ANSI/OSHA safety standards, this ladder is ready for use on any job site or in any home application.
It is aerospace engineered with aluminum alloy that's actually airplane grade. While this is supposed to make it extra strong, mostly it just sounds cool because it still just supports a pretty standard 300 pounds. It opens to 12.5 feet, and when closed it's only 32.25 inches long. At 32 pounds, this isn't one of the lightest models, though it is much thicker and stronger than many competitors. Whether this warrants the exorbitant price or not is your call.
Pros
Meets 2019 ANSI/OSHA standards
300-pound weight limit
---
7.

Hausse Telescoping-Ladder
With a weight capacity of 330 pounds, this stout telescoping ladder from Hausse offers a unique option for the top. While most ladders simply lean against a structure for support, the Hausse ladder actually has removable hooks that can go in the very top to help secure your ladder. At 27 pounds, this is on this lighter side of the scale, and it folds up to just under 3 feet high.
The problem with this ladder was discovered when trying to extend it. Some sections didn't want to extend and had to be made to move by hand. This was more of an inconvenience than anything, but over time it could become an annoyance. After using this ladder a few times, it no longer wanted to close all the way, instead getting stuck with a few rungs still lifted away from where they should be sitting. Although it's decent overall, with so many similar options on the market we have to suggest one that's more reliable.
Pros
330-pound weight capacity
Cons
Not all rungs extended smoothly
Stopped closing properly after several uses
---
8.

Flash 12.5Ft Telescoping Ladder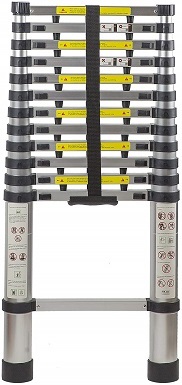 Flash Enterprise offers an affordable telescoping ladder that has some features that may be looked at positively or negatively. For instance, when folded closed, there are rubber stoppers between each rung to prevent them from closing all the way. This stops you from smashing your fingertips between rungs when the ladder closes, however, it also means that this ladder is six inches larger than competitors when fully closed. Some may prefer the safety feature, but if you need to fit this in an already crowded RV, then the extra size when folded may be a real nuisance. The final straw for this ladder was the cheap plastic on the rungs. It's not holding up well to use, and in several places, it started cracking within the first few weeks.
Pros
Rubber stoppers protect your fingers
Cons
Doesn't fold as small as others
Plastic on rungs started breaking
---
9.

Telesteps 1800EP Extension Ladder
At first glance, we had high hopes for the Telesteps 1800EP. First off, it's fully OSHA compliant so it's built to job-site standards. At a weight of 30 pounds, it's rated to hold 300 pounds, so it's definitely strong, though not leading the class. To be fair, we also liked the looks of this particular model. It has a bit more of a sleek appearance than the other ones we tested.
To our dismay, we found out that this product is just not reliable enough to serve a useful life. When we first opened it up, everything seemed fine. However, when it came time to close the ladder down, one of the rungs wouldn't close again. It seemed that the plastic release mechanism allowing it to collapse had broken. The ladder was now useless, and we were glad that we weren't dependent on it for anything.
Cons
Poor longevity
Plastic releases on rungs break easily
One broken release and ladder is no good
---
10.

Idealchoiceproduct Telescopic-Ladders
This ladder is unique among the telescoping ladders that we reviewed, and we honestly really wanted to love it. The Idealchoiceproduct ladder is not just telescoping, but it's also hinged. This means you can use it as a double-sided A-frame stepladder, as well as doubling as an extension ladder. Though at 41 pounds, it's one of the heavier options. It has a bit more reach than similar ladders at 16.5 feet, though it still folds to the same 36 inches.
If it functioned properly, this ladder would definitely be in the running for the top positions of this list. Our excitement was quickly abated when we realized how unstable this ladder is, no matter which configuration we set it up in. If you're at all uncomfortable with heights, expect this ladder to help you realize your fears. It was wobbly, the feet kept sliding and moving, and it swayed under every step. We did love the concept of this ladder, but it just didn't pan out into a very useful tool.
Cons
Sways with every step
Very unstable
Will not stand steady
---
Buyer's Guide – Finding the Best Telescoping Ladder
If you're still feeling uncertain about which ladder is right for your situation, that's ok.
Because of the safety component that's involved, finding the right telescopic ladder is something that you should take seriously. The more information the better, right?
Below you will find a list of buying considerations that will help you narrow down what you should value in a telescopic ladder.
Length:
One of the most obvious things to keep in mind as you look to buy a new ladder is length. As you probably noticed throughout this guide, length can vary a little bit from model to model.
While several of the units that we looked at measured 12.5 feet in length, you can pretty much find a telescopic ladder that is as tall as you need it to be.
Generally speaking, bigger is better… to an extent. A taller ladder will increase the range of tasks that you can use it for.
However, you should also keep in mind that you don't want to go too tall. The taller the ladder the less stable it is, and the harder it is to store and transport.
Getting something that's a few feet more than you need is going to make the ladder more versatile while still keeping it manageable.
Materials:
Ladders can be made from a wide range of materials; most of the ladders that we looked at were made of aluminum.
If you can manage to go this route, you'll probably be glad that you did. Aluminum has the benefit of being extremely durable, while usually weighing less and costing less.
If you're looking for an affordable, durable, easy to transport telescopic ladder, then aluminum is a material that you'll want to strongly consider going with.
Cost:
As you also probably noticed, cost can range significantly between different ladders.
Quality is obviously going to be a big premium for this purchase, but do keep in mind that you don't have to spend loads of money to get a good tool.
Price certainly doesn't guarantee quality. As our "best for the money" pick demonstrates, you can get a sturdy, safe telescopic ladder at a reasonable price.
Max Weight Capacity:
While the weight capacity of any ladder should be considerably higher than your weight, there's more to consider than just the number you see on the scale.
Keep in mind that you'll often be climbing the ladder while carrying materials.
With that in mind, you're going to need to find a telescopic ladder that's not only capable of handling your weight, but also the weight of the equipment that you're likely to use.
Safety Rating:
We've continuously mentioned safety as the key concern when choosing a ladder. The good news is that there are concrete ways to understand exactly how safe a collapsible ladder really is.
Don't take reputation at face value. Investigate the safety rating of the ladder by checking to see what one of several organizations has had to say about it.
The ANSI supplies scores for American buyers, while the European Safety System holds products to the safety standards of Europe.
The OSHA also provides potential buyers with safety scores on products.
Simply put, if a product does not have a good safety rating from one of these organizations, it's not going to be worthwhile to purchase it.
---
Conclusion
Decision time. The ladders on this list are all designed with some type of buyer in mind, but they aren't all designed with you in mind.
That being the case, it's time to weigh each one against your unique needs. We don't know you, and so we can't tell you which ladder will best suit your needs.
However, there are a couple of recommendations that we have to offer that will appeal to a broad range of people.
The Xtend and Climb 785P is going to be the best telescoping ladder for buyers who need the highest quality that they can find.
On the other hand, buyers who want a decently priced ladder that still has lots of quality are probably going to appreciate the Lifewit.
But hey, these are just suggestions. Now that you've read this guide, you are more than qualified to make your own informed decision on the best telescopic ladder for you.
Note, we also have an article for painters, where we review ladders exclusively made for painting jobs. That article can be found here.