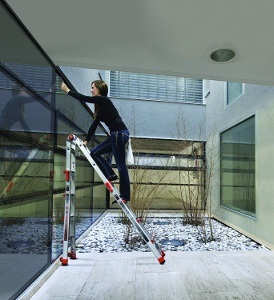 Doing your painting can be a great way to save money on your next remodel, but that means you're going to need access to parts of your rooms that you wouldn't normally go near. You can't do a high-quality job on the upper parts of the wall from the floor, and that means that you need a ladder.
If this is your first time doing a home painting project, you may not know which kind of ladder will serve you best in your next endeavor. While there's no clear winner, each model of ladder has its strengths and weakness that make it good at different kinds of projects.
Below, we explain the different kinds of ladders and go over our favorite models from each category. Read on, and you'll be happily painting away in no time!
Comparison
Rating
Image
Product
Details

Our favorite platform ladder

Flip-N-Lite 15270-001

Tall handrail
Lightweight
Folds flat for storage
CHECK PRICE

Our favorite extension ladder

Louisville Ladder FE3216

Swiveling safety shoes
Quick latch rung lock
Non-conductive rails
CHECK PRICE

Our favorite step ladder

Louisville Ladder L-3016-06

Sturdy
Slip-resistant feet
Pinch-resistant spreader
CHECK PRICE

Our favorite articulating ladder

Little Giant Multi-Use 15422-001

Multiple ladders in one
Can work on stairs
Maximum 19' reach
CHECK PRICE
4 Best Ladders for Painting – Reviews 2021:
1.

Platform Painting Ladders – These are Best for the Money
One of the best things about ladders is that they tend to give away what they do in their name. Thus, platform ladders have large platforms at the top for standing and resting tools. They come in an A-frame configuration, which leads to them often being mistaken for the more common step ladders, which take a similar shape, but have narrower steps and less space at the top for resting tools.
Platform ladders tend to be the best choice for painting projects or other tasks where you're going to be working on the same area for a long time and need the ability to keep as many tools as possible at the top of the ladder is that you don't have to climb down frequently. They tend to be one of the more comfortable ladders to stand on for long periods of time, but they do tend to be large, so you should only buy one if you have enough storage space.
Flip-N-Lite 15270-001 – Our favorite platform ladder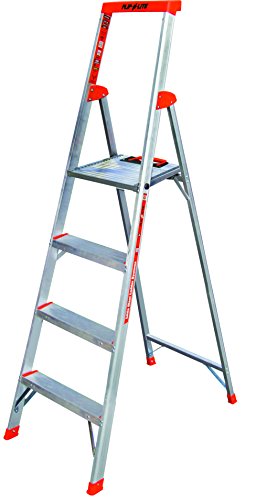 The best ladders make using them easy, and the Flip-N-Lite 15270-001 is the epitome of easy use. It's lightweight, and while it may be hard to believe that a 6-foot ladder can clock in at less than 15 pounds, this one does. It also comes with a tall handrail that is useful for steadying yourself at the top. It's designed so that you can easily open it with just one hand, and it folds flat for storage, making it a great choice for apartments or other situations where you have limited space.
Note that this ladder only supports up to 300 pounds, which could be too little in some situations. However, if you like having a platform to stand on while you work, this is the model for you.
Pros
Lightweight
Tall handrail
Folds flat for storage
Easy to open and close
Cons
Relatively-low maximum weight
---
2.

Extension Painting Ladders
Extension ladders also known as telescopic ladders, are useful in situations where you have to get to very high places, or you have limited floor space. This is the stereotypical ladder associated with firefighters. It doesn't have an A-frame, instead functioning as a normal ladder that can expand or contract based on your needs.
You have to lean an extension ladder up against a wall to use it, so if you can't do that, you'll either need to get a very tall A-frame ladder or invest in scaffolding. They don't have very much space for tool storage, so you're going to have to carry what you need on your person, and in most cases, keep it on your person or use accessories to mount it to the ladder.
Louisville Ladder FE3216 – Our favorite extension ladder

The Louisville Ladder FE3216 is our favorite extension ladder and the best ladder for painting a 2 story house. Sometimes you can tell when a product is well-made, just by using it for a few minutes, and this model gives off that feeling in spades. It comes with swiveling safety shoes, which make sure the ladder always has a firm grip on the ground at its base. It also comes with a quick latch rung lock that makes it easy to set the height and keep it there while you work.
The rails are made from fiberglass, which means they don't conduct electricity and makes the ladder a good choice for electrical work. While it also has a relatively-low maximum weight of 300 pounds, it is still a great choice for most people who need an extension ladder.
Pros
Swiveling safety shoes
Quick latch rung lock
Nonconductive rails
Durable
Cons
Relatively-low maximum weight
---
3.

Step Ladders for Painting
Step ladders are probably the kind with which most people will be most familiar. They use the traditional A-frame, which means they are easy to set up, but also fold down in a form more suitable to long-term storage. They have a small platform on top that can be used for tool storage, but it's nowhere near as much space as you can get on the platform ladder. Step ladders also don't have the same maximum height that you can get on extension ladders.
Step ladders are a good all-around ladder that excels in no one area, but has no significant weaknesses, either. If you're looking for a good general-purpose ladder to keep around the house, the step ladder is a good choice, as it does many kinds of jobs well, and folds down into a smaller shape for easy storage.
Louisville Ladder L-3016-06 – Our favorite step ladder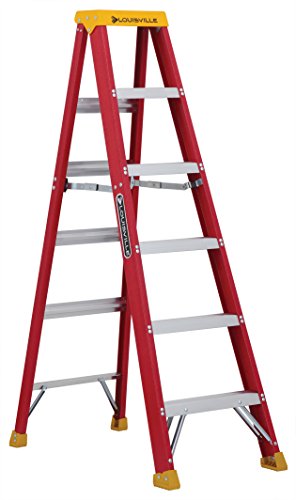 Some models really stand out from the rest of the line and blow you away with how good they are compared to everything else on the market. The Louisville Ladder L-3016-06 is our favorite step ladder for that reason. It's sturdy and stable, even when you get near the top, which is where most ladders begin to wobble or shake. The incredible stability on this model is due to the super-strong, and nonconductive, fiberglass rails.
It also comes with slip-resistant feet that contribute to the stability and help the ladder do its job well, even in slick situations. You'll appreciate the pinch-resistant spreader, which eliminates all those times you'll accidentally get your fingers or palm caught in the mechanism, which always hurts a lot, even if it's not that bad of a wound. While it does clock in at just under 20 pounds, which is a bit heavy for a stepladder, it's phenomenally strong and worth every penny.
Pros
Nonconductive rails
Slip-resistant feet
Pinch-resistant spreader
Sturdy
---
4.

Articulating Painting Ladders / Multi-use ladders
Articulating ladders are the newest kind of ladder on the market today. They combine many of the features that can you can find in the above ladders into a single frame. For instance, you could use them like they're a step ladder in an A-frame configuration, but then you could fold them out and use them as an extension ladder to reach high places.
Some advanced articulating ladders can also extend like an extension ladder, instead of just folding into the shape of one. That gives them supreme stability on stairs in A-frame mode, as you can set the legs to different heights to use on different steps but keep the ladder perfectly balanced. These ladders are more expensive than other kinds, but they do have the most versatility and can replace multiple ladders in your arsenal.
Little Giant Multi-Use 15422-001 – Our favorite articulating ladder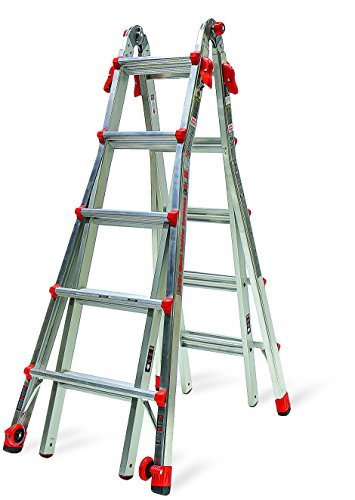 The Little Giant Multi-Use 15422-001 is our favorite articulating ladder. It can serve as an A-frame step ladder, a 19-foot extension ladder, a 90-degree ladder for getting close to your walls, and it can even be used on your staircase due to the independent height adjustment available on both legs of the ladder. It uses a fast rock lock system that allows you to adjust the ladder to a new position quickly, and then lock it back in place with little effort and high confidence that it will stay in place.
This model is a bit heavy, weighing about 21 pounds. That's not unreasonable for a ladder with so many possible functions, but it's something to keep in mind. You should also know that this model comes with wheels, so you don't always have to lug it around, and in many circumstances will be able to roll it from place to place. You can't go wrong with this ladder, especially if you don't know what your next job is going to be like, given that you can get it for the price of a single ladder with only one function.
Pros
Multiple ladders in one
Can work on stairs
Maximum 19' reach
Price
---
Conclusion
The Flip-N-Lite 15270-001 is our favorite platform ladder due to its lightweight frame and tall handrail. Our favorite extension ladder is the Louisville Ladder FE3216 which comes with swiveling safety shoes and a great quick latch rung lock. The Louisville Ladder L-3016-06 is our favorite step ladder due to how sturdy it is, but the pinch-resistant spreader was a nice feature, too. Our favorite articulating ladder is the Little Giant Multi-Use 15422-001, which has a variety of uses and comes at a price that can't be beaten for a ladder with so many functions.
We hope that our explanation of different ladder types has helped you figure out which kind you'll need for your next painting project. We also hope that our reviews have helped you find a model that you'll love at a price you'll like a lot, too.

Pete has been working in the trades since high school, where he first developed a passion for woodworking. Over the years, he has developed a keen interest in a wide variety of DIY projects around the home. Fascinated by all sort of tools, Pete loves reading and writing about all the latest gadgets and accessories that hit the market. His other interests include astronomy, hiking, and fishing.
As the founder of House Grail, David's primary goal is to help consumers make educated decisions about DIY projects at home, in the garage, and in the garden.