5 Best Vacuums for Intex Pools in 2023 – Reviews & Top Picks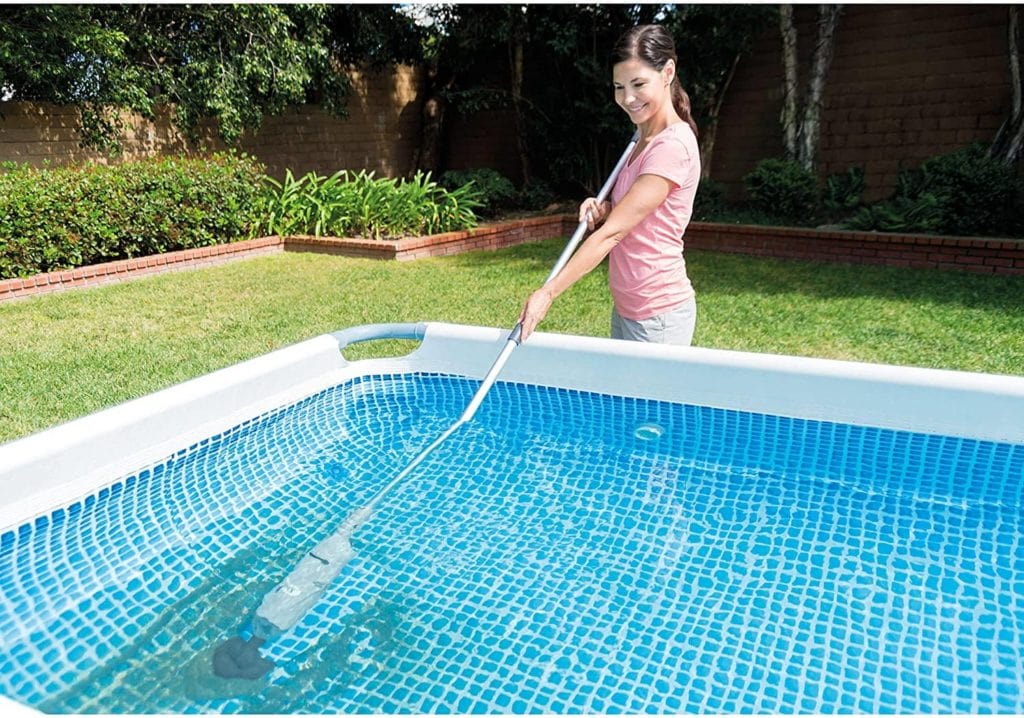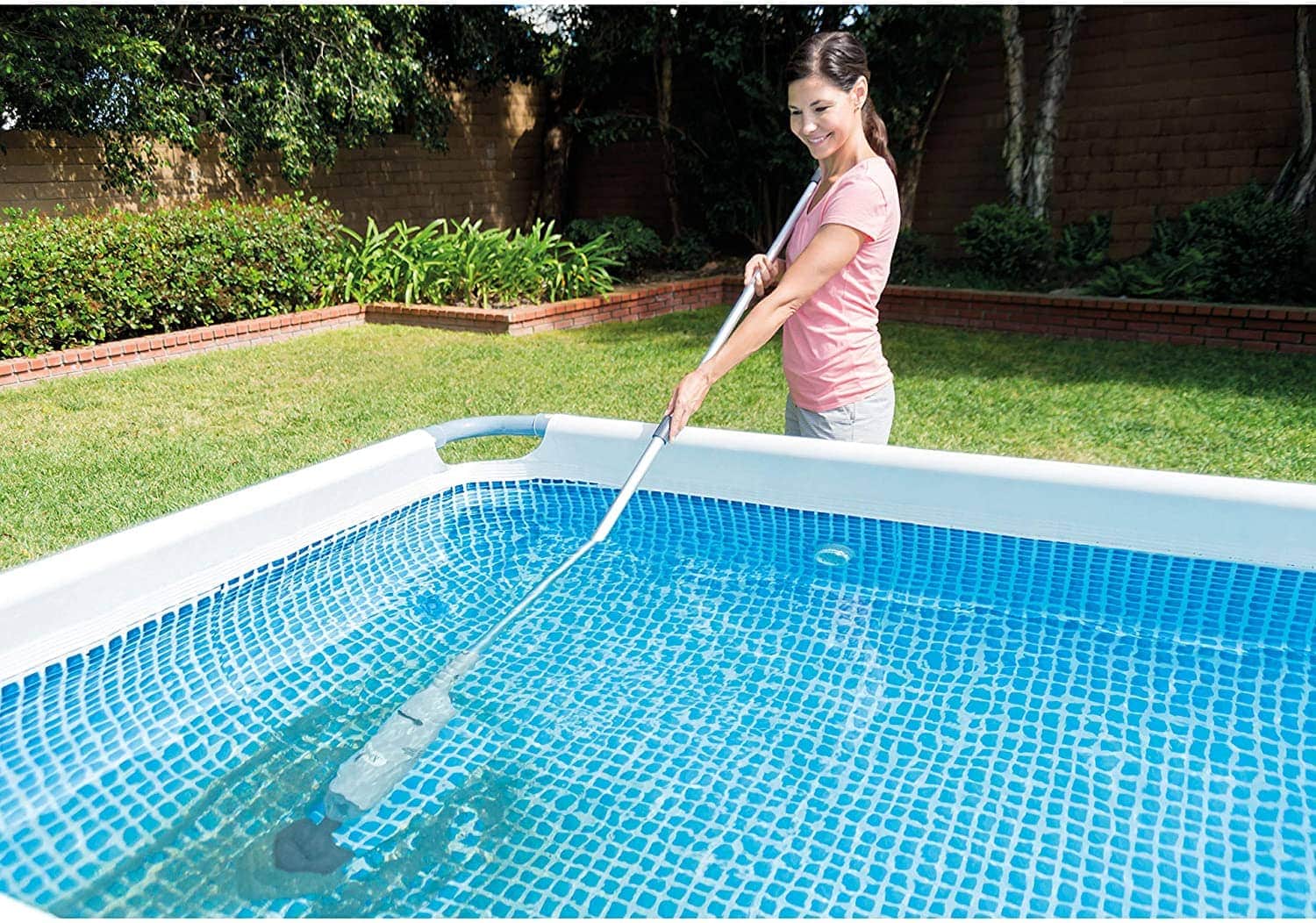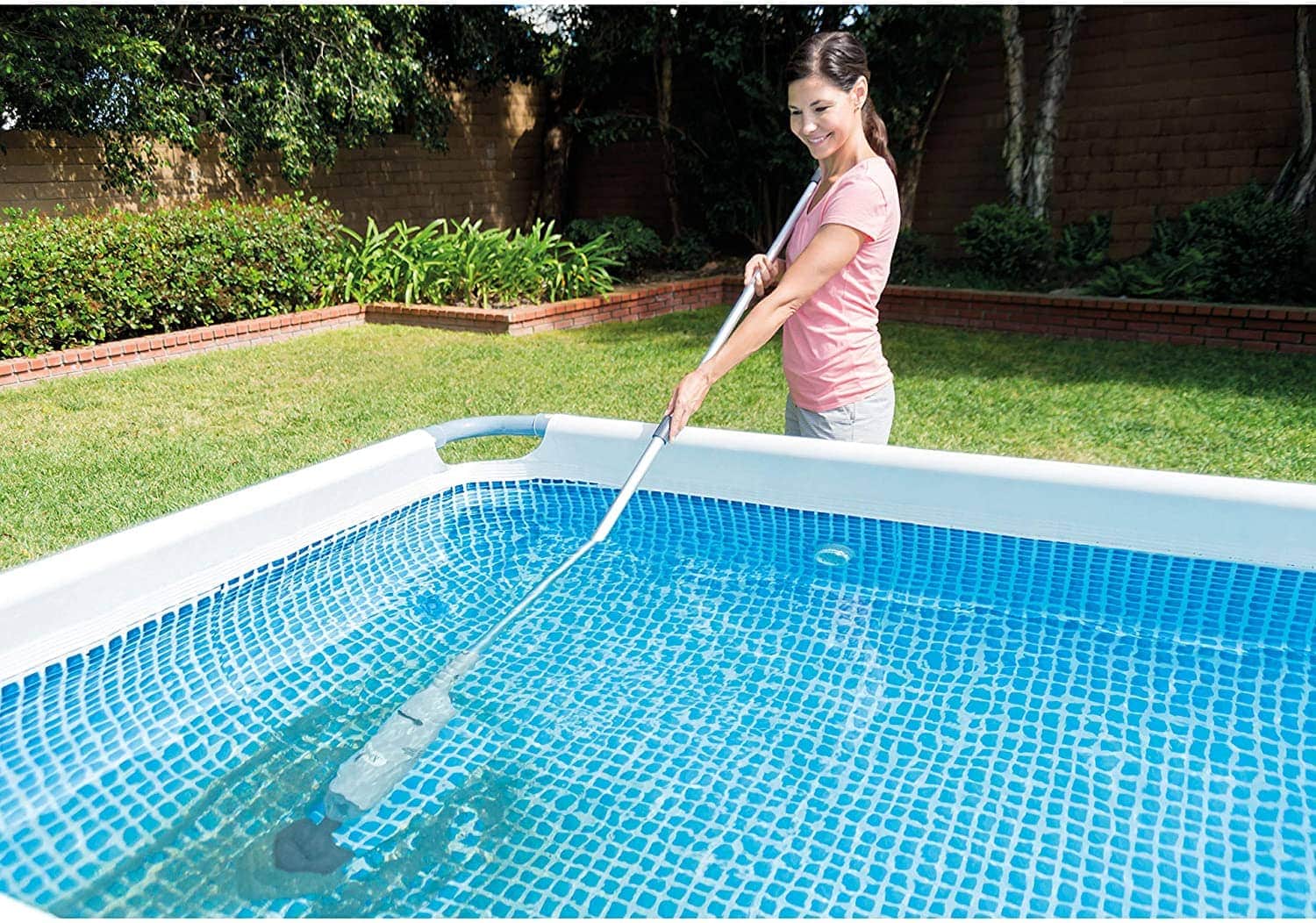 Maintaining the cleanliness of your pool can be a huge task, especially for those of you who have above ground pools. There are hundreds, if not thousands of vacuums for Intex pools but we thought that we could compile the best vaccums for Intex pools for you. Finding the right product for your needs can be difficult when there are so many mixed opinions out there online even when it comes to vacuums for Intex Pools reviews. We've put together an in-depth list showing the best and worst aspects of each product to give you a balanced view of each one, we have also included a buyer's guide to help you find the best above ground pool vacuum for Intex!

Comparison of our Favorite Choices for 2023
Rating
Image
Product
Details

Best Overall

Zodiac Ranger

Quiet
Lightweight
Removes small debris
CHECK PRICE

Hayward Wanda

Fun design
Fast and quiet
Excellent filtering system
CHECK PRICE

Best Value

Intex 28001E

Durable
Compact
Affordable
CHECK PRICE

INTEX 58948E

Quiet
Removes small pieces of debris
CHECK PRICE

ZENY Automatic Sweeper

Small
Compact
CHECK PRICE
The 5 Best Intex Above Ground Pool Vacs
1.

Zodiac Ranger Above Ground Pool Vac – Best Overall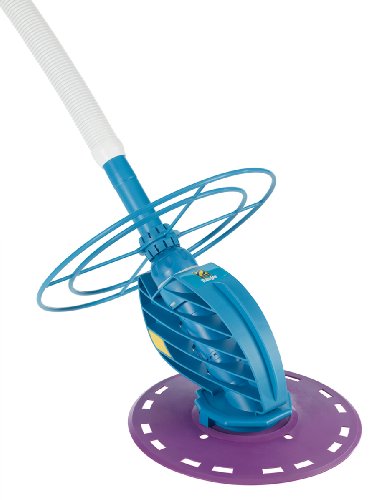 Featuring a large wheel deflector which helps to stop the vacuum from getting caught on ladders or corners of the pool and an AG disc which makes sure the vacuum glides effortlessly at the bottom of your pool and around the walls and steps. The Zodiac Ranger Suction W01698 is one of the best above ground pool vacuums for Intex you can buy. It is affordable and can remove even the smallest pieces of dirt, whether you need to clean twigs, stones, or even leaves, this Intex vacuum is sure to do a great job with no problems! It also incorporates a valve that allows the water to flow and ensure optimum performance whilst being super quiet and effective. The feed hose is also 32 foot which means that even if you have a pool of the bigger size, the vacuum will get every aspect of it! Possibly the best thing is that you can get countless accessories to accompany the vacuum and do special jobs in your pool, this model even has an accessory to ensure your pool is sparkling!
Pros
Affordable
Compact and Lightweight
Quiet
Removes Small Debris
Long Hose (32 ft)
---
2.

Hayward 900 'Wanda' Pool Cleaner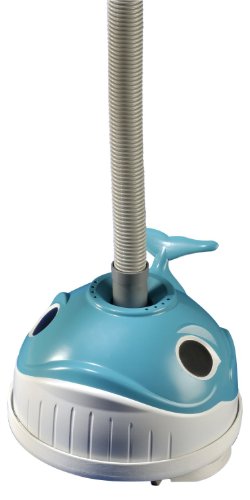 Pool cleaners don't have to be boring, they can be fun and inventive! The Hayward 900 Wanda the Whale is definitely a fun-filled cleaner that provides users with an exciting and different experience. Forget about your normal pool cleaners, this model actually cleans your pool and is designed to look like a whale. It can scale the bottom and walls of pools of all different sizes (above or below ground pool!) and does it all automatically. It also has the exclusive Hayward SmartDrive program which ensures that the cleaner doesn't miss any spots. In terms of price, we think this is where the model falls a little, it is relatively expensive for the quality of the product, and despite having great features it still shouldn't retail for such a high price. The performance of the model is amazing though, and it's definitely worth trying if you want a little fun in your life, the children will love their new whale friend too (just make sure they stay away!)
Pros
Fun Design
Fast and Quiet
Excellent Filtering System
Reliable
Cons
Expensive
Limited Settings
---
3.

Intex Vacuum 28001E – Best Value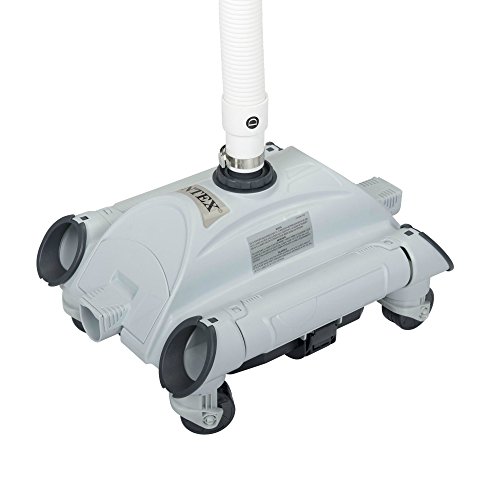 If pricing and your budget are getting in the way of you purchasing a fancy pool cleaner with all exciting features, then you might want to think about purchasing the Intex Auto Pool Cleaner 28001E, our value pick for the best above ground pool vacuum for Intex Pools. It definitely doesn't look like the Wanda The Whale model, but it is practical and very affordable. It is specifically designed for Intex pools and needs a flow rate of 1200 to 3500 gallons per hour! This Intex vacuum will skim the bottom of your pool on its four wheels never scratching or damaging the vinyl liner. Despite being a more budget pool cleaner, you would never be able to tell just by looking at it as it looks very high quality and was made with users in mind. However, as this Intex vacuum is so affordable, it lacks a few features that the more expensive models have. These features are useful, but they don't change the mechanism of the pool cleaner, and this automatic above pool cleaner works perfectly to get rid of all the unwanted debris from your pool and get it back to looking brand new in no time.
Pros
Compact Design
Lightweight and Durable
Affordable
Cons
Requires a minimum 1200-gallon flow rate
Low Quality
Limited Features
---
4.

INTEX Vacuum Auto Pool Vac 58948E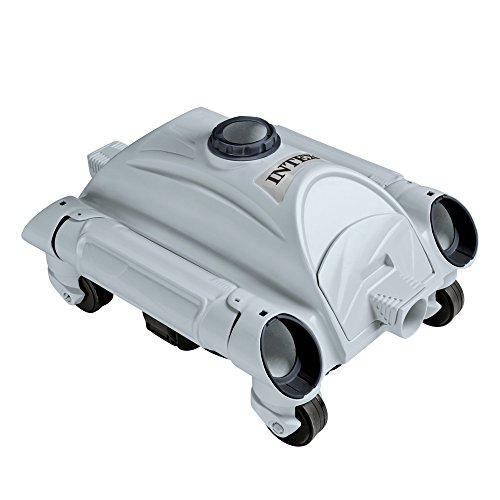 Despite not being in the top 3 of this list, the INTEX Automatic 58948E still has many positive features and is considered a good quality pool cleaner by many reviews and by ourselves. It is an automatic l pool floor cleaner designed specifically for above ground pools that use a hose fitting to move around the pool and clean any debris from it. This Intex vacuum lacks a lot of character and charisma though, it won't scale any walls or steps so if you get this model then you might want to get a manual pool cleaner to get any areas it misses. It also requires a filter pump with a minimum flow of 1600 gallons per hour which is quite high for an automatic pool cleaner. This model is one of the heaviest pool cleaners on the list with a huge weight of 16lbs, it isn't lightweight and can be hard to move for some individuals and before you purchase it, you might want to consider if you can pick it up or even pull it.
Pros
Removes Small Pieces of Debris
Quiet
Cons
Limited Features
Heavy Weight
Requires a minimum flow rate of 1600 gallons
Difficult to Maneuver
---
5.

ZENY Automatic Swim-Pool Sweeper
Fitted with scuff-resistant hoses to protect the pool from any scratches or damage and wheels to silently skim the bottom and walls of your pool, the ZENY Automatic Swimming Pool Cleaners positive traits stop there. Everything about this product has people quite annoyed and wanting their money back. Not only does it break within a few months, but the scratch-resistant wheel actually causes some serious damage to the inside of your pool. Despite the manufacturer claiming that it scales the walls of the pool, it doesn't even do that! The model leaves your pool dirtier than when you started and is a total waste of money. Typically, more expensive models are better in terms of quality and performance, but this model fails its ZENY brand and its reputation. We would advise anyone considering this particular model to have a look around before they buy it.
Cons
Bad Quality
Damages Pool Surfaces
Poor Suction
High Price Point
Low Performance Rate

Buyer's Guide – Finding the Best Vacuums for Intex Pools
Tips on Buying your First Above Ground Pool Cleaner for Your Intex Pool
Buying a pool cleaner can either be one of the best decisions of your life, or it can be one of the worst. We want to ensure that you purchase the best vacuum for an Intex pool possible that isn't a waste of money and that performs really well. Before you buy your Intex above ground pool cleaner, you need to think about different aspects that are important and what is best to look out for.
Make sure it's lightweight – to allow the pool cleaner to get everywhere and skim the bottom and sides of your pool, it can't be too heavy. This is because you want to make sure the vinyl on the bottom and walls of your pool isn't damaged and often the heavier models can cause unwanted damage. Take a look at the specifications before buying a pool cleaner and make sure it is below around 14lbs.
Try an ugly looking pool cleaner– we understand that a good-looking pool cleaner may be more attractive and may make you want to buy it but consider all your options. Sometimes the pool cleaners that look a little ugly are the best ones, don't simply rule them out because they don't look the best! Remember that looks aren't everything and it's more about the features that a cleaner offers than what it looks like.
Listen and read customer reviews – you will never find anything more truthful and honest than verified customer reviews. You will be able to find out everything about the product, from its worst aspects of the best thing about it. It's always good to see what other people say about the product before buying it so that you know what you're actually purchasing!
Things to Consider When Buying a Pool Cleaner
Considerations are important, especially if you have any special requirements or your pool is a different or unique shape. It isn't always just as simple as buying the most popular pool cleaner available. It has to suit your needs and do what you want it too.
The ability of the pool cleaner – this goes for anyone who has an especially large pool or one that requires a certain cleaning standard. Some pool cleaners will have a maximum space that they can cover which means if you don't check the specifications or consider your pool when you're buying your cleaner then you may end up with a pool cleaner that leaves half your pool dirty.
The size of the pool cleaner – you want to ensure that the pool will fit and run around your pool smoothly, and sometimes there are pool cleaners that are shaped very strangely which means they won't get in the hard to reach areas your pool has. Small pool cleaners are often better as they can get into the smaller areas but can clean the larger areas too.
How much you will use the cleaner – whilst some pool cleaners require to use every week or two weeks, others can go for months without being touched. During the colder months, you will use your pool less which means you will probably not need to clean it as much as the hotter, summer months. Before you purchase your pool cleaner, see what the maintenance is like on the product, and consider how much you're going to use the cleaner throughout the year.

Conclusion
After considering various reviews of vacuums for Intex Pools and using our own knowledge about the best pool cleaners, we can conclude that the best Intex pool cleaner has got to be the Zodiac Ranger Suction W01698, for many reasons! It is lightweight and affordable which means that even if you're on a budget you will be able to put this model in your shopping basket. It is also one of the most popular due to its sleek looking exterior and its silent cleaning – because let's face it, there is nothing worse than a noisy pool cleaner! We love this product and would definitely recommend anyone who needs one to use it and see what they think. Despite there being many models and ranges to choose from, it is just inevitable that the Zodiac Ranger pulled through and won!
Learn more: