5 Best Above Ground Robotic Pool Cleaners of 2023 – Reviews & Buyer's Guide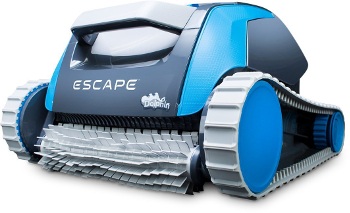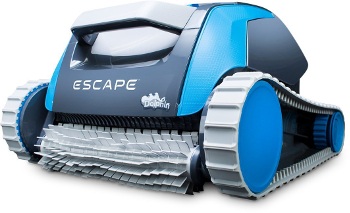 Summer is here and the living is easy, especially if you are blessed to own a swimming pool. Yet, most people with above ground swimming pools wish they could do away with tedious, manual cleaning by finding a reliable above-ground automated cleaner to do the job.
While pool cleaners – even those at the high end – are a fraction of your overall investment, it still pays to conduct thorough research to avoid disappointment and aggravation down the road. After all, why risk your water quality and poolside experience?
Given the plethora of choices available, it may seem impossible to work through all the technical jargon and special offers. That is why we are proud to present a list of five in-depth above ground pool cleaner reviews. Whether you place greater emphasis on performance, price, or another aspect of cleaners, the goal of these reviews is to help you choose wisely.

A Quick Comparison (Updated in 2023)
Rating
Image
Product
Details

Best Overall

Dolphin Escape Robotic

Reliable
90% more efficient
Computer-controlled navigation and logic
CHECK PRICE

Zodiac Ranger

Quieter operation
Only one moving part to worry about
Convenient skimmer connection for hose
CHECK PRICE

Best Value

Hayward Wanda

Inexpensive
Good coverage
Easy and fast to set up
CHECK PRICE

Pentair Kreepy Krauly

Economical choice
Free skimming valve
Adequate for light use
CHECK PRICE

Aquabot Pool Rover

Efficient
Fully automatic
Best used on smaller pools
CHECK PRICE
The 5 Best Above Ground Pool Vacuums
1.

Dolphin Escape Robotic Above Ground Pool Vac – Best Overall
Maytronics' Dolphin Escape stormed into 2019 as the best choice for above ground pool owners. This elegant cleaner ensures that your pool is free of both macro and micro-debris, resulting in sparkling clear water for the ultimate swimming experience.
Its patented HyperBrush™ scrubbing mechanism is twice as fast as most competing brushes, meaning that even the toughest sediment and particles do not escape its vacuuming power. The bulldozer-like rubber tracks maintain contact with the surface at all times – an advantage over traditional wheel-based cleaners in terms of traction, energy efficiency, and climbing ability.
The SmartNav 2.0™ scanning system optimizes the Dolphin Escape's pool surface coverage and cleaning time. In addition, filtration is achieved via the use of an oversized filter cartridge (as opposed to bags) and fine filters to grab anything in sight.
The Dolphin Escape's hi-tech features and state-of-the-art design are backed by a one-year warranty and 30-day, no-hassle return policy. Above all, its deep-cleaning performance gives you a tremendous bang for the buck. Overall this is the best pool vacuum above ground that we have reviewed.
Pros
Reliable (we've never seen it get stuck)
Computer-controlled navigation and logic
Dual 24V DC motors up to 90% more efficient than AC-powered cleaners
Simple "Plug and Play" installation
Cons
Must purchase fine particle filters separately
---
2.

Zodiac Ranger Above-Ground Pool Vac
The Baracuda W01698 Zodiac Ranger Suction Side Automatic Above-Ground Pool Cleaner is a very good option for pool owners. Dependable and easy to operate, the Zodiac Ranger's streamlined design and approach can vacuum out all types of dirt, leaves, and other debris that may accumulate over the winter and throughout the pool season.
Unlike many above-ground cleaners, the Ranger ships practically pre-assembled – all you have to do is attach the hose to start cleaning. Its distinguishing feature – the smart-looking AG Disc diaphragm – enables the Ranger to easily navigate the pool and vacuum without being hindered by steps or corners.
No extra plumbing is required to make Zodiac work, and stable water flow is controlled by its Flowkeeper™ valve.
Of the four other automated cleaners reviewed here, the Zodiac Ranger was the Dolphin Escape's closest competitor. It didn't receive our top recommendation because many pool owners reported having to supervise the Ranger or even switch to manual operation to compensate for a lack of complete coverage.
Pros
Quieter operation than most competitors
Convenient skimmer connection for hose
Only one moving part to worry about
Cons
32' hose standard a liability in larger pools
Declogging needed after picking up larger debris
Diaphragm may have to be replaced after 1-2 years
---
3.

Hayward Wanda Above Ground Pool Vac – Best Value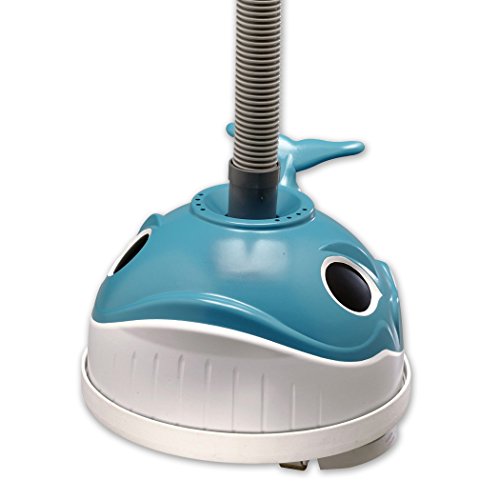 At first glance, the cartoonish-looking Hayward 900 "Wanda the Whale" Suction Above Ground Pool Cleaner may be hard to take seriously. Wanda's relatively low price also makes pool owners look elsewhere, but should it?
Under the hood, you get a powerful turbine cleaner suitable for above ground pools of all shapes and sizes. Combined with Hayward's SmartDrive® program steering system, this unit uses the pool's existing filtration system to deliver consistent results.
Easy to install, the 900 Wanda operates quietly and improves water flow as it moves along the bottom, acting as a "second main drain". A noticeable feature is its outside bumper ring, which helps Wanda move away from walls to get back on the programmed path without delay.
All in all, the Wanda is ideal for the budget-conscious, Do-it-Yourselfers (DIY), and first-time above ground pool owners. However, it requires several additions beyond its basic package (e.g. leaf catcher, stronger pump) to be considered with the major players.
Pros
Inexpensive
Good coverage, the smooth operator in smaller pools
Easy and fast to set up
Has a tendency to make people smile
Cons
Pump strength decreases with debris accumulation
Issues surrounding ripped liners
---
4.

Pentair Kreepy Krauly Robotic Pool Cleaner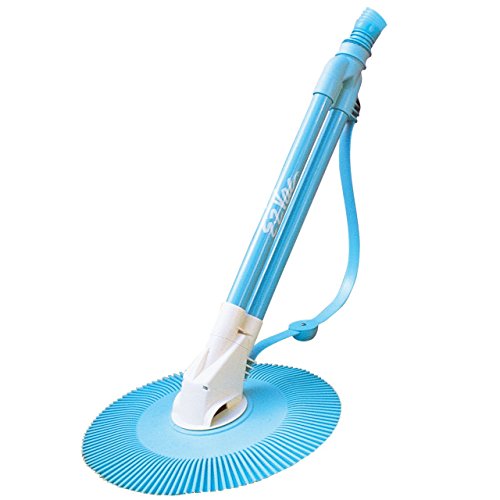 Pentair's K50600 Kreepy Krauly has earned a love-hate relationship with above ground pool owners. While it shares a similar look and product specs with the Zodiac Ranger (i.e. hydraulic design, one moving part, circular disc at bottom of the vacuum, etc.), it fails to match the Ranger's performance and reliability.
We like the ability to surface skim debris during the course of vacuuming. Unfortunately, you almost need perfect, obstacle-free pool conditions to guarantee the kind of results you expect.
Kreepy Krauly is well-established in the marketplace and many people remain loyal to the brand. However, with advancing robotics technology and pool owners striving for hassle-free maintenance, the Pentair company needs to step up its game to compete with the competition in the future.
Pros
Adequate for light use, i.e. smaller pools
Economical choice
Cons
Initial set-up problematic; instruction manual unclear
Very heavy (49 lbs.) and loud
Hose length not enough for medium-sized, large pools
Issues moving around steps, ladders
---
5.

Aquabot Above Ground Pool Cleaner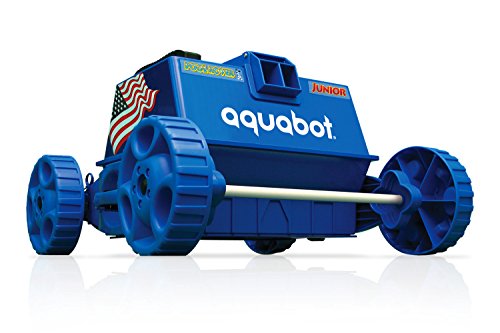 The Aqua Products Pool Rover Junior looks really good on paper. It claims to cover any type of pool surface without the use of hoses. APRVJR gives you 40 feet of cable and reasonable power specifications that, together with a cute "rover" look, seems hard to pass up.
However, the design-build is far from durable and problems will arise almost immediately. Service is provided under the one-year warranty but be prepared to pay hefty shipping costs for additional parts. Unlike previous models, the current Pool Rover is susceptible to cord entanglements that require frequent manual intervention.
All in all, a great concept that still needs more testing and fine-tuning to earn a top recommendation.
Pros
Efficient at sucking up all types of dirt and debris
Best used on smaller pools
Cons
Poor suction and surface coverage
Durability and motor issues
Deceptive warranty conditions
Movement is often haphazard
Rusting and corrosion issues severely limits longevity
---
Buyer's Guide – Choosing the Best Above Ground Pool Vacuum
All pool owners – veterans and newbies alike – deserve a successful above ground pool cleaner purchase. Aside from the specific models discussed above, there are certain aspects of the overall system you should know.
Cleaner Type
Not all above-ground cleaners are created equal. The main categories are:
Robotics-based cleaners (software and microprocessor-controlled motors)
Suction-based (i.e. vacuum) cleaners (using hoses plus the pool's own filtration system)
Turbulence-based cleaners (using pressure to dislodge dirt and debris before filtering them out)
Swimming Pool Size and Shape
Obviously, your pool size will determine the time required to maintain your pool, the power, and energy consumption required, as well as the necessary cable length (32 versus 40 feet). Don't forget about the pump strength needed to do a proper job!
While smaller-sized pools give owners more selection flexibility, robotic cleaners with powerful brush heads and "smart path" technology (such as Hayward's SmartDrive® program steering system) may be better than suction-based systems for larger pools.
If your pool has many obstacles (e.g. steps, ladders, special contours, etc.), a robotic system's "intelligence" will be put to the test and may not perform as advertised.  Many suction-based cleaners only have one moving part, and thus, may be preferable for non-standard pool shapes.
What is the Filtration Rate?
The quoted filtration rate of your prospective machine is a key metric that affects your water quality once the job is completed. A good benchmark for most swimming pools would be a filtration rate of 70 to 75 gallons per minute.
Power Consumption
With a view to keeping swimming pool maintenance costs low, owners have to strike a balance between power consumption and operation time. For example, robotic cleaners like the Dolphin and the Aquabot are rated at 180 watts, which is expected, given their sophisticated electronics and software.
Suction-based systems will typically have a lower power rating, with the trade-off being longer cleaning cycles and, in some cases, the introduction of a stronger pumping mechanism.
Cleaner's Physical Weight and Weight Distribution
Automated above ground cleaners range from 10 to 50 pounds, which can affect their maneuverability and stability. In the end, you want solid construction that can withstand reasonable wear and tear – regardless of weight.
Dirt and Debris to be Cleared
What's most problematic for you: leaves or fine particulates (e.g. sand, micro-debris, etc.)?  If larger objects from winter and throughout the season are your main issue, then you'll need a cleaner that is powerful and reliable enough for heavy use. In this vein, robotic cleaners are often favored. However, suction-based systems often shine when filtering out and cleaning up smaller elements.
Ease of Use
Do you dread having to clean your above-ground swimming pool, even with a robotic/automatic helper? If nothing else, a cleaner should be easy to use, because it will be called upon three, five, maybe ten times per year – or more!
What is more annoying than having to manually clean your pool after cleaner failure?  Every machine has a breaking point; however, when things go astray, ask sales personnel some basic questions about operation if:
Your cleaner sticks on the wall or a ladder
The cleaner suddenly slows down or stops altogether
The cleaner never covers 100% of the pool without personal intervention
The cleaner, if advertised as bidirectional, doesn't go backward (or forwards)
Price
It's your bottom line consideration, but you need to consider more than just the base offer.  For example, will you need additional hoses, a stronger pump, an extended warranty, or other parts and services before getting started?
In the end, peace of mind is certainly worth a few bucks, so be wary of bargain-basement pricing. At the same time, don't get caught up with the latest features that may be both unnecessary and offered at a steep premium.
A rule of thumb: Robotic systems will be more expensive but offer more promise of hassle-free, above-ground pool maintenance vis-à-vis suction-based cleaners that frequently need manual adjustment.
---
Conclusion
The Dolphin Escape Robotic Above Ground Pool Cleaner is our overall product winner, with the Hayward 900 Wanda ranking as the best cleaner for the money. All five cleaners reviewed have distinctive features, although the Zodiac Ranger and Pentair Kreepy Krauly could be considered a directly comparable pair. Likewise, the Hayward Wanda and Junior Rover, even though the latter is hose-less cleaner.
Before choosing a pool cleaner, carefully prioritize your needs, find a model whose features come closest to meeting those needs, and evaluate the value/price trade-off.
On occasion, a company may mishandle your order or send you damaged goods. It's annoying to be sure, but if it happens, try to leverage the situation to your advantage (e.g. free shipping, additional parts, extra discounts, etc.).
Hopefully, these reviews of Above Ground Pool Cleaners have sensitized you to important issues prior to your purchase. Swimming pools should be enjoyed to the fullest, and we hope that by highlighting important features here, it is now easier for you to make this important decision.
You might also like: