5 Best Water Softener Resins in 2023 – Reviews & Top Picks
Water softeners see constant use, day in and day out. Eventually, the resins that perform the water softening duties break down. When this happens, they'll no longer effectively remove the hard minerals.
Moreover, it may hinder water flow, resulting in lower water pressures and poor-quality water. Luckily, this doesn't signal the end of your water softener, it just means you need to replace the resin inside. Once you do, your water softener will function like it's brand new again.
Many different brands offer water softener resins. Some have longer lifespans, better chlorine resistance, and varying price points. To help you figure out which one you should choose, we've put together the following five reviews.
We've tested many of these water softener resins out, and these are the ones we think are worth mentioning. That said, only the first two earn our recommendations, but we'll explain why.
---
A Quick Comparison of our Favorite Picks in 2023:
Rating
Image
Product
Details

Best Overall

Purolite Resin Water Softener

High bead integrity
Exceeds EEC requirements
Removed 17 grains from water
CHECK PRICE

Best Value

LiquaGen 1.5 Cubic Feet of Resin

10% crosslinked for a longer lifespan
Chlorine resistant
Includes funnel
CHECK PRICE

Premium Choice

AFWFilters Water Resin 1 cu. ft. Bag

12-15-year lifespan
Affordably priced
CHECK PRICE

CATION-50-BOX Water Softening Resin

Good for household and commercial softeners
High-capacity resin
Less expensive
CHECK PRICE

ResinTech Water Softener Resin

Priced affordably
High capacity
CHECK PRICE
The 5 Best Water Softener Resins:
1.

Purolite C100E Resin Water Softener – Best Overall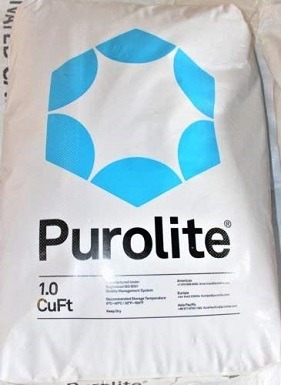 This high-purity bead-form water softener resin from Purolite is premium-grade, intended specifically for treating drinking water and water used in food. It has got excellent physical and chemical stability, leading to a longer lifespan. However, it's only 8% crosslinked instead of the more robust 10%. That said, it's also very affordably priced, which makes it relatively painless to renew your existing water softener system. This resin exceeds EEC requirements as well as FDA regulations, so you can rest assured that you'll be getting healthy drinking water.
In our testing, this resin brought our old and ineffective water softeners back to life. We saw reductions of up to 17 grains from our tap water with the Purolite resin. More importantly, the water tasted pure and delicious and left no scale or water spots of any kind. Overall, we were very satisfied with the performance and price of the Purolite C100E, which is why it has earned our spot as the best water softener resin overall.
Pros
High bead integrity
Exceeds EEC requirements
Removed 17 grains from water
Affordably priced
---
2.

LiquaGen 1.5 Cubic Feet of Resin – Best Value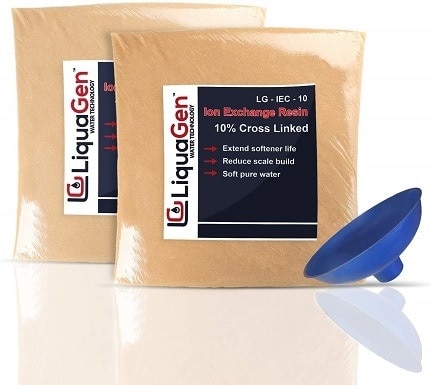 This ion exchange resin from LiquaGen is a long-lasting, high-grade water softener media that provides excellent-quality water for an affordable price. It's 10% crosslinked, meaning it has more bonds than other resins, making it stronger overall. The improved strength means it has a much longer lifespan than most water softener resins that are only 8% crosslinked. Moreover, the higher crosslinking means that the LiquaGen resin is a better choice for water that has high concentrations of chlorine since it's more resistant to it. Such chemicals will break down the bonds of 8% crosslinked resin, reducing its lifespan.
While we appreciate the longer lifespan of the stronger crosslinking, it also means that the LiquaGen is more expensive. However, the extra cost up front is more than made up for in the long run, which is why we think the LiquaGen is the best water softener resin for the money. The long lifespan and chlorine resistance make this one of our top recommendations. For your convenience, they've even included a funnel that will simplify the resin exchange process.
Pros
10% crosslinked for a longer lifespan
Chlorine resistant
Includes funnel
Cons
More expensive investment upfront
---
3.

AFWFilters Water Resin 1 cu. ft. Bag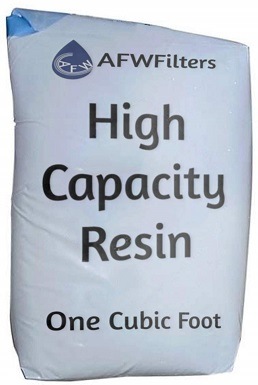 The SOFRES1 high-capacity resin from AFWFilters is a standard water softener replacement resin that doesn't offer anything extra. It's low priced, but it's also very average in all respects. Eight percent crosslinking means that it should last a decent 12-15-year lifespan, though not as long as competitors with 10% crosslinking. It is USDA, NSF, and FDA approved, so you can be certain that it's completely safe for you and your family. The water we softened with this resin tasted just fine and our hard water spots disappeared. That said, it's not a great choice for water with high levels of chlorine or iron, which would be better addressed with a media like the LiquaGen that earned our second-place recommendation.
Pros
12-15-year lifespan
Affordably priced
---
4.

CATION-50-BOX Water Softening Resin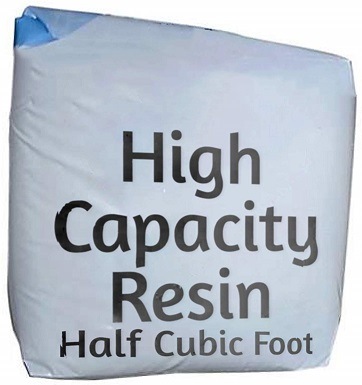 Suitable for both household and commercial water softener systems, this high-capacity resin from Amanzi is a standard mesh cation exchange resin that's available in small quantities of just 0.5 cubic feet. This may be sufficient for replacing the resin in a portable water softener, but it won't be adequate for a whole house system. It's less expensive than other resins we tested, but only because of the small quantity. If you were to purchase enough to exchange the resin in a standard-sized water softener, this product would cost considerably more than its competitors.
Despite the higher price, it doesn't do anything special to provide more value than competitors. It's 8% crosslinked like most standard resins, so it should work fine in any softener. In our experience, it produced water that tasted great and didn't leave any scale. The cost is just too much for us to justify when similar products are available for so much less, which is why this resin won't be climbing any higher than the fourth position of our list.
Pros
Good for household and commercial softeners
Cons
Very expensive
Small quantity of 0.5 cubic feet
---
5.

ResinTech Water Softener Resin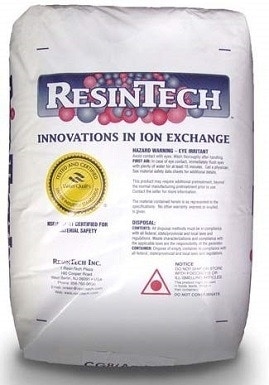 Priced similarly to competitors, this high-capacity water softener resin from ResinTech is a household-grade media that didn't do much to impress us. At first glance, it seems to fit right in with the other resins at the same price. Upon further inspection, we realized that this is a low crosslink media with less than 8% crosslink. This means it will have a reduced life expectancy and will need to be replaced sooner. It's also not suitable for commercial-grade applications. Most of the other resins we tested were acceptable for household and commercial use, so this made us a bit wary. Even though it's priced affordably, we don't think the ResinTech resin lives up to the standards set by the other products in the same price range.
Cons
Only household grade
Low crosslink under 8%
You may also like: Salt-free water softeners
---
Buyer's Guide – Choosing the Best Water Softener Resin
You may have some questions about some of the differences between the best water softener resins we've reviewed. For instance, what is the difference between 8% crosslink and 10% crosslink? Moreover, how exactly does one go about exchanging the resin in a water softener? In this buyer's guide, we're going to go more in-depth to answer these important questions. By the end of this article, you should hopefully know exactly which resin to purchase for your water softener, as well as how to exchange it yourself.
Crosslinking 8% vs. 10%
Crosslinking refers to the number of strands holding together each resin bead. The higher the crosslinking percentage, the stronger the bond. This extra strength results in a much longer lifespan. In fact, 10% crosslinked resin can sometimes last as much as twice as long as 8% crosslinked resin before needing to be replaced. This is pretty impressive by any measure.
Generally, 10% crosslinked resin costs considerably more than 8%. However, when you factor in the difference in lifespan, this cost evens out. Over time, the 10% crosslinked resin proves to provide better value since it lasts so much longer.
More than just an improved lifespan, the stronger bonds also provide other advantages. For instance, 10% crosslinked resin has a much greater resistance to chlorine. In water with high chlorine content, the higher crosslinked resin will last much longer before breaking down. It will also release less sodium into the water, resulting in more efficient water softening.
How to Know When Your Resin Needs to Be Replaced
If your water softener is losing effectiveness, it doesn't mean that it's going bad. Most likely, the resin bed is damaged or just worn out. In such cases, you can bring your water softener back to life by simply replacing the resin inside.
If your water softener stops producing soft water just a day or two after regeneration, then it's probably time to replace the resin. Make sure that your unit is still using salt at the normal rate. If it's not, the problem may be a bad valve head, but that's far less likely. Likewise, if your softener isn't removing as many minerals as it used to, then you're probably due for a resin change.
See our top picks of fluoride water filters
How to Exchange the Resin in Your Water Softener
Replacing the resin in your water softener is actually quite simple. You could have a professional do it, but you'll be wasting a good chunk of change unnecessarily. Anyone can handle this process, and we're going to lay it out in three simple steps.
Step 1: Turn off the Water and Take Off the Head
First, you'll need to unhook the unit. There should be a valve on the unit that will allow you to stop the water flow. Just to be safe, it's a good idea to turn off the main water to the house. Once the water is off, you can remove the head from the tank by removing the screws on the clamp. Be sure not to lose any o-rings as you'll need them when you put everything back together.
Step 2: Dump and Rinse the Tank
Once the head is off, take the entire tank and dump it out. It's going to be full of sediment so don't dump it into your sink! You'll need to rinse and dump the tank several times to make sure it's entirely devoid of the old resin. Once you're satisfied that it's completely cleaned out, it's time to add the new resin.
Step 3: Refill with New Resin
For this step, we'd recommend using a resin funnel and a second set of hands. If you try to do this without the funnel, you're asking for a giant mess. With one person holding the funnel in place, the other person can safely pour the resin into the tank without spilling it all over. Periodically give the tank a good shake while you're filling it so that the resin can all settle.

Conclusion:
Whatever resin you choose is going to come in contact with all of the water your family drinks. Obviously, it's an important decision, one we've tried to make easier for you by putting together these reviews and buyer's guide. Before you make a final purchase, we're going to summarize our recommendations again so they're fresh in your mind. We thought that the Purolite C100E was the best water softener resin overall. It's affordably priced and it exceeds EEC and FDA requirements. Even better, it removed 17 grains from the water in our testing and our hard water spots disappeared.
For the best value, we think it's hard to beat the extended lifespan of the LiquaGen resin. It's 10% crosslinked making it stronger, longer-lasting, and more chlorine resistant. They've even included a funnel to make the exchange process easier so you can get your water softener back up and running quickly. We feel completely confident recommending both of these excellent water softener resins and we're sure you'll agree once you use one!
---
Featured Image Credit: LoggaWiggler, Pixabay