8 Best Water Softener Systems of 2023 – Reviews & Top Picks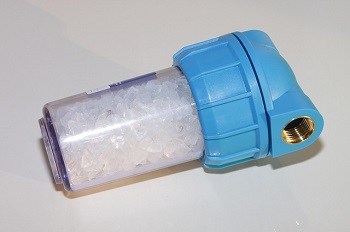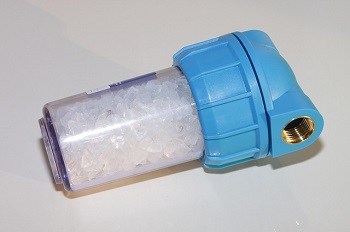 Soft water has many benefits over hard water, which is why so many people have turned to water softeners to remove the hard minerals from their water. A quick search will reveal that there are many different options to choose from, and they differ drastically. Traditional ion-exchange water softeners, salt-free systems, even portable softeners are available today. Within each category, many different brands and models compete to be the best system at the best price.
We've tested many different softeners of all kinds, and the following water softener systems reviews will share what we've learned about some of our favorites. Afterward, we're going to break down the different types of water softeners on the market. We'll go over the pros and cons of each as well as discussing what situation each type is best suited for.
---
A Quick Comparison of Our Favorites in 2023
Rating
Image
Product
Details

Best Overall

Fleck 48,000 Grain Water Softener

12 GPM flow with 28 GPM peak
Whole house system
Digital control allows you to dial in your settings
CHECK PRICE

Best Salt-Free

APEC FUTURA-10

Won't add sodium to your water
10-year warranty
Maintenance-free system
CHECK PRICE

Best Portable

On The Go Double STD

Small and compact for easy portability
16
000-grain capacity
Regenerate with common table salt
CHECK PRICE

Nuvo H2O Home Water Softener System

Salt-free operation
No electricity required
Chelation bonds to minerals to keep them soluble
CHECK PRICE

Whirlpool 40,000 Grain Water Softener

Salt-saving operation
Removes up to 10 ppm of iron
CHECK PRICE
The 8 Best Water Softener Systems
1.

Fleck 48,000 Grain Water Softener – Best Overall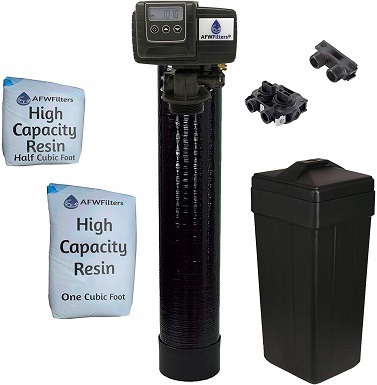 Getting a water softener that can supply enough water for your home can be a very hefty investment. Luckily, the Fleck 5600SXT makes it more affordable without sacrificing quality. It produces flow rates of 12 gallons per minute but it can manage 28 gallons per minute peak output. This system is a traditional salt-based system, so it has a few inherent drawbacks. For one thing, you'll be constantly checking and adding salt every week to make sure it can regenerate.
The meter on top is fully digital, which makes it easy to program and get water exactly to your preferences. This was one of our favorite features of the Fleck 5600SXT, and it's part of what makes it the best water softener for the money in our opinion. We felt that this was the easiest system to use and gave the most versatility in how you want your water conditioned. The five-year warranty is another great bonus that provides some peace of mind knowing your investment is protected.
Pros
12 GPM flow with 28 GPM peak
Whole house system
Digital control allows you to dial in your settings
5-year warranty
Cons
Requires constant addition of salt
---
2.

APEC FUTURA-10 – Best Salt-Free
Capable of producing 10 gallons per minute of soft water, the APEC FUTURA-10 can supply homes with 1-3 bathrooms. For those who need a salt-free system, we think it's pretty hard to beat this one. It won't add any sodium to your water and you won't need to constantly add more salt to the system. This water softener is maintenance-free. It doesn't require electricity or backwashing and it uses no harsh chemicals. Once it's installed, you can basically forget about it. To that end, a 10-year warranty will keep you protected under any circumstances.
Instead of removing the minerals that cause hard water, this device neutralizes them with a ceramic media. This means that your water will still contain the essential minerals that are good for your health. However, you'll have all of the benefits of soft water because the minerals will no longer be able to bond together. The APEC FUTURA-10 is one of the most expensive water softeners we've tested, but the set and forget performance it provides makes it our favorite salt-free water softener overall.
Pros
Won't add sodium to your water
10-year warranty
Maintenance-free system
---
3.

On The Go Double STD – Best Portable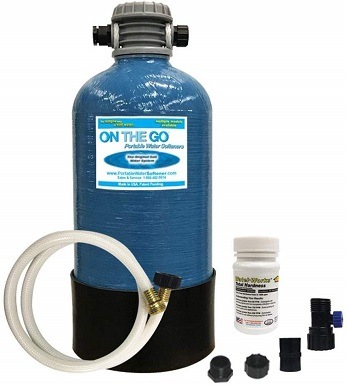 Portable water softeners make it possible to have healthy, soft water anywhere you go. Our favorite is the On The Go OTG4-DBLSOFT 16,000-Grain water softener. The large capacity means this device can run for 40 days or 1,600 gallons before regeneration. When it's time to regenerate, you can do it with no tools using common table salt. Granted, it's a slow process, but for the convenience of having soft water anywhere you go, we're willing to make the tradeoff.
The small and compact design of this water softener makes it easy to fit inside of an RV or travel trailer. Since it requires no electricity to run, you can have soft water without having your RV hooked up. The water it produces is free of hard minerals, great for cleaning, cooking, and drinking. Altogether, we think it's the best portable water softener available and we feel confident recommending it.
Pros
Small and compact for easy portability
16,000-grain capacity
Regenerate with common table salt
Requires no tools or electricity
Cons
Regenerating takes a long time
Also see: Spring Water vs Purified Water: Which is Better for You?
---
4.

Nuvo H2O Home Water Softener System
This eco-friendly water softener system from Nuvo H20 is salt-free and requires no electricity. Instead of removing the hard water minerals, this device uses a process called chelation. The hard minerals are bonded to the chelating agent, forcing them to remain soluble and leaving them unable to bond together. You'll no longer experience scale, even though the minerals are still present in the water.
The Nuvo H20 Dphb-a water softener can only supply enough water for homes with 1-2 residents. To earn our top recommendation, it would have to be able to supply water to a home with a whole family living inside. But this isn't our biggest concern with this device. In climates where heat can cause the water in the pipes to be very high temperatures, the Nuvo H20 is not a good candidate. The heat can cause the cap to expand, ruining the device and creating a fire hazard. Despite the excellent salt-free water softening performance, we can't stand behind a product that can become unsafe due to factors that aren't under the homeowner's control.
Pros
Salt-free operation
No electricity required
Chelation bonds to minerals to keep them soluble
Cons
Only for homes with 1-2 residents
Doesn't actually remove hard water minerals
Heat will destroy the system
---
5.

Whirlpool 40,000 Grain Water Softener
Ideal for households up to 6 people, the Whirlpool WHES40E is an efficient device thanks to its salt-saving operation. It can automatically calculate how much salt and water are needed for regeneration. This means it won't waste any, so you'll use less salt and water throughout the year. The one-year warranty is lackluster, especially since the plastic inlets on the back don't inspire confidence in the overall build quality.
This unit can remove up to 10 parts per million (ppm) of iron, so it's a great choice for water that's causing rust on your fixtures. The problem that we experienced with the Whirlpool is that the salt bin overfilled, leaking all over the floor. We can't recommend any softener that left us with a wet mess. Our situation could have been much worse than it was, so we suggest picking a more proven product like the Fleck 5600SXT that's our top pick.
Pros
Salt-saving operation
Removes up to 10 ppm of iron
Cons
Salt bin overfilled and leaked all over the floor
Cheap plastic inlets don't inspire confidence
---
6.

Aquasure Harmony 48,000 Water Softener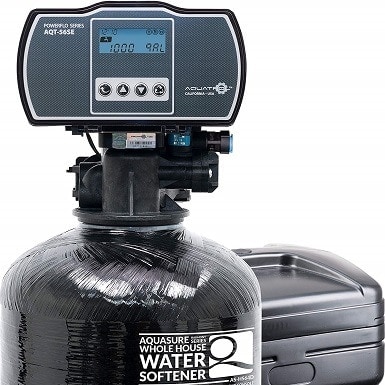 With a 48,000-grain capacity, the Aquasure Harmony water softener is great for homes with 2-4 bathrooms and up to 5 people. It's got a digital display that makes it easy to program and dial in your settings. This design will help reduce the amount of salt you need by regenerating only when it's necessary. It will calculate how much water is being treated and only backwash what is needed, saving water as well.
When we set up our Aquasure Harmony, we noticed that the brine tube didn't quite fit. It was just slightly too large and had to be forced into place, which caused an air leak. This meant that the brine container overflowed because the unit wouldn't regenerate. When this happened, we were left with a flooded floor and a big mess. We were able to find the correct sized hose at a local hardware store, but we expect to have the right products when our softener arrives.
Pros
Digital display for easy settings
Only regenerate when it's necessary
Cons
Was sent with wrong size brine tube
Caused leaking and mess
---
7.

Tier1 Everyday 48,000 Digital Water Softener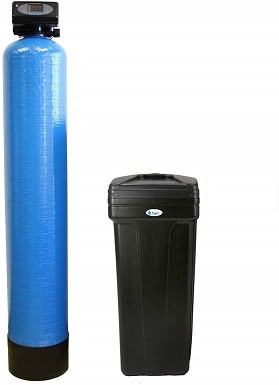 Tier1 offers a more affordable way to supply your home with soft water with its Everyday 48,000-Grain Digital Water Softener. Though it's cheaper than competitors, you'll still get a digital control that makes it easy to program. That said, it's not an LCD, and it's not as intuitive or flexible as some of the digital controllers on more expensive models. You do get control over when regeneration will occur, which is very important with this unit since there will be a two-hour disruption in your water every time you regenerate the system. This isn't a deal-breaker, but it's certainly an inconvenience, as your home will have no water during this time. In our experience, it does provide soft water that's devoid of harsh minerals and our scale buildup problems disappeared. Overall, we'd rather spend a bit more for the superior performance of the Fleck 5600SXT.
Pros
More affordable than similar competitors
Digital control
Cons
2-hour disruption for regeneration
The controller is not LCD
---
8.

EcoPure 31,000 Grain Water Softener

Priced lower than many competitors, we had high hopes for the EcoPure EP31. It has a smaller capacity than most of the other salt-based systems we tested at only 31,000 grains. This means it's intended for smaller families of up to 4 people. It features autosense technology, which automatically determines how much regeneration is necessary, and doesn't waste any water or salt. We always prefer efficient appliances that don't create excess waste, but other drawbacks kept the EcoPure EP31 from climbing higher up our list.
Chlorine is a common chemical found in tap water. It's used to treat the water, but that doesn't mean we want to drink it. Unfortunately, the EcoPure water softener doesn't remove chlorine from the system, though some water softeners do. Moreover, it can only remove iron up to eight parts per million. For water that's high in iron and may be causing rust issues with your fixtures, this device simply won't remove enough of it to fix the problem. These flaws held the EcoPure back despite its affordable price.
Cons
Only for families up to 4 people
Can only remove iron up to 8 ppm
Doesn't remove chlorine

Buyer's Guide – Choosing the Best Water Softener System
What is the best water softener system? At this point, you may have noticed that we've reviewed several different types of water softeners. Each of them has unique features and flaws that may make one preferable to you over another. In this section, we're going to discuss the three main types of water softeners that we tested for this list. We'll discuss the merits and downfalls of each type to help you understand which may best fit your situation.
Types of Water Softeners
Salt-Based
Salt-based water softeners are the traditional type that has been around for a while. Inside of the device is a resin compound that is positively charged with sodium ions. When these positively charged ions come in contact with magnesium or calcium, the minerals that make your water hard, they replace them and the offending minerals get trapped in the resin. This sodium ion-exchange process results in the hard water causing minerals being completely stripped from your water.
After softening a certain volume of water, the resin will start to run out of positively charged sodium ions and fill up with discarded magnesium and calcium molecules. Not to worry, a process called regeneration will flush out the old minerals and recharge the resin with positively charged sodium ions using a salt brine. You'll have to regularly check on and add salt to your device to make sure it can properly regenerate.
How Salt-Based Softeners Work
Because it has to have space for this whole process, salt-based softeners are generally two-part systems. First, a large cylinder tank holds the resin and performs the actual softening. A second large tank that often resembles a trash can is the brine tank. Brine is pumped through the resin tank and drained out to the brine tank. Along the way, it takes the minerals from the resin along with it and recharges the resin with sodium.
The resin can be continually regenerated for many years. Eventually, it will reach the end of its useful life and will no longer properly soften your water. When this happens, the resin can be replaced inexpensively, and your softener will once again function like new.
Salt-based systems do add sodium to the water, but it doesn't make the water taste salty. However, for individuals with hypertension or other sodium-sensitive health issues, the added sodium may not be a good fit. Additionally, these systems do require weekly maintenance to keep up with the salt demands. This can also be an additional expense to factor into your budget when buying large bags of salt regularly.
Salt-Free
Salt-free water softening systems fix some of the problems that are common with salt-based systems. For those who can't have the increased sodium content that comes along with ion-exchange softened water, a salt-free system can neutralize the hard water causing minerals without raising the sodium content. What's more, these systems tend to require little to no maintenance. There are no additional chemicals, salts, or other substances to buy, so your monthly expenses are lessened. That said, some models do utilize cartridge-style filters that will need to be replaced. The lifespan of these filters can vary from two months to three years, so it's something to keep in mind if you're looking at this type of system.
One major difference between these systems is that a salt-free system doesn't remove the hard minerals from the water. Instead, it will neutralize them, preventing them from being able to bond. When they can't form bonds together, you'll experience the benefits of soft water, even though the calcium and magnesium molecules are still present. This is a good thing because these minerals are essential to your health.
You may also like: Water Softener Shower Heads
How Salt-Free Systems Work
Salt-free systems tend to be much smaller in size than traditional water softeners. Since they don't require regeneration, there's no need for an additional large tank. They're generally comprised of a single tank where water conditioning takes place, eating up much less space than salt-based systems.
Another advantage of salt-free systems is that they often don't require electricity to run. They run off of the water pressure in your home. Often, they have flow rates well over 10 gallons per minute, so they can adequately supply an entire home with soft water without reducing the water pressure.
On the other hand, these systems tend to be much more costly than traditional salt-based systems. You will save money in the long run though since you won't be continually investing money in large bags of salt every week, not to mention the electricity required to complete the regeneration process. You'll also save time on upkeep since these units usually require no maintenance. Your water will still contain the hard water minerals though, even if you don't experience the effects of hard water.
Portable
Portable water softeners are much smaller devices that can be easily transported anywhere to provide soft water. They usually don't require electricity to run and they're the go-to choice for RVs. Often, these are salt-based systems that can be regenerated with common table salt using no tools. Depending on the size of the unit you choose, you may be able to go 20-40 days between regenerations, or as many as 1,600 gallons.
While portable systems are excellent for supplying your soft water needs on the go, they're not sufficient for supplying whole homes. They're much cheaper than full-size water softening systems, so someone might think they're going to save money by going with the smaller, less expensive system. You'll be doing yourself a disservice though because it just won't adequately meet the needs of an entire home.
What Type of Water Softener Should You Choose?
So which type of water softener is the best fit for you? Well, it depends on your situation. Obviously, if you're looking to supply your RV with water, a portable water softener is the best choice for you. But for a whole house, which type of system is a better choice?
If you want to completely remove the hard minerals from your water then a salt-based system is the way to go. Likewise, if you want to get a high-quality water softener without spending a fortune, then a salt-based system is going to give you the best bang for your buck. Keep in mind, you're going to be doing weekly upkeep to make sure your system stays full of salt and is regenerating properly.
Can't stand the idea of continuous maintenance just to have soft water? Then a salt-free system is your best friend. If you can't consume the added sodium for health reasons, then a salt-free system is the only choice for you. For those who don't have much extra space to give up, a salt-free softener has a much smaller footprint. Don't forget though, you'll be paying quite a bit more upfront to get invested in a salt-free system. It's also not going to remove the hard minerals from your water, only neutralize them.

Conclusion
After testing many different water softener systems to find the best ones in each category, we've settled on three that we can confidently recommend. You've read about them in our reviews, but we're going to quickly summarize them once more. The Fleck 5600SXT was the system we thought was the best overall. It's a whole-house system capable of 28 gallons per minute peak water flow. The digital control allows you the ultimate flexibility and control over your water, and the five-year warranty provides peace of mind.
If you're looking for a salt-free system instead, we recommend the APEC FUTURA-10 for many reasons. This device won't increase the sodium content in your water. More importantly, it's completely maintenance-free, saving you time and hassle. The 10-year warranty speaks to the longevity you can expect from this unit. Finally, if you need a portable solution to provide soft water everywhere you go, look no further than the OTG-4 from On The Go. It can provide up to 1,600 gallons of soft water between regenerations and it's small enough to tuck into an RV and take with you on the road.
---
Featured image credit: byrev, Pixabay