7 Best Ways to Cut Circles in Wood – Which Tool to Use?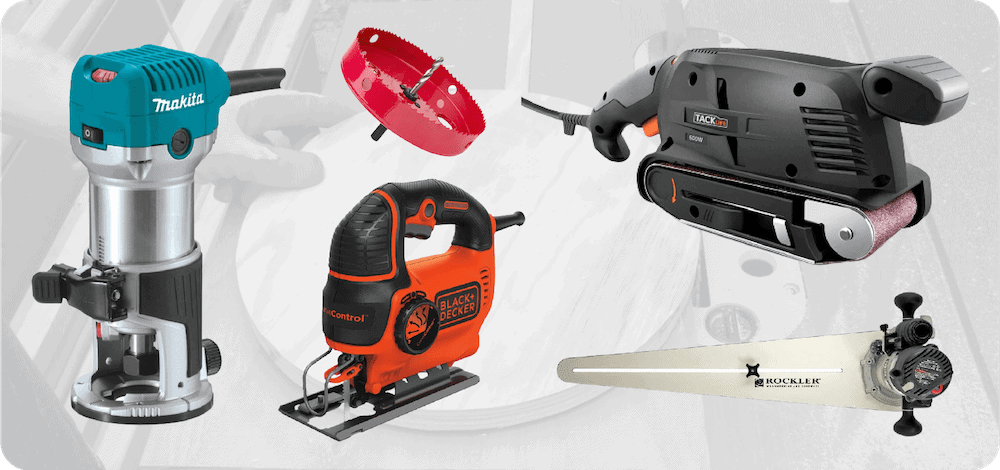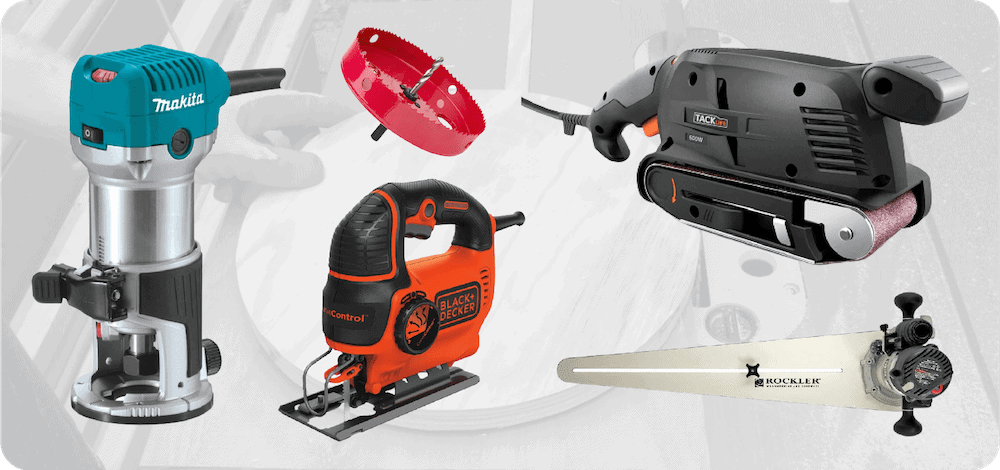 Cutting wood accurately is typically pretty easy. Need to cut a specific size piece of wood? Easy: measure and saw away. Even cutting some more intricate shapes, like triangles, can be done with a simple ruler and a pencil. However, there is one shape that stands above all in difficulty – the circle.
Luckily, circles are not used for many projects. In most cases, you're going to be working with straight lines. However, when circles are called for, it is essential that you get them right. This requires falling back on some tried-and-true techniques and breaking out special tools.
In this article, we'll strive to provide you with the easiest and most accurate way to cut circles out of wood, including the best tools you need for the job. Whether you need a top for your handcrafted table or various sized circles for the giant bubble art mural you're making, this guide will help you master the techniques you need and select the perfect tools for the job.
Comparison of Our Favorite Picks for 2023
Rating
Image
Product
Details

Best Overall

Rockler Circle Cutting Router Jig

Top quality
Adapts to nearly any router
Cut circles 10-52" in diameter
CHECK PRICE

Makita RT0701CX7

Makita quality
Powerful 1.25 hp motor
Plunge base converts it to plunge router
CHECK PRICE

Best for Small Circles

HYCHIKA Hole Saw Set

Very affordable
Makes use of your existing tool
Great for smaller circles
CHECK PRICE

TACKLIFE Belt Sander

Easy to use
Versatile
CHECK PRICE

BLACK+DECKER BDEJS600C

Tool-less blade changes
Dust blower keeps cutting line visible
Curve Control adjusts orbit to your material
CHECK PRICE
Truthfully, there are probably dozens and dozens of ways to cut a circle. But some techniques are significantly more straightforward than others. We'll take a look at seven of the techniques we consider to be the best. These are the easiest ways to cut a perfect circle without spending a bunch of money.
The 7 Best Ways to Cut Circles in Wood
1.

Circle Cutting Jig – Best Overall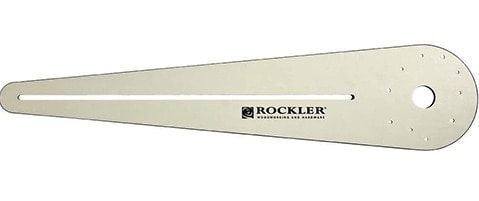 Circle cutting jigs were made to cut circles out of wood. That's their only purpose, and they do it quite well. These machines take all the guesswork out of the process and ensure that you get a near-perfect circle every time. If you want to jump right into your project without much trial-and-error, this is the tool to go to.
Of course, because they are only used to cut circles, they probably aren't going to be used much. Unless you specialize in crafting round furniture, you'll likely only pull this tool out occasionally. Because of this, it can seem like an unnecessary splurge, especially if you're on a budget. Still, we stand by this method as being the most straightforward option out there.
Most of these jigs even come with instructions. All you have to do is give them a quick read, and you'll be prepared to make perfect circles in only a matter of moments. The process is usually straightforward. You secure the pivot point to the position you want to be the center of your circle. Slide the router out to your desired radius length, and you'll be ready to go. Simple. Easy. Straightforward.
For this method, we recommend the Rockler Circle Cutting Router Jig
Pros
Super straightforward
Easy to use – even for beginners
Extremely accurate without and trial-and-error
Cuts a wide range of circle sizes
---
2.

Plunge Router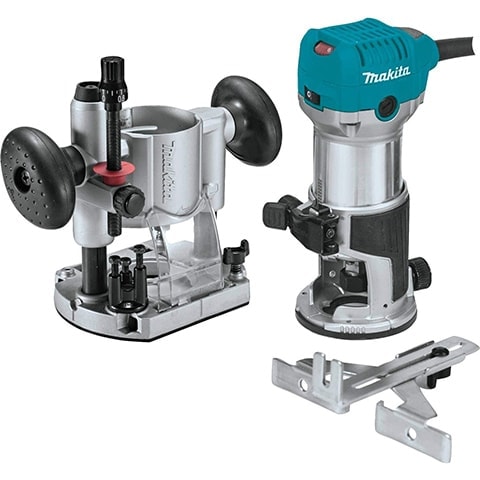 Plunge routers are pretty straightforward tools. They cut directly underneath themselves, which makes them perfect for cutting out circles. If you already have one of these, you may attempt to cut out a circle by hand. This is possible, theoretically, but you'll likely need to be a magician to cut out a perfect circle using just a plunge router. (Sometimes you do not necessarily need a perfect circle though, in which case just going at it with a router may be plenty accurate.)
In most cases, we recommend using one of these routers alongside a circle cutting jig. This is a natural, uncomplicated way to ensure that your circle is as accurate as possible. It requires minimal measuring and no complicated math. All you need to know is the radius of your circle, and you're good to go.
If you decide to purchase one of these tools, we recommend the Makita RT0701CX7 1-1/4 HP Compact Router Kit
Makita RT0701CX7 1-1/4 HP* Compact Router Kit
Variable speed control dial (10,000 - 30,000 RPM) enables user to match the speed to the application
Smooth rack-and-pinion fine depth adjustment system for more precise settings
Slim and ergonomically designed body for increased comfort and control
Pros
Can be used to cut by hand as well
Versatile, can handle many projects
Cons
Need other tools to make it cut a perfect circle
---
3.

Hole Saw – Best Saw to Cut Small Circles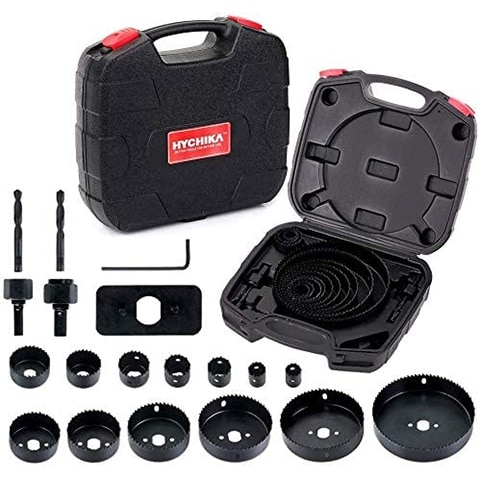 Plunge routers and circle jigs are great for larger circles. But they really won't work for smaller circles. If you need to cut out very tiny circles for your project, the easiest thing to do is to purchase a hole saw. These are straightforward tools that are explicitly designed to cut circles. They're exceedingly accurate and require zero set up, measurements, or math.
Cutting with one of these tools is very easy as well. You need a backer board to prevent blowout, but that's it. Most of these saws are pretty thick, so they should be able to cut through most woods without any issue. If you need to double the cutting depth, you can flip the wood over after you begin sawing and saw through the other side as well. The pilot hole will help you stay in line and produce that perfect circle.
Take it slowly with these saws, as they aren't the most powerful thing in the world. Give the teeth time to eat through the wood to reduce the number of burns.
We recommend the HYCHIKA Hole Saw Set
Hole Saw Set HYCHIKA 19 Pcs Hole Saw Kit with 13Pcs Saw Blades, 2 Mandrels, 2 Drill Bits, 1...
🌟【19 ACCESSORIES】 Including 13pcs size saw blades: 19mm, 22mm, 28mm, 32mm, 38mm, 44mm, 51mm, 64mm, 76mm, 89mm, 102mm, 127mm,...
🌟【HIGH QUALITY & FAST CUTTING】The saw blades are carbon steel heat treated and have black surface, ensure fast cutting,...
🌟【WIDE APPLICATIONS】 The HYCHIKA Saw blades are durable and reliable to use on workpieces, suitable for cork board, thin PVC...
Pros
Easy
Inexpensive
Great for smaller circles
Cons
Can only cut small circles, usually under 7 inches
---
4.

Belt Sander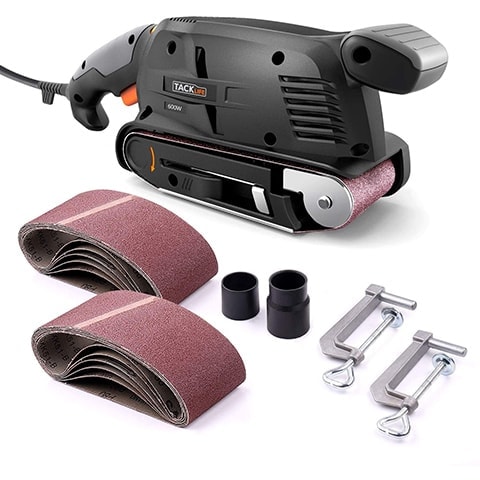 For some types of wood, a belt sander can help you make a decently small circle. There are a few ways you can do this. The easiest way is simple to measure out and draw your circle onto your workpiece, and then use the sander to get the shape you want. The circle likely won't be perfect, but it should be close enough.
As you might imagine, you'll need to go very slow to cut out a circle properly. Also, this method doesn't necessarily work for large circles, since you'll need to quickly turn and tilt the workpiece against the sander belt.
If you need a single circle and don't see yourself cutting any more circles any time soon, this method may be all that you need. Belt sanders are used for a variety of different tasks, and you may even already have one.
For those who need a specific recommendation, we recommend purchasing the TACKLIFE Belt Sander
Pros
Belt sanders are versatile
Decently easy
Cons
Circle will not be perfect
Requires a bit of math and measuring
---
5.

Band Saw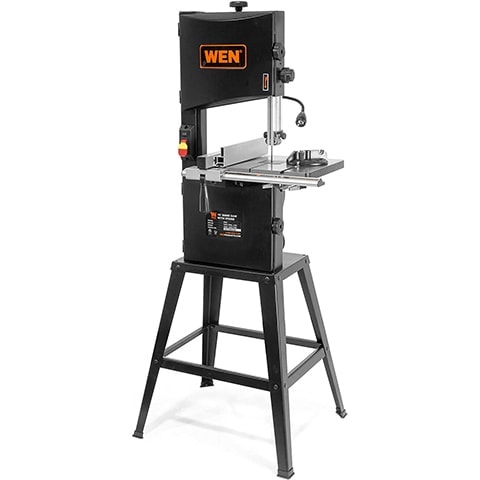 Band saws are well known for their ability to cut out many different kinds of shapes, including circles. However, this takes quite a bit of experience. Not everyone can easily hand cut out a circle with a band saw. But, if you've been using a band saw for years, you may be able to do it after some trial and error.
The easiest way to use this saw to cut circles is to figure out a way to pivot your workpiece from a fixed position.  This would cause the workpiece to an almost complete circle since it would be cut to the same length on each side. Some people do this using a piece of plywood and a nail. Others figure out their method. Nearly everything you do is going to require cutting into the middle of your workpiece, though, which may or may not be possible depending on your project.
We do not recommend going out and buying a band saw just to cut circles. They are expensive, and this method is far from fool-proof. It also assumes that you already have some experience with a band saw. However, if you already have a band saw sitting in your workshop, you might want to give this method a try before purchasing a new tool for the job.
If you decide to purchase a band saw to cut circles with, we recommend picking up the WEN 3962.
Pros
Great for those who already have a band saw
Easy to DIY
Cons
Expensive
Will damage your workpiece
---
6.

Table Saw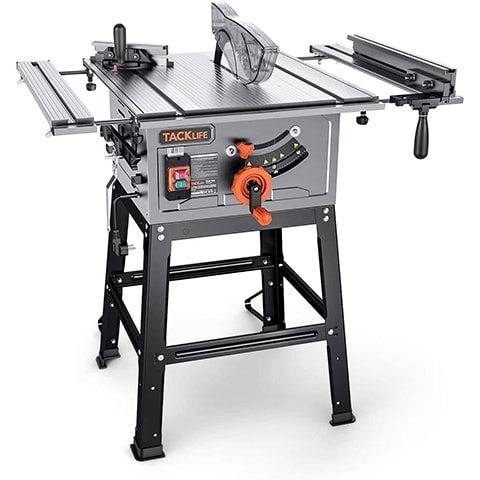 A table saw is probably not what you were thinking of when you first started reading this list. But using a table saw for cutting circles can produce pretty awesome results when it is done correctly.
This is a longer process, but it can be useful for those who already own a table saw. Firstly, you're going to want to get your circle somewhat circular. Just cut off the corners until you have something that is vaguely the size that you want. Next, you're going to get another piece of wood and set up the pivot point for your workpiece. For this, you'll need to measure out the radius from one side. Your workpiece will turn around this pivot point, getting cut to precisely the correct radius on each side.
You will have to nail through your workpiece for this to work, or at least cut off a notch on one side for the workpiece to sit on. This may make this method unusable for specific projects since holes right in the middle of your workpiece aren't always aesthetically pleasing or functional. This is one of the significant reasons we rated this method much lower than the others.
For those who want to purchase a table saw, we recommend the TACKLIFE Table Saw.
Pros
Suitable for those who already own a table saw
Produces decently accurate circles
Cons
Damages the workpiece
Requires lots of math and measuring
---
7.

Jigsaw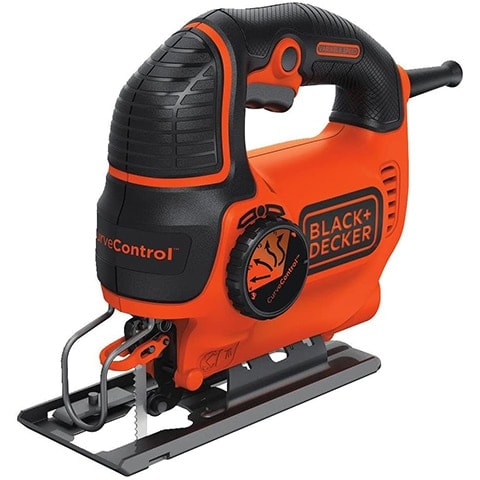 Jigsaws are very common. If you're reading this article, you probably have one. Even if you don't, they're decently inexpensive, so they won't put you out much money if you decide to purchase one. Furthermore, they can be used for a wide variety of projects, so you will probably get your money's worth.
There are many ways you can use a jigsaw to cut a circle. You can attempt to do it by hand, though this probably won't get you a perfect circle. If you've used a jigsaw extensively, you may be able to get away with just doing it by hand. However, most people are going to need some DIY set up to cut something that looks vaguely like a circle.
Luckily, there are a lot of ways to do this. Some are easy, and some are significantly more complicated. None are quite as suitable as the other ways we have mentioned in this article. But, if you're on a budget or already have a jigsaw, this is still a valid way to make a circle.
We recommend the BLACK+DECKER BDEJS600C Smart Select Jigsaw
BLACK+DECKER Jig Saw, Smart Select, 5.0-Amp (BDEJS600C)
HIGH PERFORMANCE ELECTRIC JIG SAW - 5 amp electric jig saw with a 3⁄4" blade orbital action for increased precision
CURVE CONTROL TECHNOLOGY - Four curve settings for maximum control over rounded cuts
BEVELED CUTS - Makes beveled cuts up to 45 degrees
Pros
Inexpensive
Many different DIY options
Cons
Not as accurate as other methods
Requires significant DIYing
---
Buyer's Guide – Deciding on the Best Ways to Cut Circles in Wood
As you can see, there are many methods you could choose to cut out a perfect circle. Many of these are valid ways to make circles. However, choosing exactly which method to use can be difficult, which is why we wrote this quick buyer's guide. In this section, we'll review some of the factors you should consider when choosing a method to use.
Your Budget
Most of these methods cost a little bit of money. You can save money by using tools you already have lying around. If you already have a jigsaw, you might as well use the jigsaw instead of purchasing another tool. This is especially true if you're on a budget.
If money is not a problem at all, we recommend buying the circle rig we mentioned as the first option. This is the easiest way to make decently sized circles. It will cost you a bit of money to purchase the rig and the router if you don't have one. But this is by far the easiest and best option.
Your Experience
Some people are going to be able to hand cut circles with a jigsaw. Most aren't going to be able to. If you've never used a table saw before, you probably should not try to use one to cut a circle. Use the machine you're most experienced with, and you'll get the best results.
If you have little experience in any of these machines, we recommend purchasing the circle jig we mentioned as the first method. This is easy to use with practically no experience, which is one reason why we rated it so high.
The Circle Size
Most of these methods are only suitable for cutting circles that are of a particular size. If you need a small circle, you don't want to use a circle cutting jig. Instead, you probably want a hole saw, which is specifically designed to cut perfect circles.
The method you choose will rely on the size circle you're going to cut.
Another Option to Consider
Dremel Plunge Base Attachment
For those readers with a Dremel in their toolkit, the question might be, "Can I use my Dremel for this task?" The answer is yes, the Dremel can be used to cut circles. You need a plunge base attachment to set it up correctly. And, you will still need the jig.
Note: Be sure the Dremel attachment fits the Rockler Circle Cutting Router Jig. The Dremel jig only cuts circles 12" in diameter.
Fortunately, the attachment we recommend appears to fit just about every Dremel rotary tool model ever made, from 275 to 8220. However, to be on the safe side, check the list to make sure your model is compatible. Set up and operation is like a plunge router, secure the Dremel in the attachment, set your depth, and go!
We recommend the Dremel 335-01 Plunge Router Attachment:
Pros
Very affordable
Makes use of your existing tool
Clear base provide excellent work area visibility
Cons
May not be powerful enough for harder stock

Conclusion
There are multitudes of methods and tools out there to help you cut circles out of wood. Some are better than others, as you have seen in this article. We hope we helped guide you in choosing the correct method for your situation.
In general, we recommend using a circle cutting jig for larger circles. This method is simple and great for those of all experience levels. It will create a perfect circle every time if you do it correctly. If you need to make smaller circles, you should invest in a hole saw. That's precisely what they are for. They also aren't inexpensive.
Related guides:

What's the best-suited tool for cutting bamboo?
Which tool will work best for cutting tires? We put it to the test!