What's the Best Way to Cut Bamboo? Which Tool to Use?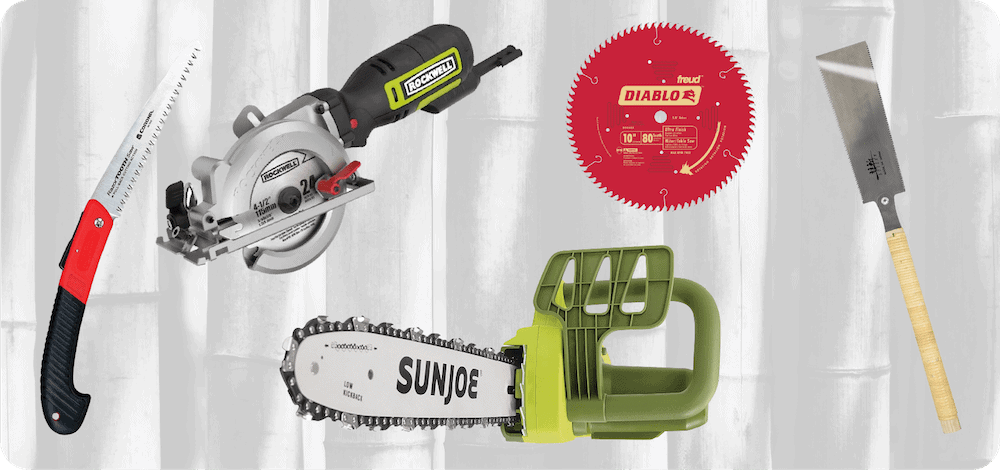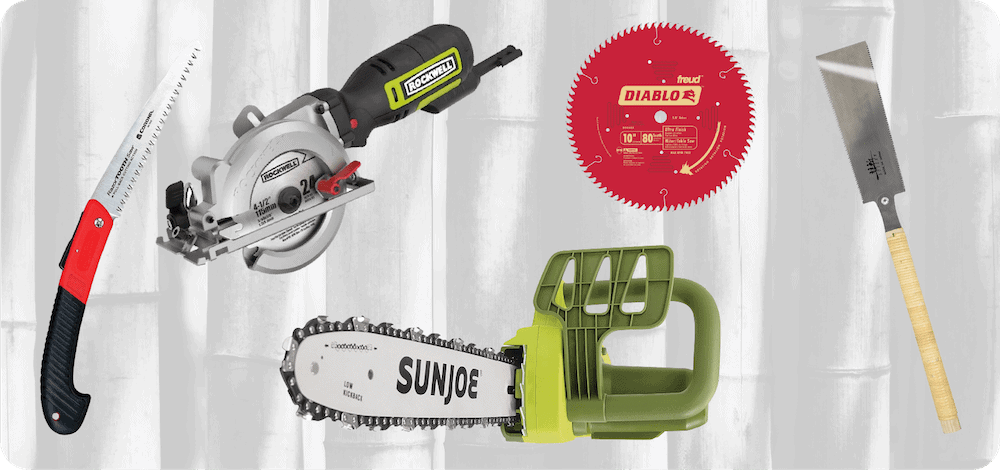 This article reviews the best tools for cutting bamboo, both in a landscaping and DIY project sense. Some of the tools can be used in both situations, while others cannot. Many of the tools we researched are hand-powered, and others are powered by electricity or gasoline.
Our reviews could theoretically include nearly every tool a gardener, landscaper, and DIYer uses to cut stuff. Because of that enormous range, and our understanding that you have other things to do, like cut bamboo, we were forced to limit the scope of the article. We are going to look at the cutting tools for DIY projects (a flooring project in this case) and outdoors (taming a wild herd of bamboo).
The nice thing about bamboo is that the tools used for flooring can be used on any bamboo lumber or applications where a clean and smooth finished cut is needed.
---
Comparison of Our Favorite Picks for 2023
Rating
Image
Product
Details

Best For Cutting Bamboo Flooring

Diablo D1080X

Long life
Silky smooth cuts
Carbide tips that can be easily sharpened
CHECK PRICE

Rockwell RK3441K

Compact
easy to control
Laser line guide
Perfect depth of cut for flooring
CHECK PRICE

SUIZAN Japanese Ryoba

It comes with two different TPI
one on each edge
Lightweight
thin kerf
and pull motion
Replacement blades are available
CHECK PRICE

Best For Cutting Bamboo Outside

Sun Joe SWJ599E

14" bar is the sweet spot for many home tasks
Never runs out of fuel
Excellent quality
CHECK PRICE

Husqvarna 455

Great quality
Plenty of power
Lightweight with reduced vibrations
CHECK PRICE
Benefits of Bamboo Flooring
Given the growing popularity of bamboo as a flooring material, a little background is in order. Some of you will know this so feel free to skip ahead. Others with less knowledge of the material stick around.
You can find bamboo flooring just about anywhere
Bamboo stalks have natural striations that give the floor its unique look and beauty
Versatile & stylish – it comes in many different styles and colors, and works with a wide range of decor
It's very durable, so you can put bamboo flooring in any room, even one with a lot of foot traffic
When you compare the price of bamboo flooring with other types of flooring, the price of bamboo is often half the price of a hardwood flooring.
It's low maintenance and doesn't need refinishing. It's also simple to clean.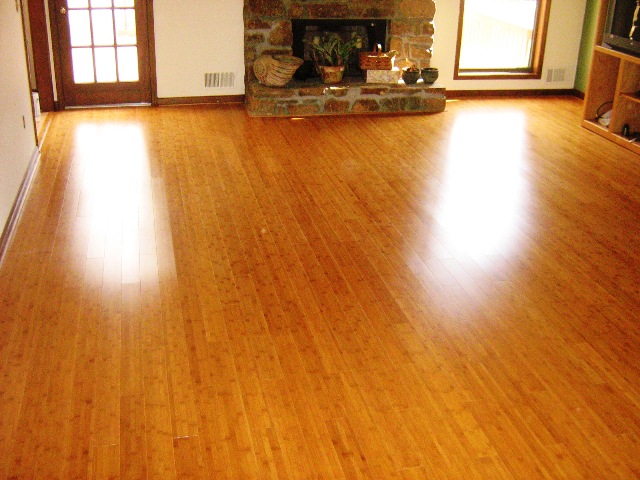 What's the Best Way to Cut Bamboo Flooring?
Now that you know some of the benefits of choosing bamboo flooring, we're going to look at how you can cut your bamboo flooring. As we have said above, bamboo flooring's very durable. It's simple to grow and doesn't cost as much as maple, oak or pine.
Due to its strength and durability, you have to precisely cut your bamboo flooring so that it doesn't splinter.
There are three common types of bamboo flooring: horizontal, vertical, and stranded. It is important that you know what type of flooring you have because it makes a difference in the number of teeth your saw blade should have for clean, beautiful cuts. Okay, let's catch up with the other kids.
The 3 Best Tools for Cutting Bamboo Flooring
1.

Diablo D1080X 10″ 80 TPI Miter & Table Saw Blade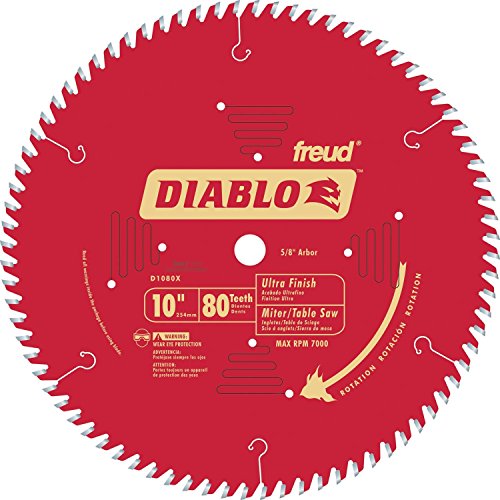 Now that we are all back together, you want to buy a saw blade with 80 teeth per inch (TPI). Why? Because you should only cut stranded with an 80-TPI blade. Vertical and horizontal can be cut using a 40 TPI, but the finish of the 80 is worth a little extra.
We recommend the Diablo D1080X 10″ 80 TPI Ultra Finish Chop/Slide Miter and Table Saw Blade. If you have seen us sing the praises of FREUD in our other articles, no worries. Diablo is a line of blades made by Freud in the same factory on the same machines. These are thin kerf blades, so they put less strain on the saw.
Pros
Long life
Silky smooth cuts
Carbide tips that can be easily sharpened
Designed for use by carpenters working to cut framing and flooring.
Cons
More expensive than the cheap spread
Note: We only list the 10-inch blade to establish the baseline specifications. Buy the Diablo that is the right size for your tool; table saw, miter saw, etc.
---
2.

Rockwell RK3441K 4-1/2" Compact Circular Saw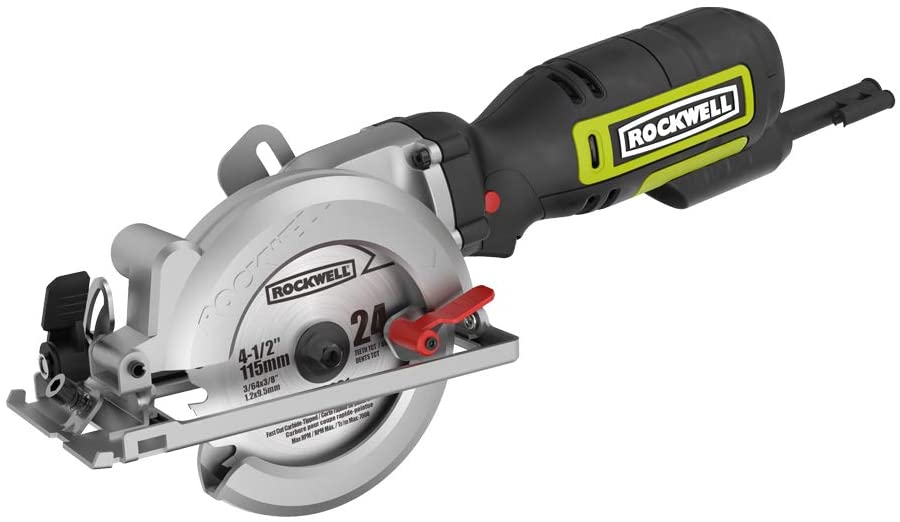 We understand that it may not be convenient or possible to use your larger tools for your flooring project. Schlepping wood to and from the workshop will help you meet your steps goal for the day, but it wastes a lot of time. For this, you can use a full-size skill 7¼-inch saw or the smaller versions with 4-inch blades. Having the tool at the job's location makes a lot of sense. Besides, if you are putting down flooring, you don't need to worry about meeting a steps goal.
We recommend the smaller size for cutting bamboo flooring with the Rockwell RK3441K 4-1/2" Compact Circular Saw taking the honors here.
Pros
Compact, easy to control
Laser line guide
Perfect depth of cut for flooring
Adjustable base for any bevel cuts.
Complete kit with bag and three different saw blades
Cons
Dust collection implementation is not that effective
Saw blades are not of the highest quality
---
3.

SUIZAN Japanese 9-1/2″ Ryoba (Double Edge) Pull Hand Saw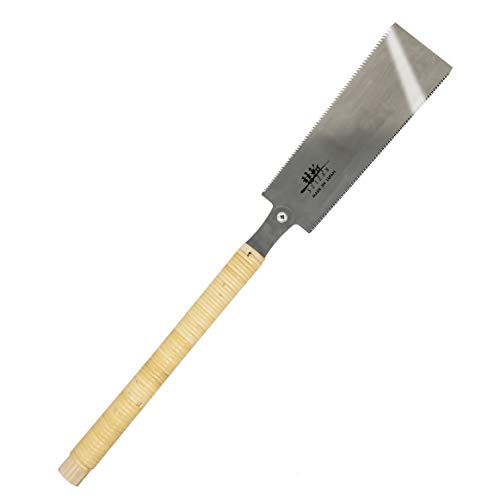 The best saw for cutting bamboo flooring by hand, in our opinion, is the SUIZAN Japanese 9-1/2″ Ryoba (Double Edge) Pull Hand Saw.
There are those home improvement programs where the hosts only use hand tools. We understand the appeal of pitting your skills against the inaccuracies of the tools and the widely divergent nature of the material. A quaint view isn't it? That's just a joke. Working with hand tools is very rewarding, and they can do the job on bamboo flooring quite nicely, thank you.
For this method, TPI is important again. You also need to consider what cutting action the saw is designed to perform. We are referring to crosscut and rip saws. Rip saws have larger teeth and are designed to cut with the grain. Crosscut saws have much smaller teeth and are designed to cut across the grain. Each saw can do the other's job but with poorer results.
Pros
It comes with two different TPI, one on each edge
Lightweight, thin kerf, and pull motion reduce effort and fatigue
Replacement blades are available
Cons
The pull technique takes some getting used to
---
The 6 Best Tools for Cutting Bamboo Outdoors
1.

Sun Joe SWJ599E 14-inch 9-Amp Tree Limb Master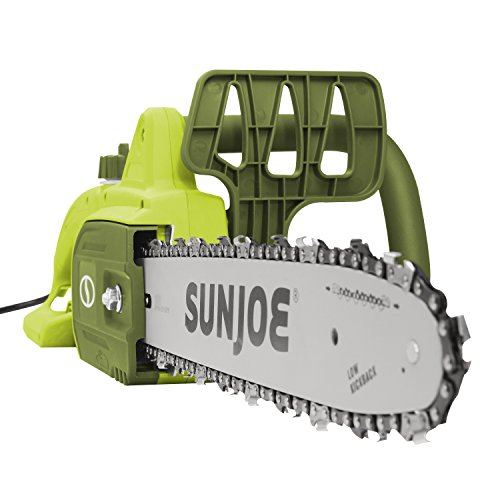 Not everybody needs wants or likes to use a gas-powered chainsaw. You must mix fuel, take special care to winterize it properly, get it tuned up, and so forth. They are a tool needing more attention and maintenance. For those interested in a chainsaw without all the gas-powered negatives, there are electric options. They do come with disadvantages which include less power, smaller cutting capacity, and dragging a cord around as you work. In the plus column, it works. Give it juice, and it runs. No smelly exhaust and lower noise levels.
Even so, most electric chainsaws will handle bamboo easily. For those who prefer electric to gas, we recommend the Sun Joe SWJ599E 14-inch 9-Amp Tree Limb Master. SunJoe only makes electric products, and they are good at it.
Pros
14" bar is the sweet spot for many home tasks
Great price
Plenty of power
Never runs out of fuel
Excellent quality
Cons
The cord can get in the way
---
2.

Husqvarna 455 X-Torq 55cc 18-Inch Chainsaw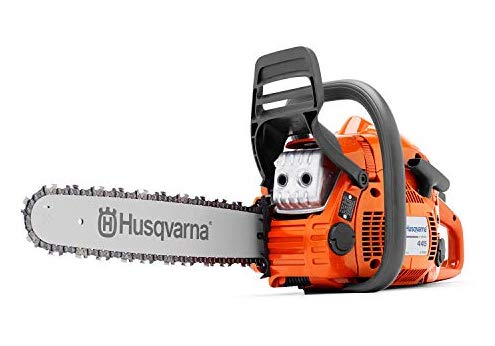 There is nothing like a nice chain saw to make short work of pesky outdoor projects. Cut up fallen branches, do some limb pruning, clearing out brushy stuff, and of course, putting paid to the stand of bamboo that is bent on overtaking your entire yard.
For most homeowners and DIYer requirements, a lighter chainsaw with an 18-inch bar is perfect. You are not going to cutting down a giant redwood, right? And, toppling trees larger than an 18-inch bar can handle is best left to professionals. We recommend the Husqvarna 455 Chainsaw X-Torq 55cc 18-Inch Bar Fast Start Low Vibration (965030292).
Pros
Great quality
Plenty of power
Lightweight with reduced vibrations
Cons
Husqvarna saws cost more
Care required when installing the chain to avoid damage
---
3.

Makita XCU03PT1 36V LXT Lithium-Ion Brushless Cordless 14″ Chain Saw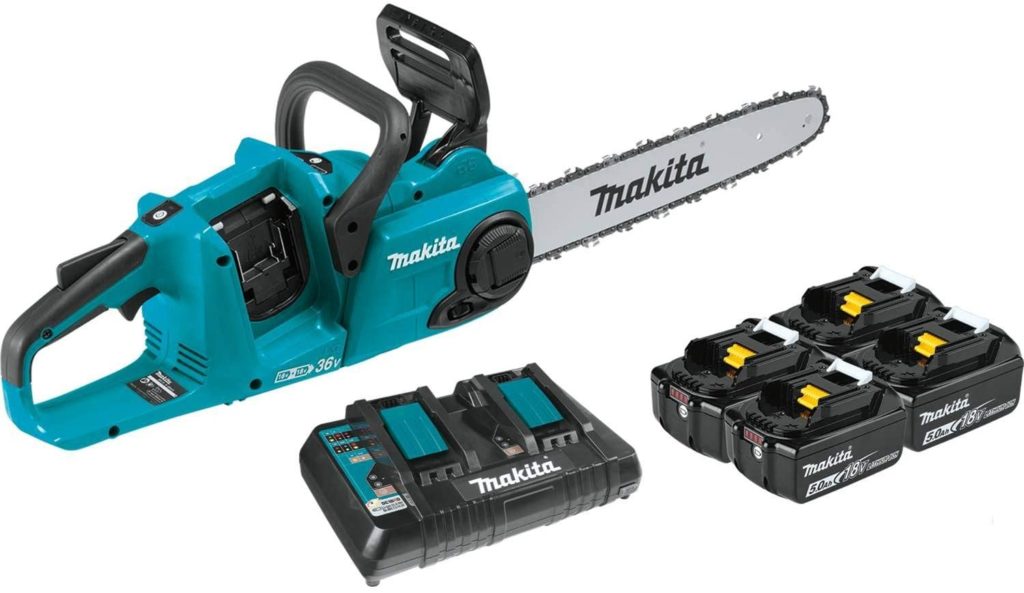 There is something to be said for going cordless. Look at drills and cell phones to see what we're talking about. However, battery technology is not always the best choice for some tasks. Snowblowers come to mind as do circular saws. Other jobs demand lots of power and drain batteries fast. For you readers wanting the benefits of electric and the freedom of cordless, rejoice, there are options in this category.
The negatives to batteries have already been mentioned, cutting wood drains batteries quickly. That means two things, stop what you are doing while batteries recharge or get more batteries. We like the latter option so recommend the Makita XCU03PT1.
Pros
Four, count 'em, four batteries
Makita quality
Easy to manage 14" bar
Cons
Very expensive versus corded
Have a finite run time
---
4.

Corona RS 7041 Razor Tooth Folding Saw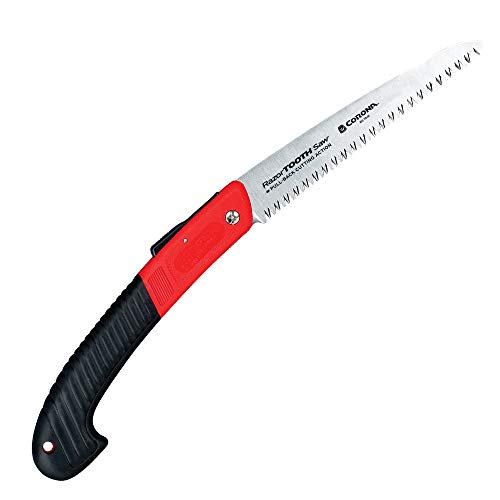 Even if you have a powered cutting tool, you should always have a hand saw "handy" for quick jobs and clean up where you don't want to drag out the big guns. Things to look for here are a reasonable blade length (7-inch minimum), double row of razor-sharp teeth, folding capability for easy (and safe) carry, and a straight blade. Blades can be straight or curved, and it is a personal preference. The advantage of a curved blade is it "hooks" the branch you are cutting, making it easier to get started. You're cutting at ground level, so a straight blade is better, it does get in the way as much.
We recommend the Corona RS 7041 Razor Tooth Folding Saw, 7-Inch Blade.
Pros
Razor-sharp teeth cut quickly
Great quality
Perfect size for easy carry
Cons
Not good for extended use
---
5.

Ontario Knife Company 6144 Military Machete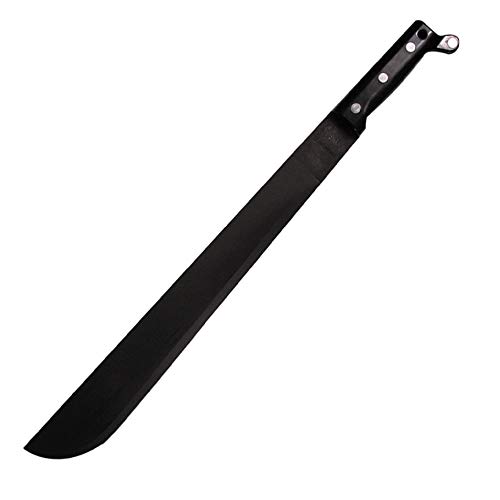 This is one of those tools you really should have in your landscaping arsenal. It is a bit like a Swiss army knife; it can do many things in a pinch. We gave the humble machete second place in the hand cutting section because it is handy. It can be used to clear undergrowth so you can use your chainsaw with greater ease, and safety. It is ideal for cutting down suckers and smaller sprout, nipping them in the bud, as it were. They are easy to carry (if you get a belt sheath) and make quick work of trimming suckers off trees. And, they are an essential item in the inevitable zombie apocalypse.
We recommend the Ontario Knife Company 6144 Military Machete.
Pros
The original US Military WWII design – simple but effective
Quality build
Great price
Cons
Not available in zombie slashing green
Sheath sold separately
---
6.

Gilmour 24-Inch Bow Saw 524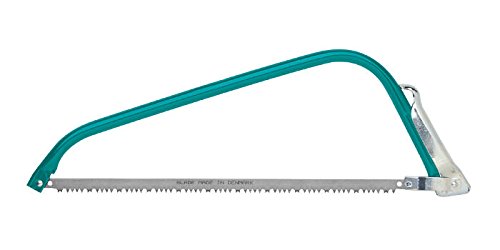 A bow saw brings some extra oomph to the game. They have longer blades so that they can cut larger diameter limbs. They are tension-able like a hack saw, so the blade doesn't flex while cutting. The design of the teeth allows the saw to eject the shavings reducing binding. Their blades are worth sharpening.
On the other hand, they are a larger tool and do not maneuver well when working in closely spaced stands of bamboo. If you have a bow saw, you will find times where it just is not the right tool. If you opt for a bow saw, we recommend the Gilmour 24-Inch Bow Saw 524.
Pros
Great quality
Workable length
Good tooth design
Cons
Bigger, not pocketable
Can get hung up in thick stands of bamboo
---
Buyer's Guide – How to Find the Best Way to Cut Bamboo
Tips for Cutting a Bamboo Floor
Mark Your Cut Lines
Take a pencil and a ruler or another straight edge and mark your cut line in your flooring. Where you drew your line on your flooring, take your painter's tape and put it next to your line so that you have a guide for your saw to follow.
Use Your Saw
Take your saw and carefully make the cut along the line that you have marked. Don't cut your painter's tape, or else your blade could gum up. Once you have made this cut, remove your tape carefully to prevent your bamboo flooring's ends from splintering.
Your saw should be run at speeds of 3,000 – 3,500 RPMs. So that you aren't h9it with bamboo splinters flying around, make sure that you are wearing safety glasses while making your cuts.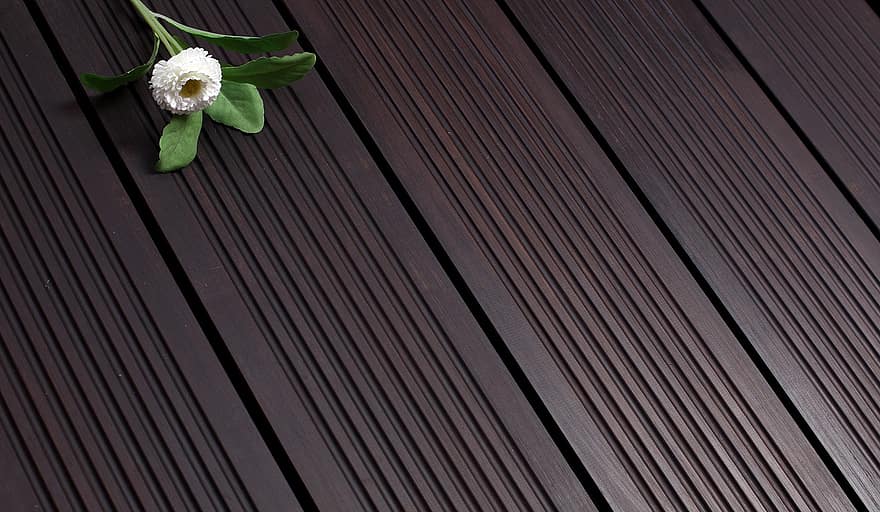 Tips for Eradicating Bamboo
Cut & Water It
Although this might seem odd, some of the experts recommend that you continuously cut and water your bamboo grove in order to eradicate it.  you cut your bamboo at ground level so that photosynthesis can't be completed. You may have to repeat this process for as long as 6 months to completely eradicate it.
Cut it at Ground Level: Use your tool (see below for our recommendations) to cut the bamboo at the ground level. Plants that are immature on the grove's periphery also can be mowed using your lawn mower.
Water Your Area: Water this area thoroughly with your sprinkler or garden hose
Repeat: Do this process until you have gotten rid of all of the energy in the shoots. Finally, there won't be any more shoots.
Allow Them to Rot: If you have remaining underground stems in your soil, let them rot.
Dig It Up
Digging bamboo up will take a lot of effort. This process also can take more than a year before it's all eradicated. Therefore, this method's only recommended if you don't have a big grove or your bamboo's one of the clumping varieties.
Water Bamboo: Use your sprinkler or hose to water the patch of bamboo. Let the moisture soak in for around 30 minutes.
Cut the Bamboo Down: Look at our recommendations for tools to use for cutting it down. Do it until there's only a little bit of green that's viewable.
Loosen Your Soil: Using your spade, dig around your bamboo plant's base to loosen your soil.
Pull Your Plant Out: Pull up the plant, including the root ball. If it's a nonclumping variety, follow the rhizomes of the plant so all of the underground shoots have been removed.
Break the Rhizomes Up: Take an ax and break up its rhizomes. Remove all of the rhizome pieces if you can.
Keep Doing This: Repeat this process until the whole patch's removed.
Dig Up New Shoots: Dig up new shoots once they form, and remove the rhizomes below the surface. Repeat the process until nothing grows back.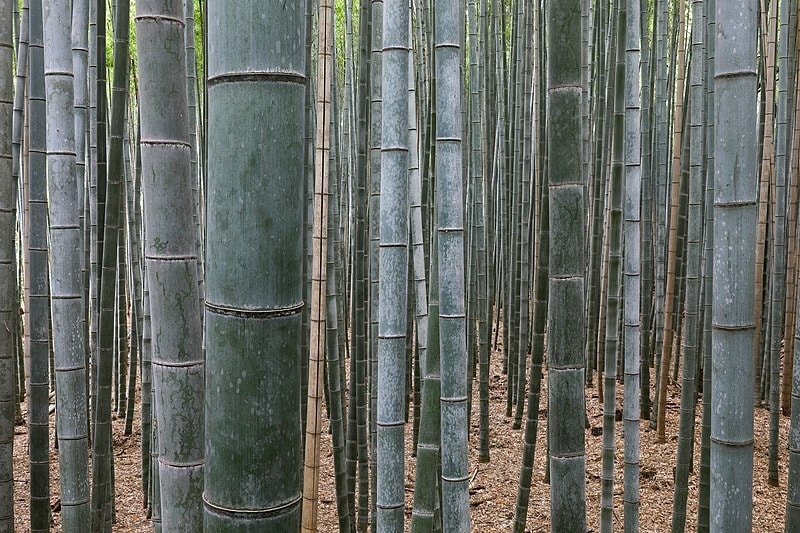 Smother the Bamboo Using Tarps
Another way that you can get rid of bamboo in your yard is to smooth it using tarps. This usually will take approximately two months. But your bamboo might spread beyond the area that is covered, so you'll need to monitor it closely.
Cut Your Bamboo: See above
Cover It Using Garbage Bags or Tarps: Cover your whole area using garbage bags or tarps made of dark plastic.Use landscaping pins or rocks to secure them.
Wait & Monitor: Wait a few weeks or up to two months, monitoring it while you wait until the plants have been suffocated.
Take care of new shoots – If your patch of bamboo has sent out some rhizomes beyond your covered area and created new sprouts, make sure that you immediately are cutting and covering them. You can also plant other types of proliferating perennials on the border. This will be your natural barrier that will crowd the new shoots out.
Conclusion
We are going to wrap this one up with a summary of recommendations. Naturally, we expect you will use our information in all the reviews and make the choices that work best for you. Here goes:
Happy cutting and thanks for reading our reviews!
Related posts: