10 Best Bench Grinders of 2023 – Top Picks & Reviews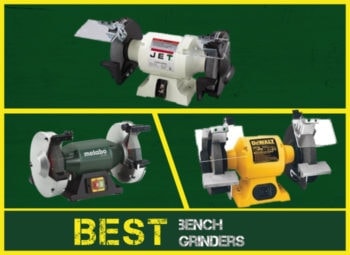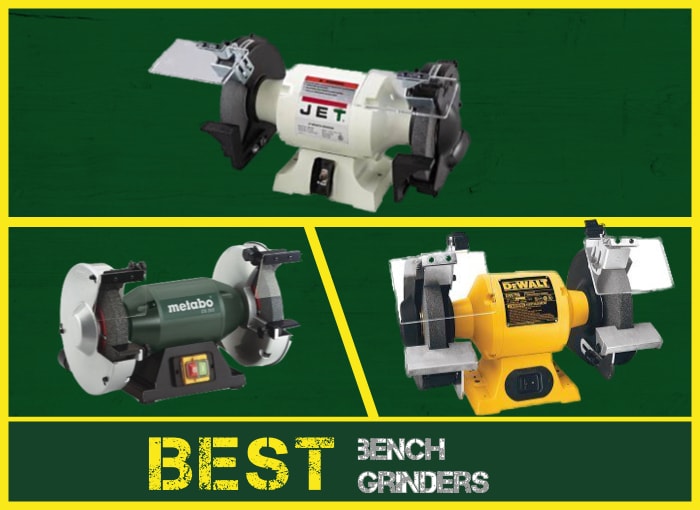 Bench grinders are an essential piece of equipment for every workshop, as these tools can grind, polish, shape, sharpen, or clean just about any type of metal. If you have one, you are familiar with the versatility and utility of a bench grinder. If you don't have one, you are missing out.
Most of us depend on our bench grinders for their reliability and longevity of use. There are several types and models out there that come with an array of variable speeds and accessories. Since we end up using them so much, it's of paramount importance to purchase one that will stand the test of time as well as suit our needs. We have reviewed what we think the best bench grinders available on the market. Let's get started!

A Quick Comparison of Our 2023 Winners
Rating
Image
Product
Details

Best Overall

DEWALT DW758 Bench Grinder

Sturdy front rest areas
Robust build
Little to no vibration on smaller wheels
CHECK PRICE

Best Value

WEN 4280 5-Amp 8-Inch Variable Speed Bench Grinder with Work Light

Quiet running
Flexible work light
Aluminum oxide wheels
CHECK PRICE

Premium Choice

JET 577102 JBG-8A 8-Inch Bench Grinder

Powerful engine
Sturdy cast metal
RPM pressure
CHECK PRICE

SKIL 3380-01 6-Inch Bench Grinder

Excellent cost
The small size makes it easy to store
Rubber pads on the feet add stability
CHECK PRICE

Rikon Professional Power Tools, 80-805, 8" Slow Speed Bench Grinder

Rubber feet
Slower speeds
Excellent price
CHECK PRICE
The 10 Best Bench Grinder Review (Single & Variable Speed)
1.

DEWALT DW758 Bench Grinder – Best Overall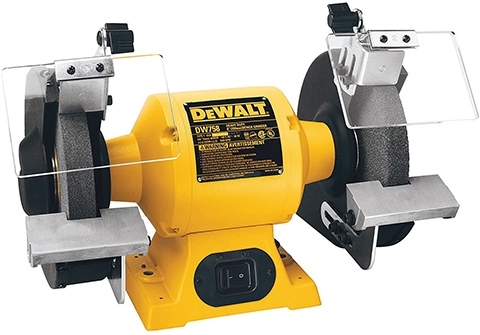 The DEWALT Bench Grinder starts off our list as the best grinder offered for both price, value, and customer satisfaction. There is little to no vibration while using the bench grinder. This is a huge plus when you are working with precise requirements. The design is durable and has a rear exhaust, which is an attractive luxury. The price is comparable to other grinders. The unattractive part is that it is shipped with the wheel in, and the vibrations are noticeable on the 36-grit wheel.
Taking all of that into consideration, this bench grinder proves to be the toughest on the market with the most variability in use. Lights can be purchased separately and added without much effort. The DEWALT comes with a 3-year warranty. The distance between the wheels allows for larger pieces for grinding. The bench grinder is excellent for shaping items with its stable high-speed horsepower.
Pros
Sturdy front rest areas
Robust build
Little to no vibration on smaller wheels
Excellent price
Dual exhaust
Cons
36-grit wheel vibrates
No added light
No locking pin
---
2.

WEN 4280 Variable Speed Bench Grinder with Work Light — Best Value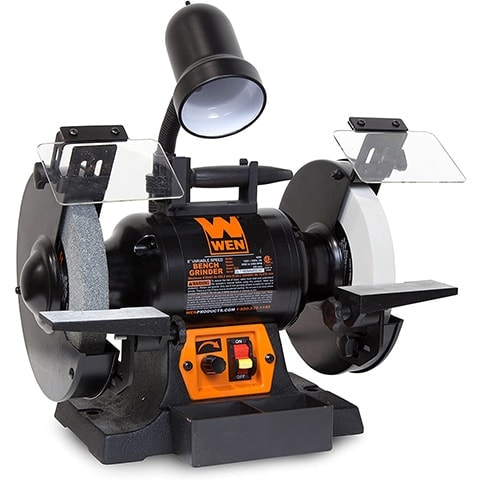 We arrive at our number two pick with the WEN 4280, which we think is the best bench grinder for the money. Unlike the previous two selections, this one does come with light as standard equipment. The work light is flexible, so you can bend it any which way to suit your needs. It has a sturdy cast iron base with mounting holes that are excellent in lowering wobbling and vibrations while in use. The aluminum oxide upgrade is a great feature.  It also comes equipped with a magnifier and a protective eye lens. It runs on the quiet side and has enough power to get any home job done.
The light and its running ability make this unit one of the best to use for home projects.  The aluminum oxide wheels are an enticement and beneficial upgrade that has been done on this bench grinder. Great all-around value and performance.
Pros
Quiet running
Flexible work light
Aluminum oxide wheels
Cons
Medium grit wheel wobbles a bit
Customer service takes about 4 days to replace a part
It takes a minute to get up to speed
---
3.

JET JBG-8A 8-Inch Bench Grinder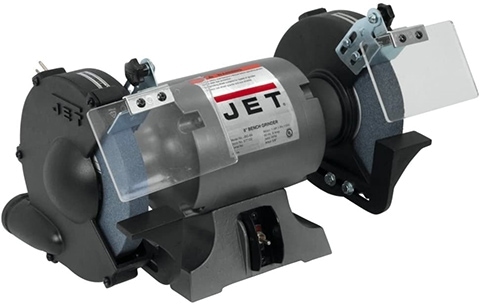 The JET577102 JBG-8A is firmly in the top three. The HP motor is powerful.  One thing you don't want when working with bench grinders is a lack of power. The powerful engine makes the process seamless. The design is cast metal and thick, proving to be a heavy, sturdy model. This model gets up to speed fast and is quiet with little vibration. The RPM is consistent with heavy pressure. The biggest drawback here is that the tool rests are a bit small, and the light doesn't come included.
This is an excellent unit for home or commercial projects. The speed is impressive, as is the sturdy cast metal. This bench grinder boasts one of the most powerful, versatile engines on the market.
Pros
Powerful engine
Sturdy cast metal
RPM pressure
Excellent price
Cons
Small tool rests
Must purchase separate LED light
Considerably more expensive than DEWALT or WEN
---
 4. SKIL 3380-01 6-Inch Bench Grinder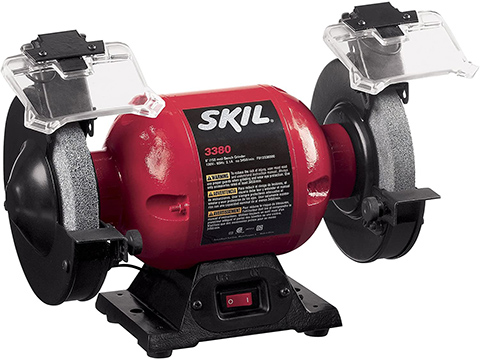 The SKIL 3380-01 offers an LED light and adjustable tool rests. The tool rests are nice because they provide for more accurate grinding. This bench grinder has rubber feet to promote stability while working. The price is on the lower side, but that doesn't seem to hinder the power. There is a slight vibration when using it, but it isn't anything that can't be handled. The downside is the vibration may cause the precision to go down a bit. The LED light is a fantastic feature, but the plastic cover over it can get in the way.
If the bench grinder is fastened down properly, vibrations are reduced substantially. The small size is great for hobbyists and those that don't use the bench grinder often.
Pros
Excellent cost
Rubber pads on the feet add stability
The small size makes it easy to store
Cons
The plastic cover on the LED light
Vibrations are noticeable
---
5.

Rikon Professional Power Tools, 80-805, 8" Slow Speed Bench Grinder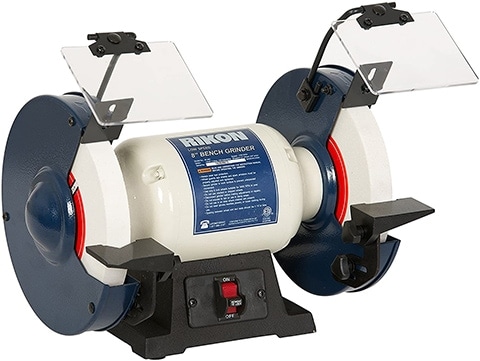 The Rikon Professional Power Tools 80-805 makes an excellent addition to any work area, which is why it appears as number five on our list.  It stays cool with the diamond wheel and adds a sturdiness with the rubber feet. This bench grinder is adjustable, which is appealing for those odd shaped jobs. There isn't much vibration, and it runs relatively quiet. A dressing tool adds to the appeal.
The price is middle of the road compared to all the bench grinders out there. Being half the speed of other bench grinders means it grinds for a more extended period, which is excellent for delicate jobs like woodworking. The slower speed also means less heat. The downside is that there is little to no support from customer service. If you contact them, it generally takes a month or more to hear back.
Pros
Rubber feet
Slower speeds
Excellent price
Cons
Lots of adjustments required to the wheels at first
Poor customer service if there is a problem
---
6.

Metabo – 8″ Bench Grinder
The Metabo Bench Grinder is an excellent choice for any project. The price is a bit higher than others on the market, but the sturdy unit makes up for that. It is a powerful machine, but there are noticeable vibrations that come with that motor. It is commercial quality, so it can be used to sharpen shovels and other items. If you use this bench grinder for large items, and every so often, vibration is a small price to pay. The factory reset could be a bit larger, but after taking off the guards, there is significant space to work.
The commercial engine is absolutely a bonus for large jobs. The wheels need some adjustments at first, but we have found that to be the case with most bench grinders.
Pros
Powerful, commercial-grade engine
Good for big tools
Cons
Vibrates a lot
Small footrest
Need to adjust the wheels a lot
---
7.

Sunex 5002A Bench Grinder with Light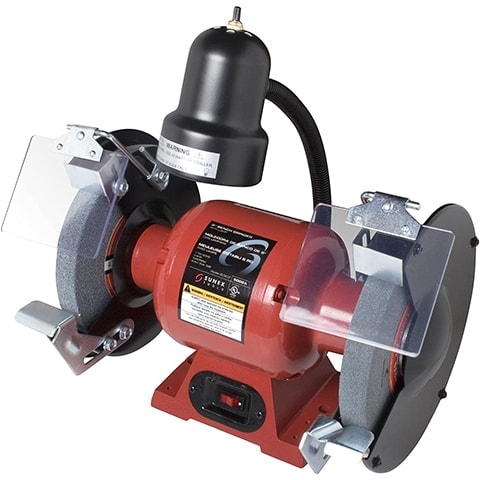 The Sunex 5002A is fully equipped with a spark guard, flexible light, and cast iron base, making it a robustly sturdy unit. The rubber feet make for little to no vibration after it is fastened down. This bench grinder is perfectly balanced and minimal setup, which was great.  It has a look and feel of a commercial bench grinder. The grinding wheels are more than sufficient, and they are easy to change in and out.
Overall, the Sunex is well-built and well suited to whatever task is presented. The light quality is pretty standard. It ramps up to speed swiftly and doesn't change RPM with pressure put on it. It is an excellent unit for professional or home jobs.
Pros
Little to no vibration
Commercial sturdiness
Cons
Average Light source
Rests slide front to back
Takes time to set up
---
8.

Neiko 10207A 3″ Mini Bench Grinder and Polisher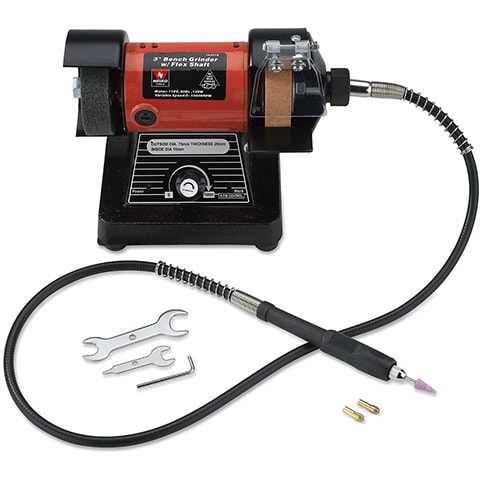 The Neiko 10207A is an excellent addition to your workbench. The portability is great because it allows you to take it anywhere you want. This is wonderful for carrying around the house or to different jobs. It has high precision cutting value, and the adjustable speeds are well suited for any kind of job. This bench grinder offers a powerful engine in a small package.
The wheel cuts slow and is pliable, allowing for high precision on cutter tools and is ideal for carpentry. The slower speeds will enable you to get closer to your work so you can see what you are doing, which is ideal in delicate cuts. The Neiko struggles a bit with more high-pressure projects, but the polisher is a plus.
Cons
Low-pressure point
Tiny tool rest
Comes unassembled
Instructions are complicated
---
9.

Palmgren 82061 POWER GRIND Variable Speed Bench Grinder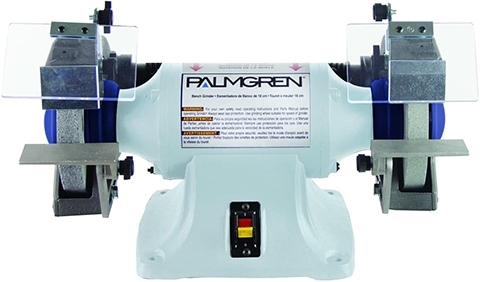 The Palmgren 82061 makes our list with its price, engine, and sturdy build. This solid build features thick aluminum wheel covers that are easy to take on and off. The craftsmanship is spot on.  It lacks in variable speeds for buffering, but it is still workable. The powerful engine certainly makes up for it. This bench grinder has outstanding bearings. The wheels needed a bit of work to be true; this can be fixed with an aluminum oxide dressing stick.
Most smaller grinders do not live up to expectation, and the Palmgren has set the bar on smaller grinders. It is easy to work with, versatile, and well built. This bench grinder is good for anything around the house.
Pros
Great bearings
Powerful engine
Cons
Wheels
Variable speed options
Little to no customer service
---
10.

Craftsman Professional 8″ Variable Speed Bench Grinder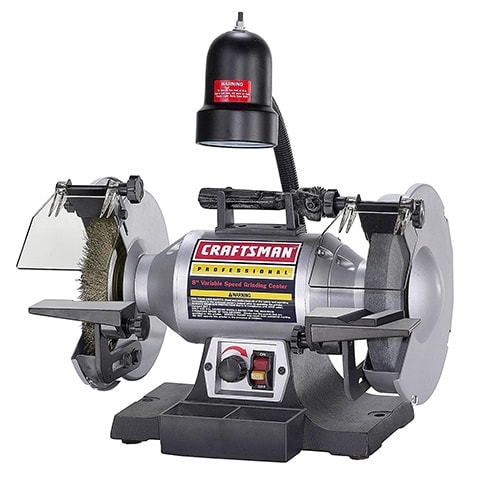 The Craftsman Professional bench grinder lives up to the Craftsman name and reputation. This is a great little model and able to handle both big jobs and small. This bench grinder has a dressing and true wheels. The Craftsman also includes one year warranty and eye protection.
There is little to no vibration on this unit, and the powerful motor runs quietly, humming along.  There was no assembly required when received, so that is always a bonus. The variable speed works ideal for several projects, and the unit is sturdy. This has everything you will ever need in a job.
On the negative side, we found that the flexible light didn't seem to stay in place. Along with that, the wheels had a tendency to come unbalanced.
Cons
Poor wheel quality
Flexible light does not stay in place
The wheels tend to become unbalanced
---
Buyer's Guide: How to Find the Best Bench Grinder
There are a lot of choices to consider when purchasing a bench grinder. Several moving parts and accessories make the decision even harder. There are a few things to consider before purchasing your bench grinder.
What to Consider When Buying a Bench Grinder
The most important thing to consider is the purpose. What are you going to be using the bench grinder for? Home projects, woodworking, tool grinding, metalwork, or commercially? This makes a difference in what kind of grinder you want to buy. If you are going to be using it around the house for various things, the adjustable rests are going to play a big part in what you can do and should be considered. If you require light for your projects, several come with the light, and some you will need to purchase as an accessory. If you require high precision cutting, less vibration, and slower speeds are vital in being able to get close to those projects to see and control what you are doing.
Design & Build
Sturdiness in frame and stability are significant considerations. Rubber feet allow for fewer vibrations, and cast iron allows for the feel of a commercial build. If you want your bench grinder to be portable, you may seek out a lighter, smaller model. Portability becomes a more significant issue if you have several different projects in different places. The light or guards may get in the way if you are on bigger projects. Placement and design play a large part in what kind of work you need to accomplish.
Wheels & Size
Wheels are a critical function in using your bench grinder. You will want them to be easily interchangeable and sturdy. Some prefer diamond to aluminum. Some brands of grinder allow you to use other brand wheels. So, if you love the grinder, but hate the wheels, you can have the best of both worlds. The ability to make the wheels true and to interchange larger and smaller wheels comes into play if you are handling several projects. Some models have a problem with the larger wheels and vibration. This is something you will want to take into consideration.
Warranty
A company that takes care of you and offers a warranty on their products is something that goes in the plus column. Bench grinders are meant to last for several years, and a relationship should be built between you and that company, so you know your concerns will be taken care of. Bench grinders offer several different types of warranty from 1-3 years is the norm. Warranties can extend to the entire model you chose or include the accessories that you purchase. If you switch out wheels and use different models' wheels, the warranty may not cover that, so it is something to be aware of.

Conclusion
When all is said and done, the DEWALT Bench Grinder is a well-rounded choice. The name is well known, and the warranty is top-notch. They offer various speeds, wheel sizes, and accessories and have reliable customer service.
For the best overall value, we would strongly suggest the WEN 4280 5-Amp 8-Inch Variable Speed Bench Grinder with Work Light.
More buying guides like this: