10 Best Wire Cutters of 2023 – Top Picks & Reviews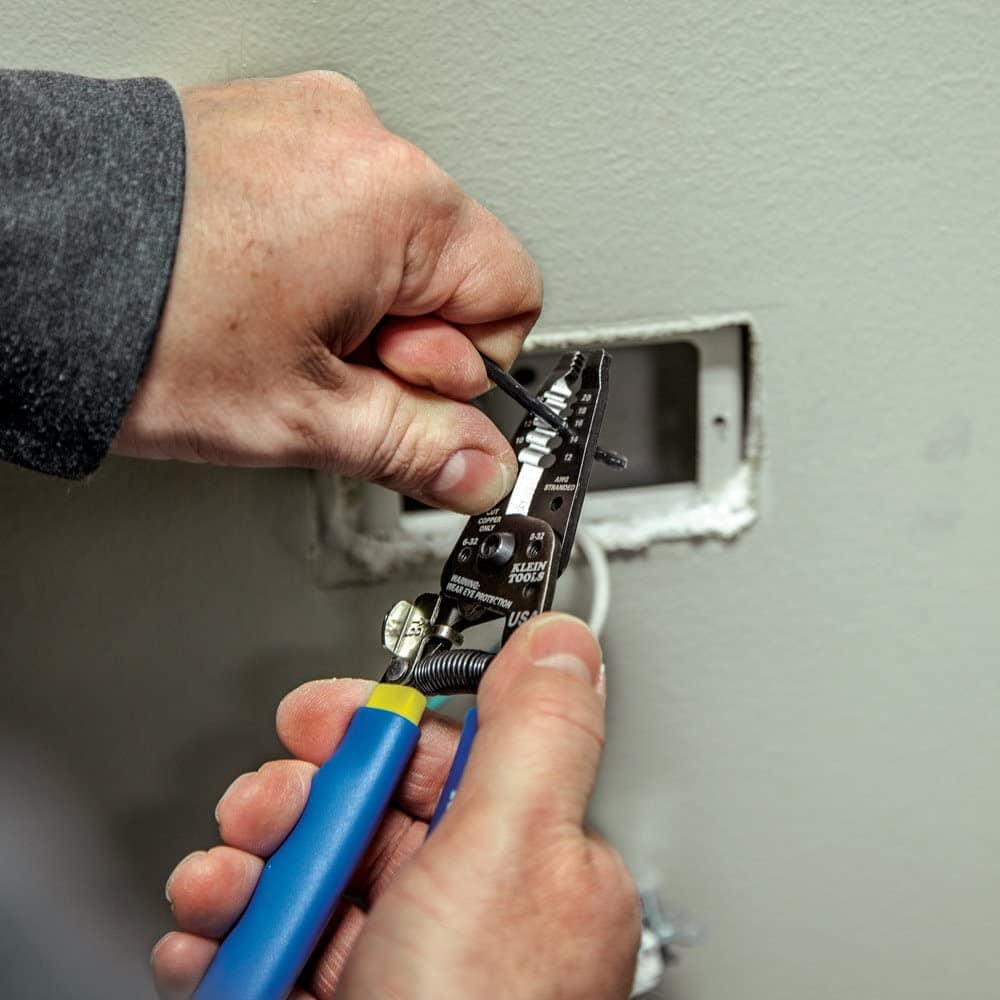 Obviously, wire cutters are suitable for cutting wires. However, they can also be used for a variety of other jobs. They are an essential part of many professionals' toolboxes and the pockets of many homeowners. Most people should have at least a budget pair of wire cutters available just in case. They aren't expensive, so there isn't much reason not to have them in your toolbox.
With that said, some wire cutters are poorly made, while others are inexpensive and excellent. It is essential to buy the latter if you want to use these wire cutters regularly. Even homeowners who use wire cutters every so often will benefit from a great pair.
Below, we'll review some of the best wire cutters on the market. Our reviews should help you figure out the best pair for your purposes.
A Quick Comparison of Our Favorites in 2023
Rating
Image
Product
Details

Best Overall

IRWIN VISE-GRIP 2078309 Wire Cutter

Insulated and non-insulated crimps
Bolt cutter built-in
8-inches
CHECK PRICE

Best Value

DOWELL 10-22 AWG Wire Stripper Cutter

Ergonomic design
Ideal for homeowners
Springs
CHECK PRICE

Premium Choice

Channellock 7-Inch Wire Cutter

Light design
Comfortable handle
High-carbon steel
CHECK PRICE

Hakko Micro Wire Cutters

Durable
Surfaces prevent glare
Dolphin-style non-slip hand grips
CHECK PRICE

Klein Tools 11055 Wire Cutter

High-quality nose
Precision stripping holes
Suitable for looping and bending
CHECK PRICE
The 10 Best Wire Cutters
1.

IRWIN VISE-GRIP 2078309 Wire Cutter – Best Overall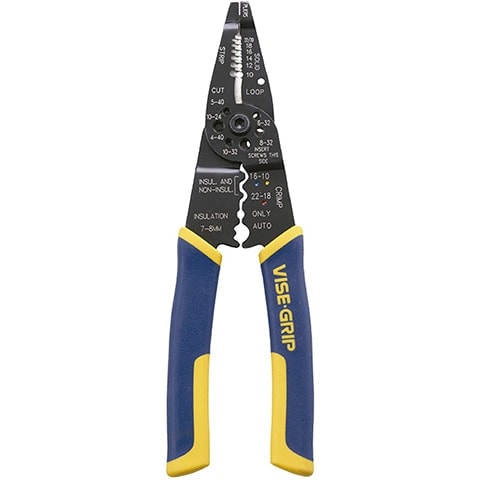 The IRWIN VISE-GRIP 2078309 is by far the best wire cutter on the market. These cutters are induction hardened with a sharp edge that cuts easily. And they stay sharp over time, even with regular use. They are also quite large at 8-inches. This allows you to use them in many situations and gives you plenty of leverage for cutting most wires. The crimps have insulated and non-insulated terminals, so they can be used for most electrical wire purposes.
The bolt cutter portion of the cutters can cut bolts to size while also leaving perfect lead thread. This removes the common problem that comes from cutting bolts and allows these wire cutters to take the place of a few different tools. The pliers-style nose is perfect for stripping wires and picking up smaller objects when you need to do. These wire cutters are also perfect as looping wires when necessary.
The handles are comfortable and textured. They do not cause hand fatigue as quickly as some of the other options on the market. The jaws are also spring-assisted, which makes them easier to open and further reduces hand fatigue. You should be able to use these quite well without getting tired. They are great for professionals for this reason.
Pros
Insulated and non-insulated crimps
Bolt cutter built-in
8-inches
Pliers-style nose
Comfortable handles
Cons
Don't have a "smooth" action
---
2.

DOWELL 10-22 AWG Wire Stripper Cutter – Best Value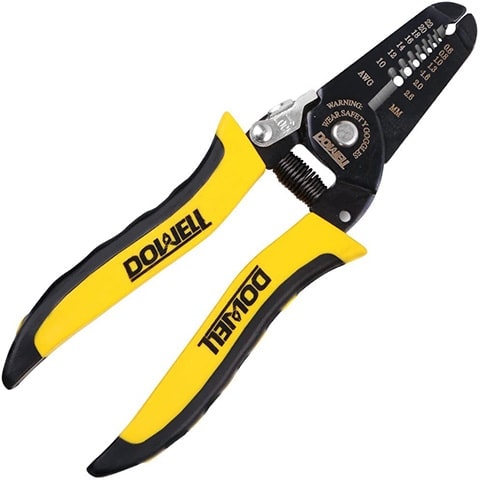 The DOWELL 10-22 AWG is exceptionally inexpensive. These are some of the cheapest wire cutters on the market. However, they are also very high-quality. For these reasons, we rated them very high on our list and considered them to be the best wire cutters for the money. These wire cutters are perfect for copper and aluminum wire, which is what most homeowners are going to be dealing with.
The handle is made from a very comfortable material and is ergonomically designed. It is designed with the optimal force-transmission, which prevents hand fatigue and makes them very easy to use for an extended period.
The simple operation makes them ideal for homeowners. With one hand motion, you can remove the outer jacket from wires and clean them. This pair of wire strippers are also made with springs, which means that they are much easier on the hands. They are very ergonomic and comfortable to use.
On a negative point, this quality of these wire cutters is not top-notch. They are not as good at crimping as some other options. However, for the price, you really can't beat them.
Pros
Ergonomic design
Ideal for homeowners
Springs
Inexpensive
Cons
Not as high-quality as other options
---
3.

Channellock 7-Inch Wire Cutter – Premium Choice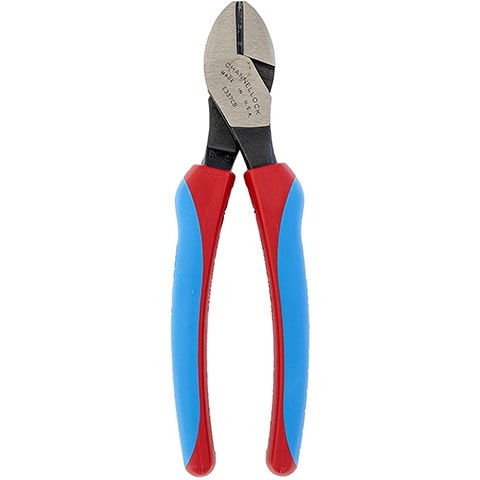 If you have a bit of money to spend, these Channellock wire cutters are one of the best options on the market. These wire cutters are available in a 7-inch option and an 8-inch option. The leverage technology means that it takes considerably less force to cut wires with them than the average wire cutter. This reduces hand fatigue and allows you to use them longer without your hand getting tired. They have a very sleek and light design. They are streamlined for easy handling.
They are also made with high-carbon steel, which allows them to perform very well on the job. They are coated in a rust-protection substance, allowing them to last for an extensive amount of time. They are going to last for much longer than most other options on the market. They are made in the USA. This isn't always an indication of a tool's quality. However, overall, USA-made tools are generally higher quality.
The handle on these wire cutters is very comfortable. They have a code blue grip, which is designed specifically for comfort and durability.
Pros
Light design
Comfortable handle
High-carbon steel
2 size options available
---
4.

Hakko Micro Wire Cutters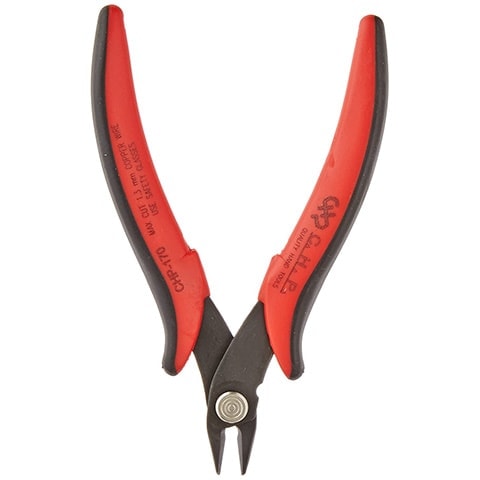 True to their name, the Hakko Micro Wire Cutters are very small. This is much smaller than many other options on this list. They are suitable to cut wires up to 16-gauge. You can not use them on rigid, hard wires. These small wire cutters are only suitable for copper wires and other similar, soft wires. They are made out of 2.5 mm heat-treated carbon steel, which makes them quite durable. They are some of the most durable wires on this list, despite their tiny size.
The precision-ground holes ensure that the movement is smooth. The surfaces line up correctly, and the spring returns the tool to the open position without any effort on your part. They are perfect for long-term use, as they won't wear your hands out quickly.
The dolphin-style nonslip hand grips provide plenty of comfort and control. The surfaces also prevent glare, which increases corrosion resistance and prevents glare. This improves accuracy and makes it easier to use overall.
We do not have much to complain about when it comes to these small wire cutters. However, they do not cut as well as some of the other tools. This is because of the coating. The blades are also slightly skewed, so they don't cut in a straight line very well.
Pros
Durable
Dolphin-style non-slip hand grips
Surfaces prevent glare
Cons
Not suitable with all types of wire
Do not cut as well as others
---
5.

Klein Tools 11055 Wire Cutter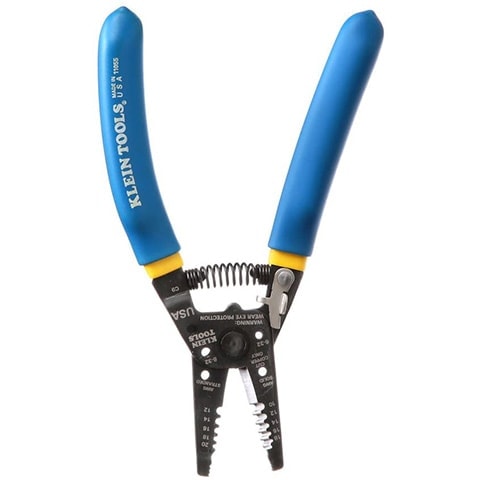 As a basic pair of wire cutters, the Klein Tools 11055 aren't bad. They have precision stripping holes that work very well. The serrated nose allows you to easily grip the wires or whatever else you're working with. The nose makes quick work of bending, shaping, and pulling wires. It makes the tools extremely versatile. They can be used for everything having to do with wires, making them a decent option for professional electricians and homeowners.
They have holes for looping and bending wires that seem to work quite well.
However, despite all this, we didn't love these tools. The openings are a little too big, so they aren't accurate. There are other options on this list that are more accurate and generally better. They don't strip the whole wire jacket, making things a bit more complicated than it needs to be.
Pros
High-quality nose
Suitable for looping and bending
Precision stripping holes
Comfortable
Cons
Openings are a little too big
Not very good at stripping
---
6.

Crescent Wiss M3R Wire Cutter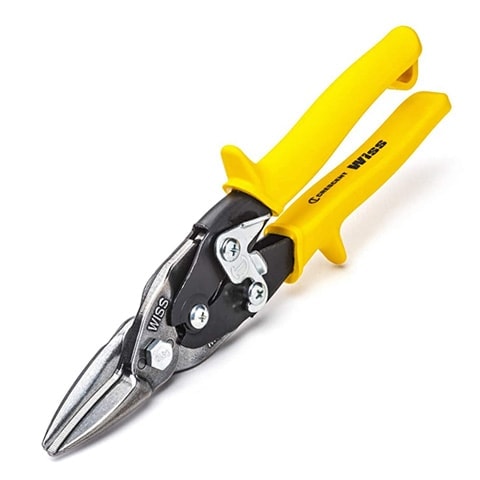 The Crescent Wiss M3R wire cutters are not bad for what they are. However, they just aren't as versatile as other options in the least. They can cut straight and at slight curves, though this isn't super helpful when doing most jobs. The precision-cast blades are decently accurate. However, this tool does not have to strip holes or anything of that sort. They are not nearly as versatile as other options on our list. They are relatively low-quality in that regard. You just can't use them for much.
The ergonomic handles are excellent. They have a single-handed latch operation, which allows you to use them efficiently in either your left hand or your right hand, depending on which one is your dominant hand. The spring action helps make them easier to use overall and prevents your hand from fatiguing quickly. This allows you to use them for an extended period, something professionals should mainly be worried about.
With all that said, we did find that this tool is not as durable as other options. They tend to break more often than other options, making them decently disappointing in different situations.
Pros
Precision-cast blades
Cut very easily
Ergonomic handles
Spring
Cons
Not very durable
No stripping holes
---
7.

Cal Hawk Tools CPLWC8 Steel Wire Cutter
With an electroplated handle, the Cal Hawk Tools CPLWC8 steel wire cutters are very good at resisting rust. They last quite a while and are decently durable. The blades are heat-treated, which makes them stand up to more mistreatment and usage. The handles are very durable. However, they are made out of dipped PVC handles for added grip. This does make them a bit more usable. With that said, though, the handle is not very comfortable. Dipped plastic never is incredibly comfortable, so this is to be expected.
They are not as ergonomic as other options in the least.
On the negative side of things, these wire cutters do not have accurate stripping holes. This dramatically takes away from their versatility. They seem to be mainly made with large hands in mind. This can make them a bit difficult to use if you have small hands. We do not recommend them to women or even most men for this reason. You need very broad hands.
The close lock also doesn't work very well in the least. It is very finicky and comes undone very often.
Pros
Durable handles
Heat-treated blades
Resists rust
Cons
Close lock doesn't work well
No stripping holes
Made for large hands only
---
8.

IGAN-170 Small Wire Cutters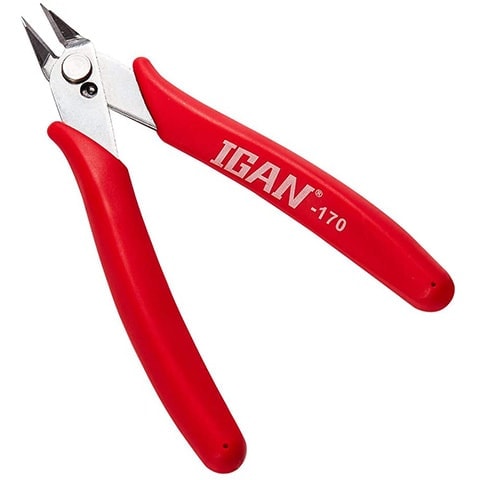 The IGAN-170 wire cutters are very inexpensive. Because of this, we wanted to like them. However, there were many things we did not like about them. Firstly, they are tiny. This isn't necessarily a bad thing, but it cuts down on their versatility. They also don't have stripping holes, which means that you really shouldn't count them as an all-in-one tool. They are not nearly as versatile as other options we've mentioned thus far.
They are not extremely durable either, which is our leading problem with them. We found that they are only suitable for occasional use.
With that said, we did find these wire cutters very comfortable and ergonomic. They can easily be used for an extended period without causing much hand fatigue. They are made with environmentally-friendly materials as well. The grip is not as comfortable as some other options, but we can't complain about it either.
Pros
Very small
Comfortable handle
Environmentally friendly
Cons
No stripping holes
Only suitable for occasionally use
Not very durable
---
9.

Stanley 84-105 6-Inch Diagonal Cutting Plier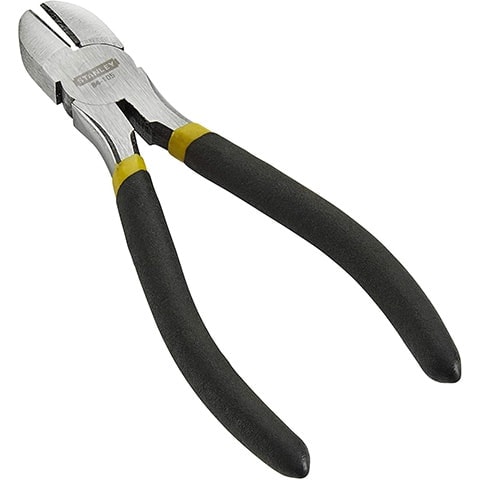 The Stanley 84-105 pliers have long-tempered jaws to help reach difficult areas. They are called cutting pliers. However, they are not very versatile in the least. They are only designed for cutting. You will need another tool for just about everything else. They are quite durable thanks to their forged-steel construction. We found them very durable overall. The rust-resistant finish is perfect for protecting them long-term. They are not going to break anytime soon.
With that said, this is one of the few things we like about these cutting pliers. They are not super suitable for most jobs. We don't recommend them for homeowners because they are not versatile. You'll end up needing more tools for essential repair jobs, which will just cost you more money over time. However, they aren't particularly suitable for professionals either, simply because they aren't as high quality as many other options on the market.
The handles are not super comfortable, though they are not super uncomfortable, either. They are simply so-so handles.
Pros
Hardened cutting edges
Forged-steel construction
Cons
So-so handles
Not versatile
Not suitable for most users
---
10.

iExcell 10 Diagonal Small Wire Cutting Pliers
As an extremely budget pair of pliers, the iExcell 10 diagonal wire cutting pliers are also not our favorite. They landed on the bottom of our list for a couple of reasons. Overall, they are decently low-quality. They are designed only for tiny, soft wires. Each cut leaves a noticeable dent on the wire, which can cause some difficulties in certain situations. They just don't do their job very well in the least. After a few cuts, these cutters dull up very quickly. They stop cutting well at all, and you will have to resharpen them after only a few uses.
While we expected this tool to be a bit lower-quality because of their low price, they are incredibly cheaply made.
Every time you cut, it damages the wires. After only a few uses, you can see the damage taking its toll. This tool just isn't made to last very long in the least.
Cons
Only suitable for tiny wires
Cutters dull and damage quickly
Very low quality
---
Buyer's Guide – Finding the Best Wire Cutters
While purchasing a pair of wire cutters may seem simple, a lot goes into the decision-making process. To help you navigate all the features and models available, we created this complete buyer's guide.
Below, you'll find an explanation of many different features that are important to consider when purchasing wire cutters, as well as a few frequently asked questions that you may be asking.
Frequently Asked Questions
What can I use wire cutters for?
Wire cutters are for cutting wires, first and foremost. However, you can use them for a variety of purposes beyond this. They can cut wires of many different materials in most cases, including copper, brass, iron, aluminum, and steel wires. Of course, which wires a particular pair of cutters can cut varies. Some are not strong enough to cut steel wires, while others are.
On top of cutting wires, many wire cutters can also cut small pieces of plastic and other similar materials.
Can wire cutters cut through metal?
Some of them can. It depends on their quality and the material the cutters are made out of. It just depends on the particular wire cutters, so it is so important to choose the right one for your situation.
Can I use scissors instead of wire cutters?
Scissors may work in some situations. However, scissors are not wire cutters and are not going to be as useful. Your cuts will likely not be as high-quality, and you'll probably end up with some damaged scissors. You may be able to get away with it once or twice. But, if you're cutting wires more than that, you need to invest in wire cutters instead. It just isn't worth it.
Important Features
You should consider a few different features, particularly when choosing a pair of wire cutters.
Versatility
Some wire cutters are only designed to cut wire. Others can strip wires, bend them, and do a variety of other tasks. Preferably, you want one that can do a variety of projects. This will prevent you from needing multiple tools, which is essential for your wallet and your toolbox. No one wants to carry around more tools than you need to.
We rated versatile tools very high on our list. If you want a very versatile tool, we recommend heading to the top of our list.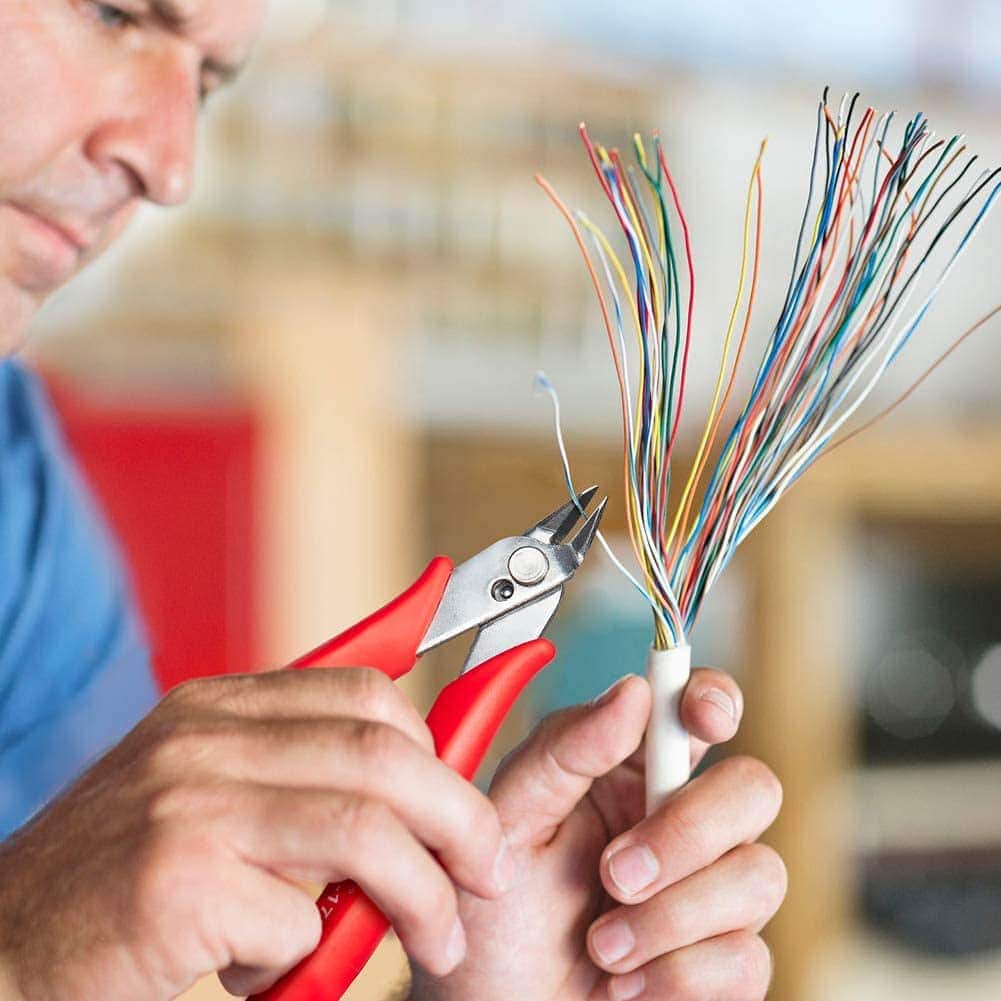 Durability
Wire tools should be able to withstand many cuts. You don't want to need a new pair of wire cutters for every project, so you must choose a pair of wire cutters that can withstand quite a bit. In our reviews, we rated durable tools much higher than those that seemed to break. We paid very close attention to how durable a particular pair of tools was when reviewing each product.
Ergonomics
You don't want your wire cutters to be a pain to use. They should have a spring to make them easier to open and should have an ergonomic handle. These two things are essential for preventing hand fatigue. Otherwise, your hands will get tired quite quickly, and you'll find yourself taking breaks more often.
You want a handle that is well-made in a comfortable material. Dipped plastic is pervasive but not comfortable. You can usually guess how comfortable a handle will be by what it looks like. Some are stiff and not comfortable, while others are very plushy.
More wire-tools you should look into:

Conclusions
For most purposes, our pick for the best wire cutters is the IRWIN VISE-GRIP 2078309 wire cutters. They are incredibly versatile and can do just about everything. The handles are also very comfortable, and they are quite durable overall. There are very few problems with these wire cutters, which is why we recommend them so highly.
If you need a very cheap pair of cutters for whatever reason, we like the DOWELL 10-22 AWG wire stripper cutters. They are ideal for homeowners who just want a pair to have around the house. The handle is very ergonomic, and they are not expensive in the least.
We hope that our reviews helped you figure out the best wire cutters for your situation.