Best Work Pants for Women 2023 – Reviews & Top Picks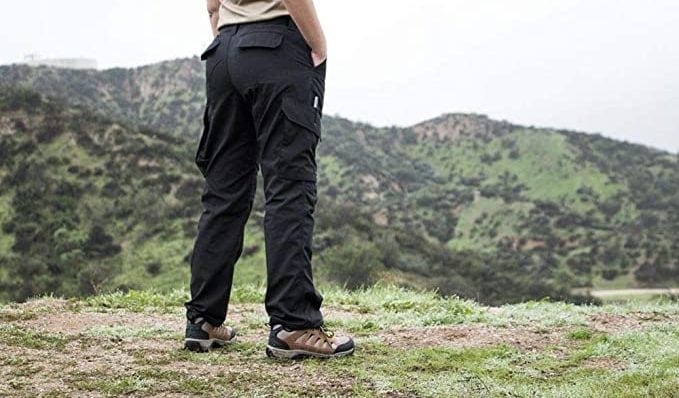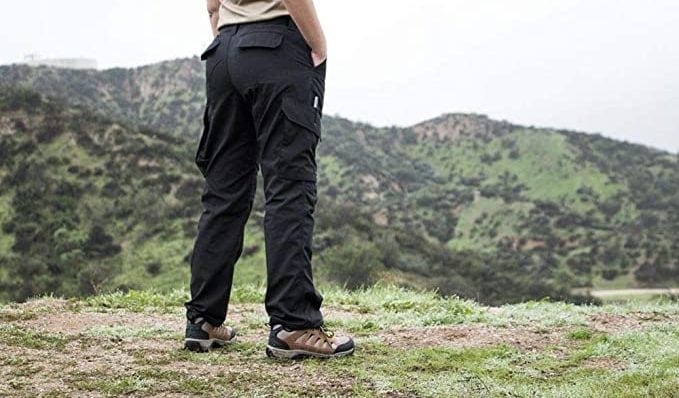 If you want to get a job done right, choosing the best work pants is essential. They not only keep you comfortable but also provide an easy way to carry around your tools. Many work pants are even tough enough to protect you from smaller worksite injuries.
However, as a woman, finding suitable work pants can be difficult. Women can do just as tough of jobs as men, but many pants manufacturers don't seem to understand that.
In this article, we'll help you figure out the best work pants for you. Below, you'll find our reviews of 5 of the best work pants on the market, as well as a buyer's guide to help you select the perfect option for you.

A Quick Comparison of Our Favorites
Rating
Image
Product
Details

Best Overall

BenBoy Women's Outdoor Cargo Pants

Many color options available
Adjustable waist
Waterproof and windproof
CHECK PRICE

Best Value

Rdruko Women's Waterproof Insulated Pants

Many pockets
Very warm
Inexpensive
CHECK PRICE

Premium Choice

5.11 64386 Tactical Women's Stryke Covert Cargo Pants

Lots of pockets
Teflon coating
Kneepads
CHECK PRICE

LA Police Gear Women's Operator Pant

Ripstop fabric
Eight different pockets
Teflon coating
CHECK PRICE

Carhartt Women's Straight Fit Jean

True to fit
Not expensive
CHECK PRICE
The 5 Best Work Pants for Women – Reviews 2023
1.

BenBoy Women's Outdoor Cargo Pants – Best Overall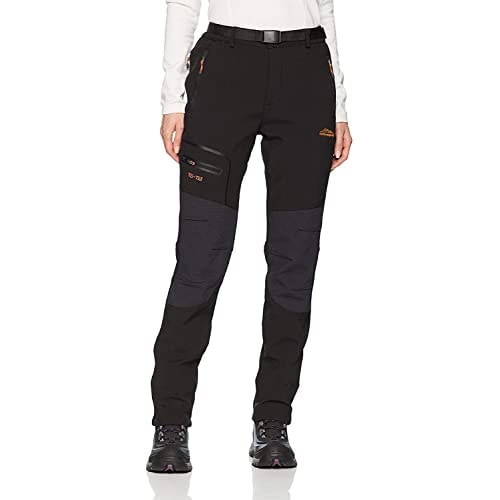 The BenBoy Women's Outdoor Cargo Pants are not incredibly expensive. However, they are extremely durable and come with plenty of great features. They are made with 92% polyester and 8% spandex, which makes them waterproof and windproof. Even in the coldest climates, they are warm and comfortable. They come with plenty of zipper pockets for keeping small items, like your keys and wallet, safe and secure.
They have an adjustable waistband, so the odds of them fitting are relatively high. They also come in many different colors. If you like the design, you can pair multiple pairs in different colors. They even come in a few pink colorations and patterns.
The only major negative we discovered about this pair of pants is the lack of large pockets. There is nowhere to put a hammer or anything like that. For some women, this isn't going to be a problem. It is going to depend mainly on what you're going to be doing in the pants. However, for others, this is a significant missing feature.
Pros
Many color options available
Adjustable waist
Waterproof and windproof
Zippered pockets
Inexpensive
---
2.

Rdruko Women's Waterproof Insulated Pants – Best Value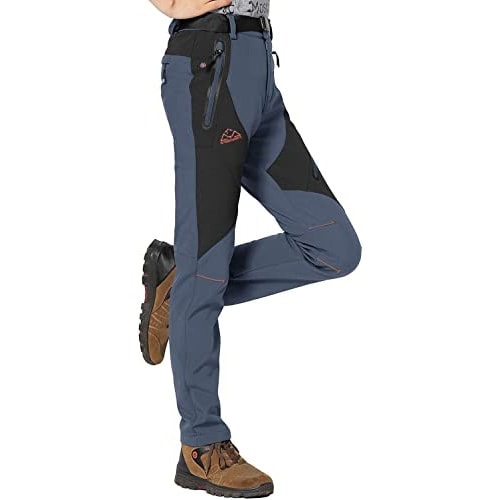 For those on a budget, Rdruko Women's Waterproof Insulated Pants are another reliable option. These pants are relatively cheap, even when compared to our top pick. However, they are also waterproof, windproof, and very comfortable. In wet and cold weather, these pants will keep you comfortable and warm. They have two zippered hand pockets, one zippered back pocket, and a leg pocket, which is quite large. This is more pockets than most similar pants on the market.
An adjustable waist helps the pants fit you comfortably. There are a few different sizes as well, including a yellow and pink. Many people purchase multiple pairs of these pants after deciding that they like them. These pants are machine washable, which is a vital feature for work pants you plan on getting dirty. This was one of the reasons we consider these to be the best work pants for women for the money.
You can wear these pants on the worksite, but they also work great for outdoor adventures like skiing and backpacking. These pants are not form-fitting at all, so some users may want to size down. The adjustable waist is especially helpful because of these small sizing problems.
Pros
Many pockets
Very warm
Inexpensive
Comfortable
---
3.

5.11 Tactical Women's Stryke Cargo Pants – Premium Choice
The 5.11 64386 Tactical Women's Stryke Covert Cargo Pants are made with patented ripstop fabric. They are sturdy enough to withstand the rigors of the worksite or trail, while also being flexible enough to give you a broad range of motion. The fabric is coated with Teflon, which makes the pants very resistant against all moisture and soil. They do not stain easily at all. Despite this, the breathability is not compromised.
The crotch is fully gusseted, which is very hard to find in a pair of pants made for women. This feature makes these pants very comfortable and provides plenty of flexibility. Plus, you won't have to worry about rips or tears.
We also loved that this pair of pants included 12 different pockets, all of which are double-reinforced. The front pockets provide plenty of storage for most items, allowing you to have quick access to your gear. Because of the internal kneepads, these pants are far more durable than most of the competition. Plus, they protect your knees from repeated kneeling as well.
Pros
Gusseted crotch
Lots of pockets
Teflon coating
Kneepads
---
4.

LA Police Gear Women's Operator Pant
Though the LA Police Gear Women's Operator Pants aren't bad, they didn't exactly wow us either. They are made from ripstop fabric that is 65% polyester and 35% cotton. An elastic waistband helps keep the pants in place but can be a bit uncomfortable. Having women's pants with gusseted crotch is a great added feature, which improves flexibility and comfort. In total, these pants have eight different pockets, most of which have pocket flaps.
The fade-resistant fabric has a Teflon coating, which prevents stains and repels moisture. There are quite a few colors available as well, though the options are not as larger as some of the other pants we've reviewed.
However, these pants are not cut for the female form in the least. The pant legs are extremely large and straight, with too much material at the gusseted portion as well. In all honesty, these pants look like they're made for men. We wouldn't be surprised if they were re-labeled pants that were initially designed for men in mind.
Pros
Ripstop fabric
Eight different pockets
Teflon coating
Cons
Not cut for women
Uncomfortable waistband
---
5.

Carhartt Women's Straight Fit Jean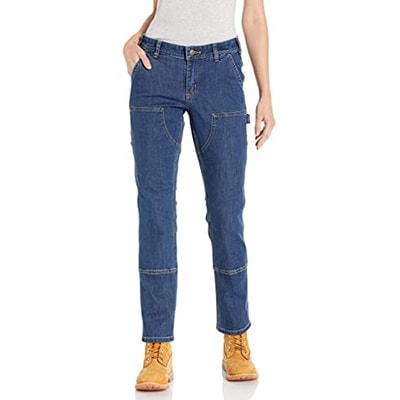 The Carhartt Women's Straight Fit Jean look like they're designed to be work pants and are advertised as such. However, they are little more than your regular jeans. They are made of mostly cotton – not polyester. They do not have particularly big or many pockets. You likely won't be able to fit much in the pockets that do provide, so plan on carrying around a bag of some sort.
They are machine washable, which is good. However, this is true for most pants on the market, so it isn't particularly surprising. They have a "rugged flex" design, but we did not find them particularly more flexible than other options on this list. Furthermore, because they do not have a gusseted crotch, they are a bit less flexible than other options on this list.
They are true to size and made to fit the female body, which can't be said for all pants on this list. However, in this case, the cons outweigh the pros. While they may be able to fit your well and correctly, they probably aren't going to be very useful in the field.
Pros
True to fit
Not expensive
Cons
Not many pockets
Small pockets
No gusseted crotch
Made of cotton

Buyer's Guide – Choosing the Best Work Pants for Women
Buying pants can be surprisingly complicated. While most pairs of pants look similar, there is a lot that goes into their design and manufacturing. This can lead to there being massive differences between different pairs of workpants.
Furthermore, there is no specific "design" for women's workpants like there is for men's. Because of that, the features can range quite widely.
To help you choose the best option, we put together this quick buyer's guide with all the information you need to make the best decision.
Pockets
One thing that sets workpants apart from regular pants is the number of pockets they have – at least when you're talking about women's pants. In general, men's pants tend to have large and plentiful pockets no matter what sort of pants they are. However, this is not the case when it comes to women's clothing.
The typical pair of women's pants have very few pockets, and the pockets that are there are often tiny. In the field, this isn't suitable. You need plenty of pockets to carry around your various belongings. Otherwise, you'll have to get a bag or something of that sort to carry your stuff in.
In general, the most pockets, the better. The size of the pockets is also essential. Some pants have many pockets, but they aren't designed to hold anything particularly sizeable. The security of the pocket should also be considered. Zippered openings are preferable since these will keep your stuff secure while also being easy to access (unlike buttons, which can take a minute to undo and redo).
Material
The material a pair of pants is made out of matters. Most quality work pants are made out of polyester. However, cotton pants can also be found. Often, pants are a mixture of these two materials.
Cotton is soft and comfortable. It is also decently breathable, which makes them much more tolerable in the heat.
However, polyester is easier to care for and tends to be more resistant against the elements. They are faster drying and such.
Cotton tends to be more expensive because a bit more work goes into making it. Polyester is made from oil and is not renewable if that is important to you.
Cost
Workpants for women are available in a wide variety of different prices. You can find some for as low as $20, while others are going to cost upwards of $70. Price is sometimes tied to the quality of the pants, but that isn't always true. Some pants are inexpensive and very high quality, while some costly pants are not particularly outstanding.
You can usually find a good pair of pants for you, no matter your budget. There are many different options out there at a wide range of different prices.
Getting a larger size does tend to make the price go up – just because there is more material involved. "Premium" brands are also going to be more expensive, even if their pants aren't necessarily better.
True to Fit
When a pair of pants is "true to fit," that means they will likely fit you if you purchase your usual size. Most pants come with a sizing chart, which we recommend you use. Still, though, not all pants even match with their sizing chart. In some cases, the pants may vary in size depending on the specific factory they came out of, making it very difficult to purchase the right size for you.
Preferably, you want any pants you purchase to be as true to size as possible. Or, at least line up with their online sizing chart. A pair of pants that doesn't fit you is not going to be useful. Plus, depending on the return policy, you may be stuck with them even though they don't fit.
This is a commonly overlooked feature, but it is vital to ensure you get a pair of workpants you use.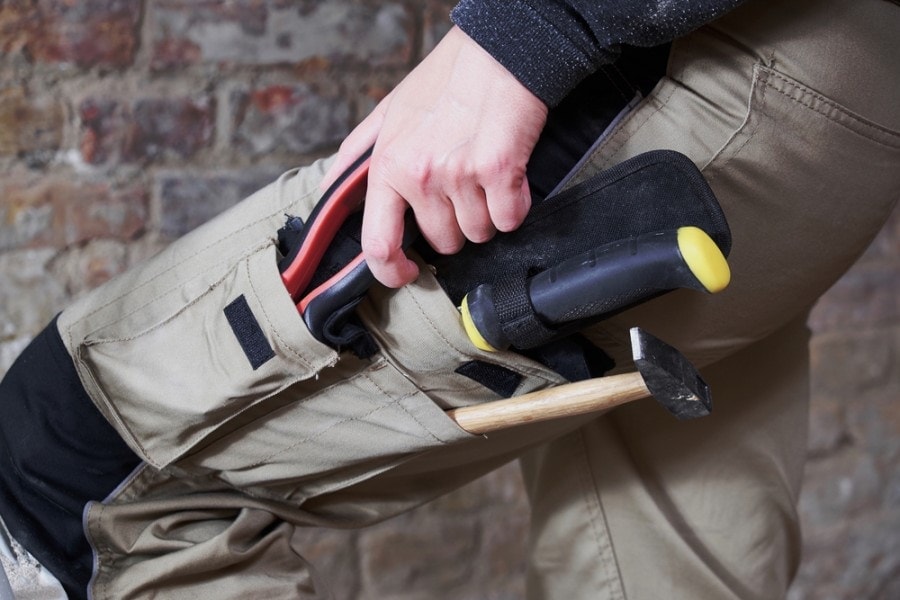 Weather Resistance
In many jobs, you're going to be out in the elements. The last thing you want is for your workpants to get soaked in even a little rain shower. Weather resistance is an important feature to consider if you want to stay comfortable in less-than-perfect weather.
Many workpants are covered with Teflon, which helps them repel water. This coating also prevents them from becoming stained, since the liquids can be wiped off very quickly. It makes them sty dryer in wet conditions but also makes them last longer. This is a great feature to look out for.
Breathability is also essential. Without it, you won't have fresh air circulating within the pants. This means all your body heat is going to stay trapped against you, which can cause you to get very hot in warm weather. If you want to wear your pants all-year-around, this is a vital feature to consider.

Conclusion
We hope our reviews helped you choose the best workpants for your situation. No one pair of pants can do everything, so considering your personal preferences and the environment around you is crucial.
With that said, we did prefer the BenBoy Women's Outdoor Cargo Pants. These pants have quite a few zippered pockets, so you can keep your belongings secure. Furthermore, they are also decently weather-resistant, especially in cold and wet conditions. We also liked that they have an adjustable waist and seem to fit well in most situations.
If you need to spend as little money as possible, the Rdruko Women's Waterproof Insulated Pants are a convenient option. They're a bit less expensive than other pants on the market, but they are quite weather-resistant. They can keep you warm in even very cold climates. Some people even use them for skiing!
---
Featured Image: LA Police Gear Women's Operator Pant, Amazon