DeWalt DW717 Miter Saw Review 2023 – Pros, Cons, & Verdict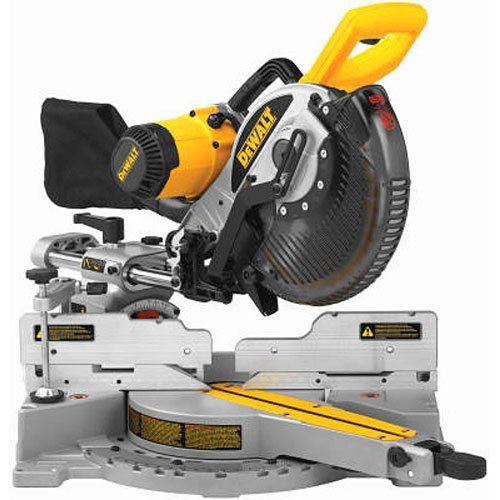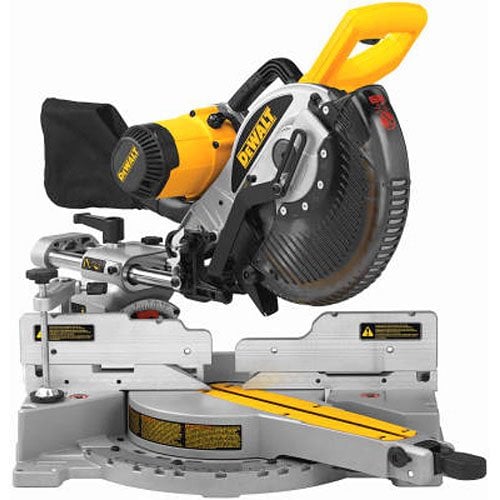 We give the DeWalt DCF885 1/4″ Impact Driver a rating of 4.5 out of 5 stars. 
Functionality: 4.8/5
Design: 4.2/5
Price: 4.4/5
Review Summary
DeWalt stands out as one of the best manufacturers of power tools and their excellence in this sector is highlighted by how popular their tools are with professionals and DIY enthusiasts. Their tools are reliable and very durable and users are able to gain immense value when using them. Our concern at this moment is the DeWalt DW717 miter saw that features a sliding component.
The sliding arm increases the flexibility of the saw and enhances its ability to handle large cutting projects. The DeWalt DW717 is, therefore, ideal for seasoned professionals with a large stock to cut but it may be a little bit complex for DIYers without any experience with sliding miter saws.
It weighs 51 pounds and this places it in the mid-weight category and as such it is not as portable as other saws on the market. Professionals with a fixed working area will not have a problem with its weight but those who move around a lot may have some challenges using it as a result of its weight.
These are some of the features that characterize the DeWalt DW717 and we will look at them below to see if it is the right miter saw for your woodworking needs.
DeWalt DW717 – a Quick Look
Pros
Powerful motor
Makes accurate cuts
Ideal for large projects
Tall fence
Cons
Heavy and bulky
Poor dust collection system
Specifications
Brand name: DeWalt
Model: DW717
Product weight: 51 pounds
Dimensions:5 x 31.0 x 19.5 in
No load rotating speed: 4000 rpm
Amperage: 15A
Voltage: 120V
Blade diameter: 10 in
Miter range: 60 degrees left, 52 degrees right
Bevel range: 48 degrees left, 48 degrees right
Warranty: 3 years
Powerful miter saw for effective cutting
A powerful motor is one of the things that make the DeWalt DW717 special and a delight to use by professionals and DIYers alike. With a motor that can deliver 4000 revolutions in a minute, the DeWalt DW717 is quite powerful to cut through anything that you throw at it. As a result of its power, the DeWalt DW717 gets the job done in a short time and this will help you achieve a lot as a professional craftsman.
The power that it can generate can be a little bit too much if you only have simple cutting jobs to accomplish and we would advise you to choose a simpler saw that is cheaper and easy to handle than this bad boy.
Tall sliding fence for seamless cutting
The feature that best distinguishes the DeWalt DW717 from other saws of its kind is its tall sliding fence that allows you to work through large pieces of wood with ease. As a result of its tall fence, the DeWalt DW717 can accommodate crown moldings of up to 6.25 in which is quite extensive. You can also use the saw to cut through base moldings that are 6 inches thick. This is almost double what other miter saws can handle and this is testament to the amazing ability of the DeWalt DW717.
Added precision for accurate cuts
Another selling point of the DeWalt DW717 is how accurate it can get when making cuts. There are 7 positive stops on the bevel detent system and a further 11 stops on the miter adjustment system that allow you to make precise adjustments when cutting for a better outcome. You can lock in your adjustments when cutting through wood using the cam-lock miter handle and this will make your cutting as seamless as possible.
It lacks a laser guide for added accuracy when cutting but with all these features, we don't think you will need it at all.
FAQ
What is the warranty of DeWalt DW717?
The product has a 3-year manufacturer's warranty against factory defects and faulty components. Buyers can also get the tool serviced for free for one year and a 90-day money-back guarantee for purchases that do not appeal to the buyer.
Can I connect the DeWalt DW717 to a 100V/50Hz power supply?
You are advised to use a 120V/60Hz power supply when operating the saw. Anything other than this compromises the functionality of the saw and it can result in product damage.
Is the DeWalt DW717 durable?
The DeWalt DW717 is very durable and you will be able to use it for a very long time. Most parts are made of stainless steel which is very strong and reliable and the other parts are made of heavy-duty plastic for added strength and durability.
General user impressions
To determine whether users were impressed with the product or not, we read online reviews and participated in online discussions to find out what the users of the DeWalt DW717 have to say about it. The general consensus was that the DeWalt DW717 is an amazing tool and it was well-received by professionals in the field.
As we have mentioned earlier, how powerful the saw is was one of the things that got users excited and that is quite understandable considering that the DeWalt DW717 can generate 4000 rpm for effective cutting.
Accuracy was another thing that people like about the saw and the sliding component of the saw was particularly helpful in this regard. There were complaints, however, on the ease of use but that is mainly because the saw features a sliding component and those who had not used it before were having trouble using it.
All in all, the DeWalt DW717 was well received and most of those who bought it could not get enough of it.
DEWALT 10-Inch Sliding Compound Miter Saw, Double Bevel (DW717)
Exclusive bevel detent system with 7 positive stops delivers fast accurate repeatable cuts for the 10-inch miter saw blade
Adjustable stainless steel miter detent plate with 11 positive stops improves productivity and ensures cutting accuracy for the mitre...
DEWALT miter saw optimizes cutting accuracy
Conclusion
A good miter saw should make accurate cuts and handle complex cutting assignments without any hassle and the DeWalt DW717 satisfies all these requirements. It is quite powerful and this will allow you to accomplish your work seamlessly and in the shortest time possible.
You may struggle with this miter saw if you are not a seasoned user but other than that, the DeWalt DW717 is a great saw that will simplify your woodworking commitments.
Related Reads: