10 Best Circular Saws of 2023 – Top Picks & Reviews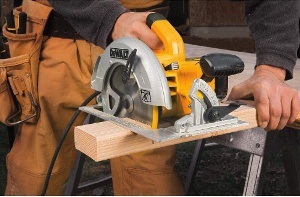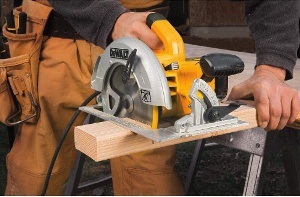 When you need the power and safety offered by a table saw, but in a more convenient and portable package, there is only one answer: the circular saw. Even for handymen with a dedicated table saw in their home workshop, a circular saw is a useful option for on-site work. They also excel at converting larger man-made boards that can be difficult to handle with a fixed saw.
Finding a circular saw that can handle everything you throw at it is easier said than done, though. That's why we've put together this list of in-depth reviews, covering every major brand of circular saw available today. After extensive testing and examination of all the options on the market today, we're confident that by reading this guide you'll be able to find the best circular saw for your needs.
A Quick Comparison of Our Favorites:
Rating
Image
Product
Details

Best Overall

DeWalt DWE575SB Circular Saw

Integrated dust blower
ToughCord system prevents cord pullouts
Electric brake
CHECK PRICE

Best Value

SKIL 5280-01 Circular Saw

Excellent power for the price
Blade is easy to change
Super lightweight
CHECK PRICE

Premium Choice

Makita Magnesium 7¼" Circular Saw

5800 RPM
Lightweight and maneuverable
Has built-in lights and dust blower
CHECK PRICE

TACKLIFE Circular Saw with Metal Handle

Lightweight and portable
Safe and accurate
Make precise cuts
CHECK PRICE

Genesis 4 Amp 4½" Compact Circular Saw

Compact and lightweight
Easy to use 1-handed operation
Great for use on smaller projects
CHECK PRICE
The 10 Best Circular Saws:
1.

DeWalt DWE575SB Circular Saw – Best Overall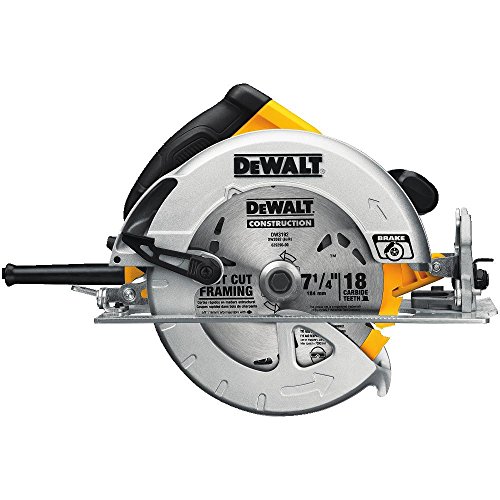 Founded on a mission to deliver powerful, durable tools that can last a lifetime, DeWalt has built a great reputation on the uncompromising and rugged design of their tools.
Continuing in this tradition, the DWE575SB circular saw is a small but powerful option ready for anything it might encounter on a job site. Weighing just under 9 pounds, it is easy to put its 5200 RPM blade to use in sizing boards. An integrated dust blower adds to its cutting power and efficiency by keeping every cut clean of debris.
Increased durability comes in the form of a ToughCord system, designed to prevent unwanted cord pullouts while working. An electric brake and ball bearing lower guard combine to allow for smooth retraction even in high dust environments, keeping your saw in tip-top shape no matter your working conditions.
Overall, the DeWalt circular saw is a best-in-class example of all that a circular saw can be: Lightweight yet still powerful and durable.
Pros
Powerful 5200 RPM
Lightweight and easy to use (8.8 pounds)
Integrated dust blower
ToughCord system prevents cord pullouts
Electric brake
Ball bearing lower guard
Cons
Vibrations due to lighter weight make it poorly suited to precision cuts
Significant investment cost
---
2.

SKIL 5280-01 Circular Saw – Best Value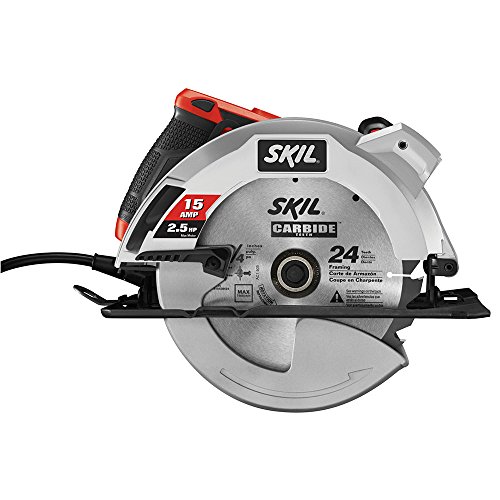 If you are a new homeowner or amateur woodworker, chances are you will need a way to cut larger boards to size. But if you don't want to invest in the substantial cost of a table saw, what is your next best option?
SKIL answers that question with ease by providing this budget-priced circular saw option. An extremely lightweight design comes in just under 7 pounds, making it easy to guide through any cut you need to make. To back this up, a 15-amp motor provides a top blade speed of 5300 RPM – more than enough to handle any home woodworking project.
It's also equipped with a dust blower to keep your cut line free of sawdust and debris, increasing your visibility to allow for cleaner cuts. While the integrated laser sight is a nice feature in theory, unfortunately, it is not accurate enough to help with precision cutting.
In summary, the SKIL 5280-01 is an excellent saw for beginners and easily makes our pick as the best circular saw for the money.
Pros
Excellent power for the price
Blade is easy to change
Super lightweight
Dust blower helps with visibility and accuracy
Guarded trigger prevents accidental startups
Cons
Laser guide is not the most accurate
Depth adjustment lever is sticky and hard to use
---
3.

Makita Magnesium 7¼" Circular Saw – Premium Choice
Accuracy, efficiency, power, and precision all characterize the Makita 5007Mg Magnesium circular saw. Designed to handle the toughest jobs, it also comes with an impressive price tag. With most circular saws, you'll eventually have to increase their weight to allow for greater power and durability. By designing a saw constructed of magnesium components, Makita has sidestepped this issue altogether – making a circular saw that is more powerful than any other we reviewed, while only adding a negligible amount of weight.
A 15-amp motor delivers an exceptional 5800 RPM blade speed. Because of this, we found that the Makita could easily handle cuts that other saws struggled with, never skipping a beat, or slowing down. And at only 10 and a half pounds, it's still lightweight enough to minimize hand and shoulder fatigue while working.
Two built-in LED lights increase cut visibility and are aided by an integrated dust blower. This made it easy to measure and precisely cut every time. It is a fantastic choice if you're looking to invest in the best circular saw around.
Pros
Highest power output of any circular saw in our review (5800 RPM)
Lightweight and maneuverable
Built-in lights and dust blower make precise cuts much easier
---
4.

TACKLIFE Circular Saw with Metal Handle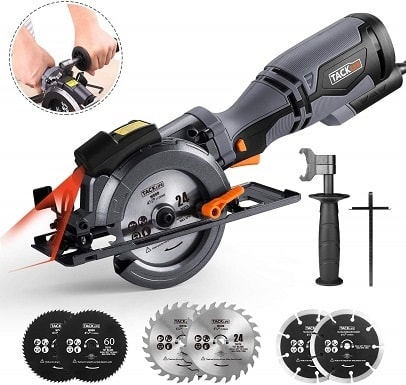 In any discussion of circular saws, it's worth considering the more compact and hand-held varieties as well. Designed for small, quick work, they are versatile tools for home improvement projects. While they're less powerful than traditional circular saw designs, their portability and ease of use makes them ideal for newcomers to home improvement.
The TACKLIFE circular saw features a fold-out metal handle for two-handed operation, making it both easier to use for accurate cuts and safer. A 3500 RPM top speed means you will need to take any larger cuts slowly, but the 5.8-amp motor delivers enough power to get the job done. A built-in laser guide greatly increases the TACKLIFE's cut precision, as well.
In short, hand-held circular saws like the TACKLIFE are lighter, more portable, and convenient alternatives to traditional circular saws – with the tradeoff of having less cutting power.
Pros
Lightweight and portable
Fold-out metal handle makes operation safe and accurate
Integrated laser guide helps to make precise cuts
Inexpensive
Great for small projects
Cons
Less powerful than traditional circular saws
Not intended for heavy use
---
5.

Genesis 4 Amp 4½" Compact Circular Saw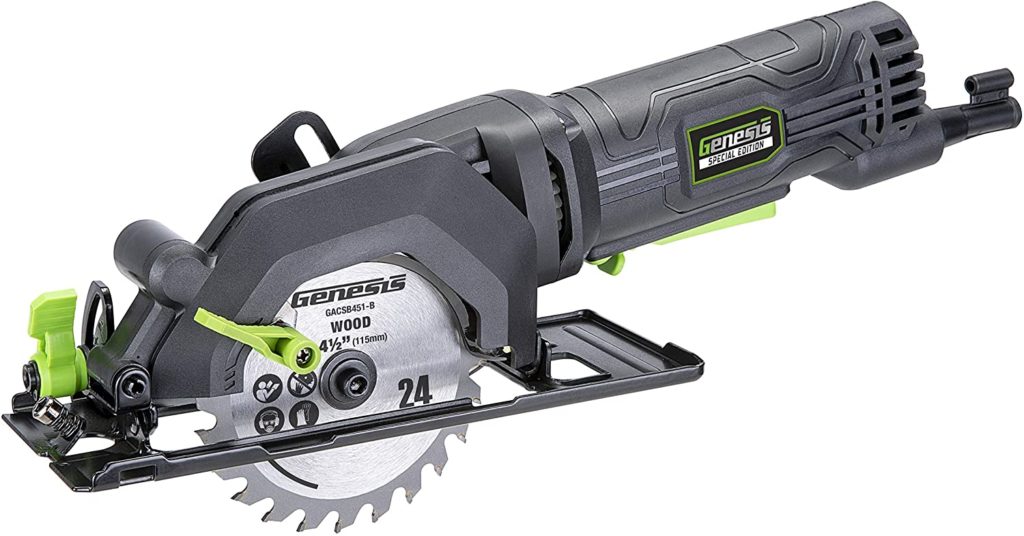 Offering a great combination of portability and convenience at a bargain price, the Genesis GCS445SE is an ideal circular saw for simple home improvement and yard work jobs. If you don't need the higher power and heavier weight of a traditional circular saw, consider this more compact style of saw instead.
A 4-amp motor provides a 3500 RPM blade speed – enough for small jobs, but not intended for heavy-duty operation. Instead, its compact and lightweight design is perfect for DIY projects and first-time woodworkers.
Additionally, depth and bevel controls make for easy bevel, rip, and crosscuts. In short, the Genesis is a fantastic saw for the price if you're looking for a tool for simple DIY projects and household repairs.
Pros
Compact and lightweight
Easy to use 1-handed operation
Great for use on smaller projects
Excellent price
Cons
Not intended for heavy-duty work
Only compatible with Genesis brand blades
---
6.

GALAX 5800 RPM Circular Saw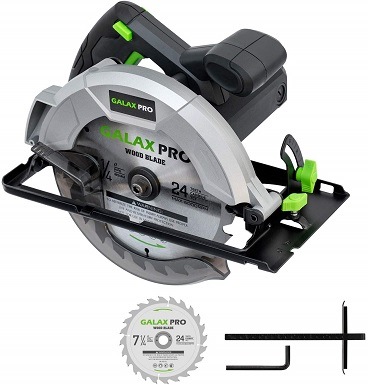 This circular saw offering from GALAX may just be the most powerful option for the price available today. Boasting a maximum speed of 5800 RPM, it's powerful enough to use even on hardwoods and laminates. In a category of tools commonly sporting 15-amp motors, though, its 10 amps of power may not quite hold up for longer days of heavy work.
The adjustments for both cutting depth and bevel on the GALAX are smooth and easy, making it a convenient tool to choose for a wide variety of jobs. A double trigger safety operation prevents unintended startups, while a dust blower and parallel guides increase cut accuracy.
Overall, the GALAX is an excellent saw for the price that is only hampered by its somewhat low-amp motor.
Pros
Excellent 5800 RPM blade speed
Reliable double trigger safety system
Easily adjustable bevel and cutting depth settings
Integrated dust blower and guides increase cutting accuracy
Cons
Underpowered 10-amp motor
Plastic construction is not durable
Splintering from stock blade
---
7.

Bosch CS10 Circular-Saw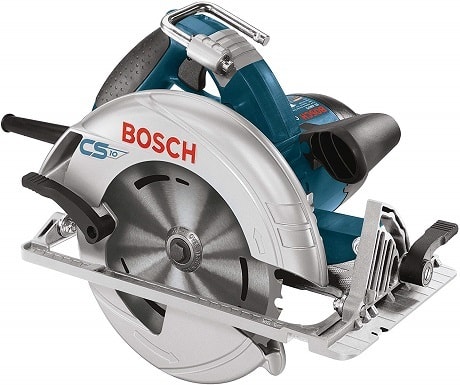 The Bosch CS10 is an excellent example of a "middle of the road" circular saw. While not quite as powerful as top-end saws, it's also not nearly as expensive. And though it is more expensive than bargain-priced saws, it boasts more power and much more durable construction than inexpensive competitors.
An industry-standard 15-amp motor produces a great 5600 RPM blade speed, just a few hundred RPM away from the power of top-of-the-line models. Built to withstand harsh worksite conditions, the Bosch has a durable magnesium footplate and anti-snag lower guard to keep it running for as long as you need. Weighing just over 10 pounds, it's lightweight enough to limit hand and shoulder fatigue while working.
If you're looking for a compromise between the performance of more expensive saws and the price of budget models, the Bosch should be your first choice!
Pros
Excellent combination of power, durability, and price
Sturdy and reliable construction
Lightweight and easy on the hands and shoulders
Cons
More expensive than budget priced models
Not as powerful as premium price models
---
8.

Meterk 7-1/2" Circular Saw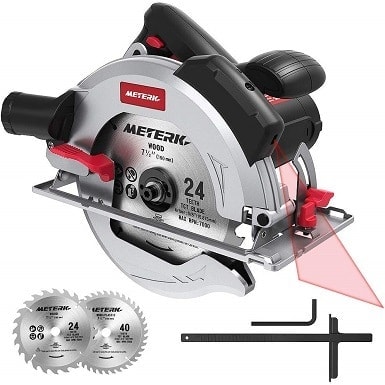 At first glance, this circular saw from Meterk might seem like a fine tool for the price. A 15-amp motor, laser guide, integrated blade guard, and built-in dust outlet are all desirable features that the Meterk shares with many of our top products. Upon closer examination though, there are some problems with the Meterk that we're not so pleased with.
The seemingly powerful 15-amp motor is only capable of producing 4700 RPM – more than 1000 RPM slower than our top choices. Accuracy is a problem for the laser guide, as it comes out of true over time. And the dust outlet? You'll have to connect a bulky hose to use it. Overall, we'd recommend choosing a different saw from our list.
Cons
Low RPM makes for difficult cuts
Laser guide is not accurate enough
Dust outlet has to be used with a hose
---
9.

TACKLIFE 4700 RPM Circular Saw
One of the least expensive saws in this review, the TACKLIFE Advanced circular saw produces good power and accuracy for the price – but can't compete with our top picks on sheer cutting power or durability.
A slightly underpowered 12.5-amp motor produces a decent 5000 RPM blade speed. This is enough for most woods and plastics but will have a hard time with any metal harder than aluminum. Slightly heavier than other models on our list, it may fatigue your hands and shoulders more quickly than its competitors.
The integrated laser guide and rip fence are surprisingly accurate, and greatly increase the speed at which you can make precise cuts while on the job. That and a double safety switch round out its features, making it a good value-priced option if our top pick is unavailable.
Pros
Available at a good price
Laser guide and rip fence are exceptionally accurate
Double safety switch prevents workplace injuries
Cons
Underpowered
Heavier design makes it difficult to use for a whole day
Not as long-lasting as more expensive models
---
10.

Makita XSS02Z Circular Saw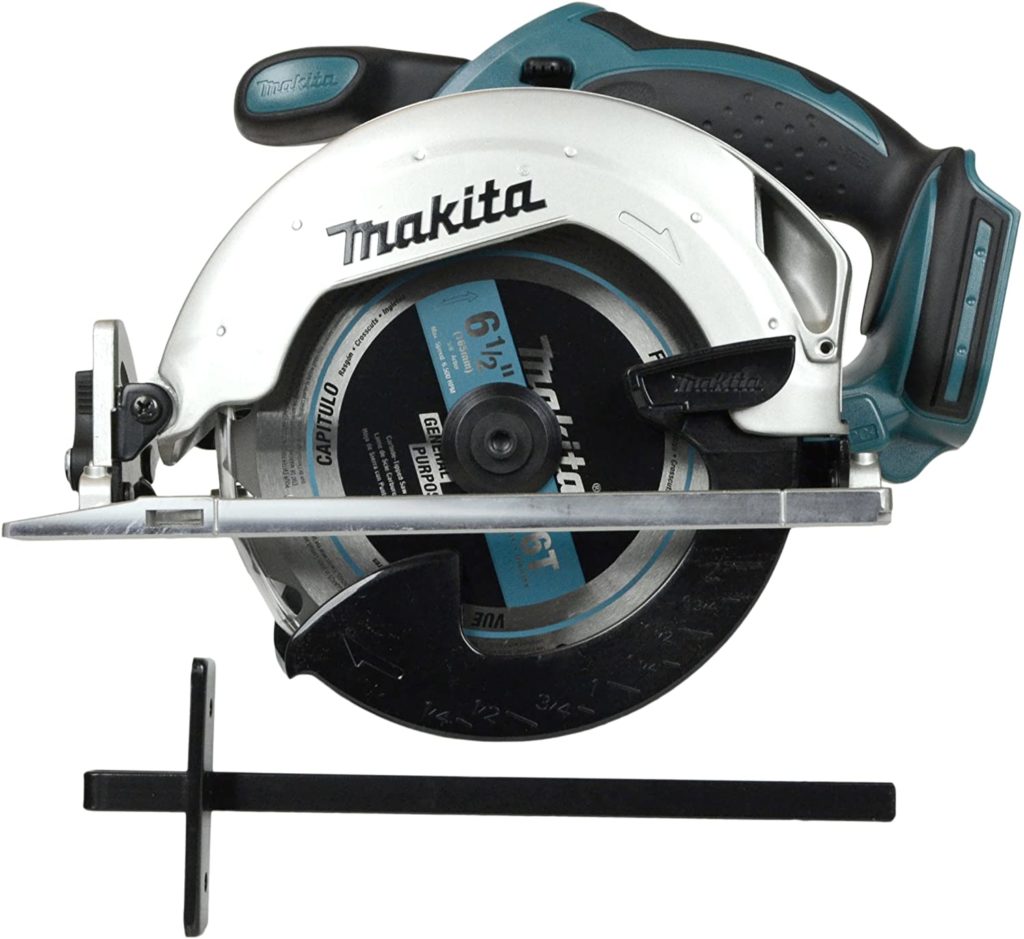 We really wanted to like the Makita XSS02Z circular saw. After all, it's one of the very few cordless circular saws you'll find on the market today. But after testing it, we're not convinced that the cordless technology is up to par for the job that circular saws like this are meant to do.
First and foremost, the Makita XSS02Z only produces 3700 RPM max power output. At more than 2000 RPM less than our top choices in the category, it has a hard time with anything outside of small home improvement projects. For the high price tag, it's just not powerful enough.
While we hoped the convenience of not needing a cord would justify the expense for this saw, it just didn't turn out that way. Since it's already starting with less power than we would have liked, the decrease in power as the battery nears dead is completely unacceptable. Bottom line: Choose a corded circular saw.
Pros
Cordless design is convenient for small projects
Cons
Expensive
Underpowered
Batteries (sold separately) are proprietary and expensive
---
Buyer's Guide: How to Find the Best Circular Saw
Because circular saws are such versatile tools, it's important to consider what sort of projects you're most likely to use them for. Are you an experienced craftsperson looking for the most powerful and durable saw around, capable of ripping hardwoods at the job site? Or perhaps you only need a saw for DIY projects around the home?
If you're not exactly sure what you might use your circular saw for, check out this video introduction to circular saws from Make: Magazine, a longtime leader in DIY projects. It explains the basics of circular saw use and safety, and is a valuable refresher even for experienced woodworkers.
No matter what sort of projects you're looking to complete with your circular saw, considering the following categories will always help lead you to the best circular saw for your needs.
Power
Choosing a circular saw with enough cutting power for your projects is an essential first step. For example, while a smaller handheld model will be perfectly fine for cutting trim and making craft projects, you'll need a more robust saw to cut hardwood boards to size for carpentry projects.
Power in circular saws is a result of two things: The total amperage of the motor, and the maximum power output (measured in Revolutions Per Minute, or RPM). High-end circular saws will regularly feature 15-amp motors and upwards of 5,500 RPM – enough to handle even the toughest jobs.
Weight
There's a sweet spot of weight for circular saws that can be difficult to hit. Too light, and the saw will produce more vibrations and ultimately cause more hand fatigue. Too heavy, and lugging the saw around will wear out your shoulders and arms. Our favorite circular saws weigh between 8 and 10 pounds, and can be used equally well by larger and smaller persons alike.
Safety Features
As a common substitute to a table saw's functionality, circular saws should be equipped with just as comprehensive a set of safety features as their bulkier companions. This means always choosing circular saws with durable blade guards, electric brakes, and ignition safety switches. It's always wise to invest in greater safety features, as you can't do much woodworking while you're in the hospital.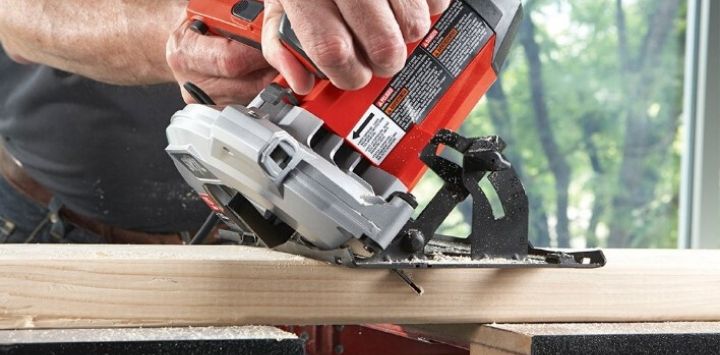 Ease of Adjustments
Circular saws are designed to be able to cut through a variety of materials: Woods both hard and soft, plastics, and metals are all viable options. And for each different material, you'll need a different blade to be able to cut it safely and accurately.
By choosing circular saws with easier adjustments, you'll save yourself a lot of time and hassle when cutting different materials. Look for saws that come with the tools to make blade changes, and avoid those with proprietary blade designs that limit your choice of blades.
Durability
Do you know what the primary difference is between more expensive power tools and their cheaper counterparts? While it's tempting to guess "power", durability is the real answer.
While a less expensive circular saw might seemingly get the job done just as well as a more expensive one, it's unlikely that the bargain product is meant to last. We look for tools with a rugged enough construction that they aren't just a purchase – they're an investment in future use.
Conclusion:
After thoroughly considering each of our reviews, we are confident in recommending the DEWALT DWE575SB Circular Saw as our #1 choice. Its combination of power, durability, and lightweight efficiency make it stand out as the most versatile saw on our list.
For anyone on a tighter budget, the SKIL 5280-01 Circular Saw is a fantastic second choice. While not as precise in its cuts as many other saws we reviewed, it still does a fantastic job of ripping and cutting boards to length.
Thank you for taking the time to read our guide to the best circular saws of the year! Armed with your newfound knowledge of what makes for a great circular saw, you're now fully prepared to choose the perfect circular saw for your home workshop.
Related posts: