Best Budget Circular Saws under $100 – Top Picks & Reviews 2023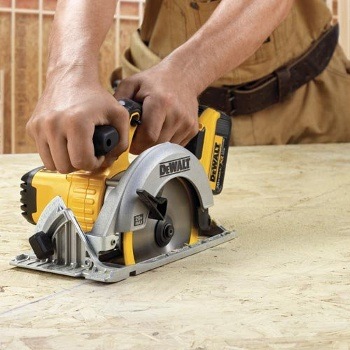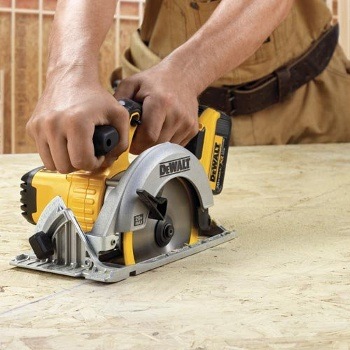 Do you know everything there is to know about carpentry except how to set up your own workshop? Are you a DIY master, but only after going to all your friends and begging to borrow their tools?
It's not fun to talk about, but it's a fact: price can be a major barrier to entry in woodworking. A circular saw is a bread-and-butter tool that anchors every workbench, but talented crafters have to go without one every day because they can't scare up the money for an overpriced product.
We want our reviews to help with that. We've collected our favorite circular saws that cost less than $100, in order to prove that you don't have to blow your budget on saw that'll last.
---
A Quick Summary of Our Favorites in 2023
| Rating | Image | Product | Details | |
| --- | --- | --- | --- | --- |
| Best Overall | | DeWalt DCS391B Circular Saw | Comfortable to hold,Ridiculously powerful,Strong yet light | CHECK PRICE |
| | | SKIL 5280-01 Budget Circular Saw | Powerful cuts,Deep blade,Laser guide and wrench storage included | CHECK PRICE |
| Best Value | | Porter-Cable PCE300 Circular Saw | Lasts a long time,Easy to stabilize,Cuts line up well | CHECK PRICE |
| | | Black+Decker BDECS300C Circular-Saw | Powerful motor,Easy to replace blade,Budget price | CHECK PRICE |
| | | Ryobi One+ P505 Budget Circular Saw | Low price,Straight cuts,Easy to hold | CHECK PRICE |
The 5 Best Budget Circular Saws:
1.

DeWalt DCS391B Circular Saw – Best Overall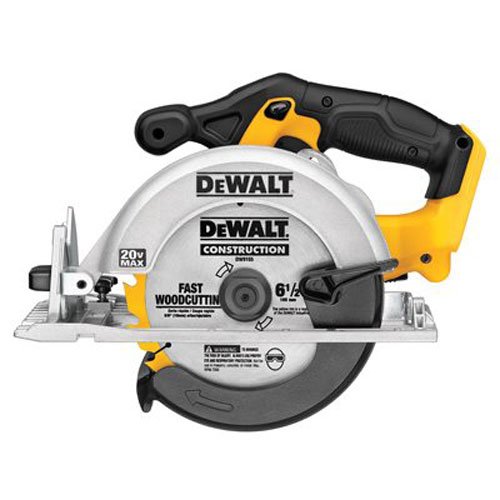 DeWalt is a brand that consistently outperforms in our tests, so we weren't surprised to see them on top of this list once again. Their DCS391B circular saw boasts a motor capable of 5,150 RPM, a bevel capacity from 0 to 50 degrees, and lightweight construction that makes it easy to balance and hold steady.
Need more convincing? In tests, this saw sliced through plywood and 2x4s with ease. We never had trouble holding a line due to the comfortable grip and loved how the extra depth made it easy to cut in tight spots. Then there's the longevity: no matter what sort of abuse you put it through, this thing runs for a long time.
The one complaint we do have relates to the power source and the price. For under $100, you can only get the corded version — the battery and charging kit end up costing about twice as much. This makes the DeWalt DCS391B less of a budget option than it seems at first, but everything else is so good, we thought it was worthwhile even if you have to plug it in.
All in all, we think that this is the best budget circular saw of this year.
Pros
Comfortable to hold
Ridiculously powerful
Deep enough for sub-floor cutting
Strong yet light
Cons
Battery and charger are overpriced
Doesn't come with spare blades or a carry case
---
2.

SKIL 5280-01 Budget Circular Saw
The SKIL 5280-01 circular saw has a deep 7½-inch blade and a 15-amp motor capable of 5,300 RPM while unloaded. Since it weighs in at just under 7 pounds, you can use it all day without feeling fatigued. We also really like the dust blower that keeps the blade's path free of sawdust and waste.
This saw has features we usually don't see on products under $200, like a laser guide, onboard wrench storage, and the power to bevel from 0 to 51 degrees. It backs up all these perks with power, slicing cleanly through pressure-treated lumber — and does all this while costing a fraction of our #1 pick.
The catch is adjustability. The depth on the DeWalt DCS391B is a cinch to change, but on the SKIL 5280-01, the adjustment handle is low-quality and often outright doesn't work. The motor also isn't up to snuff: it's powerful, but it cuts in and out when running for more than 10 minutes without a rest. This saw is a sprinter, not a marathoner. Despite this, we still think this is the best budget circular saw we have reviewed this year.
Pros
Powerful cuts
Deep blade
Easy to afford
Laser guide and wrench storage included
Cons
Depth is hard to adjust
Motor sometimes cuts out
---
3.

Porter-Cable PCE300 Circular Saw – Best Value
For a price this good, you'd expect the Porter-Cable PCE300 to be a shoddily-made circular saw that you'd throw out after a couple of projects. But for such a low price, this saw has incredible staying power. Based on what we observed, you could remodel an entire house using this, and it would still keep on spinning (at 5,500 RPM unloaded!).
The PCE300 is the best circular saw for the money that we've found so far. It's a little heavy at 9½ pounds, but the steel shoe and the guides mean it isn't hard to keep stable. Price and durability are its main selling points, but it's no slouch in the power department — it doesn't just make cuts cleanly but lines them up accurately as well.
Any drawbacks? This saw is uncomfortably difficult to switch on and sometimes fails to turn on at all, requiring you to jiggle the switch to get it going. We also saw some worrying signs of wear in the steel shoe after only a few tests.
Pros
Budget price
Lasts a long time
Easy to stabilize
Cuts line up well
Cons
Heavy
Steel shoe isn't as durable as the rest of it
Power switch often sticks
---
4.

Black+Decker BDECS300C Circular-Saw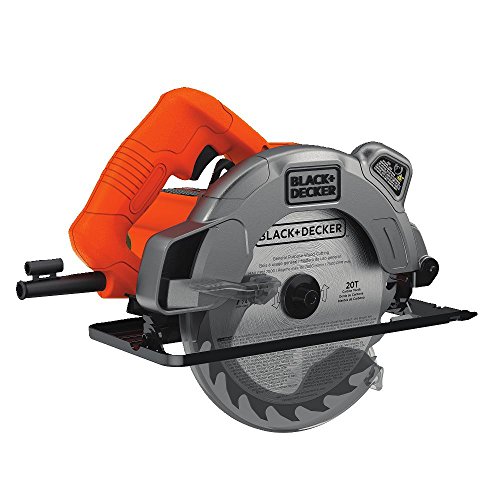 The Black and Decker BDECS300C is a solid saw for general-purpose woodworking. It comes with either an 18-tooth or 24-tooth blade, and if you buy it with both, they're easy to change out using a spindle lock. It's not available cordless, but it offsets that inconvenience with bonuses like a laser guide and included wrench, not to mention a long warranty.
When using the B&D BDECS300C, we found the laser sight did a fine job of keeping us on our pencil marks, and the blade cut through 2x4s without any trouble in every direction. We didn't have trouble with the included blade, but we've heard from others who have, so we'd advise replacing it.
Other things to note if you choose this saw: pay extra attention to safety. While most of it is well-constructed, the plastic guard over the blade is way thinner than some of the plastic we used the blade to cut through. There's also no guard on the trigger at all.
Pros
Powerful motor
Budget price
Easy to replace blade
Good warranty
Cons
Corded power only
Weak safety features
Included blade is low-quality
---
5.

Ryobi One+ P505 Budget Circular Saw
The Ryobi One+ P505 is a cordless circular saw you can get for an economical price. While it is on the bottom of our list — for reasons we'll get to in a moment — it's by no means low-quality. With a rubber grip and extra side handle, you can hold it steady no matter where you're using it, and it cuts straight without demanding any extra alignment features.
What we don't like is that the rechargeable 18V battery and charger are sold separately, which can take a toll on the average budget. Ryobi's batteries are good-quality, however, and hold their charge for a whole day.
Beyond that, the P505 just doesn't go as far as the other saws on this list. It's not as deep, its motor isn't as powerful, and it can't cut as quickly. If you think portability is worth paying extra money for less power, this saw might work for you. If not, you're better off looking higher up the list.
Pros
Low price
Straight cuts
Easy to hold
Cons
Batteries and charger sold separately
Not very powerful
Slow
Only good for shallow cuts
---
Buyer's Guide – Choosing the Best Budget Circular Saw
Here at HealthyHandyman, we're all about helping you unlock your potential as a handyman, woodworker, and DIYer. If your budget is keeping you from reaching that potential, we want to help you get access to affordable tools so you can get to work.
That said, we'd rather see you get the right circular saw than the cheapest circular saw. You might miss out, lose money, or endanger your projects or yourself if the price is your only criterion. Check out this buyer's guide to learn about the factors other than the cost you should consider when shopping for a circular saw.
Power Source
Power saws need power. You've got two options here.
Corded: A saw that must be plugged-in to work. Corded saws are usually larger and heavier, and more capable of handling tougher material. They'll also never lose power in the middle of the job. However, if you can't reach an outlet with an extension cord, they won't work.
Cordless: These saws are often lighter and less powerful, but you can take them anywhere. If you're building in the woods, or by the side of the road, a cordless saw is your only option. They're almost always powered by rechargeable batteries, many of which can last through a whole day of work.
Mechanical Style
Once again, two choices.
Sidewinder: In these circular saws, the motor is set to the side of the blade, connected by a shaft. To know a sidewinder at a glance, look for a handle set close to the blade and a little above. Sidewinders are lighter and more compact, and easier to hold over a long day's work.
Worm Drive: The motor on a worm drive saw sits behind the blade, connected by gears. Look for a handle set farther back, just behind a visible motor. Worm drive saws are heavier — the pros prefer them for tougher jobs that require more torque, like cutting wet lumber, ripping logs, and sawing through concrete.
Power Rating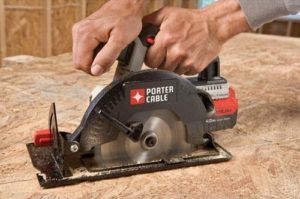 Corded circular saws measure their power in amps, while cordless saws give power ratings in volts. While power is important for measuring what a saw will be able to cut, it's not a great metric for making decisions, since almost all saws these days have the same power rating.
Corded saws: 15A
Cordless saws: 18V or 20V
Power rating is useful in only one way: if you see either kind of saw rated less than this, don't buy it.
Blade
Like the power rating, the blade on a circular saw is less important than it seems. It's the most detachable component of the whole tool, so if you don't like the factory blade, it's a piece of cake to replace it.
Instead of judging circular saws by their blades, look for how easy it is to change the blade out. Saws with spindle locks, like the Black & Decker BDECS300C, make blade replacements simple. When shopping for a replacement, pick a carbide-tipped blade with at least 18 teeth.
Shoe
The shoe holds the circular saw steady against the surface it's cutting through. Its main job is to stay put. Look for one that's well-positioned, won't move, and is made of strong material. Steel is traditional, but cast magnesium is more durable — and definitely worth springing for.
Safety Features
The most important safety features to look for on a circular saw are the trigger safety, which prevents the saw from starting if it isn't active, and the guard, which covers up as much of the blade as possible. Trigger safeties should be positioned so you can release them and squeeze the trigger in a single motion. Guards should be thick enough not to break if struck or dropped.
No amount of built-in safety can substitute for common sense. Always wear hand and eye protection, and pay attention to what you're doing.
Adjustments
Two features might be adjustable on circular saws: depth and bevel angle.
Depth indicates what thickness of material the saw can cut through. 5½ inches through 7¼ inches is the usual range.
Bevel angle determines how much the shoe is able to tilt for bevel cuts. Most adjustable-bevel saws will range from 0 to 50 degrees. 
Comfort
This is often overlooked, but after five hours of cutting, we guarantee you won't be thinking of anything else. It's mostly dependent on the saw's weight and handle ergonomics.
Weight: You'll want this to be proportional to your own weight. If you're 100 pounds wet, you won't be able to wield a 16-pound worm drive saw for long. Likewise, if you're 220 pounds of muscle, you'll get pretty impatient with a 7-pound sidewinder.
Handle: Make sure it's pliable without being flimsy and conforms to your hand.
---
Conclusion:
The battle for the title of best circular saw under $100 was fierce between the DeWalt DCS391B and the SKIL 5280-01. Ultimately, the DeWalt won out. As hard as we looked, we simply couldn't find any flaws with the saw itself: our only real problem with it was how much more money you have to shell out to go cordless.
Both these saws are powerful, fast, user-friendly, durable, and safe. The Skil only fell slightly short because of some issues with its depth adjustment and motor, though we'll point out that it's much cheaper.
If you like acquiring products that provide the best value for money, we would strongly recommend you to opt for the Porter-Cable PCE300. The circular saw boasts of all the features you would find in a high-end model.
In these reviews, we've done our best to introduce you to the wide range of budget circular saws at your fingertips. Money should never limit what you can do in your workshop – only your dedication and imagination.
You may also be interested in reading our popular compact circular saw buying guide.
Related Reads: