8 Clever and Creative Book Organization Ideas For Your Home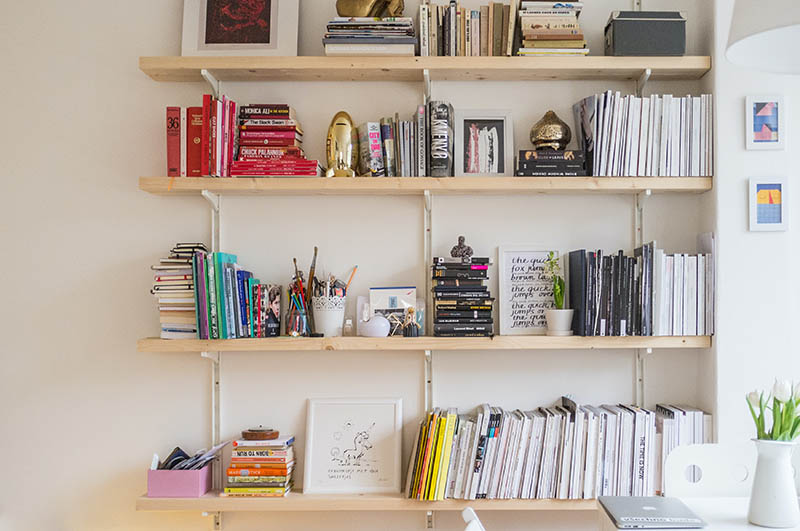 As all bookworms know, it's only a matter of time before books start to take over the house. But the last thing that you want to do is get rid of your books!
You want a way to organize them without making the entire home look like an overrun library. Making your books seem like an integrated part of your home, instead of an additional afterthought is no mean feat. So, highlighted here are eight different ideas for you to try, ranging from complex to easy that will have the books in your home looking amazing for years to come.

The 8 Book Organization Ideas You Can Use Today!
1.

Around the Door Frame Bookshelf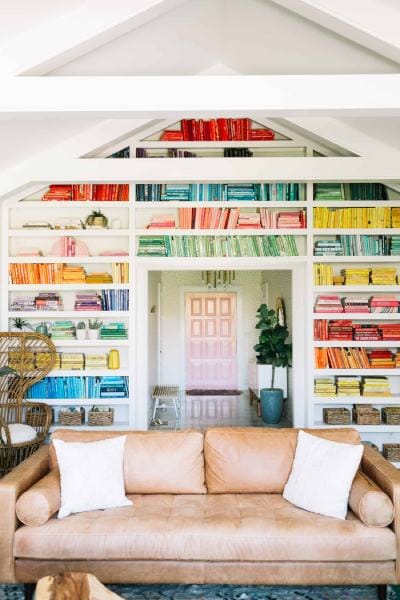 | | |
| --- | --- |
| Materials: | Shelving |
| Tools: | Home carpentry tools |
| Difficulty Level: | Challenging |
This is a stunning bookshelf design that completely transforms a room and gives you space for hundreds of books. While the original creator used a rainbow-style design for extra pop to the room, you can use whatever books you want.
Still, since this is going to be such a signature piece in the room, we recommend having some kind of design in mind so it doesn't overwhelm the rest of the room.
Finally, keep in mind that the books on the upper shelves won't be easy to reach. You'll need a ladder or something similar, and we recommend only putting books up there that you don't read that much.
---
2.

Cabinet Bookshelves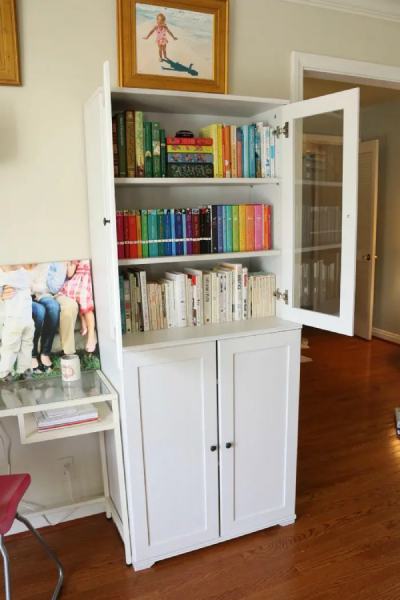 | | |
| --- | --- |
| Materials: | Cabinets |
| Tools: | None |
| Difficulty Level: | Easy |
For an easier project, we suggest cabinet bookshelves. This is clearly not the initial intended use for these cabinets, but they look outstanding repurposed this way.
Keep in mind that while you might not have these exact cabinets in your home, the overall design works for many different cabinets. We recommend trying to find ones with glass doors so you can see the books, but it's not a deal breaker.
You can also consider replacing solid doors with a glass pane, so you can more closely mimic the original design.
---
3.

Hallway Bookshelves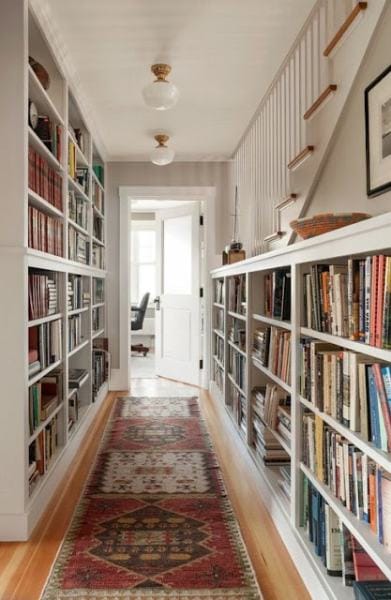 | | |
| --- | --- |
| Materials: | Cabinets or Ikea shelves |
| Tools: | None |
| Difficulty Level: | Easy |
If your home has long open hallways, this is a great way to use that space while finding space for your books. If you already have narrow cabinets there, you can repurpose them as bookshelves, or you can buy a few at a store like Ikea.
However, before you dive headfirst into this idea, consider the dimensions of your hallway. You still need to have enough space to walk through it. You might only have enough room for a bookshelf on one side of the hallway.
---
4.

The Closet Bookshelf/Reading Room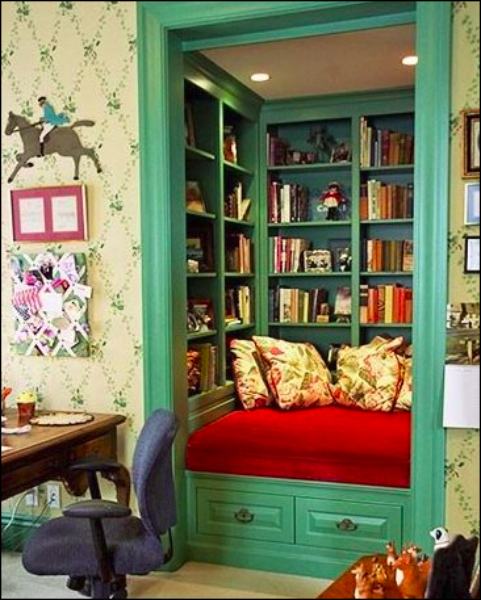 | | |
| --- | --- |
| Materials: | Paint, shelves, and seats |
| Tools: | Screwdriver and a drill |
| Difficulty Level: | Moderate |
Do you have a closet in your home that you're not currently using? If so, this cute closet bookshelf/reading room is the perfect solution to your book overflow. Not only will you unlock space for hundreds of books, but you will also get a great place to read them!
All you need to turn this closet bookshelf into reality is paint, shelves, and cushions for a seat, but the great thing about this design is you can take it as far as you want! You can keep it simple, or you can put in extra work to turn it into a full reading oasis.
---
5.

The Ladder Bookshelf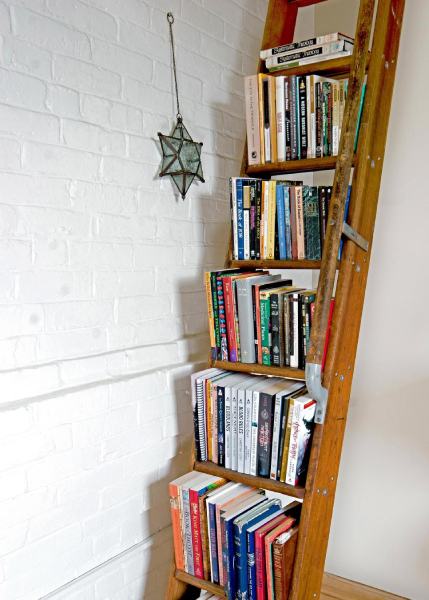 | | |
| --- | --- |
| Materials: | Wooden ladder, backing boards, and nails |
| Tools: | Hammer |
| Difficulty Level: | Easy |
Do you have an old wooden ladder somewhere? If so, this ladder bookshelf is a great way to make use of it. While the original design doesn't mention putting backing boards behind the books, we highly recommend it so they don't fall through and out the other side.
If you make use of all available space, you should be able to put between 50 and 100 books on all the different steps of the ladder. This frees up a ton of storage space in other areas and gives you a great décor piece!
---
6.

Around the Top of the Stairs
| | |
| --- | --- |
| Materials: | None |
| Tools: | None |
| Difficulty Level: | Easy |
The great thing about this idea is that if you already have a staircase setup like this, you don't need to do anything to start using it as a book storage area. As this great design shows, it can look great at the same time!
Just take the time to set up the books properly, and keep in mind that if you're on the shorter side of things, you won't have easy access to all the books when you set them up. But if they're extra books that you just don't want to get rid of, this is a great way to store them somewhere out of the way, and it still looks great!
---
7.

Under the Bench/Shelf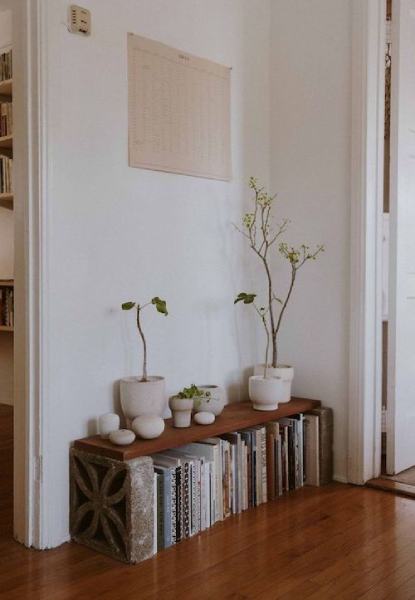 | | |
| --- | --- |
| Materials: | Two paving stones and a wooden shelf |
| Tools: | None |
| Difficulty Level: | Easy |
If you have the right décor in your room already, this design is the perfect way to store books! Take a look around your home, and see if you have smaller shelves or décor with space underneath to put a few books.
If not, you can always make your own without spending much money. Get two large paving stones with a cute design and a finished piece of wood that you can use as a shelf. Then, simply find the perfect location.
Put a few books underneath the shelf and décor on top, or double up with bookends by putting books both on top and below it!
---
8.

The Bookshelf Cart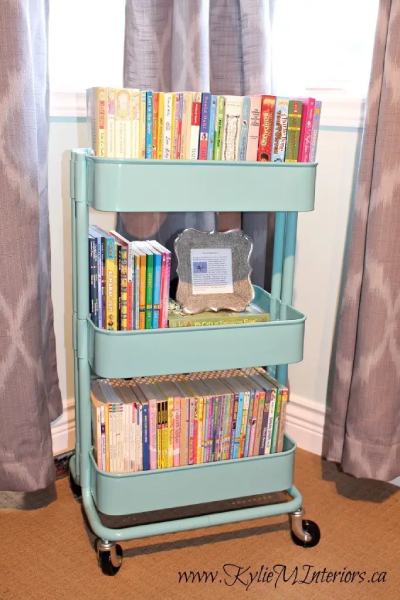 | | |
| --- | --- |
| Materials: | Cart |
| Tools: | None |
| Difficulty Level: | Easy |
This isn't so much a DIY project as a way to repurpose something that you might already have. These cute carts work as a great mobile bookshelf for many books.
We love the idea for a kid's room, but with the right colors and design, you can work it into other types of décor too.
With multi-shelf carts, you put books on one or two shelves and use the other shelf for something else entirely. Get creative with it, and free up storage space around your home!

Final Thoughts
Being a book lover is an incredible thing, but with that comes a large number of books that can sometimes overrun your house. Don't settle for getting rid of your books without an honest attempt to organize and store things in a creative way. These ideas will allow your books to flourish, not just be stored in the back of some cupboard, never to see the light of day again. If you've tried these creative ways of organizing your books, and there are still too many to count, then you might indeed find that it's best to donate some of your books so someone else can read them!
---
Featured Image Credit: Vladimir Morky, Unsplash