Bosch JS470E Jigsaw Review 2023: Pros, Cons, & Verdict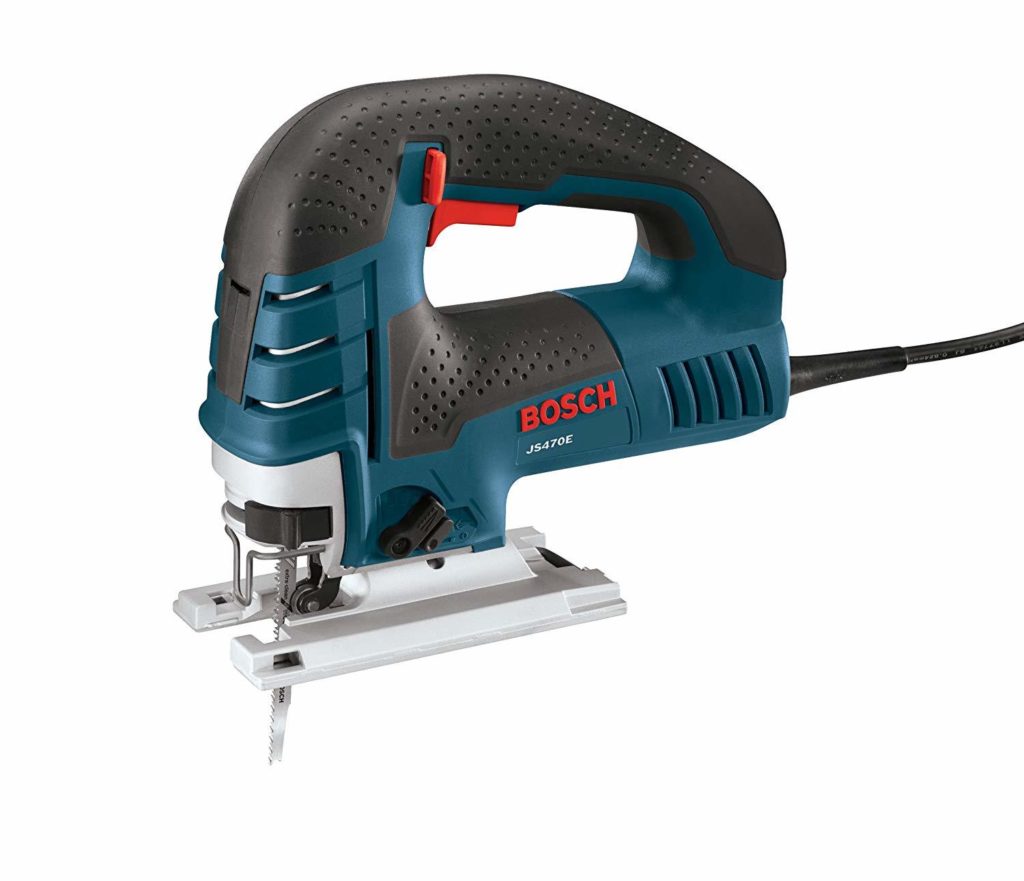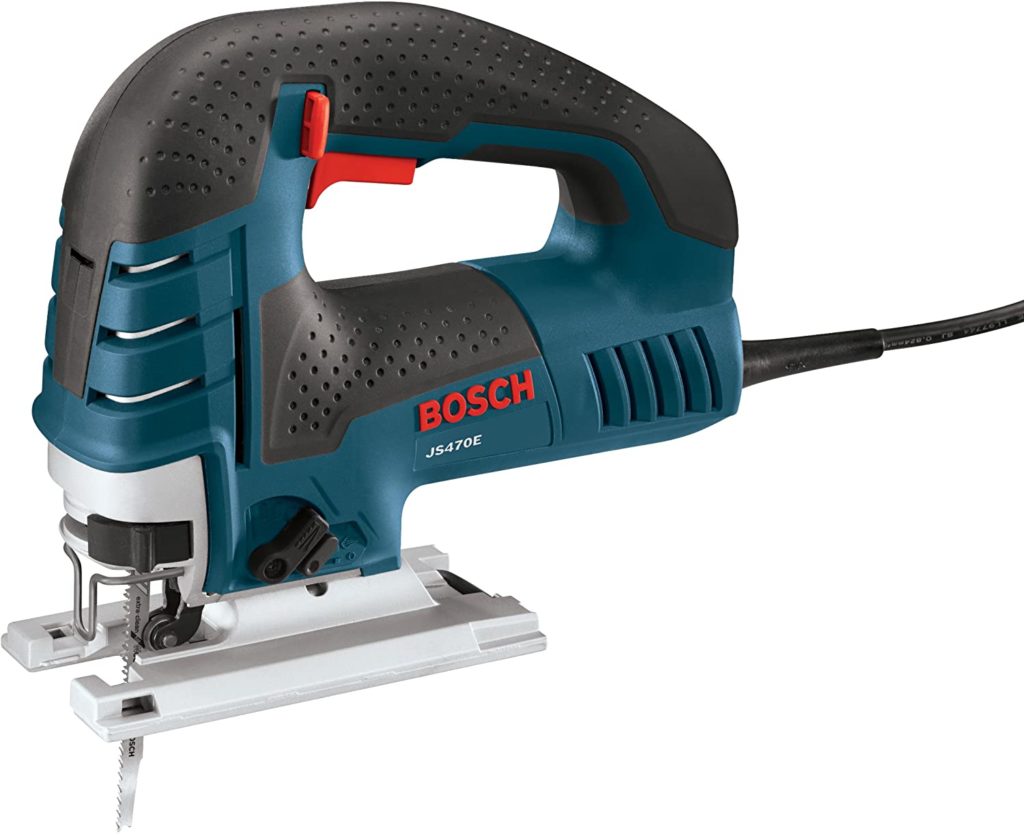 We give the Bosch JS470E Jigsaw a rating of 4.7 out of 5 stars. 
Build Quality: 4.7/5
Power: 4.7/5
Design: 4.7/5
Features: 4.5/5
Price: 4.7/5
Review Summary
Bosch is known for creating durable and powerful tools for construction and other heavy-duty manual industries. Still, Bosch comes out with tools that are affordable and easy enough to use for hobbyists too. One such tool is the Bosch JS470E.
The JS470E is a jigsaw that offers impressive power, speed, comfortability, and durability, yet its price is tough to beat, especially considering the overall impressiveness of the model. Though the JS470E could use a few extra design features, this jigsaw is one that leaves almost all users, including us, impressed.
Like other Bosch products, the JS470E is highly powerful. With a 7-amp motor, it can cut through just about anything. The variable speed also ensures precision at the same time, while the design is lightweight and virtually vibration-free.
With this in mind, the Bosch JS470E is a great jigsaw for more serious users. Still, you will be pleased with this tool even if you are beginner. For a more comprehensive view of this jigsaw, read on.
---
Bosch JS470E – A Quick Look
Pros
Easy to use
7-amp motor
Highly powerful
Variable speed and pressure-sensitive trigger
Low vibration
Tool-less blade changes
Highly durable
Affordable
Cons
Does not accept U-shank blades
Does not come with LED lights
Does not come with a laser
Specifications
Specifications
Manufacturer: Bosch
Model: JS470E
Style: Handle jigsaw
Dimensions: 8.43 x 14 x 4 inches (H x L x W)
Weight: 5.6 lbs.
Power Source: corded-electric
Motor Size: 7 amp
Voltage: 120 volts
SPM: 500 to 3,1000
Measurement System: metric
Warranty: 30-day money back guarantee and 1-year warranty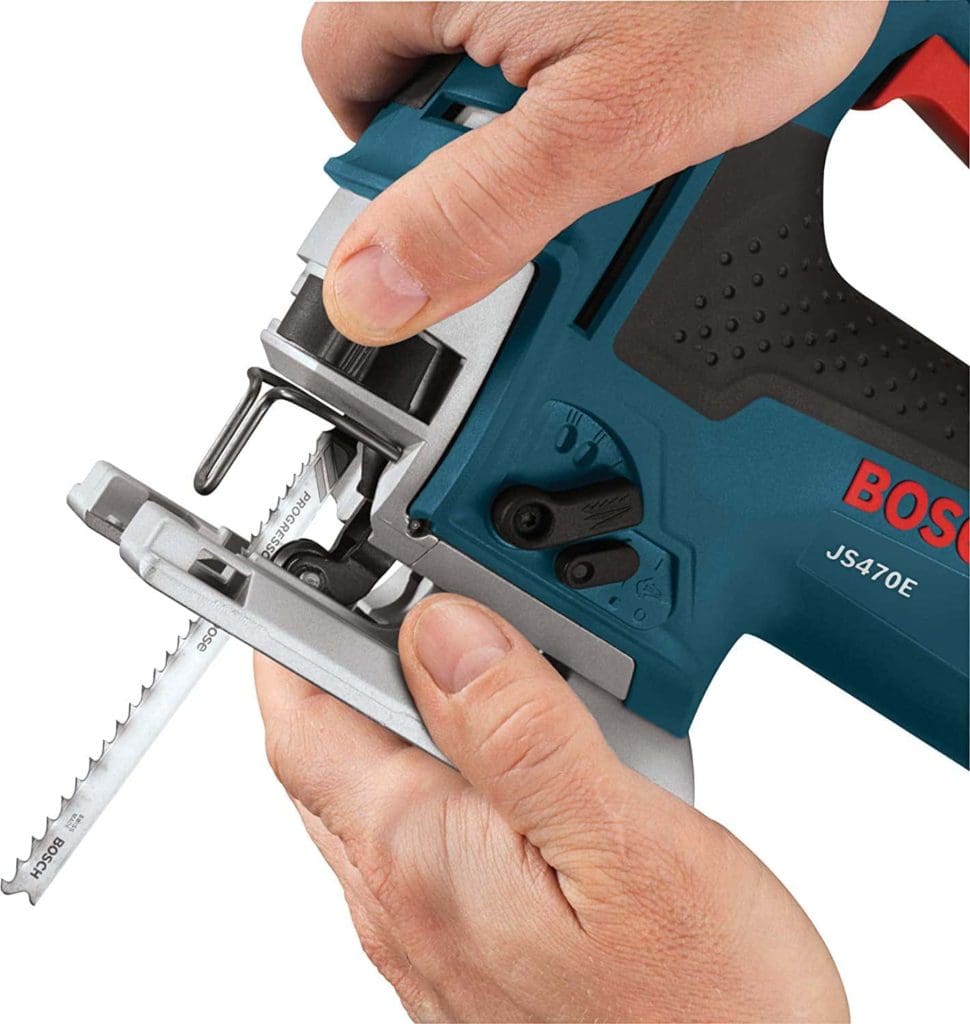 Power and Speed
Like other Bosch products, the JS470E offers impressive power that suits professional use. Powered with a 7-amp motor and 120 volts, this jigsaw is one of the most powerful options for its price. The power also withstands a lot of use, meaning that you can use this tool for long periods of time without sacrificing power.
At the same time, the JS470E won't be too powerful for some jobs. It comes with a pressure-sensitive trigger. This trigger allows the speed to adjust to the pressure being applied. This means that this tool is both powerful enough for tough jobs but gentle enough for light jobs.
Speaking of speed, this Bosch jigsaw comes with a dual set of maximum speed, ranging from 0 to 500 SPM and 0 to 3,100 SPM. This dual speed option ensures that the JS470E can cut through any material with accuracy and precision. You control the speed with a variable speed dial on the tool. You don't have to worry about accidently changing the speed either because the dial comes with an ambidextrous lock!
For further precision, the JS470E starts out at a low speed but then quickens to the desired speed. This allows the model to be highly consistent and precise for any job. The feature also makes the tool easier to use since you don't have to worry about the tool jumping out of your hand from the power.
---
Design
Even though the JS470E is highly powerful, Bosch did not skimp on the design. This model is designed so that you can use the tool easily and comfortably, despite its high power. For this reason, professionals and amateurs alike will enjoy using this model.
While holding the JS470E, you shouldn't have any issues with grip or slipping. The handle is very stable, and it features a rubber grip that makes it easy to hold the model while in use. The handle is even designed so that you can hold the tool at any angle comfortably. As a result, you can make any cut without straining your hand or wrist too much.
Additionally, the JS470E is designed with ease of use in mind. It comes with a tool-less blade ejector. This ejector allows you to push out blades by just pushing a button. Obviously, this makes changing the blades easier, but it also makes the process safer.
One area that the JS470E may be lacking is in specialized design features, though. For example, it doesn't come with LED lights. Though these lights are not necessary for the function of the jigsaw, they would be convenient if cutting in dimly lit areas. The tool doesn't come with a laser either.
This jigsaw also doesn't accept U-shank blades. Though many people won't ever need this sort of blade, this design aspect can be a huge drawback if that's the sort of blades you prefer and use regularly.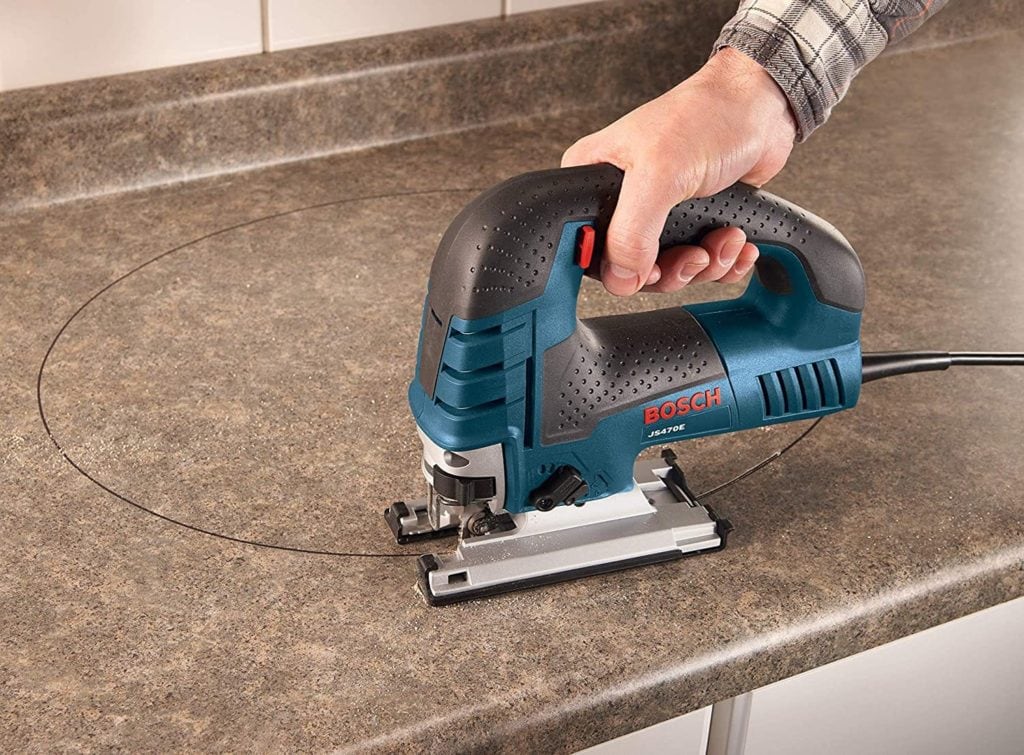 ---
Durability
Power tools are expensive and receive a lot of wear and tear. That is why you really need to consider the durability of any power tool you buy. If it isn't durable, you will quickly need to buy a new model, wasting your time and money.
The Bosch JS470E is highly durable, luckily. Since Bosch often focusses on construction tools, they know how to make a durable tool. The JS470E is durable because it uses heavy-duty plastic, metal, and rubber, allowing the tool to withstand all its use.
---
Price
Given the power, comfortability, and durability of this model, you would think that it would be expensive. On the contrary, this Bosch was designed to be as affordable as possible. For this fact, the JS470E is easily the most affordable jigsaw of its caliber.

FAQ
What is the warranty like on this model?
The JS470E comes with a 30-day money back guarantee in the case that you don't like the model. It also comes with a 1-year warranty that covers breakage and faults on behalf of manufacturing errors. This is a relatively good warranty, especially considering the price of the tool.
Does the tool come with a blower?
Yes, the JS470E comes with a blower. This allows the tool to clear away any dust produced by the jigsaw cutting through materials. You will not be able to turn off the blower because the tool only has one on/off switch for all functions.
Does the JS470E come with a case?
Yes, this jigsaw comes with a hard plastic case for storage.
What the Users Say
We looked online to compare our experience with the JS470E to that of others. As expected, most users were pleased with the tool, though some noted possible design improvements. Here's a closer look at what we found:
Benefits
Users were impressed with the power of the JS470E. Several users noted that this jigsaw can cut through just about any material with ease, making it "worth every penny." It was noted that this jigsaw is better than Black + Decker and Ryobi counterparts.
The precision was noted a lot. Users found that this jigsaw was able to stay on line, creating cuts that were perfect and smooth. Many reviews noted that the lack of vibration aided with the precision. Given the speed options, this is a benefit we anticipated from users.
Users were also pleased with the price. Several reviews detailed how this jigsaw was more affordable than more professional jigsaws, yet it performed just as well. Users noted that the model has the durability of more expensive models, too.
Drawbacks
There were very few negative reviews for the JS470E. Most of the drawbacks were mentioned on overall positive reviews. Like with our own findings, users wished that this jigsaw came with LED lights, though the lights didn't impact the usability that much.
Additionally, a few users wished that the model came with a laser to get ultra-precision. Though we can see how a laser would help in commercial contexts, we thought that the JS470E was precise enough for most users without a laser. Still, some users wanted a laser.

Conclusion
The Bosch JS470E is a highly affordable, powerful, comfortable, and durable jigsaw. It is one of those rare tools that can be used by both hobbyists and professionals alike. With the exception of some minor feature drawbacks, the JS470E is nearly perfect, making it a great go-to jigsaw for those who want a powerful tool on a budget.