Bosch JS365 Jigsaw Review 2023 – Pros, Cons, & Verdict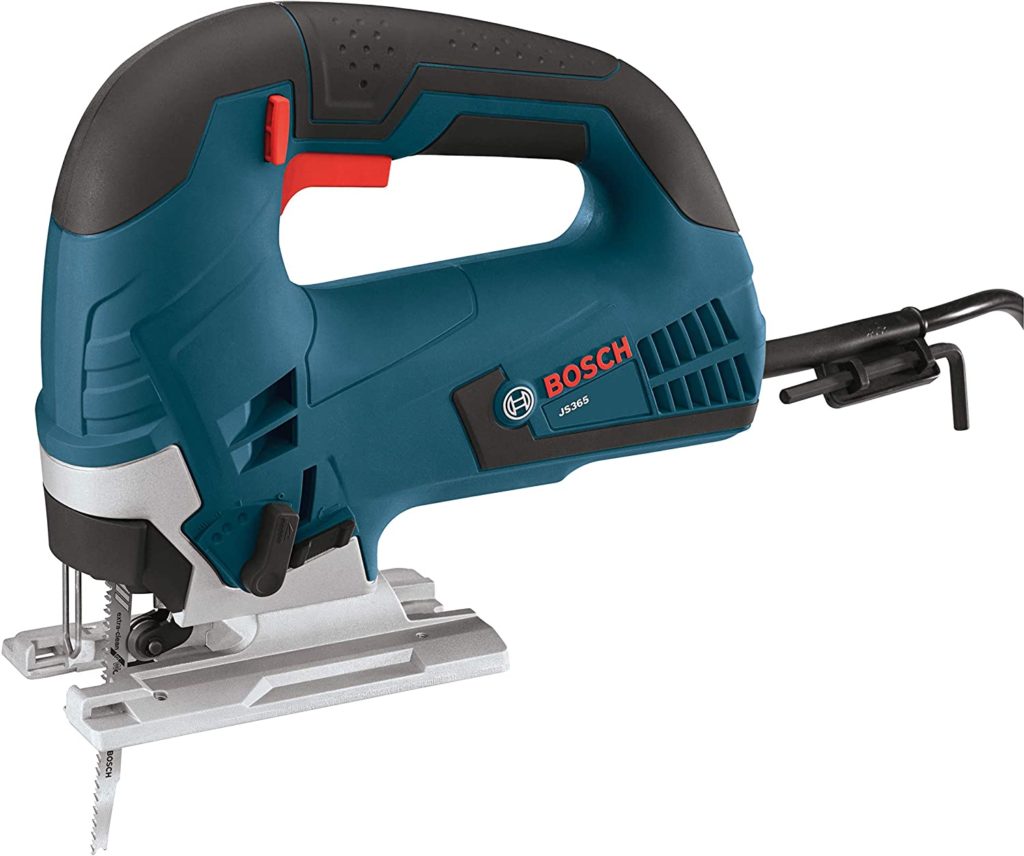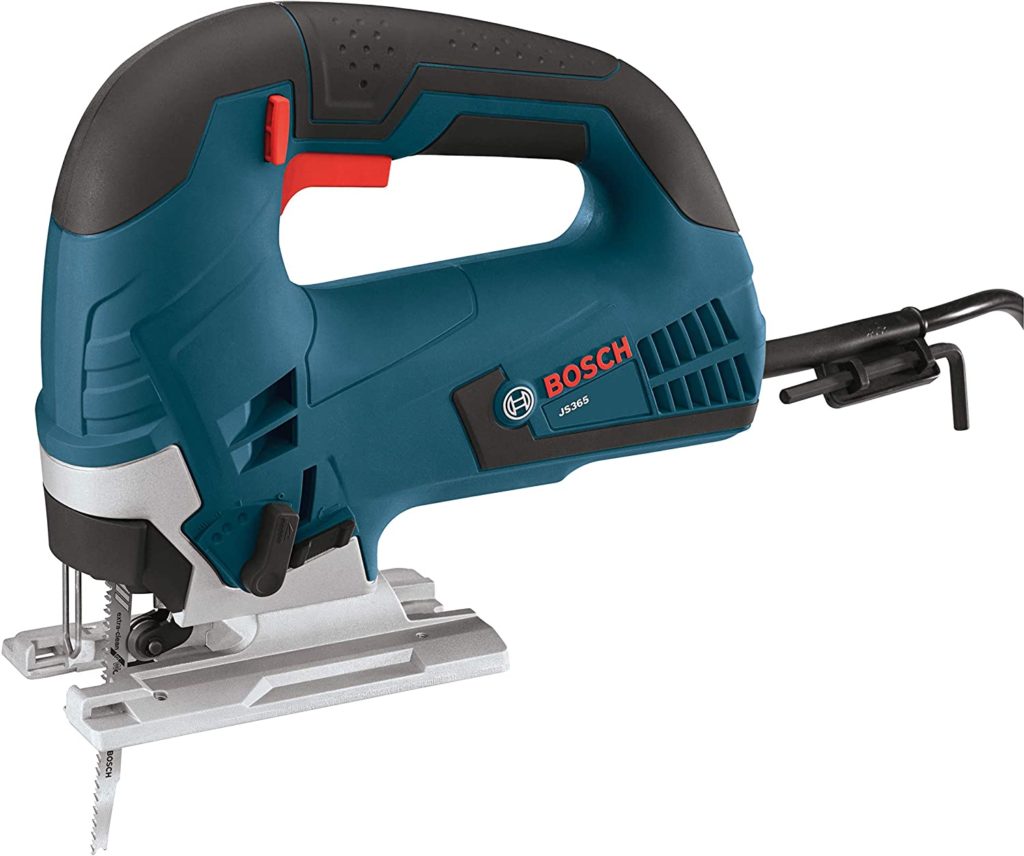 We give the Bosch JS365 Jigsaw a rating of 4.6 out of 5 stars. 
Build Quality: 4.8/5
Features: 4.5/5
Price: 4.5/5
Review Summary
The Bosch JS365 Jigsaw is a powerful tool that cuts through a variety of materials like butter. It is easy to operate with many features of higher-end models. The design is very user-friendly, from the speed control to the aggressiveness of the cuts. It's almost as if it goes out of the way to give you a hand. The tool is reliable and stable, with a minimal learning curve.
The jigsaw has an ergonomic design that makes it simple to line up your cuts for greater accuracy. Changing the T-shank blades is a snap with its tool-less feature. The unit comes with some extra goodies, including a plastic overshoe, anti-splinter insert, wrench, and carrying case.
The Bosch JS365 is a mid-range model that has a decent feature set for the price. The construction is solid and is built to last.  It comes with a 1-year limited warranty.

Bosch JS365 Jigsaw – A Quick Look
Pros
Six speed dial settings
Easy to use
Ergonomic design
Well-built
Four orbital settings
Cons
No work light
Trouble with clean cuts on thicker boards
Specifications
Specifications
Brand Name: Bosch
Model: JS365
Dimensions: 10" L  x 3.5" W  x 8.1" H
Weight 5.35 lbs.
Amperage: 6.5
Soft Wood Cutting Depth: 3.5 "
Mild Steel Cutting Depth: 0.375"
Aluminum Cutting Depth: 0.875"
Max Bevel Angle: 45
Power Source: Corded electric
Dustblower Functionality: Yes
Case Type: Hard plastic
User-Friendly Operation
Bosch designed this tool with the DIYer in mind. The ergonomic handle has a comfortable hand feel with its rubberized covering. The jigsaw puts the user in control with an ambidextrous lock-on button, six-speed dial settings, and four orbital settings. Their placement makes this tool even more user-friendly. It has a two-finger trigger, which cuts down on fatigue and ramps up the comfort level.
The jigsaw has a dust blower to keeps your work area clean. It is also adjustable, which we appreciated. It has the power to make cutting easy. We only wish that it had a longer electrical cord than the 6-foot one onboard.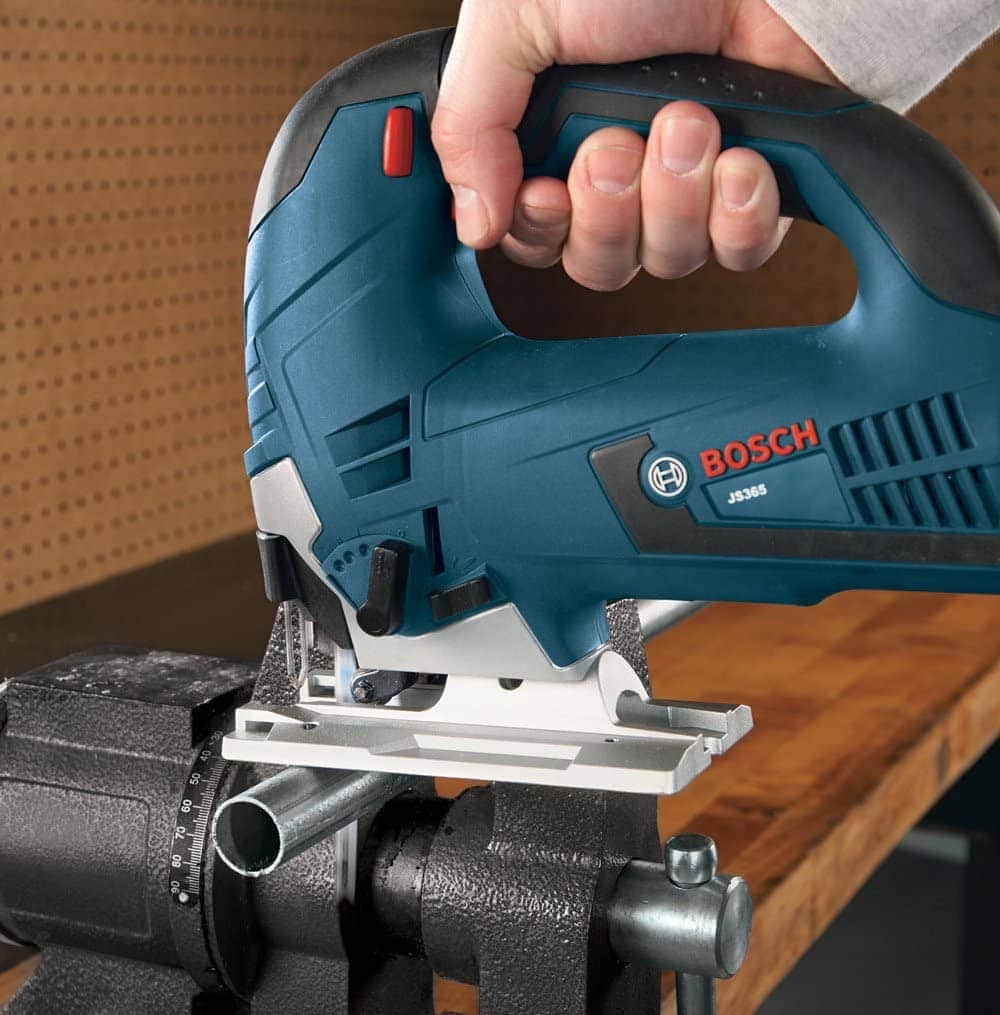 Speed and Power
The Bosch JS365 has the power to handle jobs of any size with its 6.5-amp motor. It can cut through wood, mild steel, and aluminum with no issues. The hard-plastic case is well-ventilated so that you can use the jigsaw for bigger projects and longer running times. Controlling the speed involves setting the dial to what you want and varying your pressure on the button to increase or decrease how fast it goes.
There are a few things worth noting that aren't dealbreakers but essential for this jigsaw's safe operation. First, there isn't a soft start. She's ready to go as soon as you say, well, go. The other thing is that the blade doesn't stop on a dime when you release it. It slowly winds down to a stop. Finally, the bevel angle range is decent, but there aren't markings to guide your cut.

FAQs
What Is the Difference Between U- and T-Shank Blades?
The term refers to the shape of the blade and its name. The universal or U-shank is the older of the two types. It attaches to the jigsaw using a screw to hold it in place. As you may surmise, it takes an extra tool to swap it out for a new one. On the other hand, the tang or T-shank describes both the shape and functionality of the blade since it's tool-less. Changing it is easy-peasy, often by just pushing a release.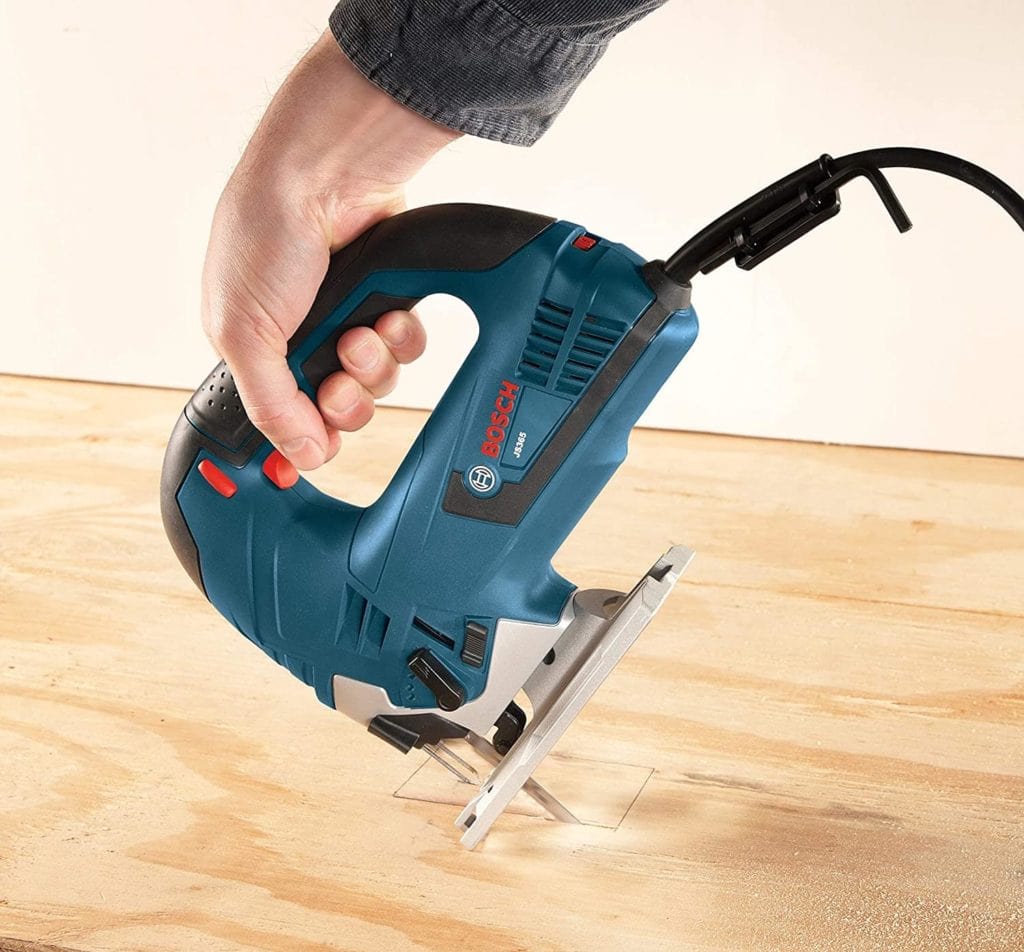 Both are available, but you'll find the T-shank most often. Each is quite capable of getting the job done. The name of the U-shank isn't a given that you can use them on any jigsaw. The T-shank makes it easier to use a tool fitted with this type. Interestingly, Bosch was the first manufacturer to develop this technology.
Are Bosch T-Shank Blades Universal?
Bosch T-shank blades will likely fit on any major brand of the jigsaw. However, it is a stretch to call them universal. We suggest sticking with the manufacturer's recommendations on the blades that are suitable for the JS365.
How Thick Can a Jigsaw Cut?
The Bosch JS365 jigsaw can cut up to 3.5 inches through softwoods like pine. It's best to dial it back to 0.75 inches for hardwoods like oak. This tool can also cut up to 0.375-inch mild steel. The term refers to materials with a low carbon content, which increases its tensile strength. The JS365 can go through aluminum up to 0.875-inch.
What the Users Say
We researched what other people's take was on the Bosch JS365 jigsaw. We found that most users shared our views that it's a high-quality product that makes it an excellent choice for the serious DIYer. It can handle almost any material you're likely to use. Therein lies its value. Many also remarked how simple it was to operate, too.
We didn't find a lot of negative feedback. The manufacturer does an outstanding job of managing quality control because we couldn't find any complaints in that department. Overall, the JS365 jigsaw is a great buy at a decent price.

Conclusion
We weren't surprised to find that the Bosch JS365 jigsaw has a loyal fan club. The company has a stellar reputation for quality in all its operations. This tool got high marks for usability, reliability, and performance. The affordable price just seals the deal.
Related Reads: