Black and Decker LSW221 Cordless Sweeper Review 2023 – Pros, Cons, & Verdict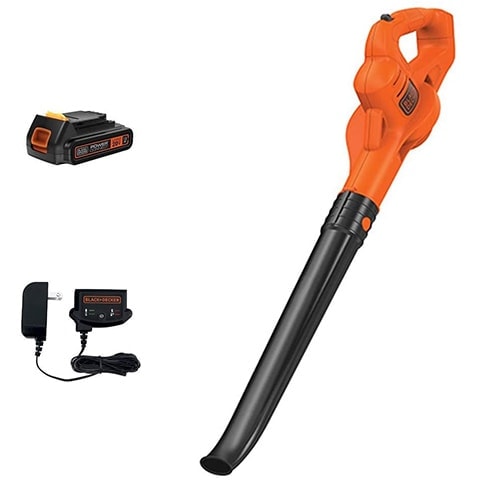 We give the Black and Decker LSW221 Cordless Sweeper a rating of 4.6 out of 5 stars. 
Build Quality: 4/5
Power: 4.5/5
Features: 4.8/5
Price: 5/5
Review Summary
For the quality you expect at a price that is always reasonable, more and more people turn to Black and Decker for many of their home needs. From kitchen implements to power tools, Black and Decker's innovators have consistently raised the bar with their comprehensive family of products.
While they cater to many needs, they are best known for their offerings in power tools and landscaping equipment. They have corded and battery-powered options for many of their devices, giving the user an excellent working efficiency, not to mention a versatility they can appreciate.
This review will cover a tool that sets them apart in the yard tool niche and is the perfect option for anyone looking for the right leaf blower for their domestic needs. It is ideal for up to a medium-sized yard and won't hurt your wallet like some models. However, if you need something with professional power, this is not the model for you.

Black and Decker LSW221 – A Quick Look
Pros
Affordable
Lightweight
Low noise
Battery-powered
Cons
Underpowered
Poor design
Short battery life
Specifications
Specifications
Company: Black and Decker
Model: LSW221
Air Velocity Rating: 130 MPH
Weight: 3.4 pounds
Power Source: Battery
Battery Type: 20V Lithium-ion (rechargeable)
Dimensions: 19.1" x 6.7" x 8.2"
Features
Lightweight
When choosing a leaf blower for use around your home exterior, weight matters to a tremendous extent. Even the simple act of blowing leaves for 20 minutes can seem like an exhausting chore if you have a leaf blower that is too heavy.
A lightweight model with a comfortable design is the best tool to have for these jobs. They take your chore and turn it into a pleasure, especially when you see the finished product.
This leaf blower weighs 3.7 pounds without the battery, 4.72 pounds with the battery, and is designed to be not only comfortable to use but versatile. While much of the build weight in most leaf blowers are in the motor, this model sacrifices some of its power to make it more user friendly.
It will leave something to be desired for leafy areas in the brush, but it more than makes up for that when used on flatter concrete areas like driveways, which is where this model truly shines.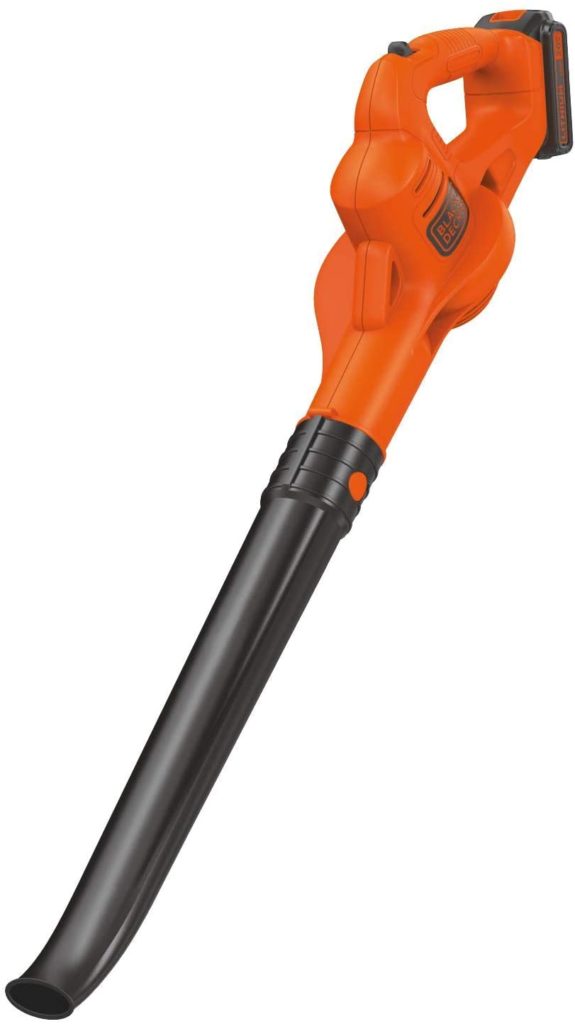 Price
Budgeting around new tools is often tricky, however, this tool doesn't have to be. One of the hallmarks of the Black and Decker brand is that no one fears sticker shock with their products, and this leaf blower is no exception.
The LSW221 is very affordable and puts other equally high-quality brand's price point to shame. With many tools, part of the price is in the brand name. Black and Decker doesn't use their brand name to gouge their loyal customers, and that is why their popularity continues to grow.
It is a more rudimentary design. Black and Decker knows you don't want flash, you want quality and efficiency, and that is what they provide in this unit.
Power
Leaf blowers are often dropped into three categories when used domestically: gas, corded, and battery-powered. Each has its perks and deficits, but both are a perfectly viable way to get the job done. However, battery power is the most widely selected choice because of its additional versatility. Not struggling with a cord is a fair trade-off to changing batteries with regularity.
It accepts a 20V Lithium-ion battery that is rechargeable for further use to power the motor on this unit. If a person has the foresight to have two batteries, one charging and one powering the unit, doing the work that needs to be done is made all the more efficient. Plus, battery swapping takes only seconds.
Along with many brands, Black and Decker has gone to a universal battery system that allows you to use their batteries in a host of Black and Decker cordless products. However, you may notice a substantial loss of battery life depending on the intensity of work being done with the tool in question.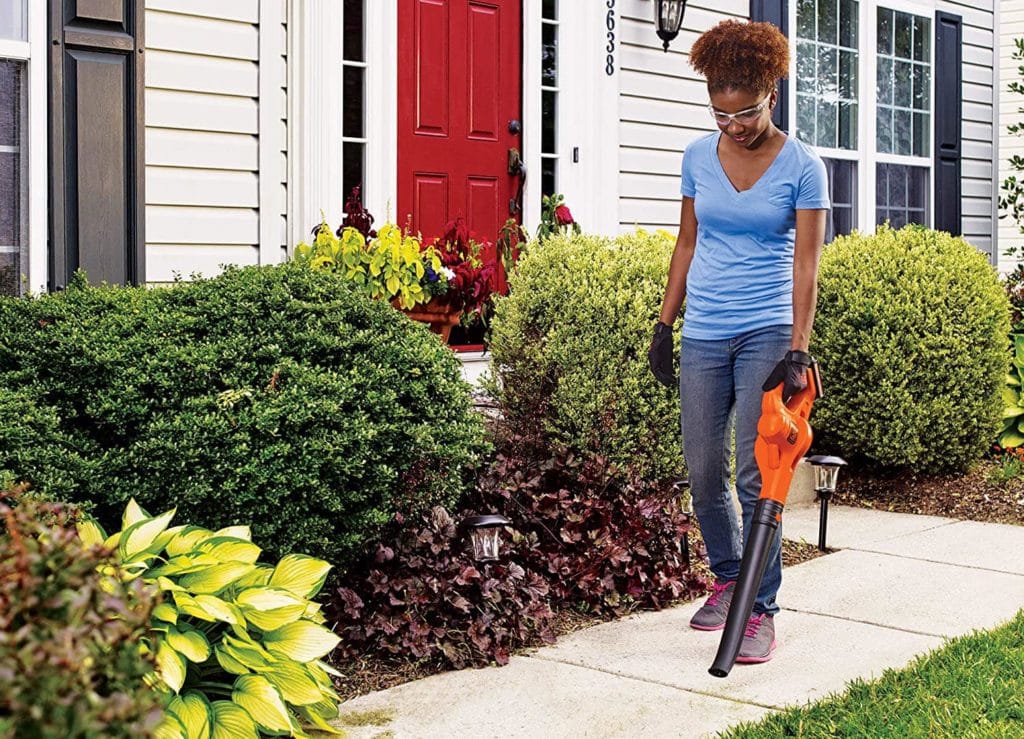 Design
Along with being lightweight, it also has various unique and helpful features in the body itself. The motor is completely enclosed, keeping stray debris from getting caught in the housing. While in operation, this feature makes it run very quietly, which your neighbors will appreciate.
And for added ease of use, it has a trigger on the ergonomic handle with a thumb lock, allowing you to adjust your hand along the handle to accommodate your need for better grip and comfort.
The blower nozzle is curved at the bottom, taking the airflow from a traditional 45° angle to being almost horizontal, which makes blowing leaves on hard surfaces much easier to control.

FAQ
Is the unit noisy?
With its enclosed motor housing, it is substantially quieter than many of its competitors. All leaf blowers make some noise, but this one won't make you a pariah when you need to clear a deck or driveway.
Does it mulch or vacuum?
Not at all. It is only designed to blow leaves.
How long will I have to wait for the battery to recharge?
From completely drained, it takes about 3 hours, often less. But saying exactly how long is a sum of many variables. Does it have any residual charge? Has it been used recently, and how much was left? How old is the battery? Many factors play a hand in answering this question.
Having two batteries on hand, one charging and one in use, will take this problem off your mind and save you the trouble.
What Users Say
Owners and operators of this model are mixed in their opinions, but most are adamant that they love how it works and appreciate some of the more unique features, such as the angled nozzle mouth.
Most users have kept their expectations manageable and use it for precisely what it is intended for, specifically domestic uses on hard, flat surfaces.
If they purchased this model with thoughts of industrial or professional applications, they came up a little short and gave it lower reviews.
Most users laud it as a triumph. And the universal battery feature is a welcome change to the older days of many batteries between many tools.
Although, there are plenty of users that are not satisfied with the power and battery life. They see this as a slight and are less than enthusiastic about the battery's long charge time after only 15-20 minutes of sustained use.
Overall, most users enjoy the product and thank Black and Decker for providing it.

Conclusion
For the Black and Decker legacy of quality and value, the LWS221 is a poster child for the brand. It is not designed for heavy-duty industrial use, as most of the Black and Decker products aren't, but is more tailored to home jobs and needs around the yard. It is ready to work if you want an affordable tool that will get the job done.
There are some clear and understandable concerns. The short battery life is an issue if you have a large space to clear. It is not the right tool for a comprehensive professional landscaping plan. But it wasn't meant to be.
If you need a tool for commercial use, we recommend something gas-powered and backpack-mounted, but if you want a reliable unit for your home, this is a pretty good choice. When choosing the right tool, the decision is yours and yours alone, but we hope we helped with some information you might have missed in your hunt.
Related Reads: