10 Brilliant Uses for Old Socks: Reuse & Repurposing Ideas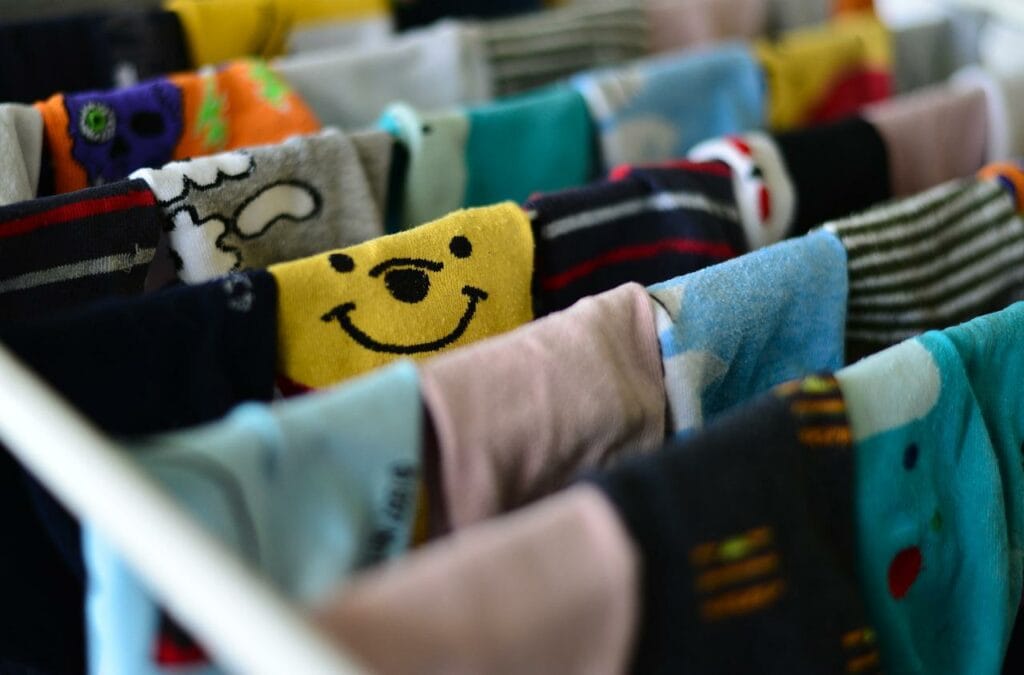 Everyone wants to make the most out of things lying around the house. Reusing and repurposing our gently used items is not only better for the planet but great for our budgets. One of the things everyone has lying around the house is socks. Whether they are singles whose mate has abandoned them or the ones with holes that you hide at the back of your drawer, putting these items to good use can be resourceful and fun. Let's take a look at 10 brilliant uses for old socks to spark your creativity.

The 10 Brilliant Uses for Old Socks
1.

Simple Smartphone Holder
| | |
| --- | --- |
| Materials: | Clean, old sock, Velcro (if desired) |
| Tools: | Scissors |
| Difficulty Level: | Easy |
This simple smartphone holder is designed for everyone. Whether you're a youngster looking for a neat project, or an adult needing to keep their smartphone secured on a jog, you can easily complete this DIY. All you need is an old (clean) sock, some scissors, and Velcro if you want it to be extra secure. With a few strategic cuts, you can reuse your old socks and look fashionable at the same time. We would recommend using tube socks, however, as other types of socks may not fit as securely as you'd hope.
---
2.

Comfy Glove Tutorial
| | |
| --- | --- |
| Materials: | Clean, old sock |
| Tools: | Fabric scissors, sewing machine (or needle and thread if preferred), chalk pencil |
| Difficulty Level: | Moderate |
No one wants to toss away a comfy pair of socks when they begin to wear out. Luckily, by following this handy comfy glove tutorial, you can turn your fave socks into your next beloved pair of gloves for colder weather. With a few tools and minimal sewing experience, you can quickly whip these gloves up and show off your fashion sense. What's even better, each pair you make can be unique. Cut them short or long so you can have a new style each day. For parents, using your kid's socks can easily make them the talk of the town with how easy this tutorial is.
---
3.

Cute Mug Cozy
| | |
| --- | --- |
| Materials: | Clean, old sock |
| Tools: | Scissors, fabric glue, and iron on seam tape or needle and thread if preferred, measuring tape |
| Difficulty Level: | Easy |
If you're a coffee lover, having this cute mug cozy is a must! By following the simple instructions in this tutorial, you can easily transform a pair of old socks into a cute cozy that not only looks great but keeps your hands from being burned or chilled by your beverages. Even better, most of the items needed are most likely lying around the house. If you are a fan of unique socks or colors that pop you can really have fun with this simple craft.
---
4.

Swiffer Sock Dusters
| | |
| --- | --- |
| Materials: | Swiffer and an old, fuzzy sock |
| Difficulty Level: | Easy |
Making this Swiffer Sock Duster part of your daily routine can get you on track with the housework and save money. Now, this trick doesn't require a lot of materials or effort at all. If you have any of those fuzzy socks from Christmas that have lost their mates, or a pair someone bought you that you weren't that fond of, you can easily slip them onto the bottom of your Swiffer and clean your floors. When done, simply toss in the washer and replace it. Then you won't be running to your local department store to buy cleaning pads every other week.
---
5.

  Quick and Easy Phone Cozy
| | |
| --- | --- |
| Materials: | An old sock and a phone |
| Tools: | Needle, thread, and scissors |
| Difficulty Level: | Easy |
If you're into crafts and life with a smartphone, this quick and easy phone cozy is the perfect project for you. With minimal materials and basic sewing skills, you can make a cute case to protect your phone and repurpose single socks that have lost their mate or one with your favorite thing splattered across it.
---
6.

DIY Sock Vase Cover
| | |
| --- | --- |
| Materials: | A sock and the embellishments you choose |
| Tools: | Scissors and fabric glue |
| Difficulty Level: | Easy |
This DIY Sock Vase Cover is the ideal way to liven up the vases and pots sitting around your home. If you're tired of looking at the same décor, simply grab a sock and the vase of your choice, then have fun. You can even decorate the socks with the embellishments of your choice once you're finished. This can be a super fun project and a great way to liven up things around the house.
---
7.

Cute Sock Toys
| | |
| --- | --- |
| Materials: | Socks, buttons, and filling |
| Tools: | Scissors, measuring tape, fabric glue, needle, and thread |
| Difficulty Level: | Easy to Intermediate |
With kids and pets running around the house making DIY toys is a great way to save money and reuse items around the house. These cute sock toys are perfect for this purpose. With only a few materials and minimal skills, you can whip up different types of toys including cats and elephants for the playful ones inside your home.
---
8.

Sock Wreath
| | |
| --- | --- |
| Materials: | Socks |
| Tools: | Needle, thread, thimble, and drumstick (or something long and thin to push socks through |
| Difficulty Level: | Easy to Intermediate |
This sock wreath is ideal for big families who have lots of single or worn socks lying around the house. The size of the wreath you make depends on the number of socks you use. The more, the merrier. By rolling and sewing the socks together you can make a colorful design you'll love showing off when company swings by to visit.
---
9.

DIY Sock Draft Stopper
| | |
| --- | --- |
| Materials: | Long socks, dried popcorn, stuffing like old sweaters or filling from pillows and fabric scrap |
| Tools: | Sewing machine or needle and thread |
| Difficulty Level: | Easy |
When the winter months roll in, keeping the cold draft out of your house is made easy with this DIY sock draft stopper. By using long socks, you can follow the instructions in this tutorial to whip up a few draft stoppers to place at each entrance to your home. This will keep things warm and cozy as the chill sets in outside.
---
10.

Sock Cupcake Gift
| | |
| --- | --- |
| Materials: | Fuzzy socks, pom pom, and cardstock |
| Tools: | Scissors, glue, or tape |
| Difficulty Level: | Easy |
Choosing the perfect gift or decoration for a get-together can be difficult but this cute sock cupcake gift can put an end to all your worries. By rolling socks and using cardstock for cupcake liners, you can create cute additions to party tables or gifts for those in your life who love a bit of creativity.

Final Thoughts
If you're looking for the perfect way to use all the single and holey socks around your house, these cute ideas are meant for you. With a bit of time and creativity, you can whip up a few cool additions to your house that can make your life easier and more stylish.
See also:
---
Featured Image Credit: wal_172619, Pixabay